Not my favorite Costco salsa but it's very reasonably priced!
Please note that this review was not paid for or sponsored by any third party. I purchased this product with my own money and the opinions in this review are strictly my own. I am not affiliated with Costco or any of its suppliers. I am just a fan of the company. I write these reviews to help my fellow shoppers.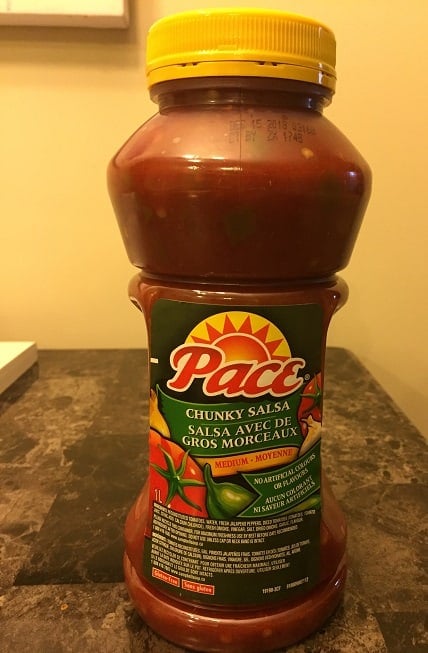 I've done myself a disservice and I have a problem now. I used to buy this salsa and think it was pretty delicious. We eat a lot of Mexican food in our house, tacos, taco salad, fajitas, nacho chips so we always need salsa in the fridge. However! Since I tried the Garden Fresh Mango Peach Habanero Salsa from Costco this just does not compare.
If you're looking for a salsa that tastes homemade, is super fresh and has super thick chunks of fresh peppers or onions, this is not it. The base of this salsa tastes very tomato-y and pretty similar to a jar of marinara sauce. I find it has just a little too much tomato for me. Reconstituted tomatoes is also the first ingredient, so maybe that explains it? This salsa has small chunks of tomatoes, onions and jalapeno peppers. Nothing too fancy about it. It is a medium heat salsa and I would say I agree that it is a mild to medium spicy salsa, definitely not overly hot but just a nice mild to medium. I think it could be definitely spicier so if you like a more mild salsa you'll probably like this heat. This salsa is pretty versatile and would go well as a dip for pretzels, veggies and nacho chips or in eggs or as a stew or southwest chili base. I actually would not mind using this to make a big batch of pulled salsa chicken in the slow cooker. I would never waste my precious mango-peach salsa doing that though.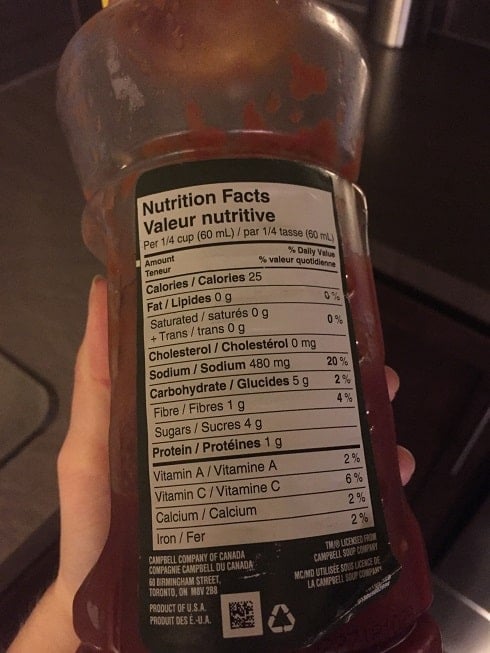 Nutrition wise this is not too bad for you, 1/4 cup is 25 calories, 0 grams of fat and only 4 grams of sugar. The sodium is the only con about the nutrition, 480 mg of sodium in 1/4 cup. That's quite a bit, especially when it's pretty easy to use a 1/4 cup with a few high sodium nacho chips. Most salsas ARE going to be high in sodium, it can be hard to find a store bought low sodium salsa.
This salsa is super convenient, it has a long expiry date, lasts in the pantry until opened and then in the fridge for about a month (I've definitely ate it like 3 months after opening and never had a problem but I always recommend the smell test). Although I love the fresh salsa, it definitely does not last as long and you can't keep a bottle in your pantry for spontaneous nacho nights. This salsa comes in a plastic bottle which is awesome if you're going somewhere that you don't want to bring a big glass jar bottle of salsa. Also if you're going to a party or dinner, a lot of people enjoy salsa and nacho chips so you could definitely bring this and a bag of chips and be good to go. I mentioned before this can be used for many things, scrambled eggs, frittata, enchiladas, casseroles, stews, chili's or to add to meat in the slow cooker. You can even mix it with cauliflower rice or rice with black beans to make a Mexican type rice.
Cost wise, it does not get better than this $5.29 CAD when on sale $7.29 when not on sale. This is not a gourmet salsa by any means but you cannot really find a salsa cheaper than this 2 pack. When I've had to buy a no name brand of salsa that does not taste nearly as good and is half the size at the grocery store, it's usually more than this 2 pack. Because the cost is so reasonable I would feel fine using this to make salsa pulled chicken or a chili with this salsa.
I definitely prefer the taste of fresh salsa like the Mango Peach Habanero Salsa, located by the cheese and meat in Costco but if I need a standard, non fancy salsa to keep in your pantry I definitely recommend this salsa. I will continue to purchase it due to the low cost and convenience.
Nutrition: 7/10 (pretty good except for the high sodium)
Taste: 5/10
Convenience: 10/10
Cost: 10/10
What's your favorite Mexican food?!