One of my favorite things to buy at Costco!
Please note that this review was not paid for or sponsored by any third party. I purchased this product with my own money and the opinions in this review are strictly my own. I am not affiliated with Costco or any of its suppliers. I am just a fan of the company. I write these reviews to help my fellow shoppers.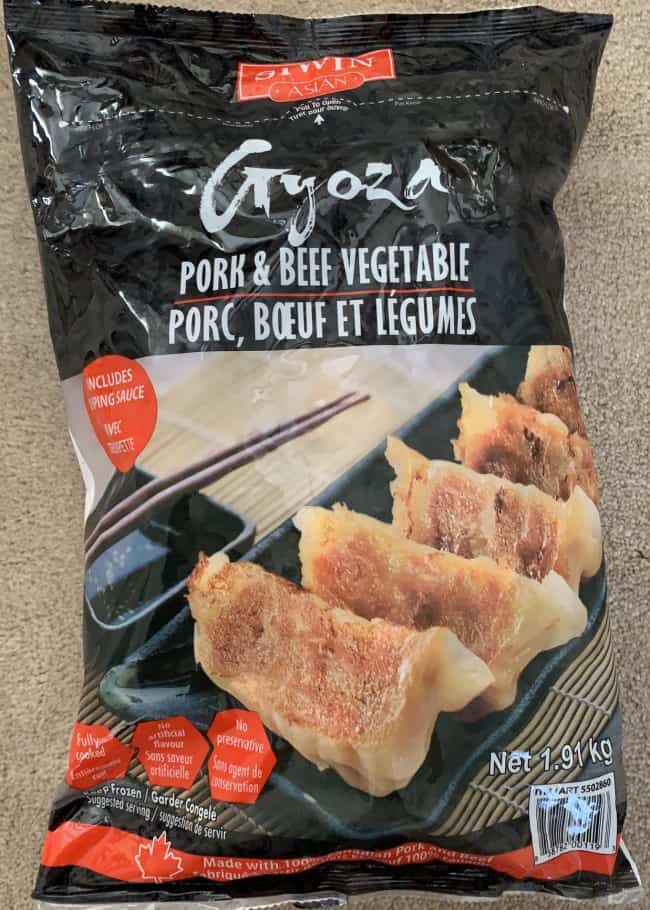 I'm obsessed with gyoza! They're one of my all-time favorite appetizers, and I've pretty much tried ALL of the gyoza Costco offers (actually). I found a new one recently though, the Siwin Pork & Beef Vegetable Gyoza! I've already reviewed the Siwin Chicken and Vegetable Dumpling Potstickers here!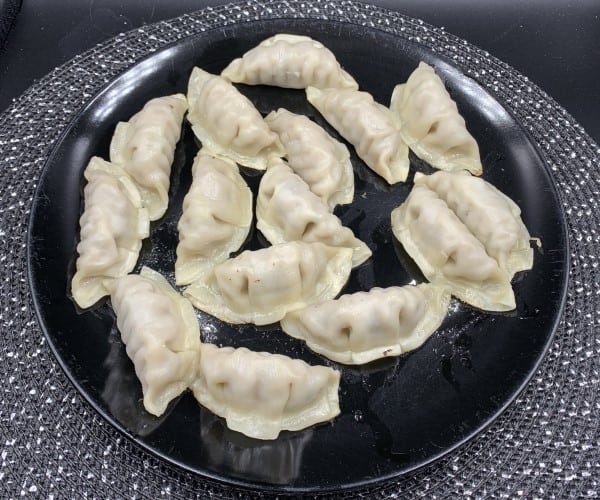 Taste
The Siwin Pork & Beef Vegetable Gyoza actually taste quite similar to the Siwin Chicken and Vegetable Potstickers (which is unsurprising since they're made by the same company, yet surprising since they're made with different meats!). Although they're made of pork and beef, I didn't really find a discernible flavor of either of those meats. With that being said, they're super tasty. If you follow the cooking directions, the dumpling wrapper turns out tender and soft with a crispy golden brown bottom. There's a generous amount of pork, beef, cabbage and onion filling inside each dumpling; the filling has a flavor profile that includes soy sauce, ginger, garlic and sesame. The filling is heavier on the meat than the vegetables, which I appreciated. The accompanying soy sauce tastes much pretty much like your standard soy sauce with a bit of added sweetness. I really enjoyed the taste of these gyoza, just like I enjoyed the Siwin Chicken and Vegetable Potstickers.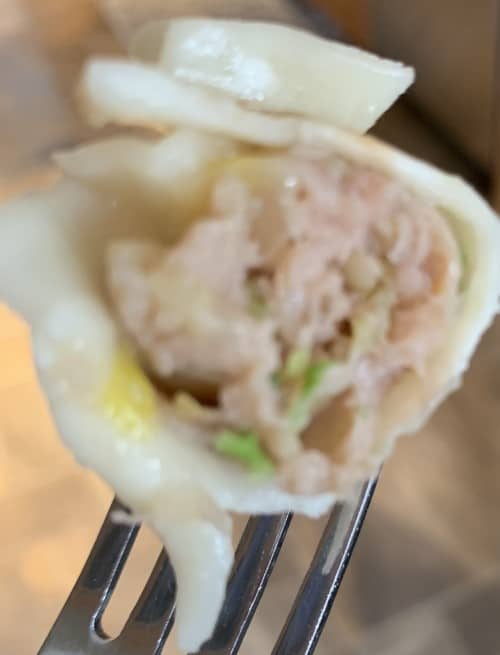 Cost
Regular price for the Siwin Pork & Beef Vegetable Gyoza is $13.49 Canadian. The bag of gyoza is quite large and I calculated there to be about 80 gyoza in the bag.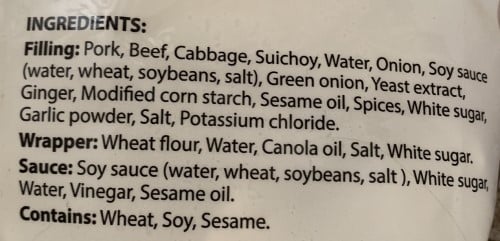 Convenience
I was a little bit worried when I saw that these gyoza had beef in them because I've had experiences in the past where I cooked beef gyoza and they shot grease everywhere. I didn't find that to be the case with these gyoza. I followed the instructions on the bag to make them the traditional way by steaming and frying them in a pan and they turned out perfectly! There's also a microwave method that seems slightly easier, but I have yet to try it (the traditional method is pretty easy as it is!). Obviously since you can't eat these straight from the bag, they're less convenient than take-out. Even so, gyoza make an awesome appetizer and it's convenient to have a bag in your freezer for times when you need a side or starter to go with your stir fry or other Asian-themed main course. They're also a great appetizer/snack to serve to guests!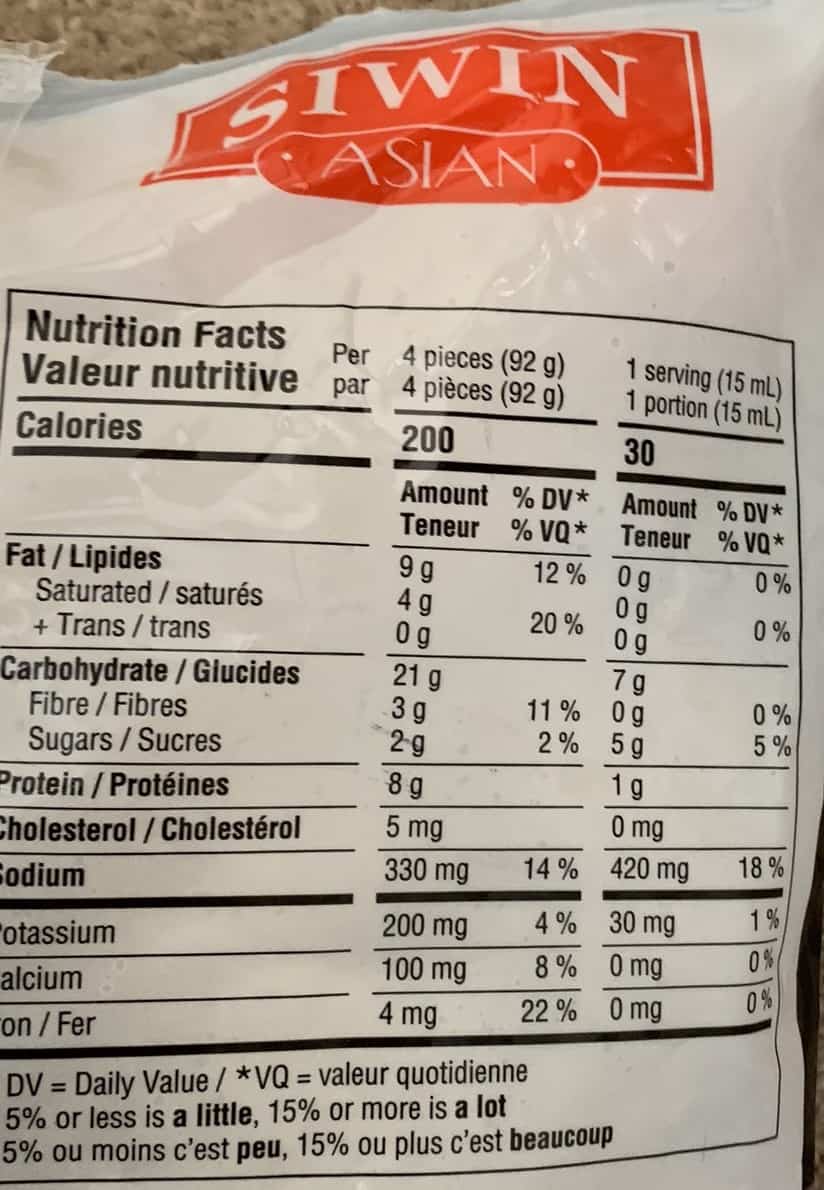 Nutrition
A serving of four gyoza contains 200 calories, nine grams of fat, three grams of fibre, two grams of sugar, eight grams of protein and 330 milligrams of sodium. One tablespoon of sauce contains 30 calories and 420 milligrams of sodium. That's quite a bit of sodium when you combine the two (and really, these just don't taste the same without the soy sauce), so you best have some water ready! The Siwin Pork & Beef Vegetable Gyoza are slightly higher in fat and calories than the Siwin Chicken & Vegetable Potstickers. Still, as long as you practice portion control and manage not to eat the whole bag, these actually aren't an unhealthy appetizer or snack option!
I will happily finish my bag and will definitely purchase the Siwin Pork & Beef Vegetable Gyoza again! They're delicious and easy to cook, and as I said, I love gyoza!
Taste: 9/10
Cost: 9/10
Convenience: 7/10
Nutrition: 6.5/10
Location in Costco: Freezer section.
Do you prefer gyoza or spring rolls?! What's your favorite frozen appetizer from Costco?