Who else brings home random things from the store when you haven't had dinner?
Please note that this review was not paid for or sponsored by any third party. I purchased this product with my own money and the opinions in this review are strictly my own. I am not affiliated with Costco or any of its suppliers. I am just a fan of the company. I write these reviews to help my fellow shoppers. If you like my blog and want to show your appreciation, please follow me on Instagram or Facebook, or tell your friends to check out my blog!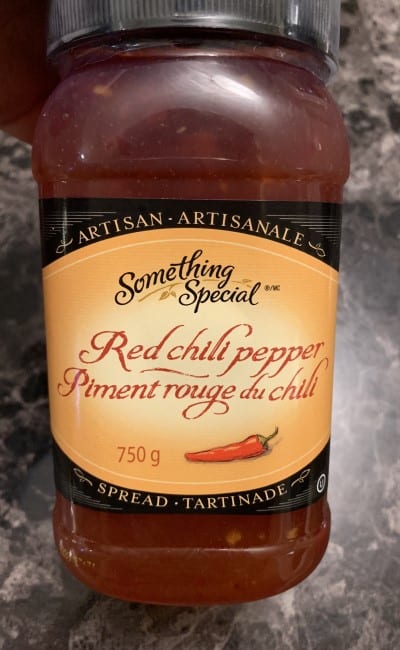 I rarely eat Costco samples, but I recently found myself at Costco on a Wednesday at 6:30 p.m. I hadn't had supper yet, so I was all for eating the samples. I probably never would have bought this had I not tried the sample. As I ate it in front of Sean while discussing the holiday treat selection, he was giving me one of those kind of grossed-out looks. Eventually I convinced him to try it, and he really likes it too.
Taste
If you serve meat, cheese, bread, charcuterie or crackers over the holiday season, you absolutely need to add the Something Special Red Chili Pepper Spread to your shopping list. It's an amazing accompaniment to all different types of cheeses, goes well on crackers and would make an already-awesome charcuterie board outstanding. The taste of this jelly is both sweet and savory (though not as savory as I originally expected) with a little bit of heat. It's not overly hot though. It pairs well with so many different items. I could even see it going really well with fresh-baked biscuits and a bowl of chili.
Cost
This definitely isn't the cheapest spread available; one jar was $7.89 Canadian. That would seem more reasonable if I didn't picture the spread disappearing in two seconds after all of my guests slathered heaping tablespoons of it on their crackers and bread. It's that good. In a specialty store, I think this product would sell for a few dollars more than $7.89, so I don't think Costco is overpricing this. It's also kind of a novelty/specialty item, so I think that contributes to the price.
Convenience
The spread requires refrigeration; the refrigerated, unopened the expiry date is about a year from the date of purchase. If opened and refrigerated, it will last about 90 days. If opened and served to about five adults, you'll be lucky if it lasts an hour though! This is a super convenient item to have on hand because of its versatility. You can do so much with it. I think this would go great on a turkey sandwich and would make delicious turkey meatballs in the crock pot. I know I already talked about uses and combinations, but I just keep thinking of new ones. Something that's that easy to find uses for is pretty convenient in my books.
Nutrition
This is a jelly spread, so there are high quantities of calories and sugar and little nutritional value. One teaspoon contains 25 calories, three grams of sugar, zero grams of fat and barely any sodium. Who's going to eat just one teaspoon of this?! Multiply that by four and that's probably more in line with what I'm thinking people will consume.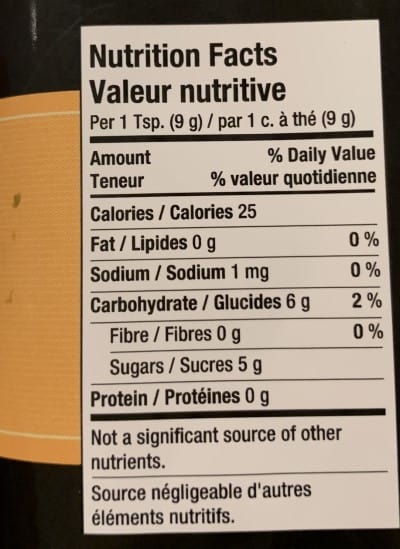 I'm glad I found the Something Special Red Chili Pepper Spread so that I can enjoy it over the holiday season. I'd love to hear what others think about it and how they would use it!
Taste: 8/10
Cost: 7/10
Convenience: 10/10
Nutrition: 1/10
I'm curious – do you have any great ideas on how to use this tasty spread?