Sweet and comforting honey, apple & cinnamon tea base from Costco!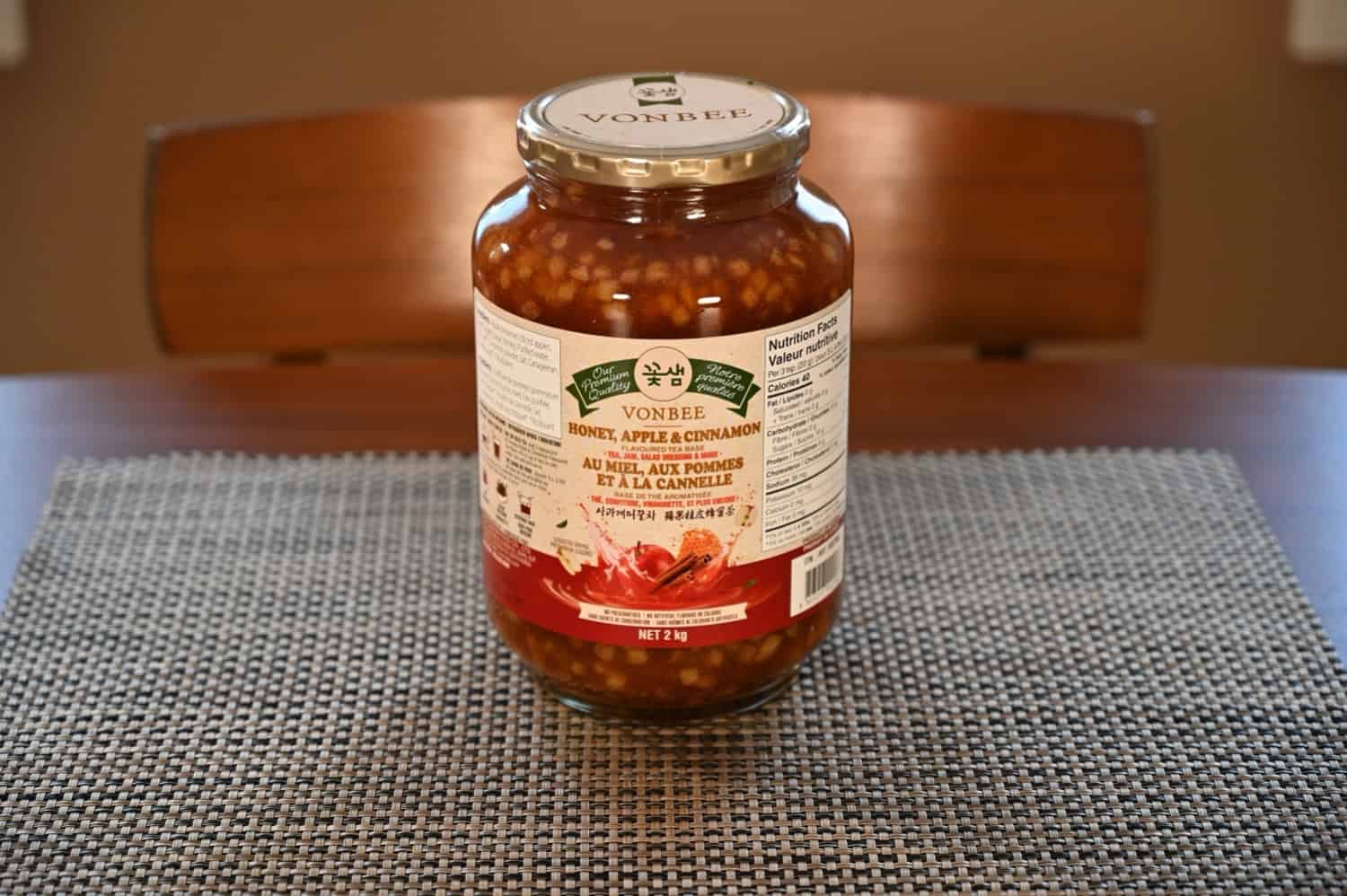 Just a few months ago I reviewed the Costco Vonbee Honey, Citron & Ginger tea base. I received a ton of messages from readers saying how much they loved and enjoyed it! During my most recent Costco trip, I noticed the new Vonbee Honey, Apple & Cinnamon Tea Base and picked it up to review today! The tea base is made in Korea and is a pretty unique product because the jar states you can use it to make hot or cold tea, to make salad dressing or as a jam.
Location in Store
This can be found at Costco in the aisle with syrups and jams and the item number is 1497834.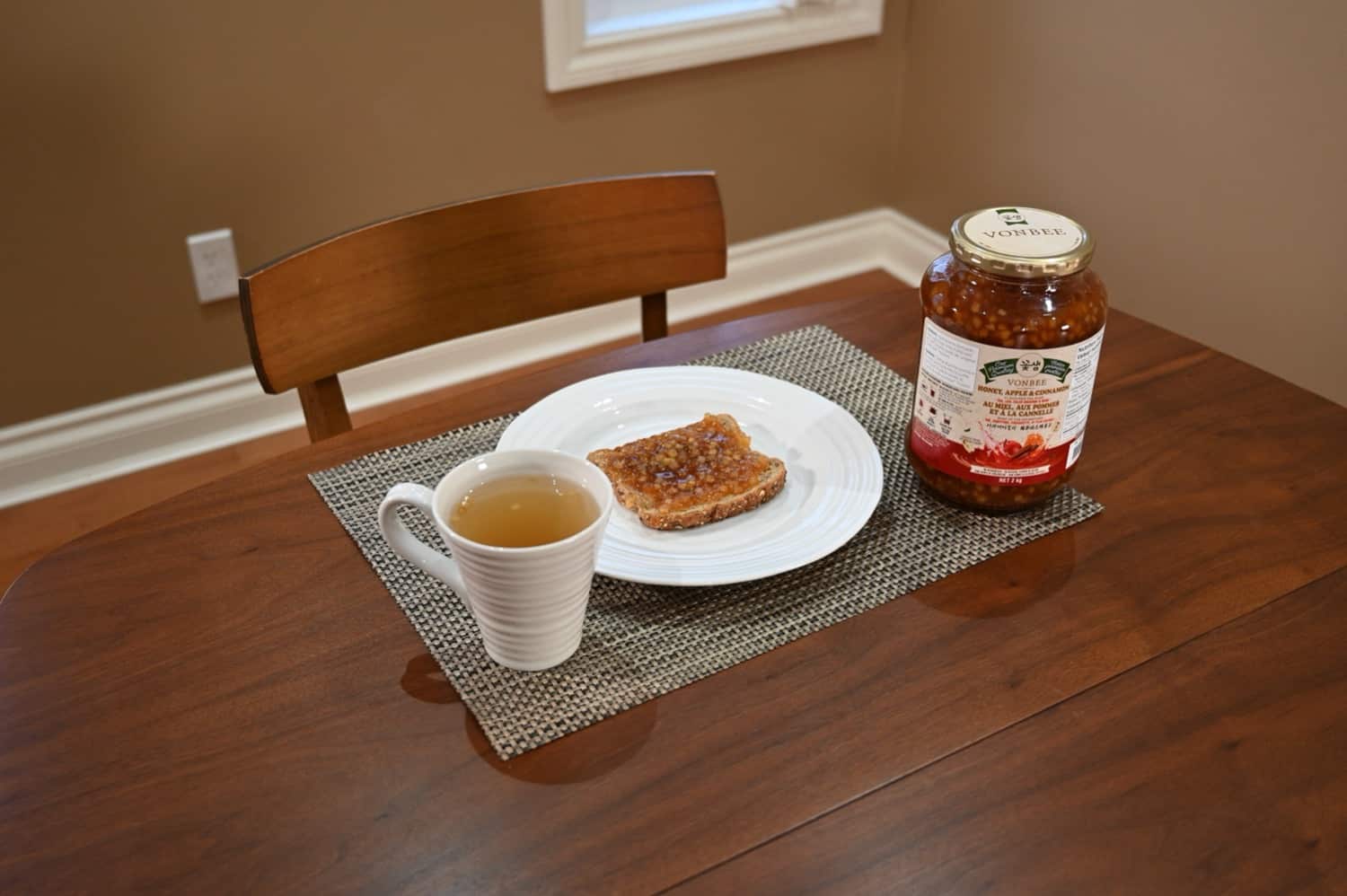 Taste
This is so so sweet but delicious! If you're a huge apple pie fan or love anything apple, I think you'll like this. I used it to make hot tea and also tried it on toast. As a tea, it tastes very similar to apple cider. You can taste the honey and you get a little bit of warmth coming from the cinnamon. There are chunks of real apple in the tea base so this was a bit different than other teas or apple cider, you get tiny chunks of apple in each sip, kind of like having a snack with your tea! For some reason, I found that this tasted a lot sweeter when I used it as a jam, still really tasty but almost too sweet! On toast, the honey flavor stood out and the flavor reminded me of apple pie filling put on a slice of bread. I had it on plain whole wheat toast and didn't put any butter on it, I think it definitely didn't need any extra butter because the jam is flavorful enough.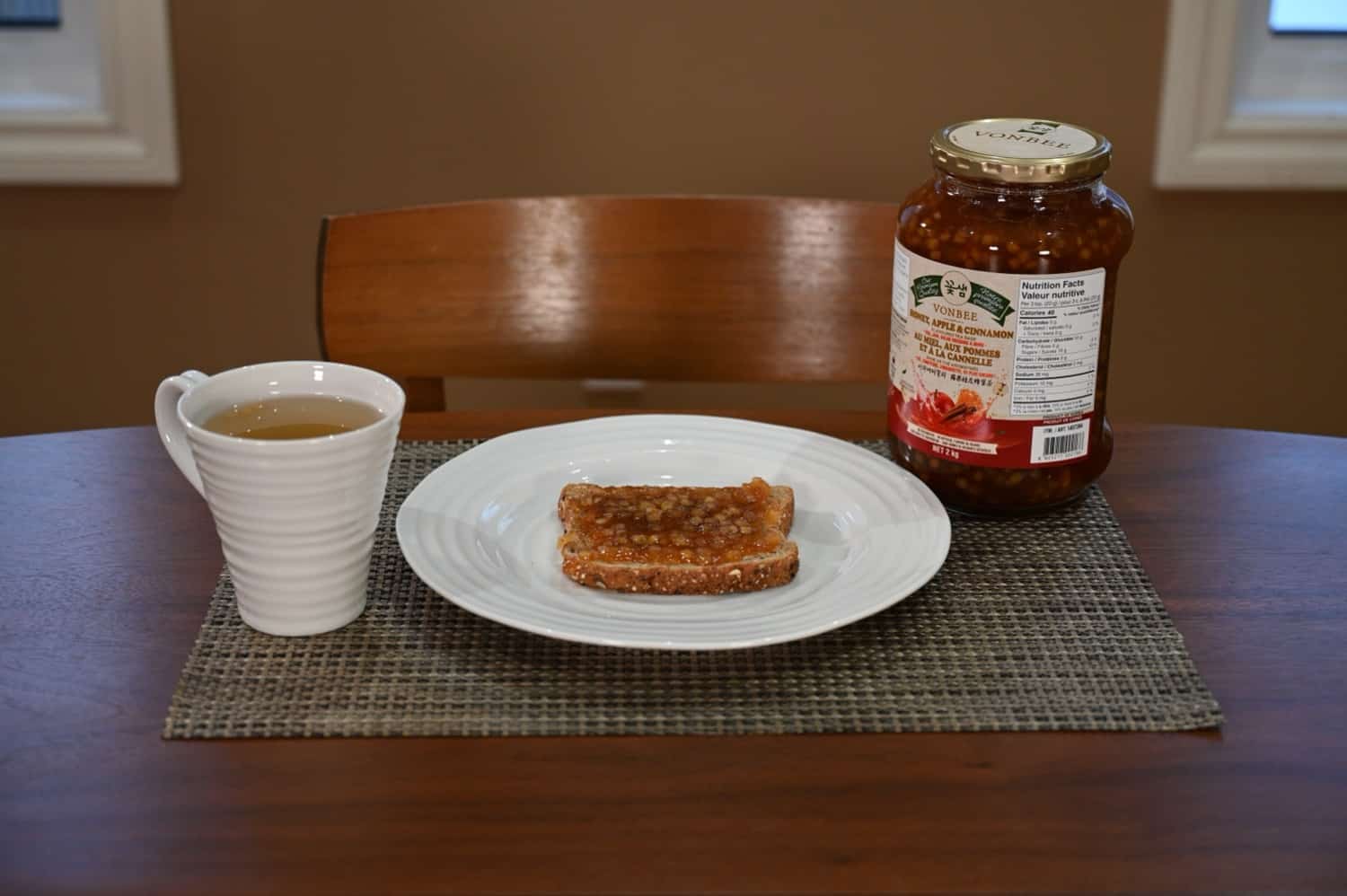 Cost
I paid $10.99 Canadian for the 2 kg jar of Vonbee Honey, Apple & Cinnamon tea base. This is a MASSIVE jar! I totally recommend sharing some with friends or family.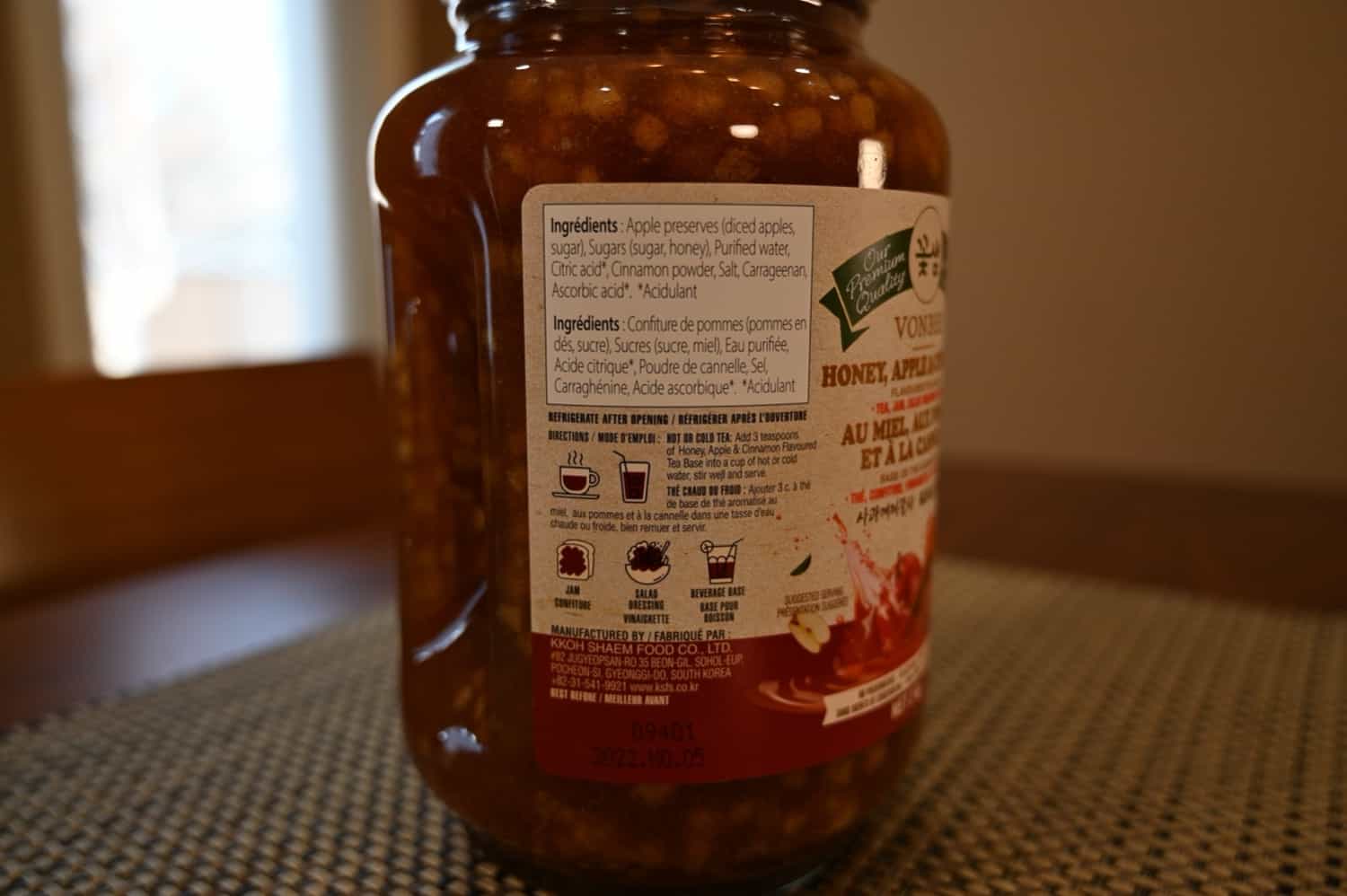 Convenience
Suggested ways to use this are to make salad dressing, as a hot or cold tea base or as a jam, so it's very versatile. The jar is really, really big therefore if you have bad arthritis or trouble lifting things, this jar may be super inconvenient for you. I also had to get Sean to help me get the lid off but I'm definitely not the strongest person in the first place. I can't even imagine how long it would take us to finish the jar so I will be sharing this with my parents! The best before date is just under a year from when I purchased it, I oddly couldn't find anything on the jar about refrigerating after opening but I did anyways just to be safe.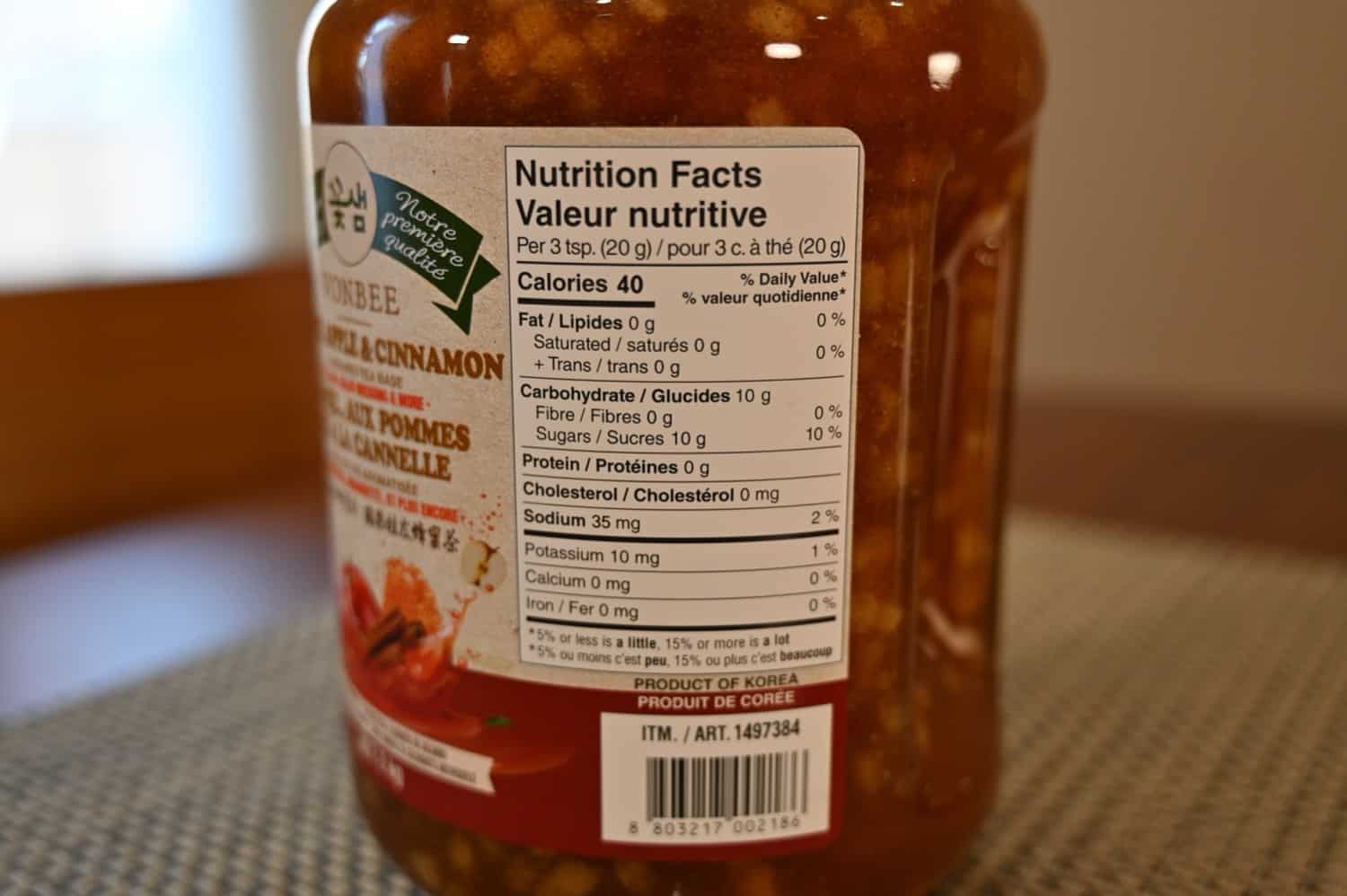 Nutrition
Three teaspoons is 40 calories, zero grams of fat, 10 grams of carbohydrates, 10 grams of sugar, zero grams of protein and fibre and 35 mg of sodium. The ingredients list is pretty short and sweet with apples being the first ingredient and sugar being the second which is to be expected. This is basically just sugar and carbs so not really the most nutritious product.
Score
Taste: 8/10
Cost: 6/10
Convenience: 9/10
Nutrition: 1/10
Overall
Give it a try.
I love the flavor of the Costco Vonbee Honey, Apple & Cinnamon tea base. So warm, cozy and perfect for winter. I do find it a tad sweet thought and the jar is way too huge for two people!
Leave a comment if this review was helpful and also share what your thoughts are on this product!
Please note that this review was not paid for or sponsored by any third party. This product was purchased by Costcuisine for the purpose of producing this review. The opinions in this review are strictly those of Costcuisine. Costcuisine is not affiliated with Costco or any of its suppliers. In the event that Costcuisine receives compensation for a post from the manufacturer of a product or some other third party, the arrangement will be clearly disclosed (including where the manufacturer of a product provides Costcuisine with a free sample of the product).