Super flavorful chicken skewers!
Please note that this review was not paid for or sponsored by any third party. I purchased this product with my own money and the opinions in this review are strictly my own. I am not affiliated with Costco or any of its suppliers. I am just a fan of the company. I write these reviews to help my fellow shoppers.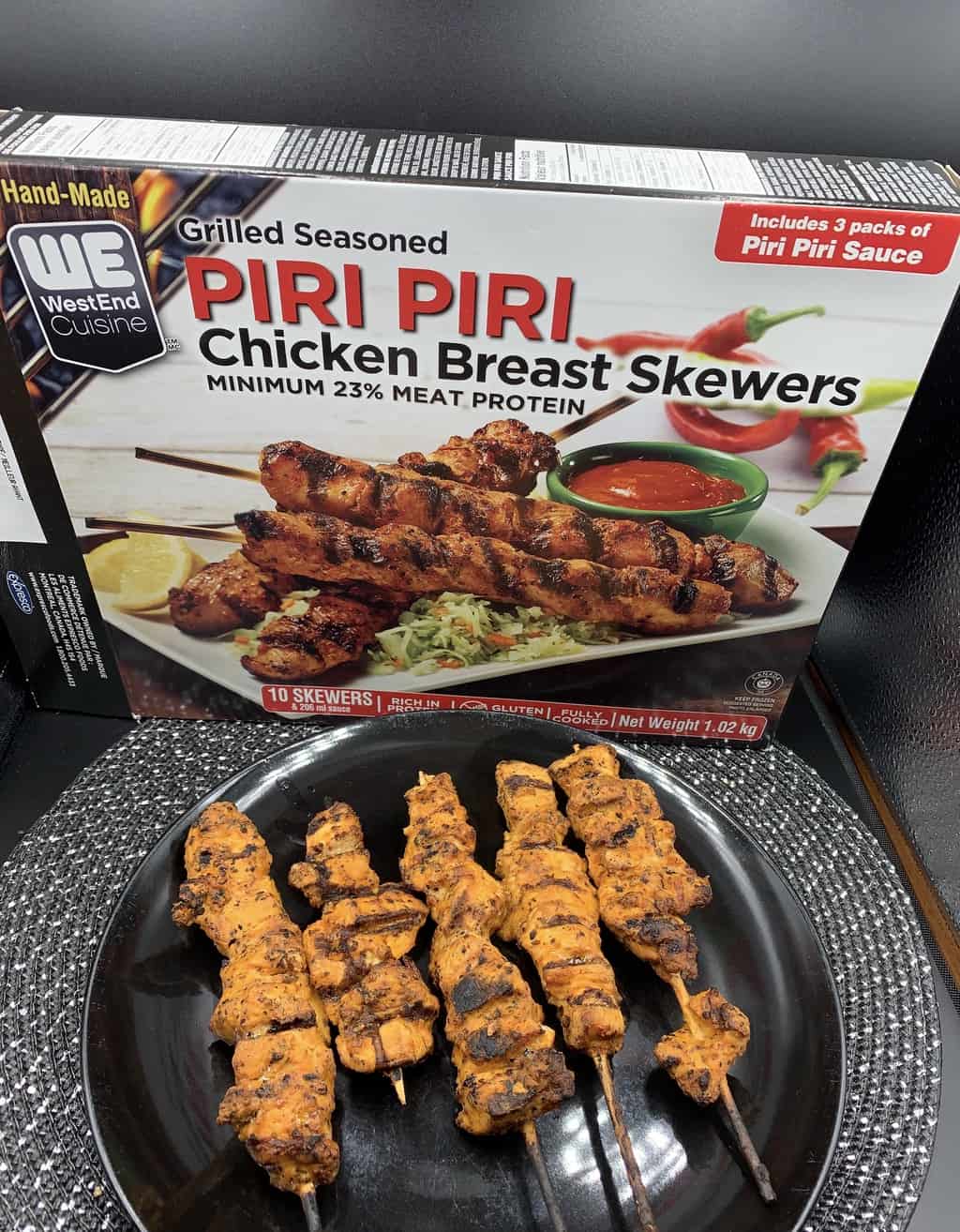 Remember when I reviewed the WestEnd Cuisine Lemongrass Skewers? Well, today I'm reviewing the West End Cuisine Piri Piri Chicken Skewers.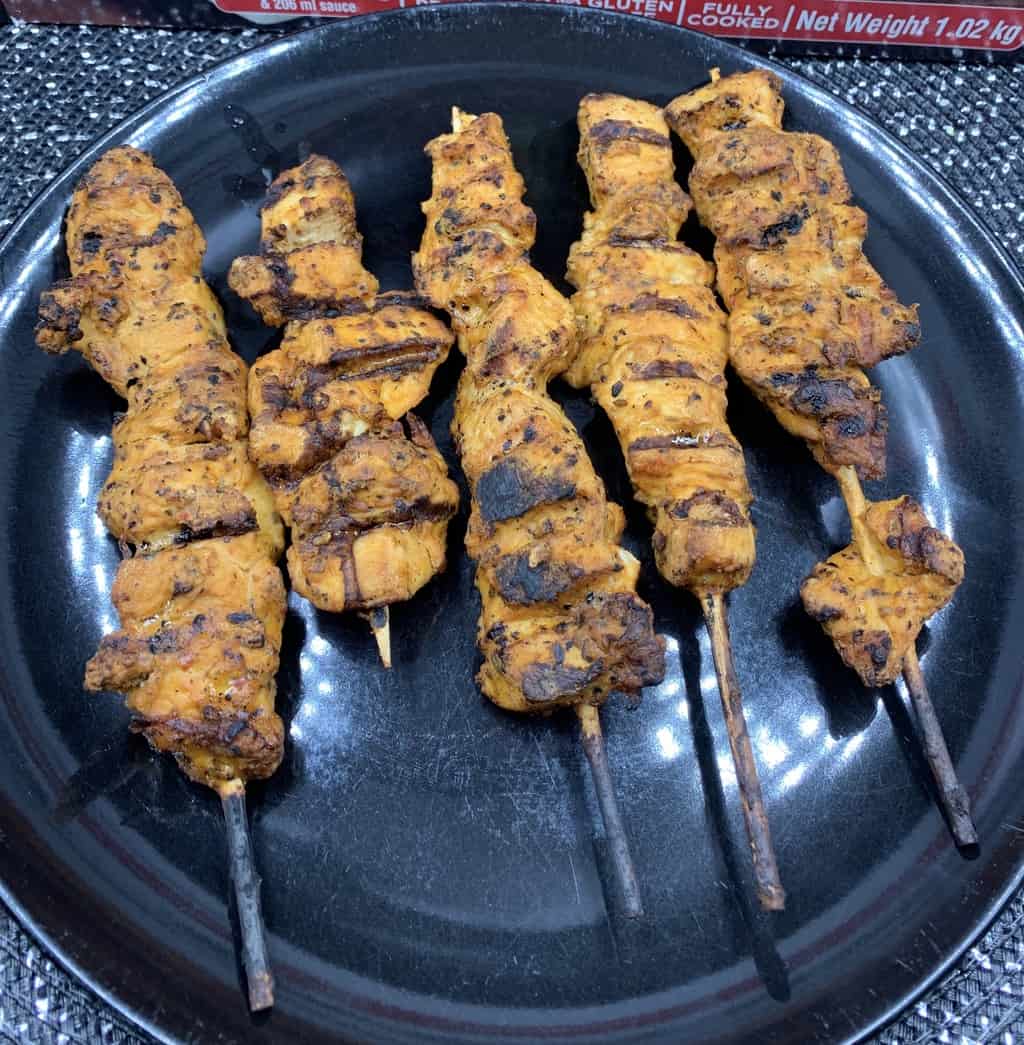 Taste
These skewers use the same chicken as the WestEnd Cuisine Lemongrass Chicken Skewers however the flavor is completely different. These are definitely seasoned WELL and there's some spiciness and heat in the meat! Strong flavors noticed when eating the skewers are garlic, chili peppers and salt. Maybe some smoked paprika and cayenne pepper too? The ingredients only lists "spices" but there's definitely some heat in these skewers and they're very flavorful. There's almost too much seasoning as they were on the salty side. The Piri Piri sauce is quite interesting! At first I thought it was a straight up sriricha sauce but I was mistaken. It's actually got a lot of depth to it. At first bite the sauce tastes nice and sweet however after it lingers in your mouth for a few seconds you get that heat. You taste the sugar and chili peppers in the sauce along with garlic and smoked paprika. The meat itself is all white chicken breast and I find it to be of average quality. You can get some slightly chewy pieces and I did have one piece with a hunk of gristle. Overall I prefer the taste of the Lemongrass Skewers but that's mainly because I don't love super spicy/hot food. Also I'll mention I brought these to work one day and when I heated them in the microwave they smelled pretty strongly of garlic so I was a little paranoid the rest of the day that I had some pretty fierce breath going on.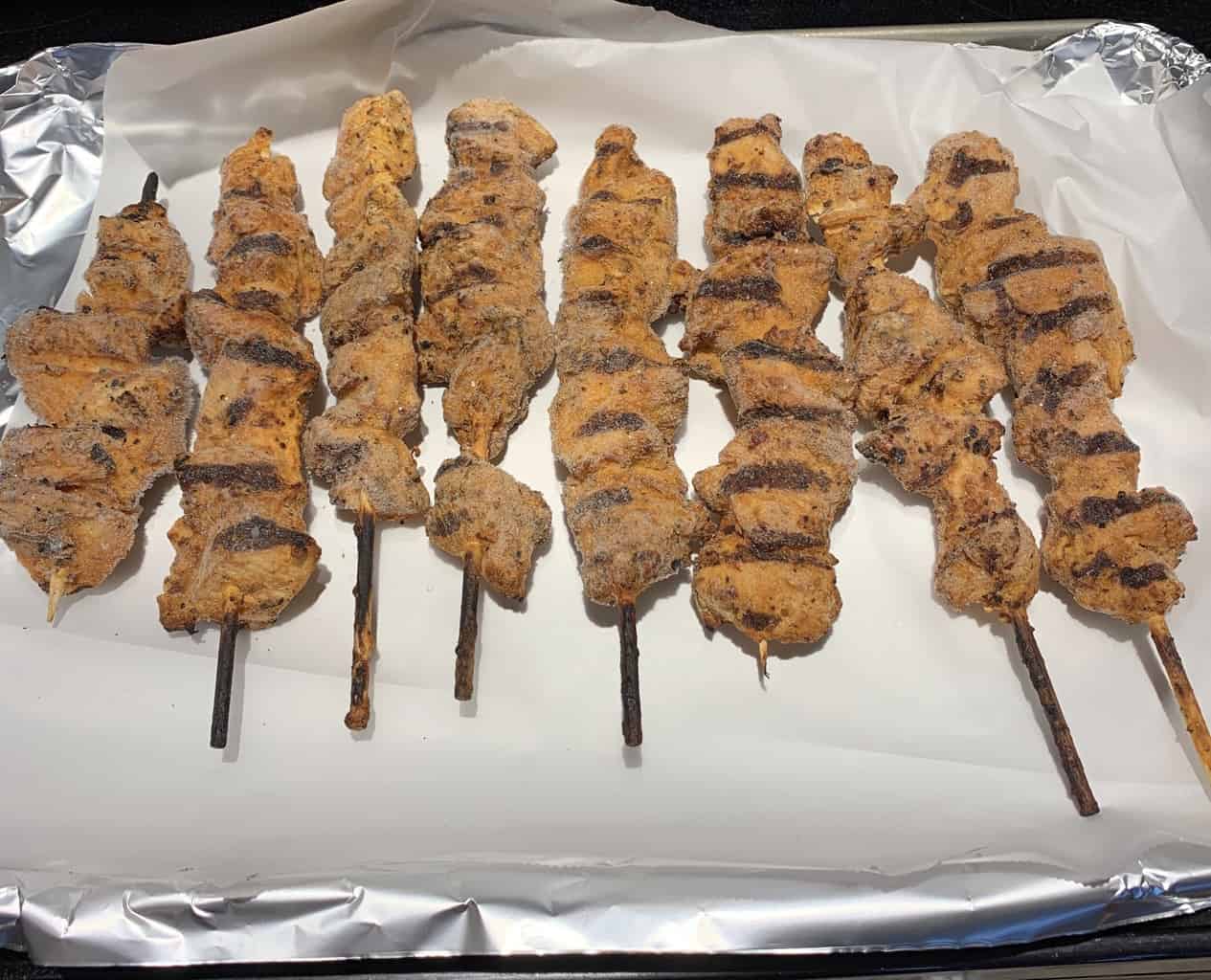 Cost
These chicken skewers from Costco were $14.89 Canadian not on sale. The package came with 11 skewers in it and three peri peri sauce packets. You're definitely paying for the convenience of the skewers. If you bring one skewer to lunch for 11 days rather than buying lunch you may actually be saving money by buying these.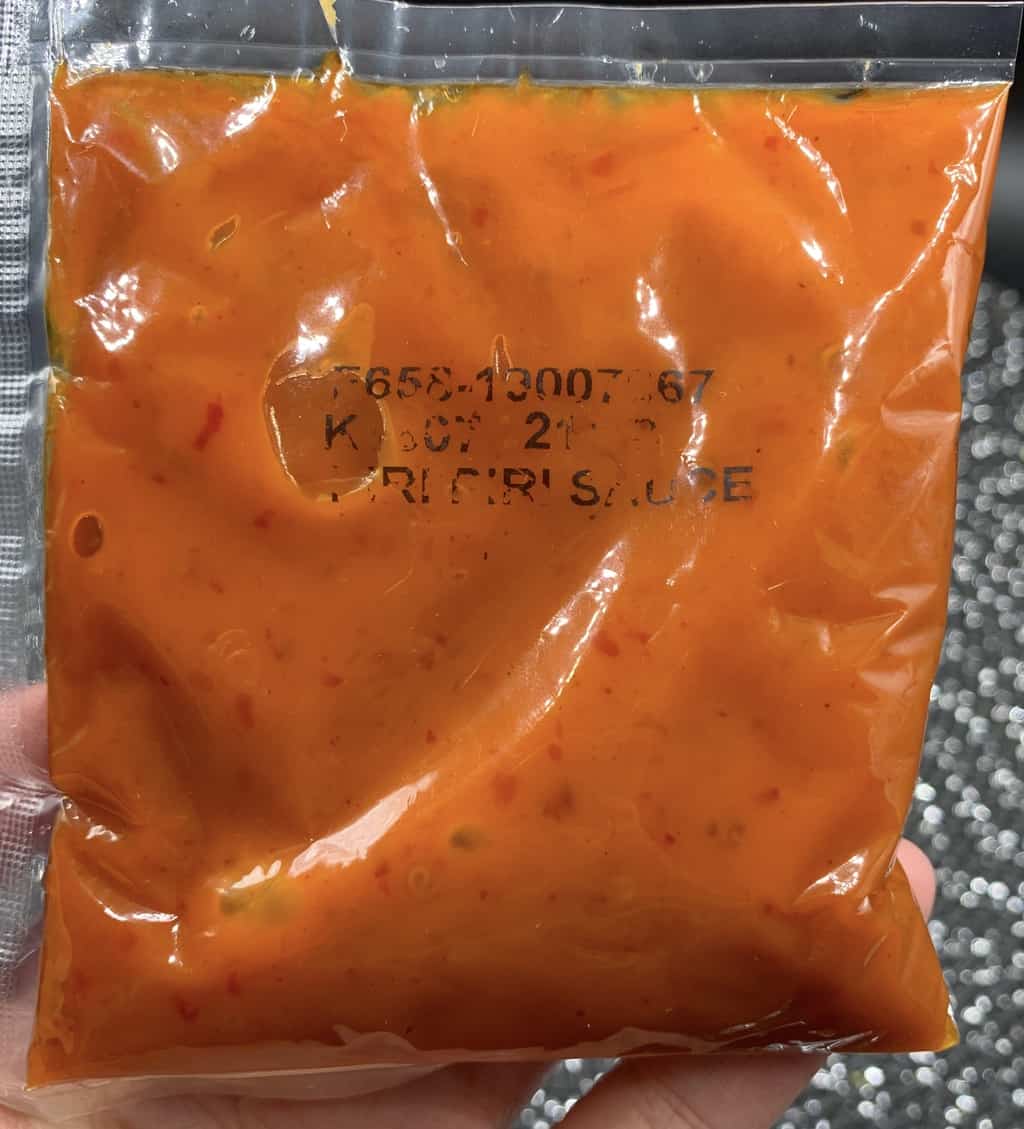 Convenience
You can choose to heat the skewers in the oven, microwave them or cook them on the grill. I always heat mine in the oven. They're very easy to heat in the oven and there's minimal cleanup. Basically, you just line a cookie sheet with parchment paper and bake them for about 20 minutes. There's more than enough sauce in the box for the skewers as well, you either dip the chicken or pour the sauce over top the skewers. These make a perfect protein for nights where you need to make a quick dinner, you could serve them with a quick salad and rice. They're also very convenient to bring to work for lunch.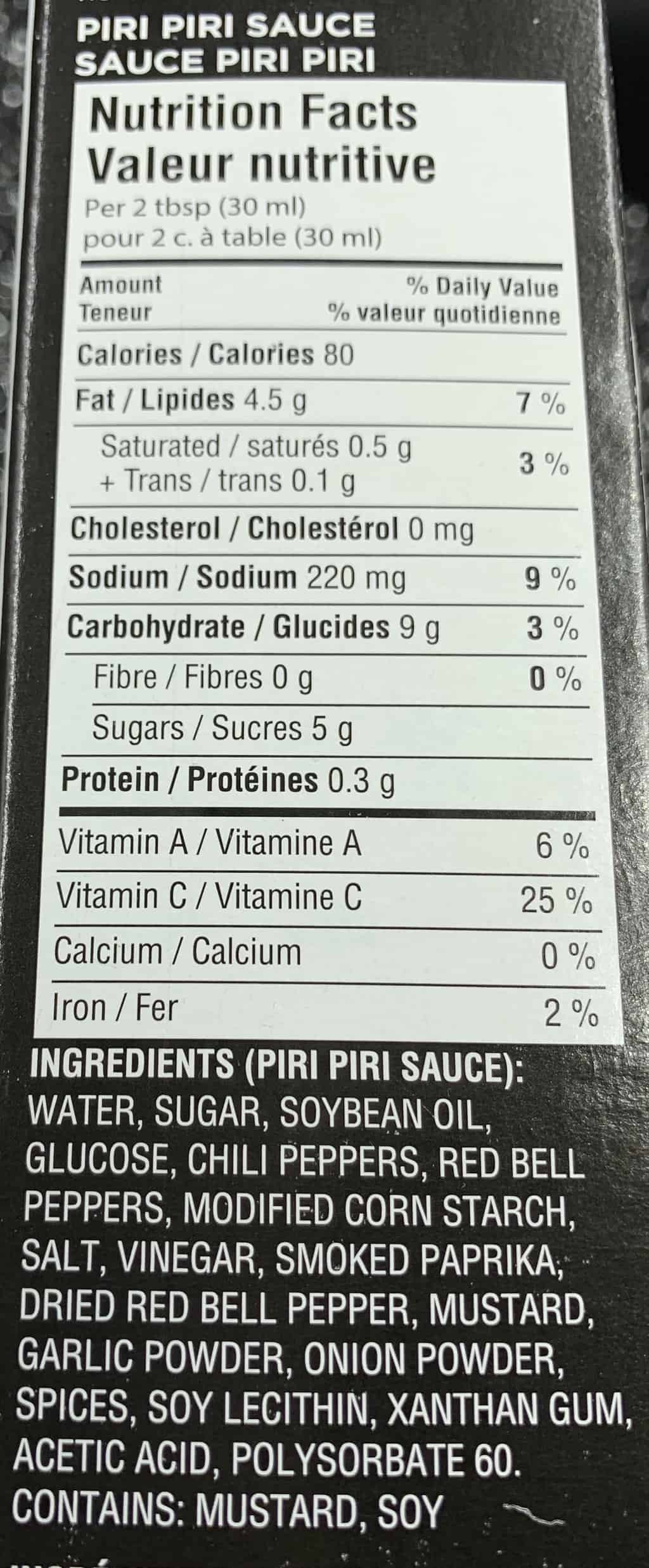 Nutrition
One skewer is 110 calories, two and a half grams of fat, 460mg of sodium, zero grams of sugar and eighteen grams of protein. That's quite a bit of protein for not that many calories! I do wish these were slightly lower in sodium. Two tablespoons of sauce is 80 calories, four and a half grams of fat, 220mg of sodium and five grams of sugar.

I thought these were okay, but I definitely prefer the Lemongrass Skewers. I think Sean liked these more than I did because he enjoys a little more spice and heat than I do. I'd love to see other flavors of these skewers introduced because I enjoy how convenient they are. Even a plain or lightly seasoned skewer would be awesome for salads or other dishes.
Taste: 7/10
Cost: 7/10
Convenience: 9/10
Nutrition: 8/10
Which would you rather have – lemongrass or piri piri skewers?