Easy and convenient hashbrowns!
Please note that this review was not paid for or sponsored by any third party. I purchased this product with my own money and the opinions in this review are strictly my own. I am not affiliated with Costco or any of its suppliers. I am just a fan of the company. I write these reviews to help my fellow shoppers.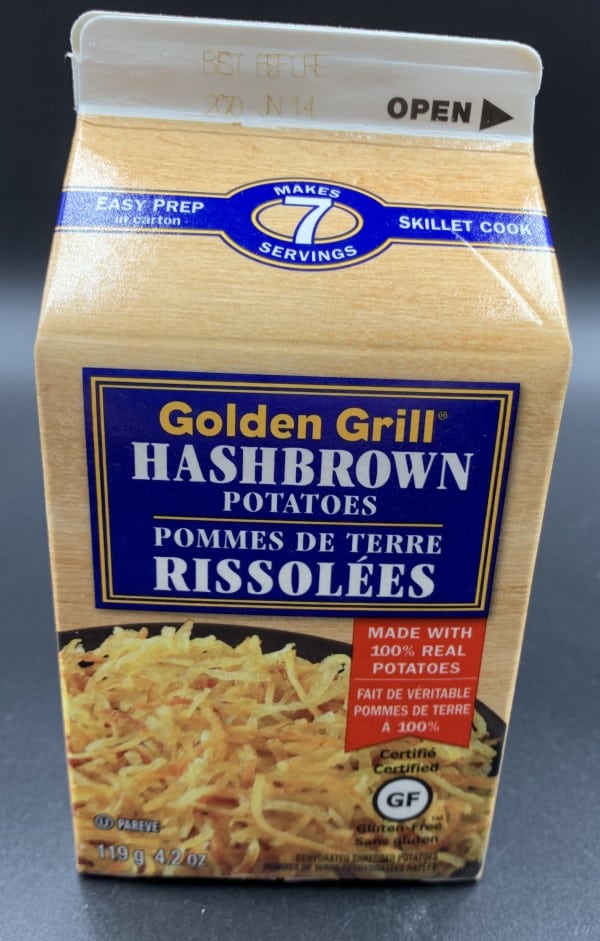 I have to be honest – I bought the Golden Grill Hashbrown Potatoes from Costco just so that I could review them. Hashbrowns aren't something we eat very often in our house (especially instant ones from a carton!). When it comes to weekend breakfasts, we usually have sweet, carb-loaded things like doughnuts, fruit bowls with granola, pancakes or pastries. I almost never make an eggs, hashbrowns and bacon breakfast and I also tend to avoid instant-type foods where you just add water and heat them up. I had a bad experience with Costco Farm House Sweet Potato Mash a while back! Anyway, I was pleasantly by these hashbrowns – tasting them made me think we might need to have bacon and eggs with a side of hashbrowns a little more often!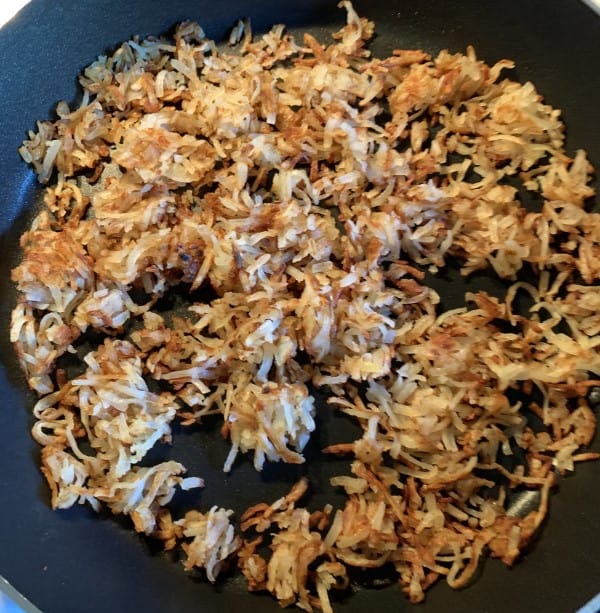 Taste
I was very skeptical about how these would taste considering they come dry and in a carton. Fortunately, I was pleasantly surprised! When you take the time to fry them a little in a pan, they get nice and golden brown and crispy. To get them to taste their best, you definitely need some oil or butter in the pan and you need to give them enough time and heat to get extra crispy. When you do that, they're flavorful without being overly salty. I didn't need to add extra salt to my serving, just ketchup, because I can't imagine eating any hashbrowns without ketchup! To me, they tasted just as good as the hashbrowns I've had at one of my favorite local breakfast spots.
Cost
Costco sells the pack of eight cartons of Golden Grill Hashbrown Potatoes for $8.99 Canadian. Each carton gives you seven servings of hashbrowns. In my opinion, just over a dollar per carton is pretty good value for tasty, convenient hashbrowns.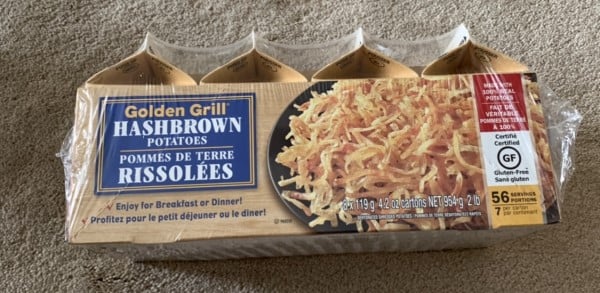 Convenience
The Golden Grill Hashbrown Potatoes are very easy to make! You just add hot water to the carton and fry them in a pan with a little bit of oil or butter. I imagine these would be incredibly useful for those who like to camp or have big breakfasts on the weekends! The nice thing about them is even if you don't have big breakfasts all the time, you can keep them in your cupboard for the days when you do. The best-before date is almost a year from the purchase date.

Nutrition
One-third of a cup of prepared hashbrowns contains 90 calories, zero grams of fat (not including oil or butter obviously), 250 milligrams of sodium, 13 grams of carbohydrates, one gram of fibre and one gram of protein. I could easily eat much more than a third of a cup of the hasbrowns though, and like I said, you need oil or butter with them. You can always use a healthy oil, but I don't think many people would expect tasty hashbrowns to be super healthy, so overall I think the nutritional information is reasonable.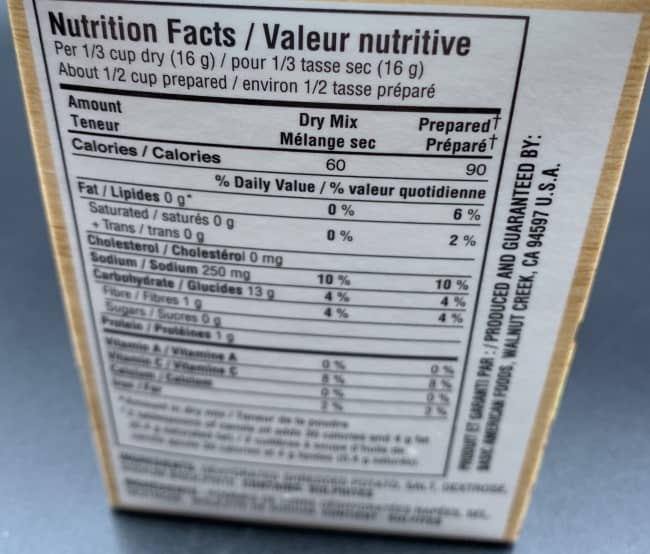 I wanted to share this review for all the hashbrown lovers, campers and individuals who enjoy big breakfasts! This is a convenient way to enjoy hashbrowns without sacrificing too much in the taste department!
Taste: 8/10
Cost: 8/10
Convenience: 7/10
Nutrition: 5/10
What's your favorite kind of breakfast to have on the weekend?