I use these all the time!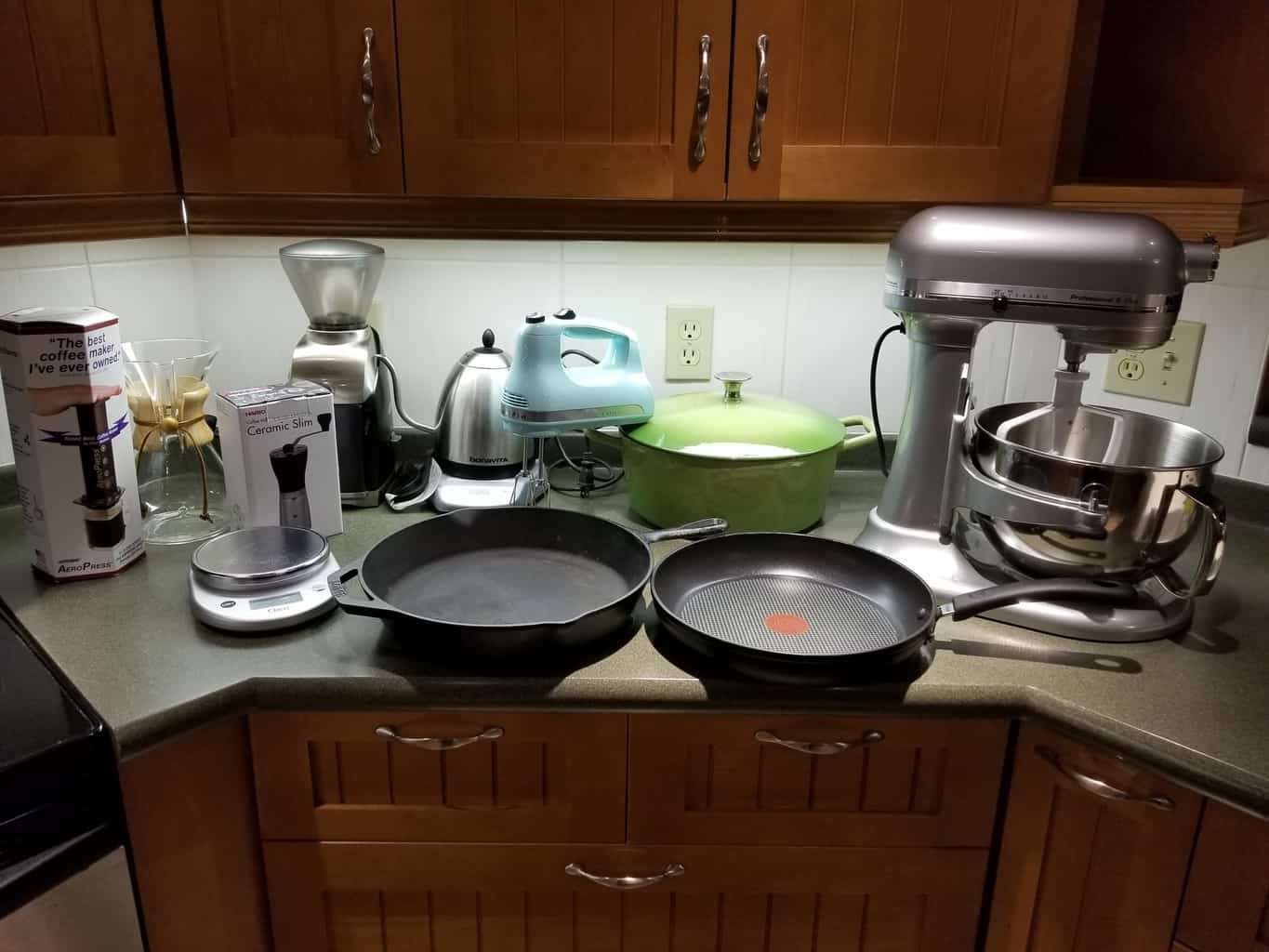 Sometimes readers ask me what sort of kitchen gear I like/use. I've even had a few younger readers (ones who are starting out on their own for the first time) ask me what sort of stuff they should buy to start putting together a functional kitchen for themselves. The list below includes several items that are must-have staples (e.g., good-quality knives), but mainly it's the stuff I find myself using the most as I go through my day-to-day and week-to-week routines. If I'm missing anything that you can't live without in your own kitchen, please let me know! I've included links to purchase various items through Amazon, and if you use those, I'd really appreciate it since I earn a small commission that goes to support Costcuisine.
Good-quality knives – You won't appreciate the value of a good-quality knife until you've tried one. Cutting is a big part of cooking, and cutting is much easier with the right knife. With that being said, you don't necessarily have to spend a lot of money to get a good knife (although there's almost no limit to what you can spend if you want a truly exceptional knife). One easy way to save is to avoid purchasing expensive knife sets. The most important knife to own is the classic eight-inch chef's knife. Next, you might want to buy a paring knife and maybe a bread knife. Then you can add the other knives that you think you'll find the most useful. This article from Michelin explains how to pick the perfect chef's knife, and this one from Serious Eats talks about which knives you actually need. If you're shopping on a budget, the Mercer Millennia chef's knife, paring knife and bread knife are good choices. If you want something mid-range, Mercer's Genesis chef's knife, paring knife and bread knife are a step up. If money is no object and you also want knives that double as works of art to display in your kitchen, you could look at high-end Japanese knives like this chef's knife, paring knife and bread knife from Shun.
Cutting boards – If you're going to invest in quality knives, you're going to need to invest in at least one cutting board to protect your counter and your knives. While plastic cutting boards might seem the most sanitary and convenient because you can run them through your dishwasher, the hard surface can be tough on knives (it dulls them faster) and studies have actually shown that more bacteria are found on used plastic surfaces than on used wood surfaces (especially when the plastic surface is covered in knife marks). For those reasons, you'll probably want a wood cutting board as your main one – just make sure you maintain it properly! I still like to use plastic cutting boards for quick, smaller jobs with my cheaper knives; it doesn't hurt to have both on hand (it's hard to beat the convenience of putting it in dishwasher when you're finished!).
OXO two-piece plastic cutting board set
Baking gear (measuring spoons, measuring cups and mixing bowls) – This stuff is pretty self-explanatory. Even if you don't bake a lot, measuring spoons and cups are a must-have, and mixing bowls can potentially double as salad and snack bowls!
Wildone measuring spoons and cups set
FineDine nesting metal mixing bowls
Non-stick frying pans – I would hate to try making breakfast (i.e., eggs or pancakes) without a good non-stick pan! They're also great for tons of other everyday tasks. I have a small one that I use almost exclusively for toasting nuts for salads and other dishes and a big one that I use whenever I need to cook ground beef or turkey.
T-fal two-piece non-stick frying pan set
Pots – You don't need a huge set of pots to start out with. Even two (a large stock pot and a medium sauce pot) will be enough to handle most tasks.
Cuisinart seven-piece cookware set
A cast iron skillet – If you look around the internet, you can find a lot of articles telling you that cast iron skillets are great and your cast iron skillet will be the most important piece of cookware in your kitchen. There's certainly a lot of truth to that, as you can do all sorts of cool things with a cast iron skillet. However, they're also heavy and need special attention to keep clean and nicely seasoned. I'm slowly starting to use mine more often as I learn more ways to cook with it.
A digital scale – We bought a cheap digital scale several years ago, and it's become a staple in our kitchen! It's great for measuring out ingredients precisely, measuring out portion sizes and even for making the perfect batch of coffee with just the right ratio of beans to water. I even use it when I'm baking cakes with layers to divide up the batter!
AmazonBasics digital kitchen scale
An instant read thermometer – An instant read thermometer is a very handy gadget to have around if you cook a lot of meat. We use it to make sure things like chicken breasts and burgers are safe to eat without being overcooked and to grill perfect steaks every time.
Thermopro TP19 instant read thermometer
A stand mixer – A stand mixer is a fairly big investment, but if you're like me and you love to bake, you can't really live without one. I love my massive KitchenAid mixer – my husband insisted we buy the biggest one at the store, but at least I never have to worry about running out of room in the bowl! Surprisingly, they make much bigger ones than our five quart model. You can also use it with all sorts of cool attachments, like a food processor, a pasta roller/cutter and an ice cream maker.
KitchenAid Professional 5 Plus Series stand mixer
A hand mixer – As much as I love my stand mixer, I don't really want to haul it out every time I want to make icing or some whipped cream. You can also use a hand mixer for most of the same things as the stand mixer – it's just a bit more labor-intensive (but it's a lot cheaper!).
KitchenAid five-speed hand mixer
A Dutch oven – I don't use my Dutch oven as often as some of the other items on this list (partly because I have a crockpot too), but it's great for making things like chilis, soups, stews and casseroles. I actually bought mine originally so that I could make my jambalaya!
AmazonBasics six-quart enameled cast iron Dutch oven
Hario Mini Mill Slim hand coffee grinder
Hario V60 ceramic coffee dripper
Baratza Virtuoso coffee grinder
Bonavita 1.0L Digital Variable Temperature Gooseneck Kettle
---
What are your kitchen must-haves? Do you own any of these items?