Easy and flavorful jambalaya recipe!
Please note that this review/recipe was not paid for or sponsored by any third party. The opinions in this review are strictly my own. I am not affiliated with Costco or any of its suppliers. I am just a fan of the company. I write these honest reviews to help my fellow shoppers.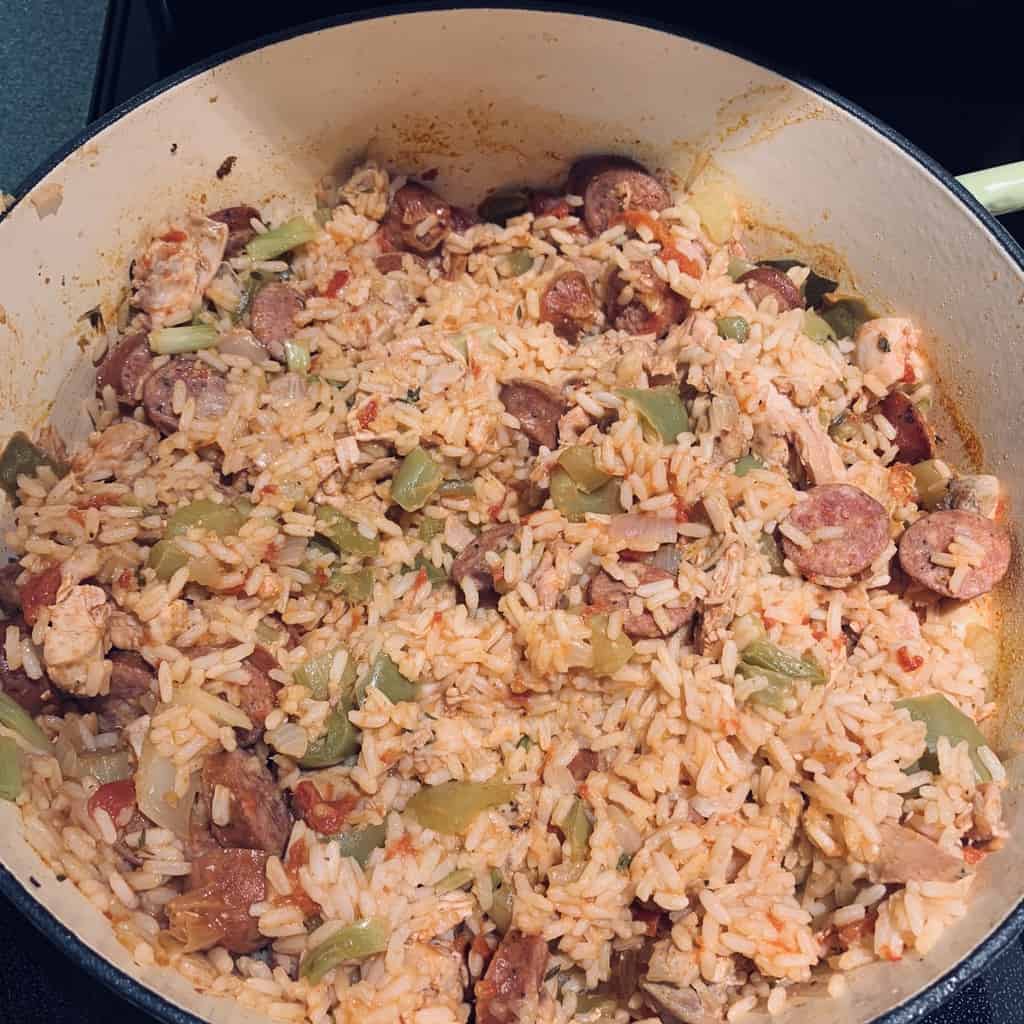 Happy Friday friends! This is the perfect comforting winter meal. I guess you could make it in the Summer but I always only make it during the winter. There's definitely some heat to this! Sean loves this Jambalaya and I feel a little impressed with myself after I make this. It tastes like real deal creole style Jambalaya. This makes a lot of Jambalaya so expect a lot of leftovers or invite someone over for dinner. The fact that this lasts Sean and I two meals and I still usually have a bit leftover is saying something. It's a little time intensive so I warn you but in my eyes it's worth it.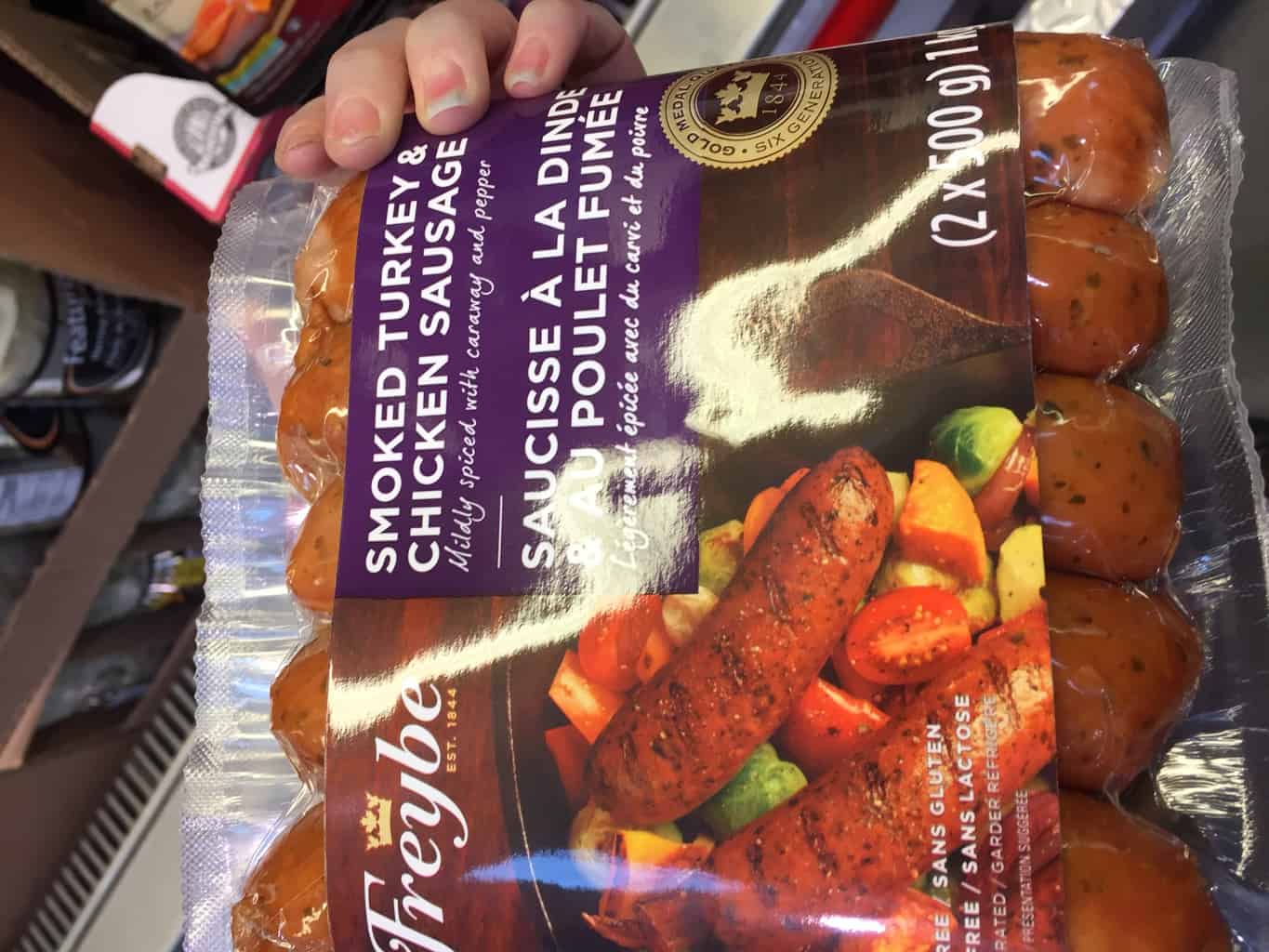 Ingredients:
28 oz can of whole tomatoes no salt added
3 to 3.5 cups low sodium chicken broth
6-7 Costco Freybe Turkey and Chicken Smoked Sausage cut up into rounds
1 teaspoon jarred minced garlic (you can use fresh or garlic powder)
½ pack of Costco Kirkland Signature Boneless Skinless Chicken Thighs
3 green peppers diced
5 celery stalks diced (no leaves)
1 white/yellow onion diced
1 tbsp Costco Kirkland Signature Extra Virgin Olive Oil
1 teaspoon tomato paste
¼ teaspoon ground oregano
2 teaspoons fresh thyme leaves
¼ teaspoon garlic powder
2 cups converted rice
3 bay leaves
1 tbsp. Louisiana style hot sauce
1/4 tsp cayenne pepper
One bunch of green onion white parts only diced
Use a measuring cup and strainer, pour your can of tomatoes into strainer over top the measuring cup so the juice in the can goes into the measuring cup. Put strained tomatoes in a separate bowl and take one tomato at a time and squeeze/crush the juice from the tomatoes over the strainer with your hands so the juice goes into the measuring cup. Set aside squeezed tomatoes. See how much tomato juice you have, usually it's just shy of 2 cups. You need 4 cups total of tomato juice and chicken broth in total so if you have 1.75 cups of tomato juice, you need 2.25 cups of chicken broth. Fill measuring cup of tomato juice with chicken broth until you have 4 cups total and set aside.
Preheat oven to 350, place chicken thighs in oven safe dish with a teaspoon or two of Kirkland Signature Extra Virgin Olive Oil. Season chicken thighs with salt and pepper and cook for about 40 minutes, turn them over once at 20 minutes.
While chicken is cooking, dice green pepper, celery and onion. Also slice your sausages into ¼ inch thick rounds.
When chicken is done, dice your chicken up on a cutting board and reduce your oven temp to 325 degrees Fahrenheit.
Grab your Dutch oven, over medium-high heat, add 1 tbsp Costco Kirkland Signature Extra Virgin Olive Oil. Then add your sausage. Cook sausage 3 to 5 minutes until it is lightly browned.
Add your vegetables and minced garlic and cook for a few minutes until fragrant and turning slightly yellowish.
Add tomato paste and stir it in, covering all the vegetables and sausage. Then add your thyme, oregano, garlic powder, cayenne, some ground black pepper (a few shakes), bay leaves, your crushed up tomatoes that you set aside, the chicken and the chicken broth and tomato juice, stir and bring to a simmer.
Then once it's slightly simmering stir in your rice, bring it back to a simmer. Then once it's starting to slightly simmer again. Cover with your Dutch oven lid and place the whole Dutch oven in the oven that's set at 325 degrees Fahrenheit.
Cook for 40 minutes, remove Dutch oven, stir up your Jambalaya and add the white parts from the green onions. Return to your oven uncovered for 5 minutes. If you like shrimp you could add shrimp at this time too, the same time as your add the green onion white ends, about ½ a pound of shrimp would be good.
Remove from oven, cover again and let sit covered for at least 15 minutes before you serve. It will be hot!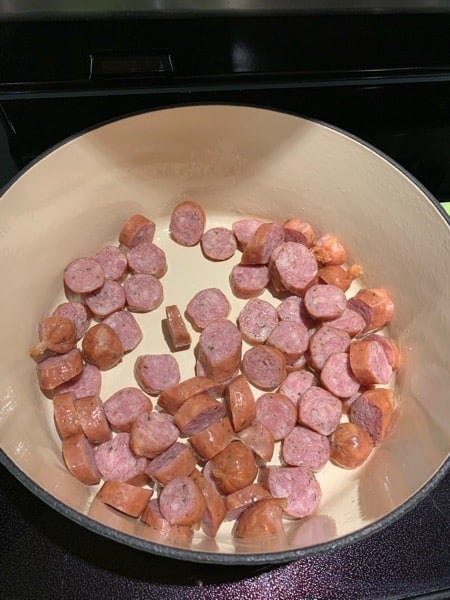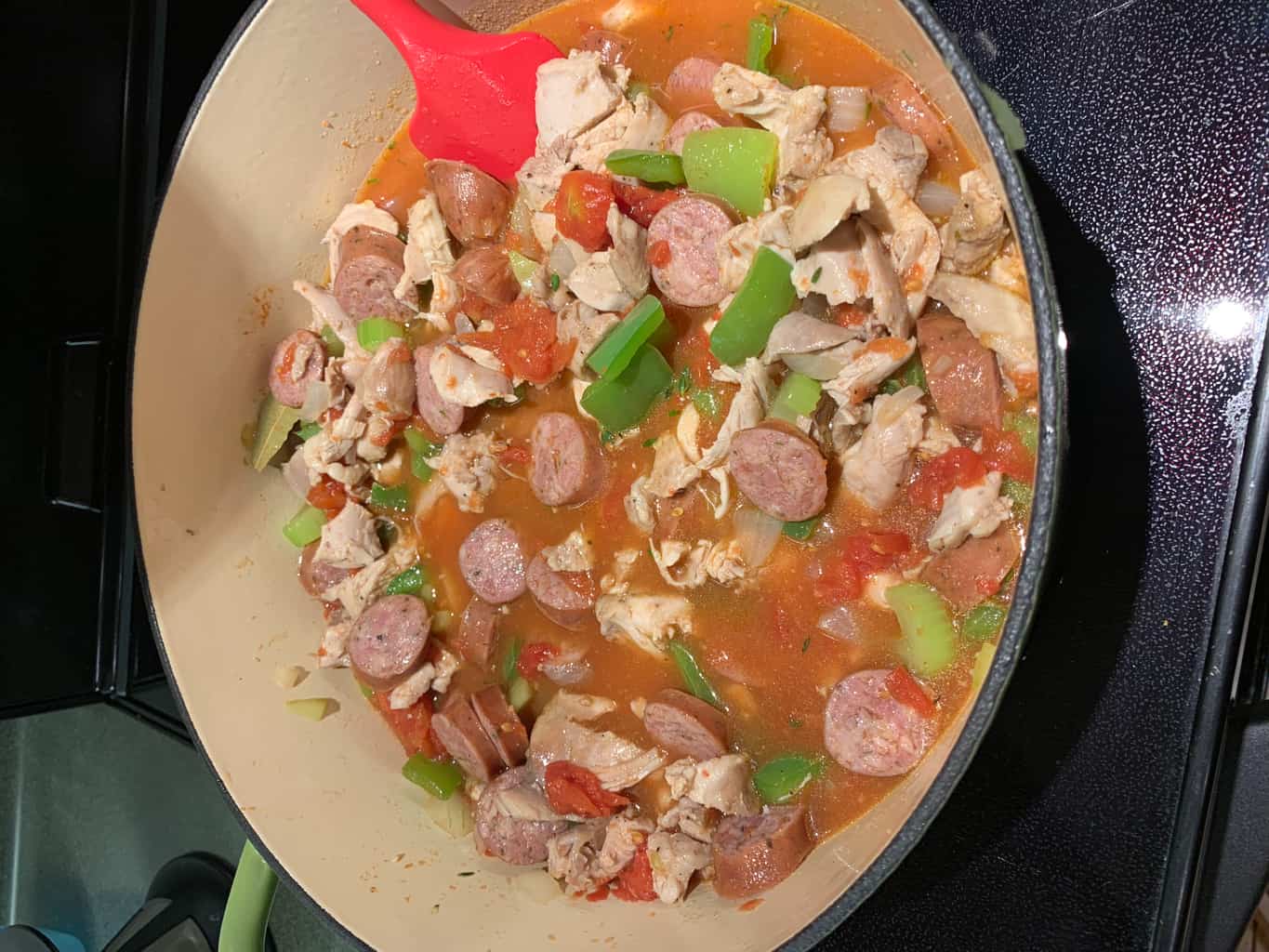 Any questions?! Please don't hesitate to ask!