I feel like these are more like a chip than a cracker!
Please note that this review was not paid for or sponsored by any third party. I purchased this product with my own money and the opinions in this review are strictly my own. I am not affiliated with Costco or any of its suppliers. I am just a fan of the company. I write these reviews to help my fellow shoppers.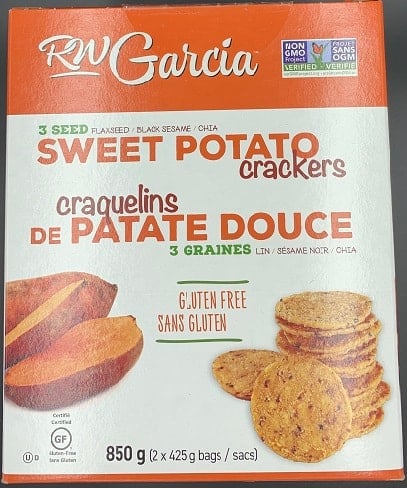 I never really had sweet potato as a kid and have only started eating them in the last few years. Now I'm willing to try all kinds of different variations of sweet potato whether it's baked, mashed, fries, chips or crackers. I'm always on the hunt for a good cracker because I usually eat crackers at work with my lunch each week, they're one of those easy items to bring to work that you can pair with a multitude of other things or just eat plain. The RW Garcia Sweet Potato Crackers at Costco caught my eye because I've never had a sweet potato cracker before and they appear to be somewhat healthy. The box states that R.W Garcia is a family-owned company and the crackers are non-GMO, both of which are selling points for me.
Taste
These are tasty, there's no doubt about that but they aren't what I was expecting. I pictured a larger, thicker, more substantial cracker. I don't even know if I would call these crackers, honestly to me they taste like a tortilla chip. That doesn't mean they aren't super delicious and slightly unique because they are but I just don't feel like they're the true cracker I was expecting. They're not overly salty and there's a hint of sweetness from the sweet potato flavor but otherwise picture a sweet potato, multigrain tortilla chip. The multigrain taste comes from the chia, black sesame seeds and flax seeds that add texture and flavor to the "cracker". I recommend these specifically for dips and spreads.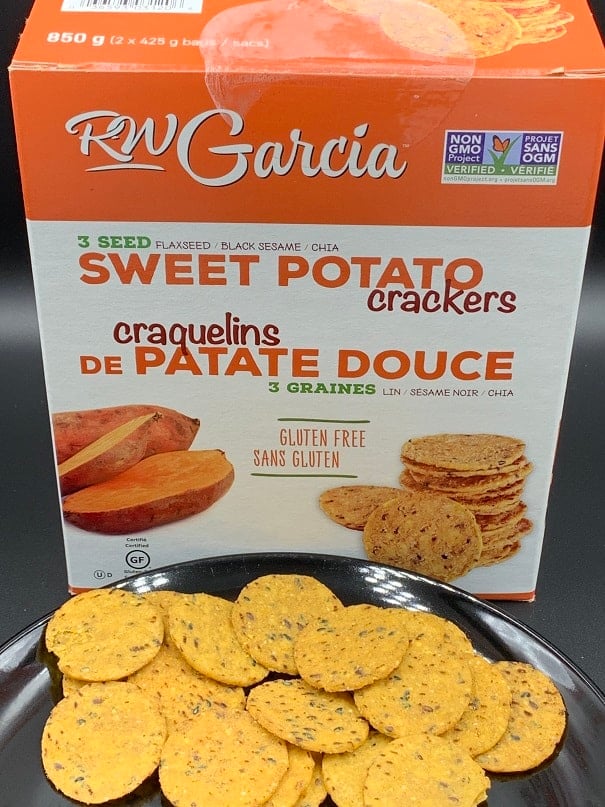 Cost
Costco sells a large 850g box with two separate 425g bags for $9.89 Canadian (not on sale). I found the price to be a little on the high side when I opened the bag and could see how big the crackers were tasted what they were like, I would feel more comfortable paying at around the 5 or 6 dollar price point for these crackers.
Convenience
Crackers are one of the most convenient food items there's no denying that. Initially when I bought the box of Costco R.W Garcia Sweet Potato Crackers I pictured something like larger crackers neatly packaged side by side in a sleeve. However, the crackers are just thrown into the two bags, which leads to a lot of broken crackers and small pieces. The box the crackers come in does help with mitigating the breakage but it still happens. Small broken pieces make it hard to dip and top crackers and also can lead to big messes as you try to pour the crumbs in the bag directly into your mouth. I don't love the big bags because I find that despite my best attempts to keep things fresh by using clothing pins and ziplock bags, I sometimes can't finish a big bag of crackers before they get a little stale.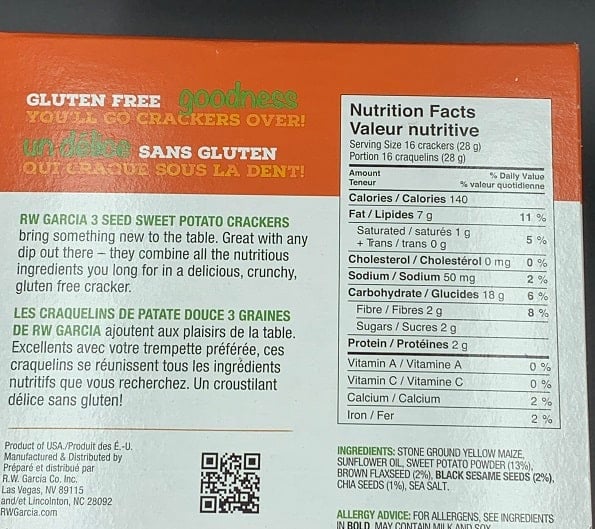 Nutrition
I appreciate the short list of ingredients. The main ingredient is corn, embarrassingly I had to google stone ground yellow maize to find out that this is basically ground corn. Initially thought the nutrition information was pretty fantastic, 16 crackers for 140 calories, seven grams of fat and two grams of fibre, protein and sugar. It's definitely not at all close to being super unhealthy or anything but it's so easy to eat 16 or more of these. They're small and seven grams of fat seems high to me compared to other crackers. The second ingredient is sunflower oil so that must be where the fat is coming from.
I've been bringing these to work to finish up the bag and although I really enjoy the taste I feel like I'm eating tortilla chips almost daily now when I used to have them as more of a treat. I found these slightly overpriced as they taste quite similar to tortilla chips that are much cheaper but lacking in the sweet potato department. The RW Garcia Sweet Potato Crackers pair well with the Costco Something Special Red Pepper Chili Spread and a little bit of brie. You must try it!
Taste: 8/10
Cost: 6/10
Convenience: 9/10 (not a fan of broken crackers)
Nutrition: 7/10
Would you say these look more like a cracker or a chip? What kind of dip would you serve them with?