Convenient and versatile mini wontons with great flavor!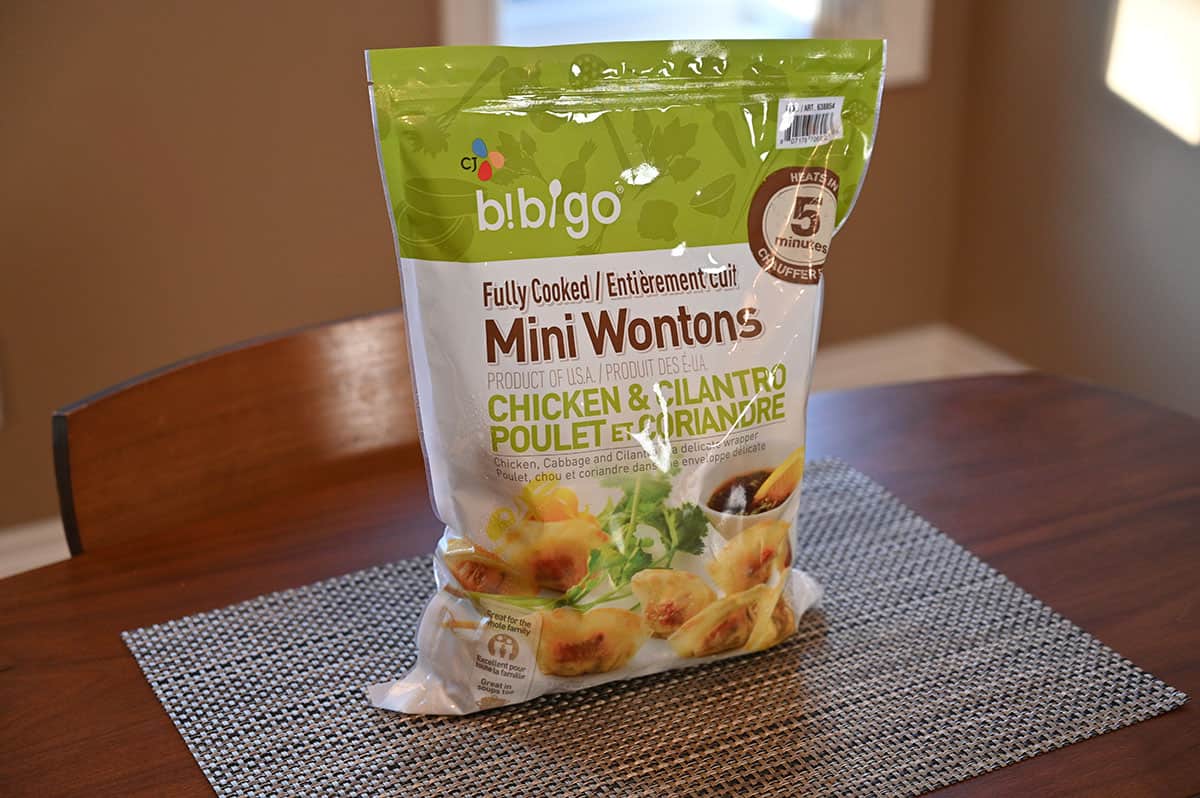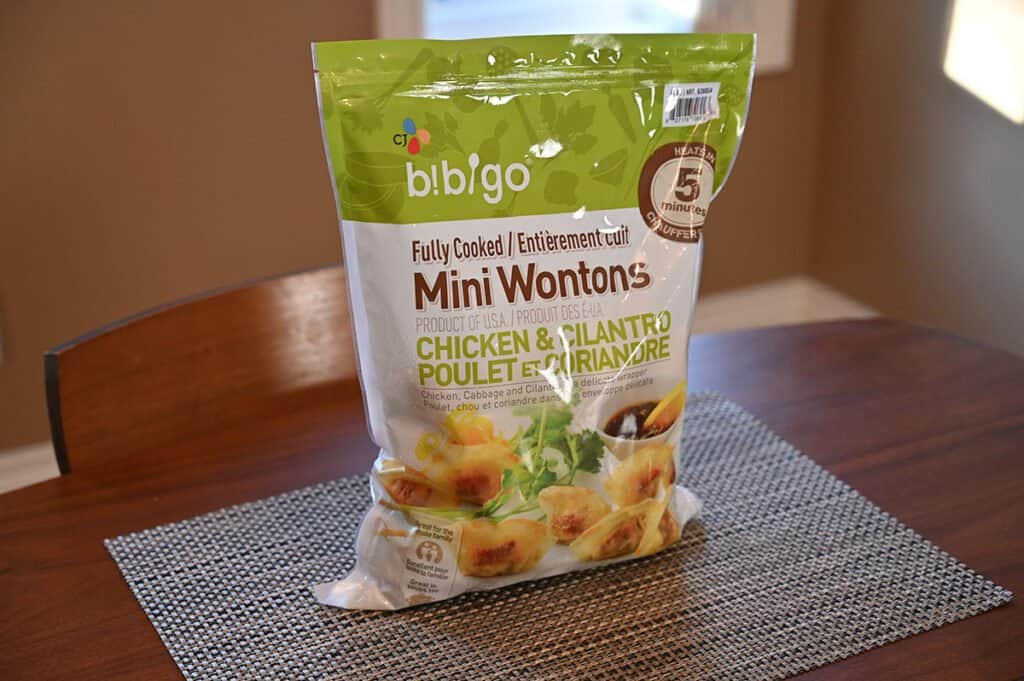 I feel like I should have tried the Bibigo Fully Cooked Chicken & Cilantro Mini Wontons a long time ago since I love frozen and easy-to-make Asian food! I know cilantro is a polarizing herb – apparently some people actually have genes that make them cilantro-averse. I've always liked cilantro though, so that didn't scare me away.
Location in Store
In the freezer section along with other tasty and convenient Asian-themed entrees and appetizers – like the Bibigo Pork & Vegetable Steamed Dumplings!
Taste
First of all, for my cilantro-hating friends, you can definitely taste it. If that's a dealbreaker for you, I guess you can stop reading here. Personally, I really enjoyed the combination of the chicken with the cilantro. The filling is certainly flavorful, and there's a generous amount of it in these small wontons.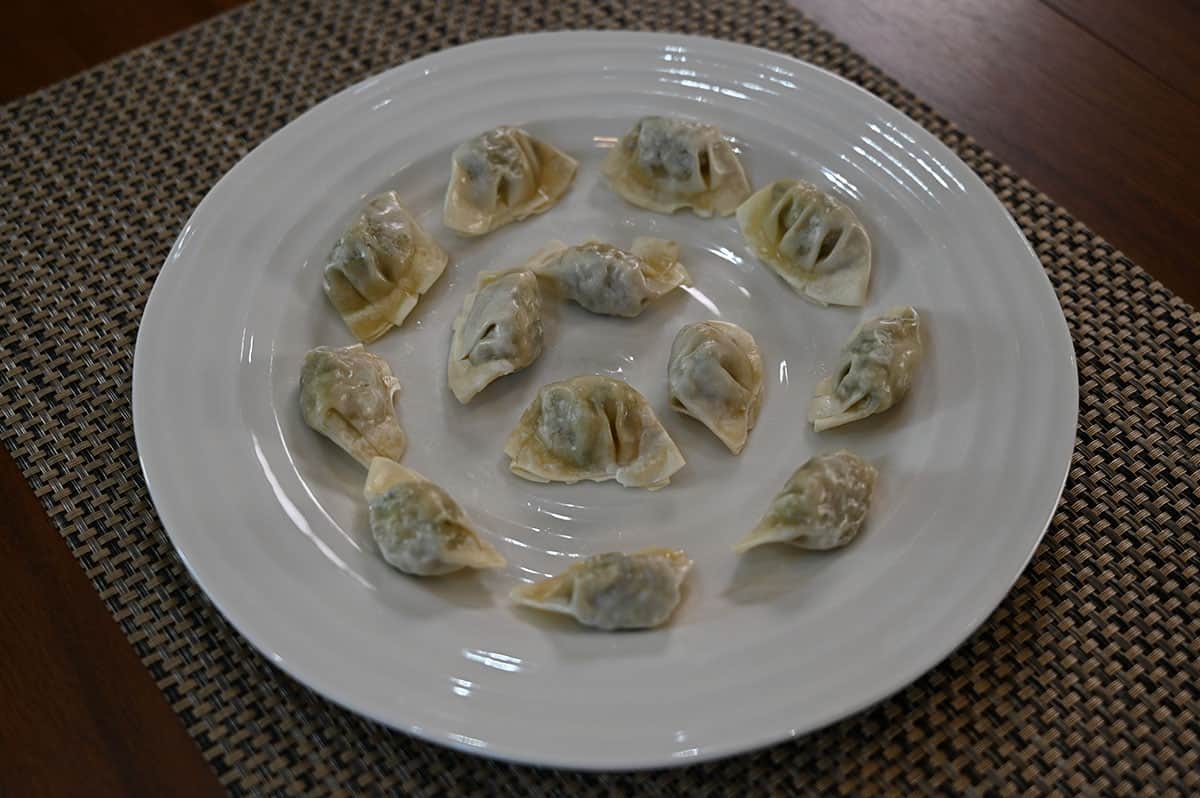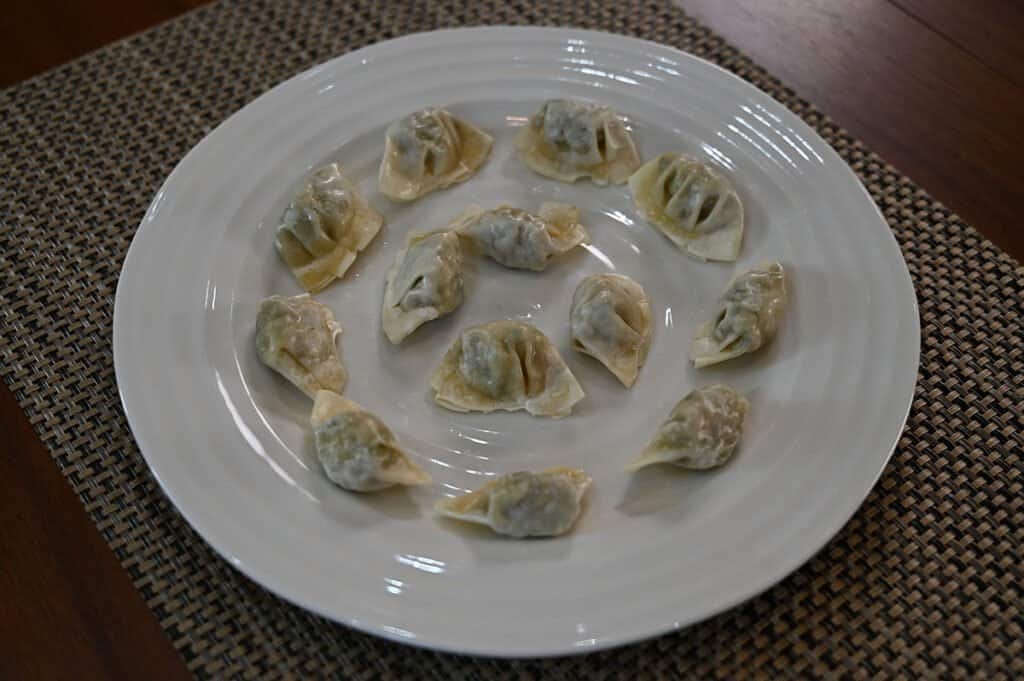 Another thing that I enjoyed about the Costco Bibigo Mini Wontons was the texture. Even though I cooked my wontons using the microwave method, the wrappers had a nice texture with some crispiness/crunchiness to them. Overall, I found the Mini Wontons to be quite delicious. I think what would make them truly exceptional would be if they included some kind of sauce to go with the wontons, like the Costco Siwin Potstickers.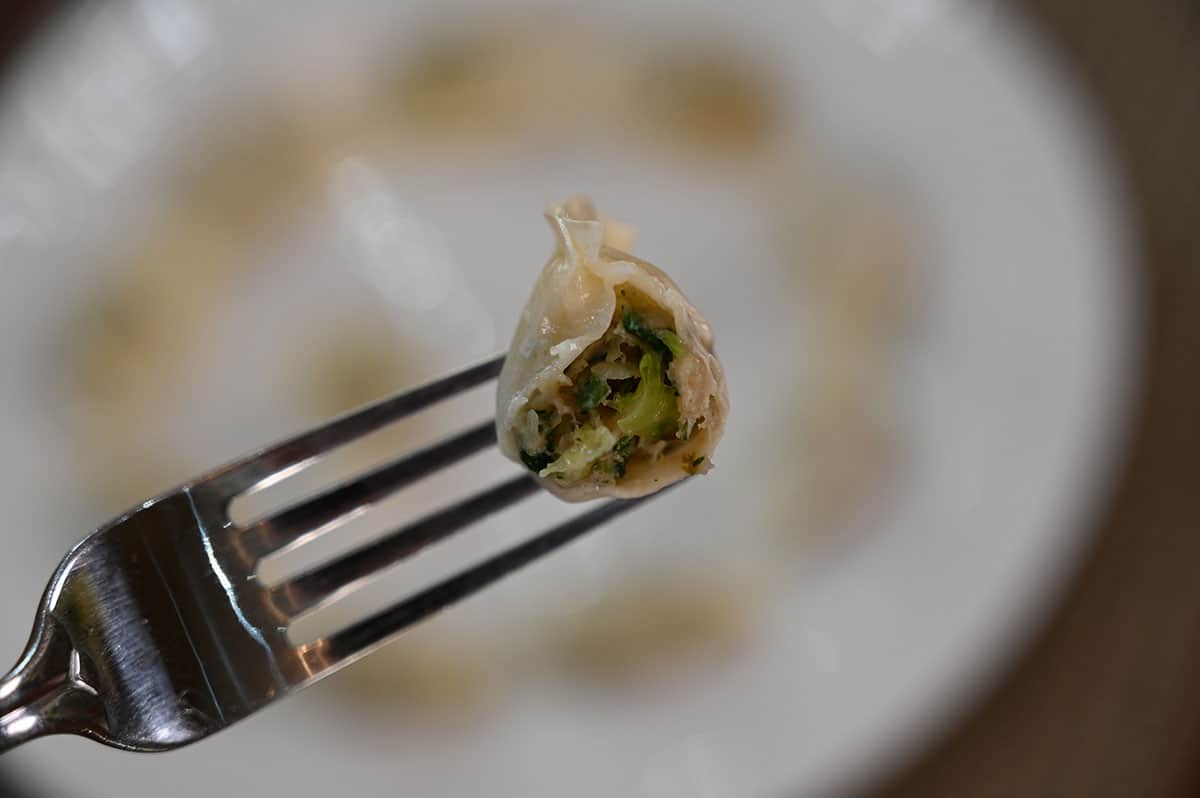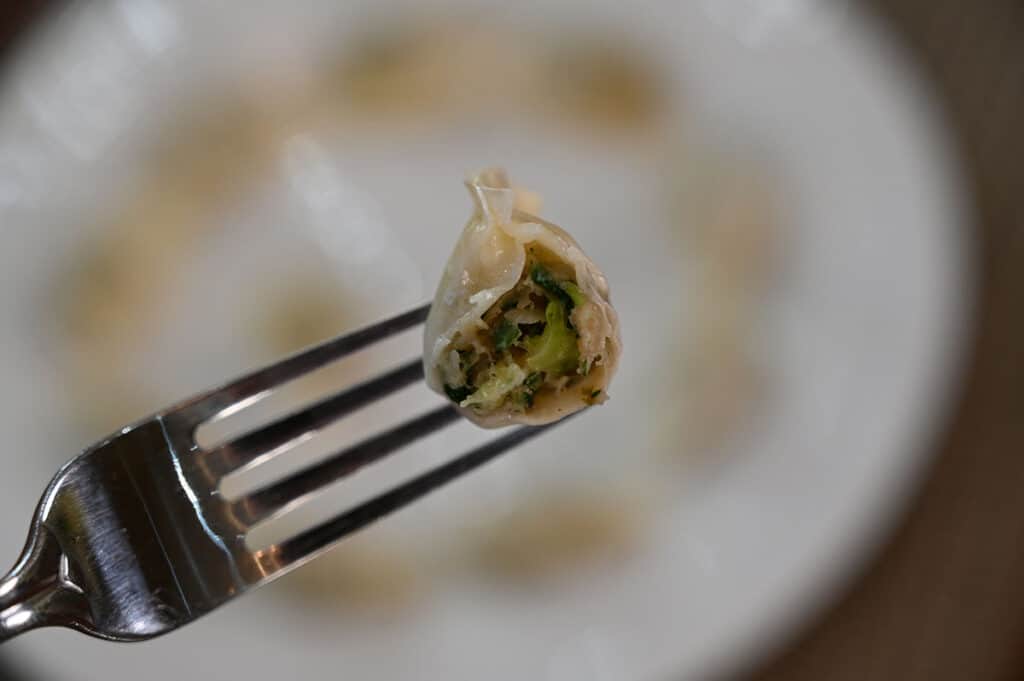 Cost
The regular price for the Bibigo Mini Wontons is $12.99 Canadian. I originally purchased these on sale for $8.99 Canadian though. Even the full price is reasonable in my opinion. The bag is a good size. Based on the weight of the bag and the serving size listed on the package, you should get around 150 mini wontons in the bag. The wontons also contain a generous amount of meat. If you see them on sale for $8.99 like I did, that's a steal of a deal!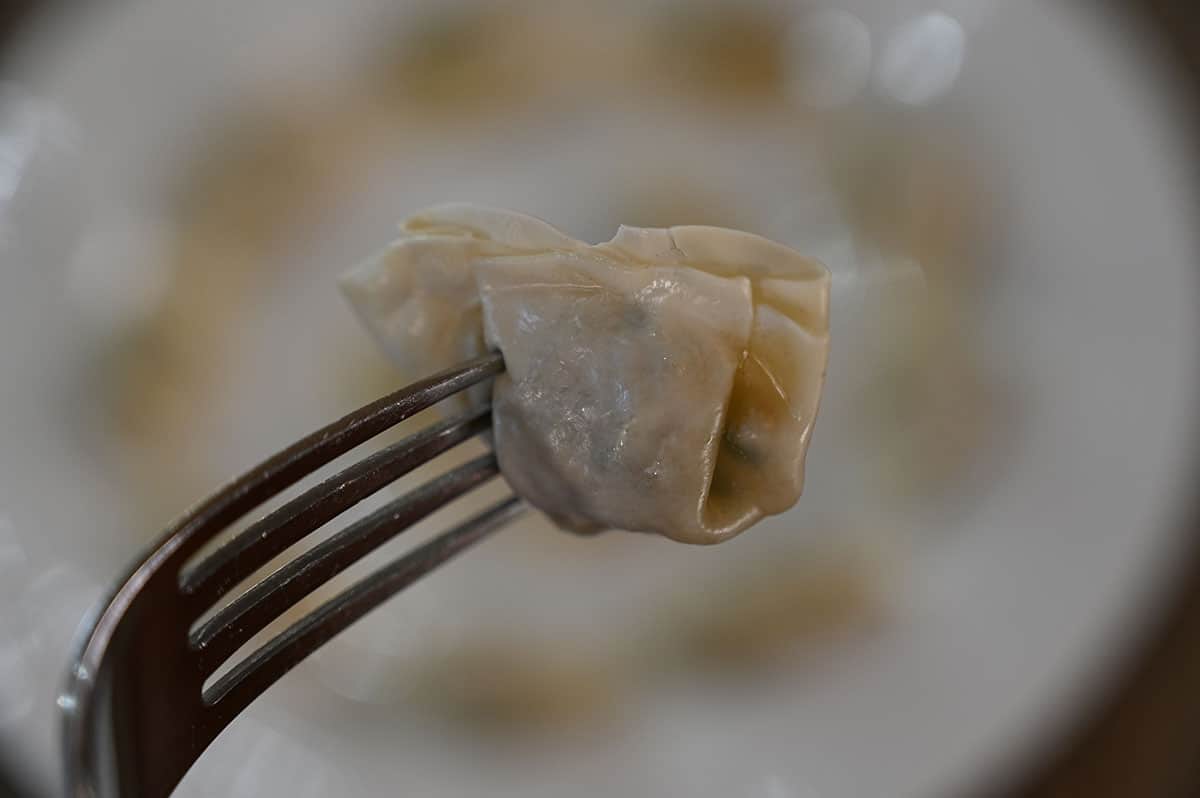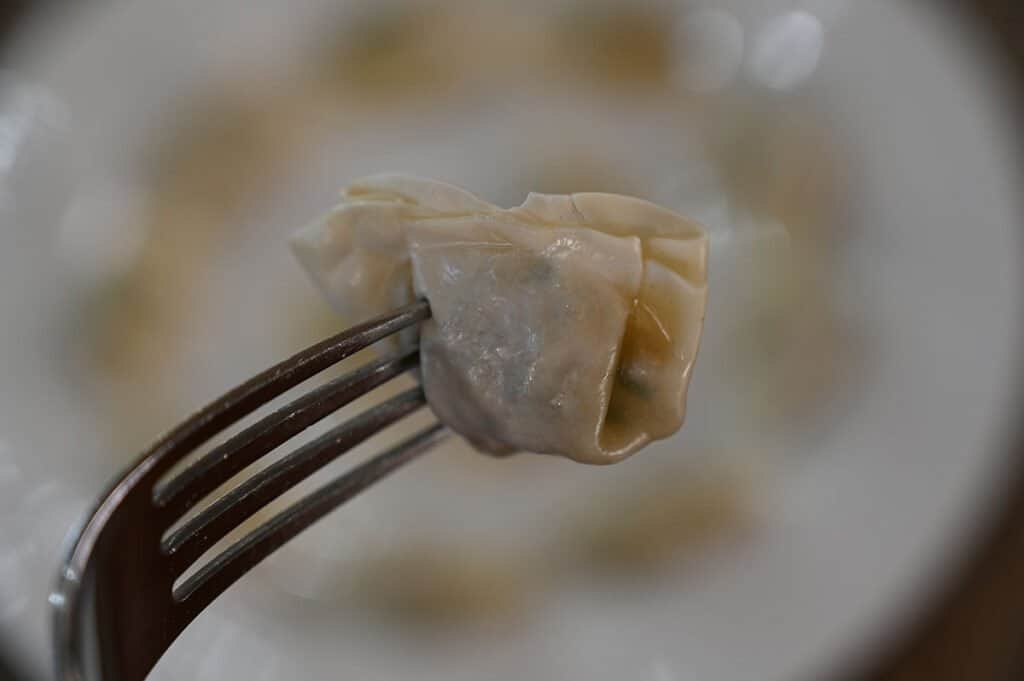 Convenience
The Bibigo Fully Cooked Mini Wontons can be heated up in a few different ways. If you're in a hurry or just looking to maximize the convenience factor, you can't beat the microwave option. All you have to do is put a damp paper towel on a microwave-safe dish, put your frozen wontons on it, cover them with another damp paper towel and heat them on high for one to two minutes. I've cooked the mini wontons this way a few times and they always turn out well.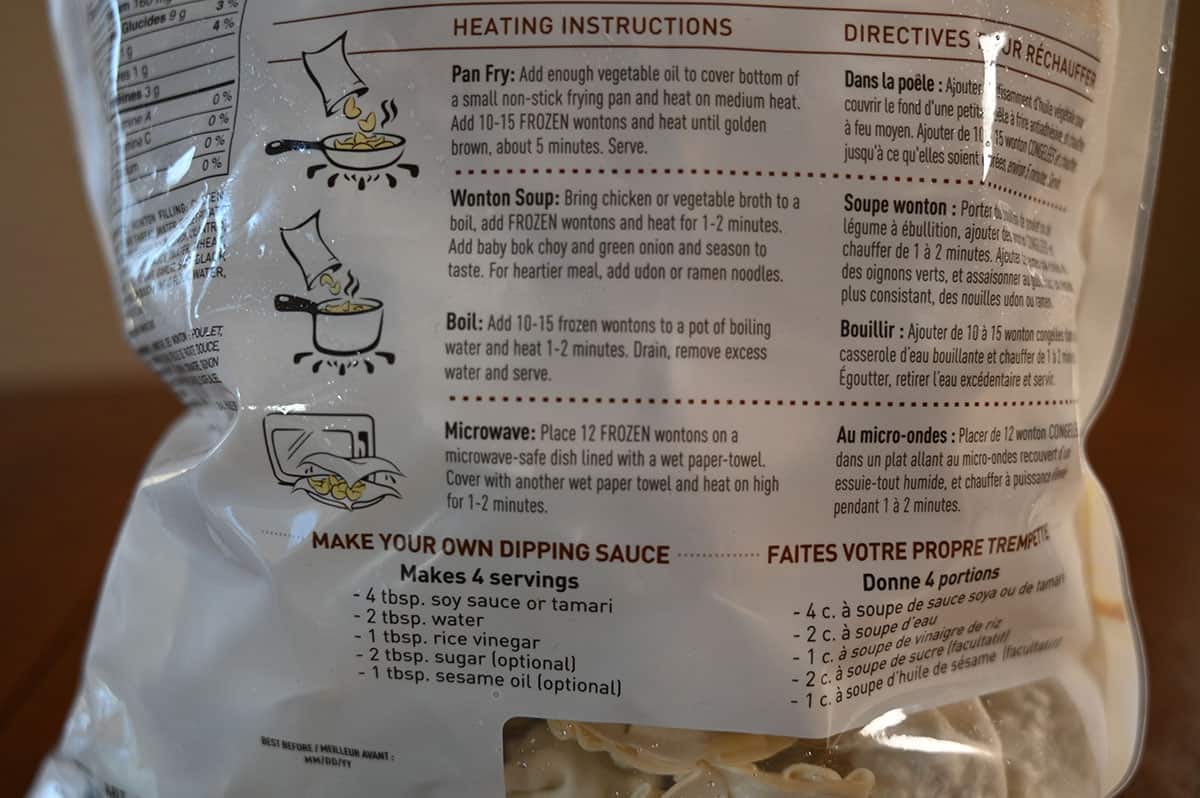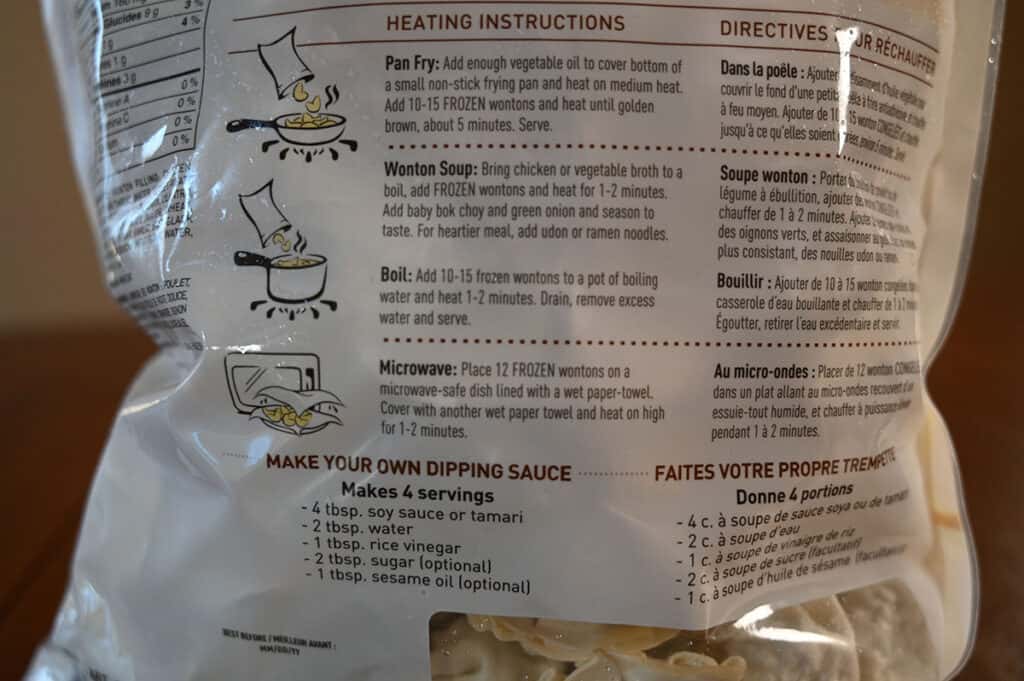 The other options are pan-frying the wontons, adding the wontons to wonton soup and boiling the wontons. To pan-fry the wontons, you cover the bottom of a non-stick pan with vegetable oil, heat it on medium heat, add your frozen wontons to the pan and heat them for about five minutes until they're golden brown. If you're adding the wontons to wonton soup, you bring your broth to a boil, add the frozen wontons and heat them for one to two minutes, then add vegetables and seasoning as desired. Finally, to boil the wontons, you put the frozen wontons in a pot of boiling water for one to two minutes, then drain the point and serve the wontons.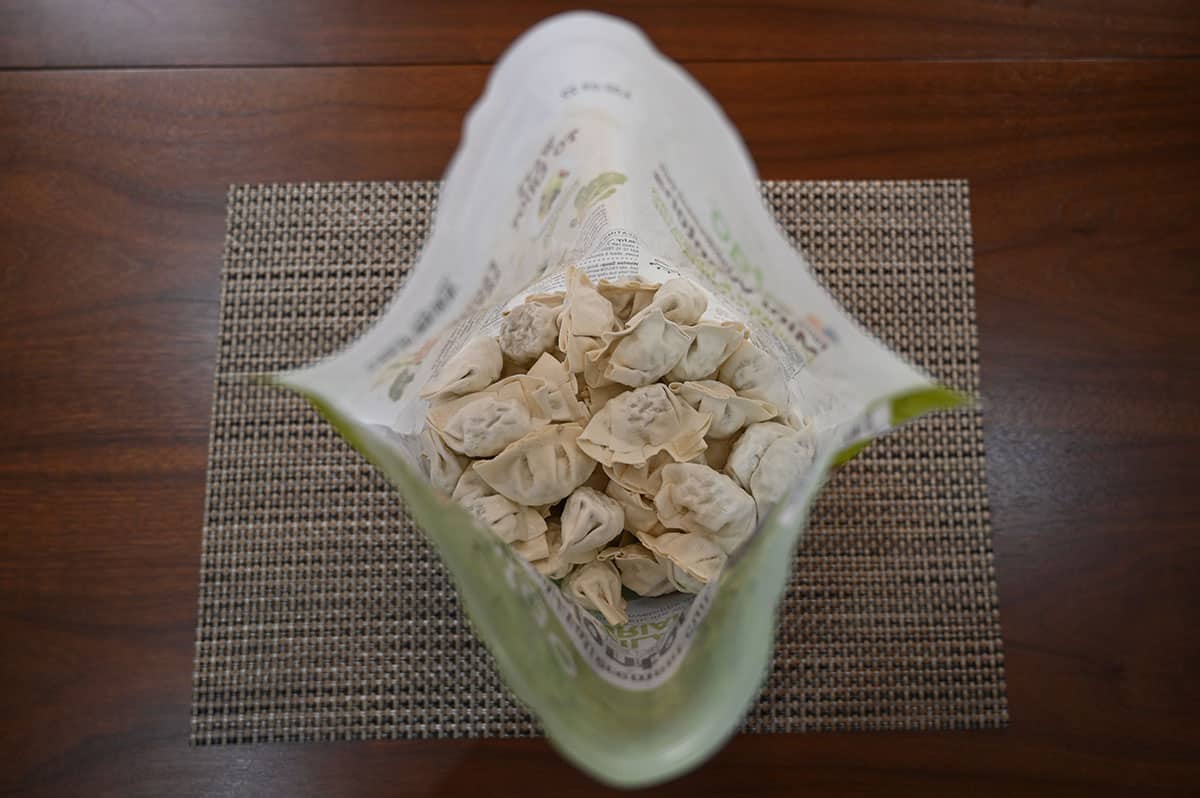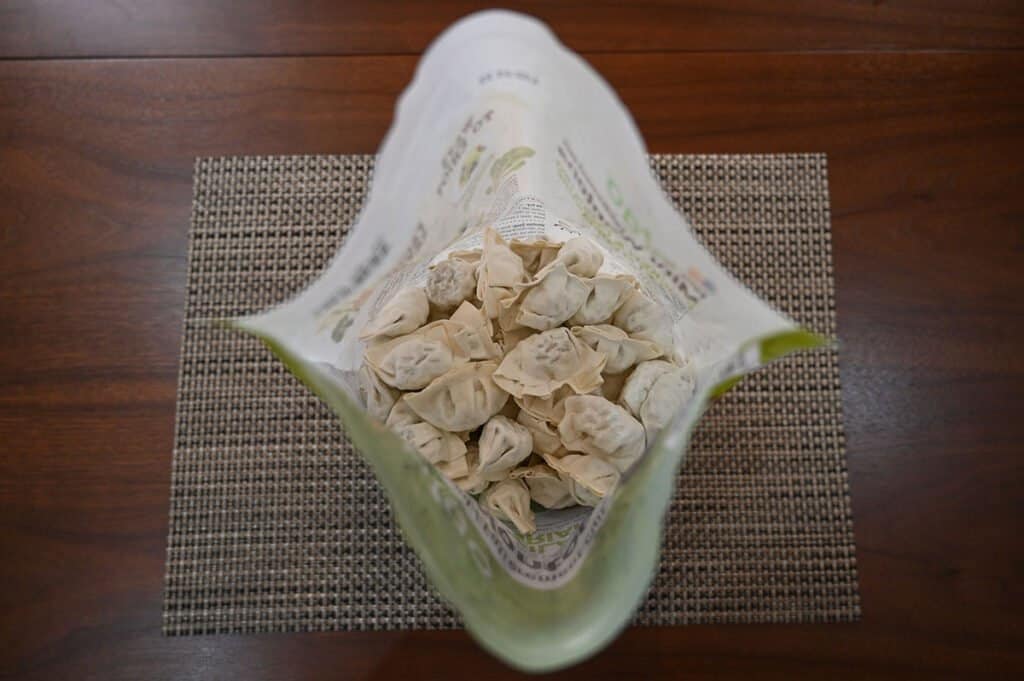 The best before date on my bag of Bibigo Fully Cooked Mini Wontons was about a year from the date that I purchased them. Having these in your freezer is kind of handy, because they're also pretty versatile! The bag even suggests using them in a salad, which I thought was an interesting idea.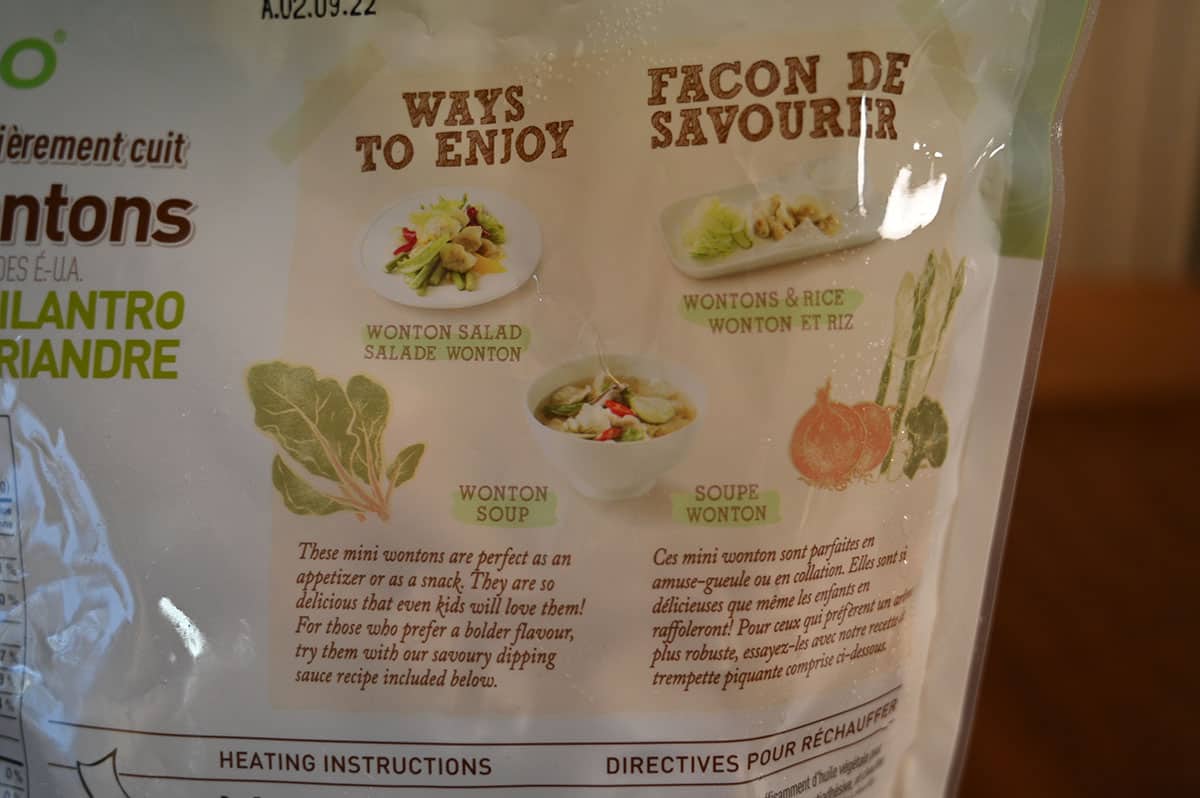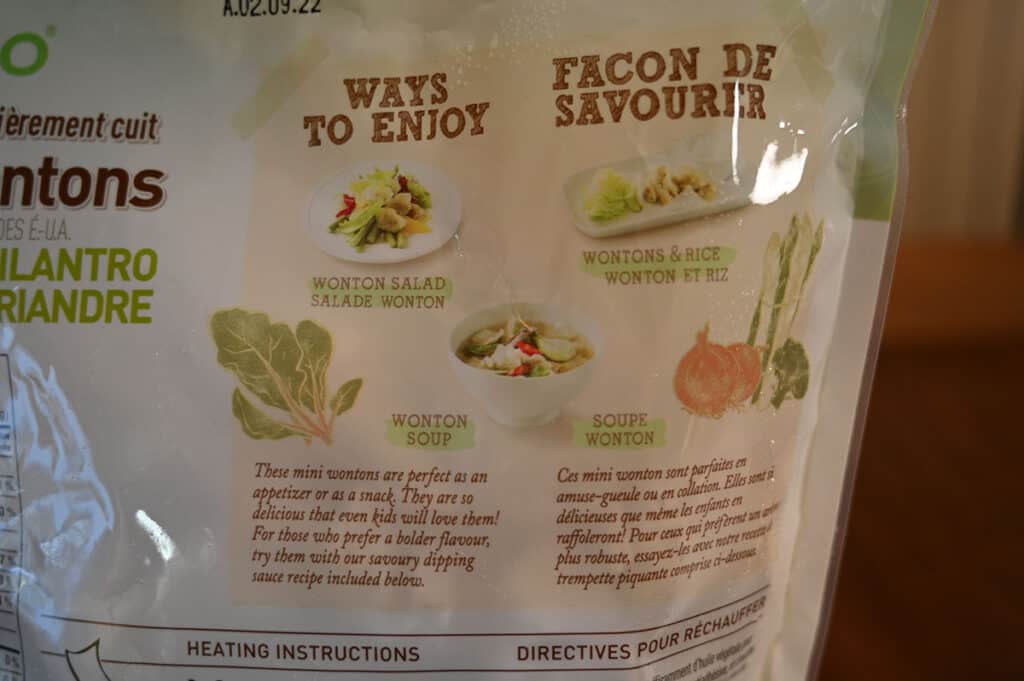 Nutrition
Calories
Nutritionally these aren't that bad for you – especially considering how tasty they are. Four mini wontons contains 50 calories, half a gram of fat, 160 milligrams of sodium, nine grams of carbohydrates, one gram of sugar, one gram of fiber and three grams of protein. Obviously, you're going to eat more than four (how could you not?!), but even then the nutritional values are reasonable.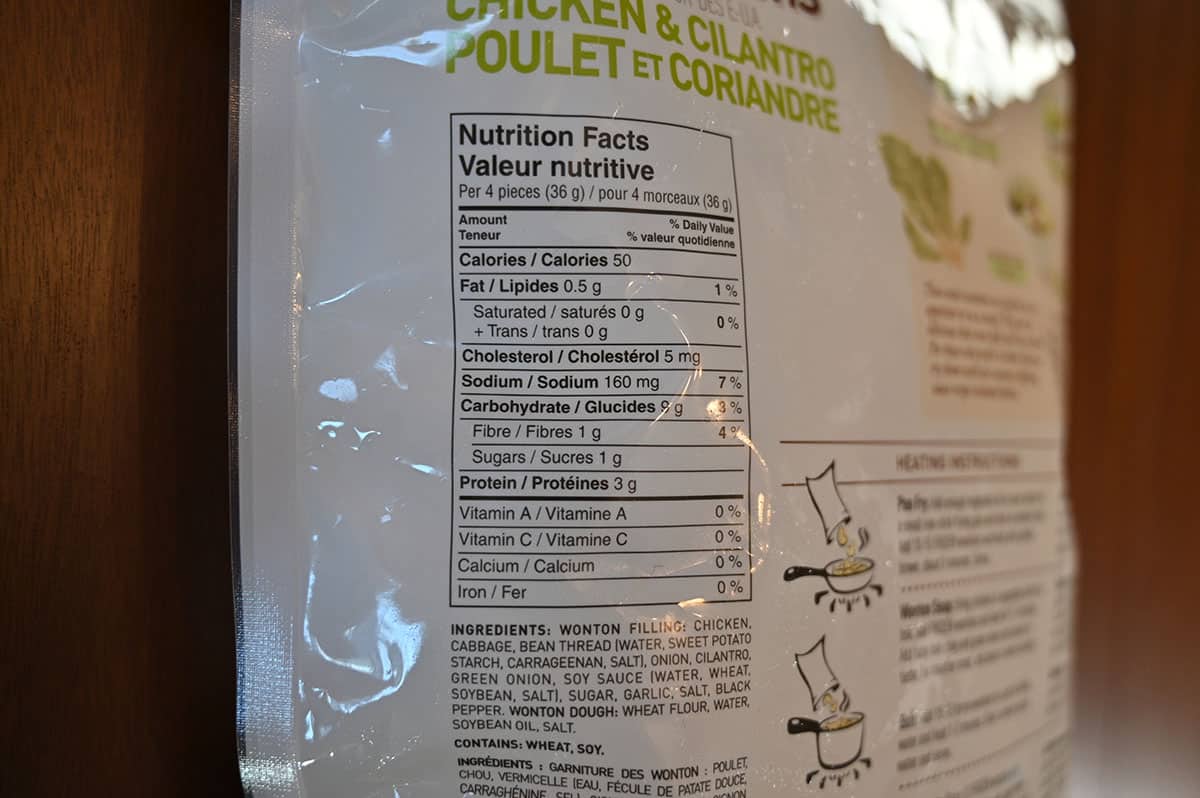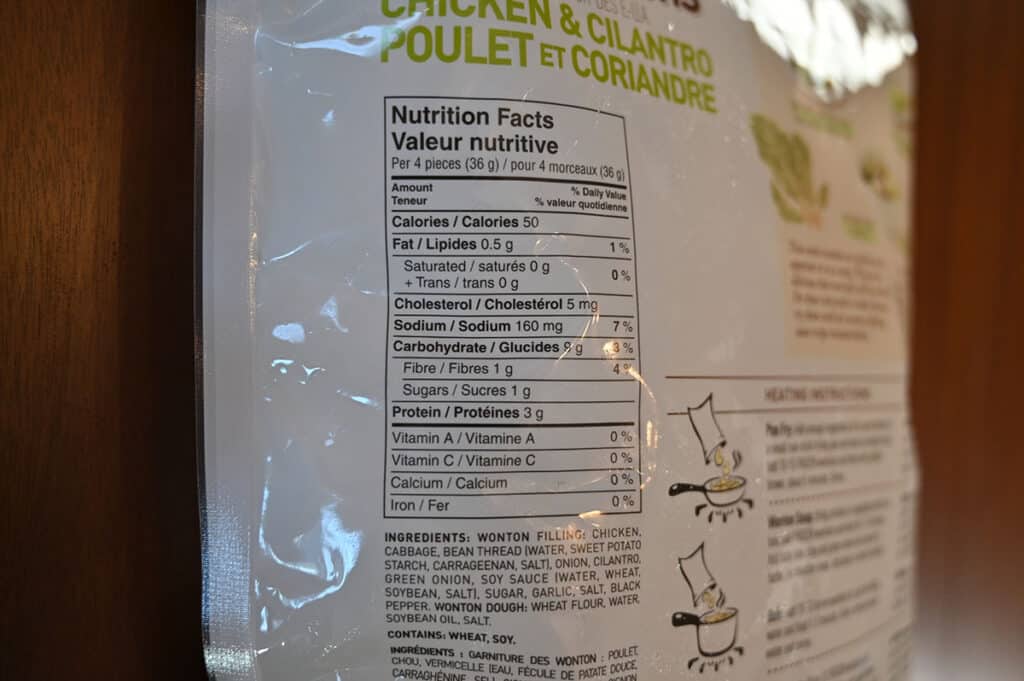 Ingredients
I was pretty pleased with the ingredients listed on the bag. The ingredients all made sense to me and there aren't any weird additives.
Scoring
Taste: 8.5/10
Cost: 9/10
Convenience: 9/10
Nutrition: 6/10
Overall
Must buy!
I really enjoyed the flavor of the Costco Bibigo Fully Cooked Chicken & Cilantro Mini Wontons. I might try making wonton soup with them at some point to see what that's like. My husband also really enjoyed the taste, so I would definitely purchase them again.
Have you tried these mini wontons? Did you like them? How would you use them?
Please note that this review was not paid for or sponsored by any third party. This product was purchased by Costcuisine for the purpose of producing this review. The opinions in this review are strictly those of Costcuisine. Costcuisine is not affiliated with Costco or any of its suppliers. In the event that Costcuisine receives compensation for a post from the manufacturer of a product or some other third party, the arrangement will be clearly disclosed (including where the manufacturer of a product provides Costcuisine with a free sample of the product).