Cute and decadent chocolate mousse desserts from Costco!
Please note that this review was not paid for or sponsored by any third party. The opinions in this review are strictly my own. I am not affiliated with Costco or any of its suppliers. I am just a fan of the company. I write these honest reviews to help my fellow shoppers.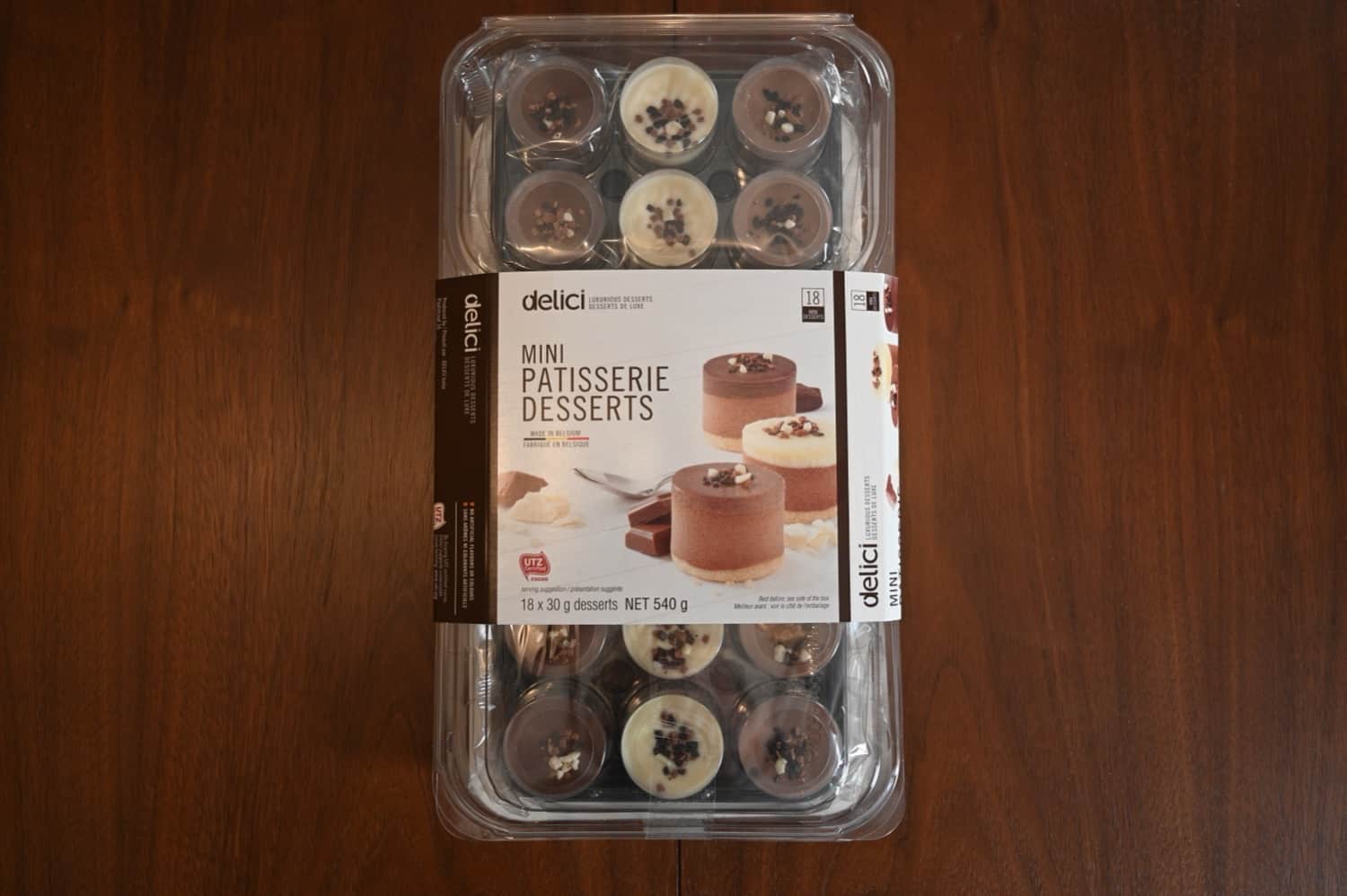 Costco desserts are definitely one of my favorite things to review and I've tried a few of the Costco Delici products and reviewed them on the blog. Delici usually makes single serve, ready to enjoy desserts. I've previously reviewed the Costco Delici Sea Salt Caramel Mousse as well I recently reviewed the Costco Delici Artisan Bonbons.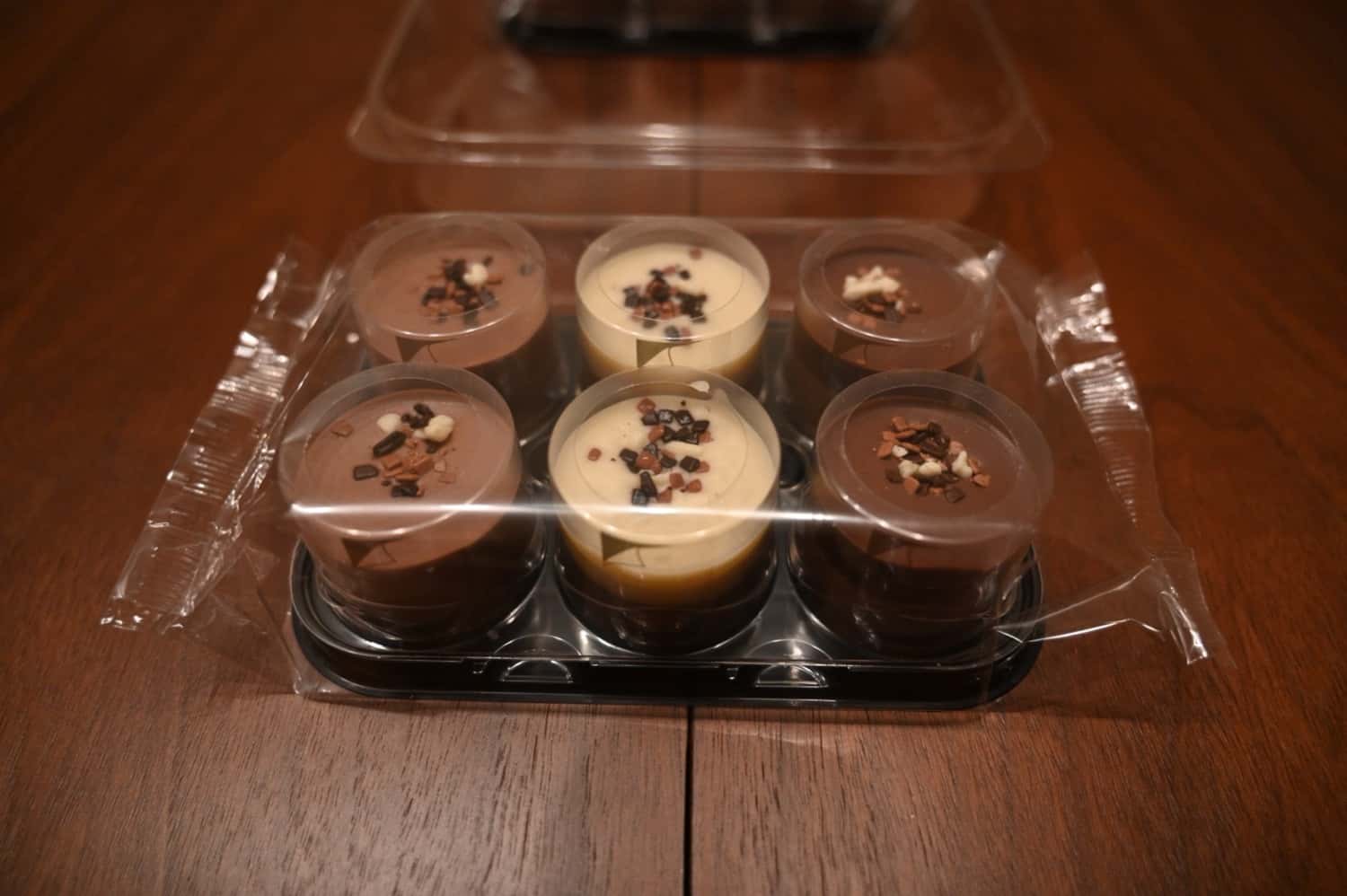 Today I'm reviewing the Costco Delici Mini Patisserie Desserts. These can be found in the refrigerated dessert section (usually buy the dips and cheese or just outside the produce room) at Costco and the item number is 1462559.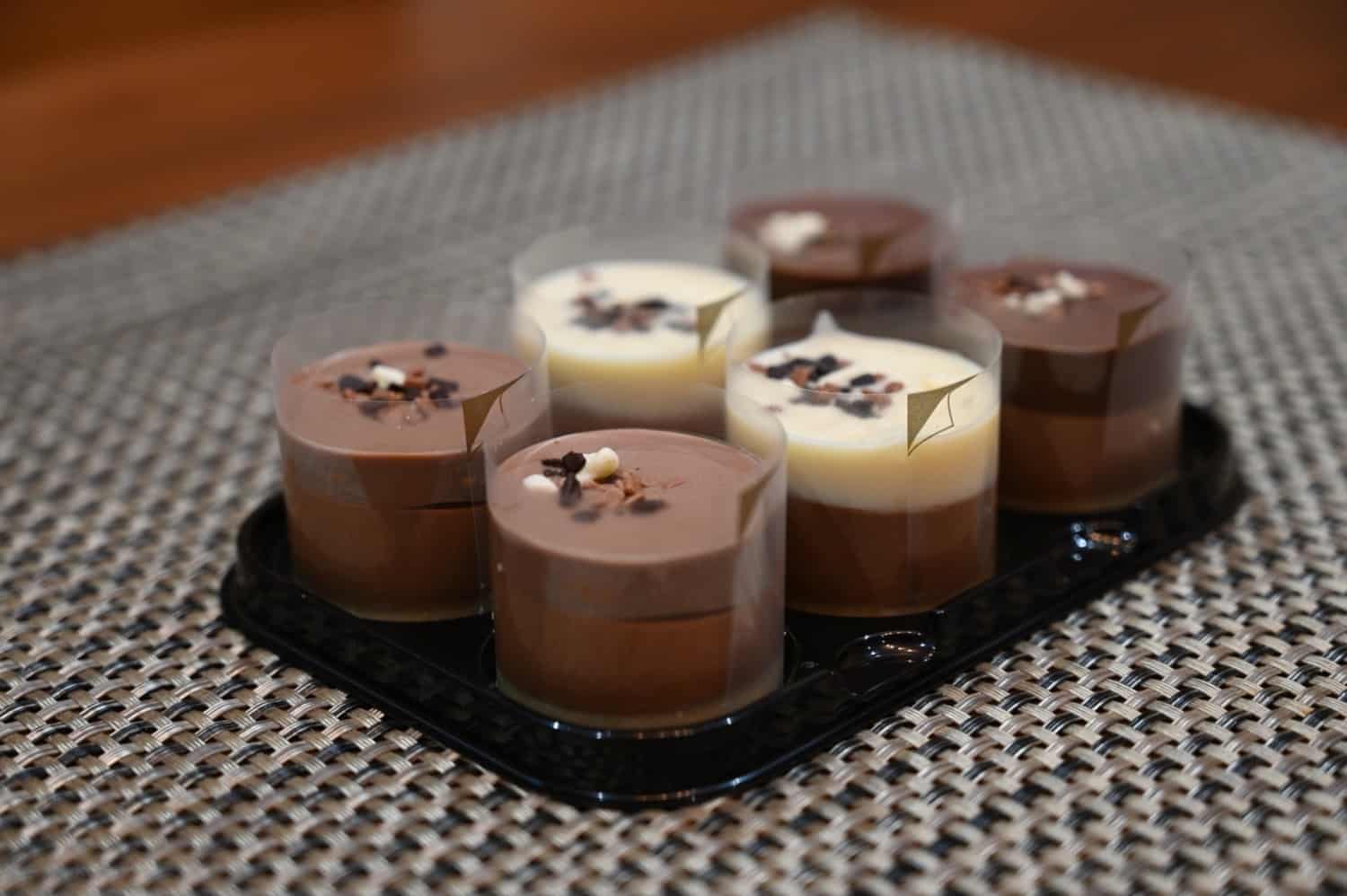 Taste
Let me first explain what these little mini patisserie desserts actually are! They come in three flavors, milk chocolate, white chocolate and dark chocolate. All three have the same simple sugar cookie base and middle layer of chocolate mousse. The top layer is where they differ; each one has a layer chocolate that matches the flavor (dark chocolate, milk chocolate or white chocolate). There are bits of chocolates sprinkled on the top of each dessert.
Both Sean and I enjoyed the Delici mini patisserie desserts and thought they tasted pretty good. There's really not much flavor difference between the three kinds though, if you blind folded me and told me to guess which one is which I'd have a hard time. I might be able to tell which one is dark chocolate because the chocolate top is just slightly more bitter. You have to be a chocolate lover to enjoy these but one thing I will point out is that the chocolate mousse is absolutely delish. Creamy, smooth and oh so chocolaty. It just melts in your mouth. These seem kind of small for a dessert but they super rich so one was good for me!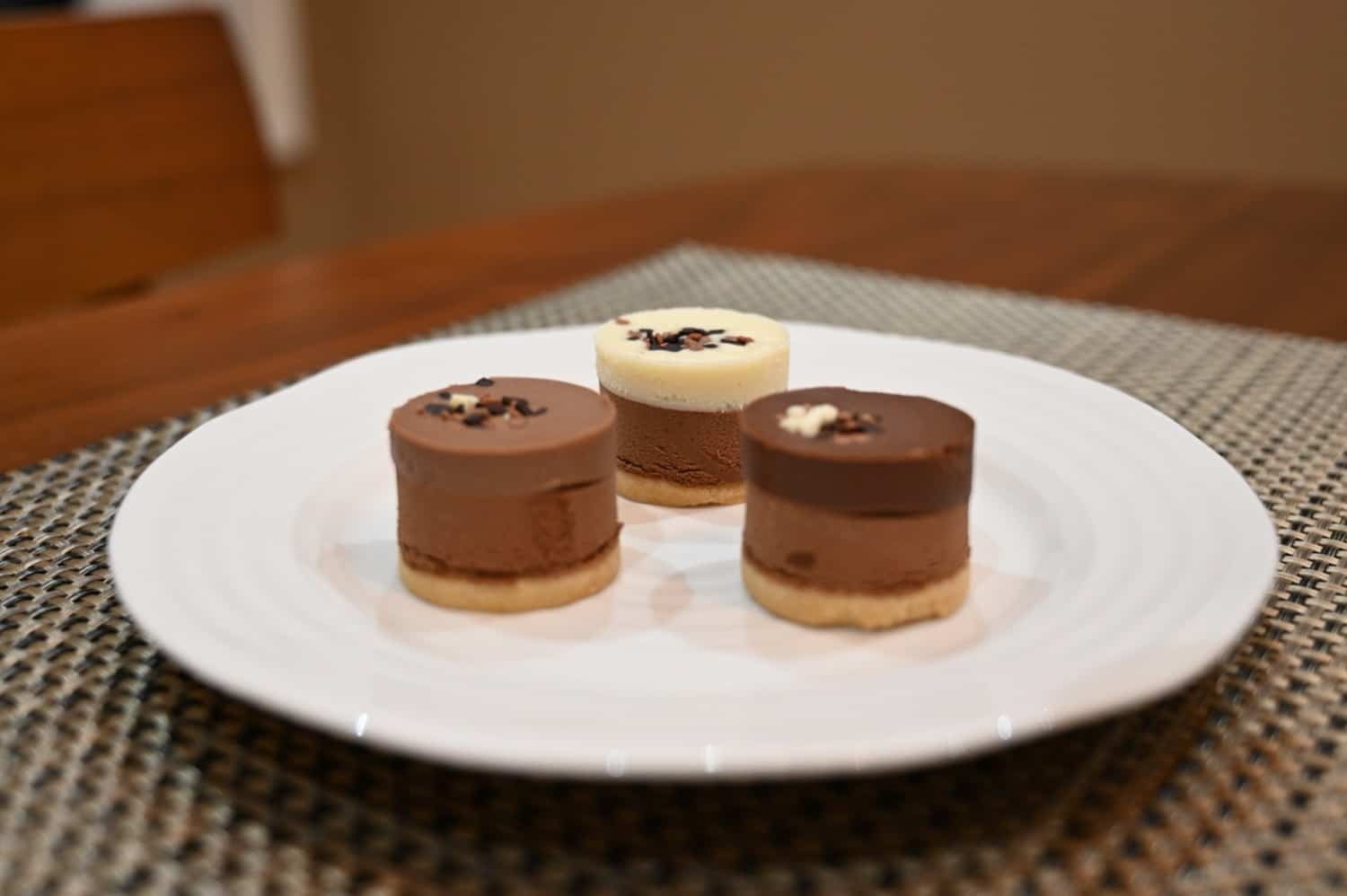 Cost
I paid $16.99 Canadian for the 540 gram container of 18 mini desserts. I think they're a little on the expensive side but there's a ton of packaging used which probably contributes to this cost.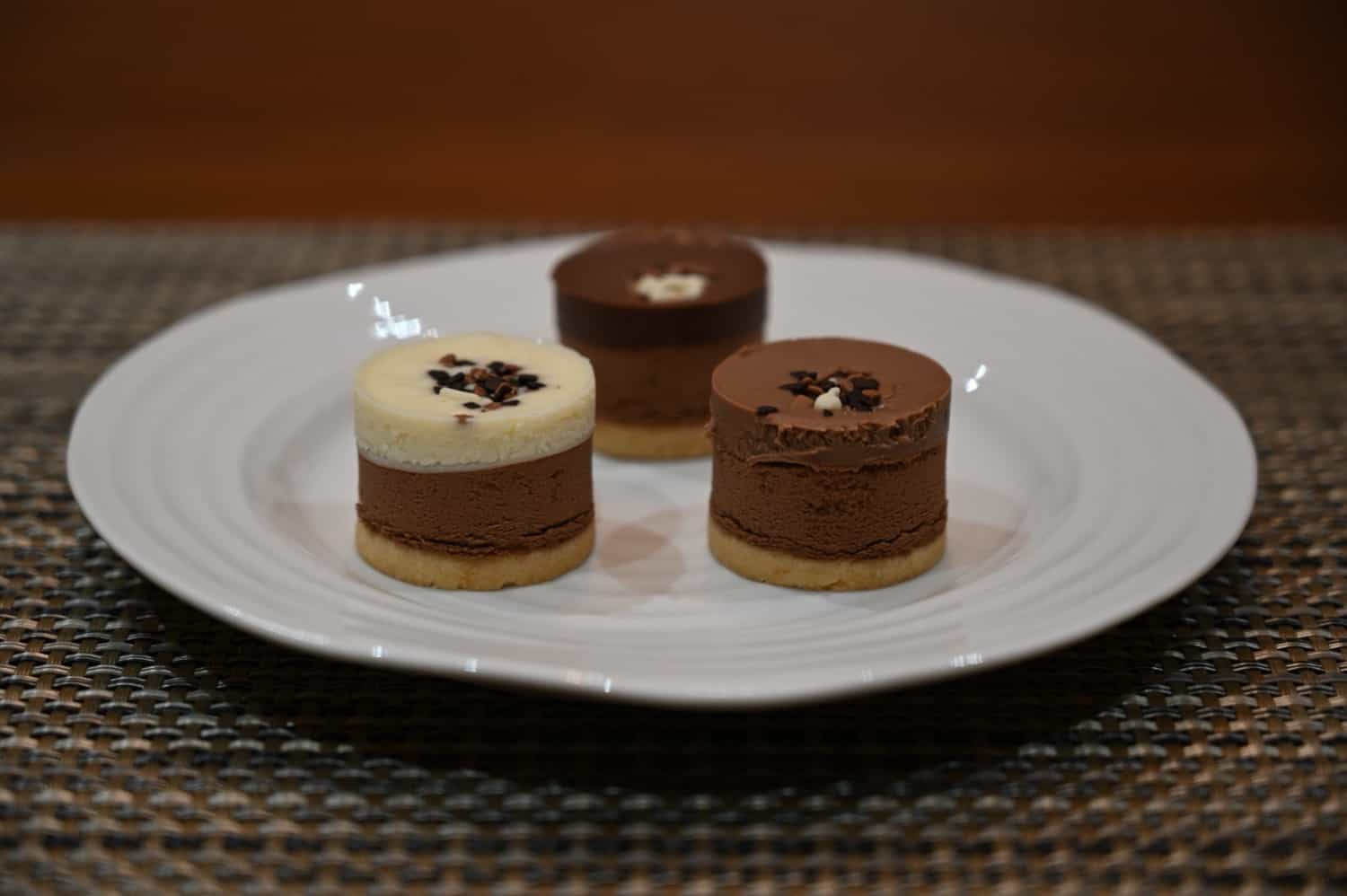 Convenience
These are awesome for a dinner party, for fancy dessert after a nice dinner at home or just as a treat. There's 18 desserts in the plastic container and the 18 desserts are divided into three packs of six which two of each flavor. These desserts come in a ton of packaging. The mini size of the desserts is just right to leave you feeling satisfied without being in sugar coma. The desserts need to be kept in the refrigerator and the best before date is exactly a month from the date we purchased the desserts.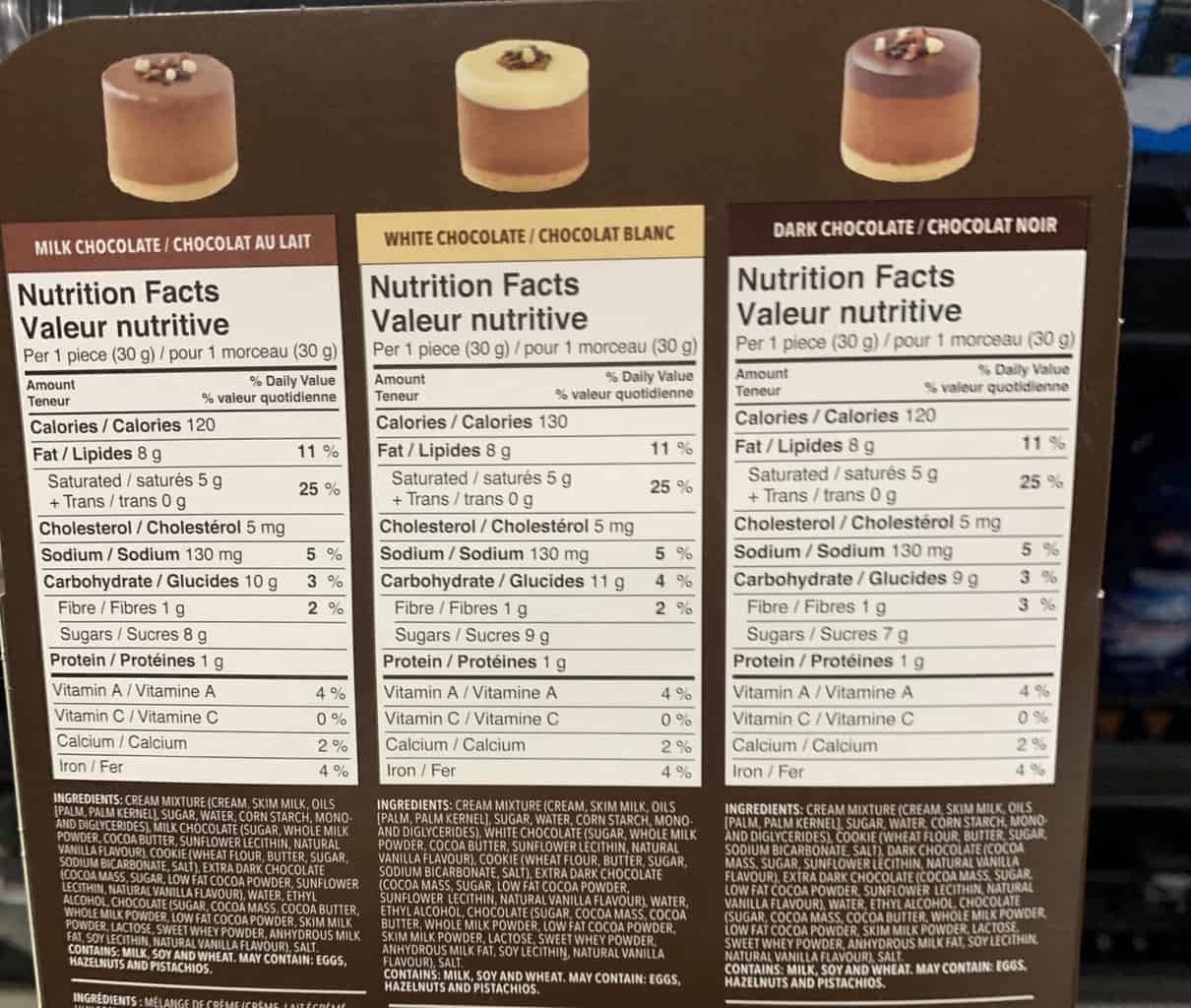 Nutrition
Actually one of these desserts is surprisingly not that many calories! One mini patisserie dessert is 120-130 calories, eight grams of fat, one gram of fibre, seven to nine grams of sugar, one gram of protein nine to 11 grams of carbohydrates and 130 mg of sodium.
These are yummy mini little chocolate mousse desserts with a cookie base. You better be able to eat 18 super chocolaty desserts that taste pretty similar if you purchase these. I gave a pack to my parents and also am semi-obsessed with chocolate and die for chocolate mousse so I'll have no problem polishing these off.
Taste: 8/10
Cost: 6/10
Convenience: 10/10
Nutrition: 2/10 (not healthy but one dessert actually won't break the calorie bank)
Leave a comment if this review was helpful and also share what your thoughts are on this product!