I've got a secret to admit!
Please note that this review was not paid for or sponsored by any third party. I purchased this product with my own money and the opinions in this review are strictly my own. I am not affiliated with Costco or any of its suppliers. I am just a fan of the company. I write these reviews to help my fellow shoppers.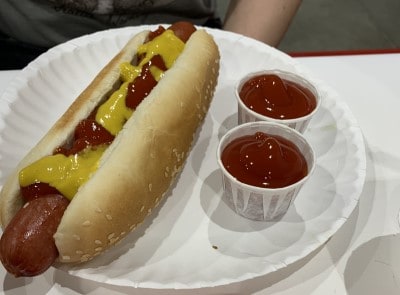 I have something to admit – as much as I love Costco and Costco food, until recently I had never eaten at the Costco food court! Maybe I did when I was a kid, but I sure don't remember it. It never even really crossed my mind to eat at the Costco food court until I started this blog. Now I can say I've pretty much tried everything from the Costco Canada food court menu, except the chicken Caesar salad because I went during a time when romaine lettuce wasn't available. I'm going to give you a run down on what I thought of each item. Let's begin!
Costco Chicken Strips and Fries ($6.49 Canadian)
First off, Costco fries are DELICIOUS! They're actually came really hot, crispy and thick. Our chicken strip combo came with 4 chicken strips, sauce for dipping and a generous serving of fries. The chicken strips and fries both were nice and hot. Definitely one of the items I enjoyed more during my food court experience. The chicken appeared to be white, tender, chicken breast meat. I'd say this is pretty much your standard chicken strips and fries meal that you would get at a restaurant or fast food establishment. What sets the Costco chicken strips and fries apart from others is the price. They're very generous with the serving size considering the cost.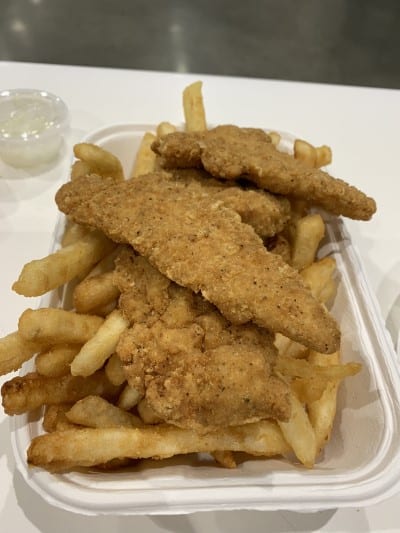 Costco Food Court Pizza ($2.19 Canadian per slice)
There's three different kinds of pizza you can choose from in Canada. Pepperoni, ham and pineapple and cheese. Generally I don't love ham and pineapple pizza but the ham and pineapple was definitely the favorite. The pepperoni was okay but the pepperoni meat was actually quite hard and the pizza crust was also really hard, almost as if it'd been sitting out too long. The ham and pineapple had a softer crust and more toppings. The pineapple tasted nice and fresh.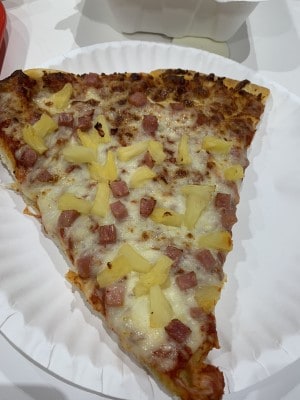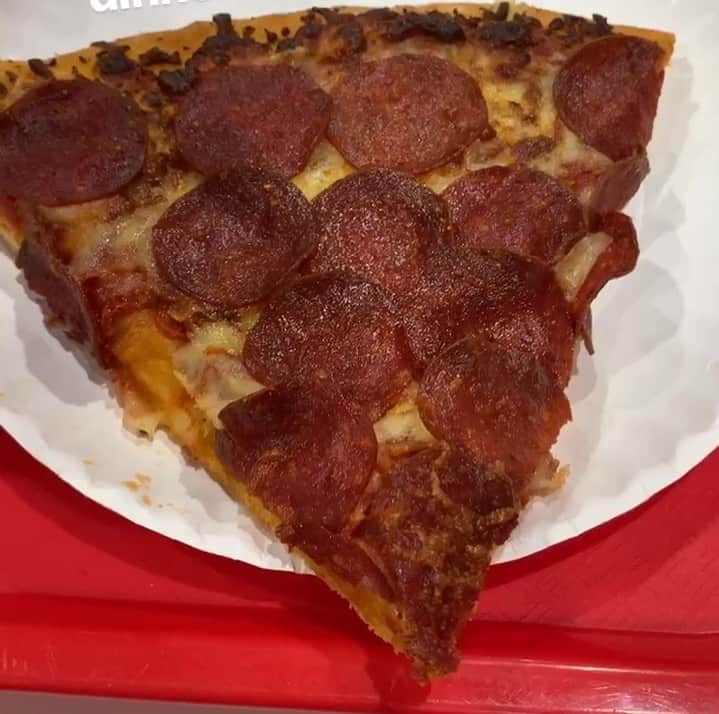 Costco Turkey Pesto Provolone Sandwich ($5.49 Canadian)
So for those who haven't had this, it's basically deli turkey meat on a ciabatta bun with a bunch of melted provolone and pesto on top. For some reason I thought it would be more like real deal turkey meat and not the processed turkey deli sandwich meat. I have to say this had a TON of turkey on it, so keep that in mind if you're looking for a higher protein option. It definitely scores points for being full of meat and protein. The sandwich had two small slices of tomato on It but other than that no vegetables. Overall I found the sandwich to be a little too much for my liking, it was quite salty and greasy from the melted cheese as well it lacked vegetables and the ciabatta bread is quite thick and filling.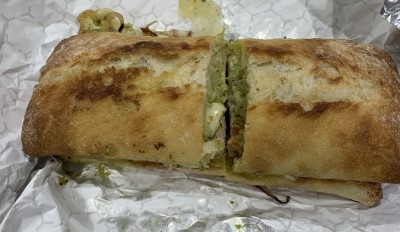 Costco Hot Dog Combo ($2.10 Canadian)
Here it is, the beloved Costco hot dog combo. For $2.10 Canadian, you get a big hot dog and a drink. This is probably the cheapest combo known to man. We regularly purchase the Costco Kirkland Signature Beef Wieners that they use in the Costco food court hot dog combo. However my husband doesn't quite do them justice like Costco does. The food court hot dog tastes much better in Costco than at home. I generally don't eat these hot dogs but I definitely would get one next time I'm at Costco because they do taste delicious. The bun is soft, the hot dog is cooked perfectly, they have condiments available such as ketchup and mustard and if you like they'll even give you a small container of onions.
Costco Ice Cream ($1.65 Canadian)
I saved the best for last. The Costco ice cream in Canada is amazing. You can choose between vanilla, chocolate or swirl. I like the plain vanilla, Sean likes the chocolate so we ended up getting swirl. The Costco ice cream is delicious and as good as any other soft serve you can get that you pay way more for, this was $1.65 Canadian per ice cream. Even though we were both stuffed we kept eating our ice cream because it was that good. It's not overly sweet and I found the chocolate and vanilla flavor was light. Sean and I both agreed we'd make it a habit to get the soft serve in the summer anytime we're at Costco.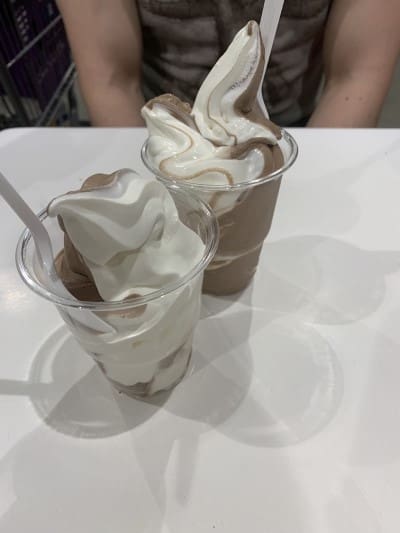 Sampling the selection at the food court was a pretty fun way to pass time while waiting for our tires to be put on! The pizza didn't live up to the hype so that was disappointing but I've heard that the pizza in the United States is far better than in Canada. I will definitely be eating more of the frozen yogurt and if I needed a quick dinner or lunch I wouldn't hesitate to have the hot dog combo again!
Do you eat at the Costco food court? What do you like to order?