I've eaten a lot of Costco food since I started this site about five years ago, so it's harder for me to get excited about trying new products than it used to be! Once in a while though, I stumble across an item that gets me genuinely intrigued. These Kirkland Signature Chicken Bakes are one of those products. We don't have them up here in Canada, and I'm a fan of some similar foods like calzones and chicken caesar wraps. It doesn't hurt that they look and sound downright delicious! Were my expectations too high, or did these Chicken Bakes deliver?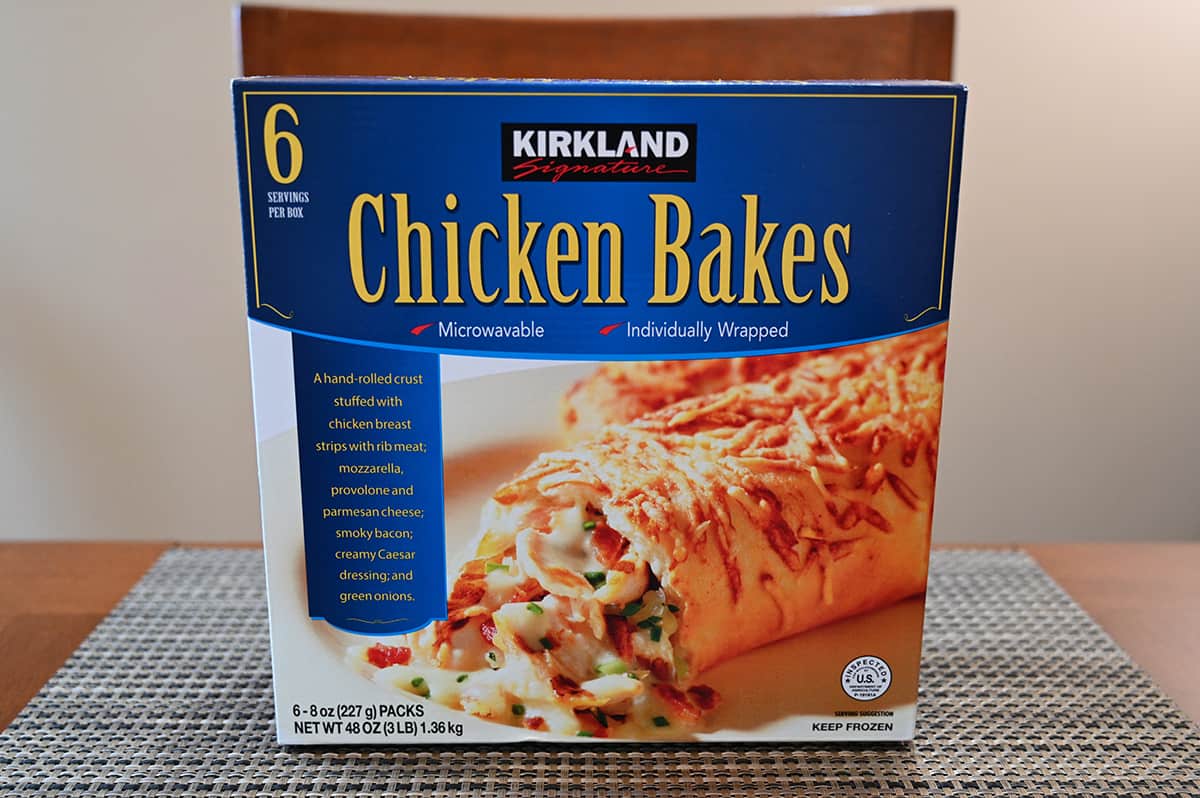 Other microwaveable, similar convenient products are the Prairie Creek Kitchen Beef Sausage Rolls, El Monterey Taquitos, El Monterey Quesadillas, Eat-In Breakfast Sandwiches, Rana Beef Short Rib Lasagna, Hampton House Popcorn Chicken, Eastwest Cuisine Kung Pao Chicken, Rana Tagliatelle Seasoned White Chicken & Mushroom Sauce and the Stoney Creek Thai Coconut Chicken.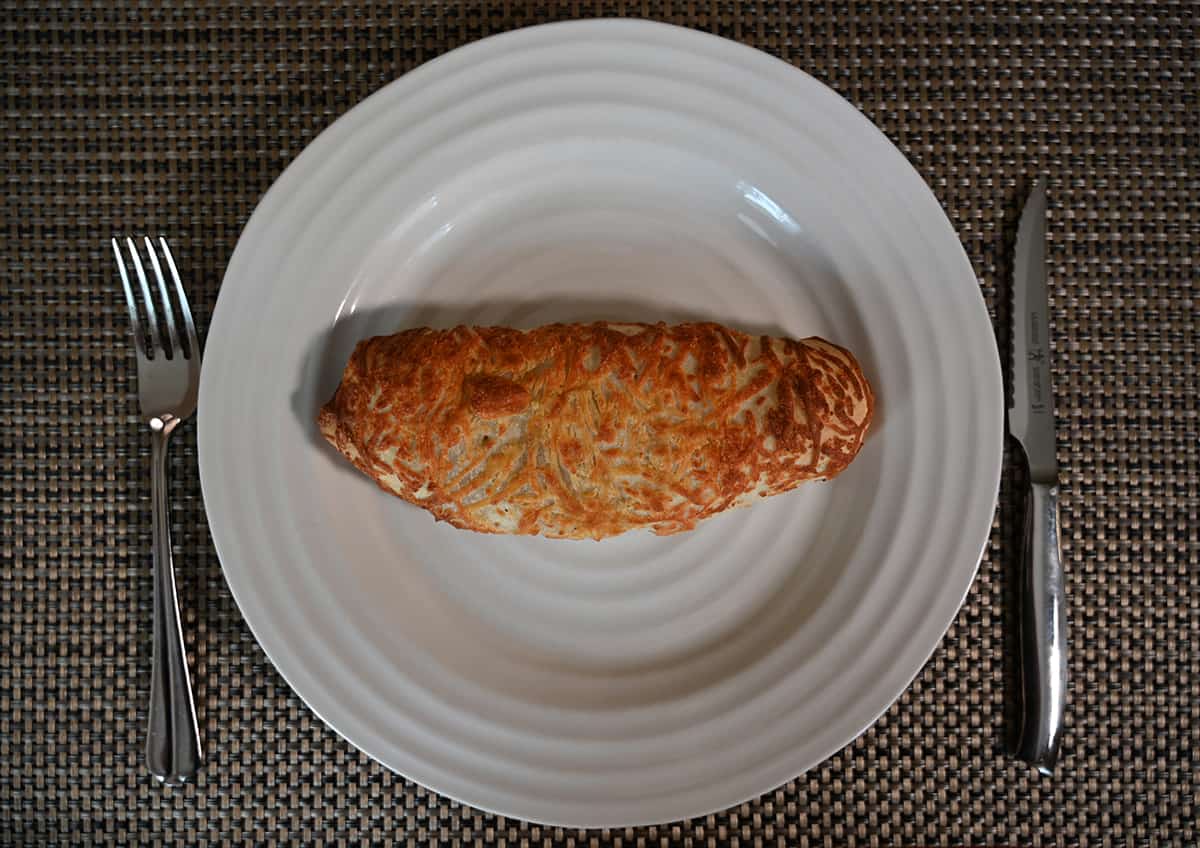 Location in Store
These are located in the freezer section at Costco. I bought them in Kalispell, Montana and the item number is 1201906.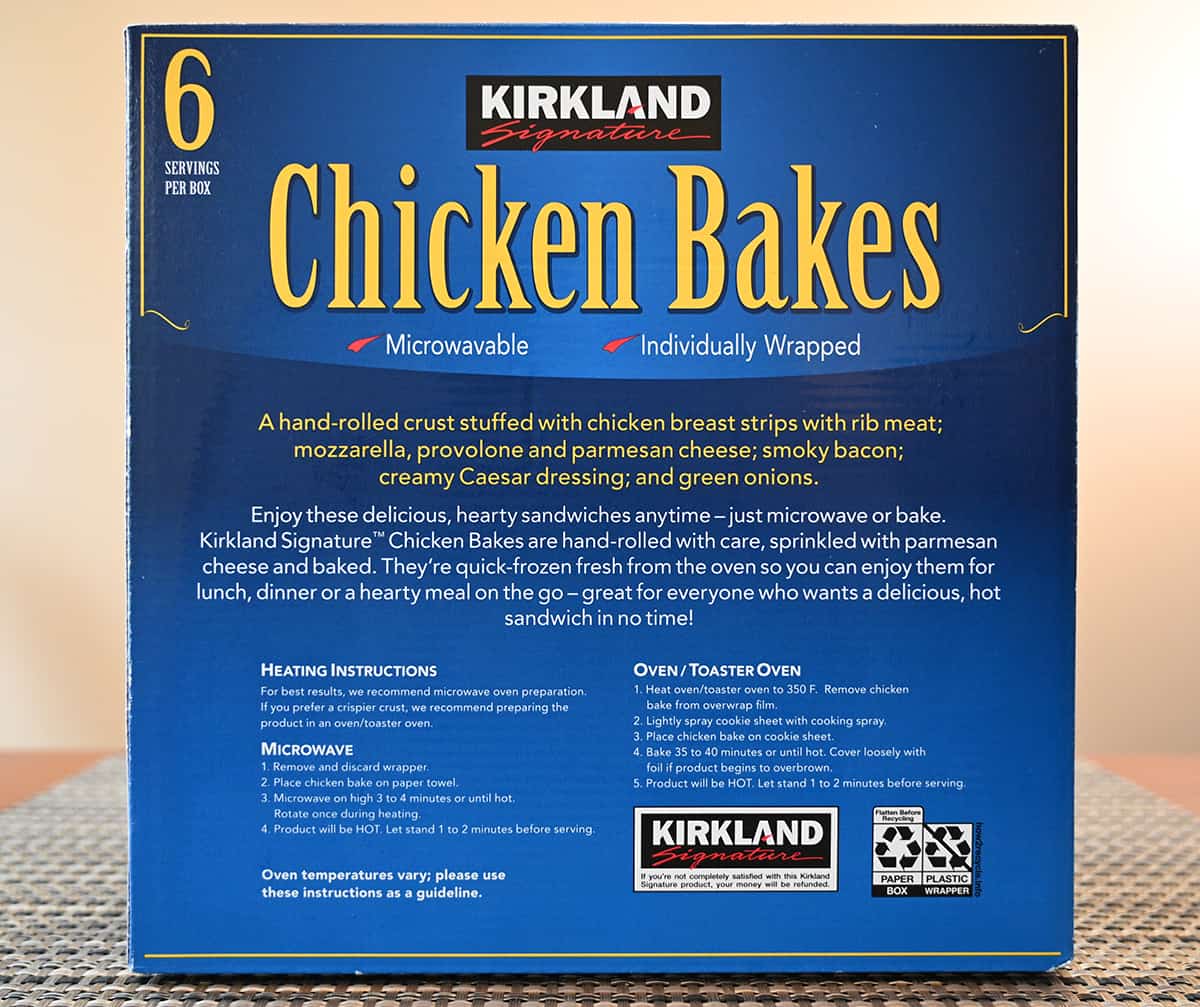 Taste
When I read the description for these Chicken Bakes, I didn't know what to expect! They kind of sound like a chicken Caesar type of thing, but with a few extra flavors thrown in.
After trying them, I would say my first instinct was pretty accurate. They're basically a mild chicken Caesar stromboli (or pizza pocket).
I baked my Chicken Bake for 40 minutes and it seemed to come out perfectly. The outer shell had a nice crunch to it while the dough remained mostly soft and chewy. The cheese sprinkled on the outside of the Chicken Bake adds some crunch and a great crispy cheese flavor.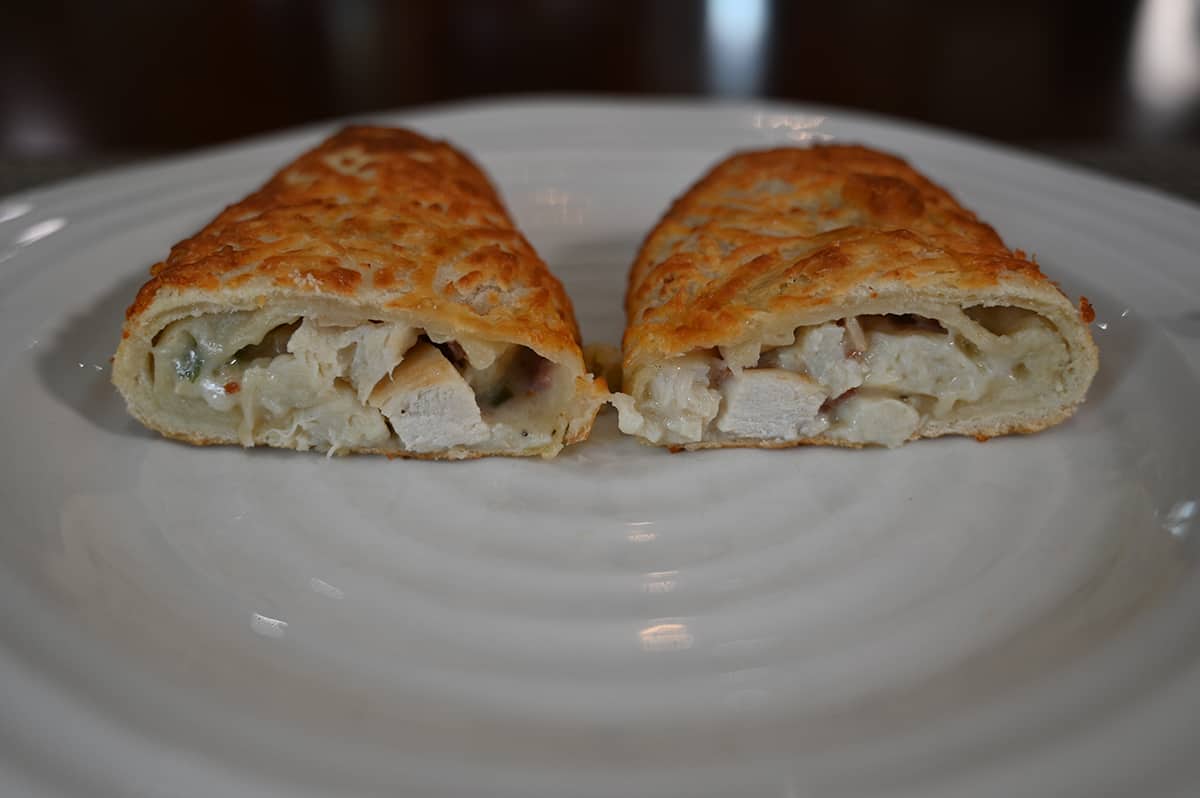 The filling tasty but mild. You mainly notice the flavors of chicken, bacon and Caesar dressing. I can't say I noticed the cheeses at all really. Even the Caesar dressing was fairly understated and just added a little bit of tang.
The chicken and bacon were both tasty and good quality. I didn't get any gross bits in my Chicken Bake. The bacon adds a little bit of smokiness, which is nice.
The balance between dough and filling is pretty good, though I would say the Chicken Bakes are just slightly on the doughy side. I wouldn't have minded a little more filling.
Overall I really enjoyed the Chicken Bakes. They're a tiny bit on the bland side, but they're satisfying and convenient comfort food. I think kids will absolutely love them and most adults probably will too.
The Costco food court sells chicken bakes that are a bit different than these frozen ones. The ones in the food court are bigger and don't have green onions in the filling. I've never tried a food court one so unfortunately I can't compare the taste.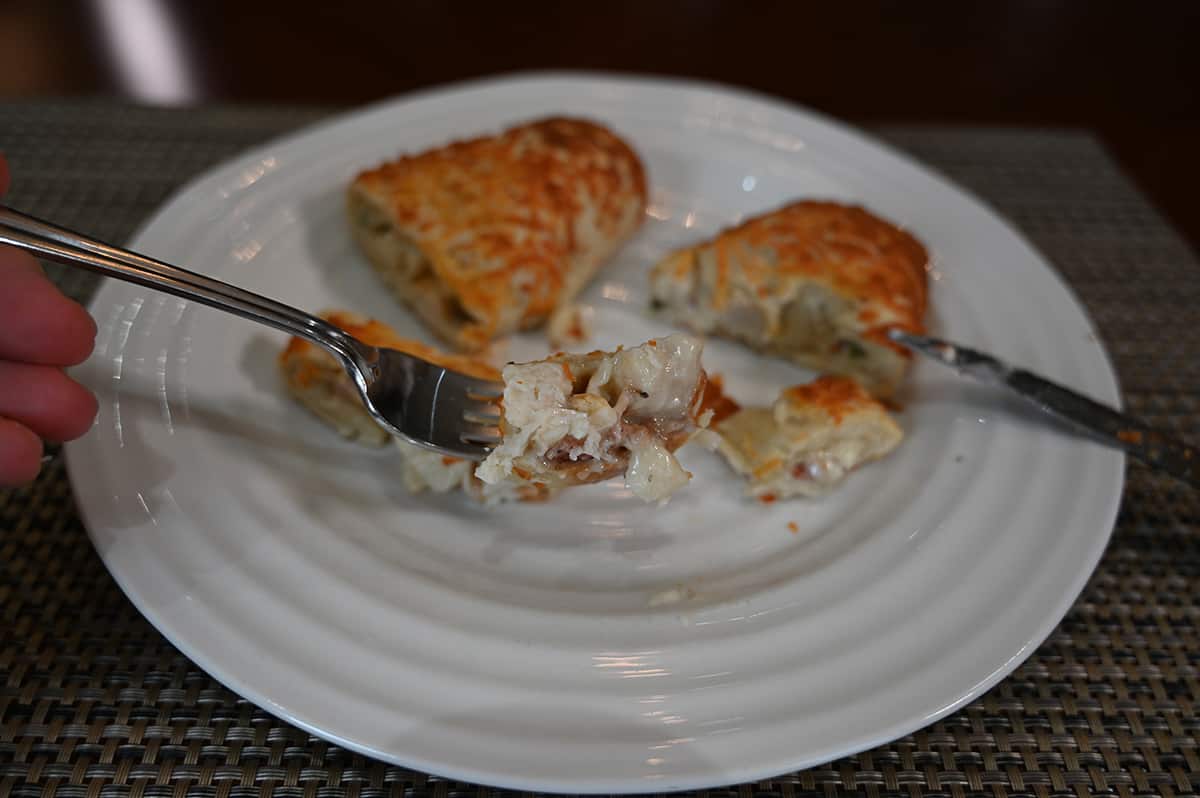 Cost
The 1.36-kilogram box containing six individually wrapped chicken bakes costs $12.69 USD. I was shocked that only six were in the box until I saw how big they were! One chicken bake is really large so I think they're worth just over two dollars each.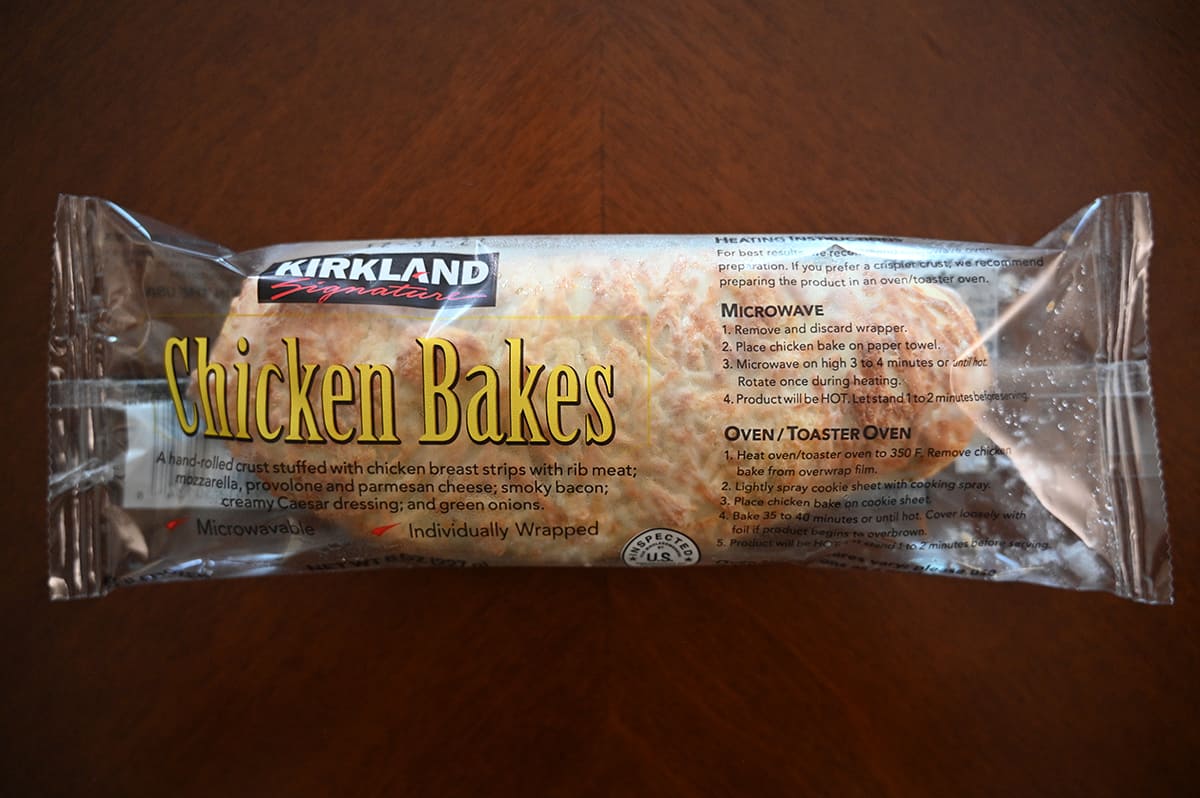 Convenience
There are heating methods listed for the chicken bakes, oven/toaster over or microwave. I bet you could also air-fry them. I always use my oven for products like this because I find that if I microwave them they get soggy.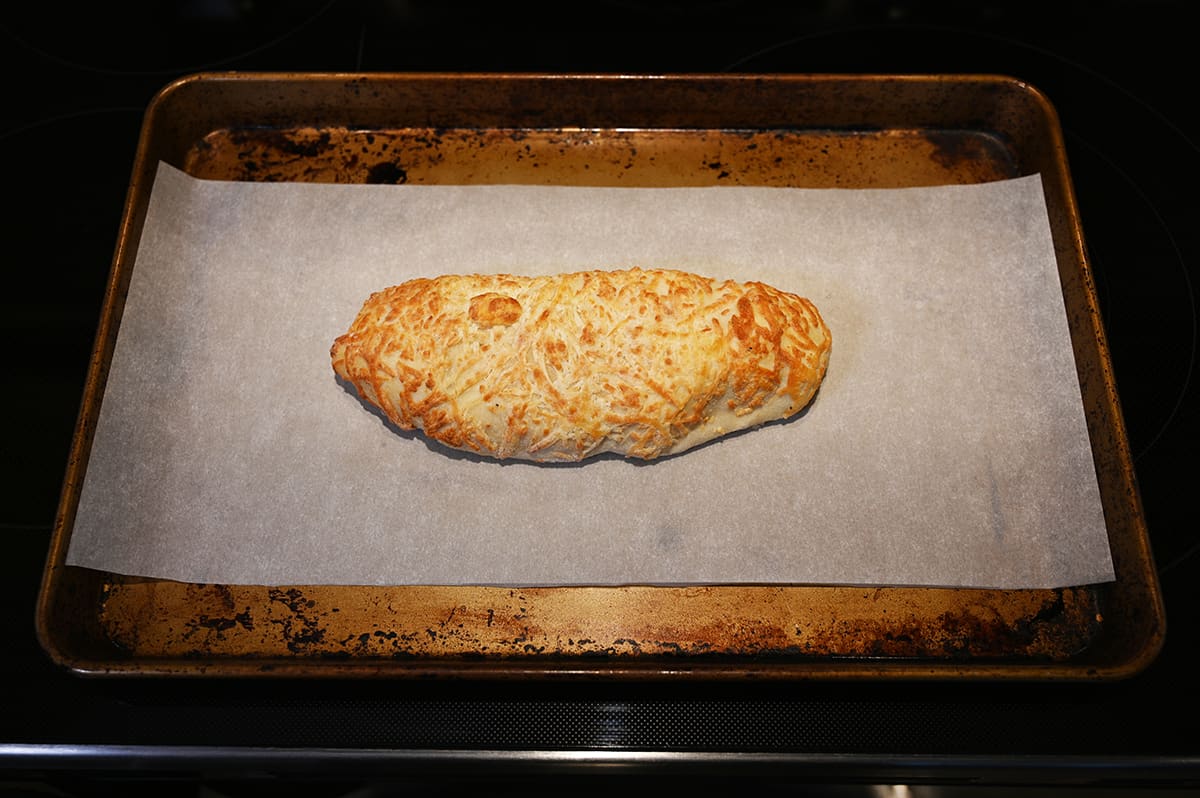 After heating the chicken bake in the oven according to the package instructions it came out golden brown and crispy. I did not try the microwave method.

The chicken bakes need to be kept frozen and the best-before date is just under six months from when we purchased them. I think kids would really like these as well as adults! I gave some to my parents and they loved them.
Because they're individually packaged they're really easy to bring to work or school and just microwave for lunch.
Nutrition
Calories
One chicken bake contains 540 calories, 19 grams of fat, six grams of saturated fat, 70 milligrams of cholesterol, 1370 milligrams of sodium, 58 grams of carbohydrates, three grams of fiber, seven grams of sugar and 35 grams of protein.
The sodium is sky-high so if you're on a sodium-restricted diet you'll probably skip these. 540 calories, 19 grams of fat and 58 grams of carbohydrates might seem like a lot but when considering how huge one chicken bake is, it doesn't seem that bad.
35 grams of protein is also pretty awesome, that shows that they're not skimping on the chicken!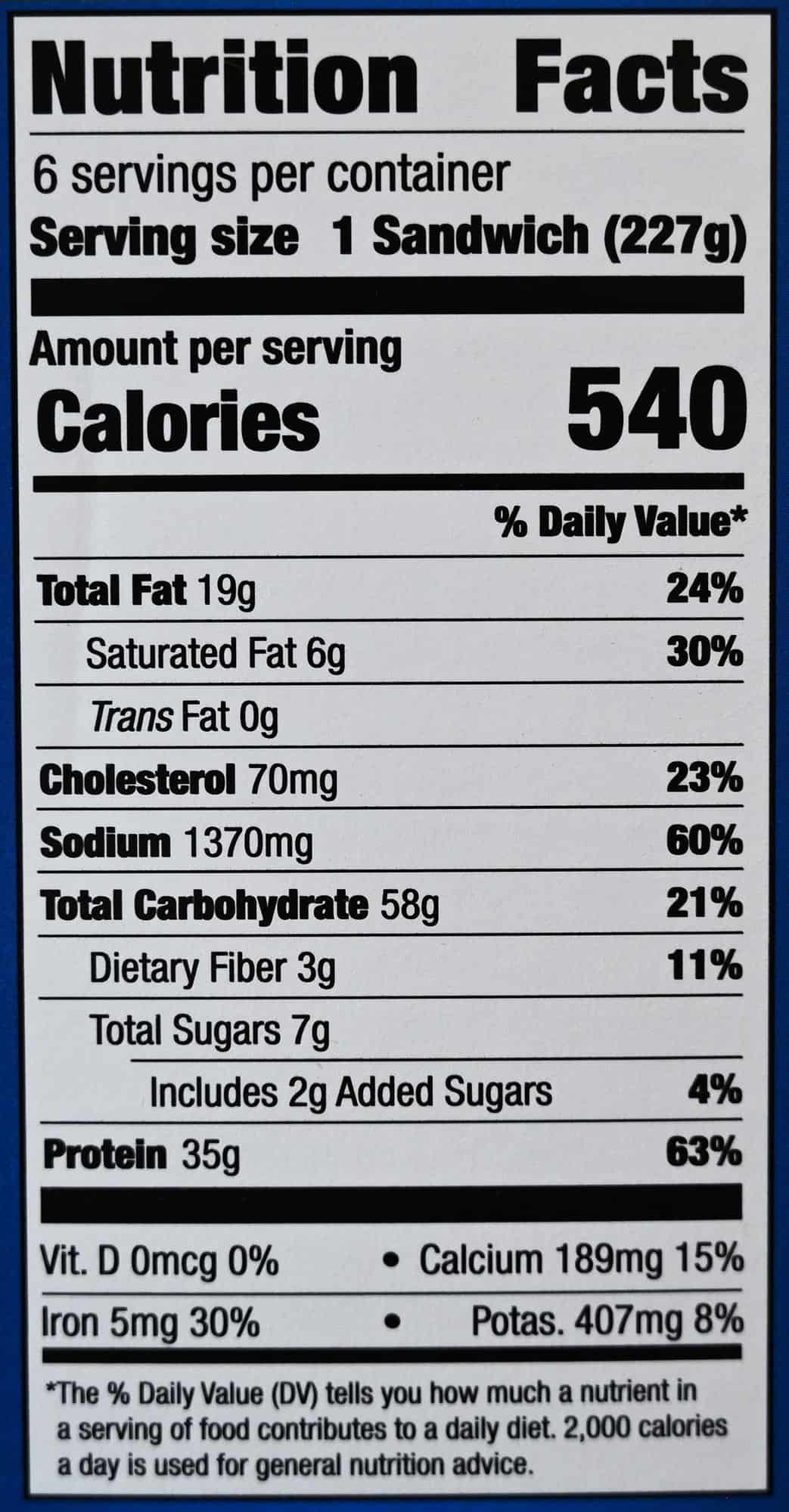 Ingredients
There are so many ingredients in these that they needed to separate the dough ingredients from the filling ingredients and a ton of them are unhealthy. A few things have me really scratching my head. For example, what are chicken breast strips with rib meat? Why do they need to add soy protein? Which are the bioengineered food ingredients (GMO's)?
I'm not a fan of regularly eating really processed foods with so many ingredients like sugar, soybean oil, soy protein, corn syrup solids etc. These chicken bakes contain wheat, soy, eggs, milk and fish. The fish is from the anchovy extract in the caesar dressing.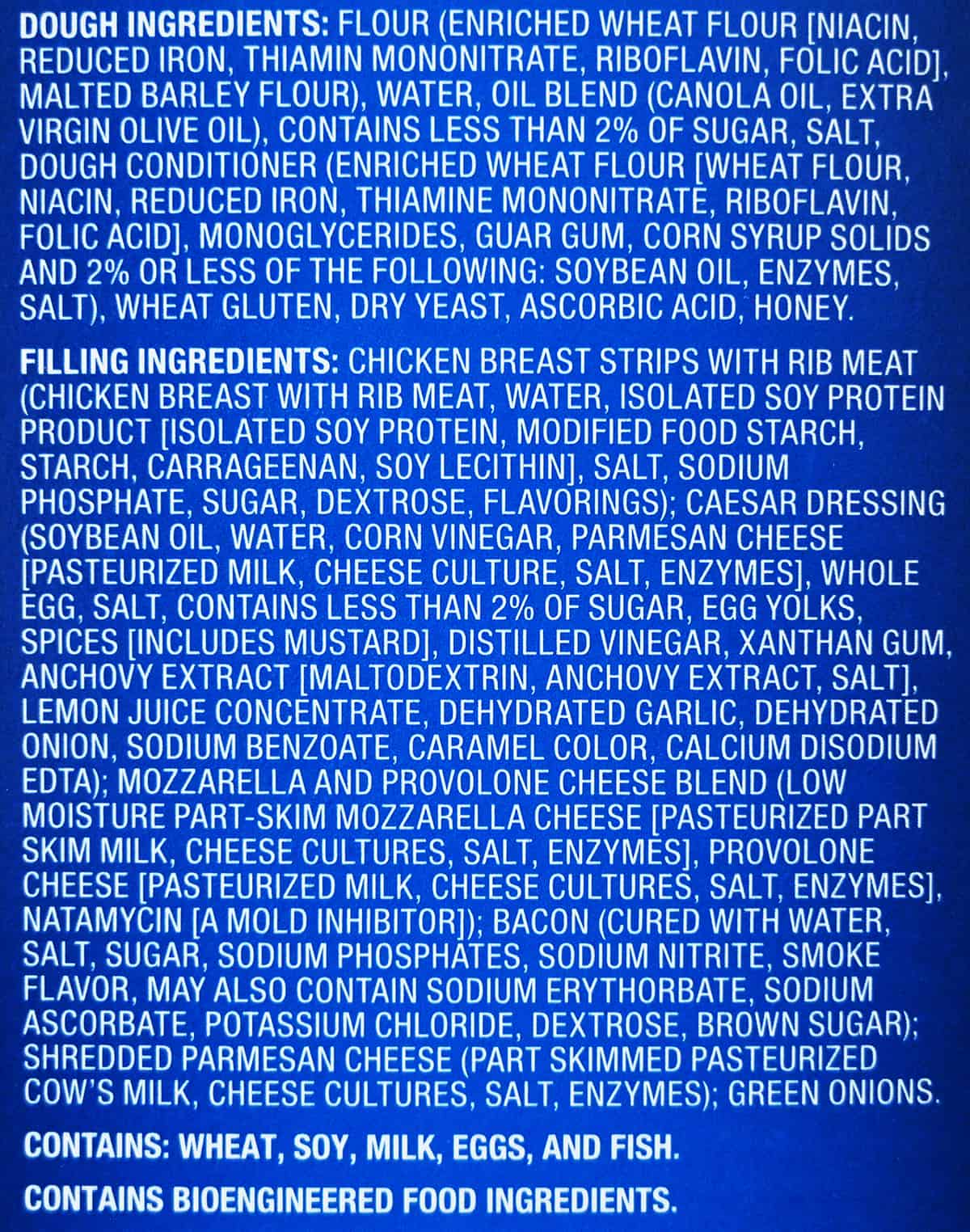 Scoring
Taste: 8.5/10
Cost: 7.5/10
Convenience: 9.5/10
Nutrition: 2/10 (Points for the high protein).
Overall
Must buy!
Both my parents loved these and we thought they were pretty good. I could see buying them for kids when you need a quick and convenient lunch or dinner.
Have you tried these chicken bakes from Costco? What did you think of them?
---
Please note that this review was not paid for or sponsored by any third party. This product was purchased by Costcuisine for the purpose of producing this review. The opinions in this review are strictly those of Costcuisine. Costcuisine is not affiliated with Costco or any of its suppliers. In the event that Costcuisine receives compensation for a post from the manufacturer of a product or some other third party, the arrangement will be clearly disclosed (including where the manufacturer of a product provides Costcuisine with a free sample of the product).