Costco carries convenient fresh pasta! Family dinner done in the microwave.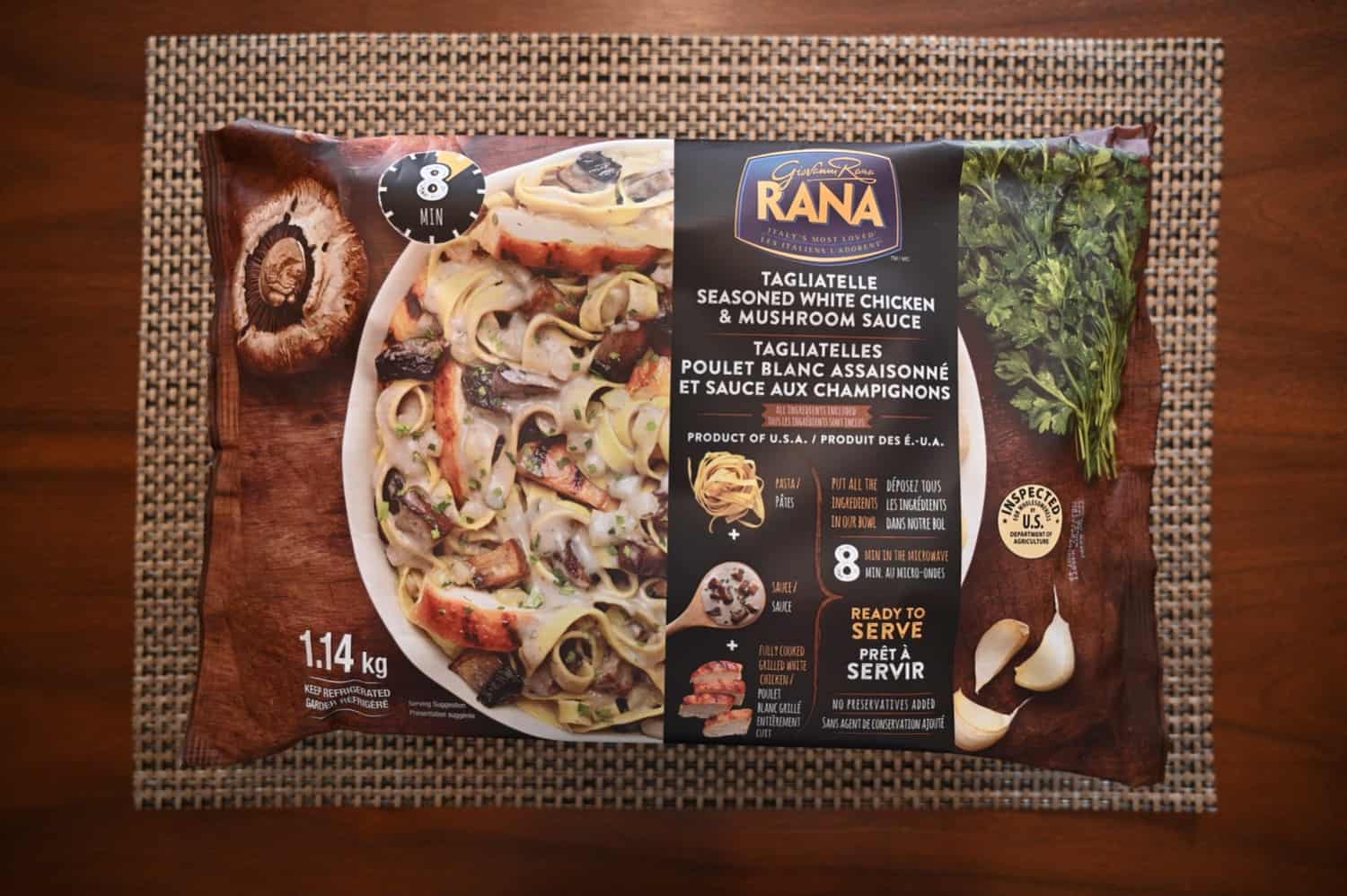 Today I'm reviewing pasta from Costco! The Rana Tagliatelle Seasoned White Chicken & Mushroom Sauce. This was a product I had to make a case for! Once glance at it and Sean muttered "I'm not eating that". I get it, he hates mushrooms and also doesn't love any kind of creamy sauce. I always win though so not only did this end up in our cart to review today but Sean ate it this past weekend! I've reviewed a few pasta products from Costco in the past including the Costco Kirkland Signature Mediterranean Pasta Salad, Costco Garofalo Organic Pasta, Costco Kirkland Signature Chicken Penne Alfredo and the Costco Kirkland Signature Meat Lasagna!
I found this product in the refrigerated section by the other fresh pasta. The item number is 1182348.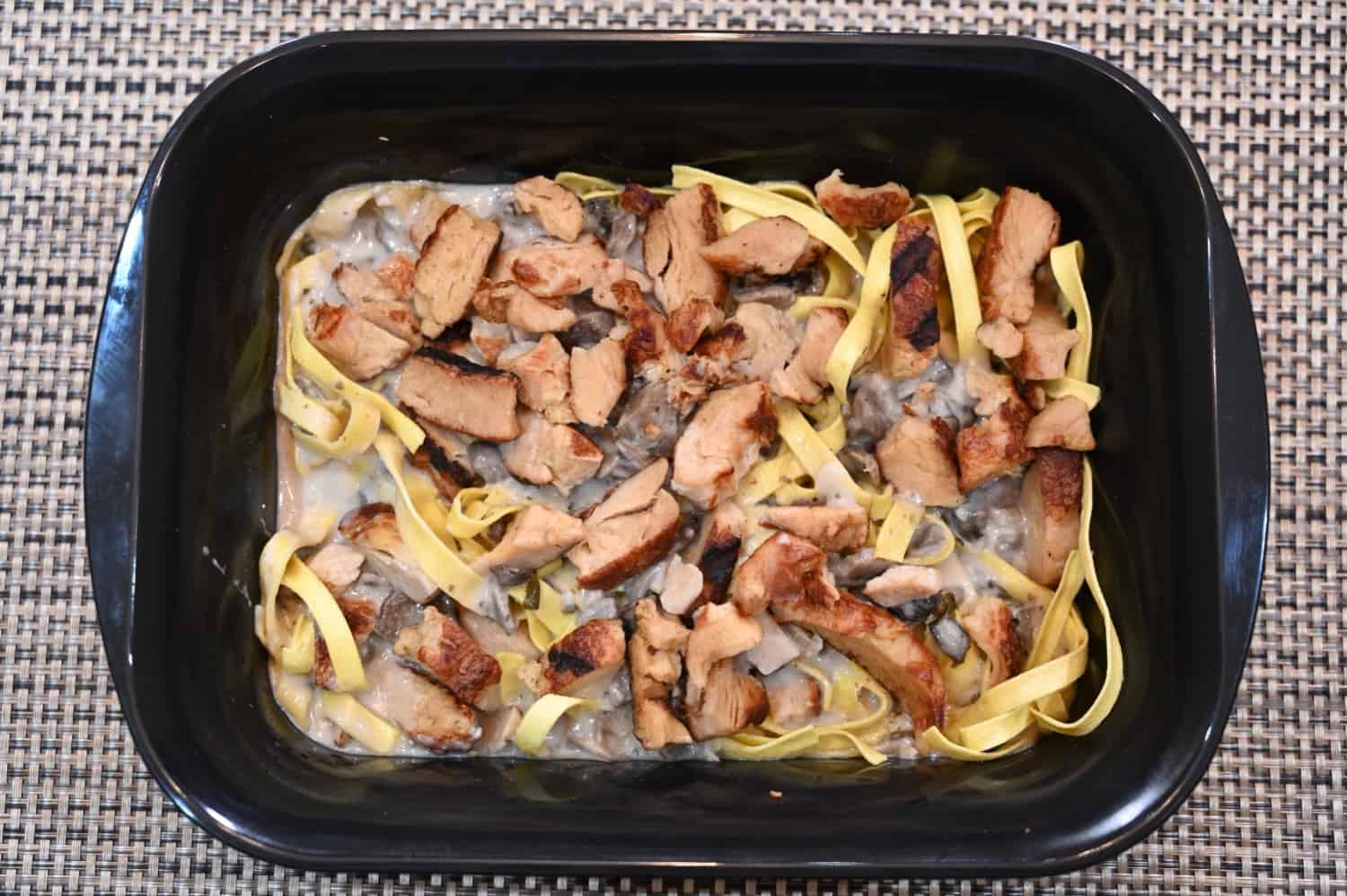 Taste
Fresh tagliatelle pasta, creamy mushroom sauce and seasoned white chicken all come in the Rana pasta kit from Costco. The sauce has Portobello mushrooms, parmesan cheese, white wine and heavy cream (all the good stuff). The tagliatelle is a durum wheat semolina fresh pasta and the chicken is very well seasoned.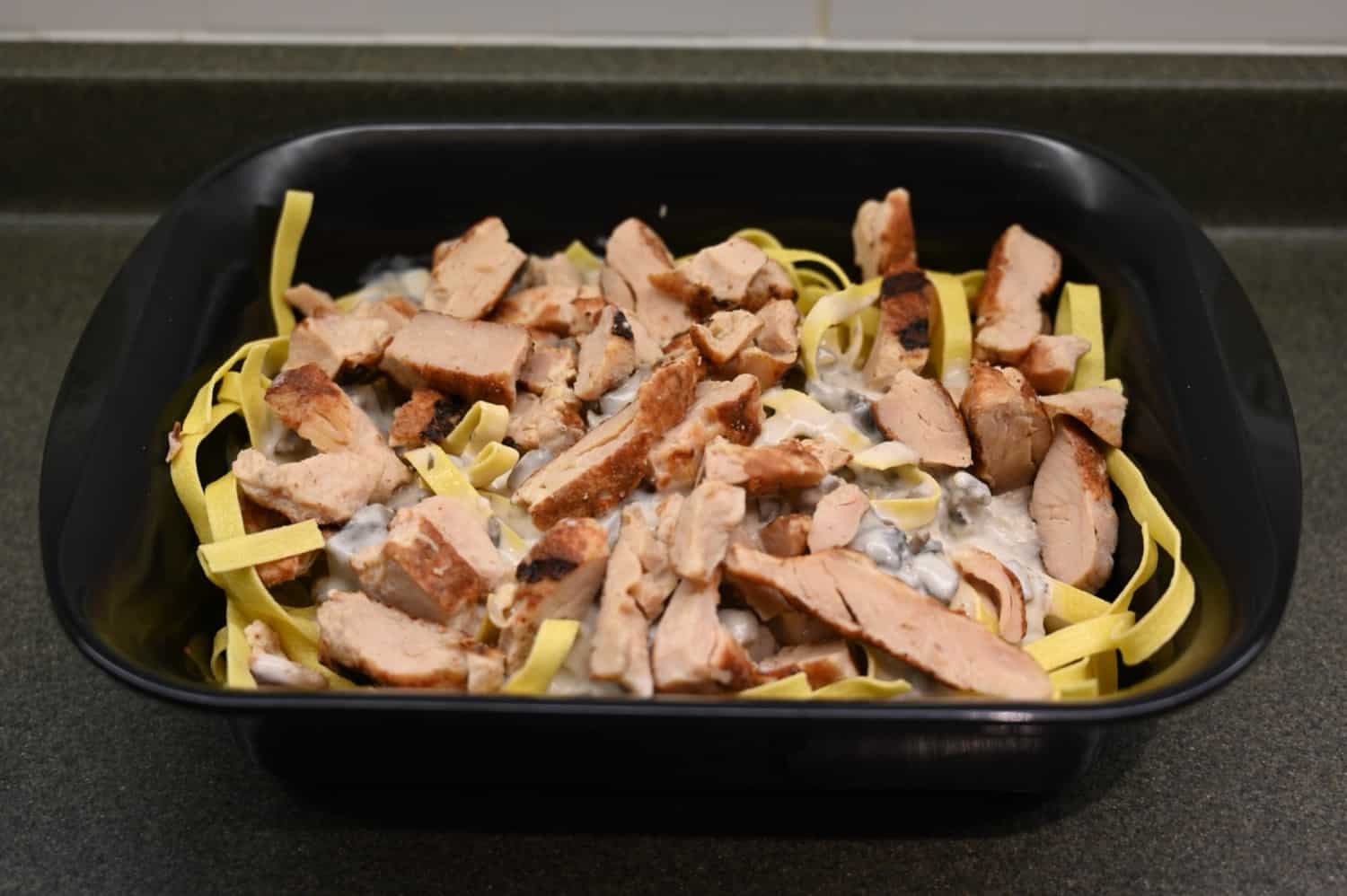 This actually turned out to be pretty tasty! Sean even liked it despite his lack of love for mushrooms and creamy sauces. We both commented that the pasta tasted very fresh and despite being microwaved was cooked to a perfect al-dente state. The mushroom sauce didn't actually have much of a strong mushroom flavor and was seasoned well and flavorful, extremely creamy, thin enough to evenly coat the pasta. The chicken was my least favorite part, slightly tough and little processed tasting but it had a nice smoky flavor.
The chicken reminds me of the Costco Fresh Additions Fully Cooked Chicken Breast Bites if you've ever had those before.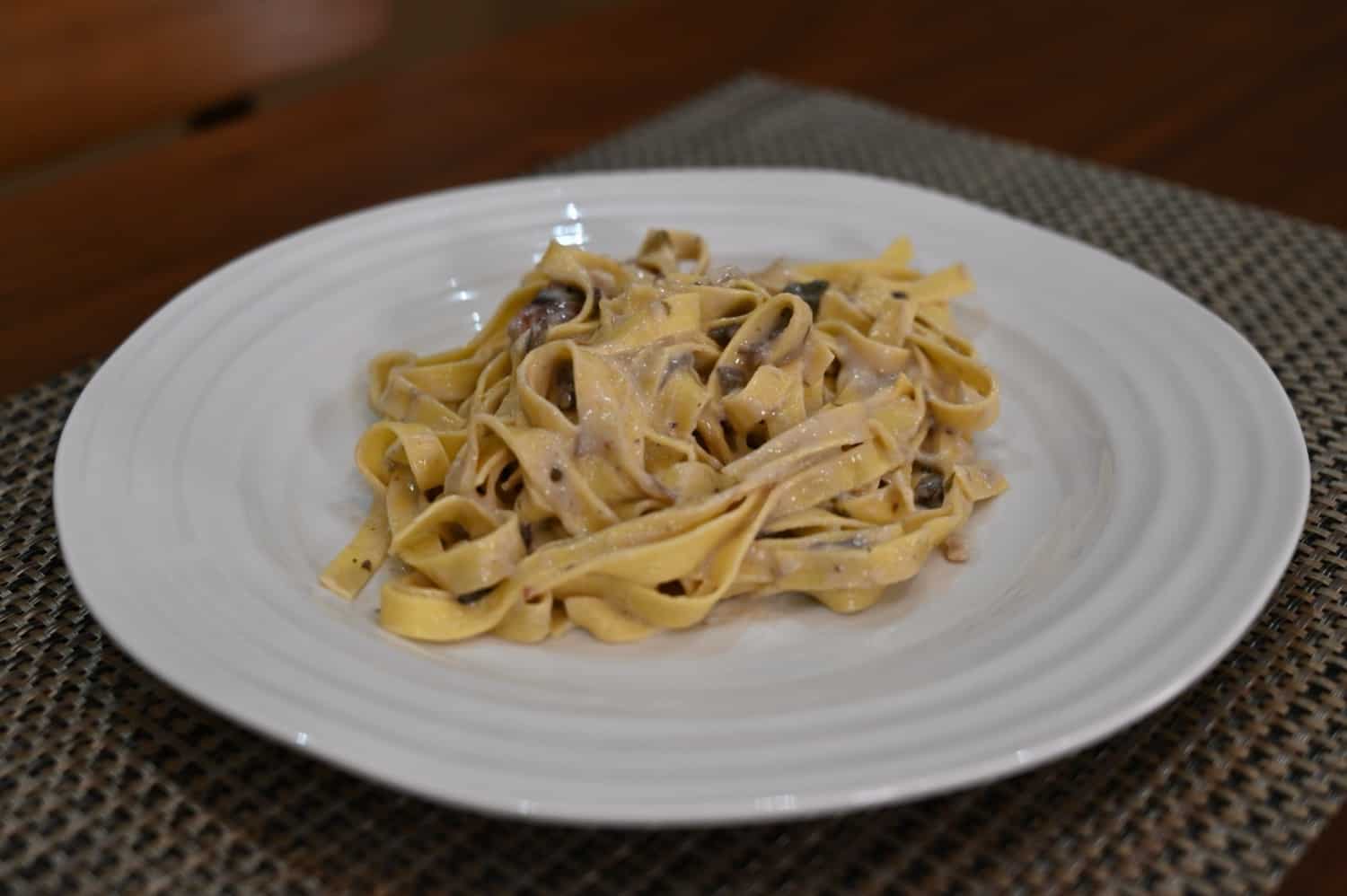 Cost
I paid $13.49 Canadian for the 1.14 kilogram package of tagliatelle, mushroom sauce and chicken. The best before date was about 2 weeks from the date I purchased the fresh pasta from Costco.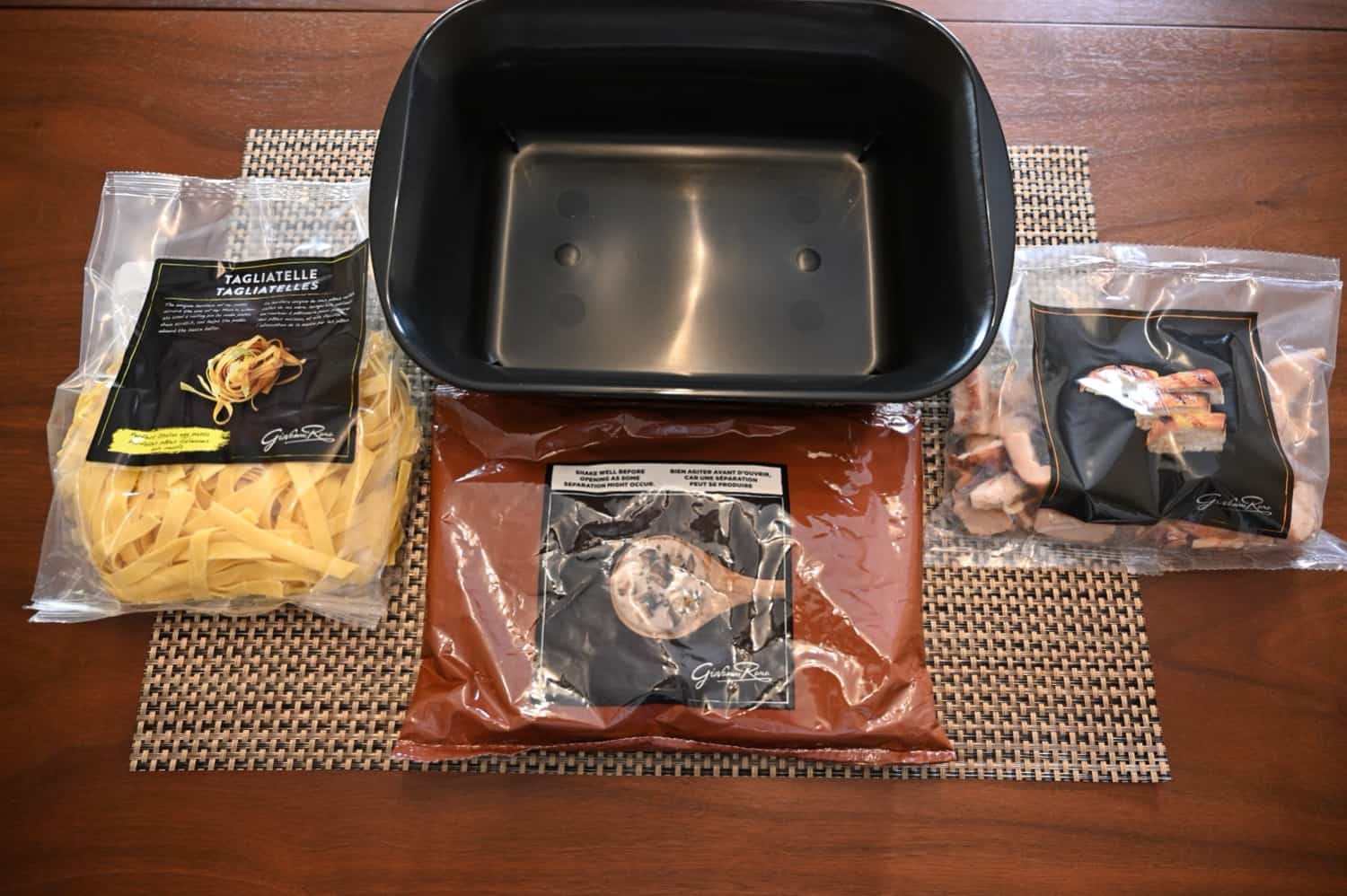 In the package you get one large black microwaveable tray and three seperate packages of the mushroom sauce, fresh tagliatelle and seasoned white chicken. $13.49 is not bad for the kit but this only fed two adults (one having quite a large appetite). I think you'd struggle to feed two adults and two teenagers with one pasta kit but two adults and two little ones would be doable.
Convenience
Talk about convenient! Dinner is ready in the microwave in just eight minutes. All you have to do to prepare the pasta is layer your pasta, sauce and chicken in the black tray, microwave it and mix it up.
This Rana Tagliatelle Seasoned White Chicken & Mushroom Sauce is perfect for nights when you don't feel like cooking or need to get dinner on the table and mouths fed fast!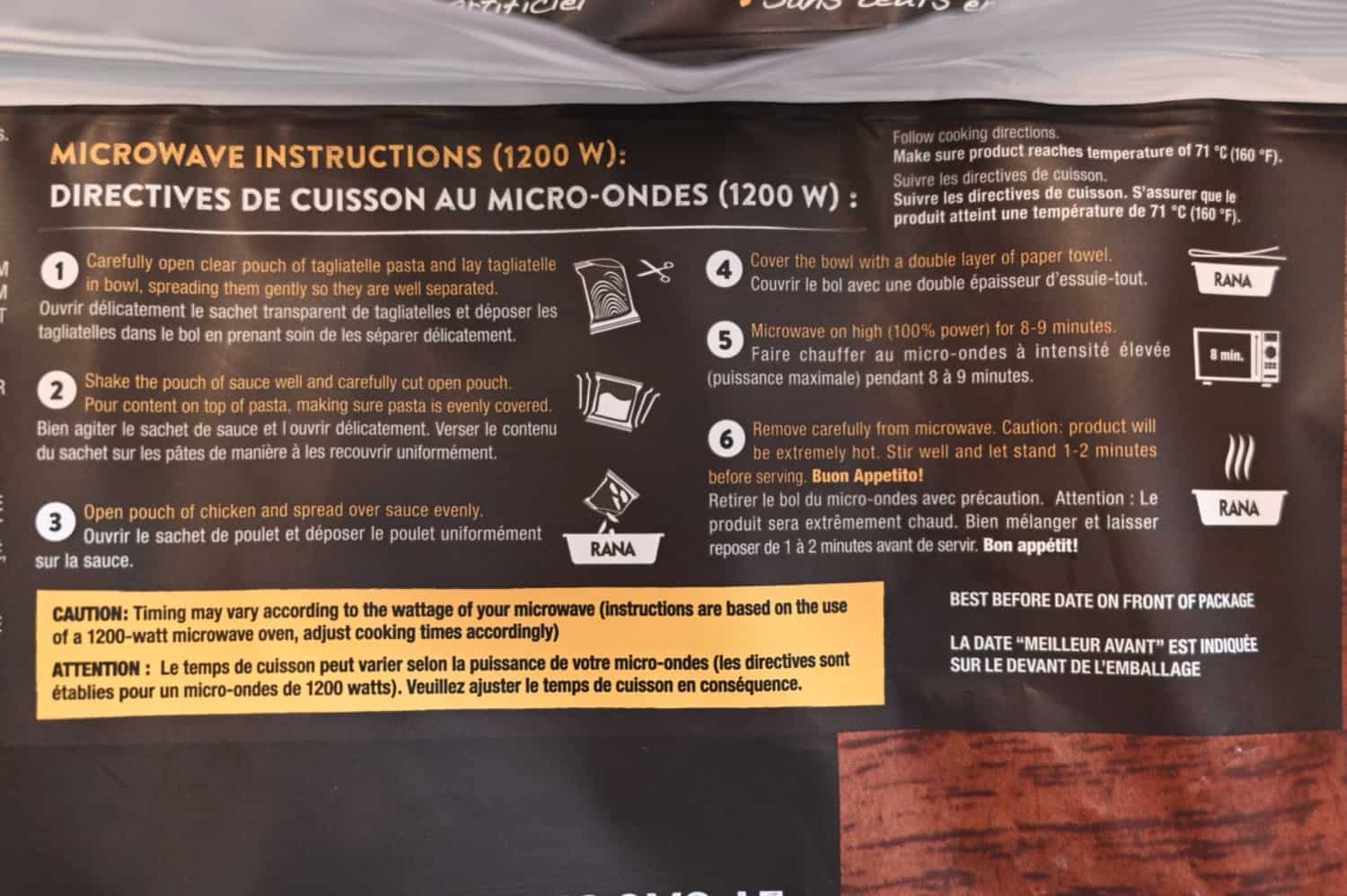 Nutrition
One prepared cup of tagliatelle with mushroom sauce and chicken is 270 calories, 13 grams of fat, 590 mg of sodium, three grams of sugar, two grams of fibre, 14 grams of protein and 24 grams of carbohydrates. Who eats only a cup of pasta? Definitely not me!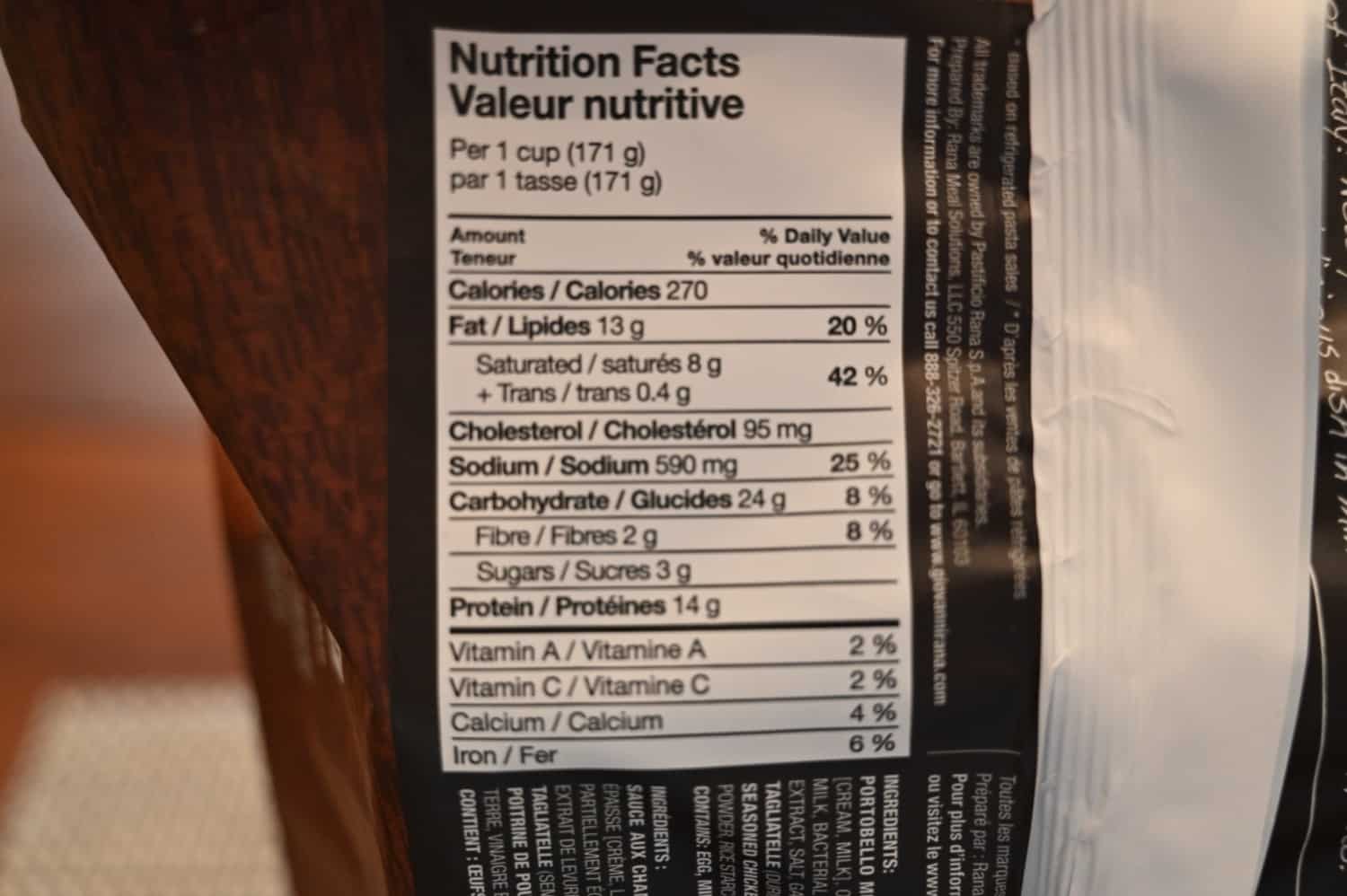 This isn't really that healthy nor is it vegetarian, gluten-free or vegan. It does have a decent amount of protein and even if you had two cups it wouldn't be outrageously high in calories or fat.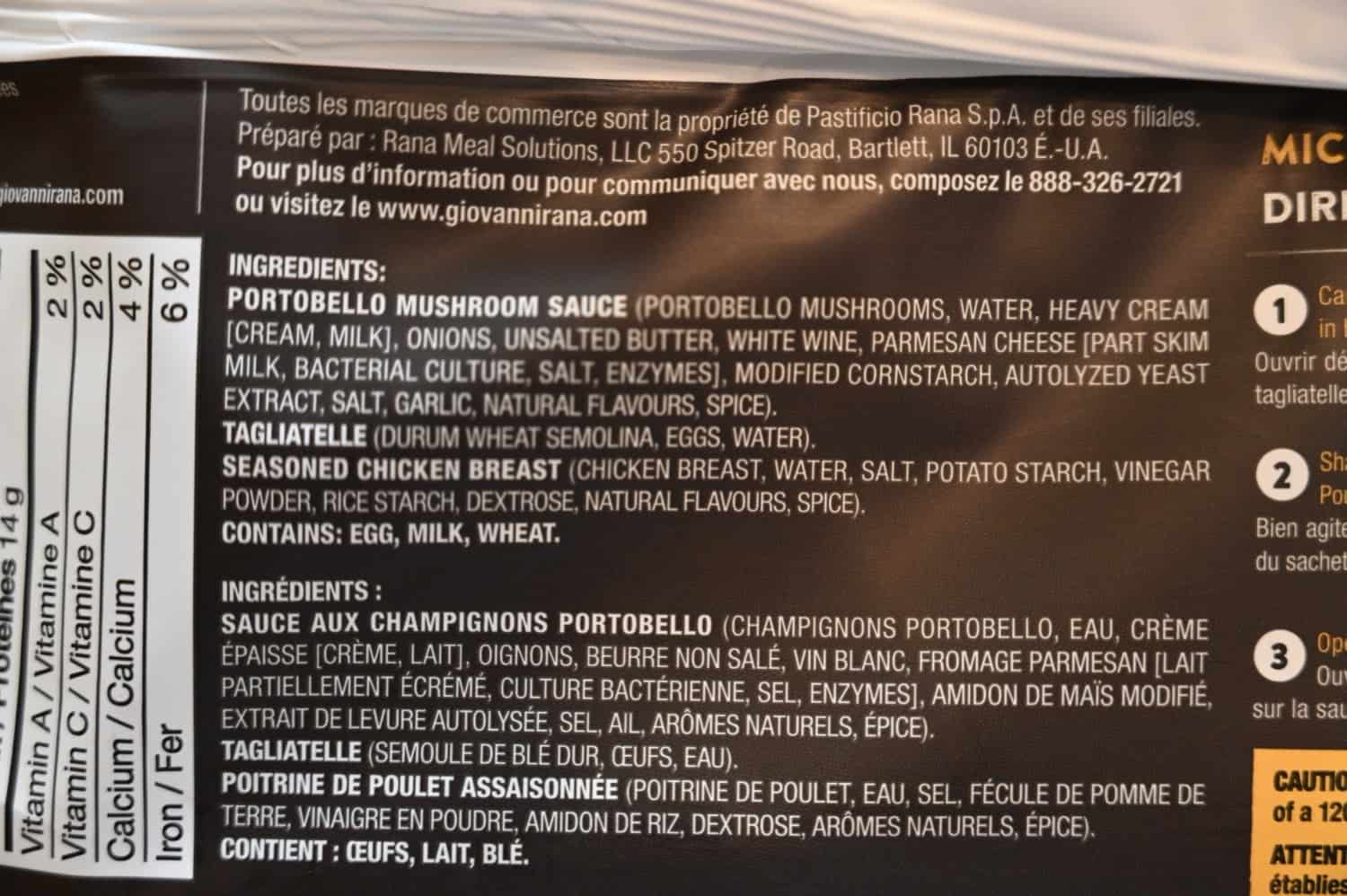 Scoring
Taste: 8/10
Cost: 8/10
Convenience: 10/10
Nutrition: 4/10
Overall
Give it a try!
I gave some of the Rana Tagliatelle Seasoned White Chicken & Mushroom Sauce to my parents and they absolutely loved it. This is a quick, convenient, delicious and gourmet microwaveable meal to serve the family!
---
What's your favorite pasta to buy from Costco? Leave a comment if you found this review helpful!
Please note that this review was not paid for or sponsored by any third party. This product was purchased by Costcuisine for the purpose of producing this review. The opinions in this review are strictly those of Costcuisine. Costcuisine is not affiliated with Costco or any of its suppliers. In the event that Costcuisine receives compensation for a post from the manufacturer of a product or some other third party, the arrangement will be clearly disclosed (including where the manufacturer of a product provides Costcuisine with a free sample of the product).