Costco has a few different pasta dishes in the pre-made meal section. The Costco Kirkland Signature Chicken Penne Alfredo is loaded with cheese and comes with a massive packet of white alfredo sauce. Is all of this cheese and sauce enough to make it taste good?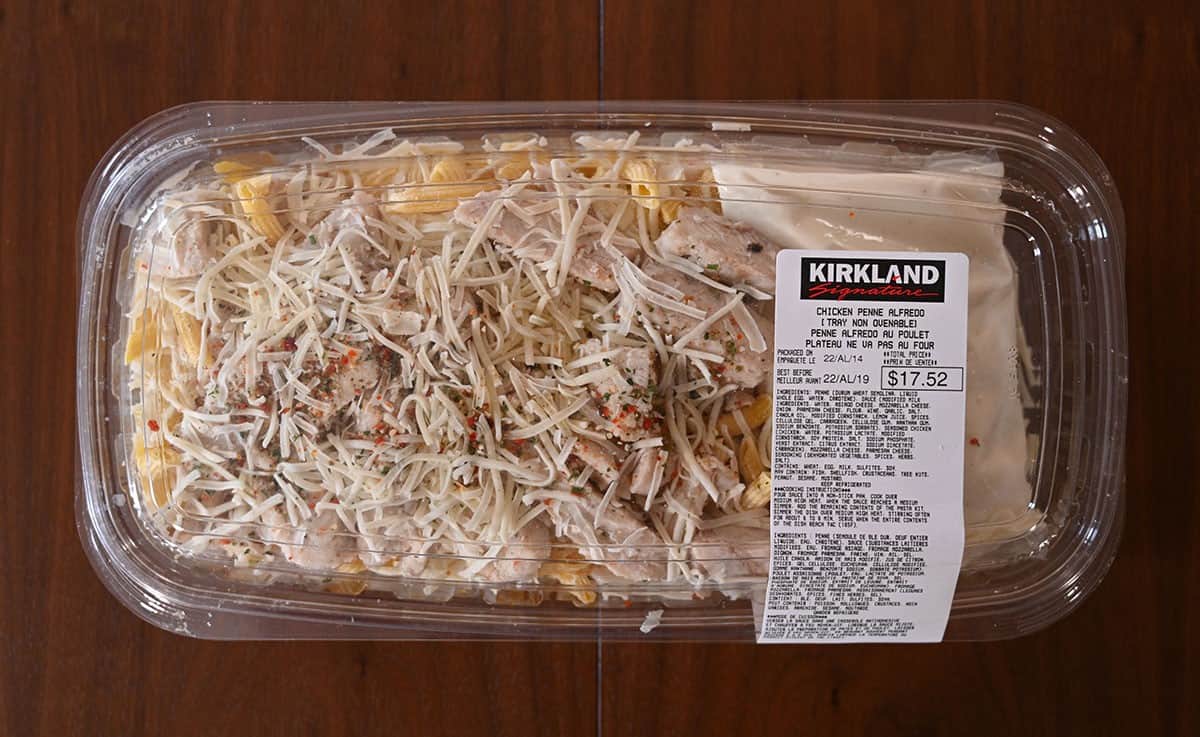 Today I'm reviewing the Costco Kirkland Signature Chicken Penne Alfredo! I picked this up during my recent Costco trip because I thought it would be a quick and convenient meal.
Other pasta dishes from Costco are the Costco Kirkland Signature Meat Lasagna, Costco Kirkland Signature Chicken Parmigiana on Cheese Lasagna, Costco Rana Tagliatelle Seasoned White Chicken & Mushroom Sauce and the Costco Kirkland Signature Four Cheese and Spinach Manicotti.
Location in Store
You can find this pasta dish in the pre-made meal section at Costco. The item number is 19723.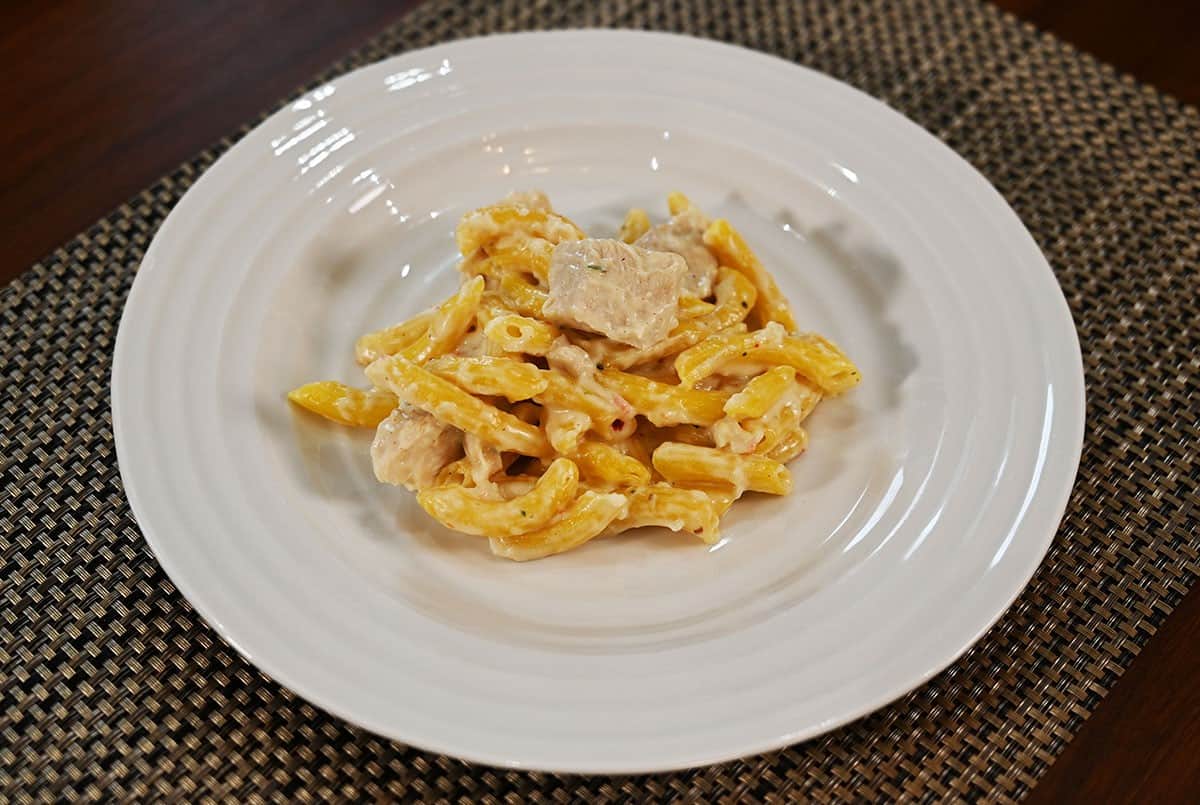 Taste
The Kirkland Signature Chicken Penne Alfredo is very cheesy and is something cheese lovers will be intrigued by. I can't say this is my favorite item out of the Costco deli pre-made lineup. The pasta noodles are a bit chewy but not overly chewy, just a bit under an al dente (cooked to perfection pasta). I followed the directions closely so I don't believe I undercooked them as they're pre-cooked.
The noodles also stick to the serving spoon when you're plating the pasta because of how thick the sauce is. It's quite a heavy, rich sauce. After cooking the dish, the cheese on top becomes melted and stringy, so it's an extremely cheesy-tasting dish! Unfortunately this sauce and melted cheese mixture becomes a bit congealed shortly after you remove your pasta from the heat of the pan.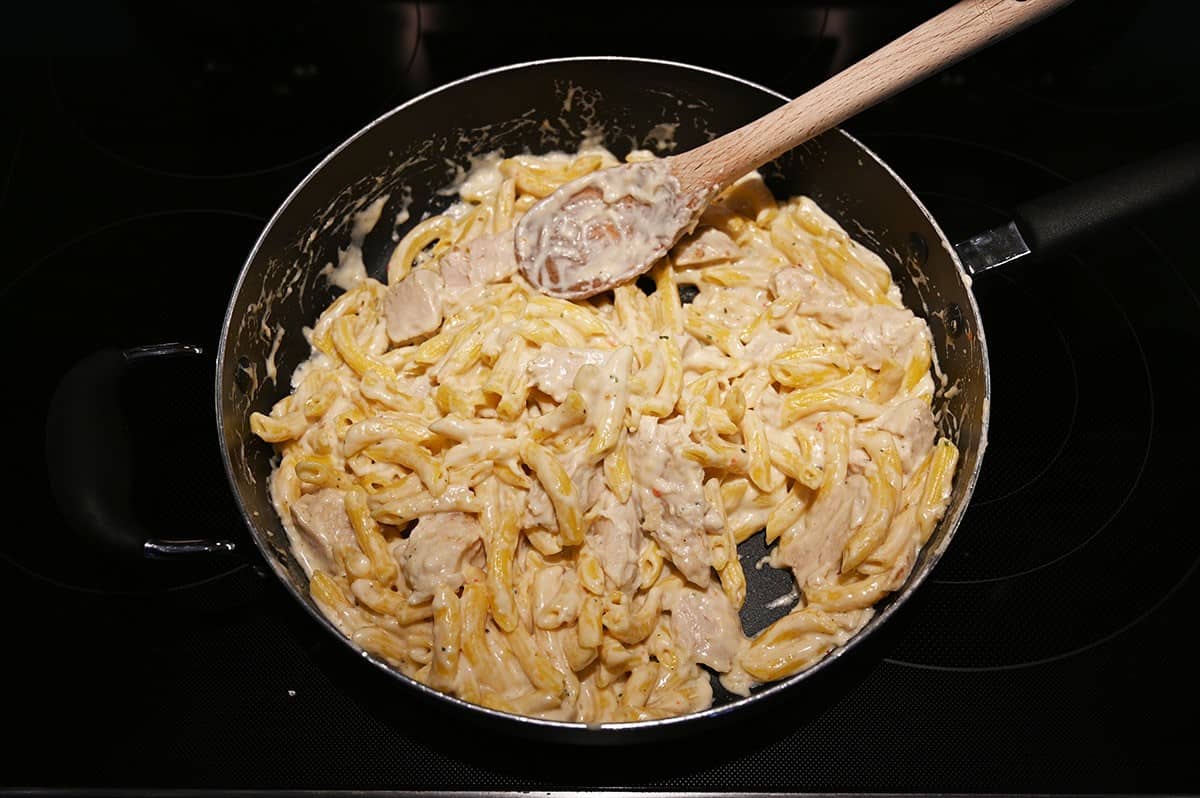 The strips of chicken are white chicken breast meat and are well-seasoned and tasty. I didn't find any gristle or fat in the pieces on my plate. The sizes of the chicken chunks vary; some are really quite big and are way more than a mouthful. I like that there's a decent amount of chicken in this Costco pasta meal.
Overall, the dish is flavorful. You can taste lots of salt and it sure is cheesy! My biggest gripe with the dish is that the alfredo sauce gets very thick, heavy, congealed and somewhat dry after cooking. When you pour the sauce into the pan, it's thin and silky smooth, but when the additional cheese gets melted in with the alfredo sauce, it changes the consistency.
The shredded cheese on top of the uncooked tray is mozzarella and parmesan and the cheeses used in the alfredo sauce are mozzarella, parmesan and asiago.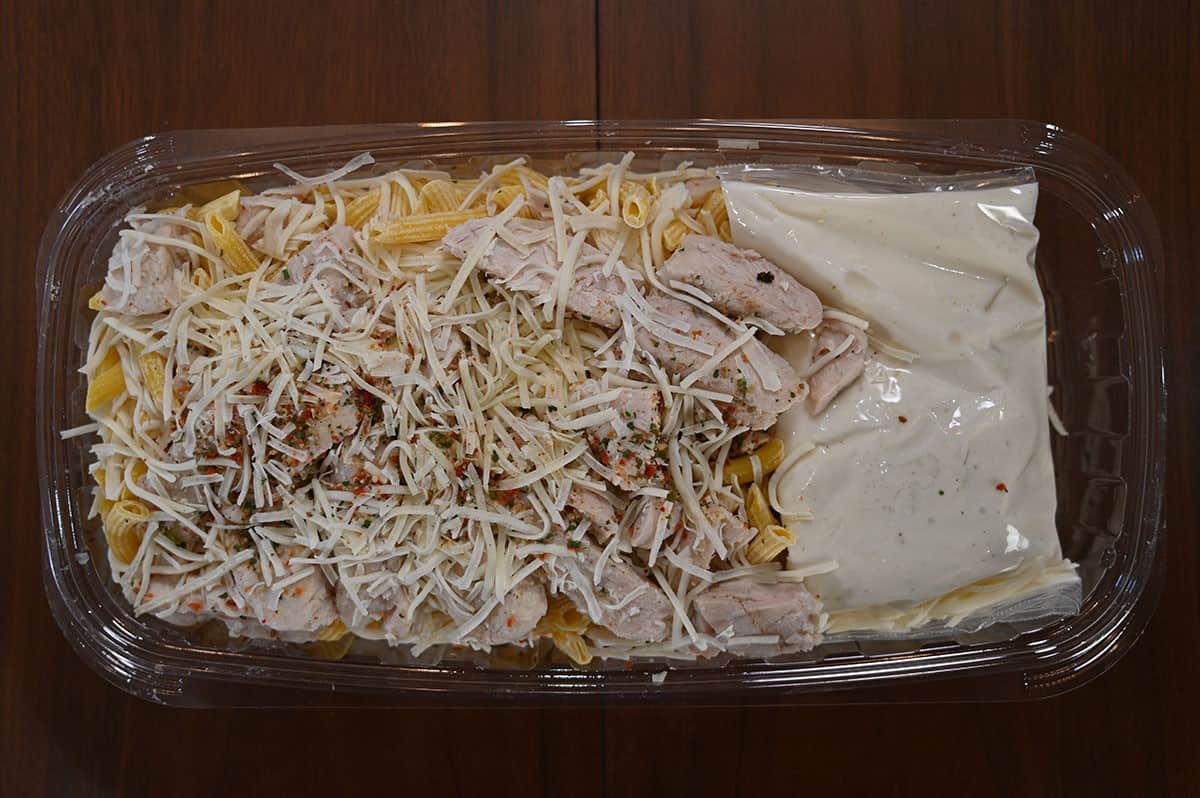 Cost
The price of the Chicken Penne Alfredo from Costco depends on the weight of the tray. I paid $17.52 for my tray of pasta, and I have to tell you, it's a lot of food! The tray comes with pre-cooked pasta, chicken breast strips, shredded mozzarella and parmesan cheese and a big packet of alfredo sauce.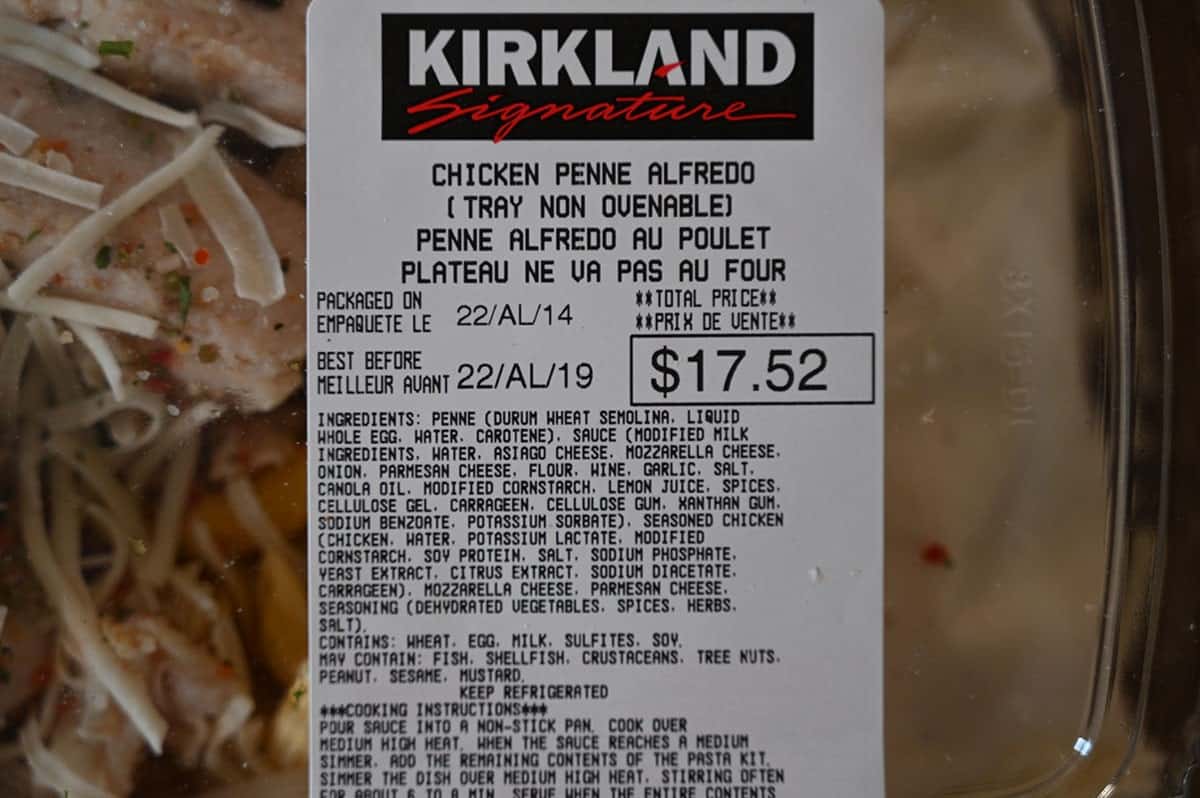 Convenience
Costco's pre-made meals are perfect for those nights when you want to eat at home without doing a ton of work. The best before date on my tray is five days from the date it was packaged on and it needs to be kept in the refrigerator.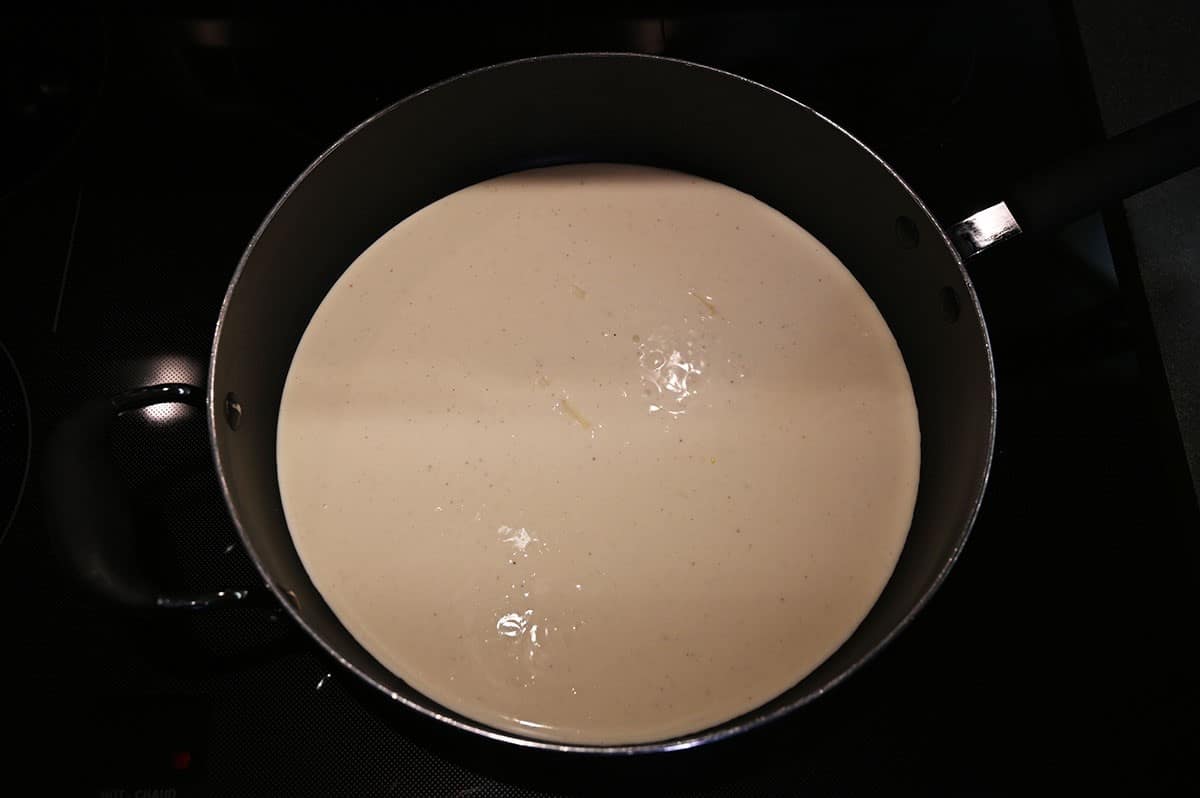 To cook the pasta, pour the sauce into a non-stick pan, and cook the sauce over medium-high heat until it reaches a decent simmer. Next, add the entire tray of pasta, chicken and cheese to the pan and cook for six to eight minutes over medium-high heat. Make sure to stir the mixture often as the sauce and cheese mixture gets quite thick!

Nutrition
Calories
This is not exactly a healthy meal, but it does have a decent amount of protein. One-sixth of the tray contains 410 calories, 20 grams of fat, 670 milligrams of sodium, one gram of fiber, three grams of sugar and 24 grams of protein. If you're cautious about your sodium intake, you might want to limit your portion size.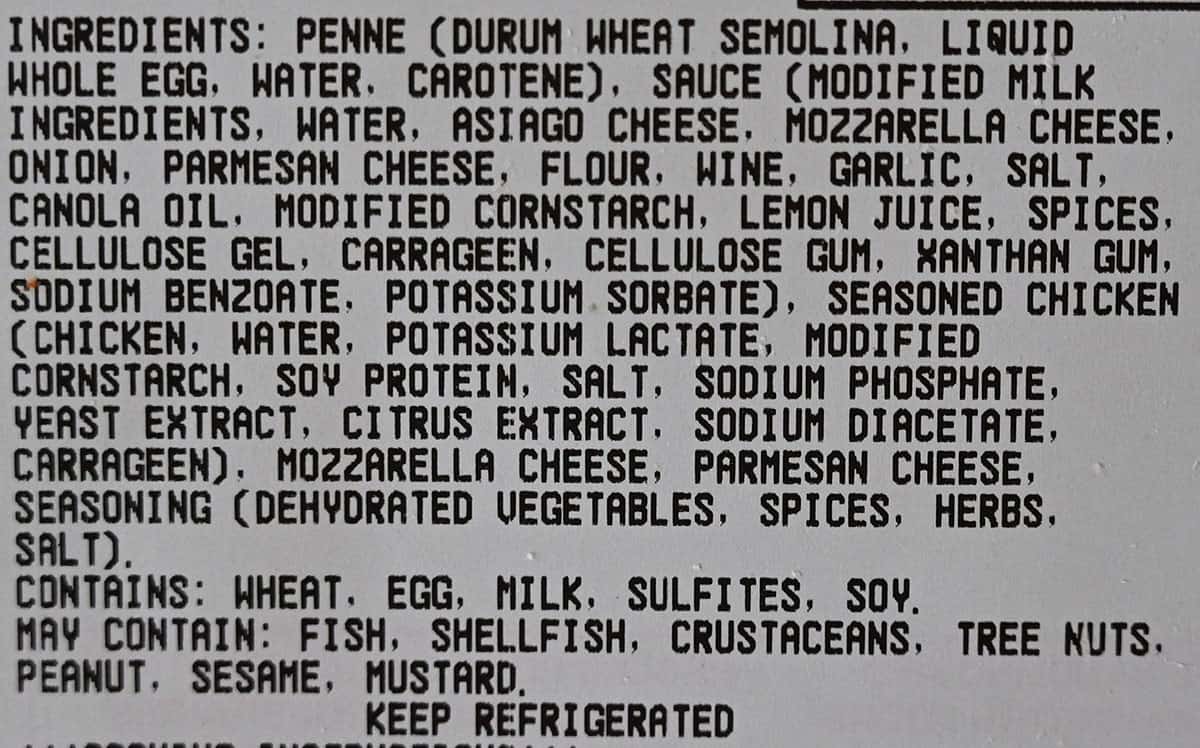 Ingredients
There are ingredients on the ingredient list that I know some people are not fond of, such as palm oil and soy protein. There are a bunch of chemical-sounding ingredients too. The dish contains all of the major allergens. I see this meal as more of a treat as opposed to something I would consume regularly.
Scoring
Taste: 6/10
Cost: 7.5/10
Convenience: 9/10
Nutrition: 4/10
Overall
Give it a try!
This isn't my favorite Costco pre-made meal, but the overall flavor is fine and I enjoyed the all-white, seasoned chicken! Fans of pasta with white sauce will probably find the Kirkland Signature Chicken Penne Alfredo decently tasty.
Have you tried the Costco Kirkland Signature Chicken Penne Alfredo? What did you think of it?
---
Please note that this review was not paid for or sponsored by any third party. This product was purchased by Costcuisine for the purpose of producing this review. The opinions in this review are strictly those of Costcuisine. Costcuisine is not affiliated with Costco or any of its suppliers. In the event that Costcuisine receives compensation for a post from the manufacturer of a product or some other third party, the arrangement will be clearly disclosed (including where the manufacturer of a product provides Costcuisine with a free sample of the product).