Not my favorite but I'm glad I tried it!
Please note that this review was not paid for or sponsored by any third party. I purchased this product with my own money and the opinions in this review are strictly my own. I am not affiliated with Costco or any of its suppliers. I am just a fan of the company. I write these reviews to help my fellow shoppers.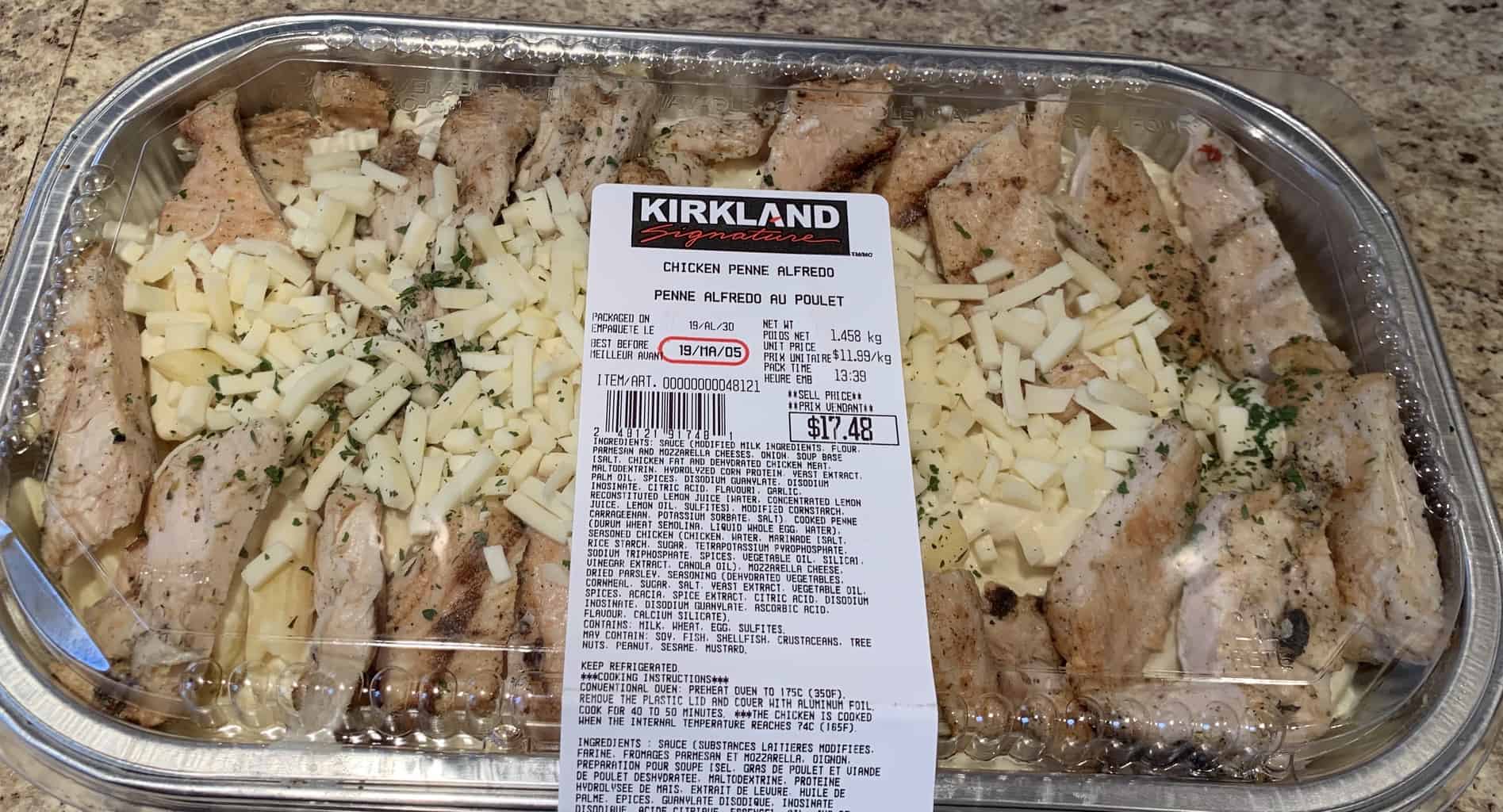 I've tried the Kirkland Signature Meat Lasagna from Costco as well as the Kirkland Signature Mini Cheese Manicotti and recently decided to try the Kirkland Signature Chicken Penne Alfredo because it was on sale!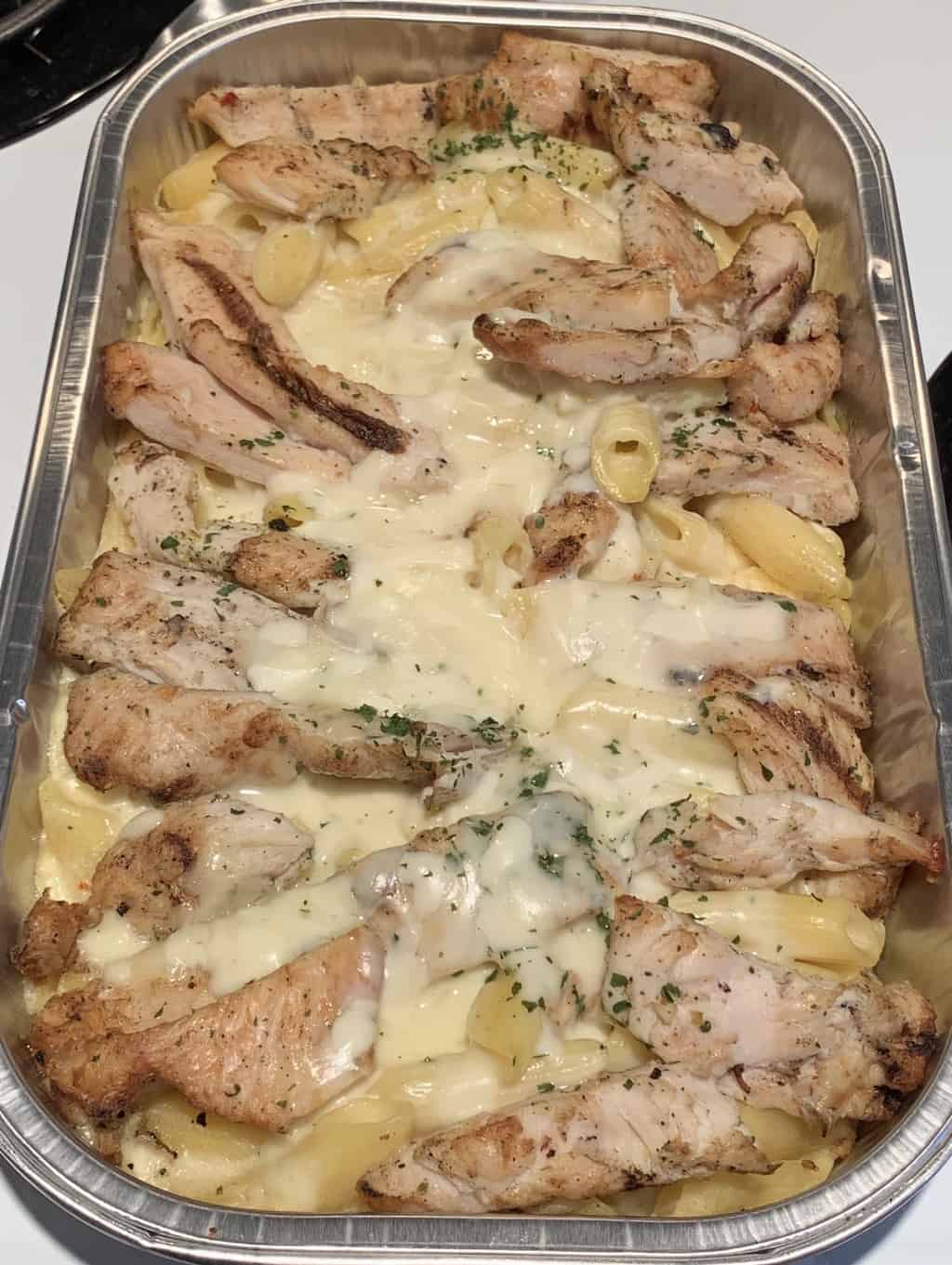 Taste
The Kirkland Signature Chicken Penne Alfredo is very cheesy and is something that would be enjoyed by cheese lovers! I can't say this was my favorite item out of the Costco deli pre-made lineup but maybe I caught the Chicken Penne Alfredo on a bad day. The noodles were quite thick, slightly gummy, a little underdone and tasted chewy. The noodles also seemed to stick to the serving spoon I was using. The sauce is rather thick and quite heavy and I found it to be slightly lacking in flavor. After baking the tray in the oven, the mozzarella cheese on top becomes melted and stringy. It was kind of fun watching some of my family members have strings of cheese hanging from their mouths without them realizing! The strips of chicken are well seasoned however I had two pieces that had some fat/gristle that I didn't eat and the chicken tasted slightly processed. There's not a ton of chicken but they Costco doesn't completely skimp on the chicken either. Due to the chicken being on top of the dish it gets a little crispy/brown in the oven. I found that the Costco Kirkland Signature Chicken Penne Alfredo cools quickly once removed from the oven or plated.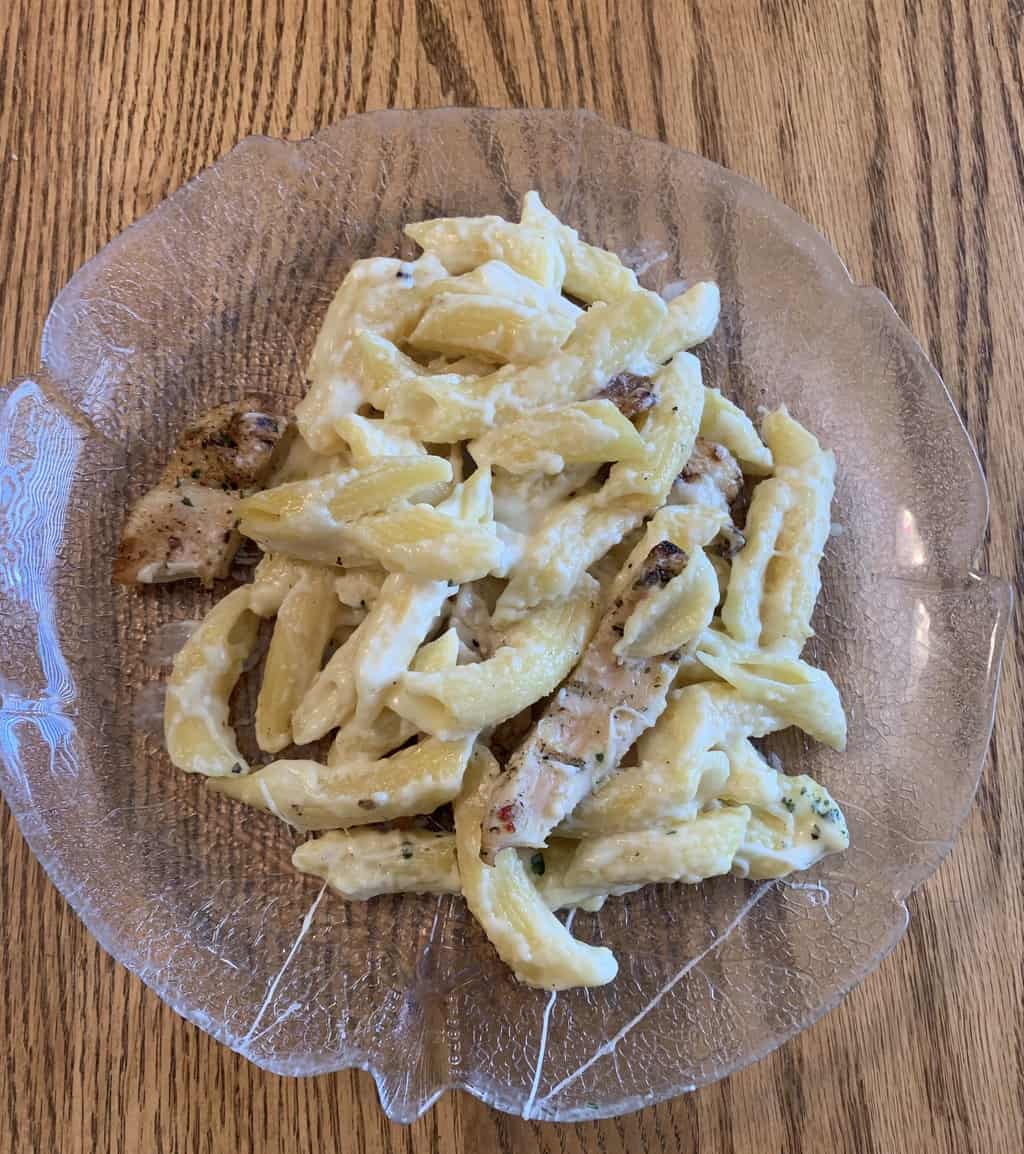 Cost
The Kirkland Signature Chicken Penne Alfredo was purchased on sale for $3.00 off, the original price would have been $17.48 but I paid $14.48 Canadian. I think the price isn't completely unreasonable, especially on sale but I'd rather purchase the lasagna or the manicotti.
Convenience
Costco pre-made meals are perfect for those nights when you want to eat at home without doing a ton of work. To cook the Costco Kirkland Signature Chicken Penne Alfredo all that's required is removing the lid and covering it with foil, preheating the oven to 350 degrees Fahrenheit and baking it for 40-50 minutes. I cooked mine a little bit longer because it wasn't quite hot enough at the 50-minute mark. It's great for leftovers the next day and I've also put leftovers in the freezer and find they taste just fine.
Nutrition
This is not exactly a healthy meal but it does have your carbs, fat and protein! There are ingredients on the ingredient list that I know some people are not fond of, such as palm oil. I see this meal as more of a treat as opposed to something I would consume regularly. 1/6th of tray is 410 calories, 20 grams of fat, 670mg of sodium, one gram of fibre, three grams of sugar, and 24 grams of protein.
I didn't mind trying out the Costco Kirkland Signature Chicken Penne Alfredo and enjoyed it enough but I didn't love it so much to want to buy it again. I would prefer the Costco Kirkland Signature Chicken Penne Alfredo if the noodles were cooked a little more, the sauce was a bit thinner and the chicken didn't have any fatty chunks. I may have just tried it on a bad day though so I'm curious to hear other peoples' thoughts!
Taste: 6.5/10
Cost: 7.5/10
Convenience: 8/10
Nutrition: 3/10
Do you like Alfredo sauce? Have you tried this from Costco? What did you think?