Overpriced Thai salad from Costco that's lacking in flavor.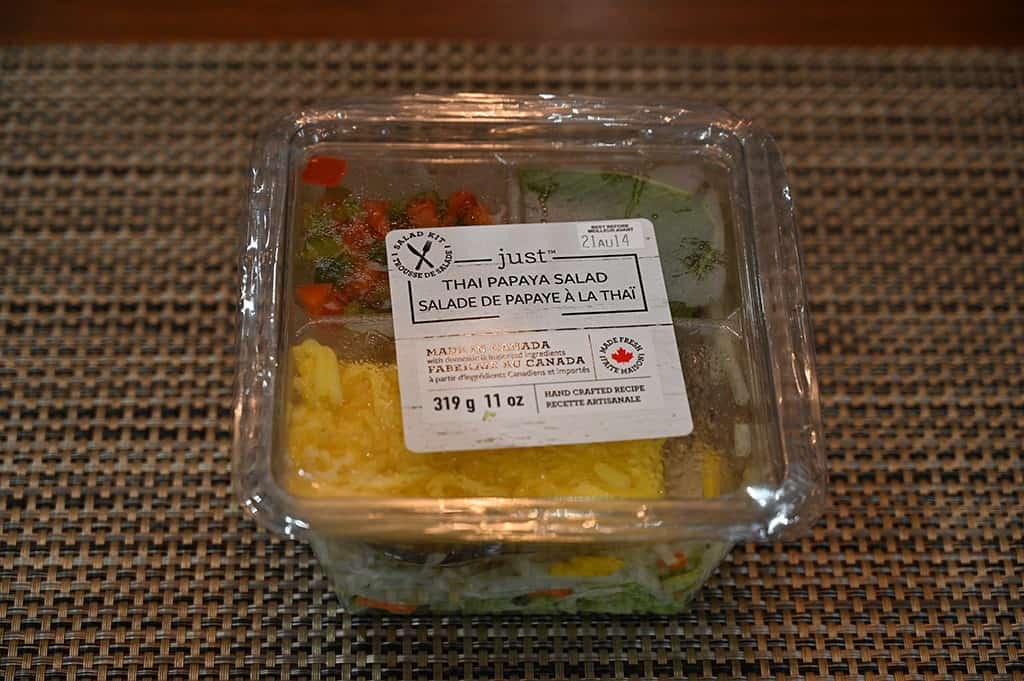 I always make it my mission to try all the different salads that my local Costco sells. Recently they started selling this Just Thai Papaya Salad and I absolutely love Thai salad so I decided to pick it up despite it being pretty expensive for a small container.
My current favorite salads at Costco are the Costco Taylor Farms Dill Pickle Salad, the Costco Taylor Farms Baja Chopped Salad and the Sweet Kale 7 Superfoods Salad Kit.
Location in Store
You can find the Thai salad in the cold produce room. The item number is 1563100.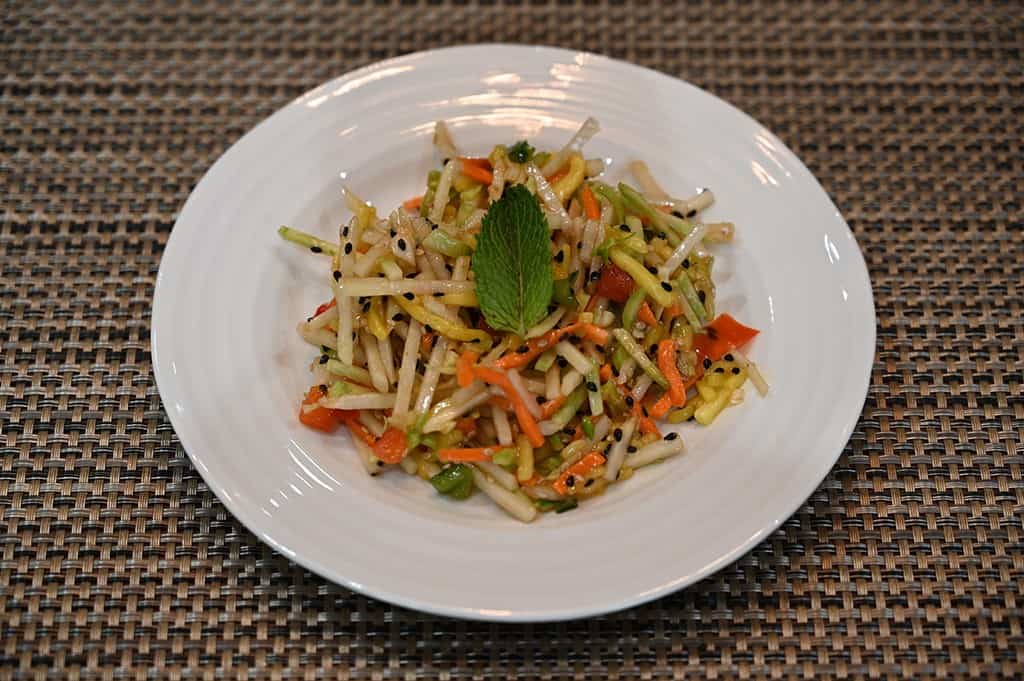 Taste
The Costco Just Thai Papaya Salad has mango, papaya, broccoli and bell peppers, carrots, sesame seeds and fresh mint. The dressing is a spicy sesame-soy dressing with a nice bit of nuttiness and a hint of sweetness.
The texture is really crunchy but there's less flavor than I expected given how colorful the salad is!
The sweet flavor is coming from the mango, papaya and dressing and there's also sesame flavor coming from the sesame dressing and sesame seeds. There's a lot of heat and spice coming from the dressing. The heat factor makes this salad too spicy for me and I think too spicy for a majority of people.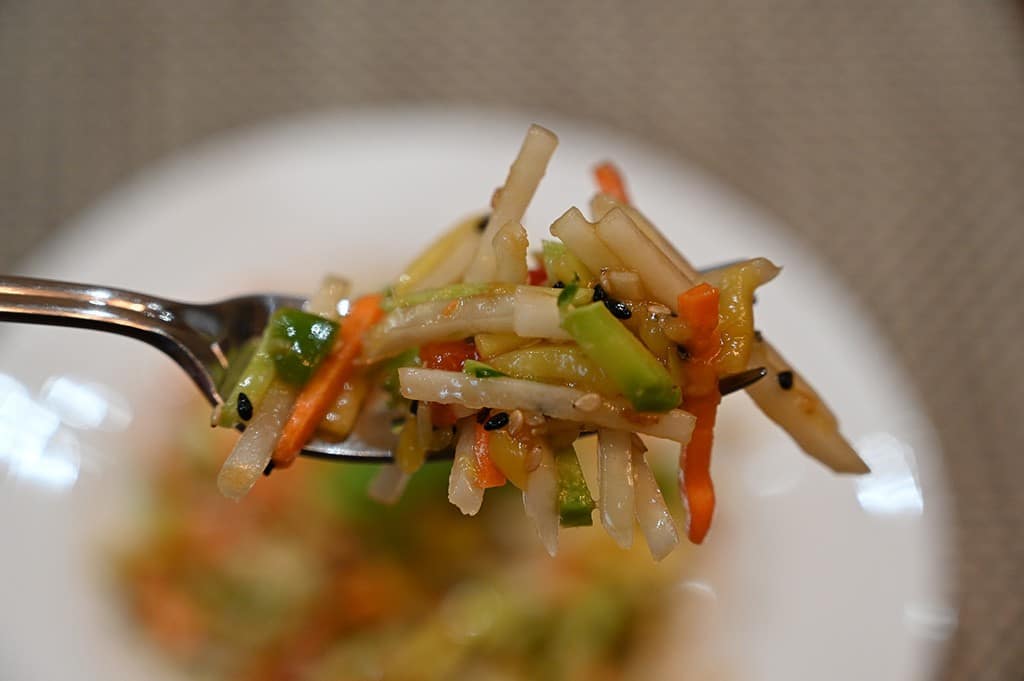 Cost
I paid $7.99 Canadian for the 319 gram container of salad. That's way too expensive for such a small amount of salad. One container is enough for two small side salads or one medium sized plate of salad. There's no protein in the salad so I suggest adding some if you're having it as a meal.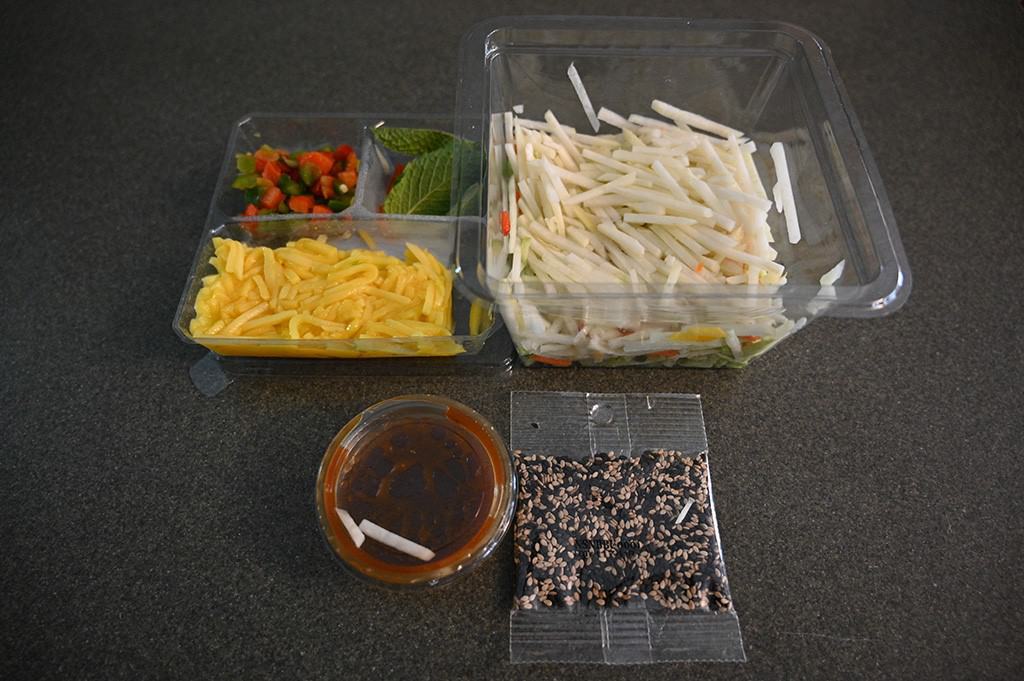 Convenience
The Just Thai Papaya Salad from Costco is convenient to bring to work for a small, easy lunch. The salad needs to be kept refrigerated and comes with a large portion of dressing and all the ingredients are neatly separated and packaged.
The best before date on the salad is about a week from the date we purchased the salad.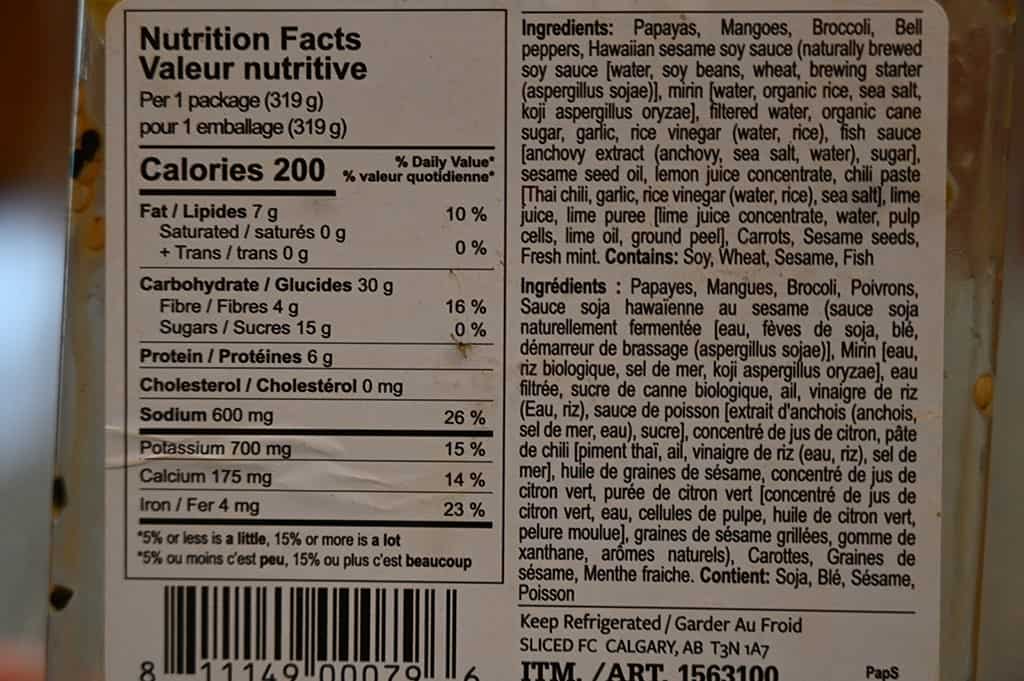 Nutrition
Calories
One 319 gram container with all the ingredients is 200 calories, seven grams of fat, four grams of fibre, 30 grams of carbohydrates, 15 grams of sugar, 600 mg of sodium and six grams of protein. That's quite a bit of sugar and sodium for such a small container!
Ingredients
There's lots of fresh ingredients in this salad! It's not gluten-free or vegetarian/vegan as it contains fish and wheat. It is dairy free.
Scoring
Taste: 7/10
Cost: 3/10
Convenience: 10/10
Nutrition: 6.5/10
Overall
Walk on by!
I feel like this salad is overpriced for what you get and is lacking in flavor. Costco has much better salads to purchase than this one!
Have you tried these? What did you think?
---
Please note that this review was not paid for or sponsored by any third party. This product was purchased by Costcuisine for the purpose of producing this review. The opinions in this review are strictly those of Costcuisine. Costcuisine is not affiliated with Costco or any of its suppliers. In the event that Costcuisine receives compensation for a post from the manufacturer of a product or some other third party, the arrangement will be clearly disclosed (including where the manufacturer of a product provides Costcuisine with a free sample of the product).