One of the best salads from Costco I've tried!
Please note that this review was not paid for or sponsored by any third party. The opinions in this review are strictly my own. I am not affiliated with Costco or any of its suppliers. I am just a fan of the company. I write these honest reviews to help my fellow shoppers.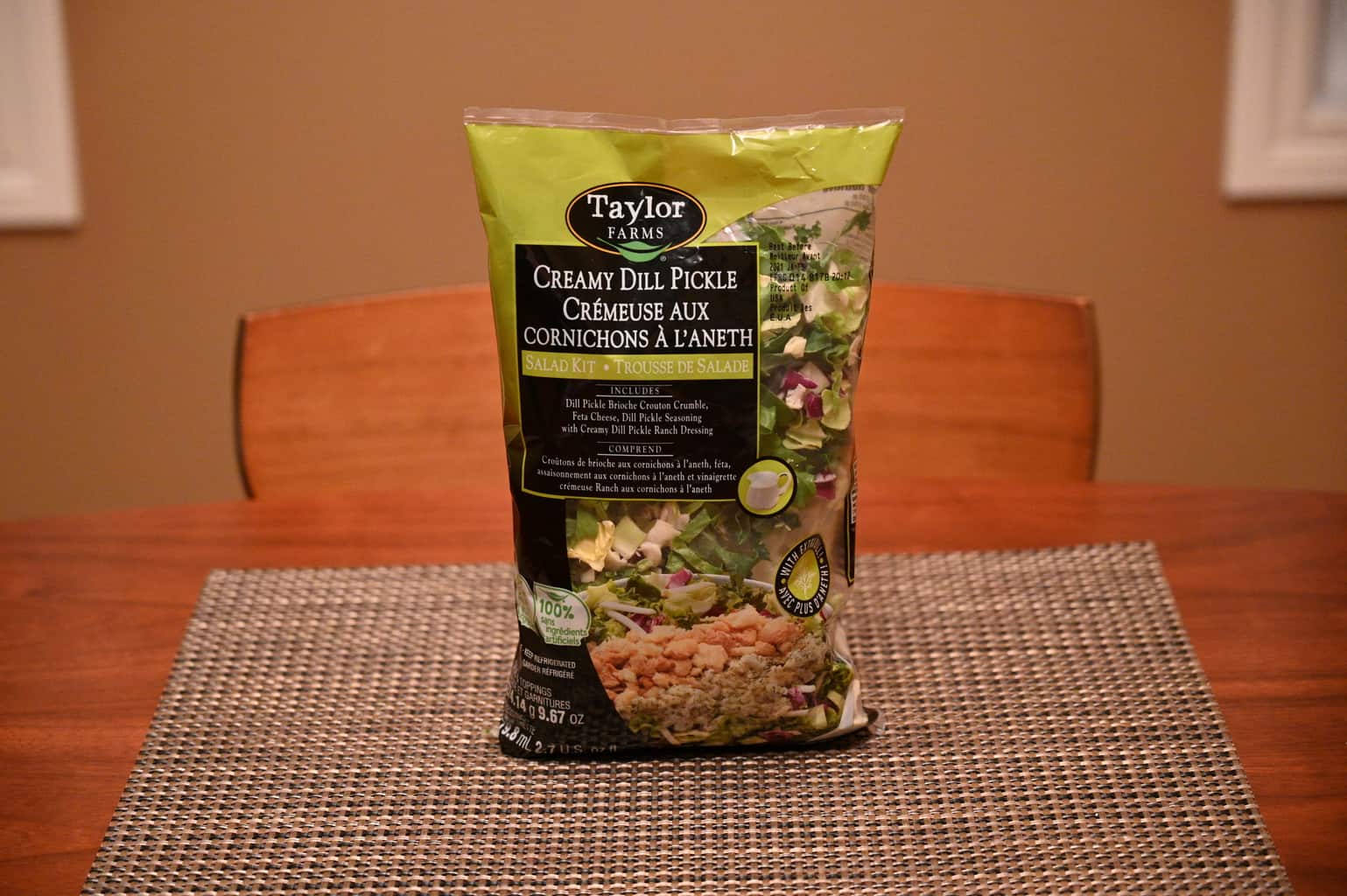 Costco has a new salad kit available and I'm excited to be reviewing it today! I've reviewed numerous other salad kids like the Taylor Farms Buffalo Blue Salad Kit, Taylor Farms Baja Salad Kit, Taylor Farms Asian Cashew Chopped Salad and the Taylor Farms Steakhouse Salad Kit. Today I'm reviewing the Costco Taylor Farms Creamy Dill Pickle Salad that can be found in the produce room by the other salads and the item number is 1487794.
Taste
I enjoy dill pickle chips from time to time and I will eat dill pickles on burgers but I wouldn't say I'm a die-hard dill pickle fan. Even if you don't like dill pickle at all you might want to check out this new salad available at Costco. This tastes unreal, so delicious and loaded with a ton of flavor. The salad is a mix of green cabbage, cauliflower, red cabbage, green leaf lettuce and kale. You get a bag of toppings that comes in the salad which contains a package of creamy dill pickle ranch dressing, dill pickle seasoning, feta cheese, and dill pickle brioche crouton crumbles. When you mix the salad with all of the toppings it makes a taste bud tantalizing concoction. The feta cheese is fresh and goes well with all the other toppings. The brioche croutons are lightly seasoned with dill pickle and are nice and buttery, they also add a bit of extra crunchy texture to the salad. The dill pickle seasoning packet contains a thin powder/seasoning you sprinkle over the salad, it definitely tastes like dill pickle so if you're not the biggest dill pickle fan you might want to just add a little sprinkling of the seasoning and if you love dill pickle definitely add the whole thing! If you don't use your whole packet of seasoning, save the rest for popcorn! The dressing is a creamy ranch with just a hint of dill pickle. This salad is extremely flavorful and delicious and also quite filling. Both of us loved it.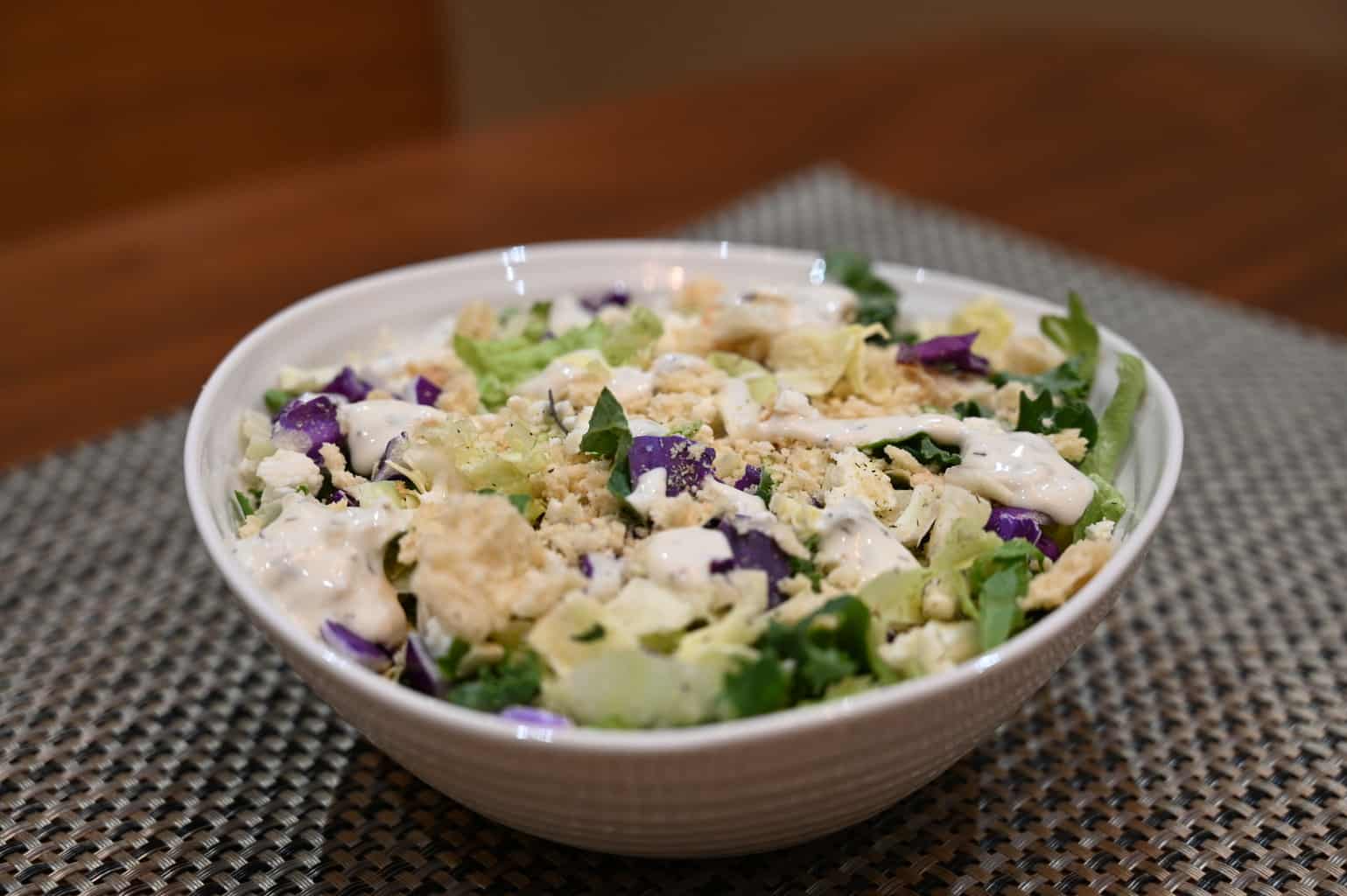 Cost
I paid $3.39 Canadian for the Costco Taylor Farms Creamy Dill Pickle Salad. There are 274.14 grams of salad & toppings and 79.8 ml of dressing. This is an amazing price for the salad! At some other grocery stores, a salad like this would be at least $5 or more.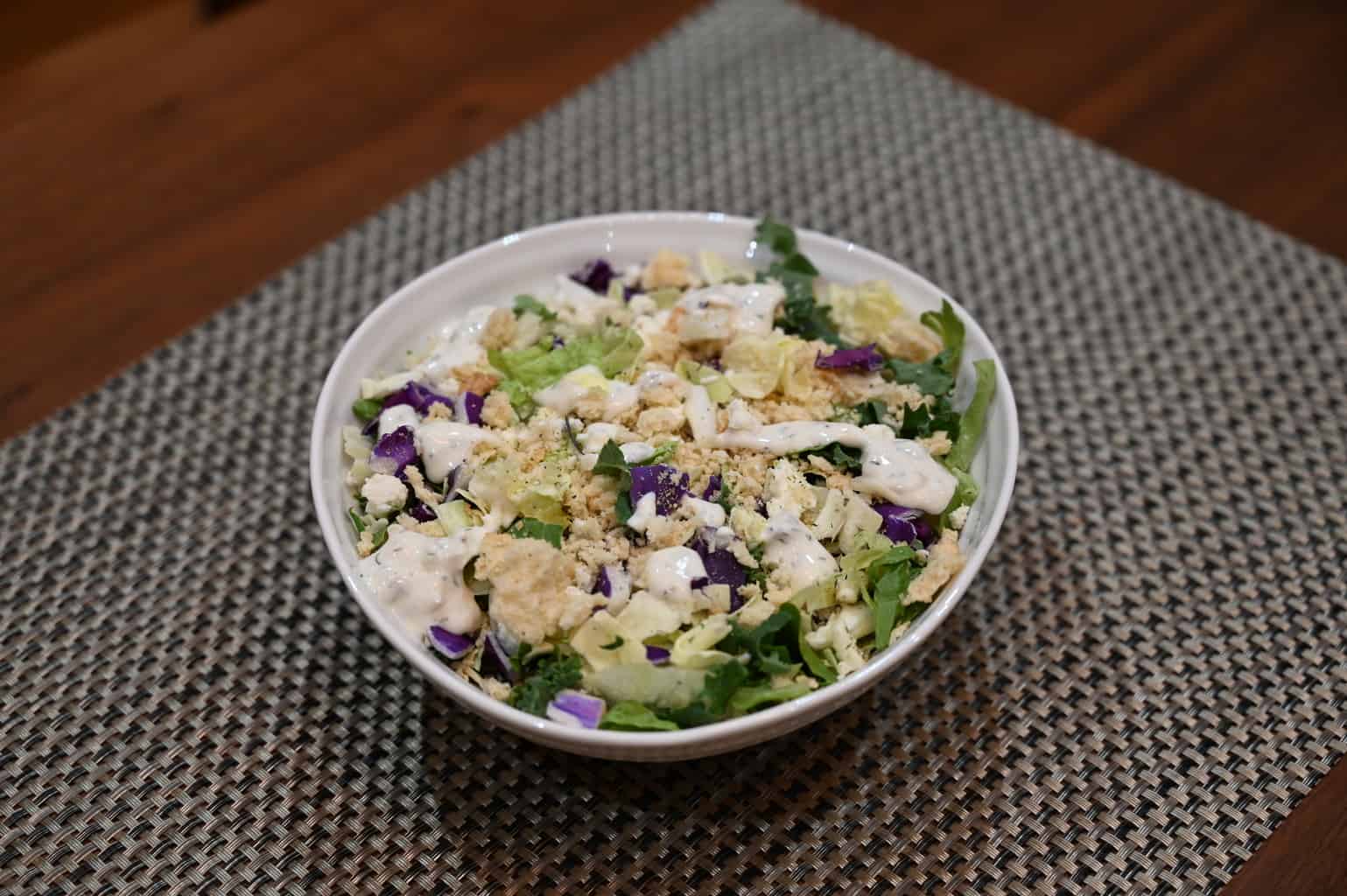 Convenience
Each topping comes in a separate small plastic bag so you can easily leave any ingredients you don't like out. The dill pickle salad makes an awesome side salad or could also be great for your lunch or dinner with a bit of chicken or other protein added. The best before date is over a week from the date I purchased the salad. I've eaten these salads on the day of the best before date or a day after and they always taste just fine.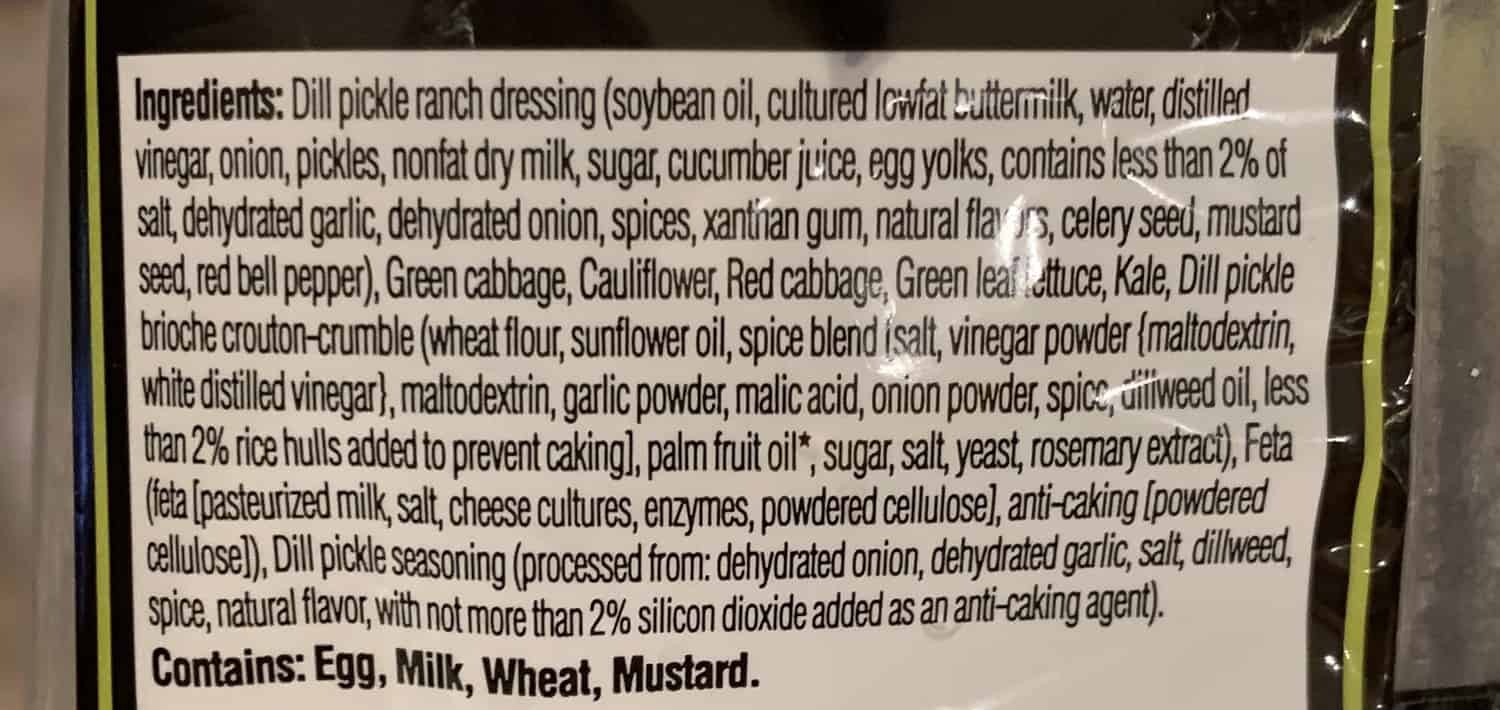 Nutrition
One cup of prepared salad is 150 calories, 11 grams of fat, three grams of protein, 380 mg of sodium, two grams of fibre, three grams of sugar and 12 grams of carbohydrates. If you're watching your fat or calorie intake you may want to use a little less dressing or skip the feta and croutons but to be honest this salad just wouldn't be quite as amazing without all the delicious toppings!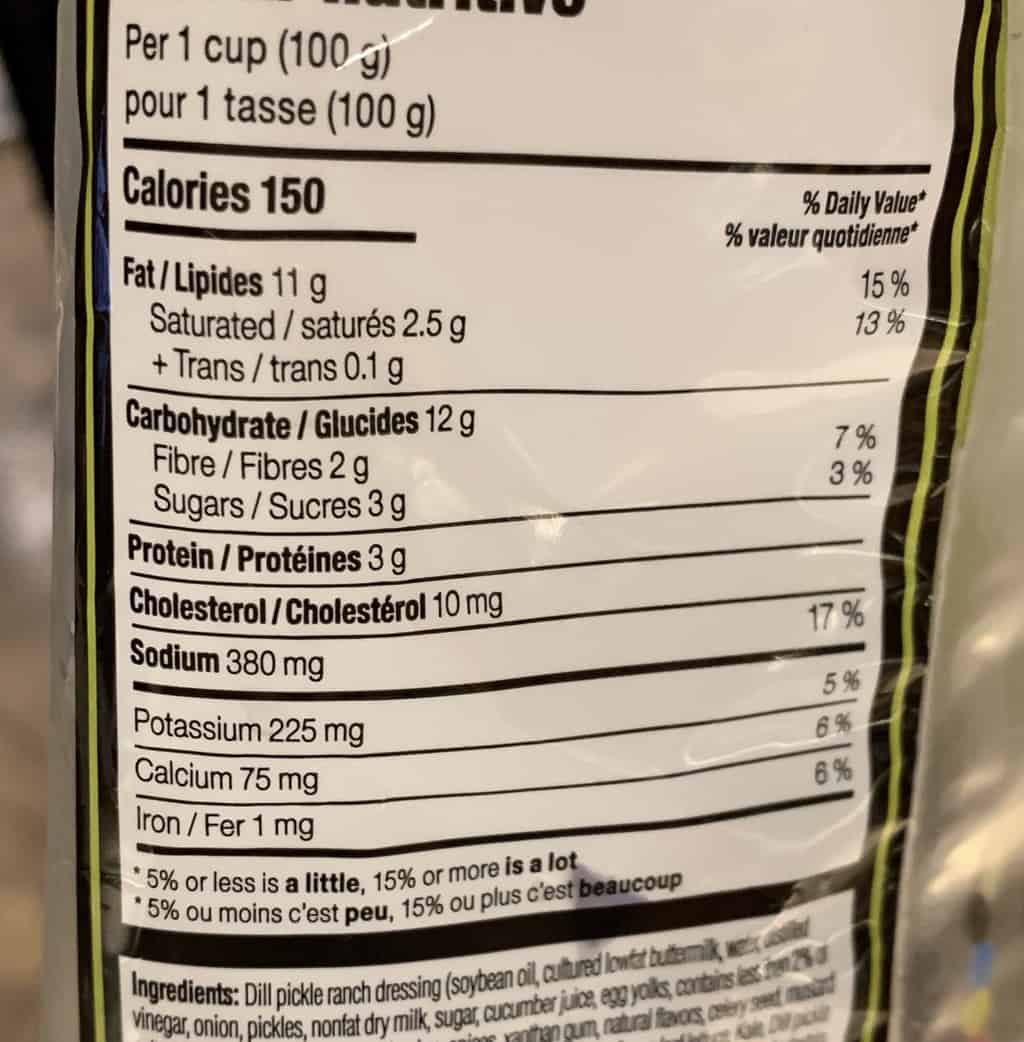 I have three of these in my fridge as I write this review. I hope Costco keeps it for a long time to come because I really enjoy it. For the price, even if you're not a dill pickle fan I suggest you try this salad. You might be pleasantly surprised.
Taste: 9.5/10
Cost: 10/10
Convenience: 10/10
Nutrition: 4/10
Leave a comment if this review was helpful and also share what your thoughts are on this product!