Are you a huge packaged salad fan like me?
Please note that this review was not paid for or sponsored by any third party. I purchased this product with my own money and the opinions in this review are strictly my own. I am not affiliated with Costco or any of its suppliers. I am just a fan of the company. I write these reviews to help my fellow shoppers.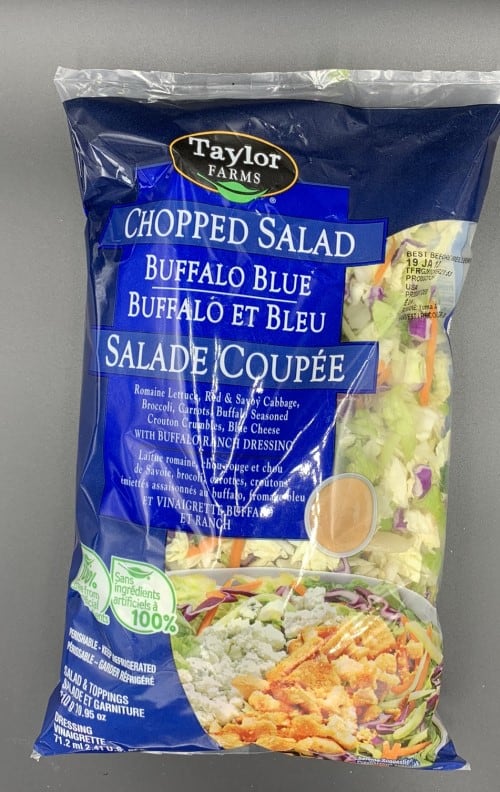 I can't believe how excited I get when Costco introduces a new salad kit! When I saw the Taylor Farms Buffalo Blue Chopped Salad kit at Costco my heart basically skipped a beat. My heart also sunk when I saw the word "blue", meaning blue cheese. Blue cheese seems to be a very polarizing cheese. People either seem to like blue cheese or hate it. I feel like blue cheese is like the cilantro of cheeses. I'm not a blue cheese fan and neither is Sean. One time Sean and I went out to a really nice restaurant for dinner and Sean wanted the steak but it came with blue cheese on top, the waitress assured Sean when he asked about it that it was just a tiny bit of blue cheese and he wouldn't even taste it or could just scrape the tiny bit off. Well his steak came out absolutely covered in melted blue cheese, you basically couldn't even see the steak. I don't think I thought it was funny then but now I find that story kind of funny.
Taste
The salad kit contains romaine, red and savoy cabbage, broccoli, carrots, buffalo-seasoned crouton crumbles, blue cheese and a buffalo ranch dressing. Let's break it down – the salad is fresh and chopped nicely, so it's easy to eat. The croutons are definitely on the salty side with a hint of heat, but they're not the huge croutons you'd find in a Caesar salad. They're more like little crumbles of crouton. The blue cheese is separately packaged in a tiny pouch, so if blue cheese isn't your thing you can just leave it out! The salad kit is still delicious and worth it even if you don't use the blue cheese packet. The dressing is a spicy, zesty buffalo ranch. It's definitely got some heat to it, so if you can't handle the slightest bit of heat, this may not be your kind of salad kit. Imagine mixing a little bit of buffalo red hot sauce with ranch dressing. That's what it tastes like.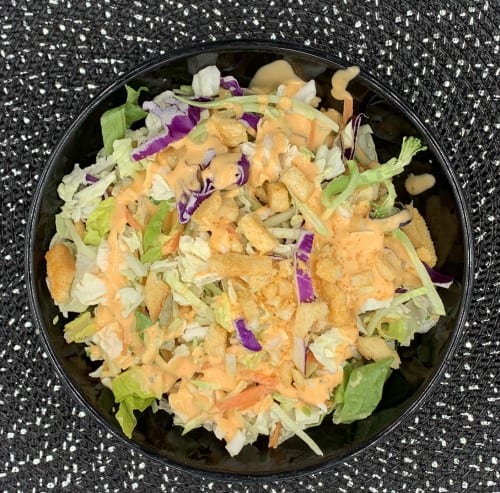 Cost
The thing that I love about the smaller salad kits at Costco (like the Baja Salad Kit and the Asian Cashew Chopped Salad kit) is the low price. A comparable salad kit at my local grocery store is always about $4.99 Canadian. On sale, the cheapest I've seen is $3.99 for similar ones. This salad kit cost me $3.59. It isn't super tiny either – you get quite a bit of salad for the price. In my opinion $3.59, is completely reasonable for a kit like this.
Convenience
Convenience is the main reason I'm such a big fan of salad kits. To have the washed salad, toppings and dressing all neatly packaged in one convenient bag is a huge time saver. This salad kit makes an easy side dish or starter and also can be made into a meal by itself. Personally I would add a few extra veggies, maybe some avocado and a protein source – boom, you have a healthy meal!
Nutrition
One cup of prepared salad contains 100 calories, nine grams of fat, two grams of fibre, three grams of sugar and 390 milligrams of sodium. If you're health conscious, trying to lose weight or watching your fat intake, I recommend going lighter on the dressing and toppings.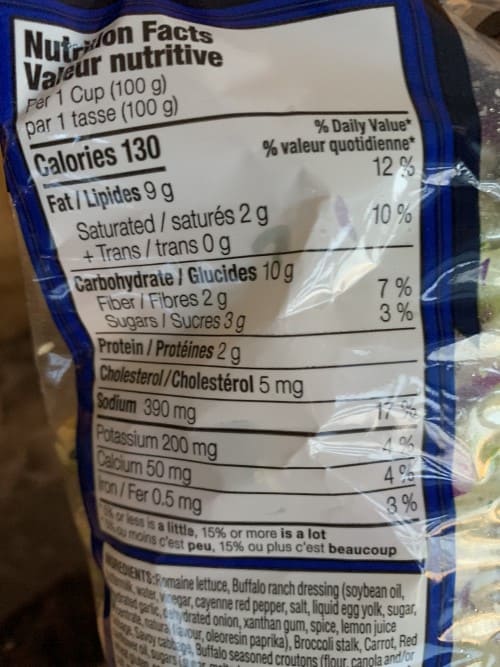 Whether you like blue cheese or not this salad kit is tasty, reasonably priced and convenient. Need a quick dinner? Pick up a Costco pizza and this salad kit and you're good to go. Or a Costco rotisserie chicken and this salad kit. I think it's pretty smart that Taylor Farms kept the blue cheese in a separate pouch because that way even those who despise blue cheese can enjoy this salad kit. I'll definitely be repurchasing this many times in the future.
Taste: 9/10
Cost: 9.5/10
Convenience: 10/10
Nutrition: 7/10
I have to ask – are you a blue cheese fan?