A full meal deal!
Please note that this review was not paid for or sponsored by any third party. I purchased this product with my own money and the opinions in this review are strictly my own. I am not affiliated with Costco or any of its suppliers. I am just a fan of the company. I write these reviews to help my fellow shoppers.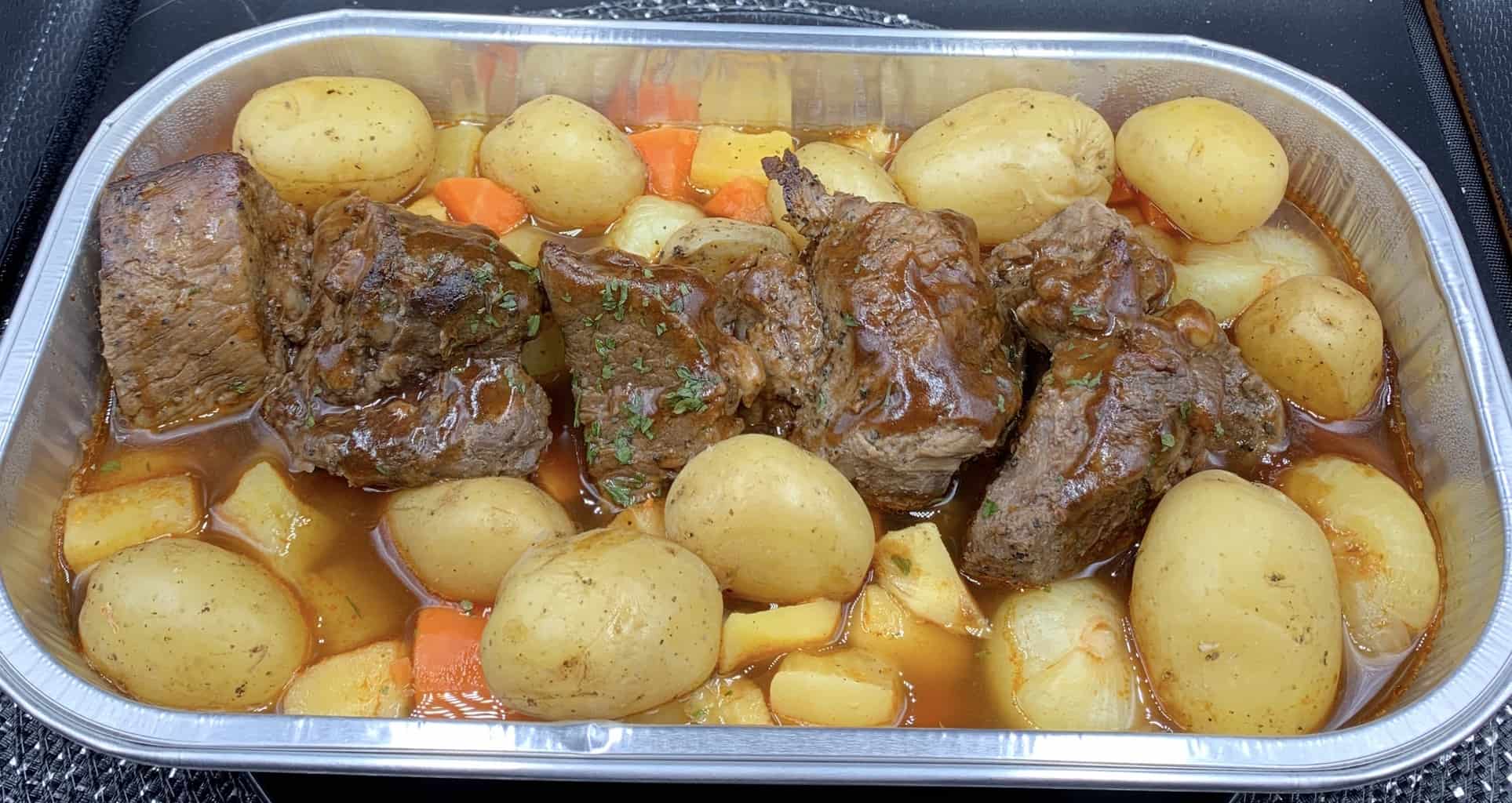 Last week the Costco Kirkland Signature Beef Pot Roast was on sale at Costco ($4.50 off!), so I decided to give it a try.
Taste
The Costco Kirkland Signature Beef Pot Roast is a full meal deal! The tray comes with beef, baby potatoes, turnips, beets, carrots, parsnips and onions. The vegetable mix is fairly potato-heavy with less of the other vegetables. When cooked, all of the vegetables came out really nice – soft yet firm (not mushy). The potatoes are seasoned well and pair nicely with the gravy that's formed by adding water to the tray prior to putting it in the oven. The beef is hit or miss; some pieces were tender and fell apart easily while other pieces were tough and had a lot of fat and gristle on them. Although the dish is seasoned well, both my husband and I found there was a certain spice or seasoning that we didn't care for but couldn't quite identify. I analyzed the ingredients and wonder if it might have been the fish sauce. We enjoyed the meal for the most part, but probably wouldn't purchase it at the regular price based on taste. There are definitely tastier pre-made meals at Costco.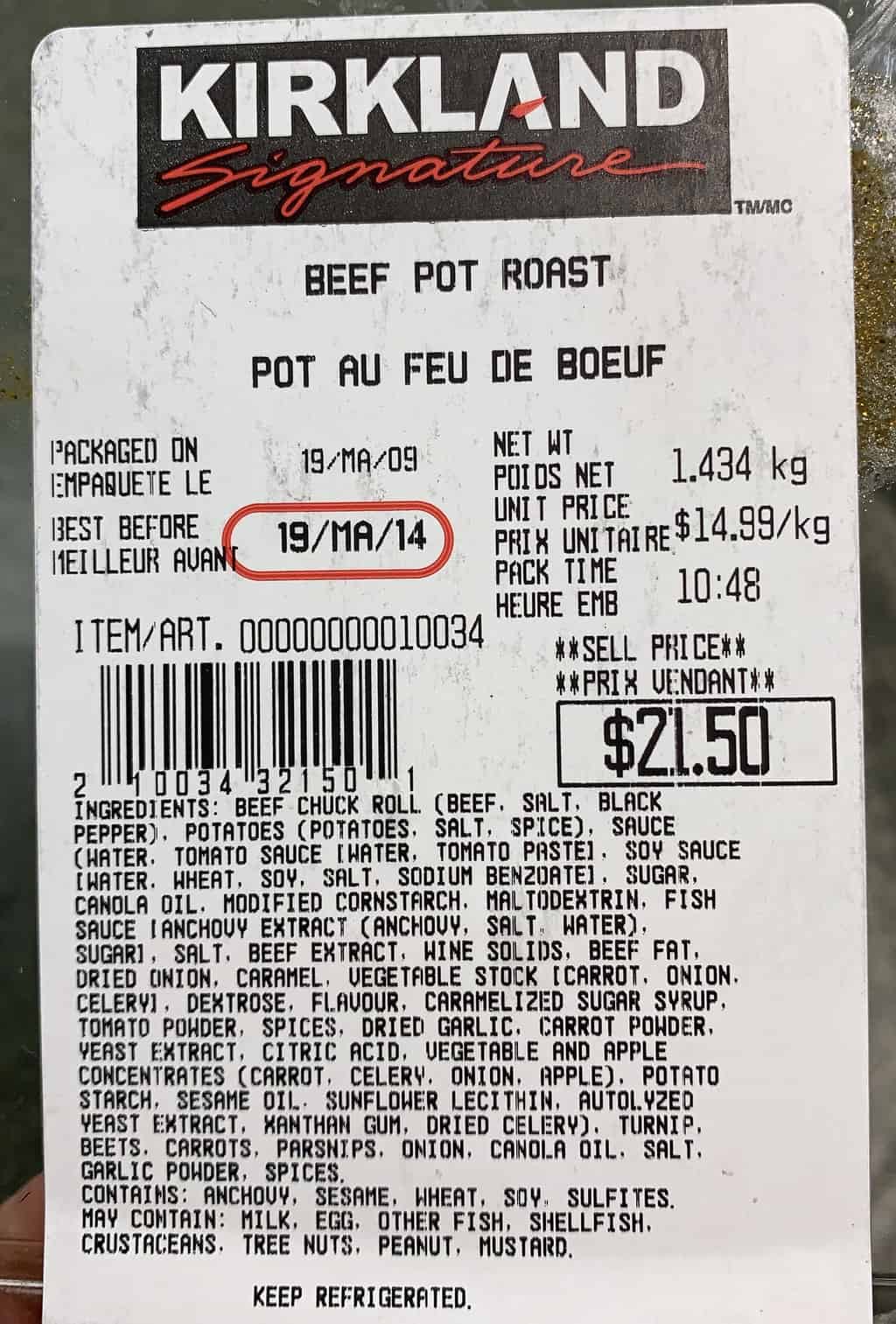 Cost
We scored a deal by saving $4.50 off of the regular price ($21.50 Canadian for our tray, but it varies a bit with weight). The regular price isn't overly expensive considering how convenient this meal is – it includes the sides as well as the protein, so you don't really need anything else with it. I think you'd end up paying a similar amount to make pot roast from scratch, but you'd probably have a bigger portion if you went that route (i.e., leftovers). For the price, I prefer some of the other pre-made offerings from Costco like the Kirkland Signature Meat Lasagna.
Convenience
All that I had to do to get the Costco Kirkland Signature Beef Pot Roast ready was add some water, cover the tray with foil and pop it in the oven. I didn't even check on it while it was cooking! When my timer went off, I pulled it out of the oven and served it. Given how easy it is to heat up and the fact that you don't need to worry about making sides to go with it, it's a very convenient dinner option for busy nights!
Nutrition
There are a lot of ingredients on the list! For those with food allergies or sensitivities, please be aware that the pot roast includes some ingredients that you might not expect (for example, anchovy, wheat, sesame, soy and sulfites). One-sixth of the full meal contains 320 calories, 13 grams of fat, 27 grams of protein, six grams of sugar, three grams of fibre and 770 milligrams of sodium. That isn't as bad as I thought it could be, but the sodium content is pretty high (which I expected). I don't really see the point of adding sugar to the dish; it seems unnecessary and you don't really taste it! 27 grams of protein is awesome, but you'd expect that with a meat-centric dish like this.
Overall, we didn't dislike the Costco Kirkland Signature Beef Pot Roast, but we probably wouldn't repurchase it again. As far as flavor and price go, I'd rather have the Costco Kirkland Signature Meat Lasagna or the Costco Kirkland Signature Chicken Pot Pie! With that being said, this is a very convenient meal that does a decent job of mimicking a home-cooked version.
Taste: 7/10
Cost: 8/10
Convenience: 9/10
Nutrition: 6/10
Location in Costco: The deli/pre-made meal section.
What's your favorite Costco pre-made meal? Have you had the Costco Kirkland Signature Beef Pot Roast? What did you think?