The easiest chicken parm recipe ever!
Please note that this review/recipe was not paid for or sponsored by any third party. The opinions in this review are strictly my own. I am not affiliated with Costco or any of its suppliers. I am just a fan of the company. I write these honest reviews to help my fellow shoppers.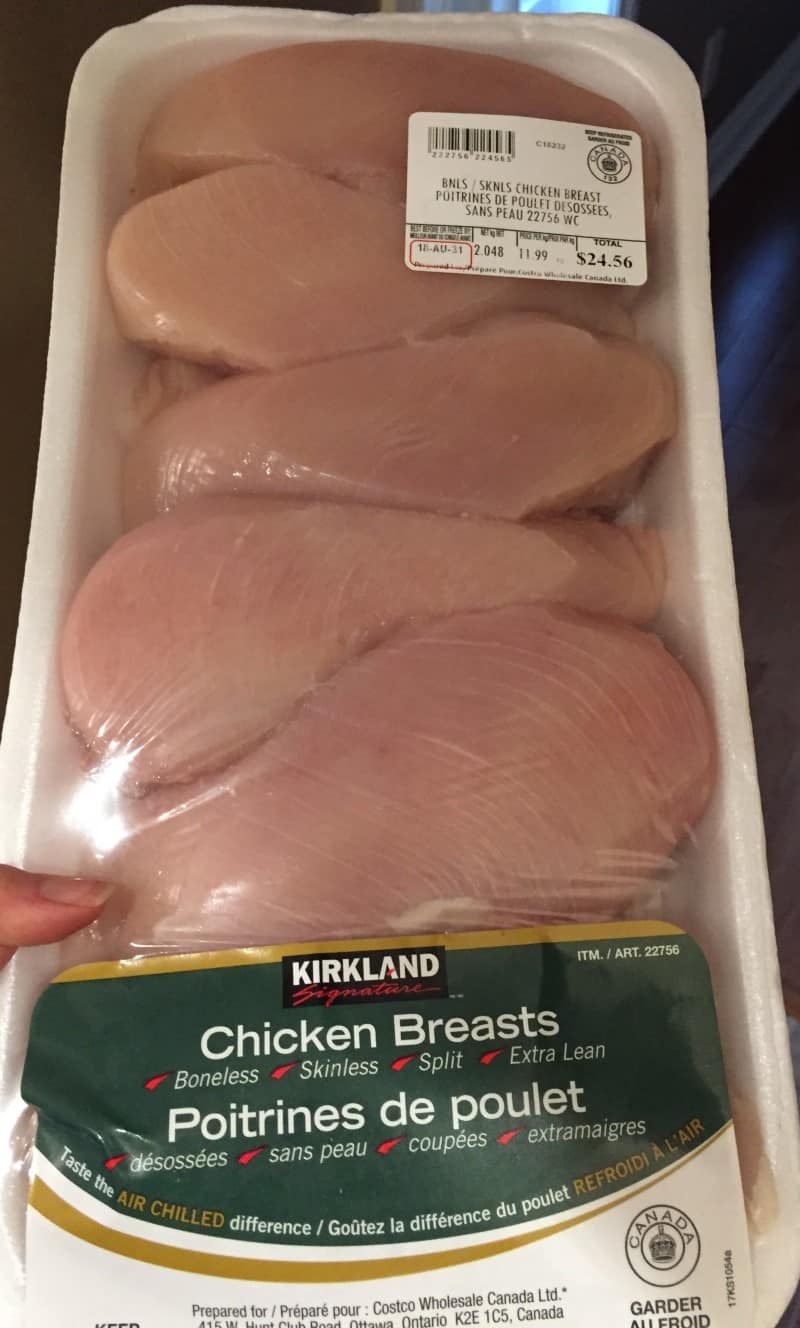 My husband's birthday was recently and his favorite meal I make is chicken parmesan. First off I wanted to talk to you about the Costco Kirkland Signature boneless skinless chicken breasts. These are my favorite chicken breasts to buy as I find they do not have a lot of added water and are nicely sized and priced more reasonably than competitors. I use these chicken breasts weekly and always stock up when they're on sale. I think other shoppers must think I own a chicken restaurant when these are on sale at Costco because I will and have bought like ten packs at a time.
The chicken parmesan recipe I made this week used these chicken breasts, Costco Kirkland Signature organic marinara sauce and extra virgin olive oil and the Costco bought organic Garofalo brand pasta I reviewed earlier this week.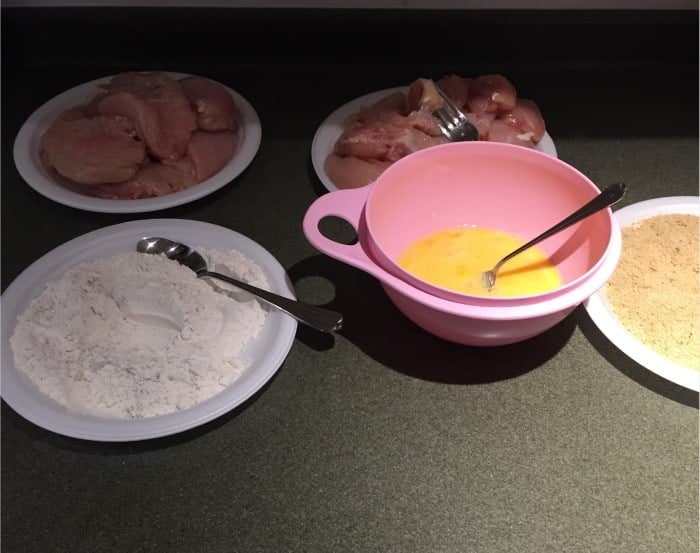 Ingredients:
4-6 Costco Kirkland Signature boneless skinless chicken breasts (depending on how many people you're serving, flattened)
1 cup flour
1/2 tsp salt
1/4 tsp black pepper
4 eggs beaten
1 cup italian flavoured breadcumbs (store bought or you can make your own using breadcrumbs and 1 tsp italian seasoning)
1 package Garofalo Organic Pasta
1 jar Kirkland Signature Organic Marinara Sauce
2 tbsp butter
1/4 cup Kirkland Signature Extra Virgin Olive Oil
3/4 cup mozzarella cheese *skim is fine*
1/4 cup shredded parmesan cheese
Directions
Place one chicken breast at a time in a ziplock bag, close the ziplock bag and pound the chicken breast with your jar of marinara sauce or another heavy jar or can or a meat mallet (if you have one,) until about 1/2 inch thick. Remove from bag and place on a tray or plate and then proceed with your next breast. Feel free to cut your breasts in half to make smaller portion sizes. Pound all your chicken breasts.
Sift flour, salt and pepper onto a plate. Beat eggs in a large shallow dish or bowl. Pour bread crumbs onto a large plate. Set the plates and bowls in a line with flour first then eggs and lastly bread crumbs.
Preheat oven to 350 degrees.
With a fork dip chicken breast in the flour and cover both sides, let excess flour fall off, then dip floured chicken breast into egg mixture, let excess egg drip off, finally place chicken breast in bread crumbs and cover both sides in bread crumbs. Place on another plate or tray. I like to line a tray with foil and then put them on that. Do this with all the flattened breasts.
Open your jar of marinara sauce, use a spoon and spread marinara sauce from the jar in the bottom of a 9×13 inch Pyrex baking dish. You can actually use any baking dish or corningware you like. Put the remaining sauce in a saucepan over low-medium heat.
Heat a large skillet over medium high heat with 1/4 cup Kirkland Signature Olive Oil in it and 2 tbsp butter. Swirl oil and butter in pan to mix them. Give the olive oil and butter time to get hot, once hot place 2-3 chicken breasts in oil and butter.
Cook each breast for about a minute and a half per side. This is the hardest part, keep a close eye on your chicken and make sure your chicken is not getting too brown but just nicely brown and crispy.
Once browned place all the chicken in baking dish on top of the sauce. Cover the breasts with another dollop of marinara sauce each, on top of that sprinkle about a tbsp of parmesan cheese and mozarella cheese. I add more because I love it to be super cheesy.
Place baking dish in preheated oven and cook for about 25 minutes or until each breast reads 165 Fahrenheit internally. I have a thermapen that I use to ensure my meat is cooked and I love it.
Serve over cooked pasta and add additional marinara. I serve this with extra parmesan, chili flakes and fresh basil. Also I serve it with my favorite garlic toast from Costco as well.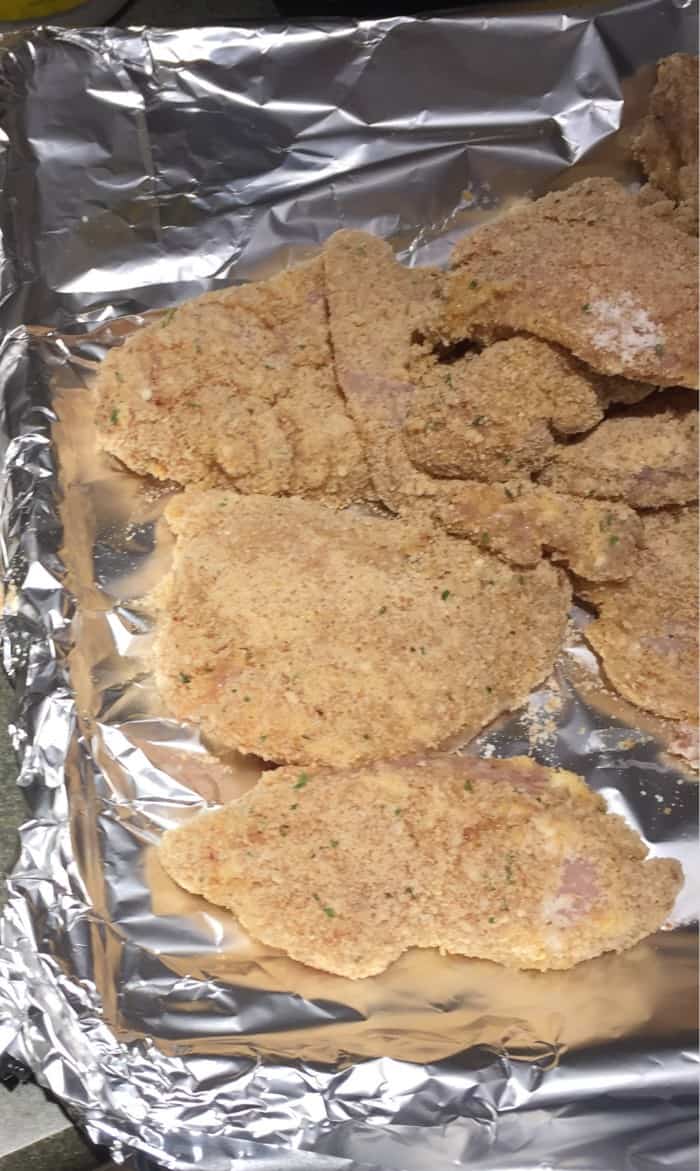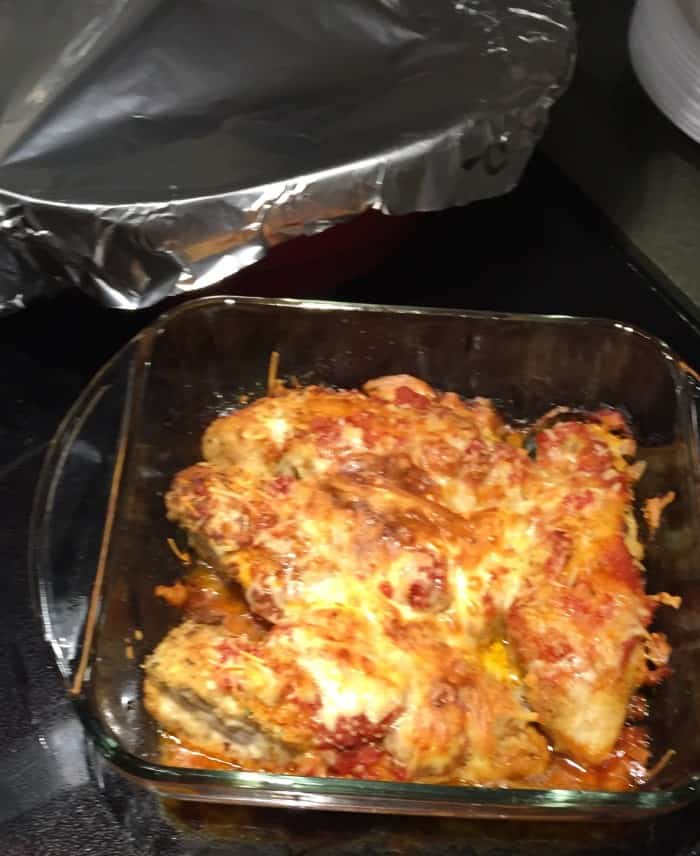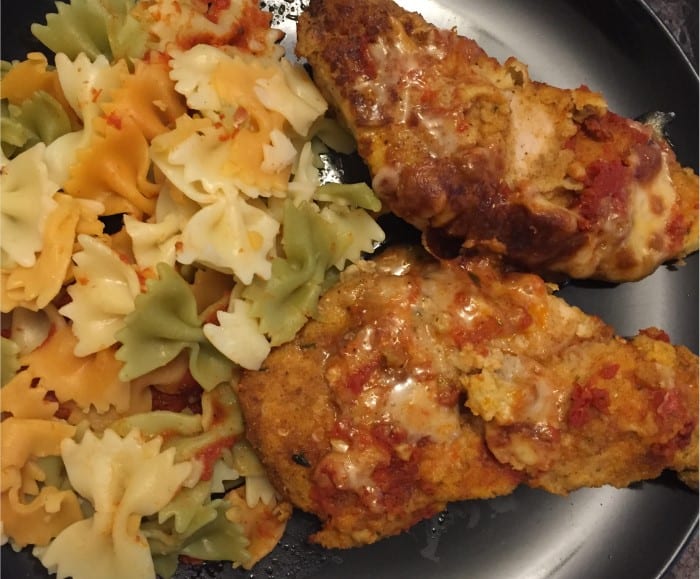 Any questions? Let me know!