Costco's bakery has created a new tart using a classic flavor combination!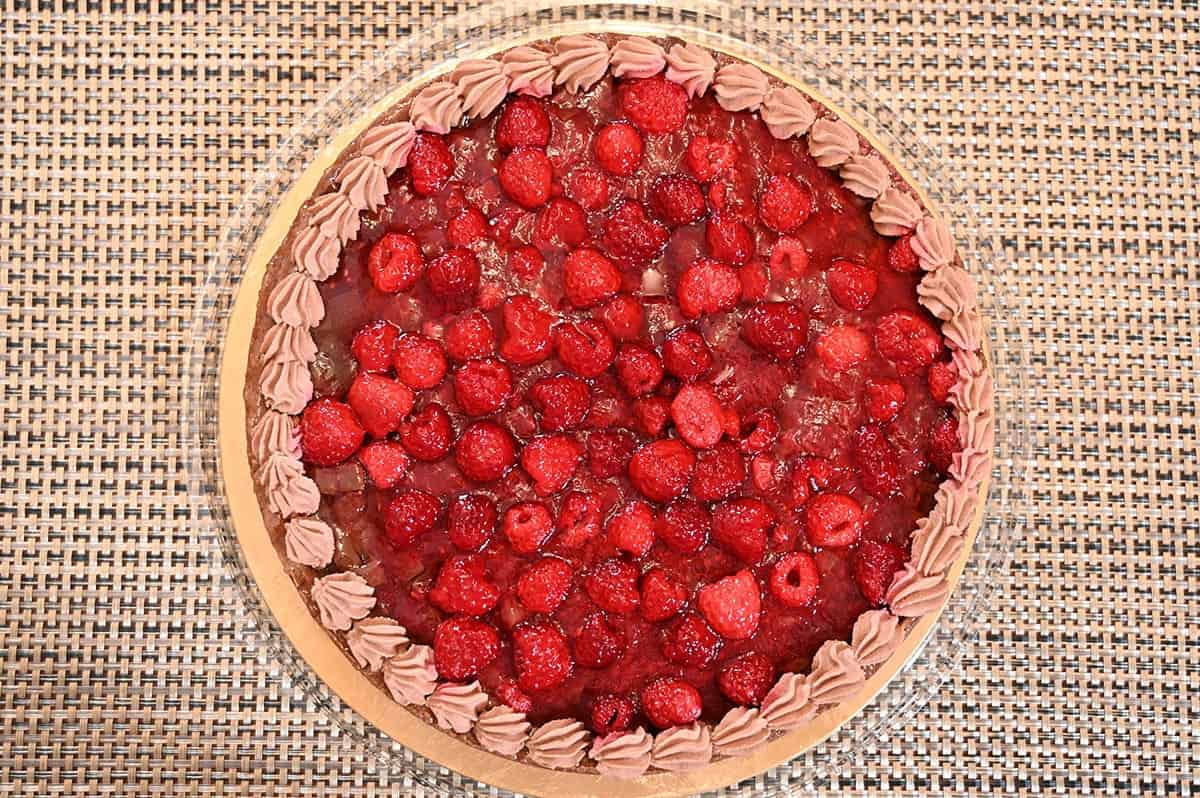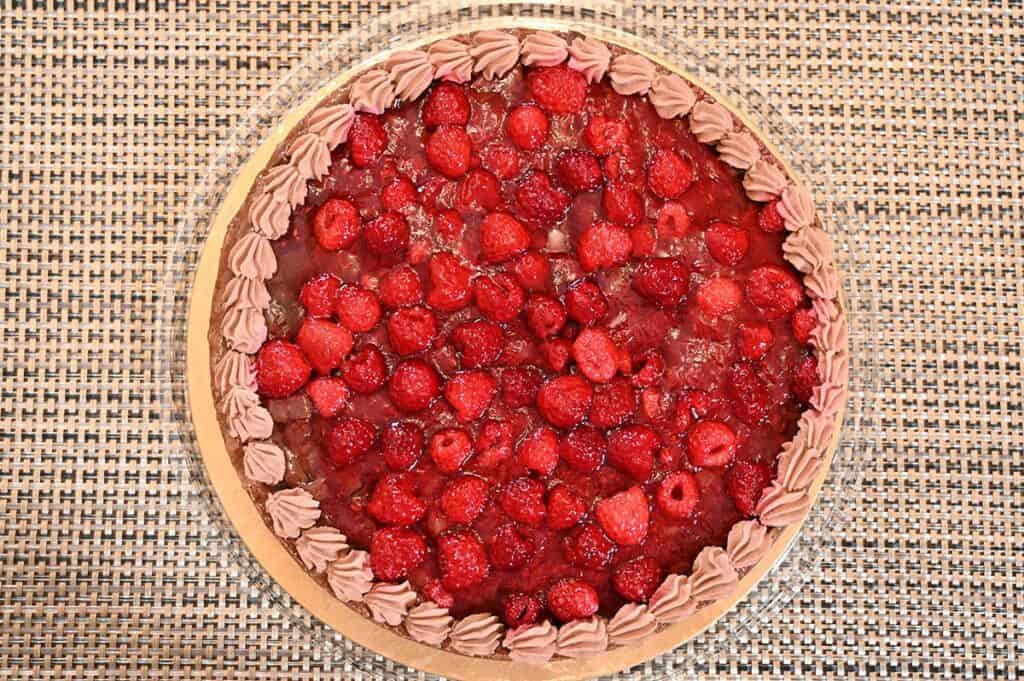 Last week during a Costco trip I spotted this new Costco Kirkland Signature Chocolate Raspberry Tart. It's so yummy looking I decided to pick one up.
If you're looking for a Christmas dessert from the Costco bakery and are wanting to try something other than the Costco Tuxedo Cake, Costco Tiramisu Cake or Costco Chocolate Yule Log, this is an option!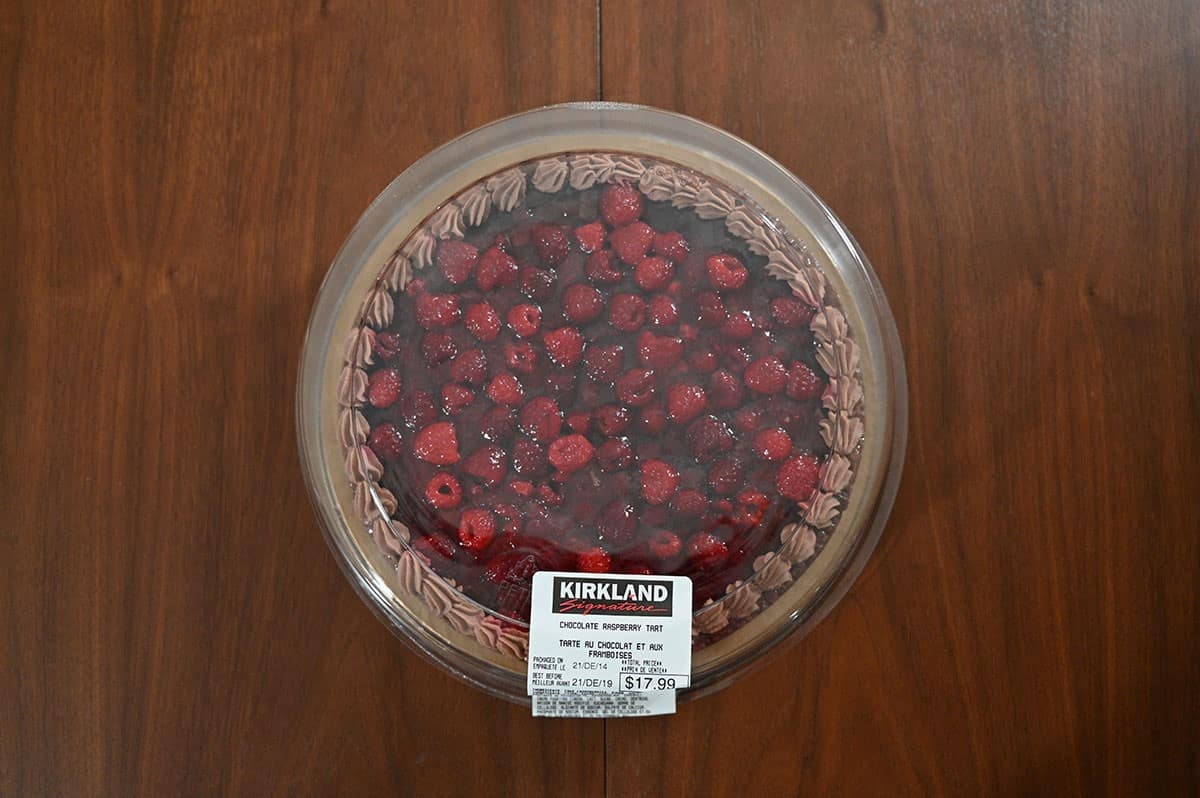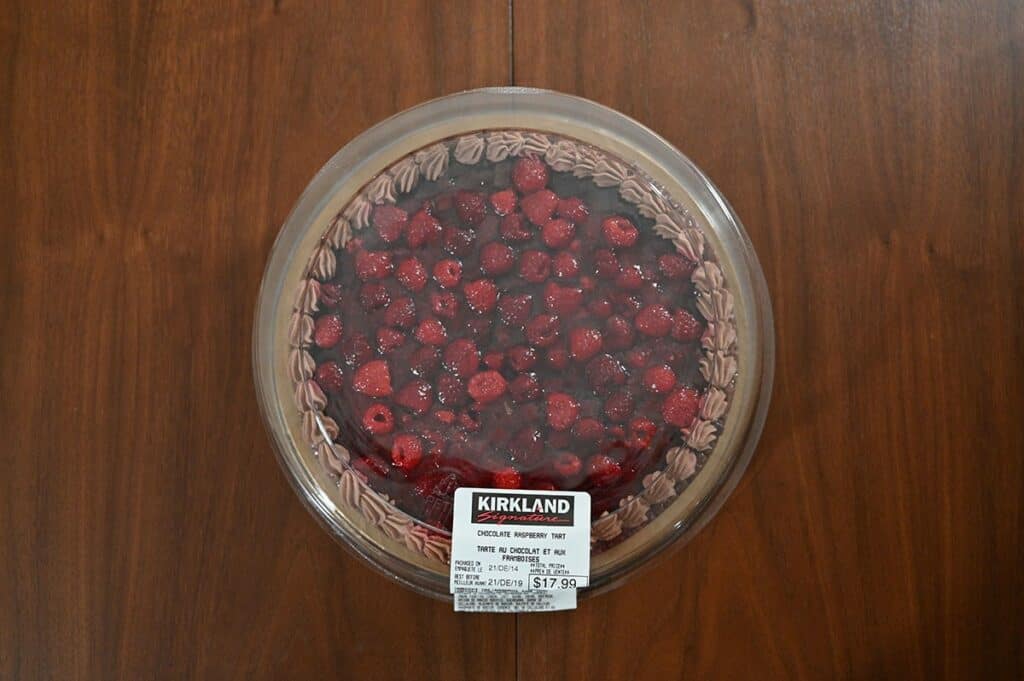 Location in Store
The Costco Kirkland Signature Chocolate Raspberry Tart can be found in the bakery section at Costco. The item number is 1597179.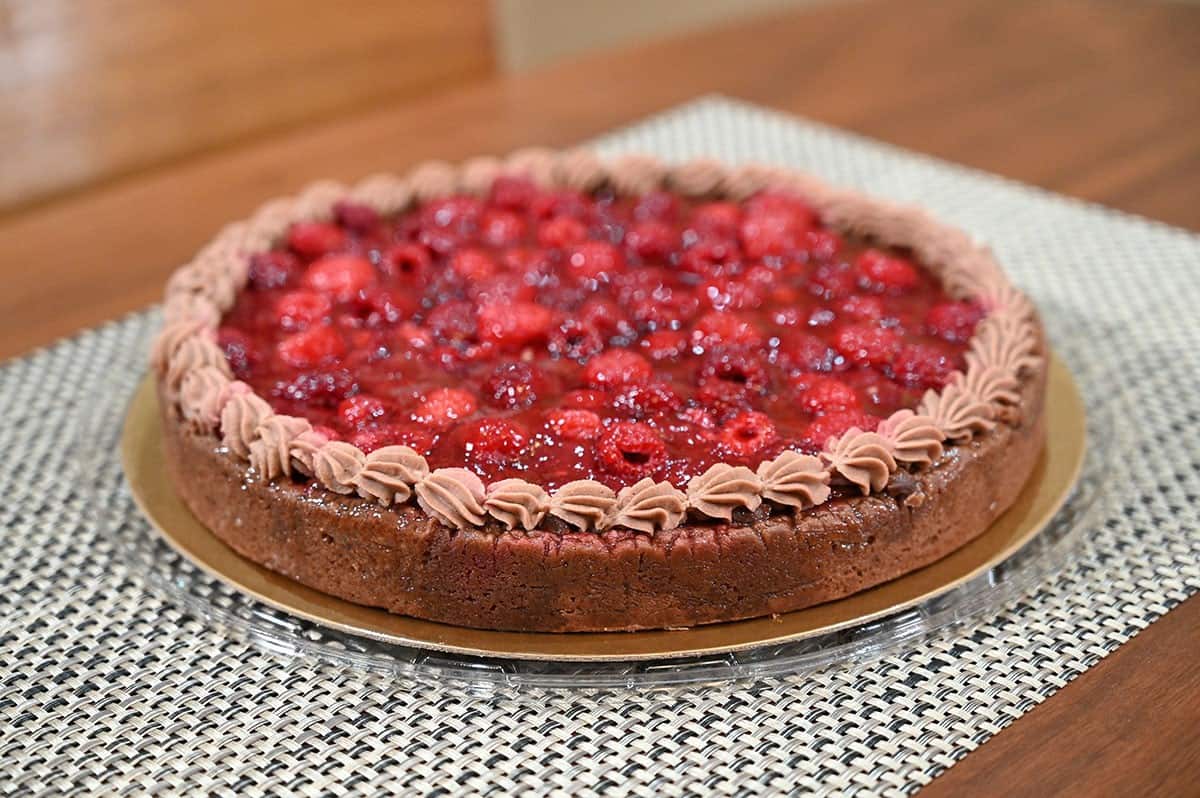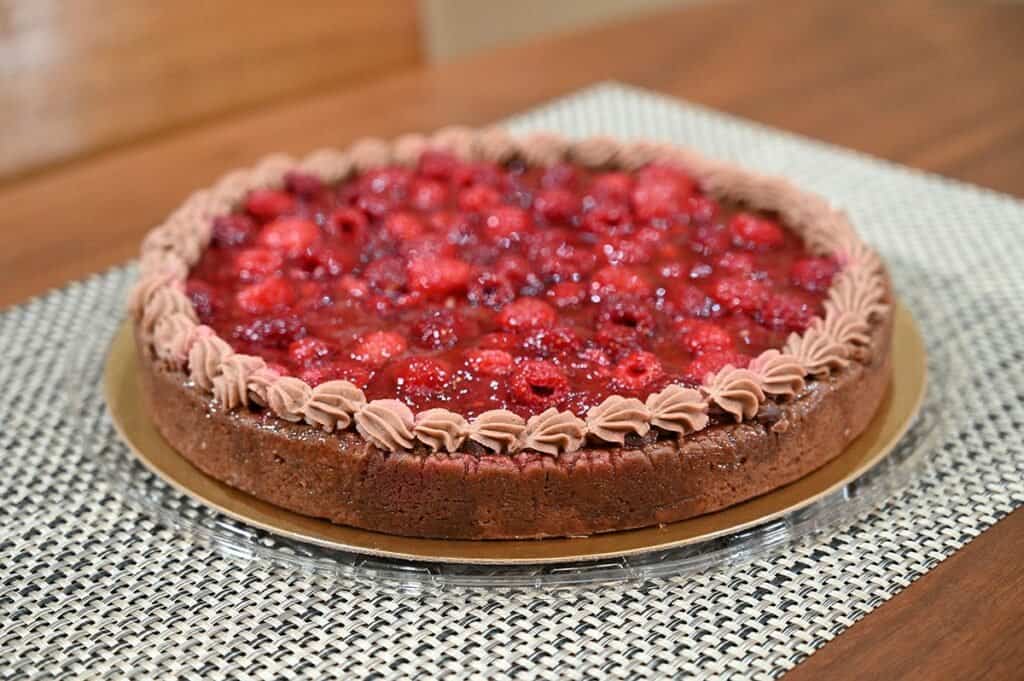 Taste
My first impression of this tart is that Costco nailed it! The raspberry and chocolate flavors are bold and complement each other well. They're a perfect combination of sweet and rich.
After tasting each component of the tart separately, I was even more impressed. The chocolate filling is smooth and creamy with a strong cocoa flavor. The raspberry layer on top tastes like sweet raspberry jam, and is full of real raspberries, which I appreciate. Raspberries aren't cheap!
The icing around the edge has a very mild chocolate flavor with hints of raspberry. I'm not sure if there's raspberry mixed in or if it's just the flavor of the glaze being absorbed.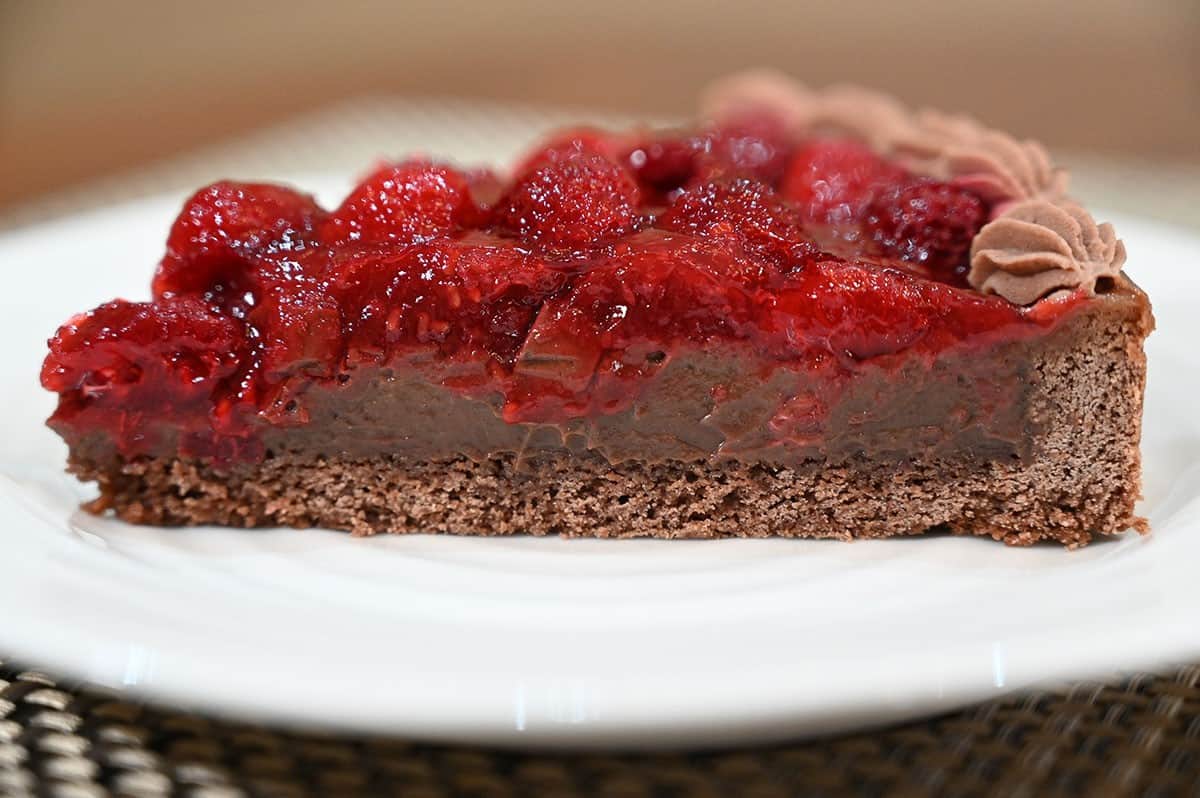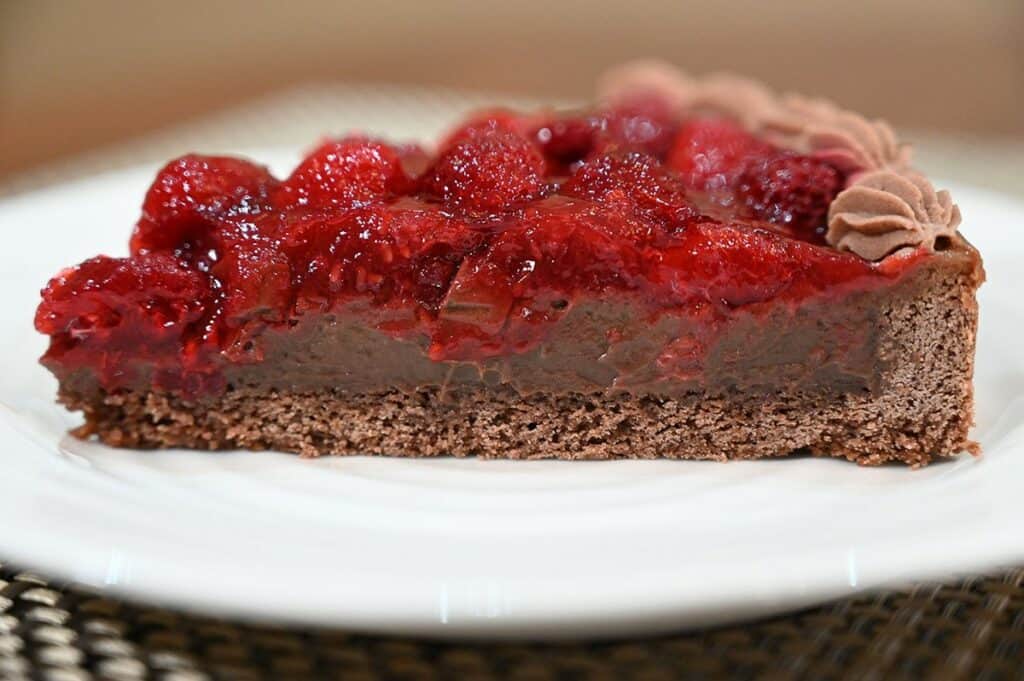 The crust is probably my least favorite part, but it's not bad at all. It's basically like a very dry chocolate cake that isn't overly flavorful. You mostly notice the dryness of the crust around the edges. The base of the tart is covered in the delicious chocolate and raspberry layers, so they add plenty of moisture.
Finally, there are some solid chocolate chunks under the raspberry glaze and those add even more chocolatey flavor and some nice texture too.
My only complaints about the Costco Chocolate Raspberry Tart are that the crust/shell isn't anything special and the one I bought wasn't super fresh. The tart was packaged two days before and there weren't any newer ones. I really wanted to try it, so I just bought it anyway. The raspberries on top of my tart were a little soggy, and I think that was probably why. They were still super tasty, but I think they would've been better fresh.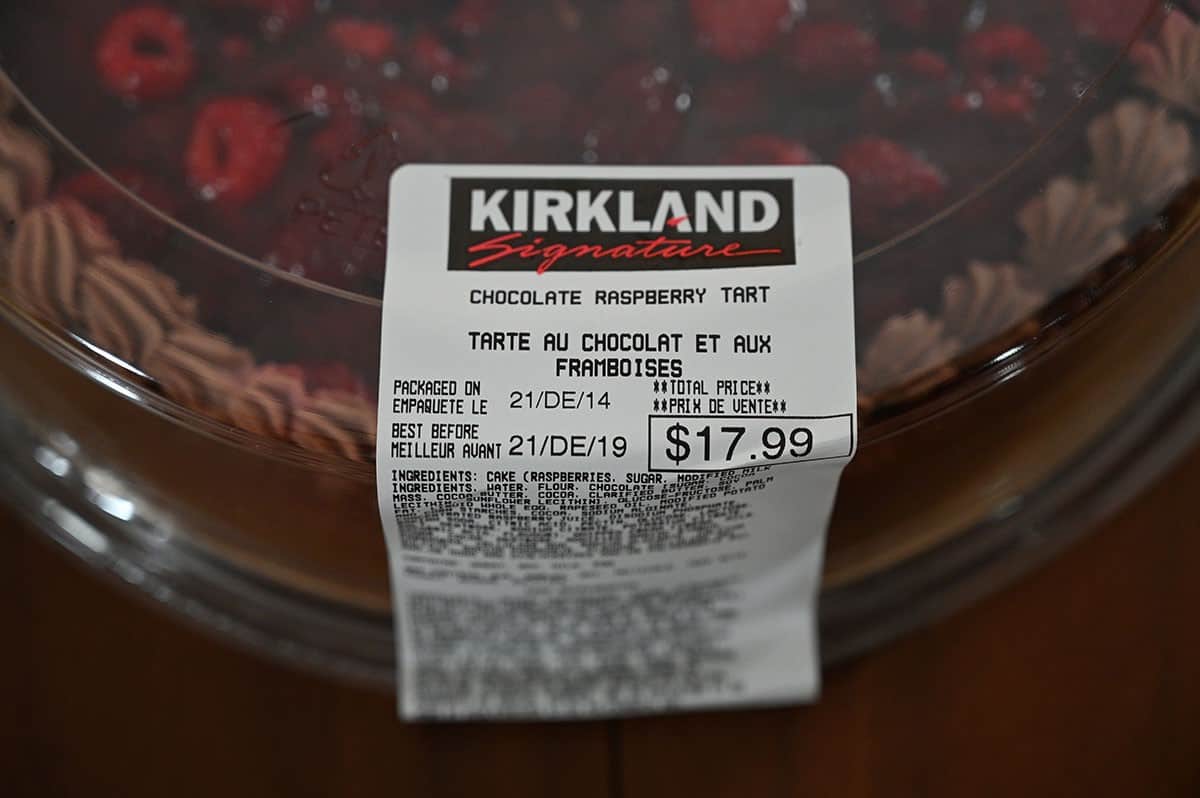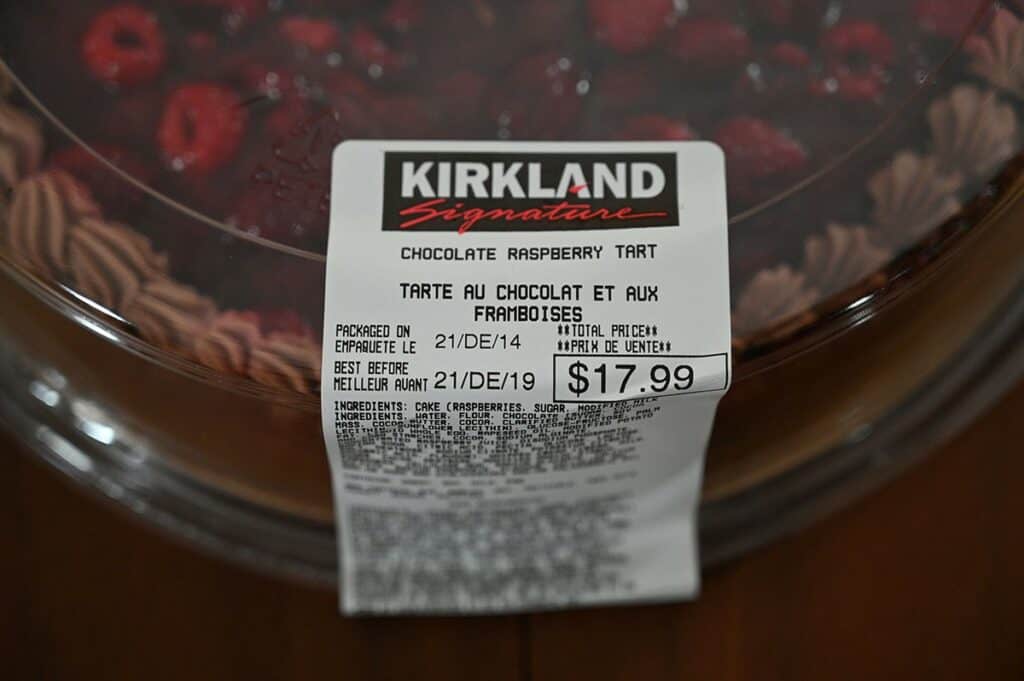 Cost
The Costco Chocolate Raspberry Tart costs $17.99 Canadian. The tart can serve up to 12 people.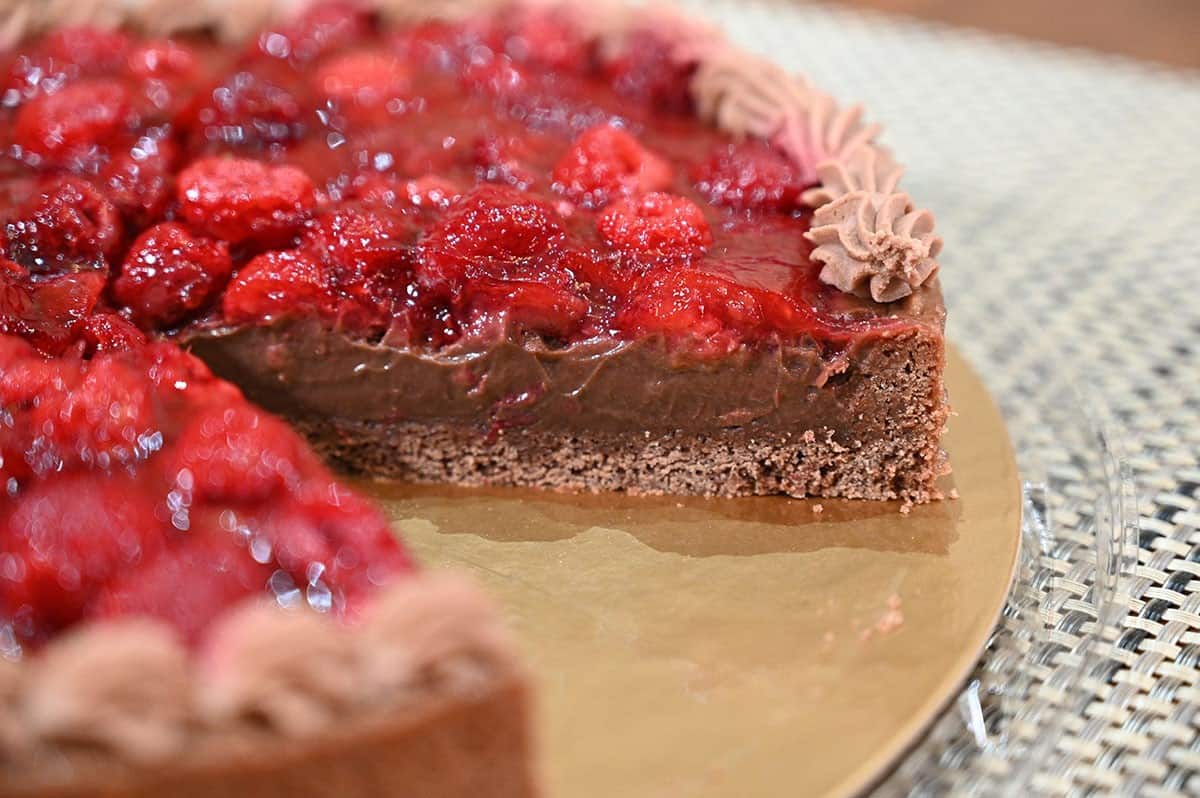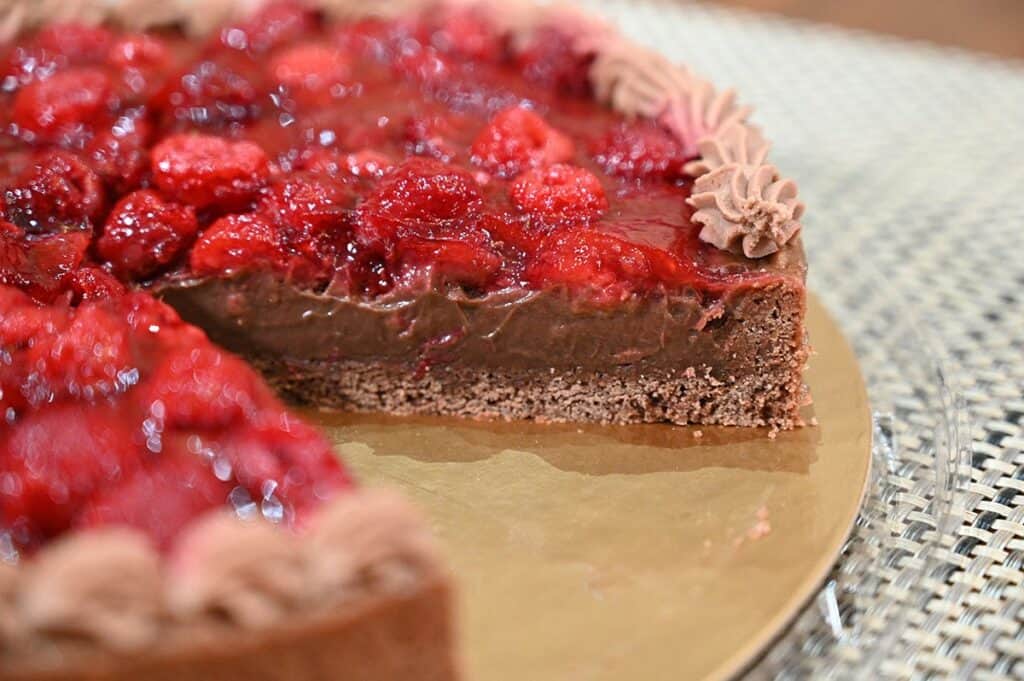 Convenience
The tart needs to be kept refrigerated and the best before date is five days from the date it was purchased. I think a lot of adults and kids would enjoy this tart! It has a classic combination of flavors that most people enjoy!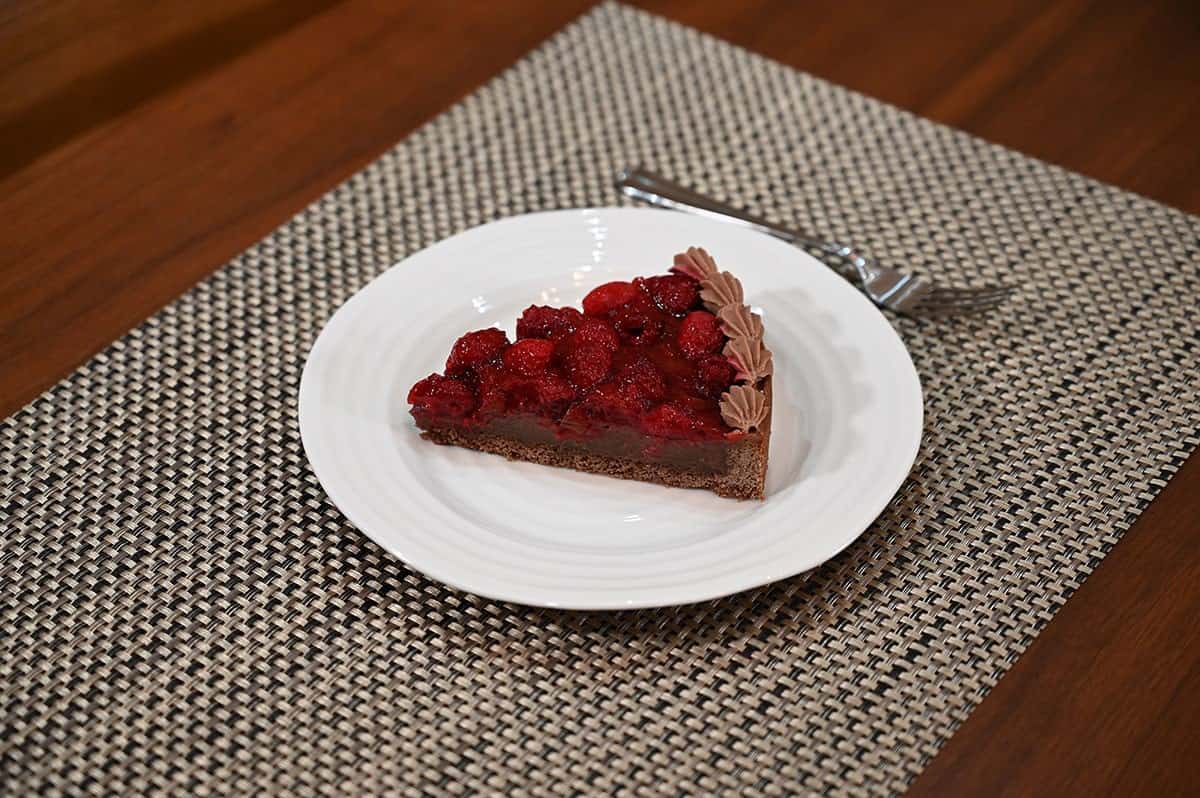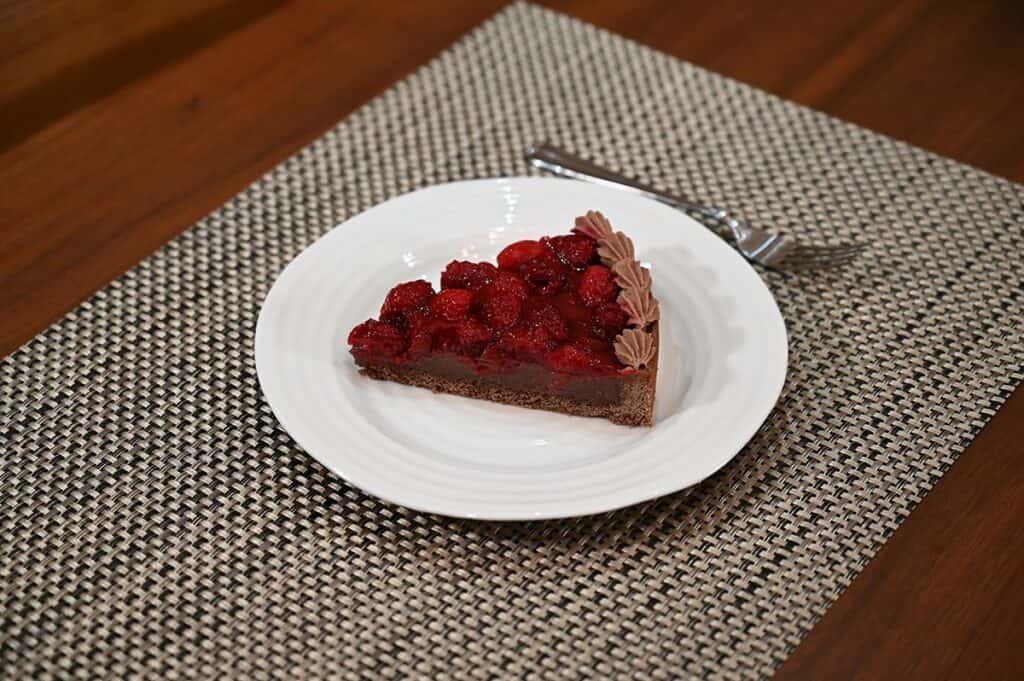 Nutrition
Calories
1/12th of the tart or a 102 gram serving is 310 calories, 14 grams of fat, 80 mg of sodium, 44 grams of carbohydates, three grams of fibre, 28 grams of sugar and four grams of protein. I don't think you can expect desserts like this to really be low in calories, sugar, carbs or fat.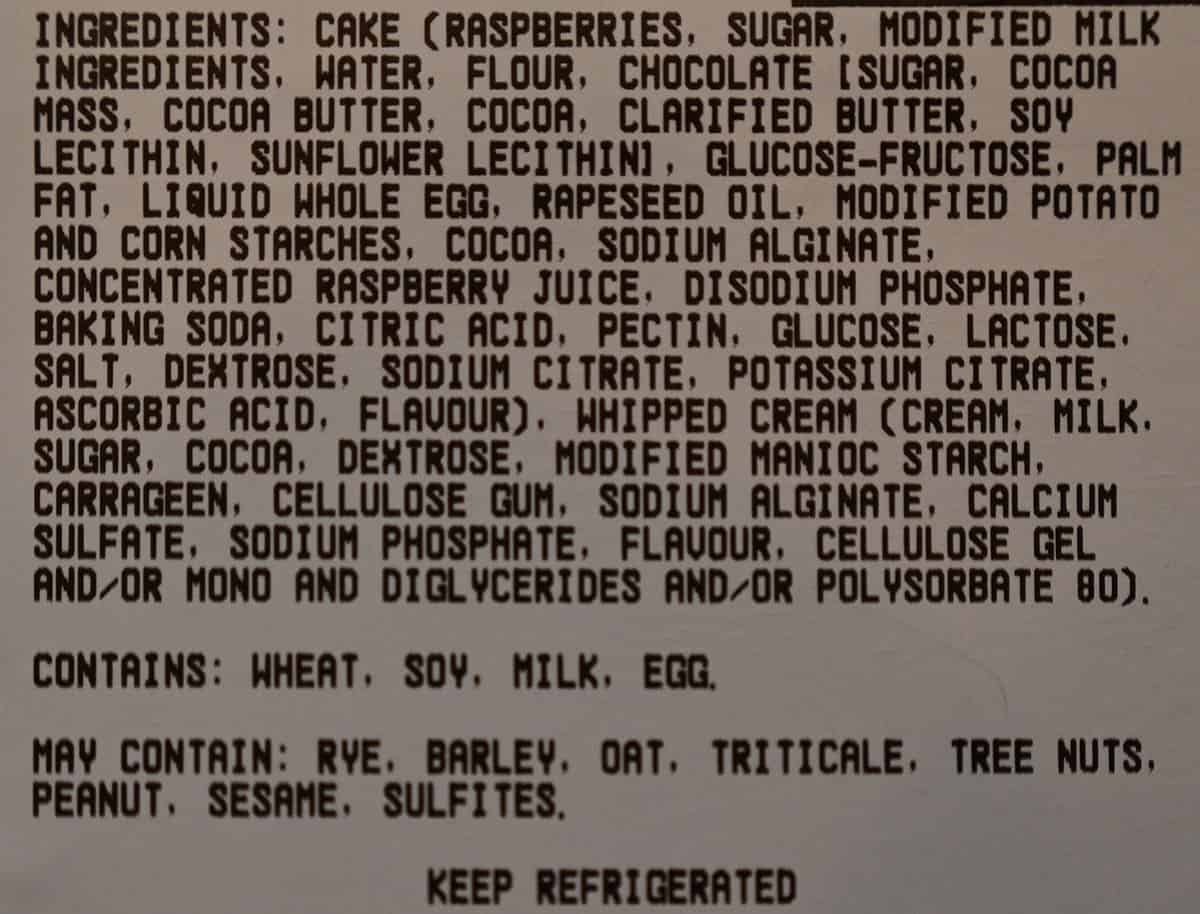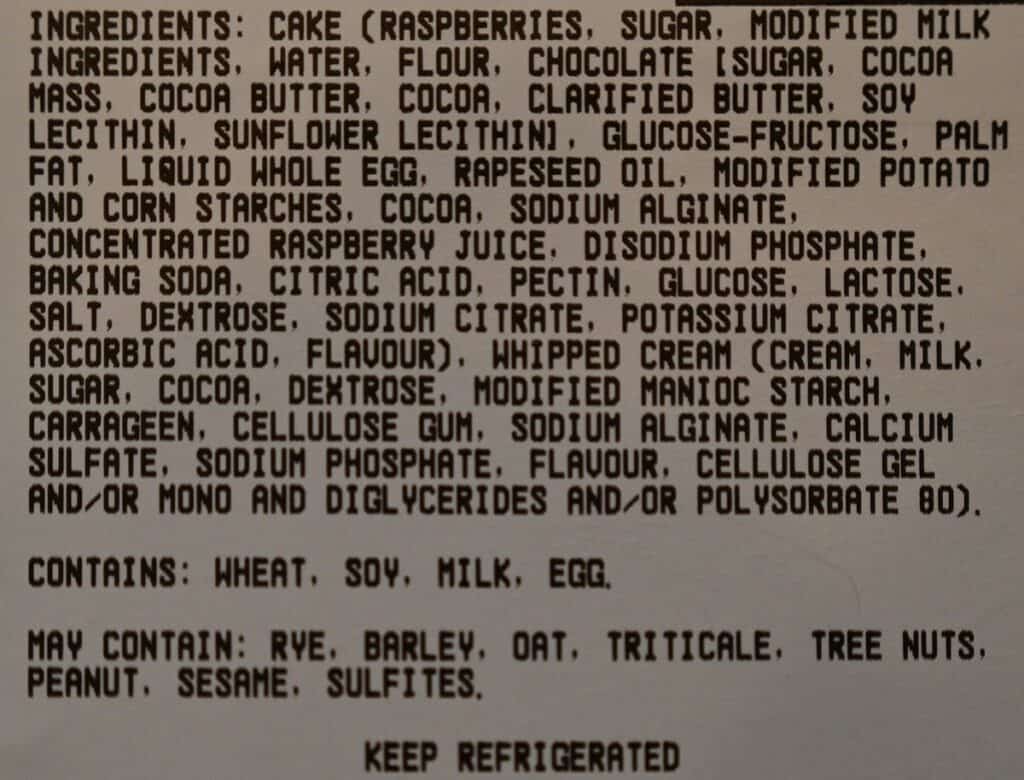 Ingredients
There's a pretty long list of ingredients! Lots of unhealthy ingredients, some I don't know what they are or why they're in a tart. The tart contains wheat, soy, milk and egg.
Scoring
Taste: 8/10
Cost: 7/10
Convenience: 10/10
Nutrition: 0/10
Overall
Give it a try!
I love chocolate and raspberry, so I had high hopes for the Kirkland Signature Chocolate Raspberry Tart when I saw it at my local Costco. Thankfully, it doesn't disappoint! If you love this classic flavor combination like I do, I highly recommend this dessert. 
Have you tried this? Would you try it?
---
Please note that this review was not paid for or sponsored by any third party. This product was purchased by Costcuisine for the purpose of producing this review. The opinions in this review are strictly those of Costcuisine. Costcuisine is not affiliated with Costco or any of its suppliers. In the event that Costcuisine receives compensation for a post from the manufacturer of a product or some other third party, the arrangement will be clearly disclosed (including where the manufacturer of a product provides Costcuisine with a free sample of the product).