Costco Kirkland Signature Microwave Popcorn tastes almost as good as movie theater popcorn!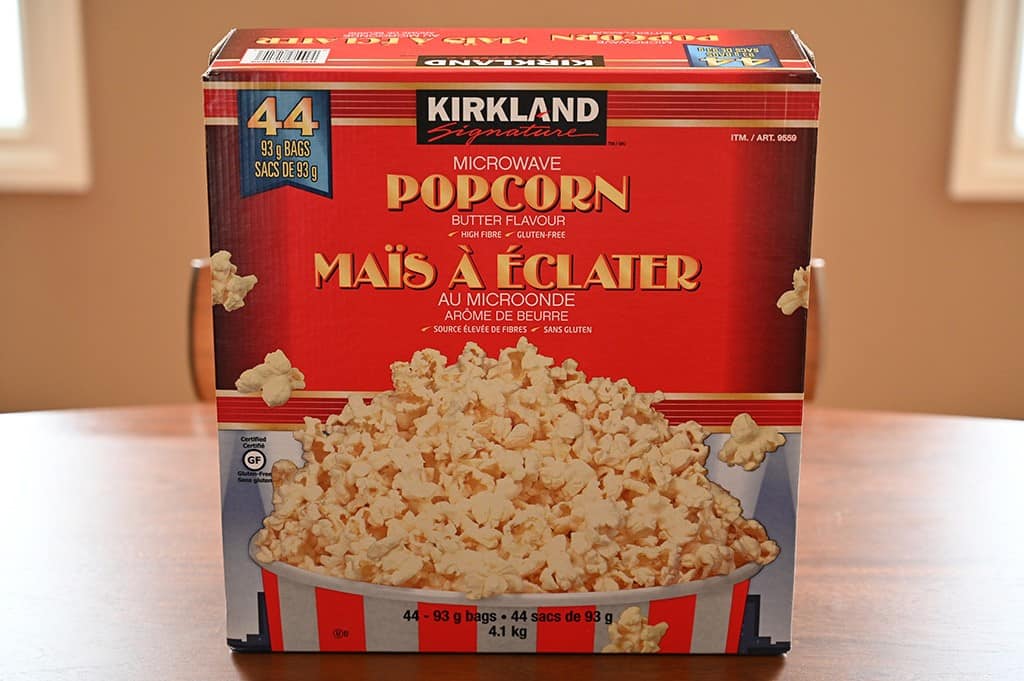 Costco Kirkland Signature Microwave Popcorn is something I always see at my Costco and just never picked it up to try and review. This is mainly because my husband is a bit of a popcorn snob. He only likes fresh, hot, movie theater popcorn. I remember when I brought home half my bag of movie theater popcorn he was shocked I'd eat leftover, cold popcorn and was slightly appalled by the concept of farmer's market kettle corn.
A favorite Costco popcorn product of mine is the Angie's Boom Chicka Pop Sea Salt Popcorn from Costco. I've also reviewed the French Cancan Popcorn from Costco and the Cretors Chicago Mix Popcorn from Costco.
The Costco microwaveable popcorn can be found in the snack section near the beef jerky and granola bars. The item number is 9559.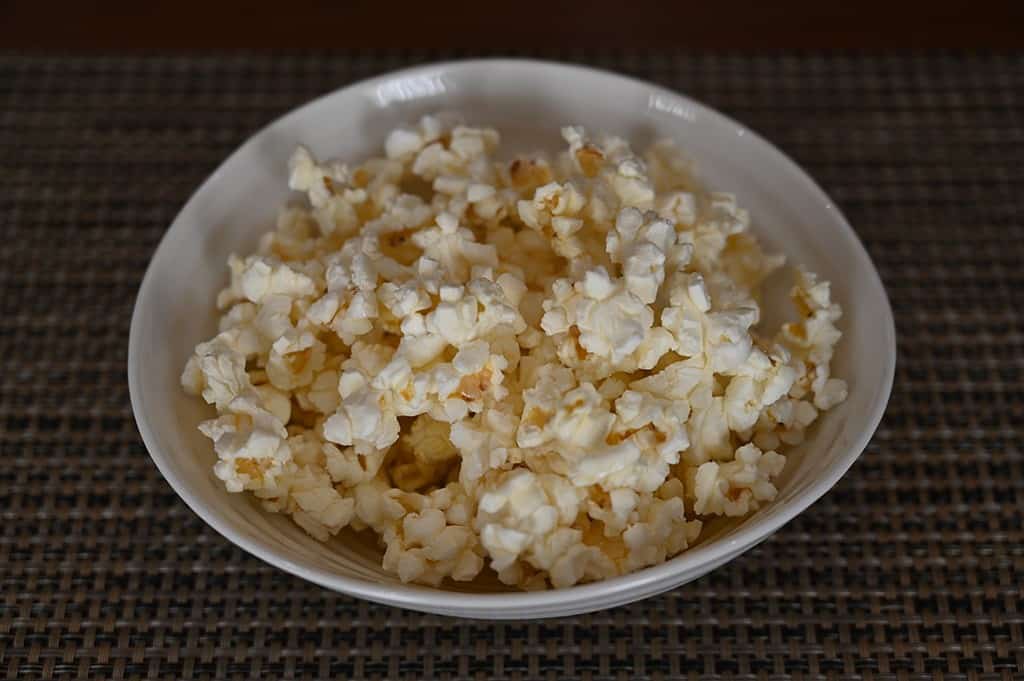 Taste
This is some tasty microwaveable popcorn. The first thing I noticed was how well it popped, there wasn't many unpopped kernels left in the bag at all. The buttery flavor is super delicious but was a little unevenly distributed. Next time I'll give my bag a good shake before opening it and pouring it into the bowl.
I love that the buttery flavor doesn't taste at all fake and overall the flavor of the popcorn reminds me of the popcorn you get when you go to the movies. One bag makes about two heaping cereal bowls full of popcorn.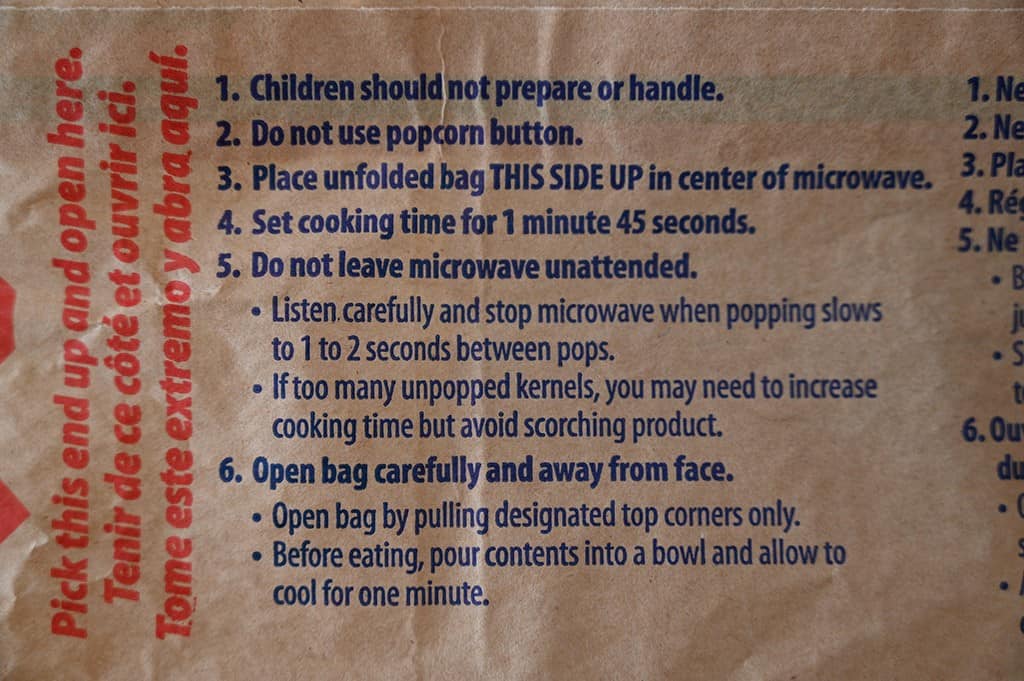 Cost
I paid $13.49 Canadian for the box of 44 bags of popcorn, in my opinion that's really cheap, 44 bags is a ton of movie nights at home!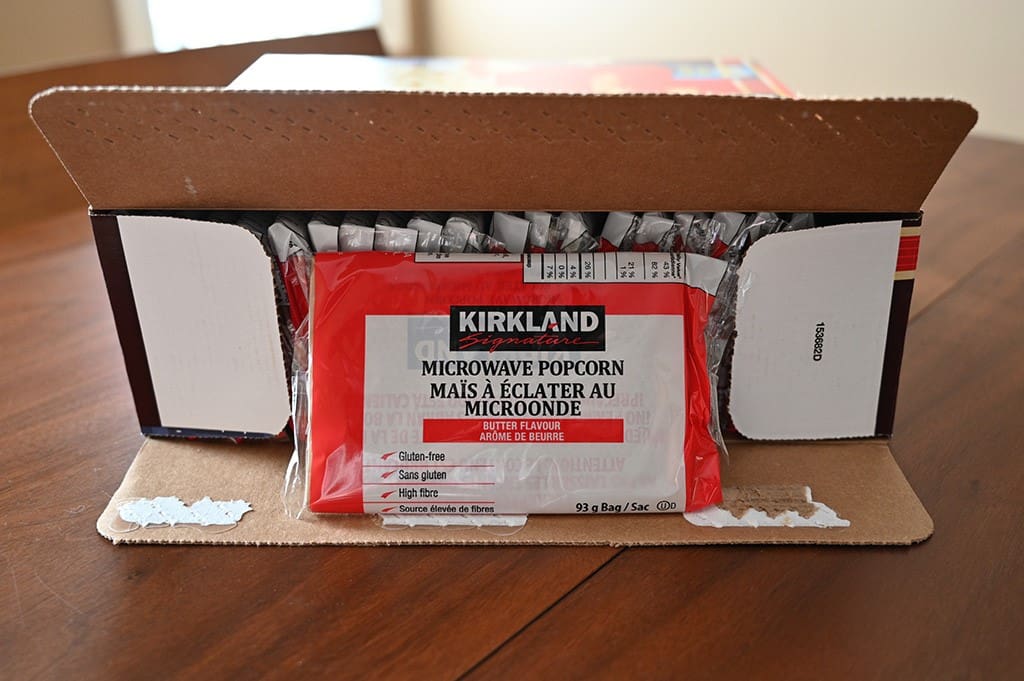 Convenience
This Costco microwaveable popcorn is done in the microwave in just minutes. After heating your popcorn bag in the microwave make sure you open it carefully and away from your face because it's hot!
This is perfect for a movie night at home, a slumber party or just a get together. We make popcorn at home using the pot method with kernels and it's definitely not as convenient as microwave popcorn. The best before date on the popcorn is just under a year from the date we purchased it.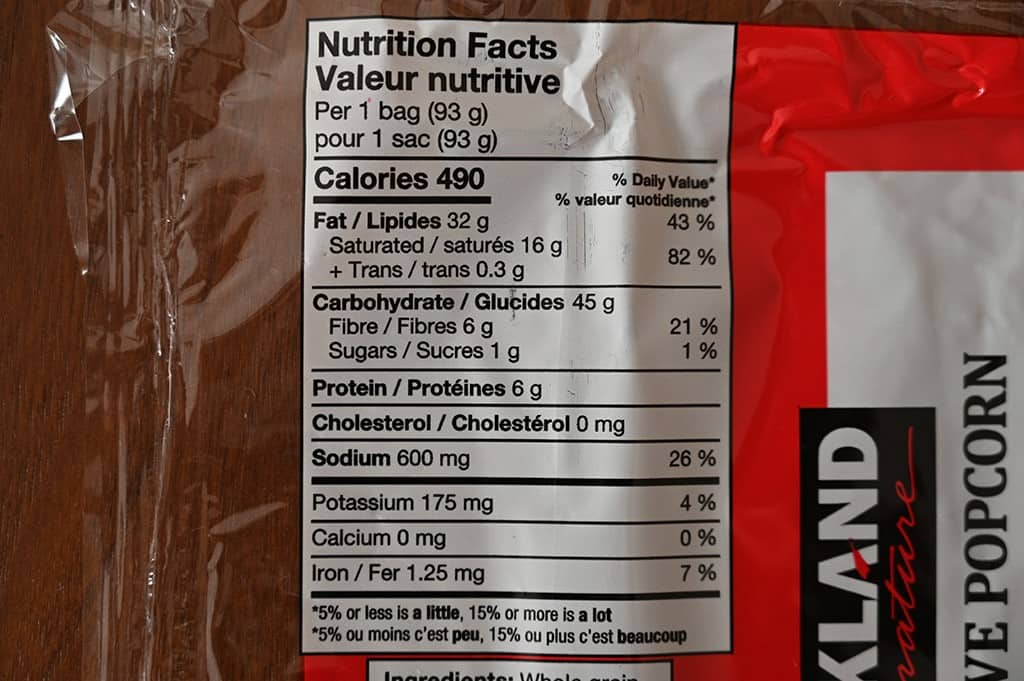 Nutrition
Not at all healthy and really high in fat but that's to be expected! One bag is 490 calories, 32 grams of fat, 45 grams of carbohydrates, six grams of fibre, one gram of sugar, six grams of protein and 600 mg of sodium.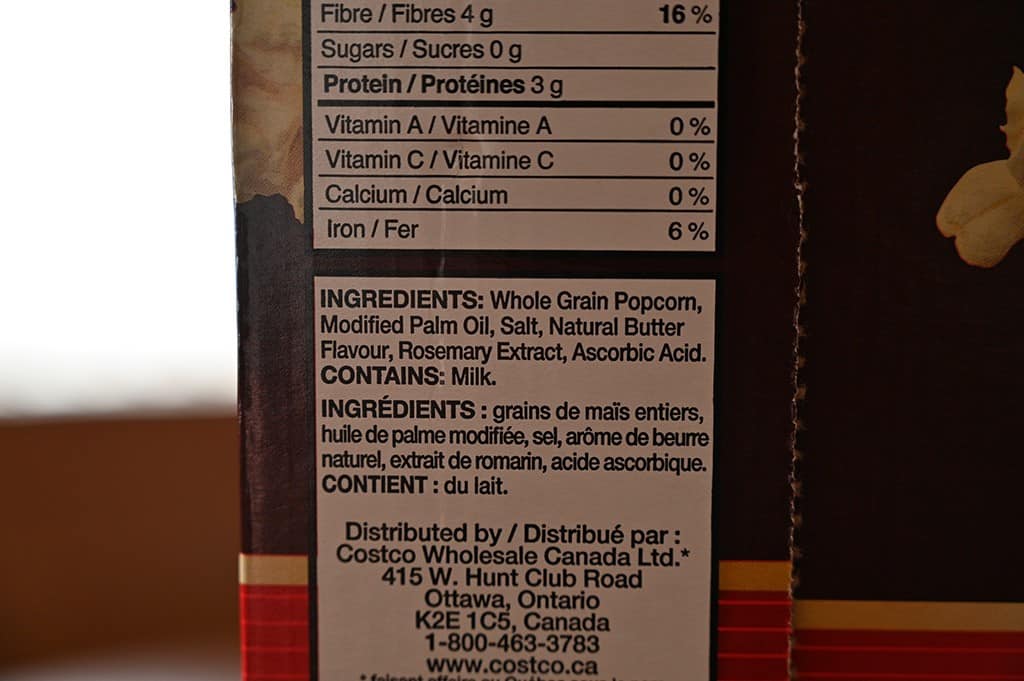 Whole grain popcorn is the first ingredient and unfortunately palm oil is the second. I wish there was no palm oil and just natural butter and that's why I prefer to make my popcorn at home with just butter and a bit of coconut oil.
Scoring
Taste: 8/10
Cost: 9.5/10
Convenience: 10/10
Nutrition: 1/10
Overall
Give it a try!
I think kids would really love this and it's fun to have a box in the house for family movie night!
Have you tried this popcorn from Costco? What did you think of it?
---
Please note that this review was not paid for or sponsored by any third party. This product was purchased by Costcuisine for the purpose of producing this review. The opinions in this review are strictly those of Costcuisine. Costcuisine is not affiliated with Costco or any of its suppliers. In the event that Costcuisine receives compensation for a post from the manufacturer of a product or some other third party, the arrangement will be clearly disclosed (including where the manufacturer of a product provides Costcuisine with a free sample of the product).