Festive peppermint bark is available in the Costco bakery department for the holiday season!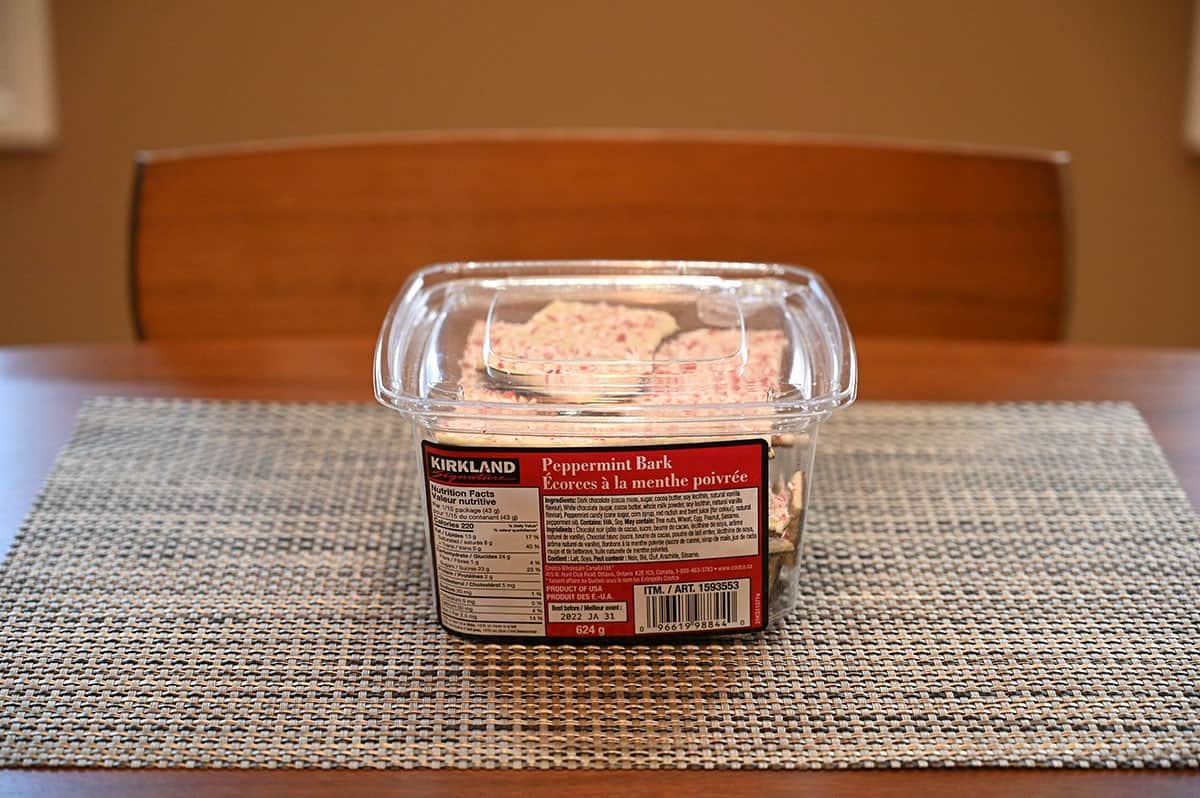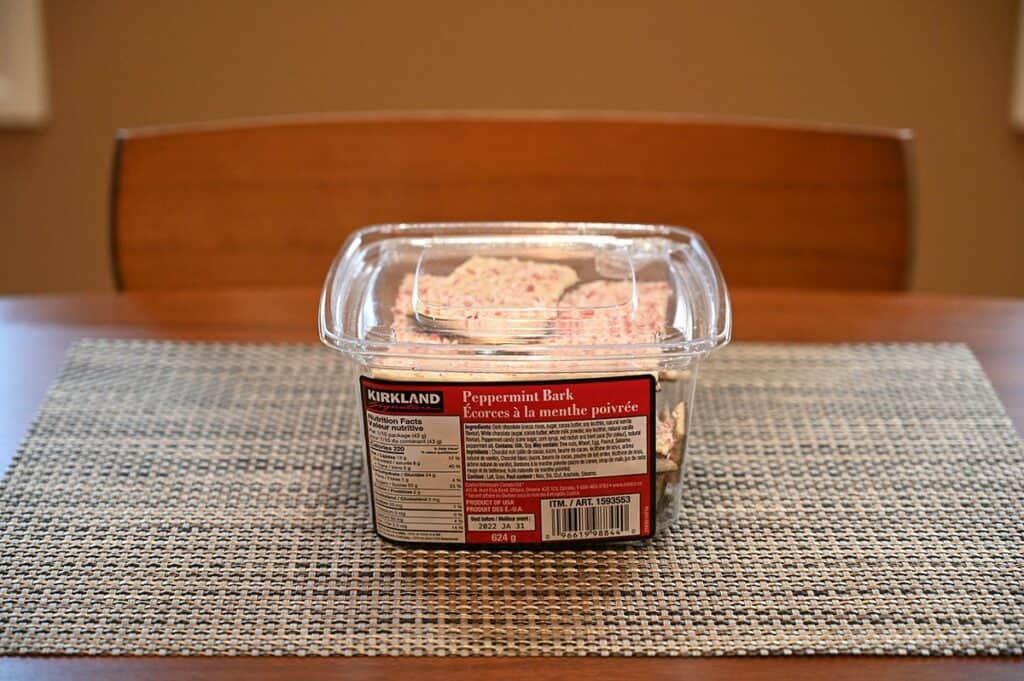 It's peppermint bark season and today I'm reviewing the Costco Kirkland Signature Peppermint Bark! I'm not a huge fan of peppermint bark because I find the candy pieces get stuck in my teeth but I couldn't resist picking this up at Costco to try.
Similar products from Costco are the Costco Snack Factory White Chocolate Peppermint Pretzel Crisps and the Costco Truffettes De France Peppermint White Chocolate Bites. I've also previously reviewed the Costco Kirkland Signature Candy Bark which they had a couple of years ago.
Location in Store
You can find the Costco Kirkland Signature Peppermint Bark in the bakery section at Costco the item number is 1593553.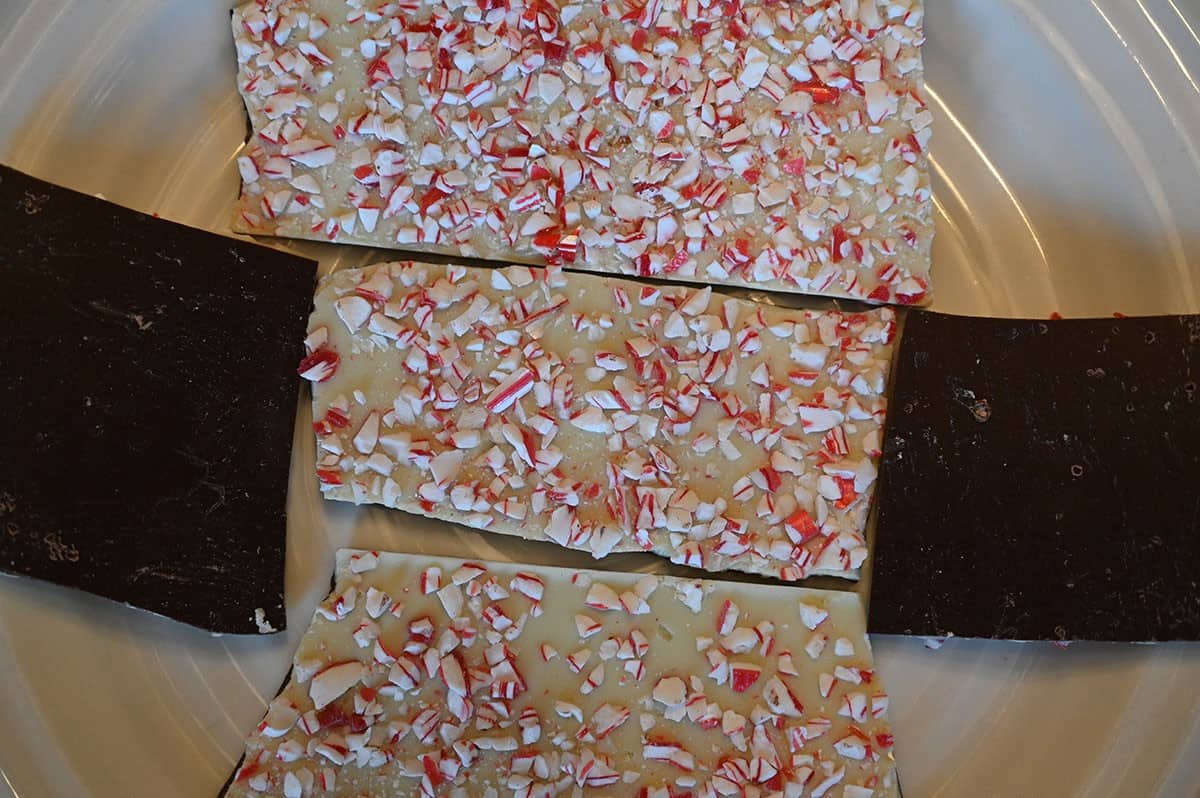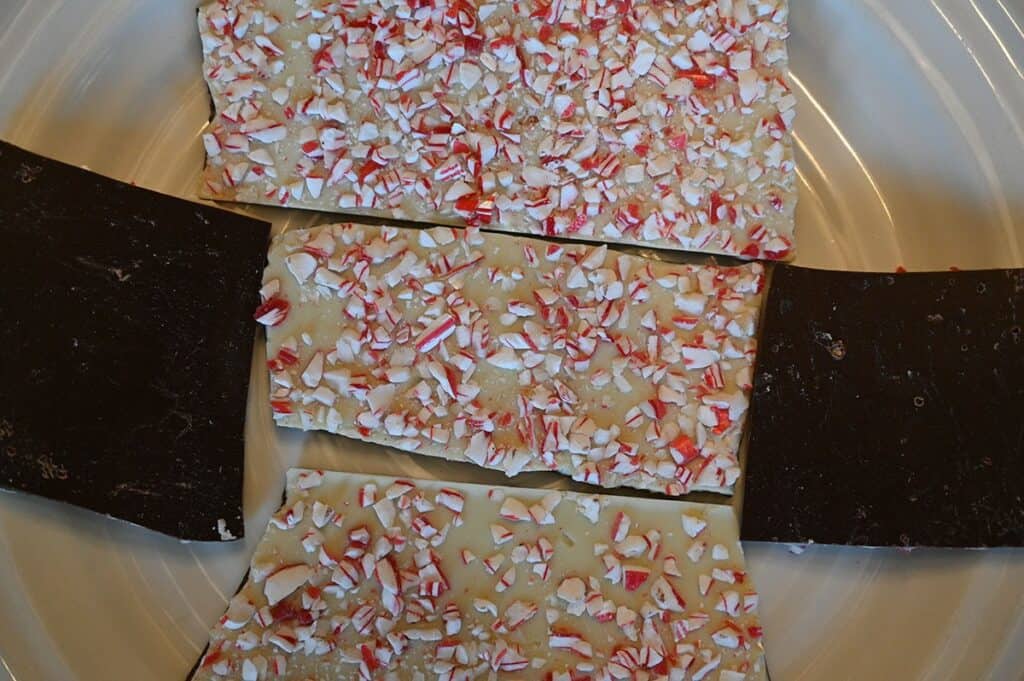 Taste
The first thing I noticed about the Peppermint Bark is how crunchy it is! The layer of crushed candy cane on top gives it a lot of crunch. With how much candy cane is on top, I was surprised that it didn't really seem to stick to my teeth as I ate the bark, at least not nearly as much as I thought it would.
I also thought the peppermint flavor was pretty mild considering how much candy cane is on the bark. It's basically impossible to taste the white chocolate and dark chocolate separately, but they seem to be good quality and the combination of the two is tasty.
It isn't overly sweet as white chocolate can be or overly bitter as dark chocolate can be.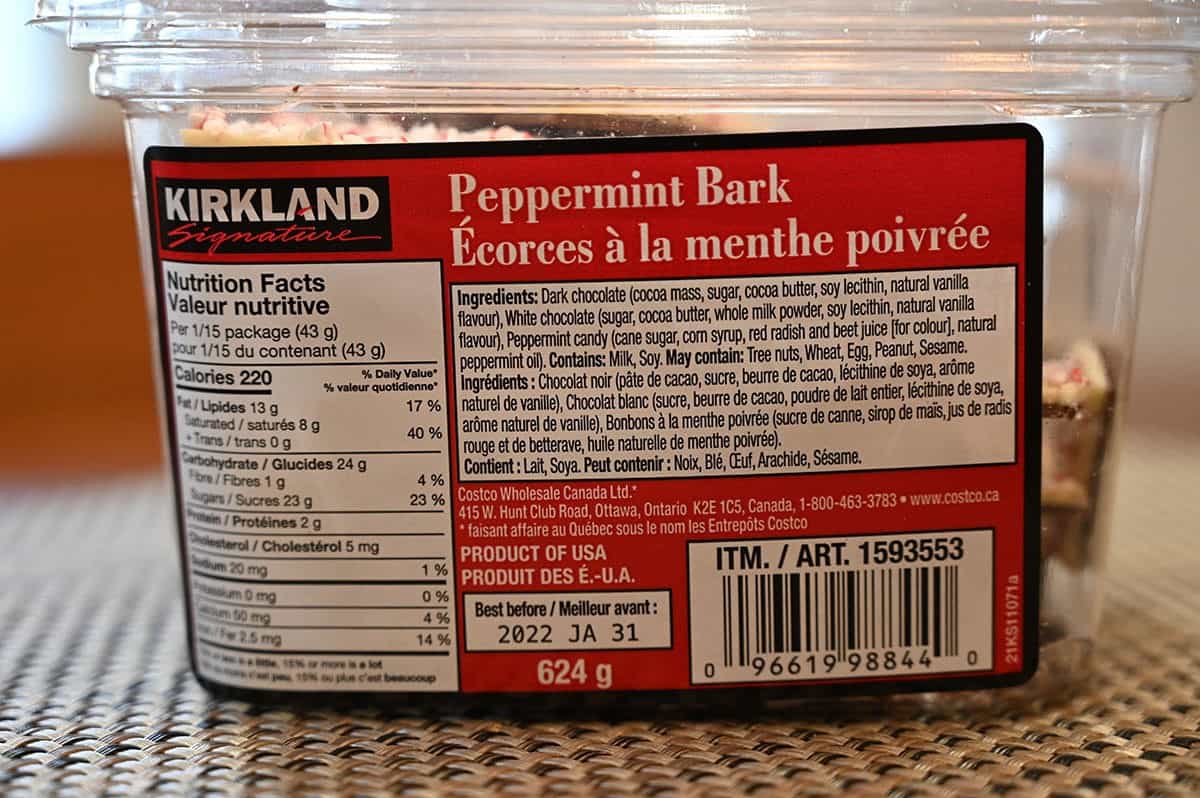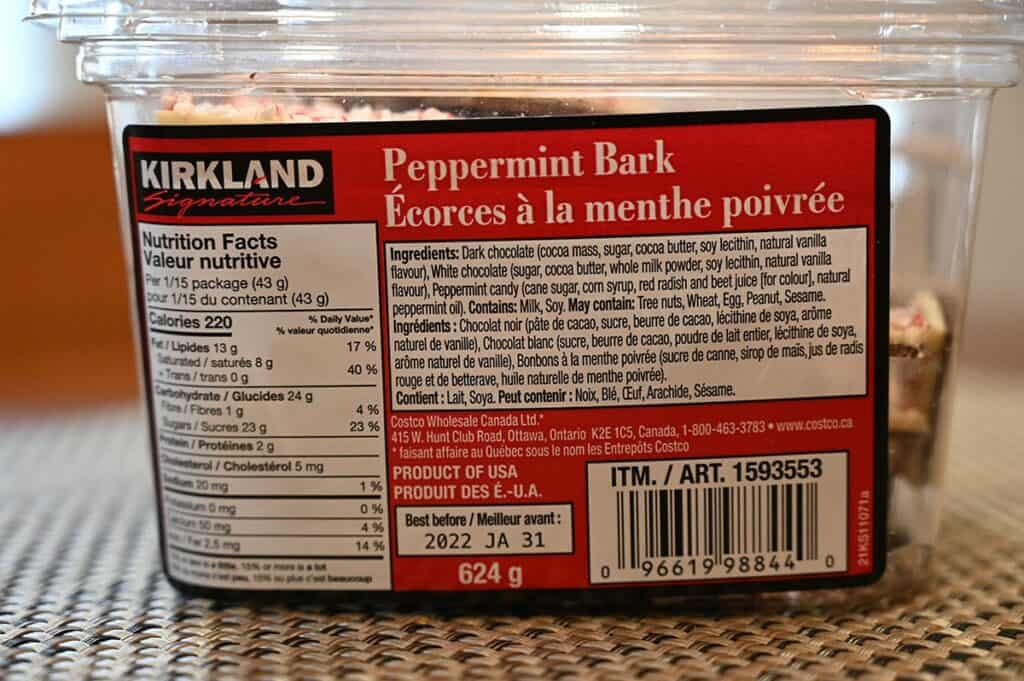 Cost
I paid $11.99 Canadian for the 624 gram container of peppermint bark.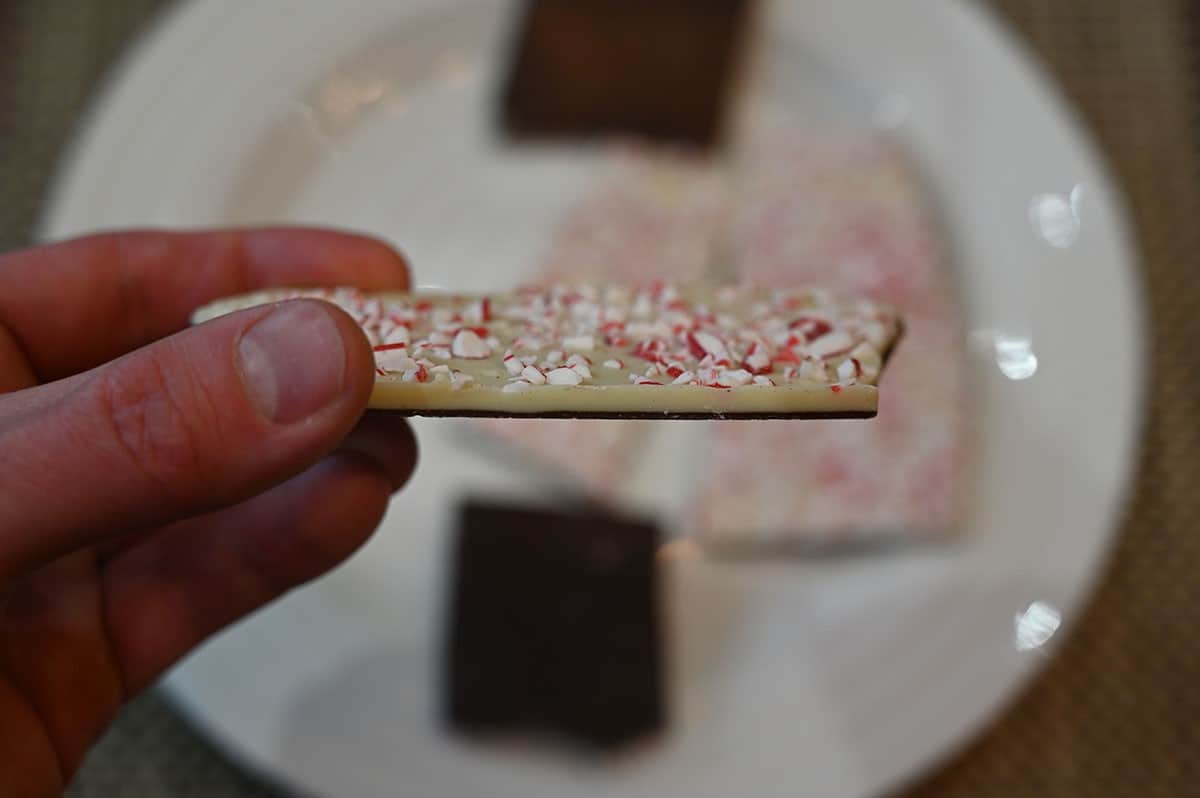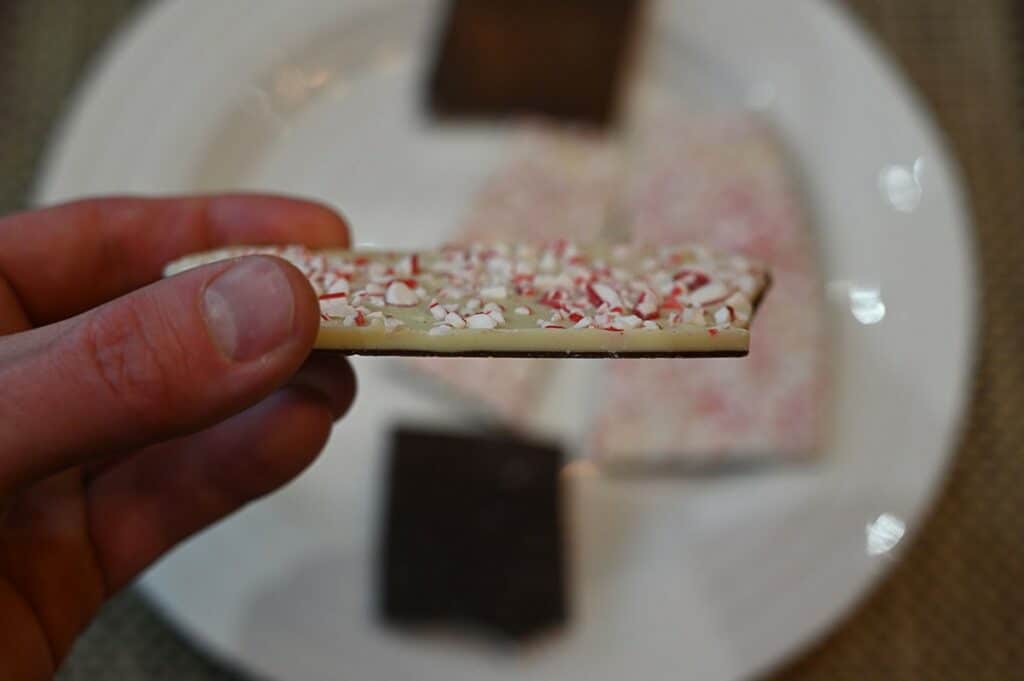 Convenience
The peppermint bark comes in a plastic resealable container that provides protection and keeps it from getting crushed. The best before date is over two months from the date I purchased the peppermint bark.
This is something both kids and adults enjoy! It's not too sweet and is perfect to have around the house for the holiday season.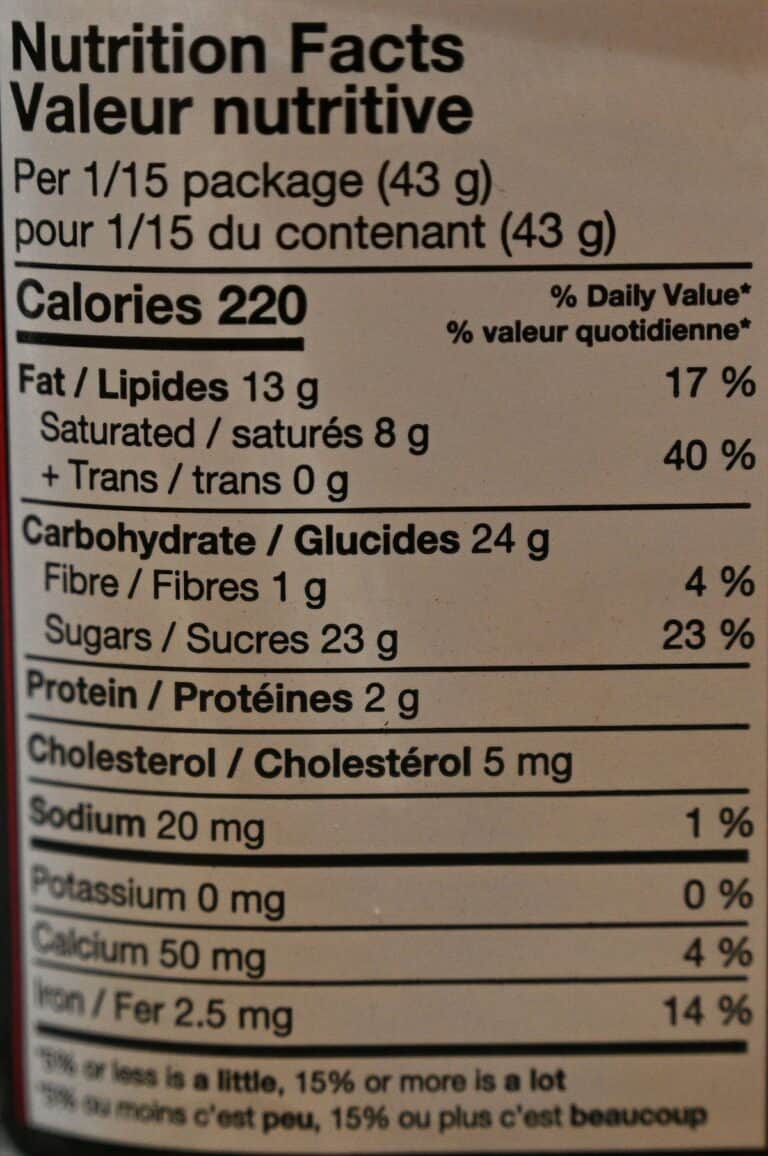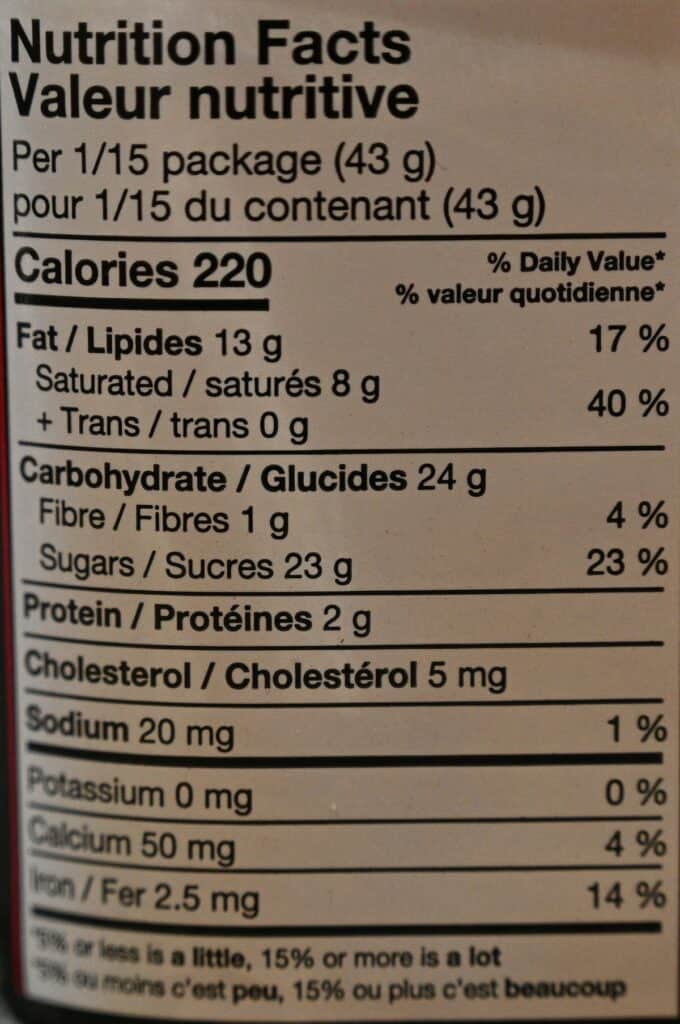 Nutrition
Calories
In 1/15th of the container, there are 220 calories, 13 grams of fat, 24 grams of carbohydrates, one gram of fibre, 23 grams of sugar, two grams of protein and 20 mg of sodium.


Ingredients
This has all the ingredients you'd expect to find in peppermint bark. It contains milk and soy as well as may contain tree nuts, wheat, egg, peanut and sesame. There are zero healthy ingredients but it is the season to indulge a little!
Scoring
Taste: 8/10
Cost: 7.5/10
Convenience: 10/10
Nutrition: 0/10
Overall
Must buy!
The Peppermint Bark is very satisfying and slightly addictive! It has a good balance of sweetness, chocolate and peppermint flavors.
Have you tried this peppermint bark from Costco? What did you think of it?