Perfect for a spring/summer barbecue or potluck!
Please note that this review was not paid for or sponsored by any third party. I purchased this product with my own money and the opinions in this review are strictly my own. I am not affiliated with Costco or any of its suppliers. I am just a fan of the company. I write these reviews to help my fellow shoppers.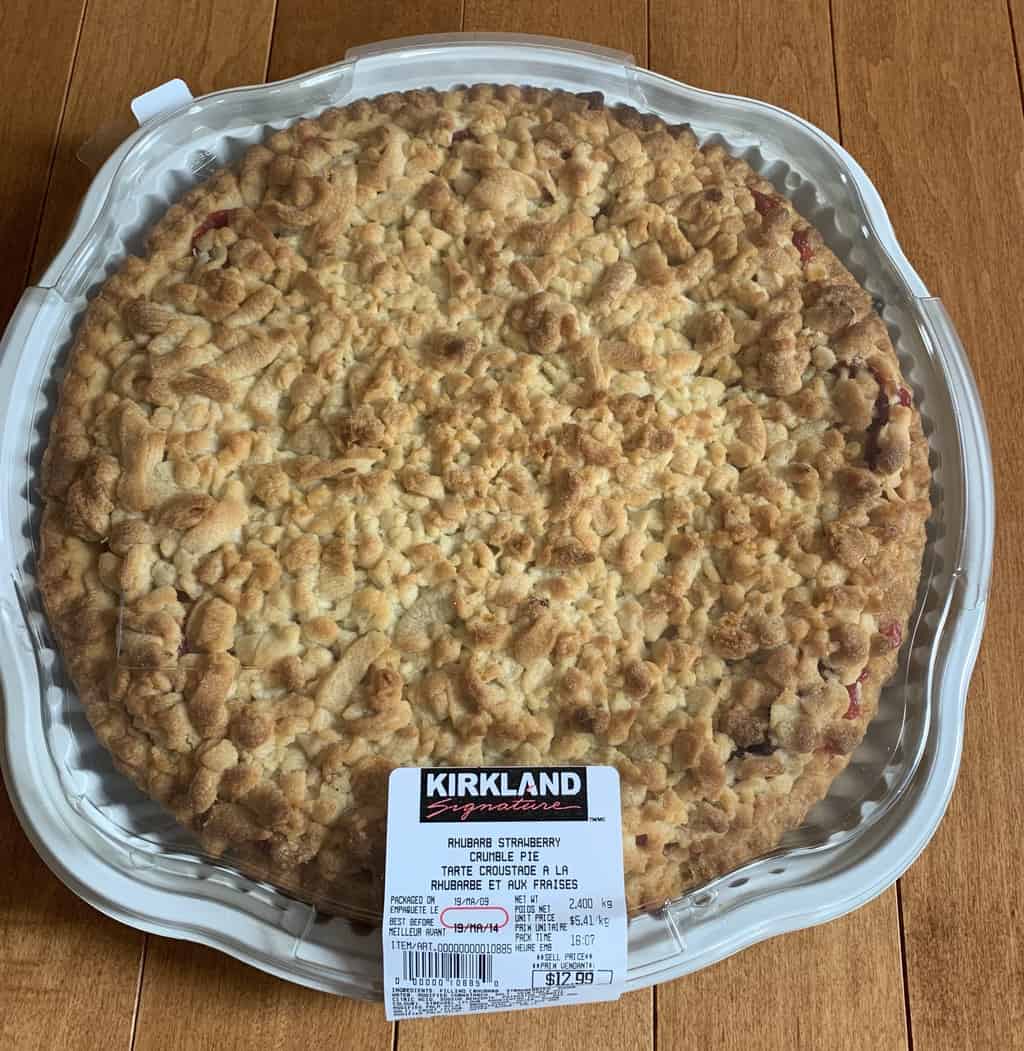 PIE TIME! Sean saw this Costco Kirkland Signature Rhubarb Strawberry Crumble Pie during our most recent trip to Costco we decided to pick one up to try. I've had strawberry rhubarb pie before but not from Costco so I was really looking forward to trying the Costco Kirkland Signature Rhubarb Strawberry Crumble Pie.
Taste
This Costco Kirkland Signature Rhubarb Strawberry Crumble Pie is a hybrid crumble/pie. The bottom layer is a pie crust and the top is a sugary crumble. The pie crust is flaky, soft and breaks apart easily with just a fork. The crumble on top is quite sweet and crunchy, you can distinctly taste brown sugar but there's no other added flavors in the crumble (for example cinnamon). The pie filling is a semi liquid blend of strawberry and rhubarb with real chunks of rhubarb throughout. I didn't detect any chunks of fresh strawberries in the pie but I taste mainly the strawberry flavor in the pie filling. There is a noticeable tart rhubarb flavor that cuts the sweetness of the filling quite a bit and the chunks of real rhubarb add a nice texture to the semi liquid filling. The sweet crumble on top compliments the mild tartness of the filling. Overall this was enjoyable.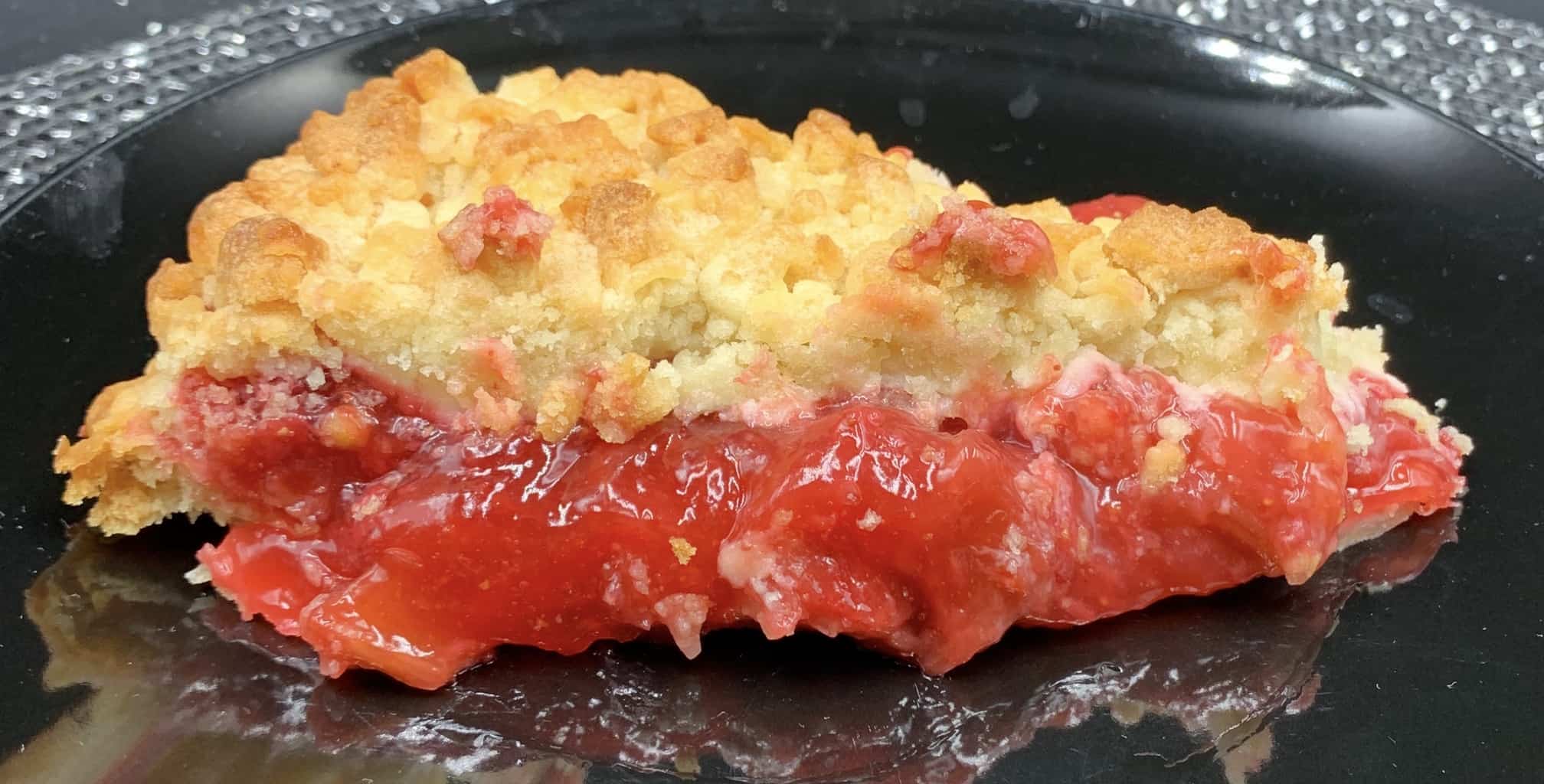 Cost
This large 12 inch Costco Kirkland Signature Rhubarb Strawberry Crumble Pie cost $12.99 Canadian. Not on sale. This is extremely reasonable for such a substantial pie. The quality of the pie is pretty good (definitely nowhere near homemade from scratch though) and the price is far more reasonable than other grocery stores/ bakeries.
Convenience
The Costco Kirkland Signature Rhubarb Strawberry Crumble Pie is perfect for a summer BBQ, a potluck, a retirement party or baby shower. It freezes really well and I recommend slicing the pie prior to freezing. Just place the entire Costco pie container in the freezer once sliced. The round plastic container the pie comes in protects the pie well and also makes it easy to transport.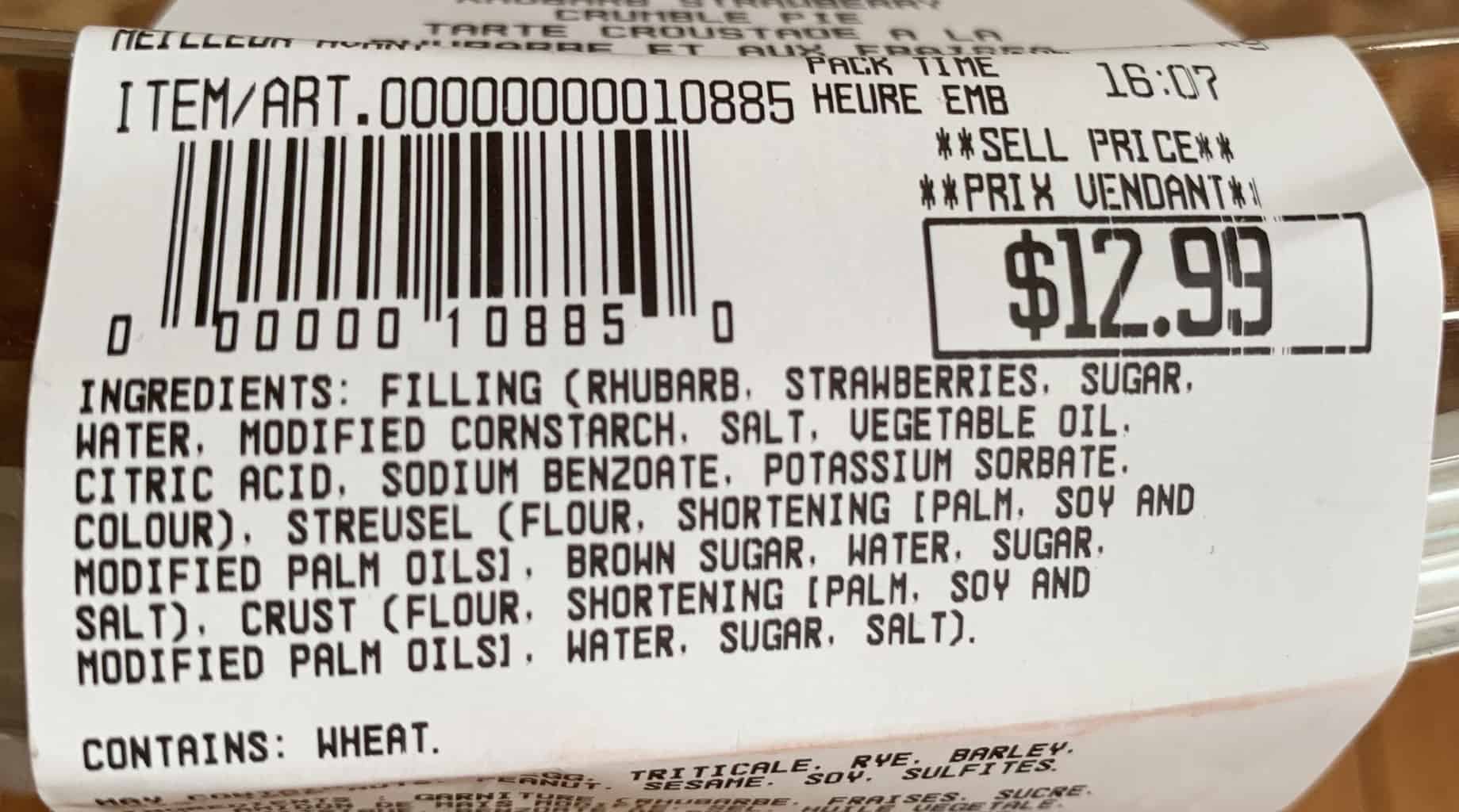 Nutrition
So let's be real, pie isn't the healthiest food out there. It's a dessert, an indulgence. 1/16th of the pie is 410 calories, 17 grams of fat, three grams of protein, 240mg of sodium, 61 grams of carbs and 34 grams of sugar. Yes it's full of sugar, fat and calories. I eat a bigger piece than 1/16th of the pie AND I put ice cream on it and I'm still alive! I really enjoyed it actually! Things like pie are meant to be enjoyed!
I still prefer the Costco Kirkland Signature Pumpkin Pie and Apple Crumble Pie over this but that doesn't mean I didn't enjoy this. I'll easily be able to finish off my pie in the freezer. I think this is a perfect pie for the Spring and Summer months!
Taste: 8/10
Cost: 9/10
Convenience: 10/10
Nutrition: 0/10
What's your favorite flavor of pie to have in the Spring or Summer? What flavor pie do you wish Costco would carry?