Every time I go to Costco it seems Marie Morin has a new dessert out!
Please note that this review was not paid for or sponsored by any third party. I purchased this product with my own money and the opinions in this review are strictly my own. I am not affiliated with Costco or any of its suppliers. I am just a fan of the company. I write these reviews to help my fellow shoppers.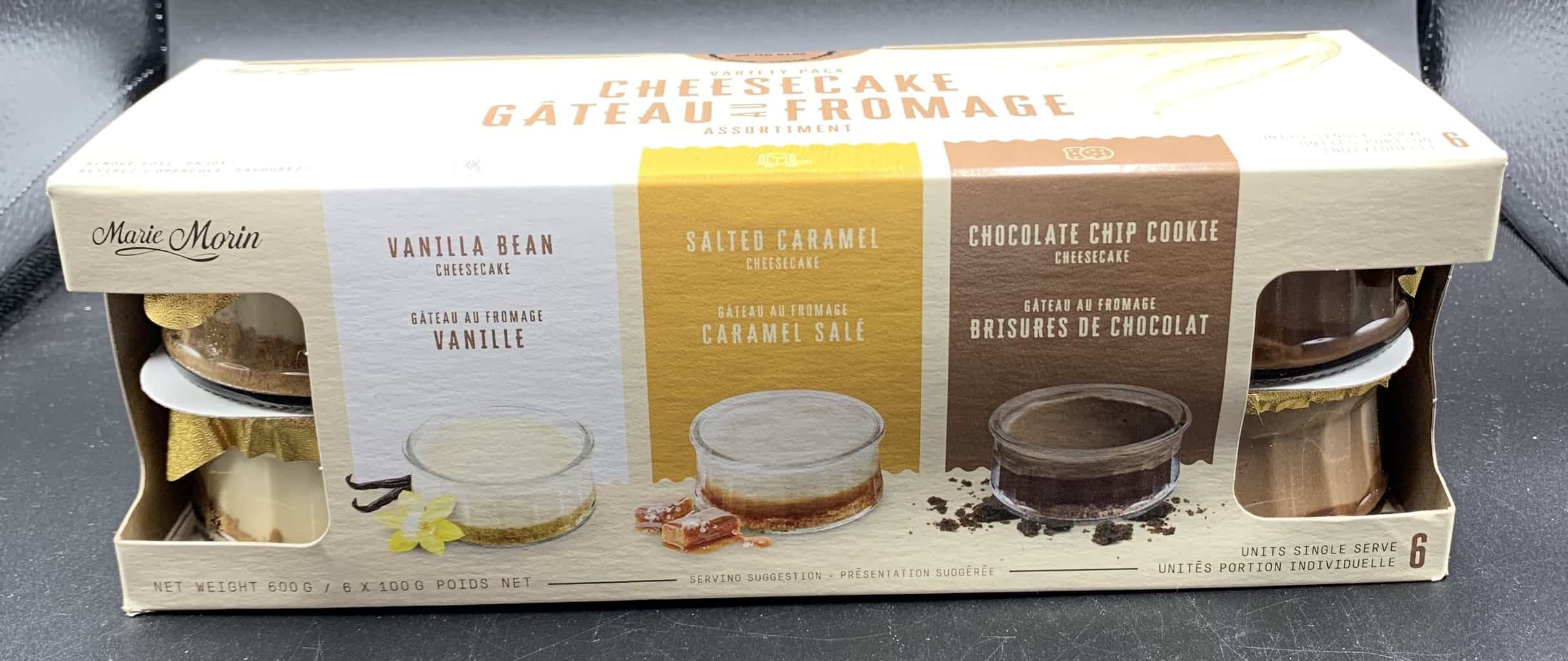 Sean and I always check out the small refrigerated dessert section (the one by the refrigerated juices). It seems like every time I'm at Costco Marie Morin has introduced a new dessert. I've already reviewed the creme brulee here and I also reviewed the passion fruit mango cheesecakes here (sooo good). Today I'm reviewing the Costco Marie Morin Cheesecake variety pack.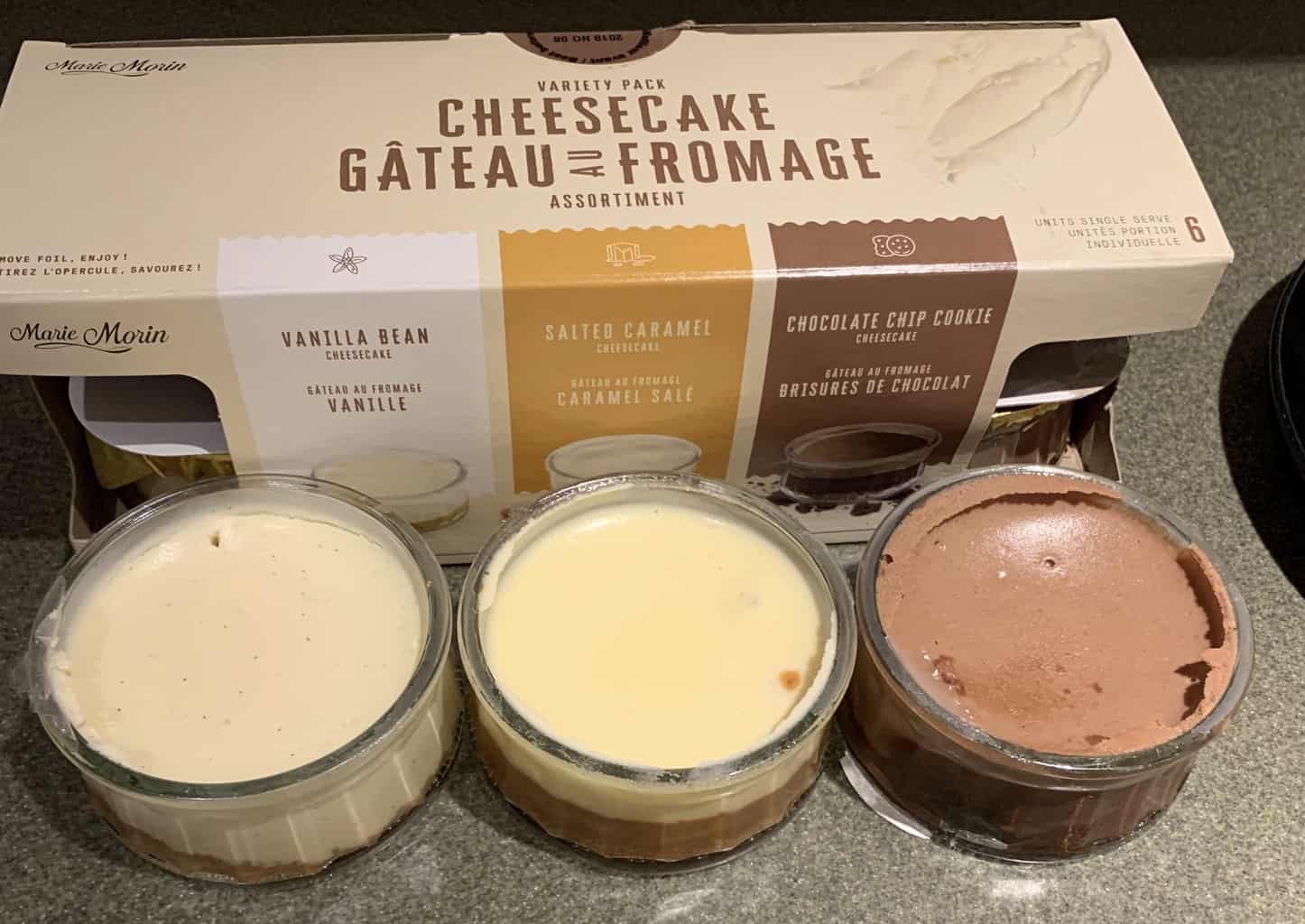 Taste
The variety pack comes with three different kinds of cheesecake. Vanilla bean, salted caramel and chocolate chip cookie cheesecake. The vanilla bean is basically like a plain vanilla cheesecake. I thought I'd really love the vanilla because strong vanilla bean flavor is my favorite. I'm not just talking about vanilla, I'm talking about vanilla bean. You know that vanilla that tastes so so creamy and strong? Unfortunately the Marie Morin Vanilla Bean cheesecake was lacking that strong vanilla bean flavor I was looking forward to, it tasted more like a plain, muted, sugary, ordinary cheesecake. It wasn't bad but I was expecting more of a vanilla punch. The salted caramel has the graham cracker bottom (which the vanilla has as well) and then a thick layer of salted caramel and then the vanilla cheesecake on top. This one is VERY sweet and the caramel overpowers the cheesecake, but if you love salted caramel you're in luck because there's no shortage of it. The chocolate chip cookie cheesecake is probably my favorite (and the most calories haha). Instead of a chocolate cheesecake it tastes more like a mousse to me and has chunks of chocolate cookie. It's very chocolaty and rich and the flavor is bold and smooth. These cheesecakes taste pretty good but I still have to say my favorite flavor is the passion fruit mango cheesecakes by Marie Morin.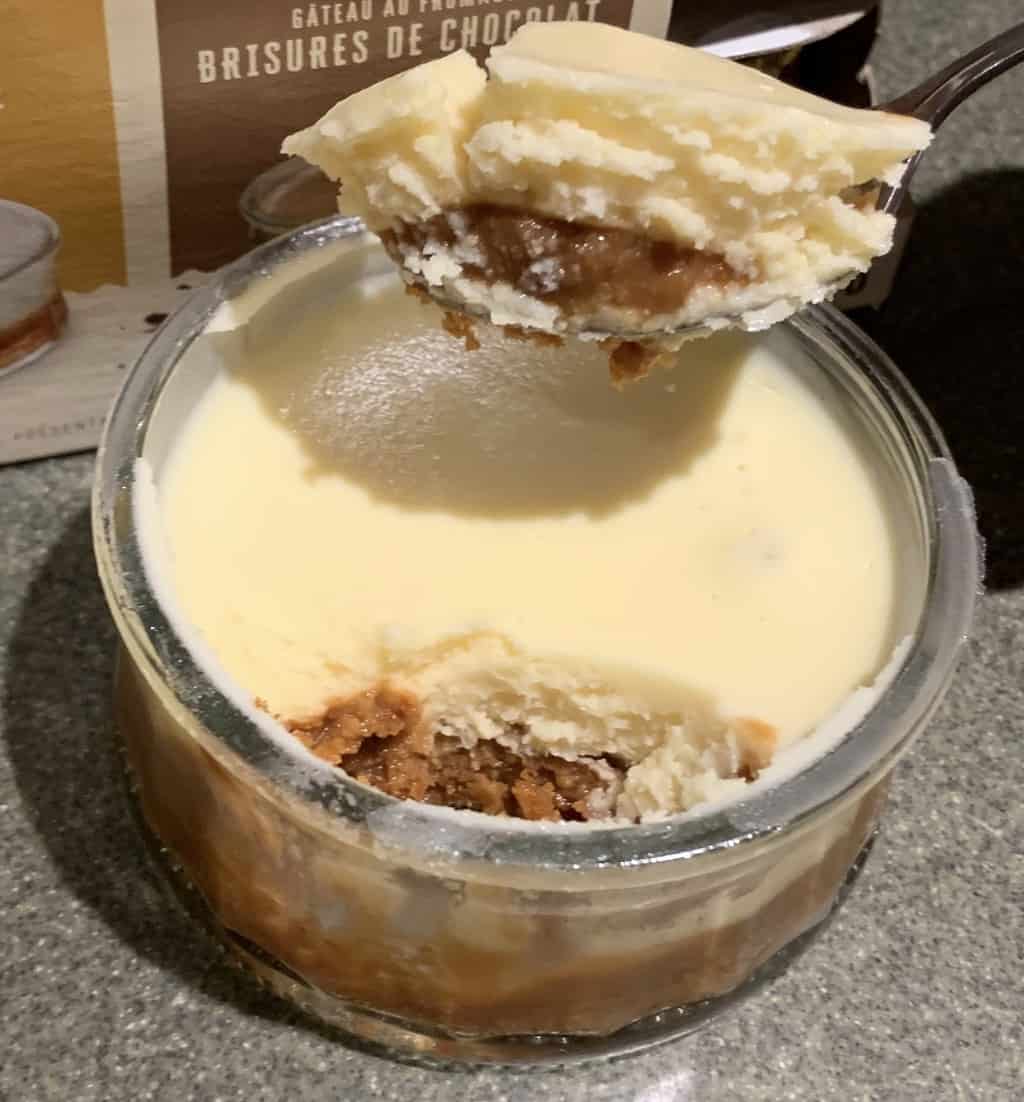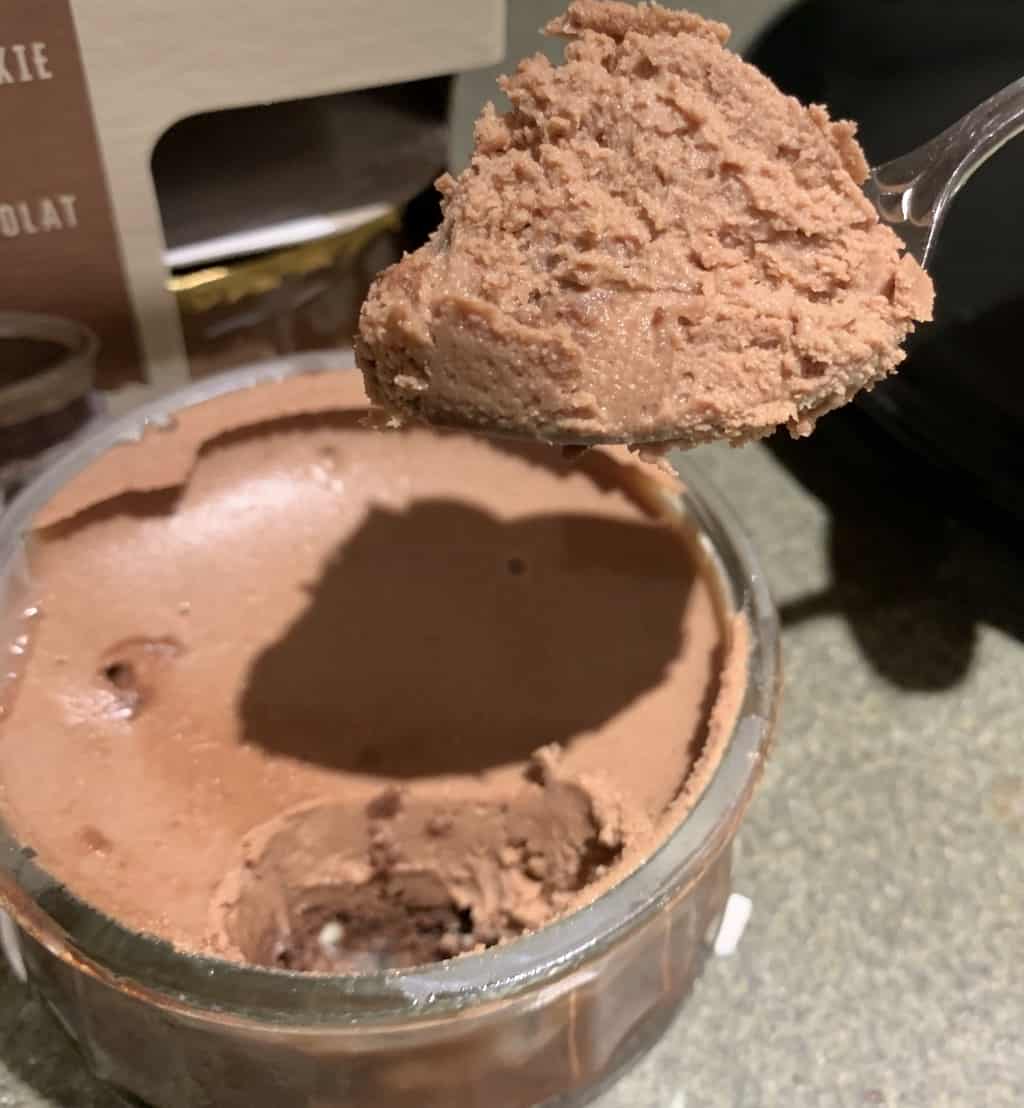 Cost
The box comes with six cheesecakes, two of each flavor for$11.99 Canadian.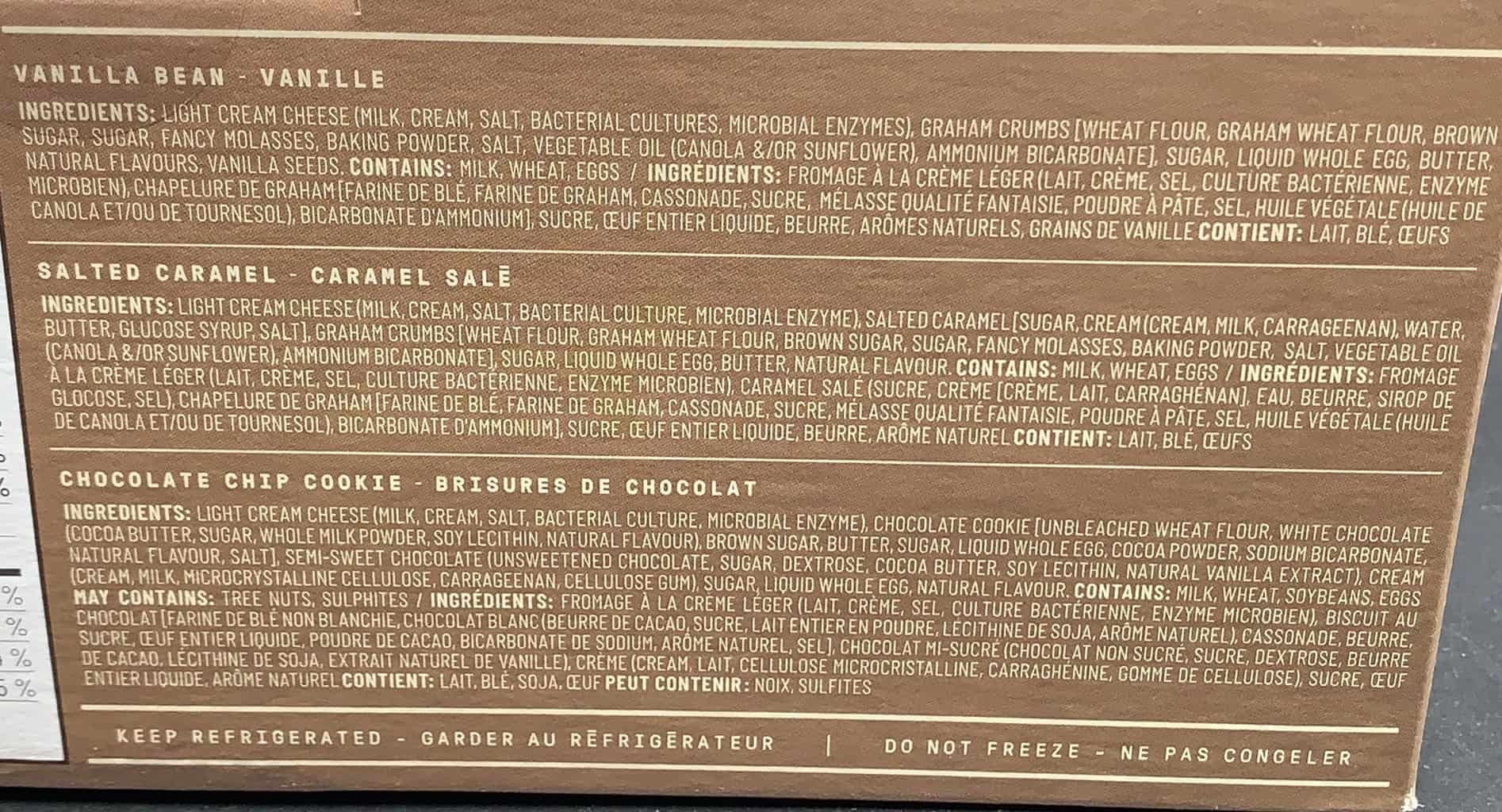 Convenience
The best before date is about a month from the date we purchased them! Each cheesecake comes in an individual little glass jar which I save to reuse. Sometimes the top foil wrapper can be a bit of a pain to get off. These are a perfect dinner party dessert to serve guests or special treat to have at home for yourself!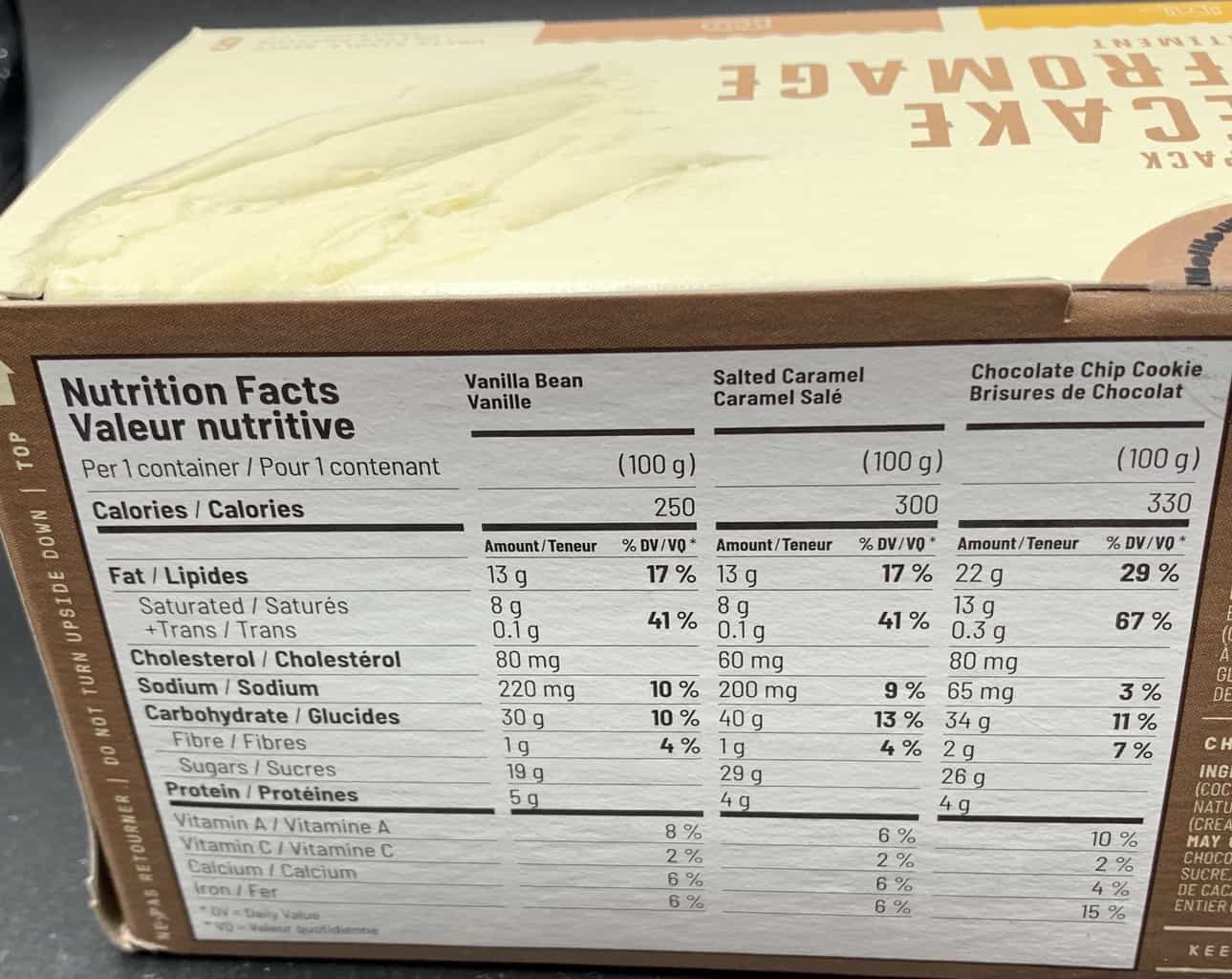 Nutrition
Okay these are NOT healthy haha but treats are meant to be in our lives and enjoyed!
The vanilla bean flavor is 250 calories, 13 grams of fat, 220 mg of sodium, 30 grams of carbohydrates, one gram of fibre, 19 grams of sugar and five grams of protein. Salted caramel is 300 calories, 29 grams of sugar, four grams of protein, 200mg of sodium, 40 grams of carbohydrates and 13 grams of fat. Chocolate chip cookie is 330 calories, 22 grams of fat, 65 mg of sodium, 34 grams of carbohydrates, two grams of fibre, 28 grams of sugar and 4 grams of protein. The ingredients lists aren't extraordinarily long and have a lot of ingredients I would expect to find. Obviously not exactly the same ingredients as you would use if making these from scratch.
These are enjoyable cheesecakes! I don't love them as much as the passion fruit mango cheesecakes but I definitely prefer them over the creme brulee. The variety pack is nice because if you have guests over they can choose the cheesecake of their liking.
Taste: 7.5/10
Cost: 7/10
Convenience: 10/10
Nutrition: 1/10 (ummm, they have cheese, so maybe 1 point for that?)
What's your favorite Marie Morin product from Costco?