Tasty, healthy popped corn chip that makes a delicious snack!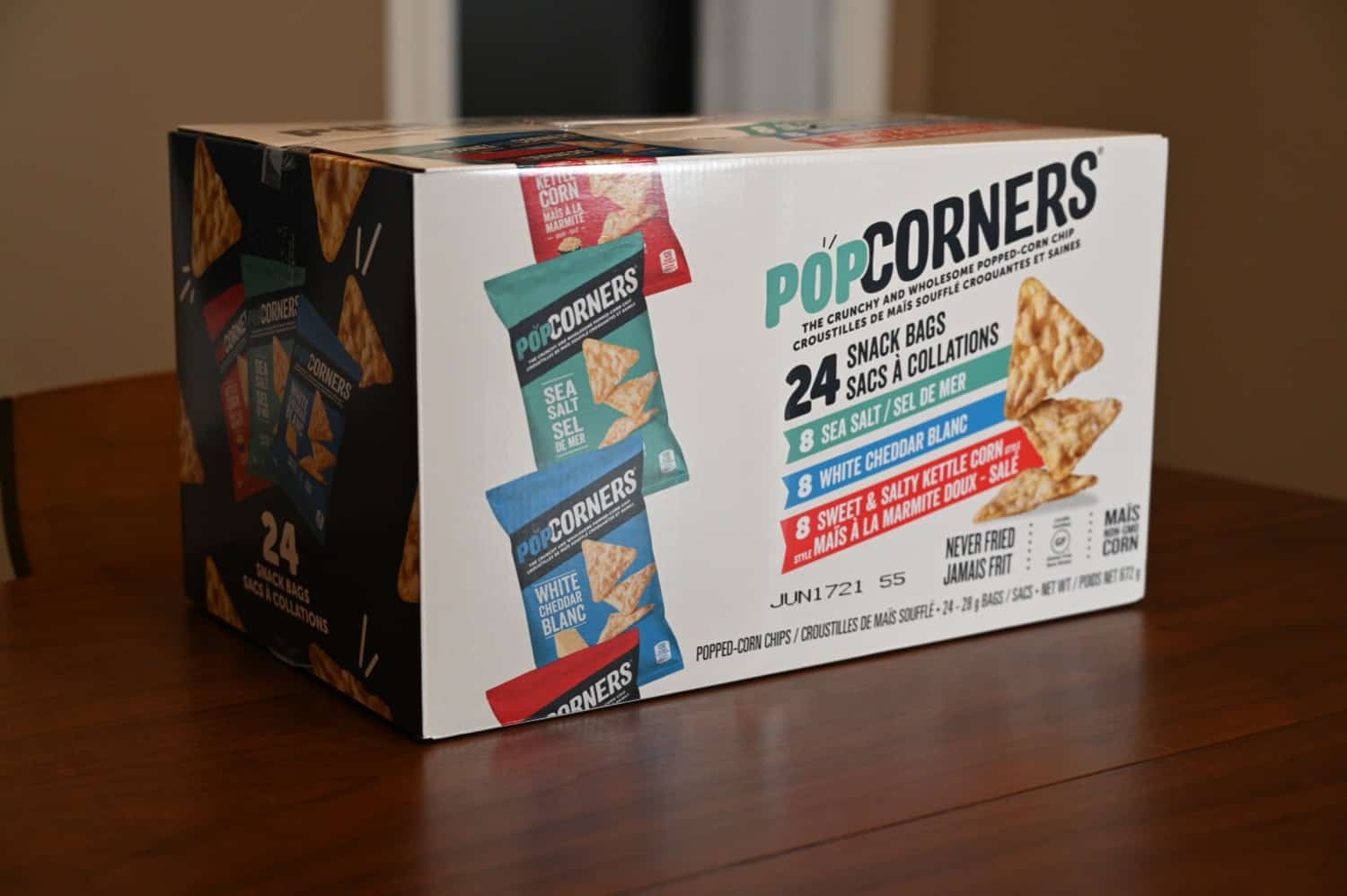 I've reviewed the Costco POPCORNERS Bean Crisps, POPCORNERS Flourish Veggie Crisps and POPCORNERS Sweet & Salty Kettle Chips. Today I'm reviewing Costco Popcorners Snack Bags pack!
I found the Costco PopCorners Snack Bags box by all the other chips and pretzels. The item number is 1094018
Taste
PopCorners are great for chip and popcorn lovers because they're basically like a chip made out of popcorn. There's three flavors of PopCorners in the box, kettle corn, white cheddar and sea salt.
Kettle corn is definitely my favorite flavor. I absolutely love the combination of salty and sweet. These PopCorners aren't overly sweet but you initially get a nice sweet flavor followed by a salty finish.
White cheddar tastes super cheesy and has a combination of cheddar and blue cheese, it's not super artificial tasting and reminds me of white cheddar popcorn in chip form. I wasn't sure how I'd like them considering I really don't like blue cheese but I honestly didn't notice the blue cheese flavor.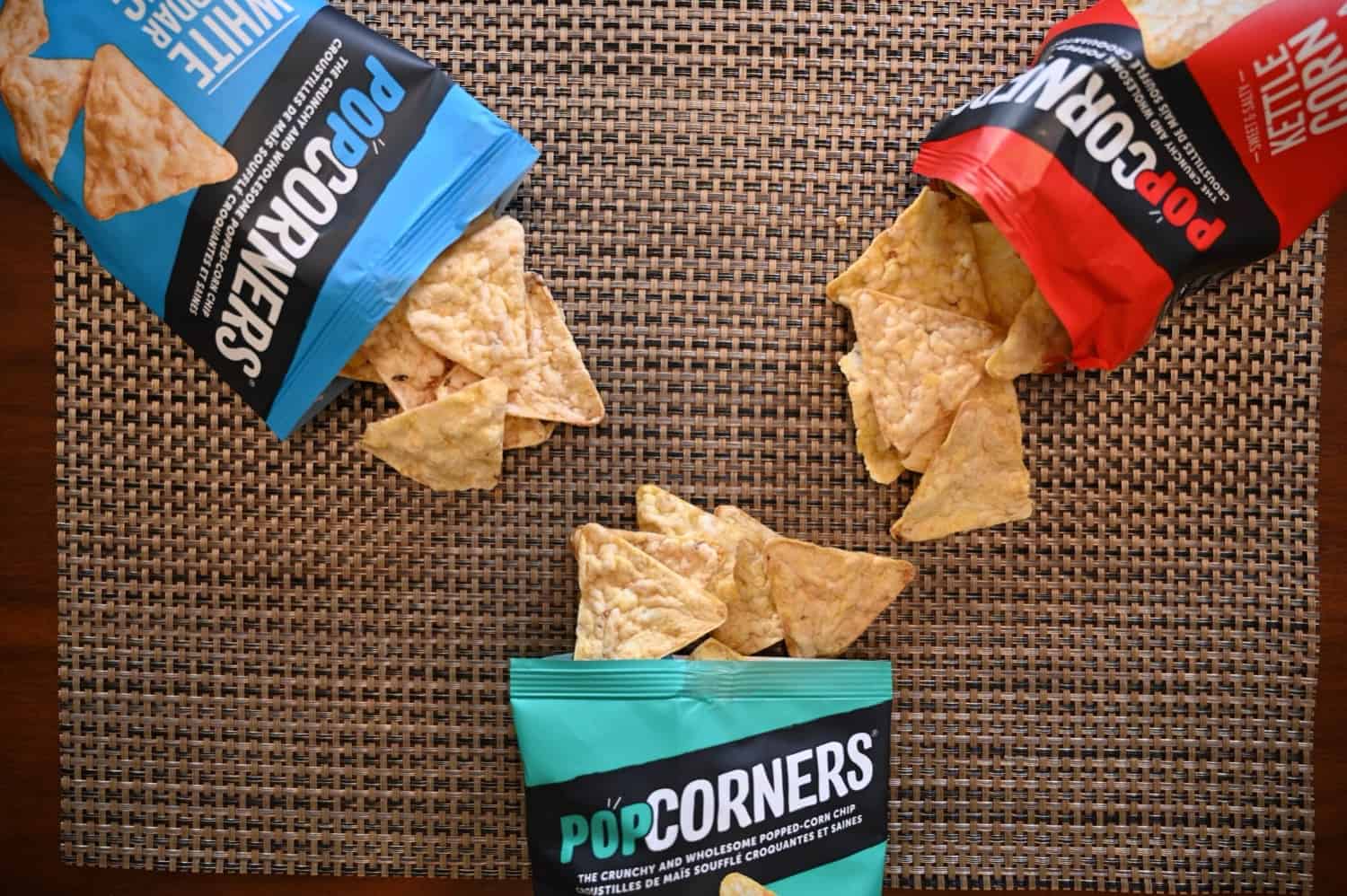 The sea salt flavor is quite basic and simple! They're not overly salty but you can definitely taste a good amount of salt. Perfect for those individuals who prefer a plain potato chip or plain salted popcorn. These are awesome for those times when you're craving something salty and crunchy.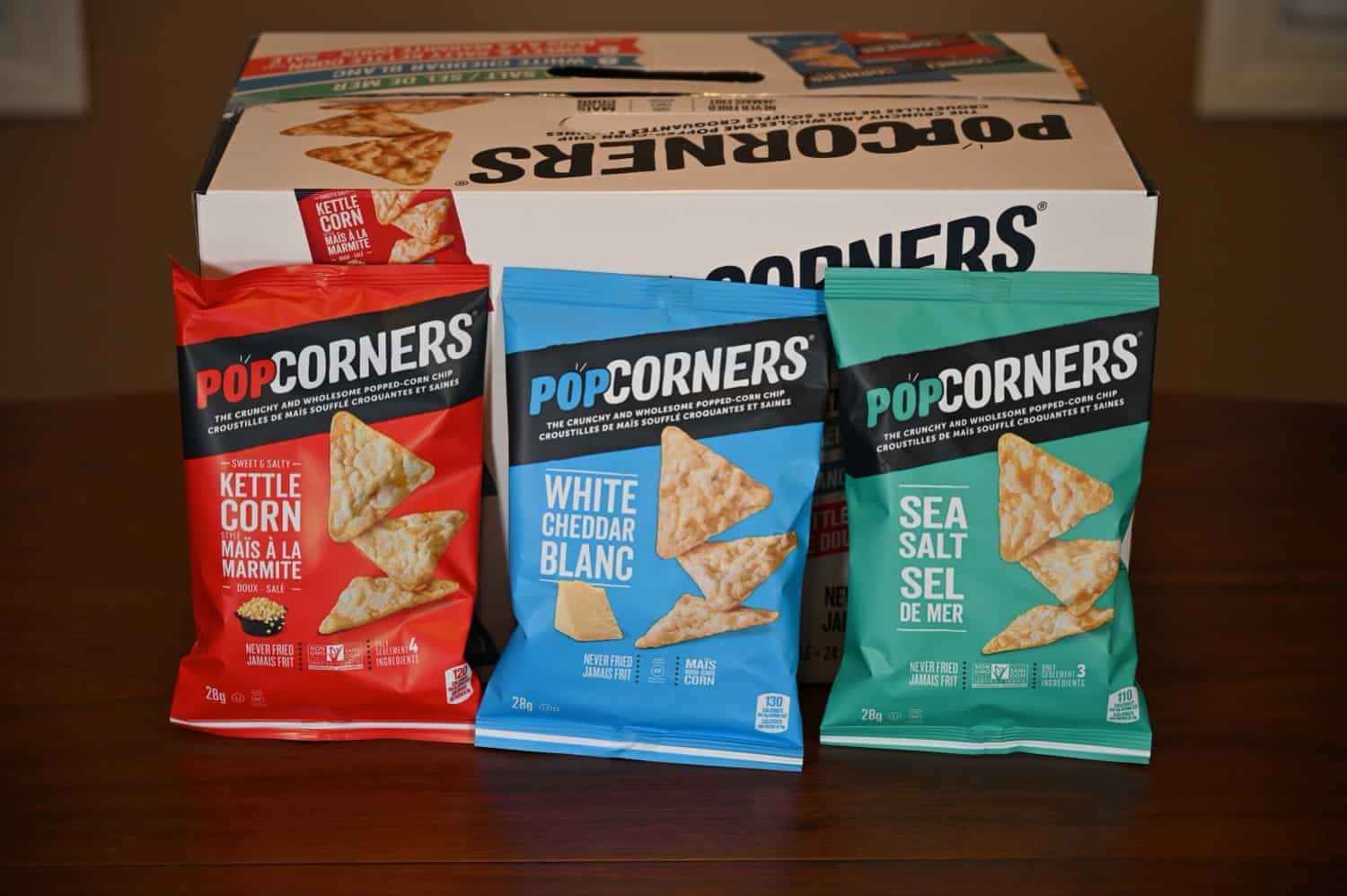 Overall I enjoyed these but I did get a little tired of them by the time I was nearing the end of my box, they're good just not amazing, I found they were slightly lacking flavor and were a little dry.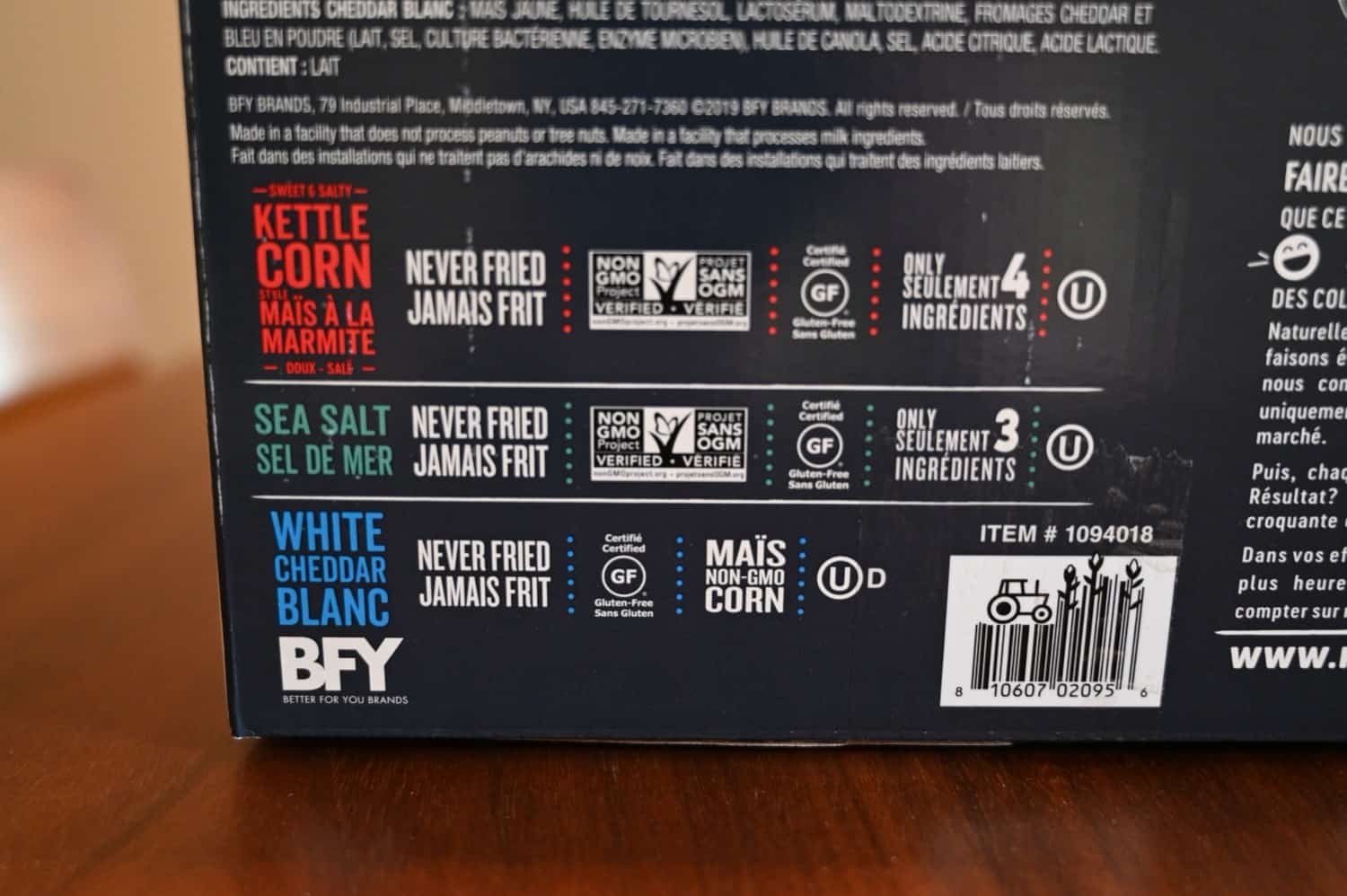 Cost
I paid $9.99 Canadian (regular price) for the box of 24 bags of PopCorners.
Not bad for 24 snack bags of PopCorners!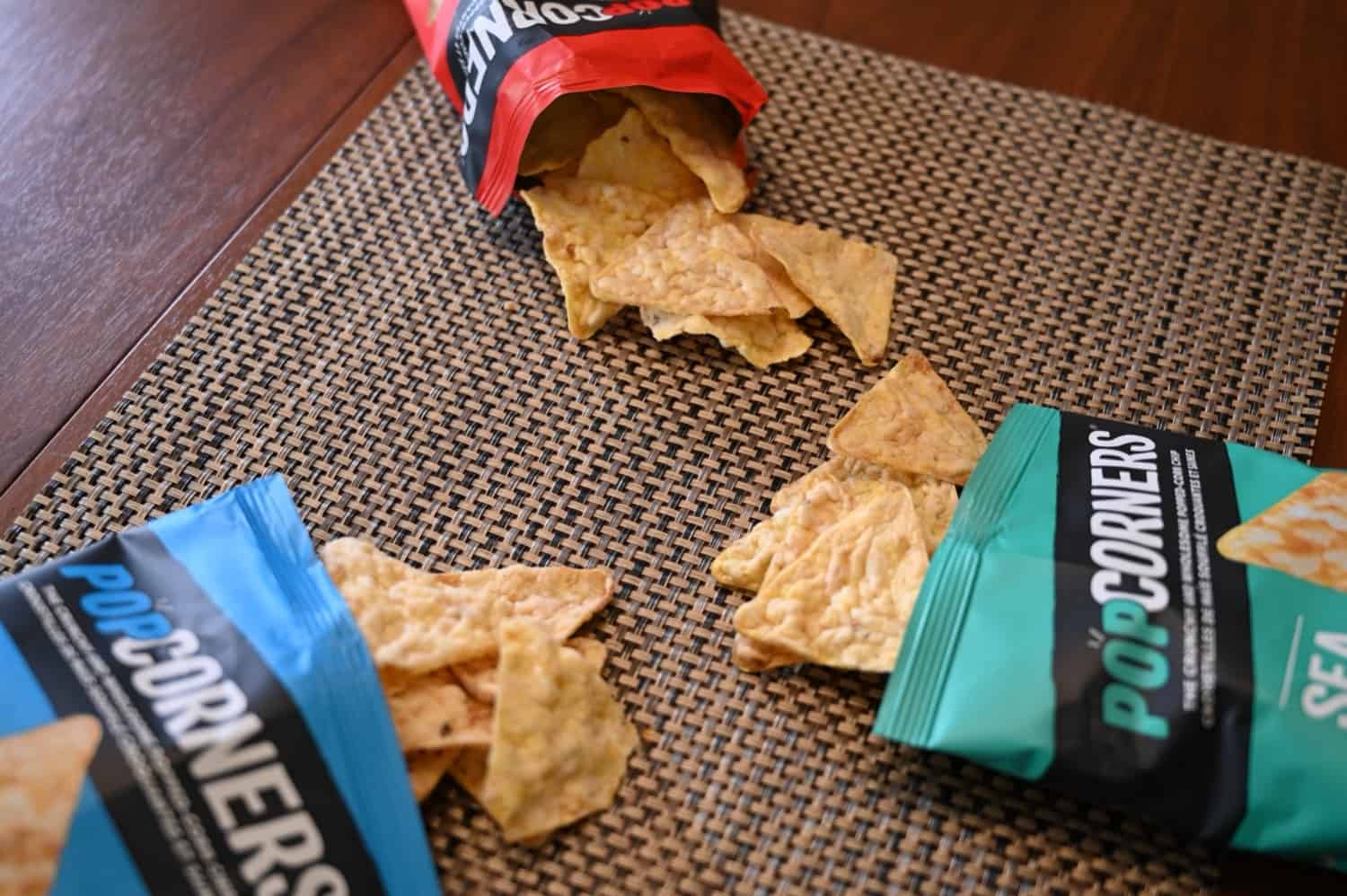 Convenience
These are perfect for a quick snack or to have with your lunch. The best before date on the bags is about four months from the date I purchased the PopCorners.
Each bag is 28 grams so it's a convenient size for snack and helps with portion control!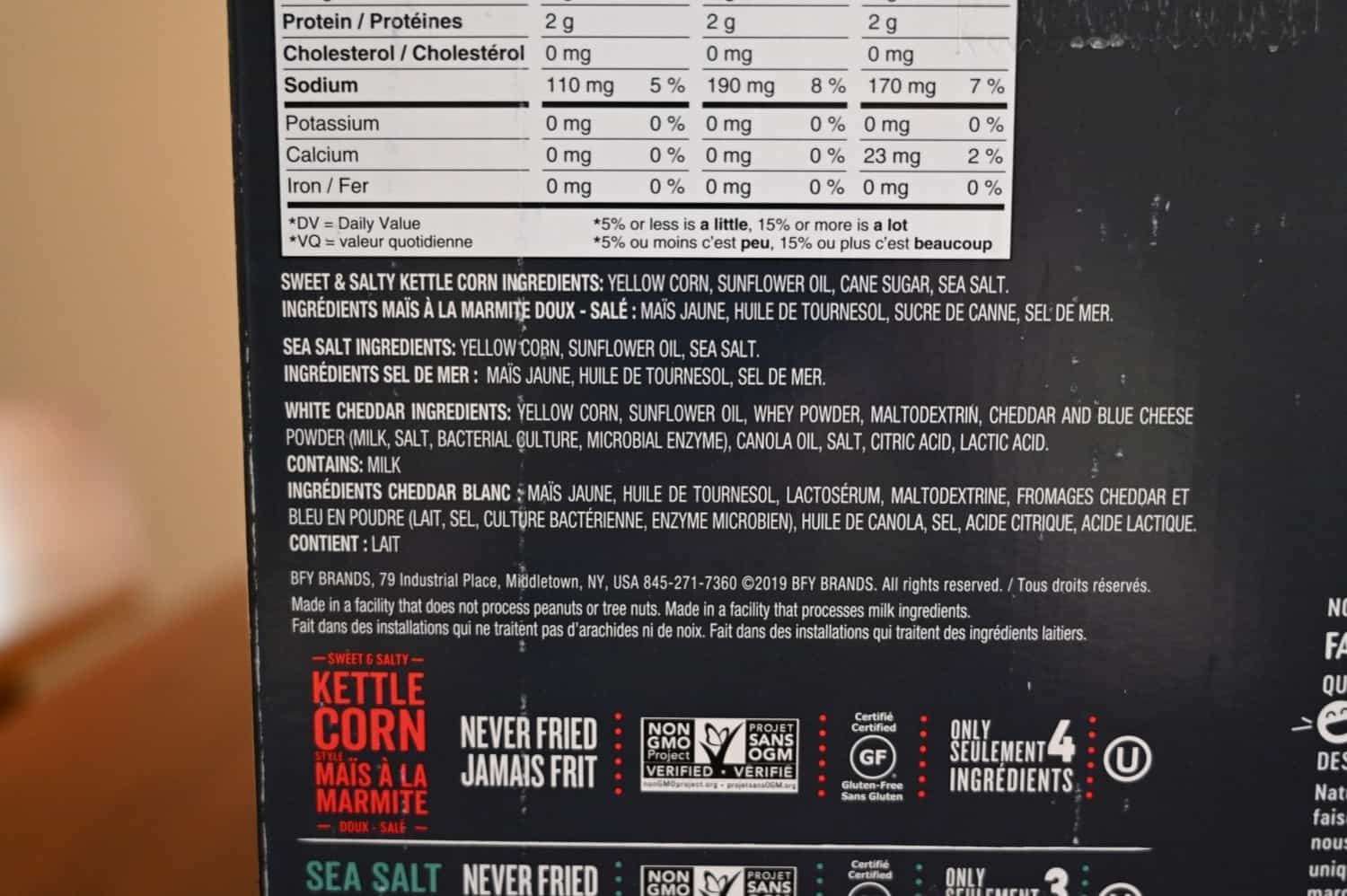 Nutrition
Certified gluten-free, non GMO, and never fried! There are definitely worse snack options out there you could indulge in.
Below is the nutrition information for each flavor, calories range from 110-130 and fat ranges from two and a half grams to six grams, carbohydrates are 17 to 20 grams, fibre is zero grams, sugars are zero to three grams and protein is 2 grams of each.
Sodium is highest in the sea salt flavor at 190 mg and lowest in the kettle corn flavor at 110 mg.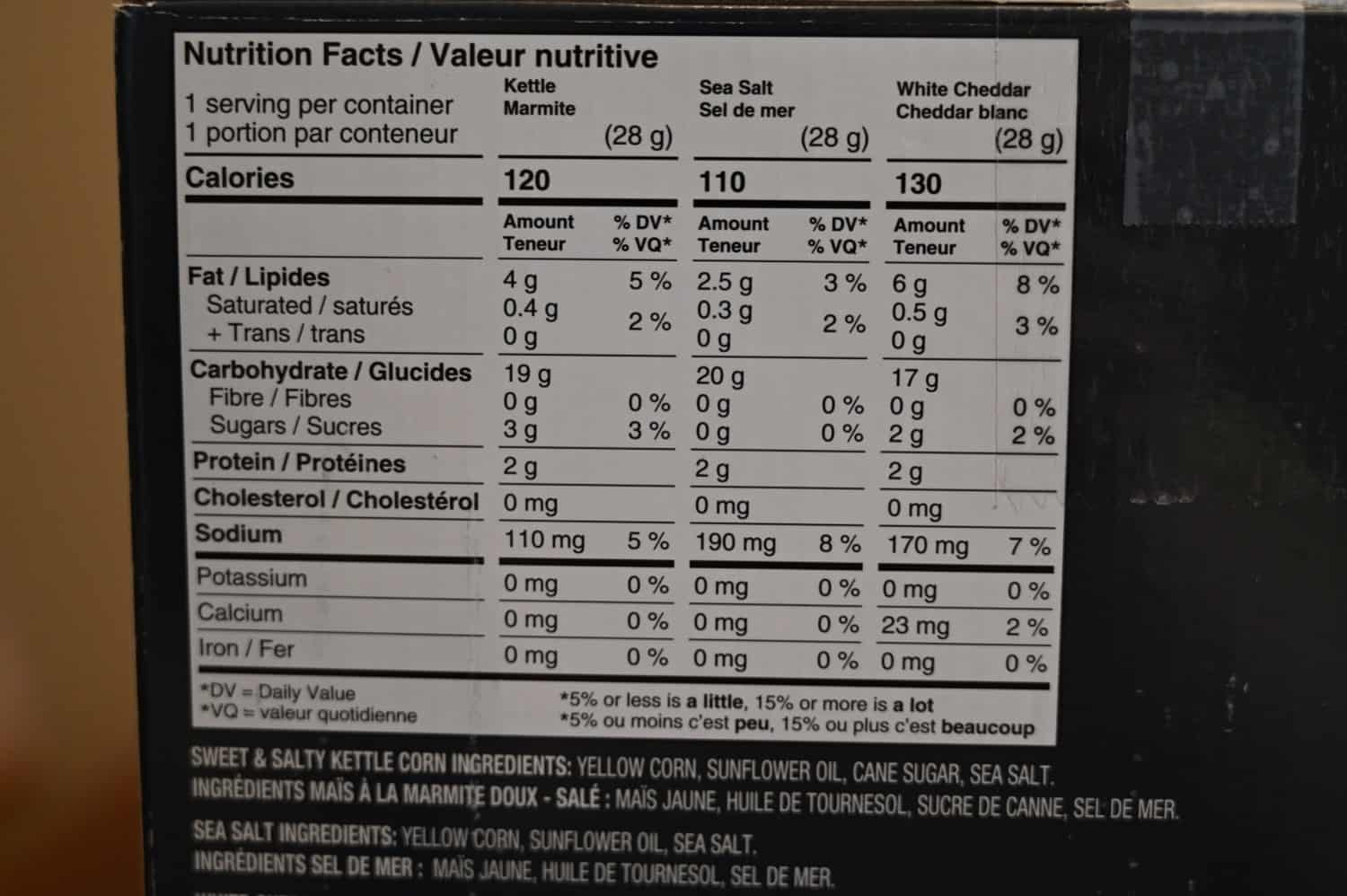 I enjoyed these gluten-free, crunchy popcorn chips but I didn't absolutely love them. I found I got a little tired of the flavors by the end of my box.
Scoring
Taste: 7/10
Cost: 8/10
Convenience: 10/10
Nutrition: 6/10
Overall
Give it a try!
I recommend these if you're a major popcorn fan and are looking for a gluten-free, convenient snack option!
---
Which would be your favorite flavor?
Please note that this review was not paid for or sponsored by any third party. This product was purchased by Costcuisine for the purpose of producing this review. The opinions in this review are strictly those of Costcuisine. Costcuisine is not affiliated with Costco or any of its suppliers. In the event that Costcuisine receives compensation for a post from the manufacturer of a product or some other third party, the arrangement will be clearly disclosed (including where the manufacturer of a product provides Costcuisine with a free sample of the product).