Tastes like takeout!
Please note that this review was not paid for or sponsored by any third party. I purchased this product with my own money and the opinions in this review are strictly my own. I am not affiliated with Costco or any of its suppliers. I am just a fan of the company. I write these reviews to help my fellow shoppers.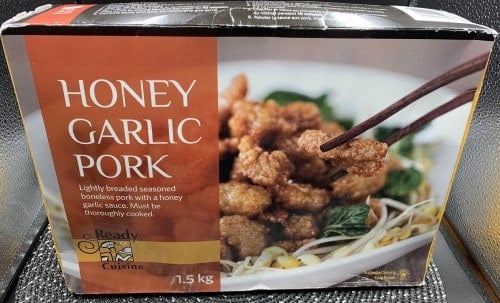 I absolutely love being able to make my own take out style food at home. Going out to eat can be expensive, and sometimes it's more convenient to make dinner at home than to go pick up takeout (some places won't deliver!). I've found quite a few good appetizers/sides at Costco such as the Costco Bibigo Chicken & Cilantro Mini Wontons or the Costco Minh Egg Rolls but not as many entrées. I've seen the Ready Cuisine Honey Garlic Pork a few times at Costco, but hadn't tried it. It seemed like it had the potential to be a good entrée, so I decided to review it.
Taste
I don't think my first purchase of the Ready Cuisine Honey Garlic Pork will be my last one! It's as good as (if not better than) similar dishes I've ordered from takeout places before. The pork itself comes in small pieces that are breaded. It's seasoned well and could be enjoyed without even adding the honey garlic sauce. The pork gets crispy and golden brown in the oven. The quality of the meat surprised my husband and I; it tastes pretty similar to chicken breast, and neither one of us had any gross fatty or tough pieces (which we were kind of expecting because even ordering takeout that seems to happen fairly often). Each piece of pork was juicy and lean. The sauce comes in a separate package, so you don't add it until the meat is finished cooking. This is a good thing in my eyes, since I like my food less saucy while my husband usually prefers more. I lightly drizzled the pork on the tray of cooked pork and then put the sauce packet on the table for us to use if we wanted more. There's a ton of sauce in each packet; we didn't use nearly all of it. The sauce is definitely on the sweet side. It has a strong honey flavor with a slight aftertaste of garlic that lingers in your mouth with each bite. I appreciated that there wasn't a pungent, strong garlic flavor. Basically the sauce is a standard honey garlic sauce without anything special or unusual added in. Is that a bad thing? Nope. Honey garlic sauce is generally pretty delicious, and I think it's better left simple. The sauce doesn't have much if any spice or heat to it, so those who don't like spicy foods and kids will enjoy it. If I had to find a negative about the product, I guess I would say it needs a little extra kick of extra heat/spice; imagine a pork version of popcorn chicken with a basic honey garlic sauce (which isn't a sauce that I associate with Asian food). That's what it tastes like.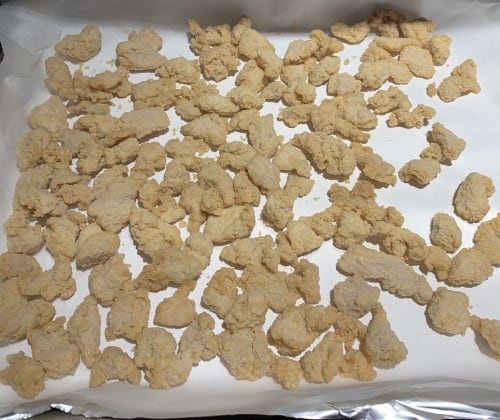 Cost
The Ready Cuisine Honey Garlic Pork can be found in the freezer section at Costco. It comes in a large rectangular box. Inside the box, there are two separate plastic bags of pork and two separate sauce packets. The one thing that blew my mind was how LARGE the sauce packets are. I'm sorry, but if you say there's not enough sauce for the pork, you must like a TON of sauce. The regular price for the box is $13.99 Canadian. There's enough pork for my hungry husband and I to get two meals out of it (although I did add vegetables and served it over a bed of ramen, plus we had dumplings and spring rolls as well). We eat a lot, so a package might be able to feed two adults and two kids two separate dinners (but you would probably need to add to it somehow like we did). I feel like the price is reasonable when I consider how much I enjoyed this and how easy it was to prepare. Despite pork being a relatively cheap meat, I have to stress again how impressed I was by the fact that every piece of pork was good quality, cut into delightful little bite-size pieces and battered nicely. If I see this on sale at Costco, there's a good chance I'll buy two boxes. I liked it that much.
Convenience
The Ready Cuisine Honey Garlic Pork was very easy to bake in the oven. I spread the pork out along with some cut-up vegetables on parchment paper on top of a cookie sheet, put it in the oven and 35 minutes later I had delicious, crispy, golden brown pork that was nice and hot. After heating the sauce in warm water, I drizzled a little bit of it over the pork and vegetables, then mixed everything around on the tray to evenly coat it all. I served it over top of the Costco Lotus Foods Millet & Brown Rice Ramen, but you could also substitute rice for the noodles. You don't necessarily need to add vegetables or noodles/rice, but I think without adding something, the pork is more like an appetizer or side dish than a meal.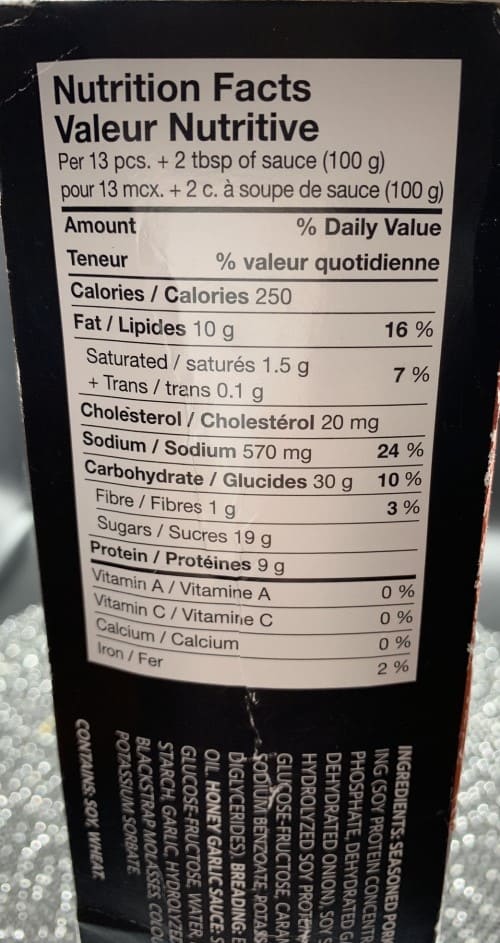 Nutrition
Unfortunately, this isn't an amazingly healthy alternative to the honey garlic pork you would get from a takeout place, but it's not the worst nutritionally either. 13 pieces of pork with two tablespoons of sauce contains 250 calories, 10 grams of fat, 570 milligrams of sodium, 19 grams of sugar and 9 grams of protein. I'll be very honest, I probably consumed more like 30 pieces of pork and 4-6 tablespoons of sauce when I made this, and I woke up THIRSTY after eating it the night before. The pieces aren't very big, so it's easy to consume quite a few. If you can stick to 13 pieces, the calories and fat aren't too bad, but you're still looking at quite a bit of sugar and sodium. I'll also say that there are a few artificial ingredients on the list, which I'm not too keen on, but I've noticed these same ingredients on other similar frozen products, so I think it's kind of to be expected for convenience food like this.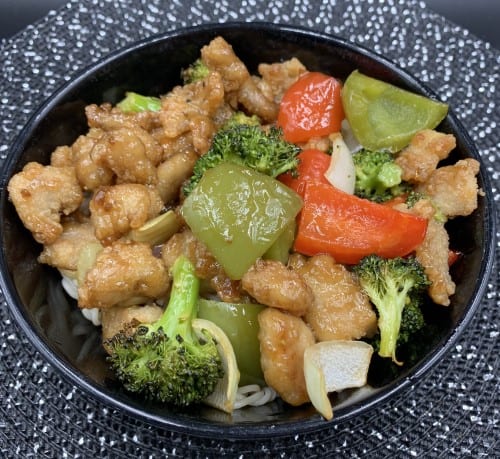 Going forward, I'll buy the Ready Cuisine Honey Garlic Pork as kind of a treat for my husband and myself. I'm actually really looking forward to eating our second bag of the pork. It's basically like being able to make takeout at home, especially when I add a couple of my favorite appetizers/sides from Costco. If you're concerned about the nutritional information, I recommend using less sauce, adding a ton of veggies and drinking lots of water!
Taste: 8.5/10
Cost: 7.5/10
Convenience: 8/10
Nutrition: 3/10
What's your favorite takeout food?