Sweet & convenient orange chicken!
Please note that this review was not paid for or sponsored by any third party. The opinions in this review are strictly my own. I am not affiliated with Costco or any of its suppliers. I am just a fan of the company. I write these honest reviews to help my fellow shoppers.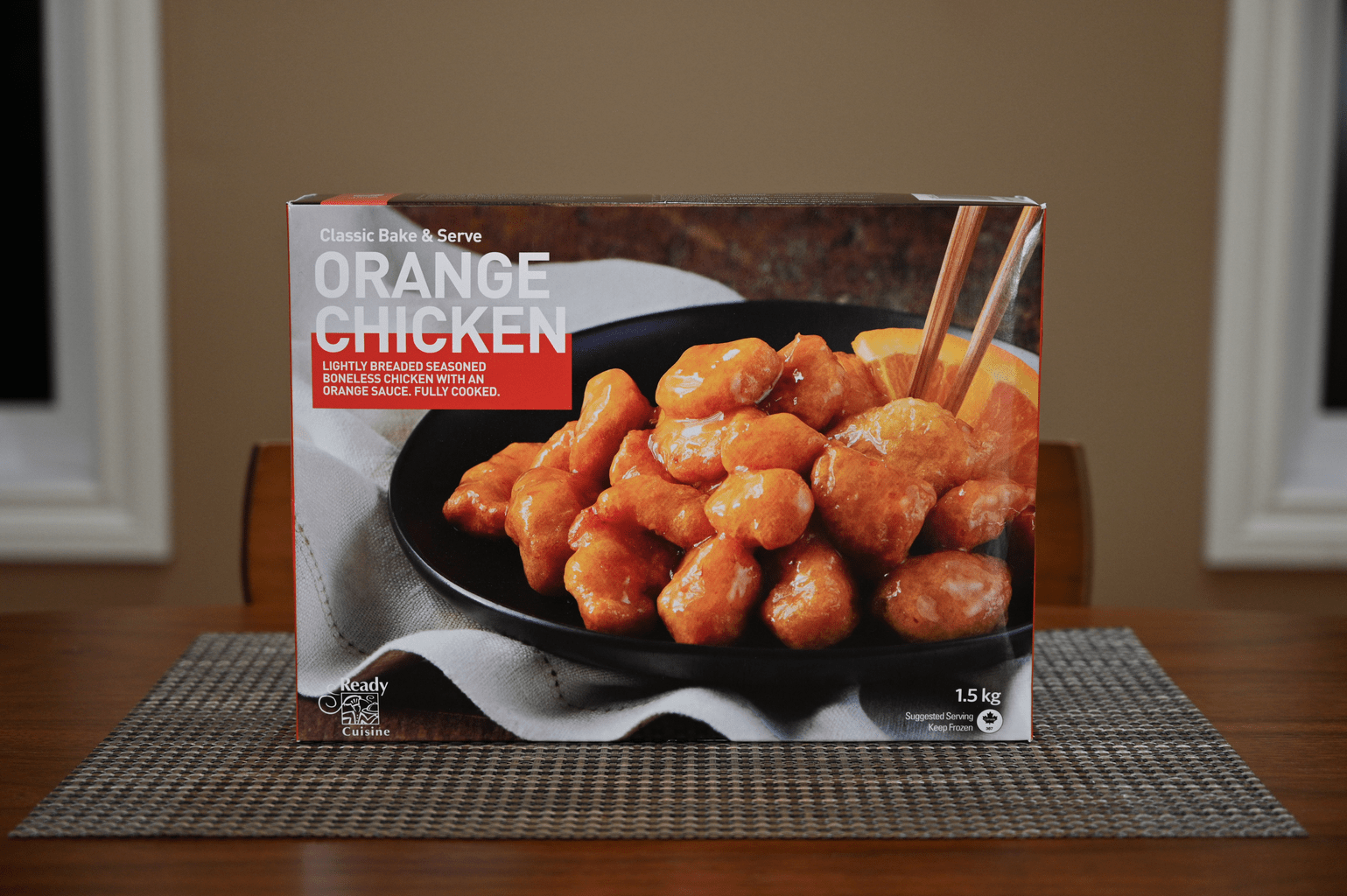 Frozen food at Costco is something I absolutely love to review. Quick and convenient meals are my jam. Quite a while ago I reviewed the Costco Ready Cuisine Honey Garlic Pork . I recently found this new Ready Cuisine Orange Chicken at Costco in the freezer section that I'll be reviewing today. The item number is 1481750.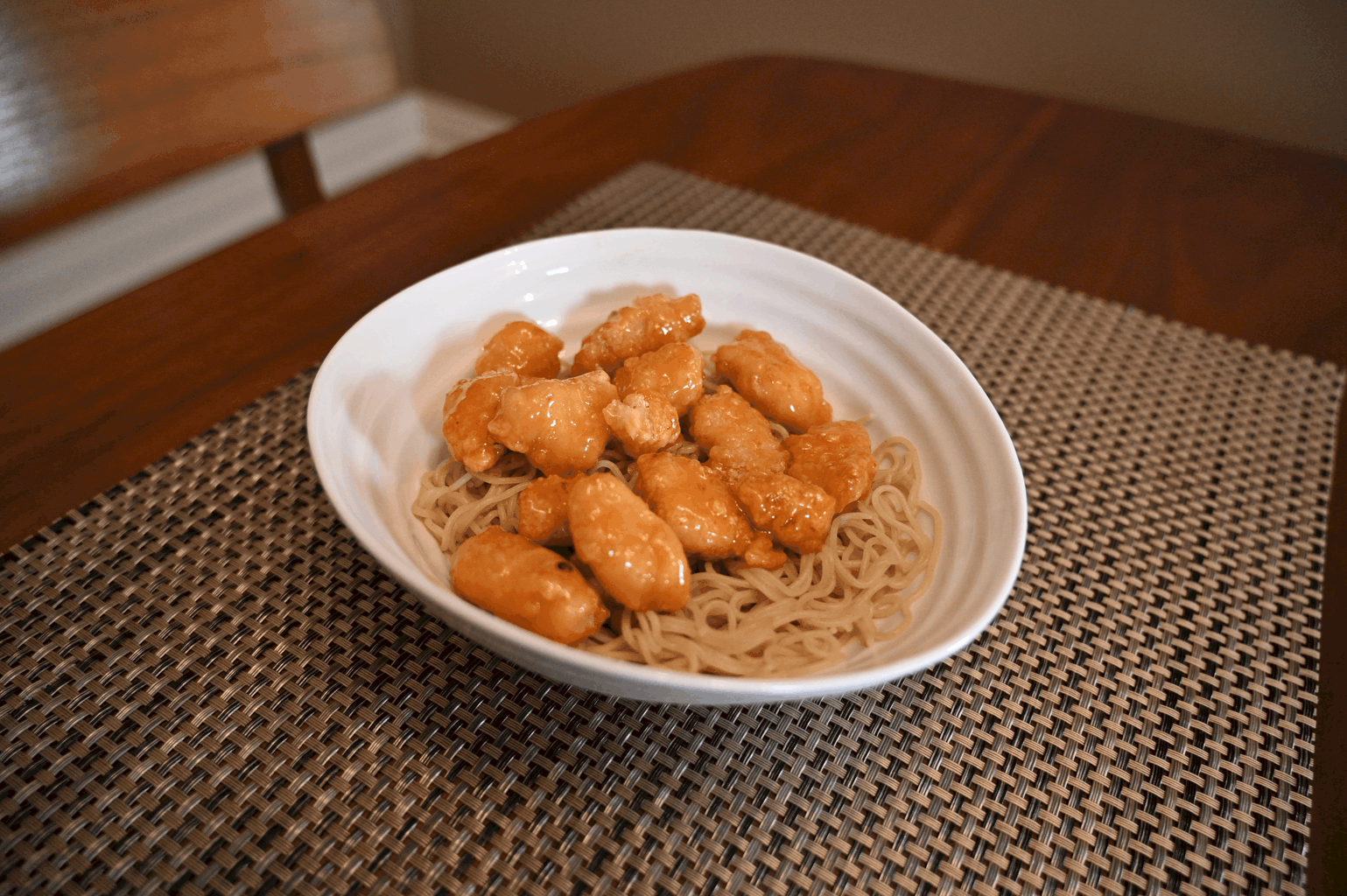 Taste
Both Sean and I kind of enjoyed this but I'll point out two main things about the orange chicken. There's a ton of breading and the sauce is way too sweet. The Costco Ready Cuisine Orange Chicken is little bites of white chicken that are heavily coated in breading, kind of like a "popcorn chicken" but without much chicken.
The chicken gets brown and crispy when heated in the oven, without the sauce the chicken bites taste just like plain pieces of breaded chicken. I didn't notice any bits of gristle or gross chicken but there was a few small pieces that were just crunchy breading and had no chicken in the middle.
The flavor is all in the orange sauce that comes with the chicken! The sauce is very sweet, sticky and has a bold candy-tasting orange flavor. Similar to an orange lollipop. You can control the sweetness of the orange chicken by adding less or more sauce, I smothered Sean's in sauce and he commented he'd prefer less next time. I put only a small amount on mine to lightly coat my chicken and didn't find it outrageously sweet.
I served the orange chicken on top of the Costco Lotus Foods Organic Ramen and also cooked up some purple onion and green pepper that I had in the fridge to add a little bit of veg to the dish.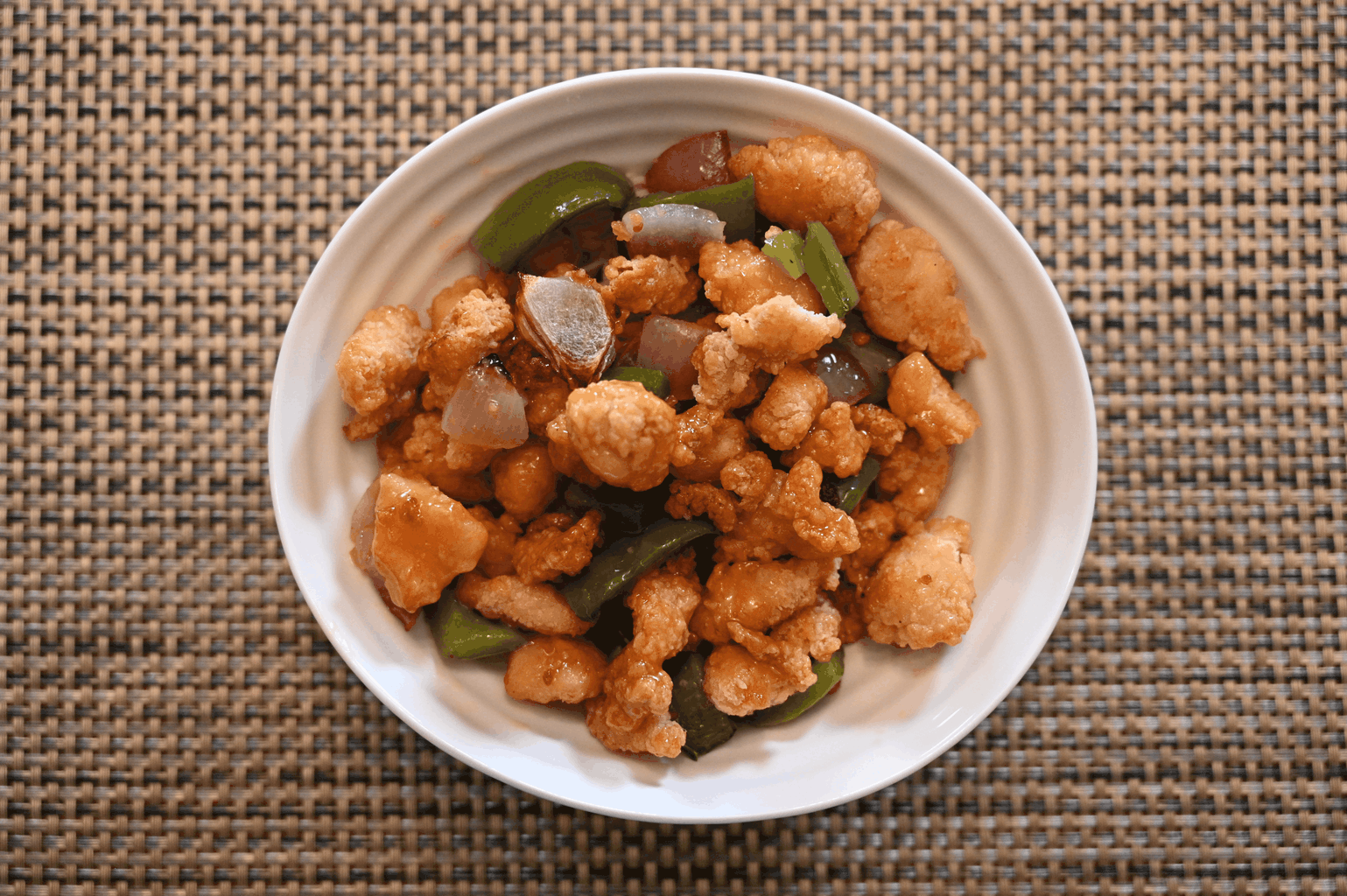 Cost
This 1.5kg box of Orange Chicken cost $14.99 Canadian at Costco. This is enough for two meals for two adults with a bit of leftovers.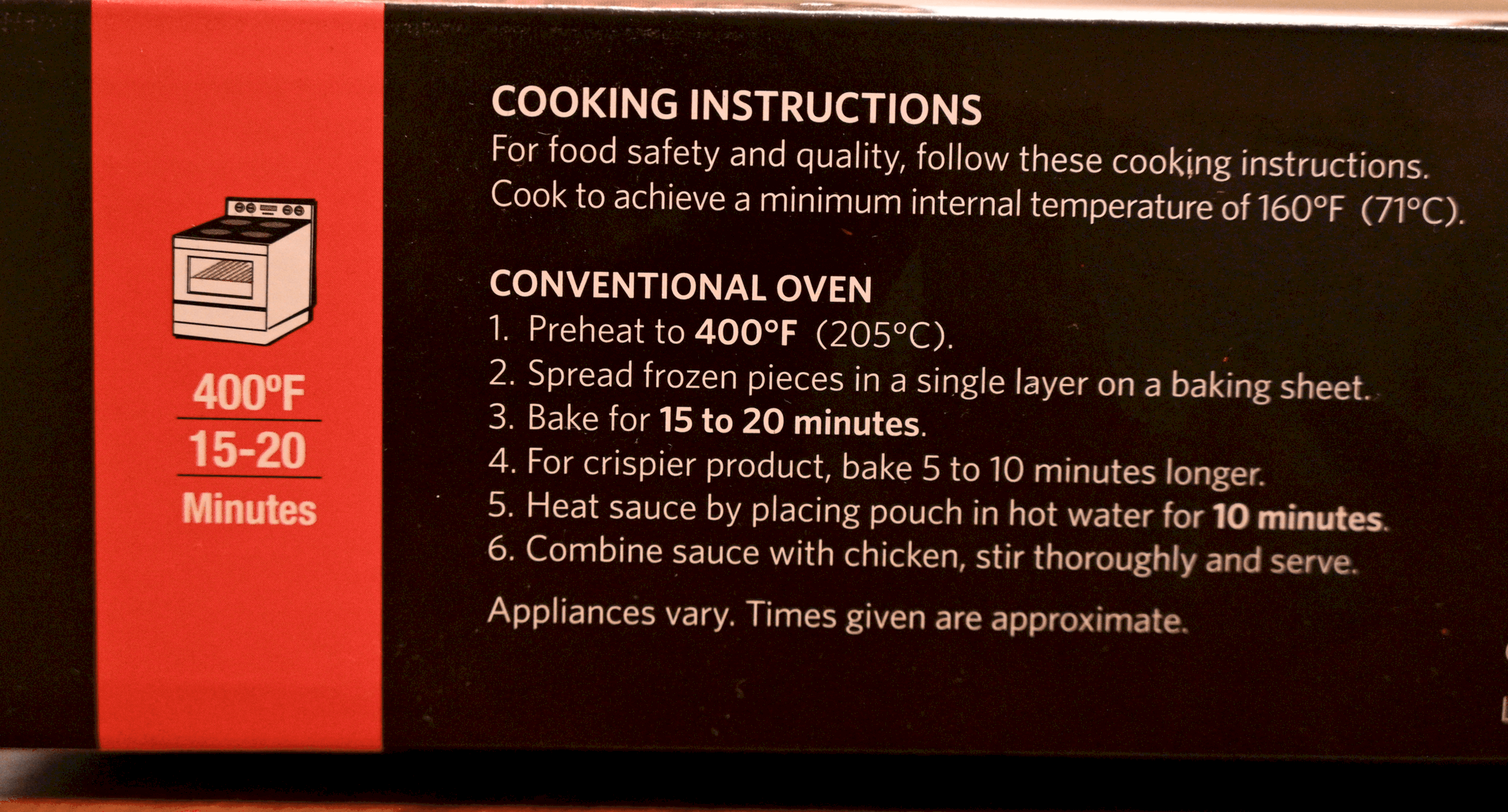 Convenience
To cook this I spread my chicken pieces on a piece of parchment paper-lined cookie sheet and baked for about 35 minutes at 400 degrees Fahrenheit to get the chicken golden brown and crispy how I like it. I definitely think it needs more than the 15-20 minutes in the oven the box says.
In my opinion, kids would absolutely love this! It makes a quick and easy lunch or dinner and you can eat it just as it comes or add some vegetables like I did. I recommend serving this with some rice or noodles!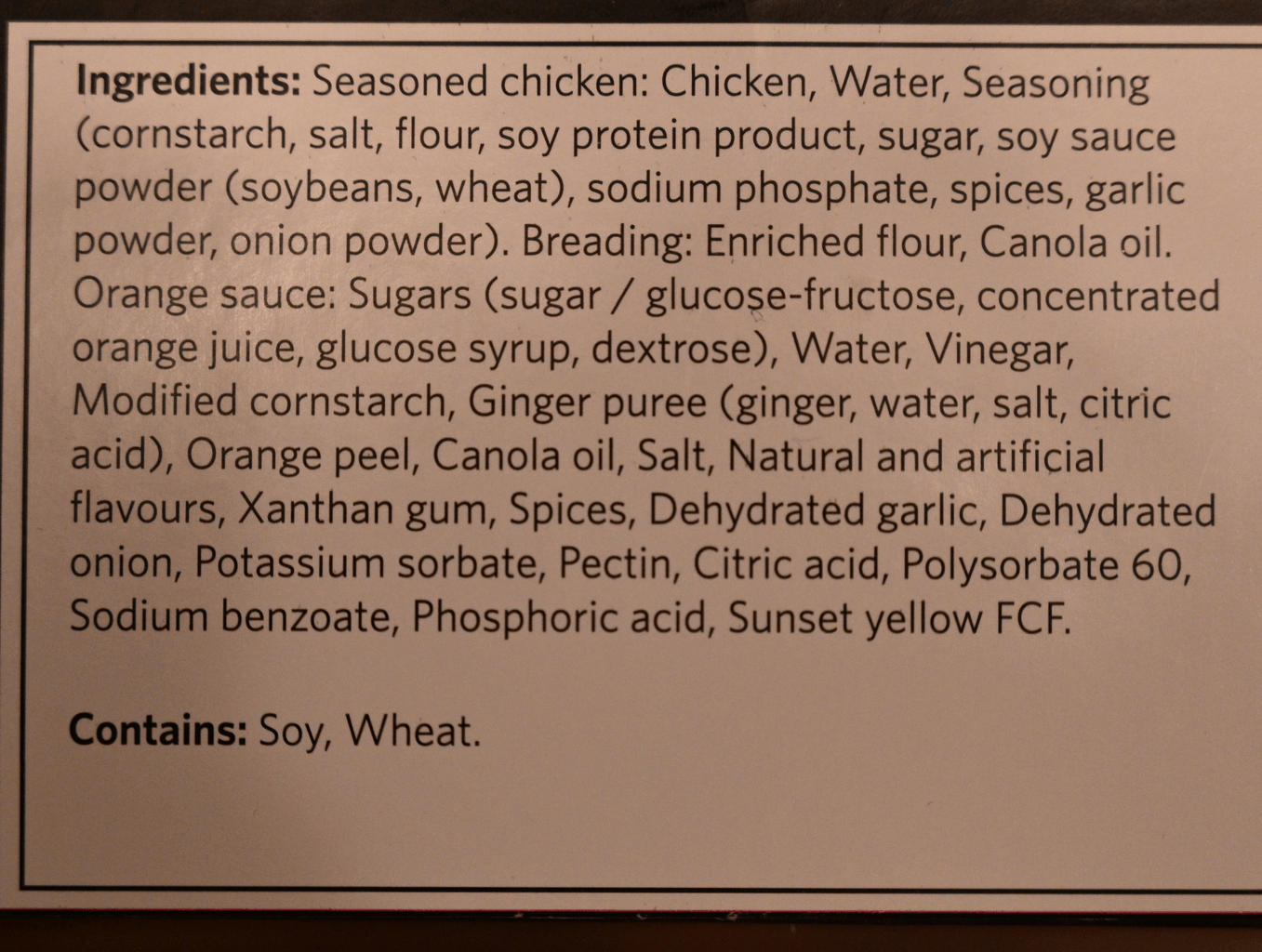 Nutrition
10 pieces is 380 calories, 14 grams of fat, 41 grams of carbohydrates, 22 grams of sugar, zero grams of fibre, 21 grams of protein and 560 mg of sodium. This is definitely not the healthiest meal on the planet. There's a decent amount of protein which I like but I consider this more like a "treat meal". The ingredients list is pretty much as I expected it to be.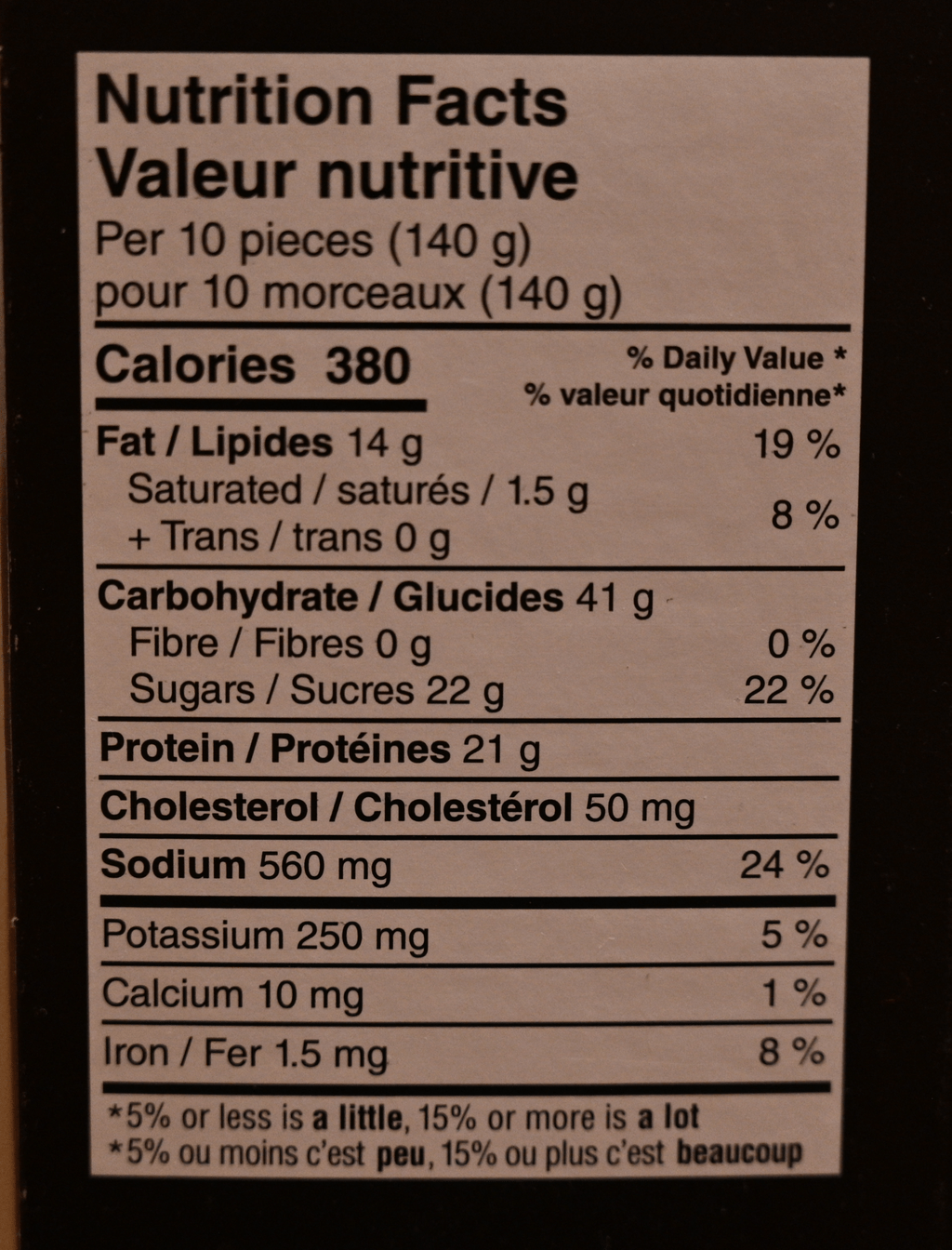 I wish there was more chicken in the Costco Ready Cuisine Orange Chicken. It's convenient and tasty enough, I think kids would really love to try this for lunch or dinner.
Taste: 6.5/10
Cost: 7/10
Convenience: 9/10
Nutrition: 3/10
Leave a comment if this review was helpful and also share what your thoughts are on this product!