Antioxidant rich with a long list of health benefits – Acai berry juice available at Costco!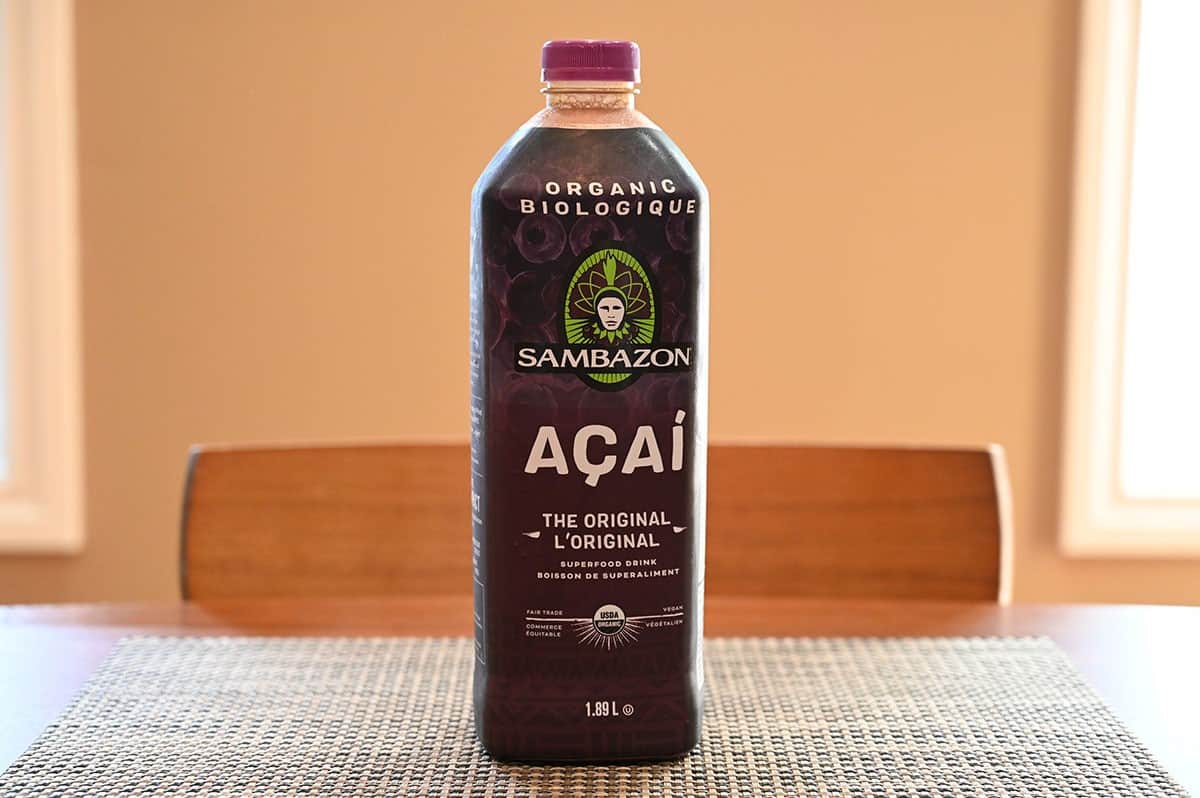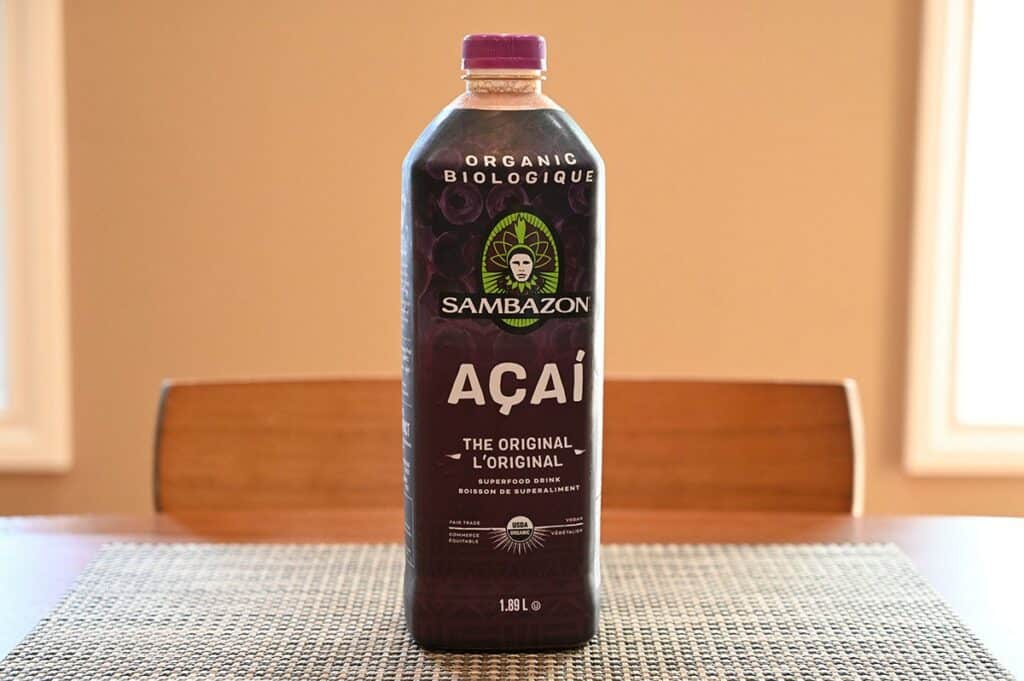 I'm reviewing the Costco Sambazon Acai Superfood Drink today which is a new product at my local Costco and something I'm really excited to try! I've heard a lot about the health benefits associated with acai berries but haven't tried or seen too many products with acai!
I previously reviewed the Costco Dole Acai Bowls that my Costco only carried for a short period of time. Another healthy beverage that Costco currently carries is the Greenhouse Organic Probiotic Lemonade.
You can find the acai juice at Costco in the refrigerated beverage section by the other juices. The item number is 1517744.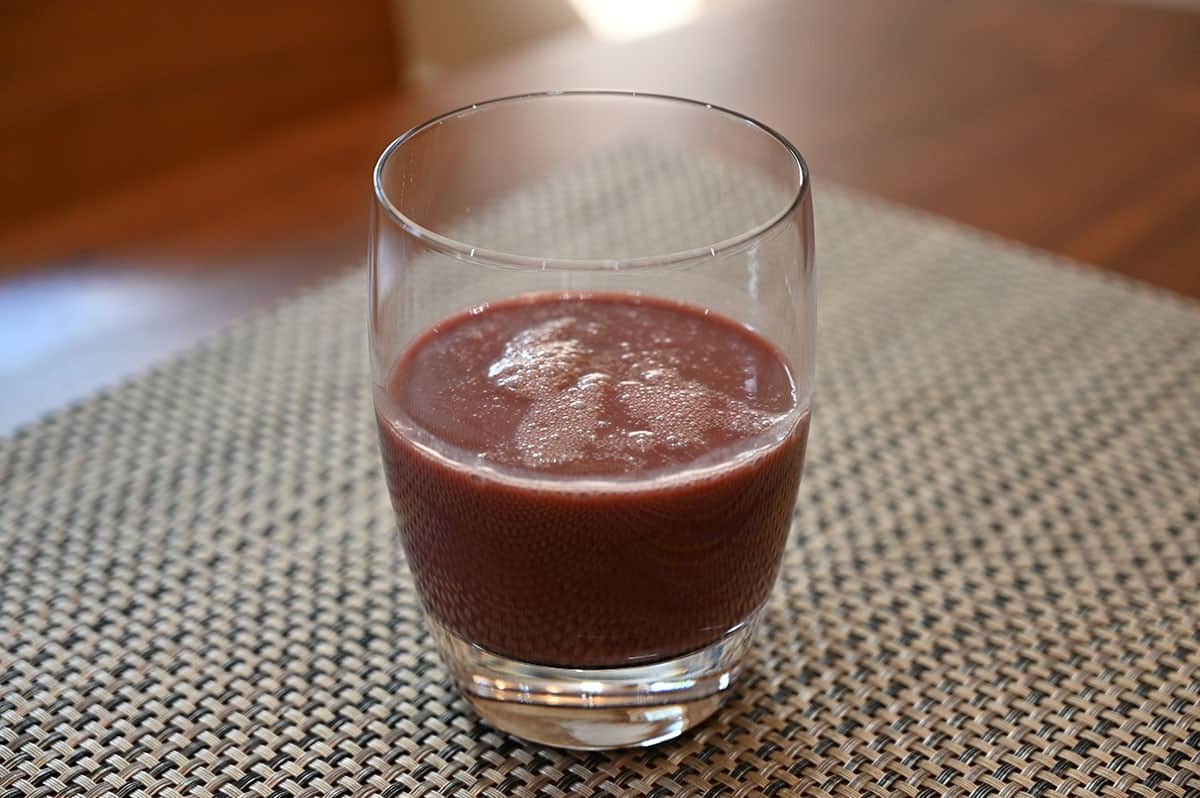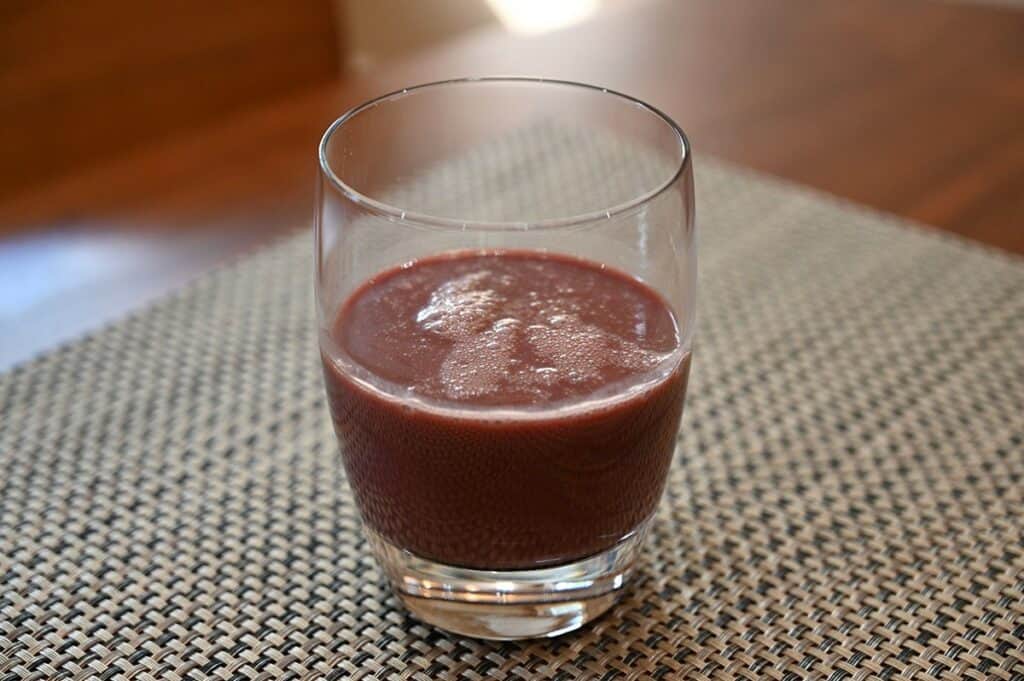 Taste
I was excited to try this acai juice because I've heard about acai being a super food. This Costco acai juice tastes like a sweet, thick berry juice with a strong herbal, earthy flavor.
The flavor is like a berry juice mixed with a herbal tea! The earthiness makes the juice have a tiny bit of flavor reminiscent of dirt but I didn't mind it that much.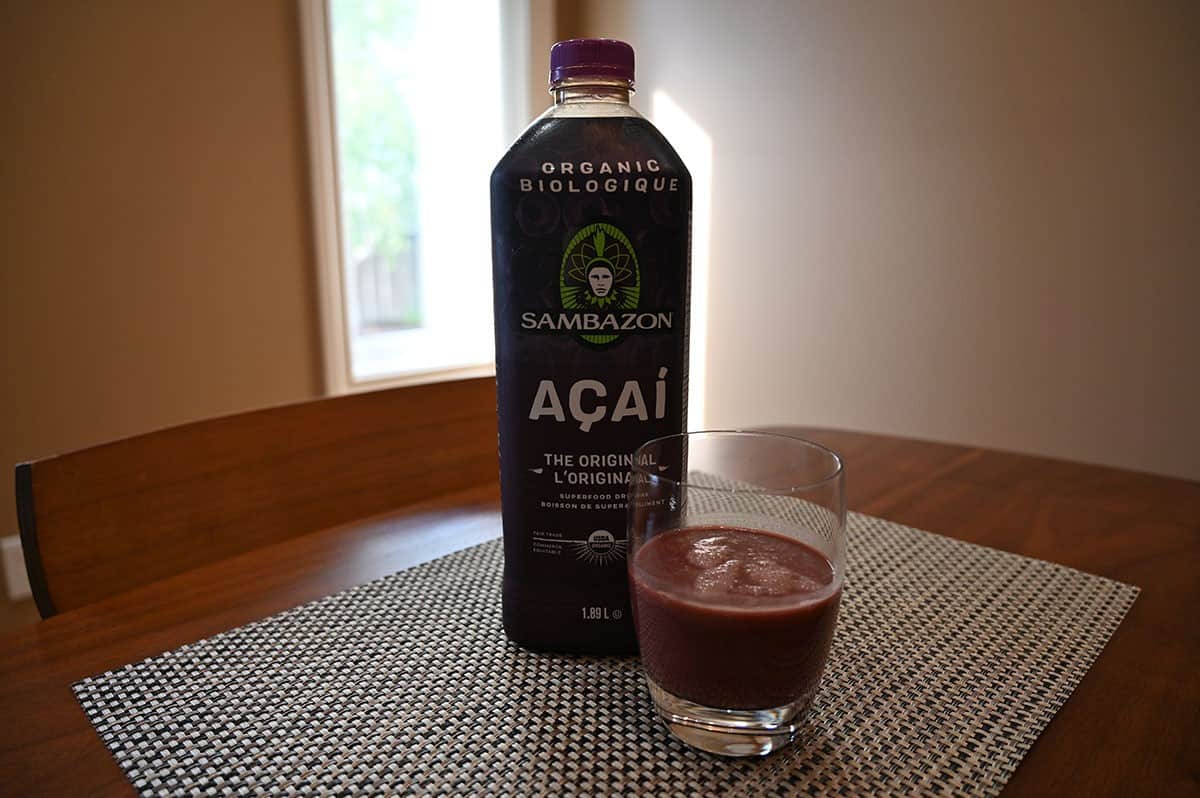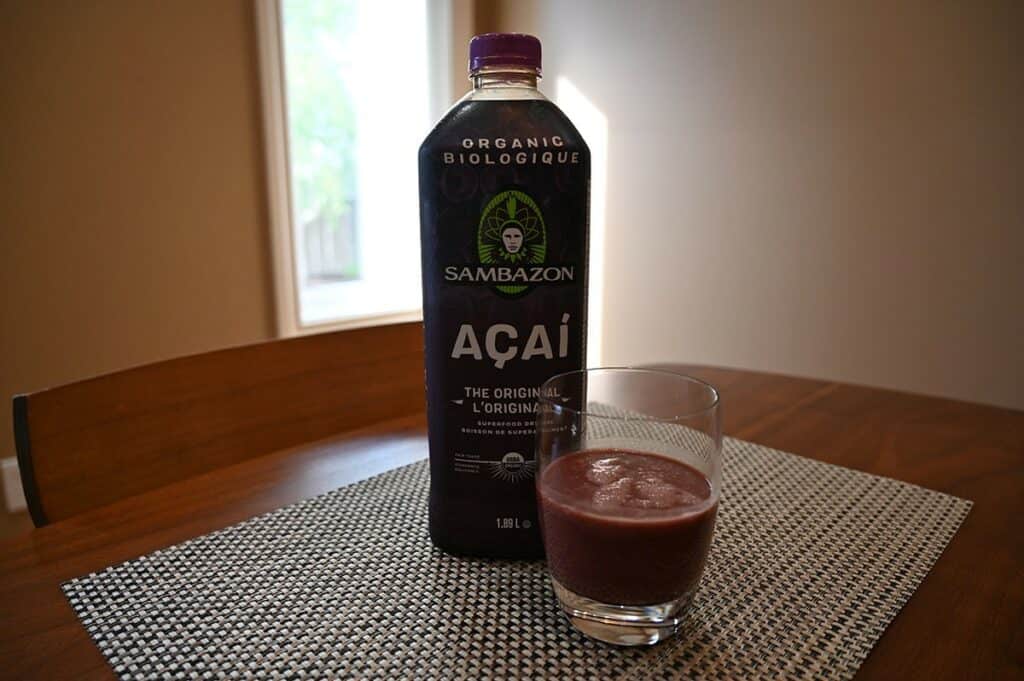 The Costco Sambazon juice is thicker than other juice. It's flavorful with notes of raspberry, pomegranate and blackberry. The acai has a unique and distinct flavor that's different than any other berries I've had.
What surprised me was how sweet this tastes! The Costco Sambazon Acai juice tastes far too sweet to be healthy in my opinion! I might add a little bit to a smoothie with some greens and ice to cut down on the sweetness.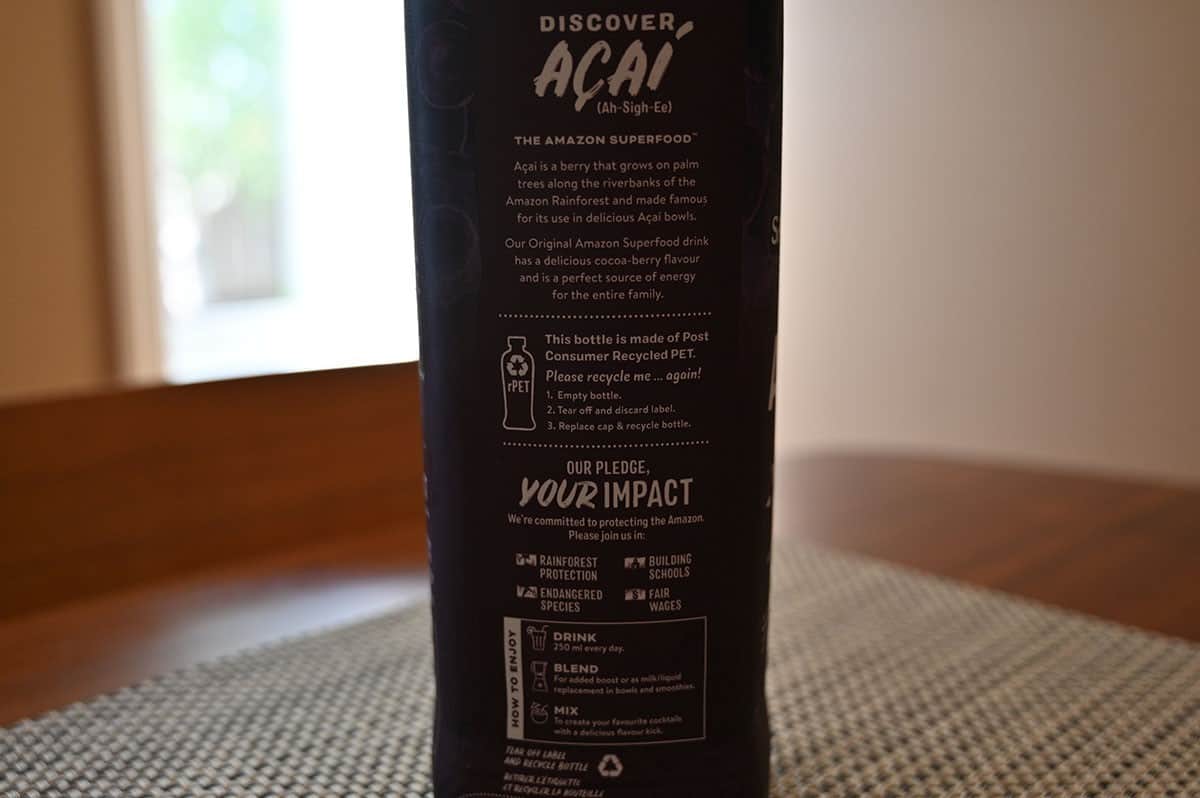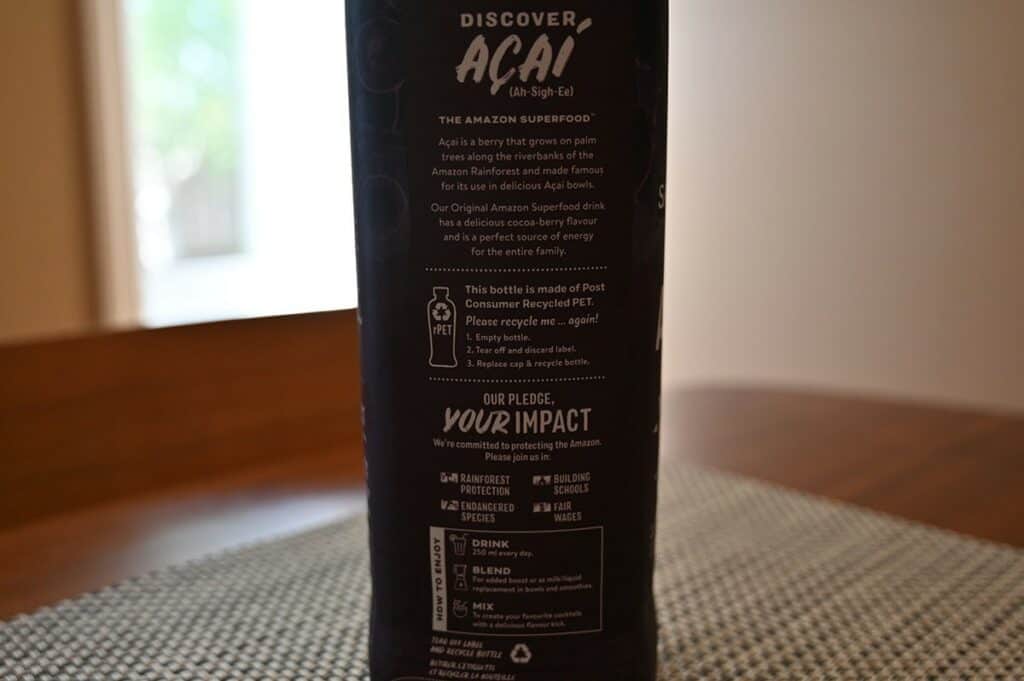 Cost
I paid $7.99 Canadian for the Sambazon juice from Costco, this is two dollars off the regular non-sale price of $9.99 Canadian.
I find that any products that contain acai are usually pretty expensive so $9.99 or $7.99 aren't really that unreasonable for a 1.89 liter container of acai juice.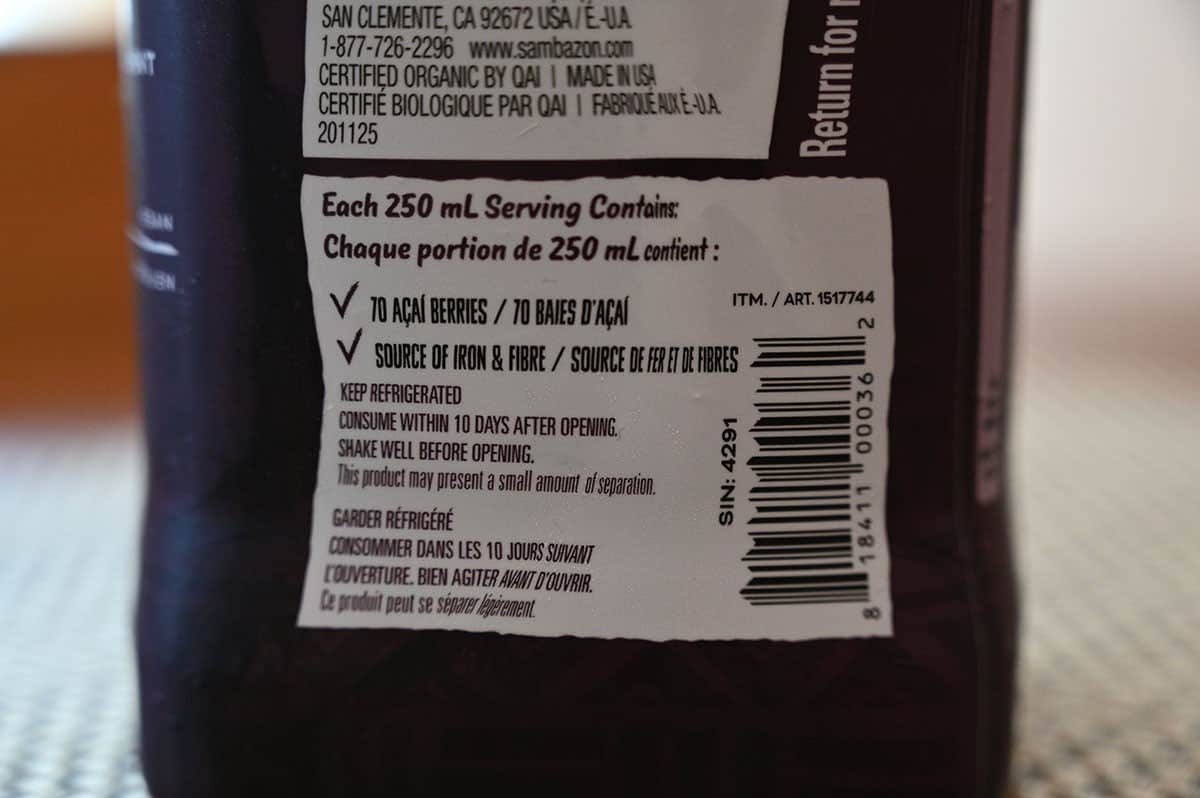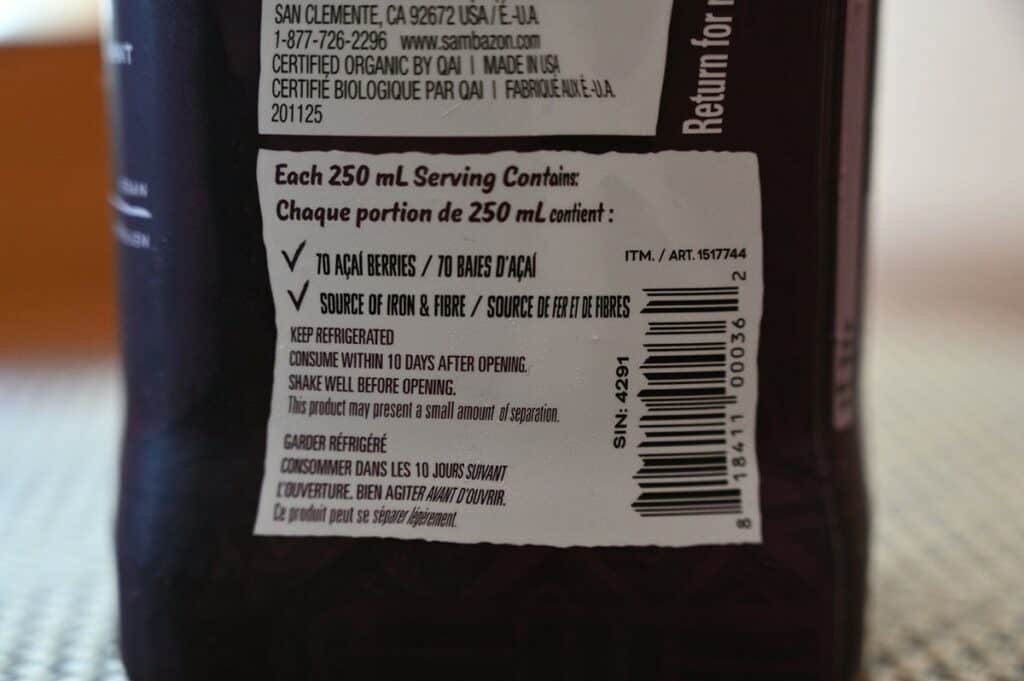 Convenience
The best before date on the acai juice is about three months from the date we purchased it. Although the best before date is quite a while after we purchased it the bottle states that the juice should be consumed within 10 days of opening.
You also need to shake the Costco acai juice well before opening and serving.
You can drink acai juice alone but I recommend adding it to a smoothie because it's quite sweet, thicker than other juice and has a strong flavor!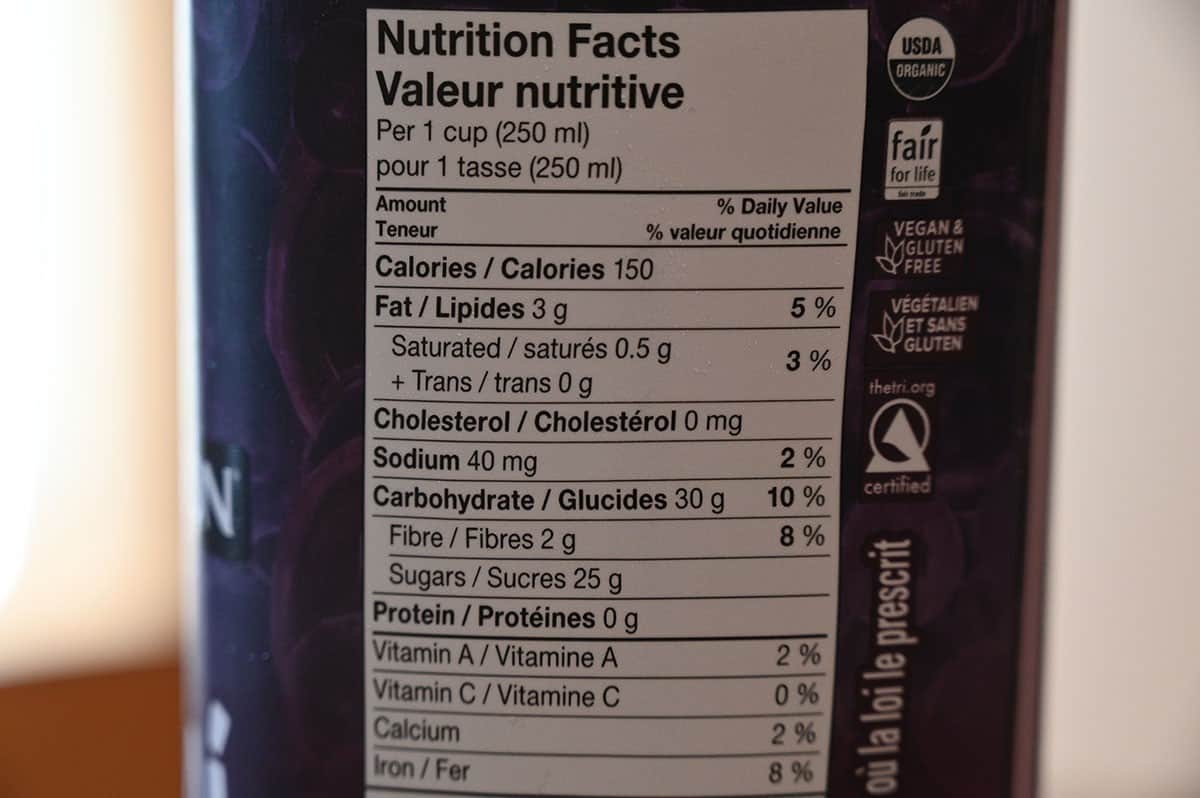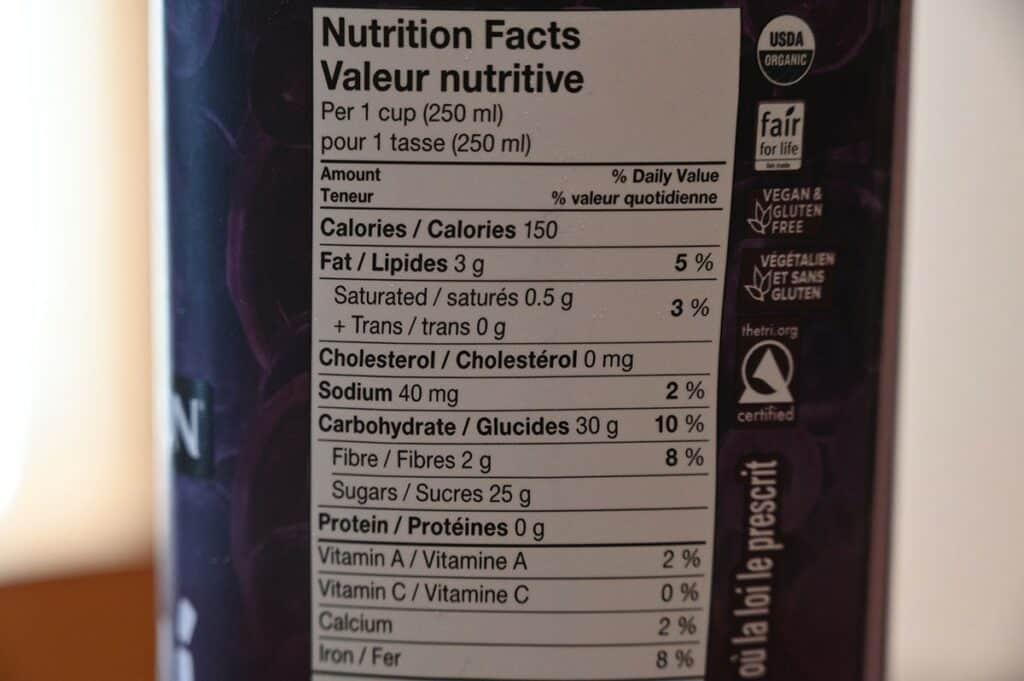 Nutrition
Calories
One cup is 150 calories, three grams of fat, 40 mg of sodium, 30 grams of carbohydrates, two grams of fibre, 25 grams of sugar and zero grams of protein! That's quite a bit of sugar in one cup. I was expecting the high amount of sugar based on how sweet this tasted though.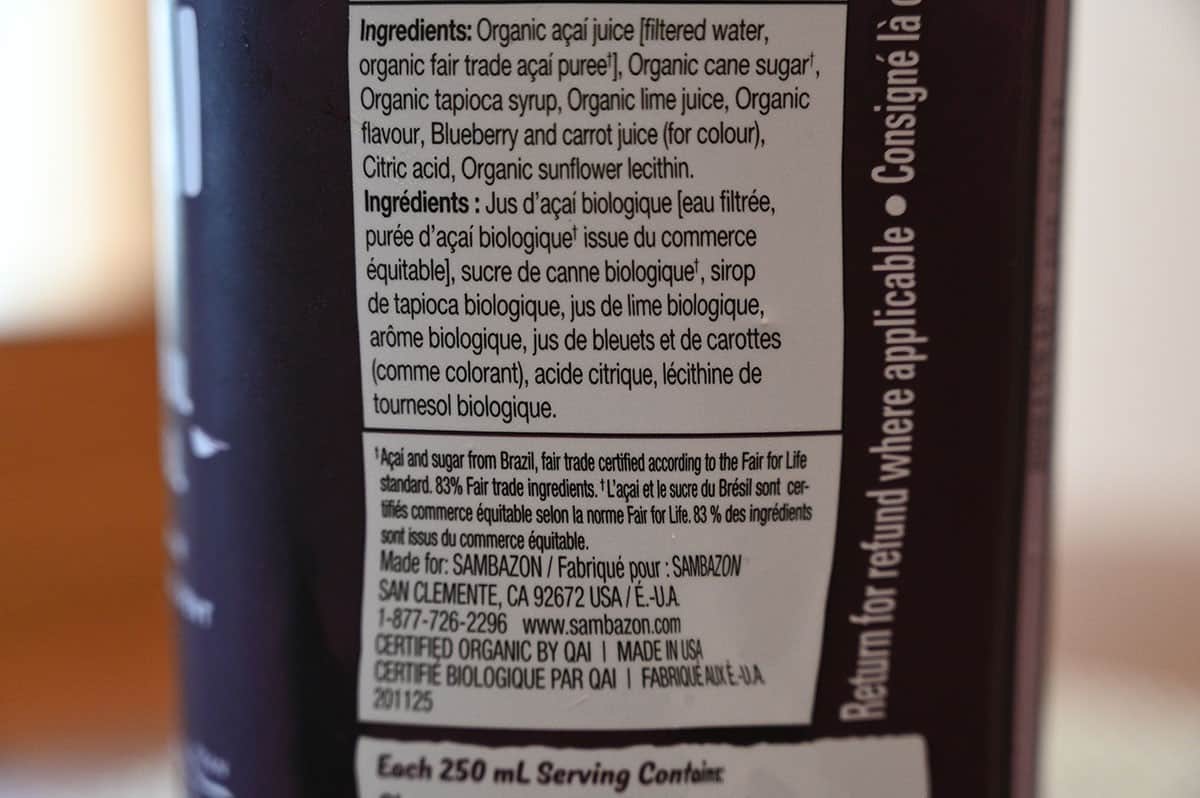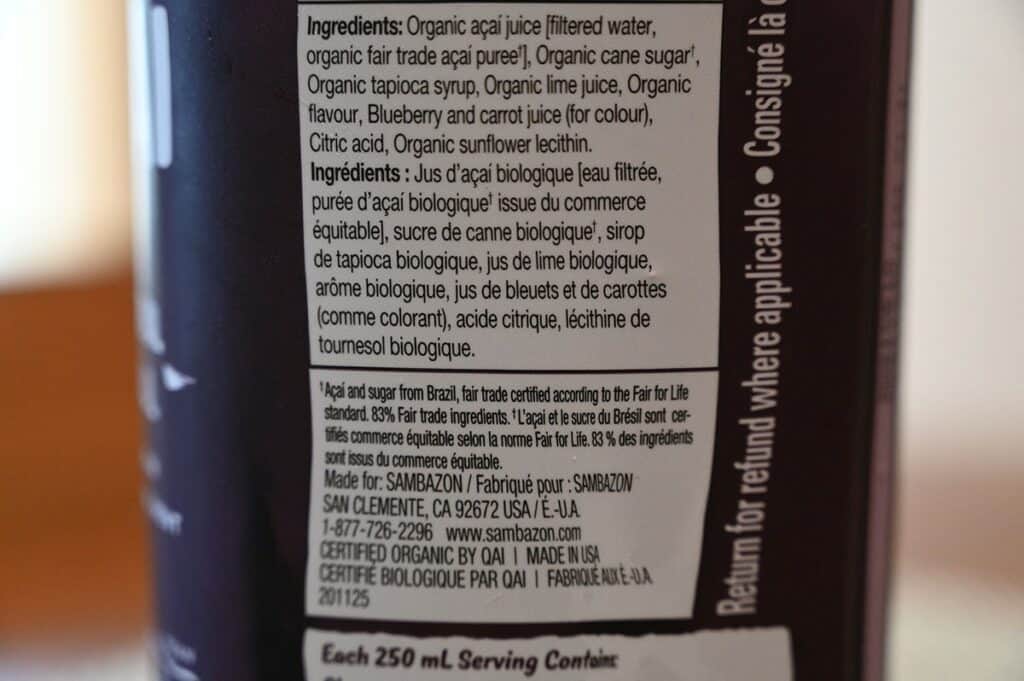 Ingredients
Each cup of Costco Sambazon Acai Superfood beverage has 70 acai berries. This is not just pure acai though and the second ingredient listed is cane sugar! There's also sunflower lecithin and tapioca syrup which seem like pretty strange ingredients to have in a juice.
Health Benefits of Acai
Acai berries are rich in something called anthocyanin which is an antioxidant known to lower oxidative stress and inflammation. It is thought that acai helps protect against conditions like Alzheimer's and Parkinson's and improves memory. Acai is also believed to improve heart health and lower the risk of heart attack.
The antioxidant in acai is also suspected to reduce cancer cell growth and even stop tumor growth and kill off cancer cells! Another widely suggested impact antioxidants have are promoting skin health and anti aging.
Honestly, I think that I'd rather just eat fresh blueberries or blackberries if I want some antioxidants in my diet. Acai is hard to find and other berries that are easily accessible and cheaper have the same health benefits.
Scoring
Taste: 7/10
Cost: 7.5/10
Convenience: 10/10
Nutrition: 3.5/10
Overall
Give it a try!
If you know that you really like unique the flavor of acai and want it in a juice form as a treat, definitely try this! In my opinion it's no different than any other juice and actually has added sugar so really the health benefits of the acai are minimized by the additional ingredients in the juice!
Have you tried this? What did you think?
---
Please note that this review was not paid for or sponsored by any third party. This product was purchased by Costcuisine for the purpose of producing this review. The opinions in this review are strictly those of Costcuisine. Costcuisine is not affiliated with Costco or any of its suppliers. In the event that Costcuisine receives compensation for a post from the manufacturer of a product or some other third party, the arrangement will be clearly disclosed (including where the manufacturer of a product provides Costcuisine with a free sample of the product).