Tropical, exotic, versatile and delicious Vonbee puree from Costco – a passion fruit lover's dream!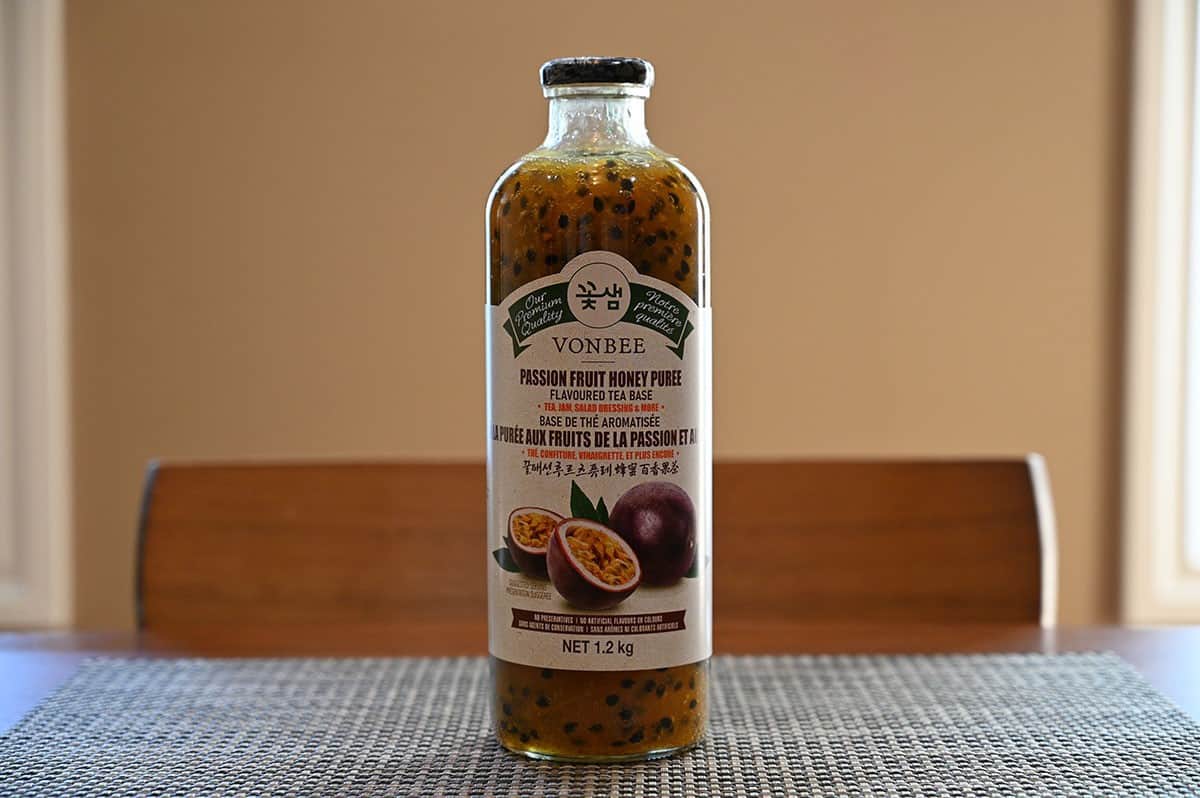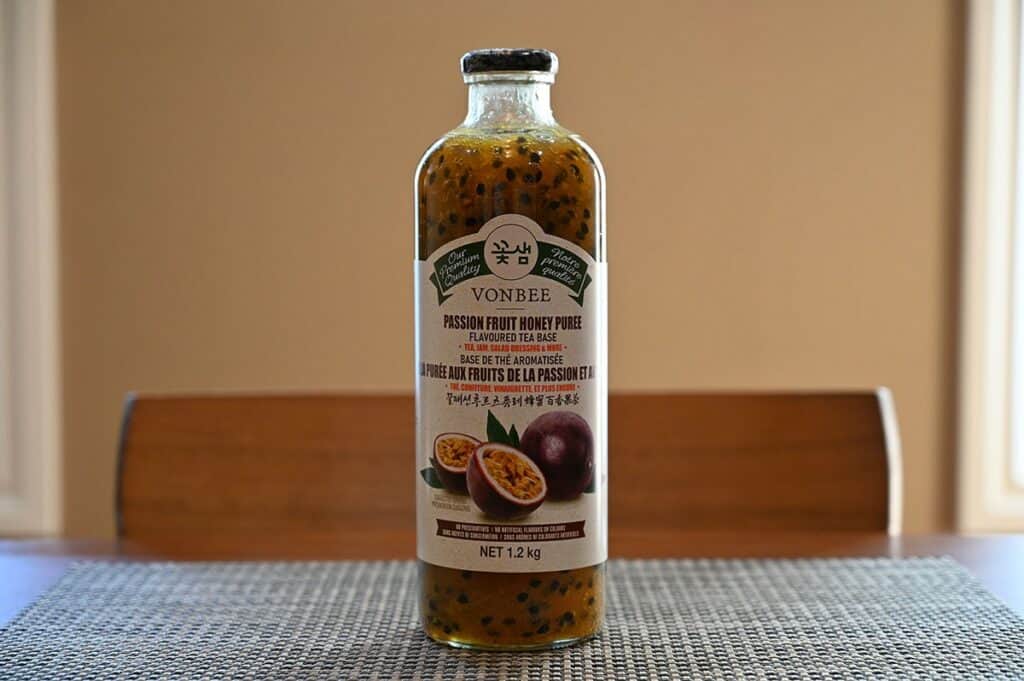 Costco started carrying this Vonbee Passion Fruit Honey Puree recently and I am so excited to be reviewing it here today!
I absolutely love passion fruit, I fell in love with it a few years ago when we went to Hawaii for our honeymoon. While in Maui and stopped at a place for breakfast, they offered yogurt with granola and "lilikoi puree" (lilikoi is another name for passion fruit) and it was the absolute best tasting yogurt bowl I've ever had!
See a YouTube video review for the Vonbee Honey, Apple & Cinnamon Tea Base here and a written review here. Costco also has a Vonbee Honey, Citron & Ginger Tea Base that's extremely popular!
Location in Store
You can find the passion fruit honey puree at Costco in the aisle with the jams and syrup. The item number is 1497484.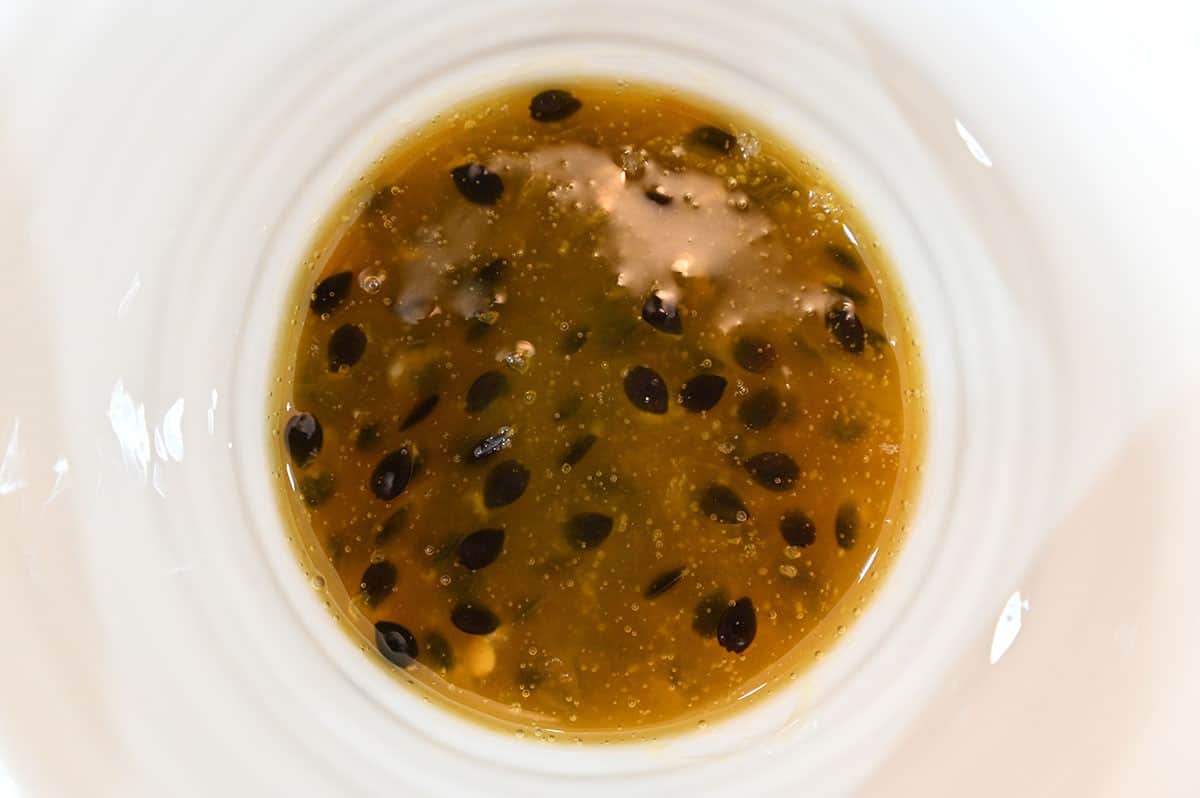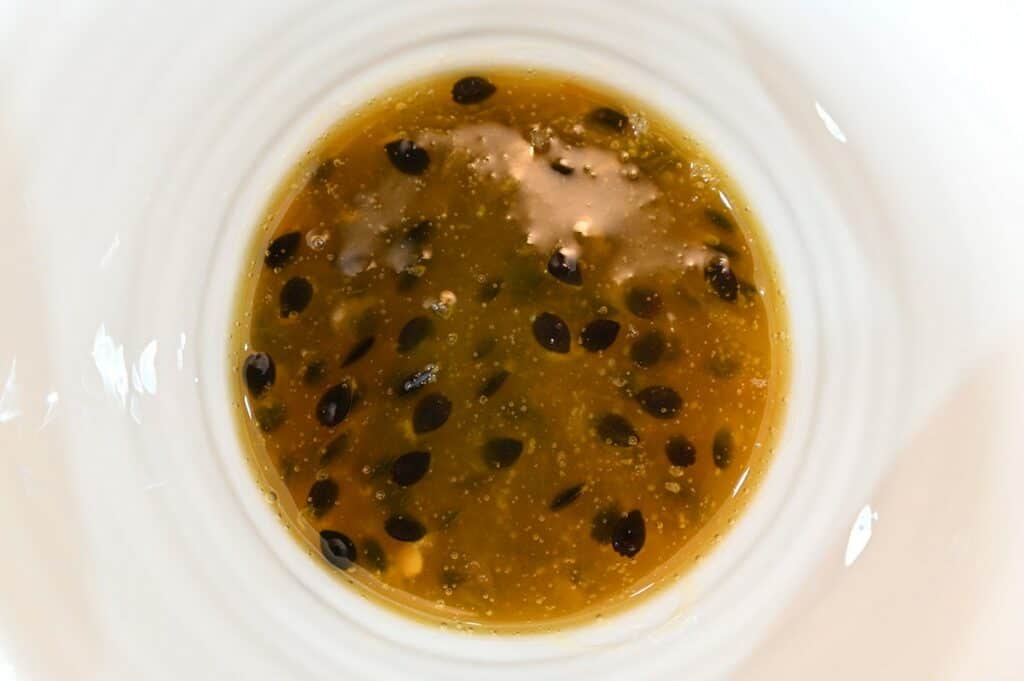 Taste
I'm truly in love with this Vonbee puree. It brings me right back to the time I was in Hawaii. You can really taste the exotic, tropical flavor of the passion fruit! The passion fruit is real-deal authentic tasting and not at all artificial.
If you've never tried passion fruit the flavor is sweet with a hint of citrusy tartness. It's a very unique and distinct flavor.
The honey in this adds a little sweetness to the passion fruit and also cuts the tartness that you usually taste when eating passion fruit. I wouldn't say this is too sweet and it's extremely flavorful, a little goes a long way. I've decided my favorite way to enjoy this is to add it to plain yogurt.
There's seeds in the puree which my husband didn't love but I actually liked the additional crunchy bites. It's also a sign that there is real passion fruit preserves in the puree!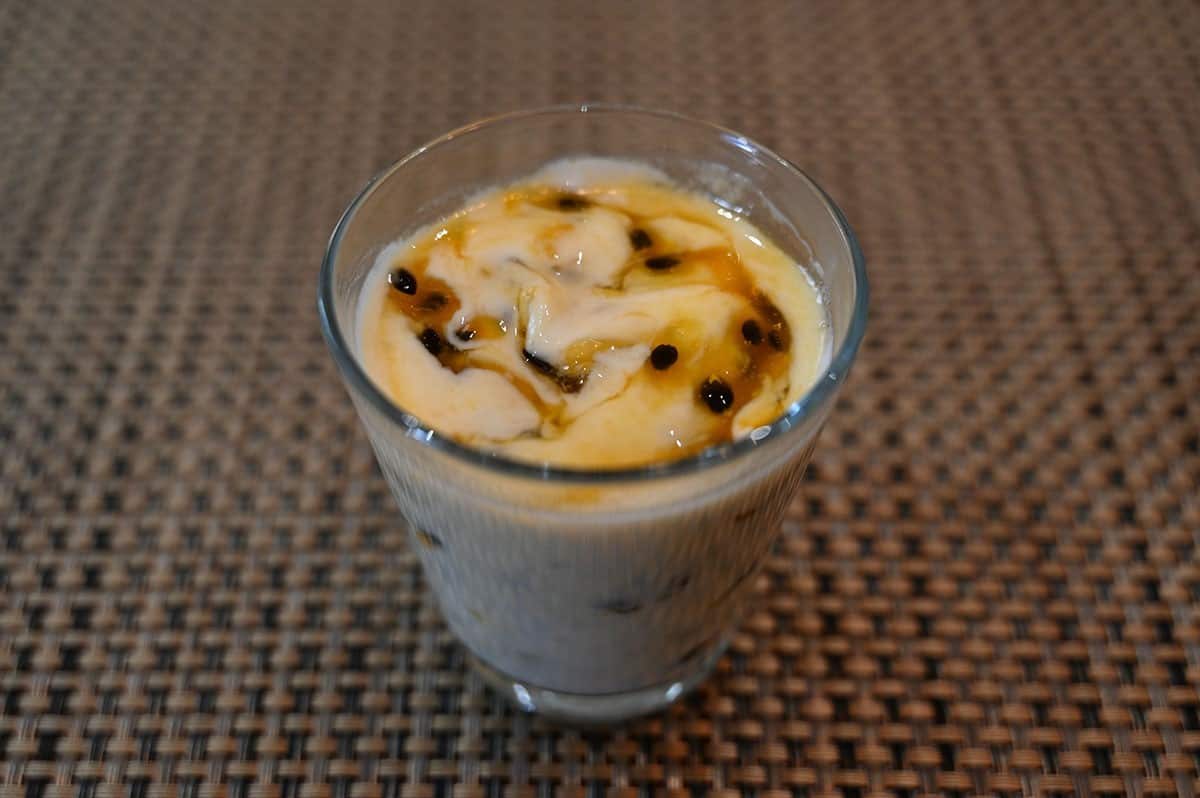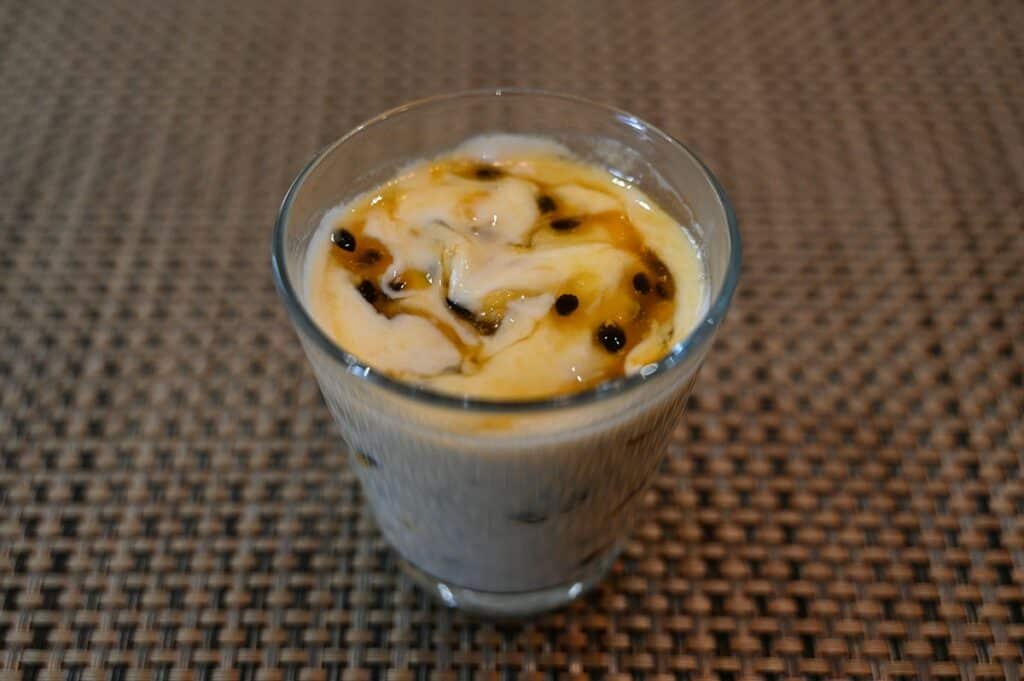 Cost
I paid $9.99 Canadian for the 1.2 kg jar of passion fruit honey puree which is really reasonable considering the size and how delicious this is.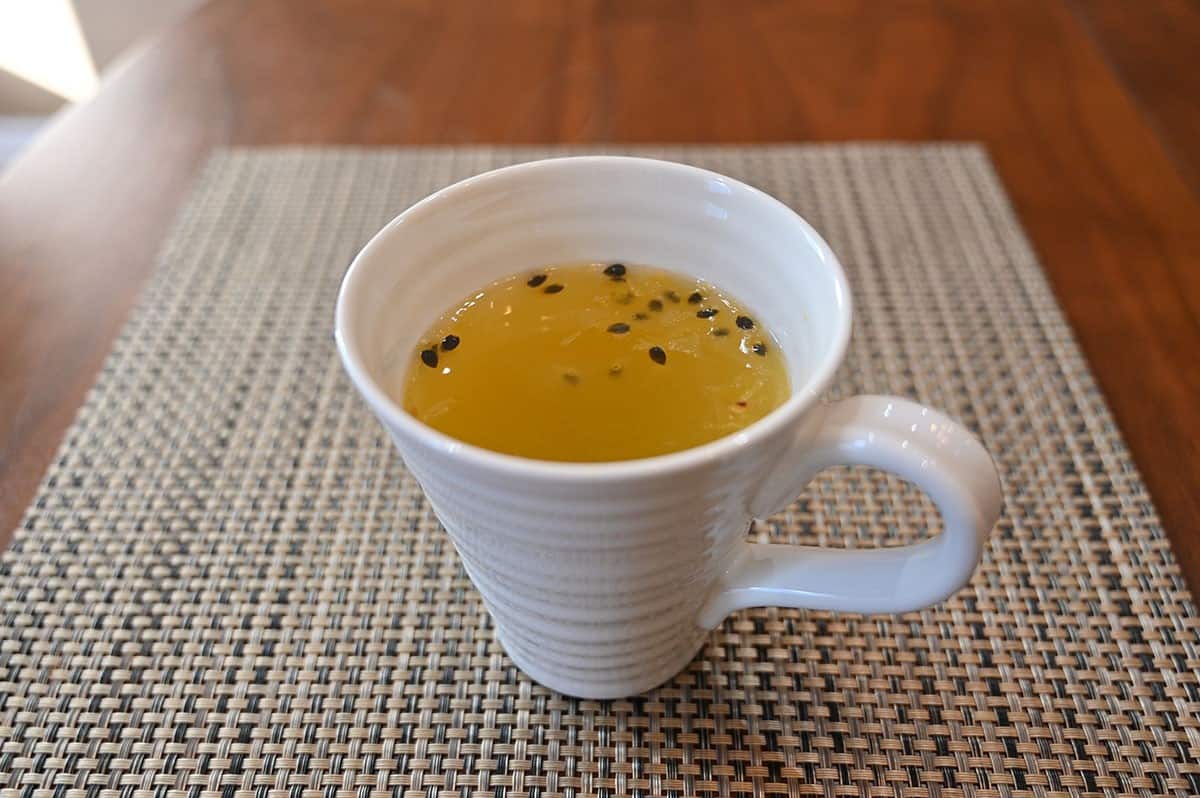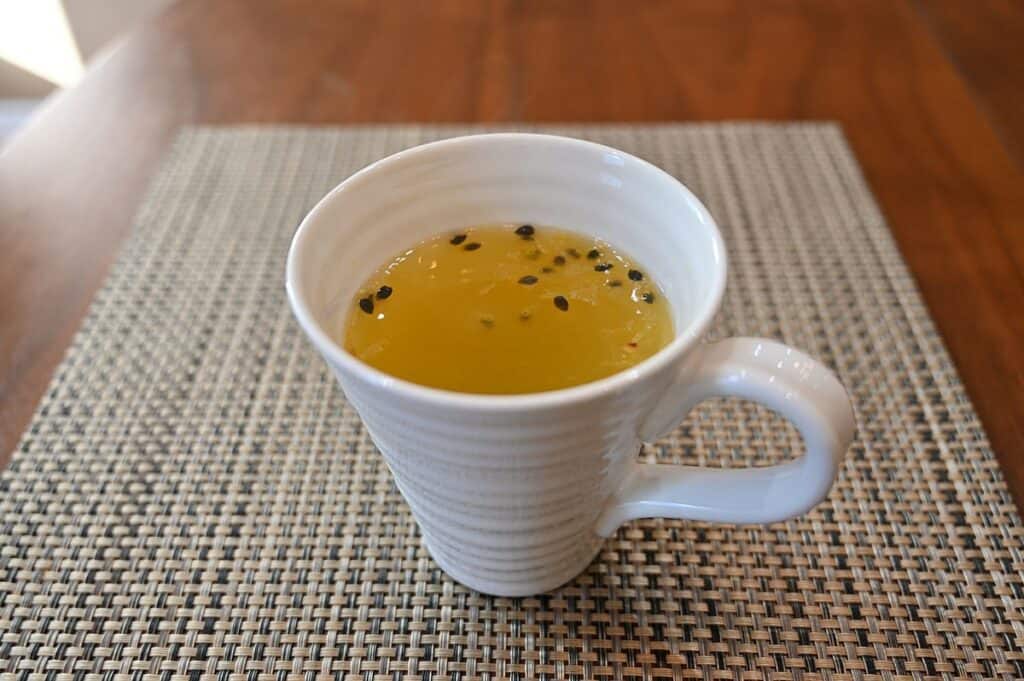 Convenience
On my bottle of puree the best before date is about 22 months from the date I purchased it. The bottle states the puree should be refrigerated after opening.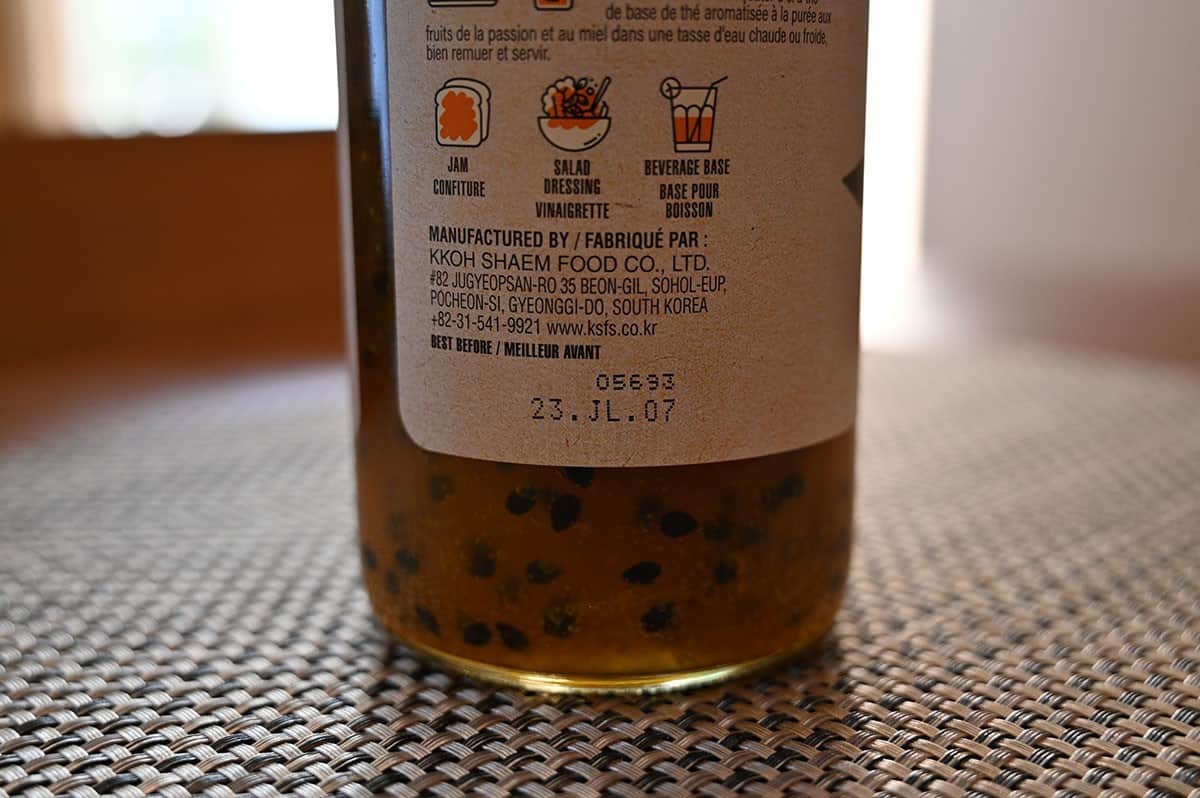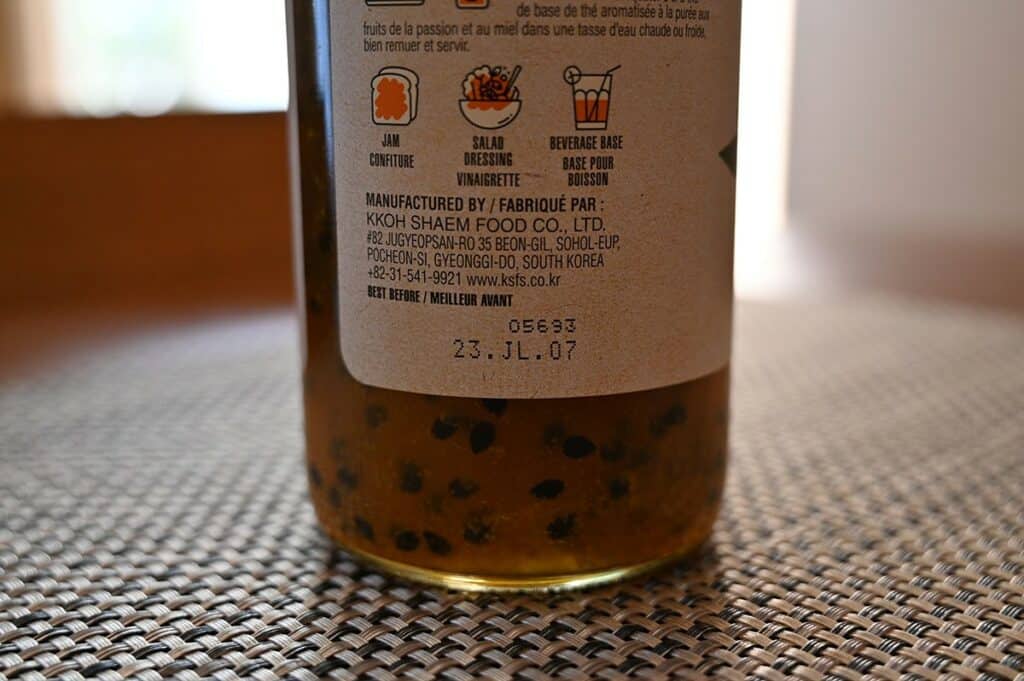 It's suggested to use this as a beverage base, jam or salad dressing. This tastes amazing with plain yogurt and a bit of granola.
As a tea and it was delicious and I would also happily use it on vanilla ice cream or drizzled on top of a piece of plain cheesecake! I think you could also use it to make some interesting marinades and sauces, a tropical pork might be good!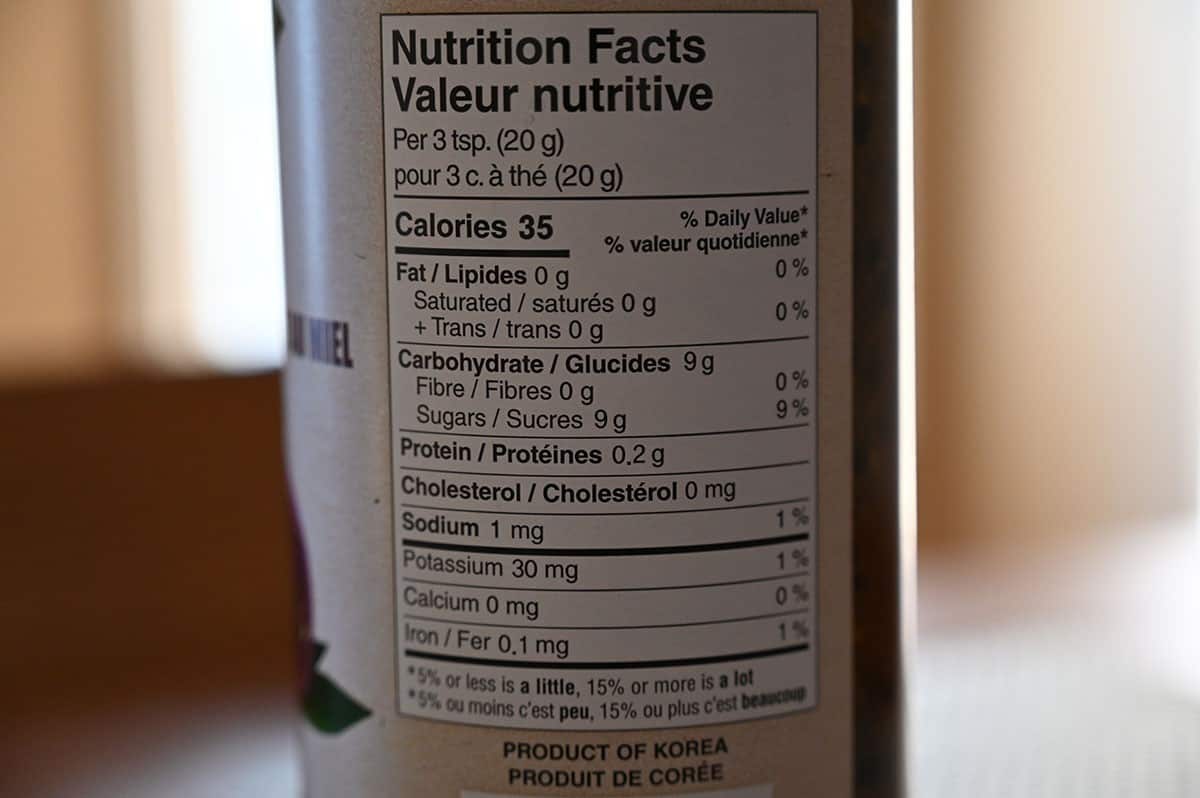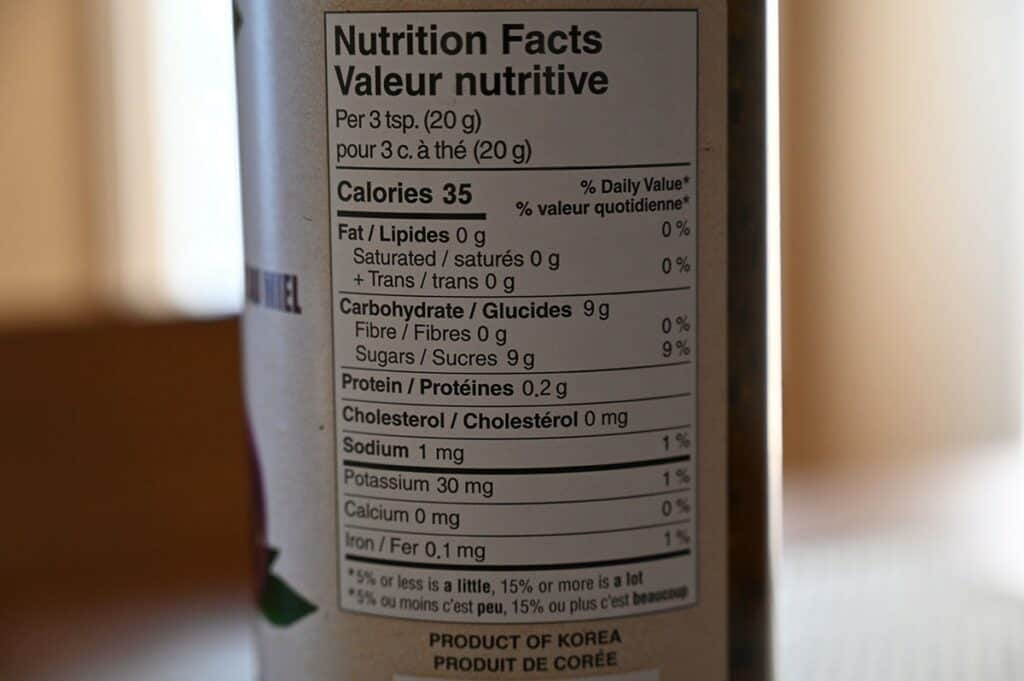 Nutrition
Three teaspoons is 35 calories, zero grams of fat, nine grams of carbohydrates, nine grams of sugar, zero point two grams of protein and one milligram of sodium. The puree is a little high in sugar but because it's so full of flavor you really don't need all that much.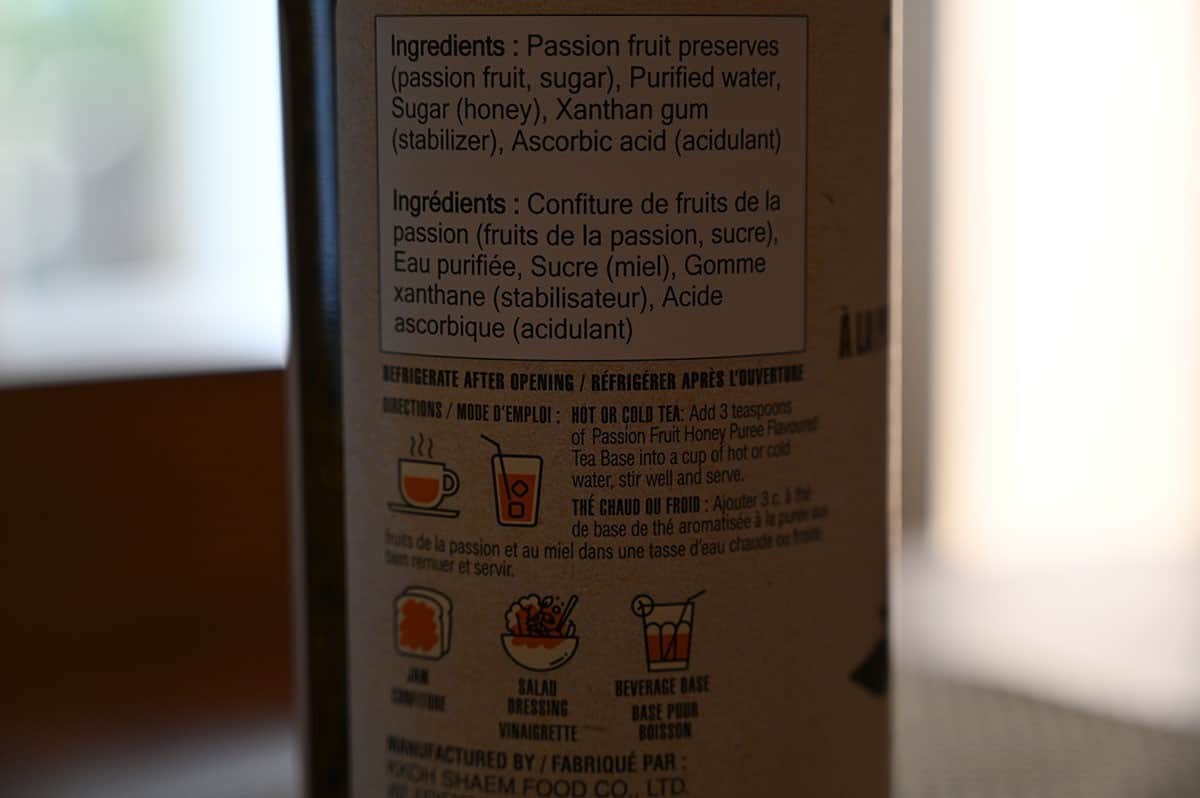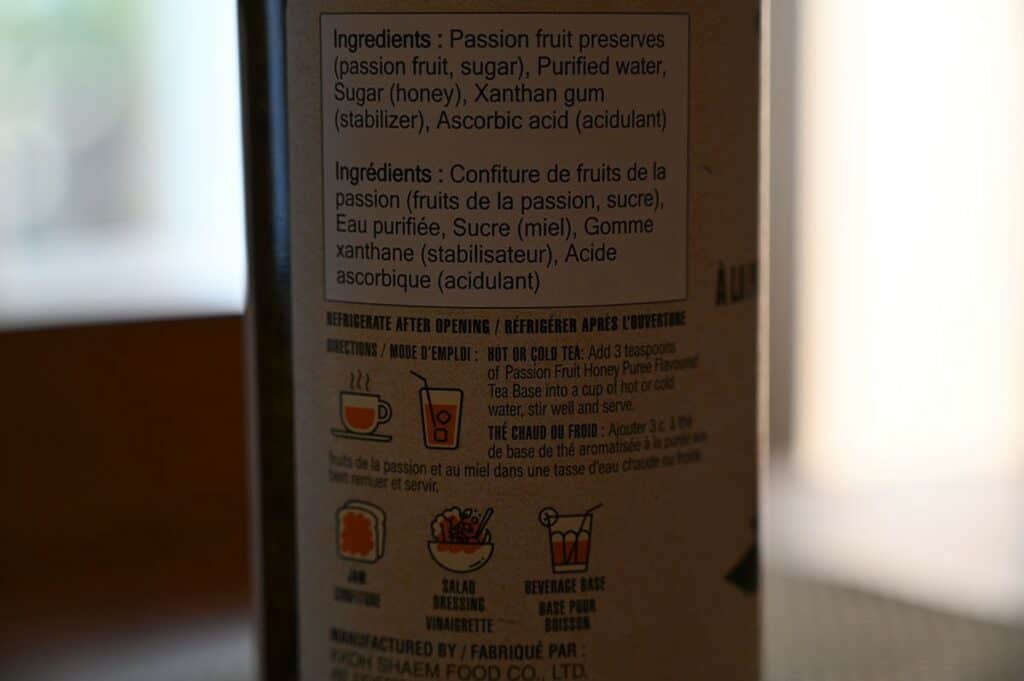 The ingredients list is short and sweet with passion fruit being the first ingredient along with honey and water. There's no weird, unnecessary chemicals which I appreciate.
Scoring
Taste: 9.5/10
Cost: 9/10
Convenience: 10/10
Nutrition: 1/10
Overall
Must buy!
I love how tropical, fruity, sweet and unique this tastes! It's so good I could eat it by the spoonful just by itself.
Have you tried that? If so, what's your favorite way to use this product?
---
Please note that this review was not paid for or sponsored by any third party. This product was purchased by Costcuisine for the purpose of producing this review. The opinions in this review are strictly those of Costcuisine. Costcuisine is not affiliated with Costco or any of its suppliers. In the event that Costcuisine receives compensation for a post from the manufacturer of a product or some other third party, the arrangement will be clearly disclosed (including where the manufacturer of a product provides Costcuisine with a free sample of the product).