This Costco buffalo cauliflower is vegan, dairy-free, gluten-free, crispy and full of flavor!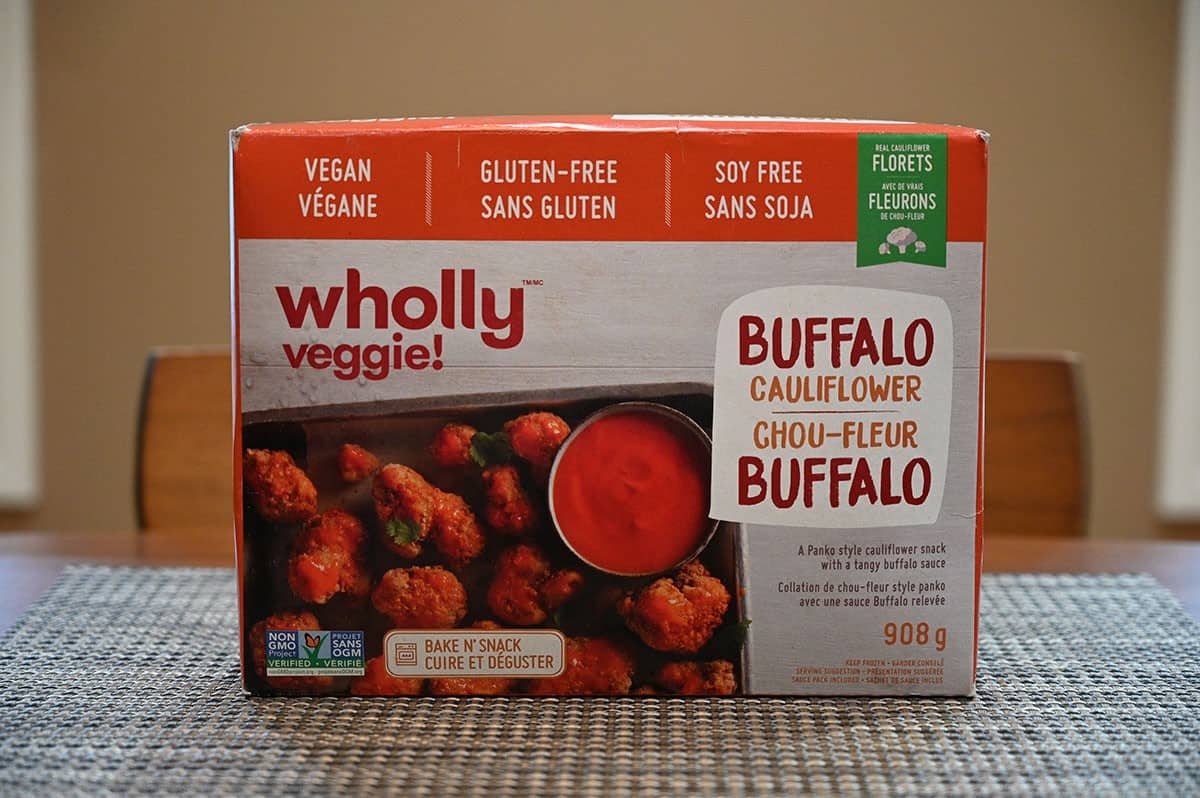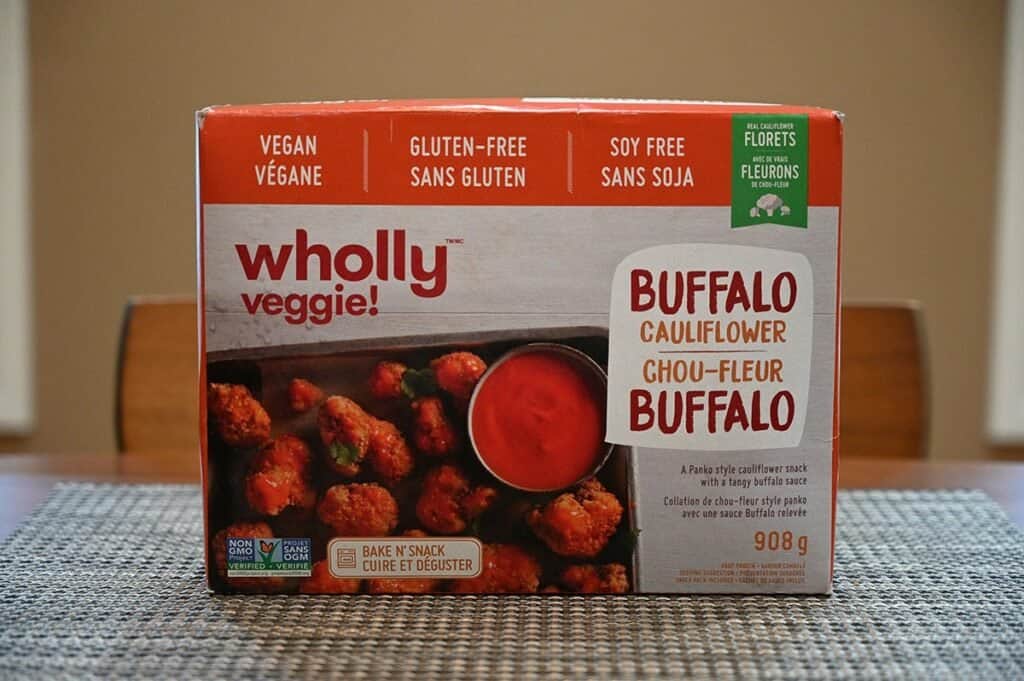 Today I'm reviewing this frozen Costco Wholly Veggie Buffalo Cauliflower! This is soy-free, gluten-free and vegan.
Last week I reviewed the Eat Smart Buffalo Cauliflower. I also reviewed a similar item the Chef Jin's Kitchen Crispy Tempura Cauliflower.
Location in Store
You can find this buffalo cauliflower in the freezer section near the other frozen appetizers. The item number is 1474229.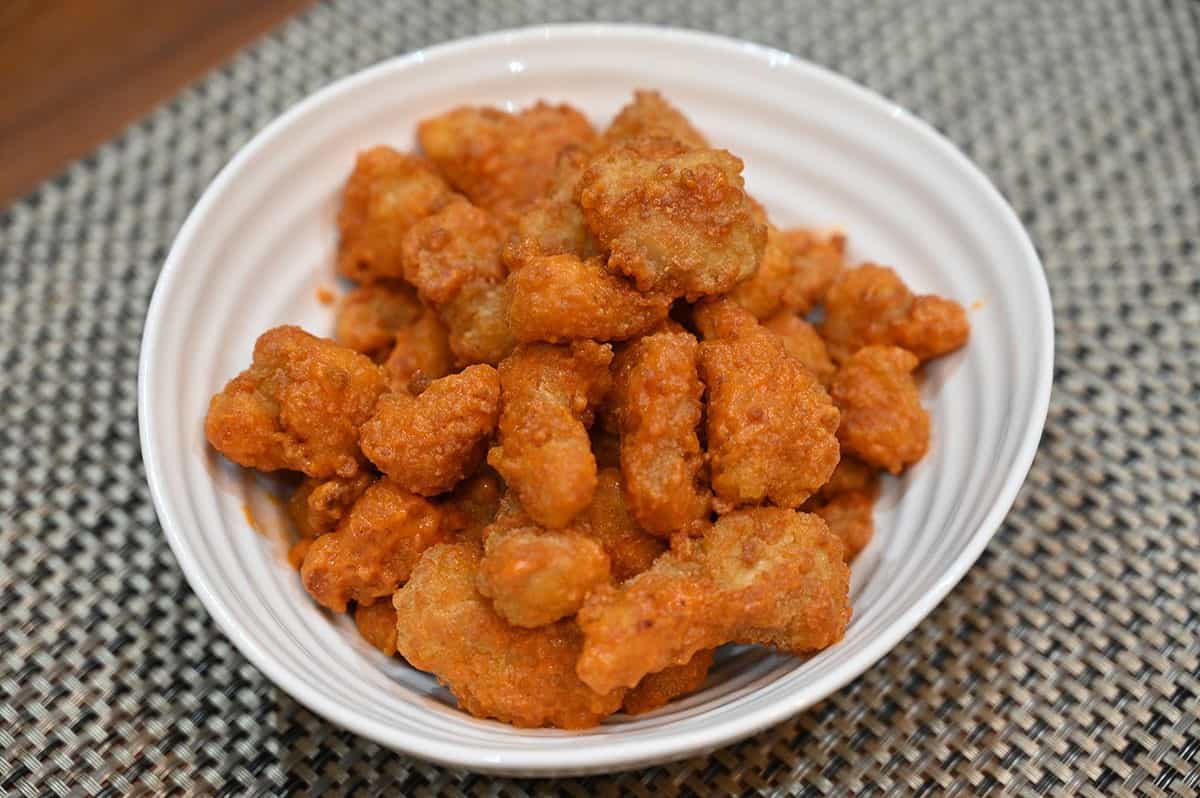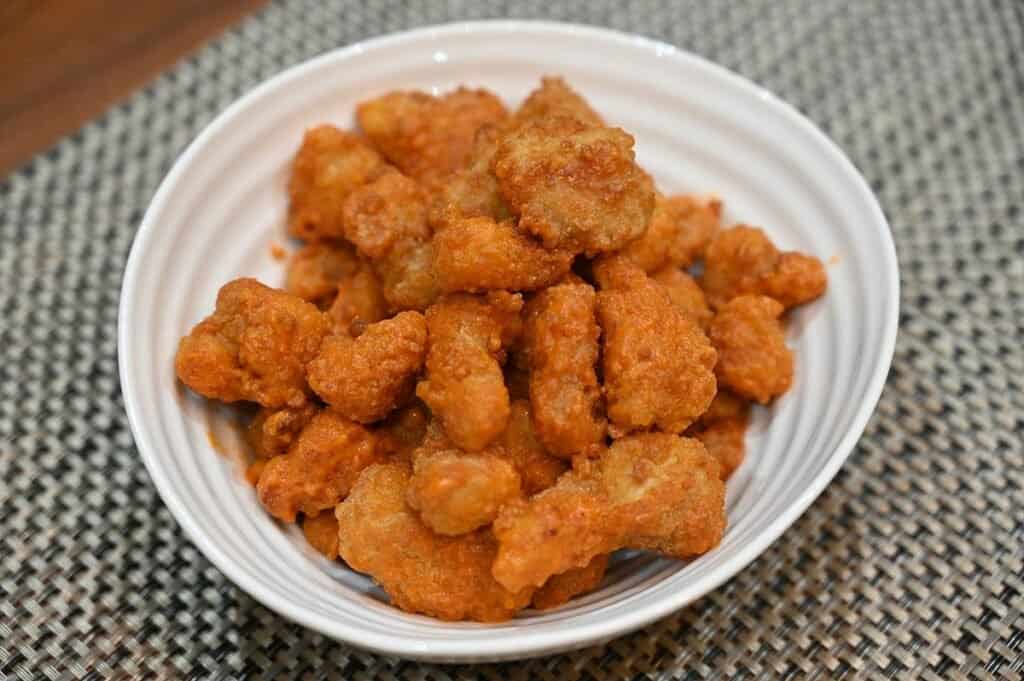 Taste
Firstly, I baked these in my oven and love how golden brown and crispy the cauliflower are. The Eat Smart Buffalo Cauliflower I tried last week did not become very crispy at all in the oven so I thought the Wholly Veggie cauliflower would be similar but it's much crispier!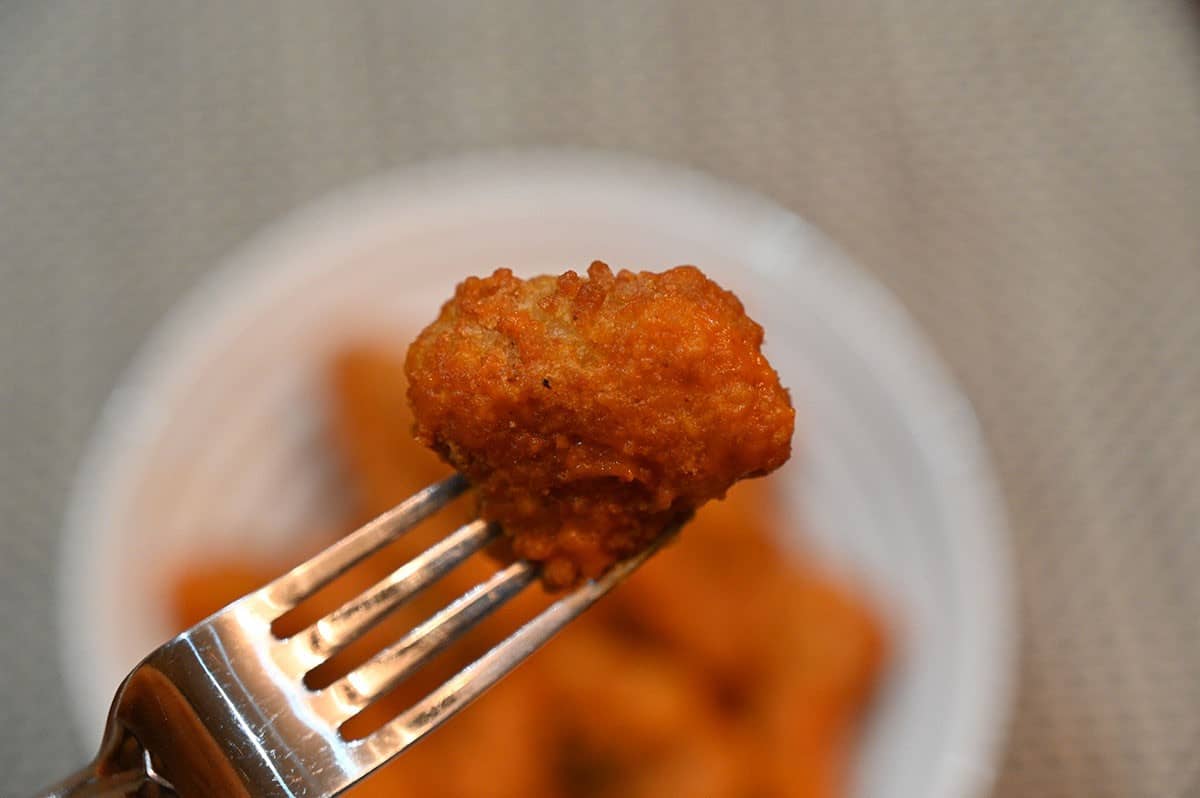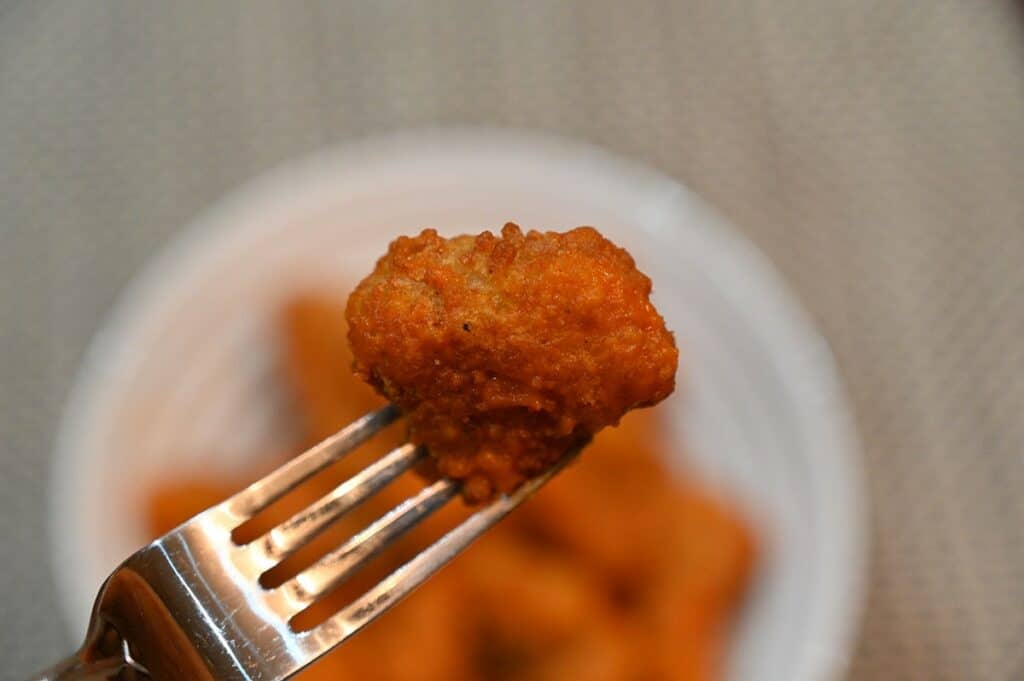 The buffalo sauce that comes with this isn't very spicy. Usually I'm not a fan of buffalo sauce because I really don't like any kind of hot sauce but I found this quite mild and actually enjoyed it.
There's not a ton of sauce in one packet so the cauliflower is only just lightly coated in the sauce after mixing it.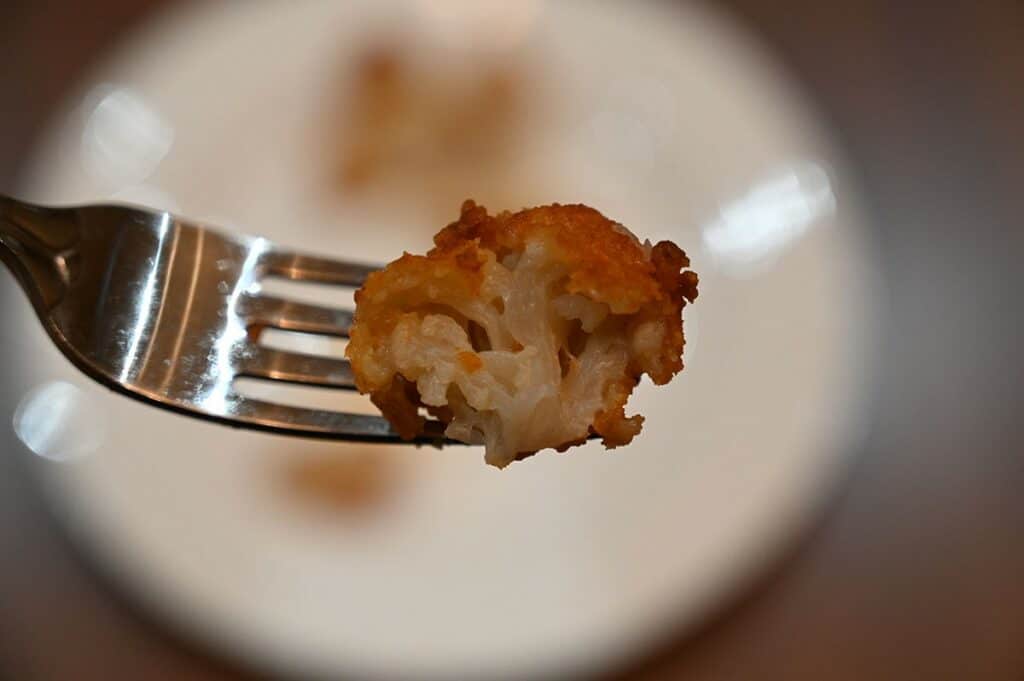 There's a variety of sizes of the battered cauliflower pieces. Some really small ones and some larger. No matter the size they all got crispy in the oven. The batter tastes delicious and you'd never know it's gluten free.
The cauliflower itself isn't mushy or wet, I do recommend eating this as soon as it's out of the oven and combined with the sauce because the longer it sits in the sauce the softer it becomes.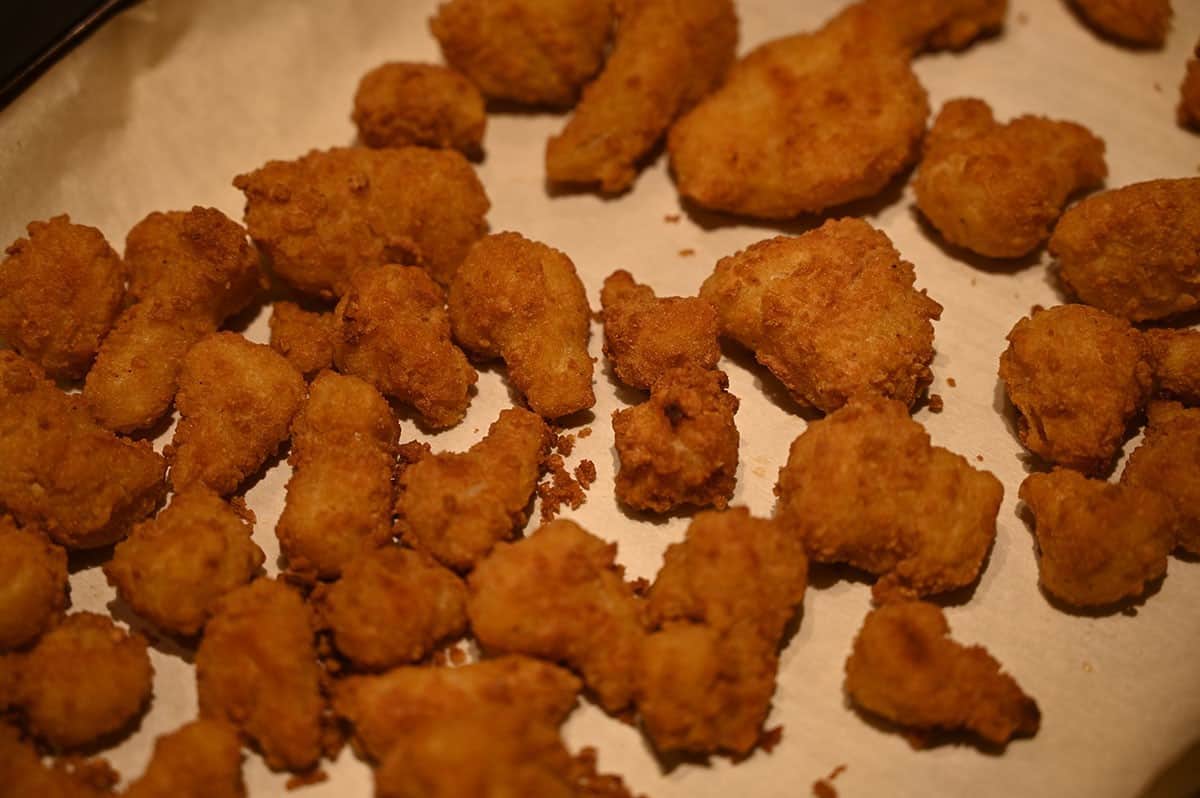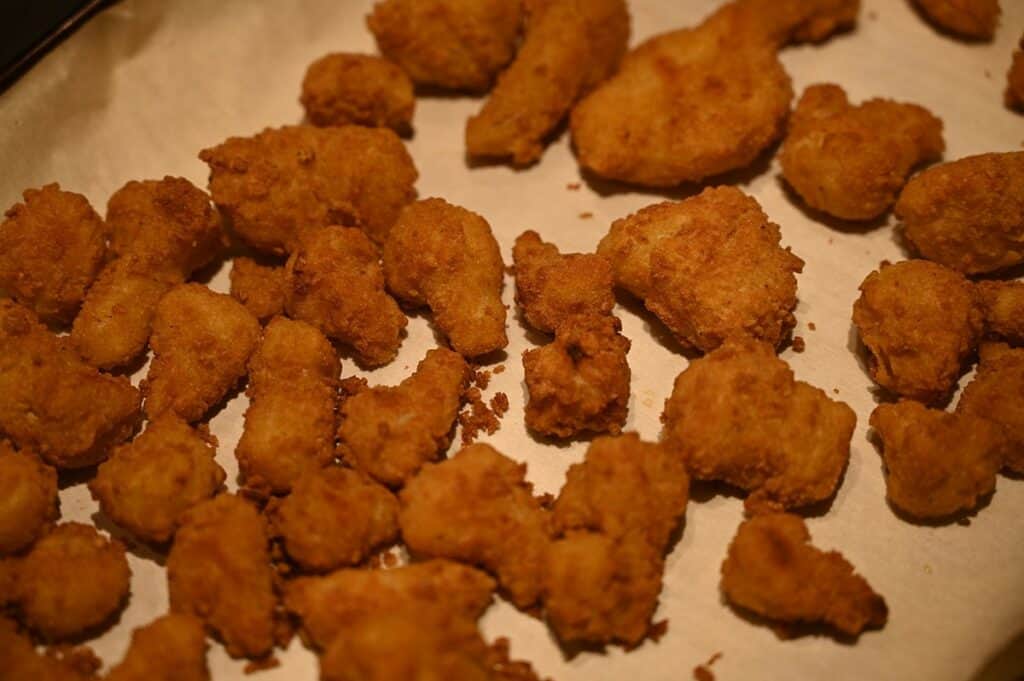 Cost
This costs $11.99 Canadian for the 908 gram box of the buffalo cauliflower, that includes two bags of battered cauliflower and two packets of buffalo sauce.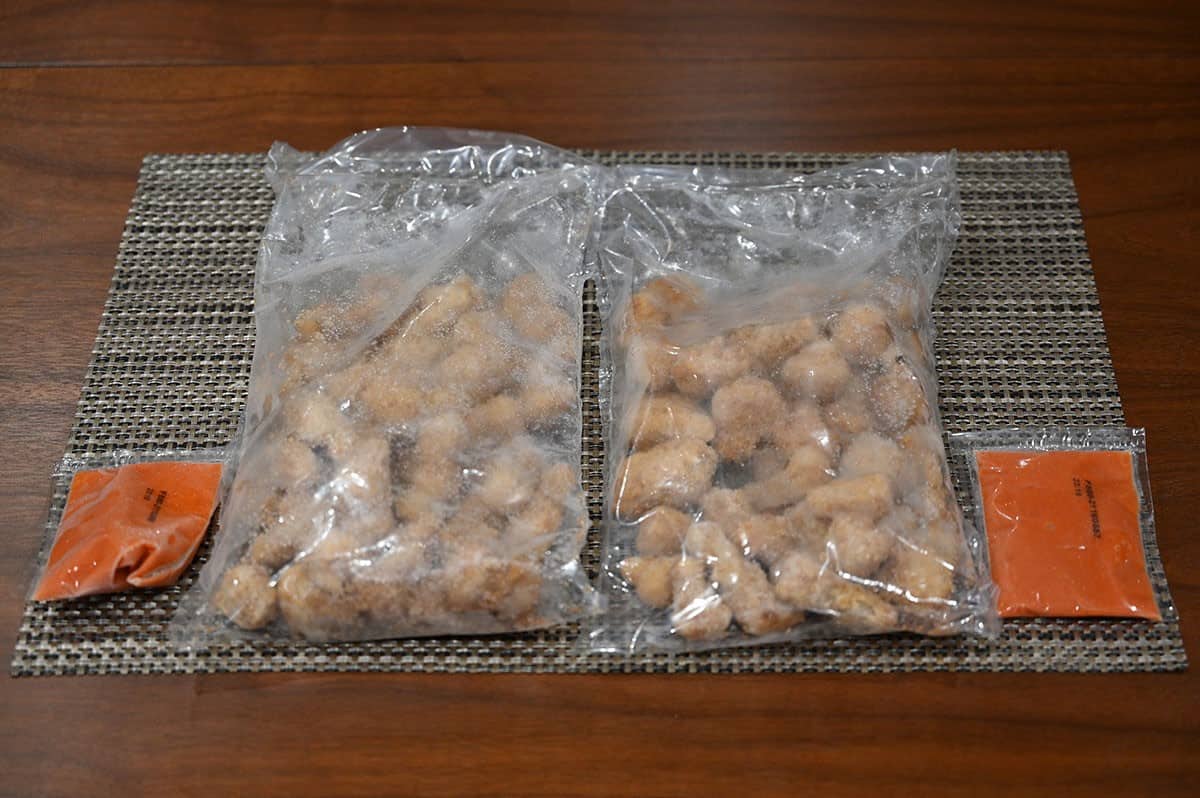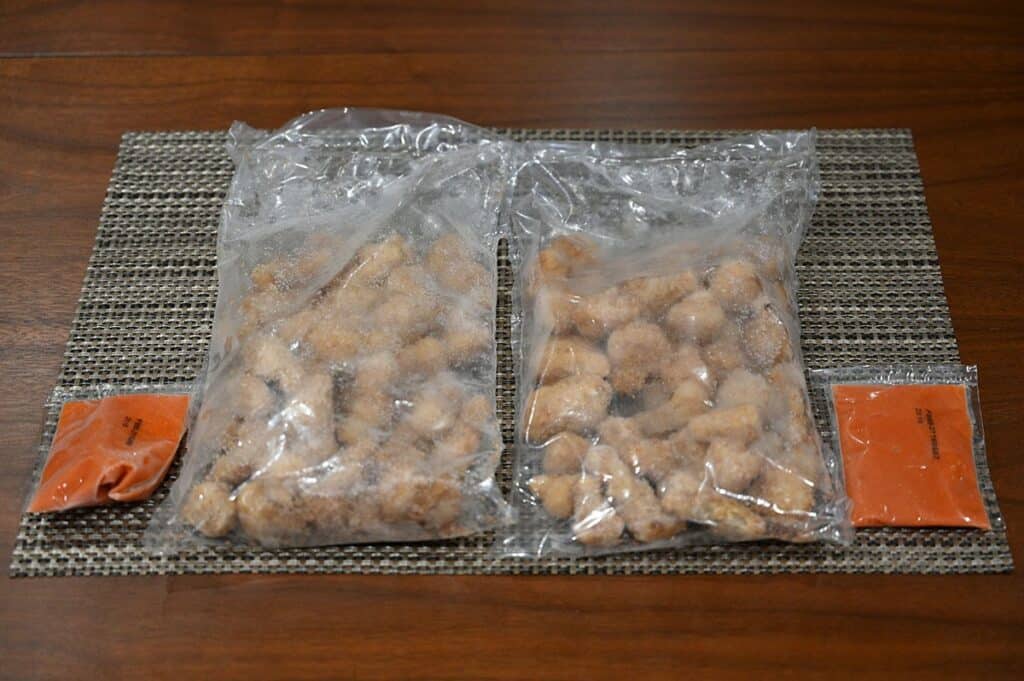 This is a little on the expensive side for what you get but I think you're paying for the convenience factor.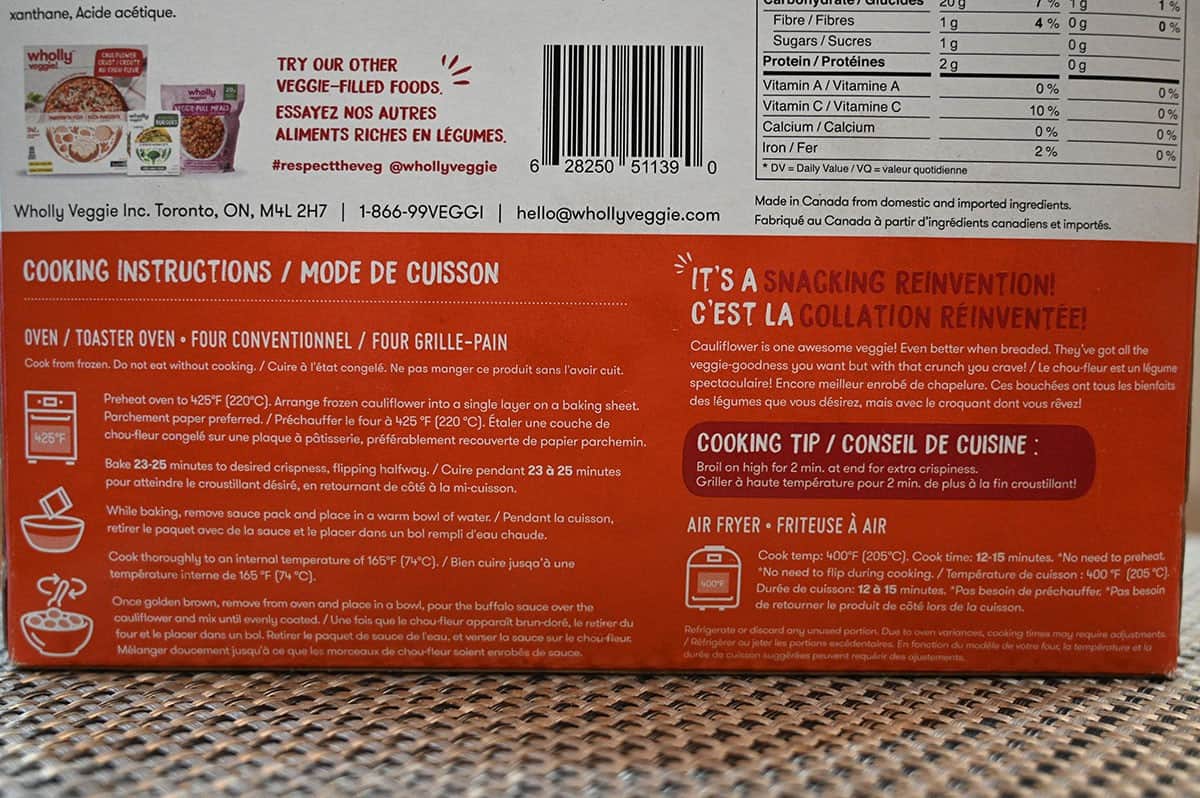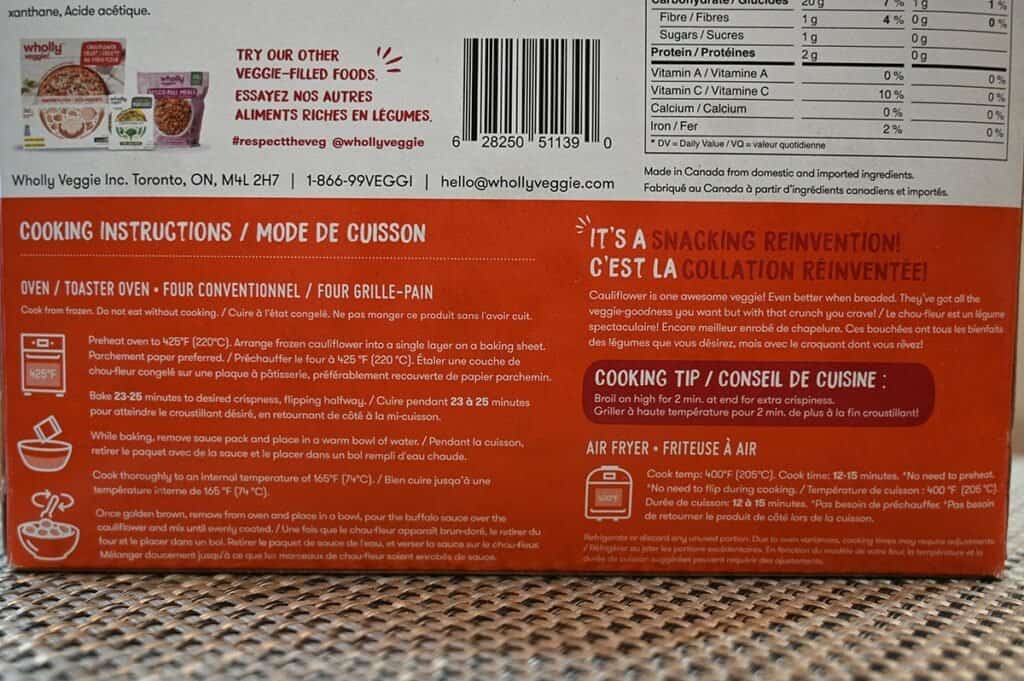 Convenience
Cooking Instructions
I love how easy the Costco Wholly Veggie Buffalo Cauliflower is to make! All I have to do is preheat my oven to 425 place the cauliflower on a parchment paper lined baking sheet and bake for about 25 minutes.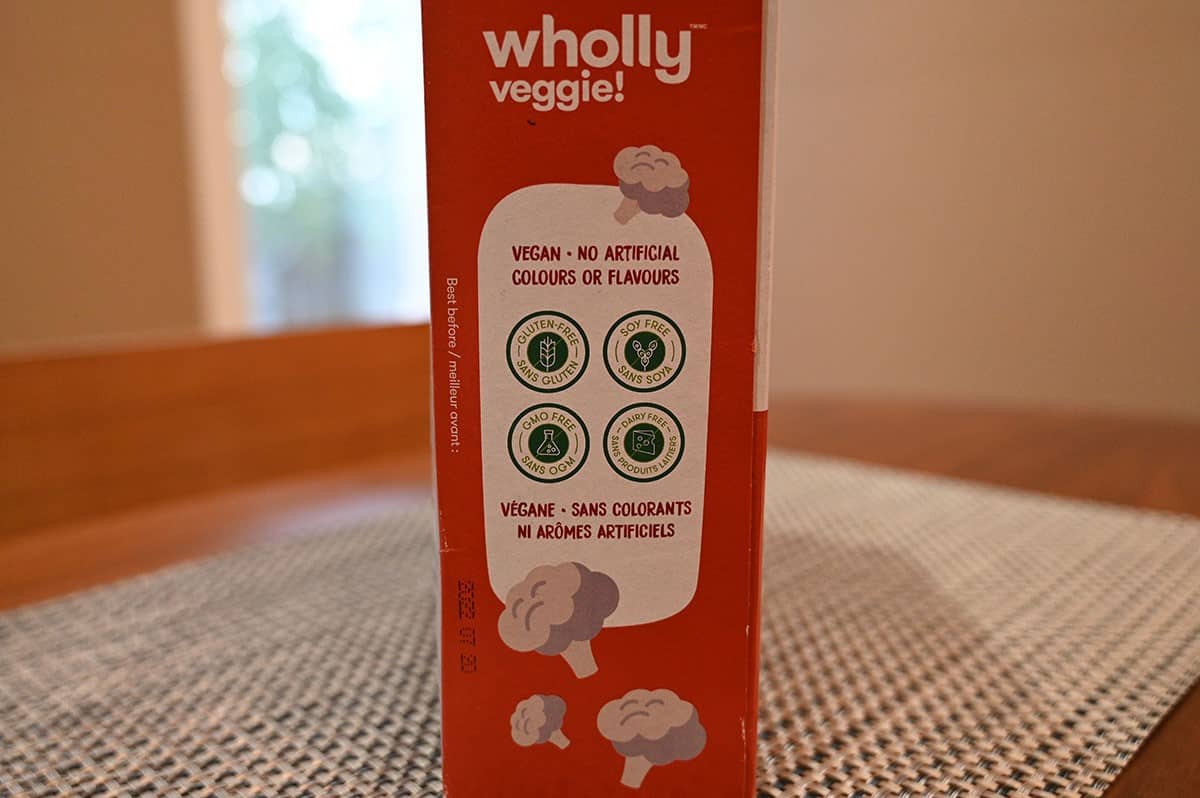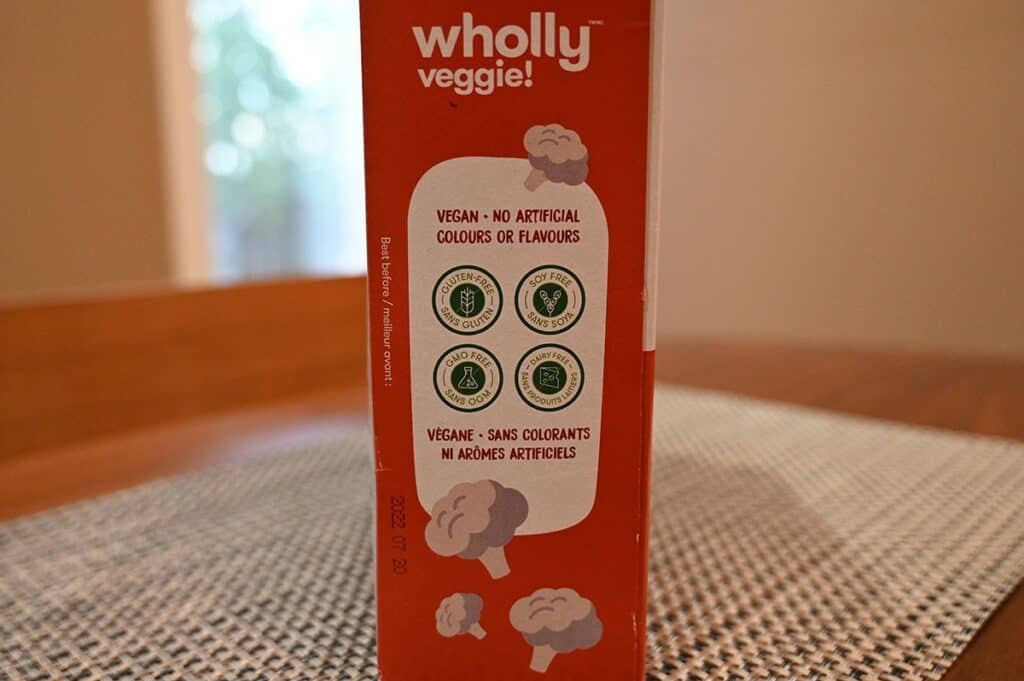 I baked my cauliflower for the full 25 minutes to make sure it was really nice and crispy. You can also choose cook this in the air fryer.
The cauliflower needs to be kept frozen and the best before date is almost a year from the date we purchased the cauliflower. You can use the buffalo cauliflower as a side dish or as an appetizer.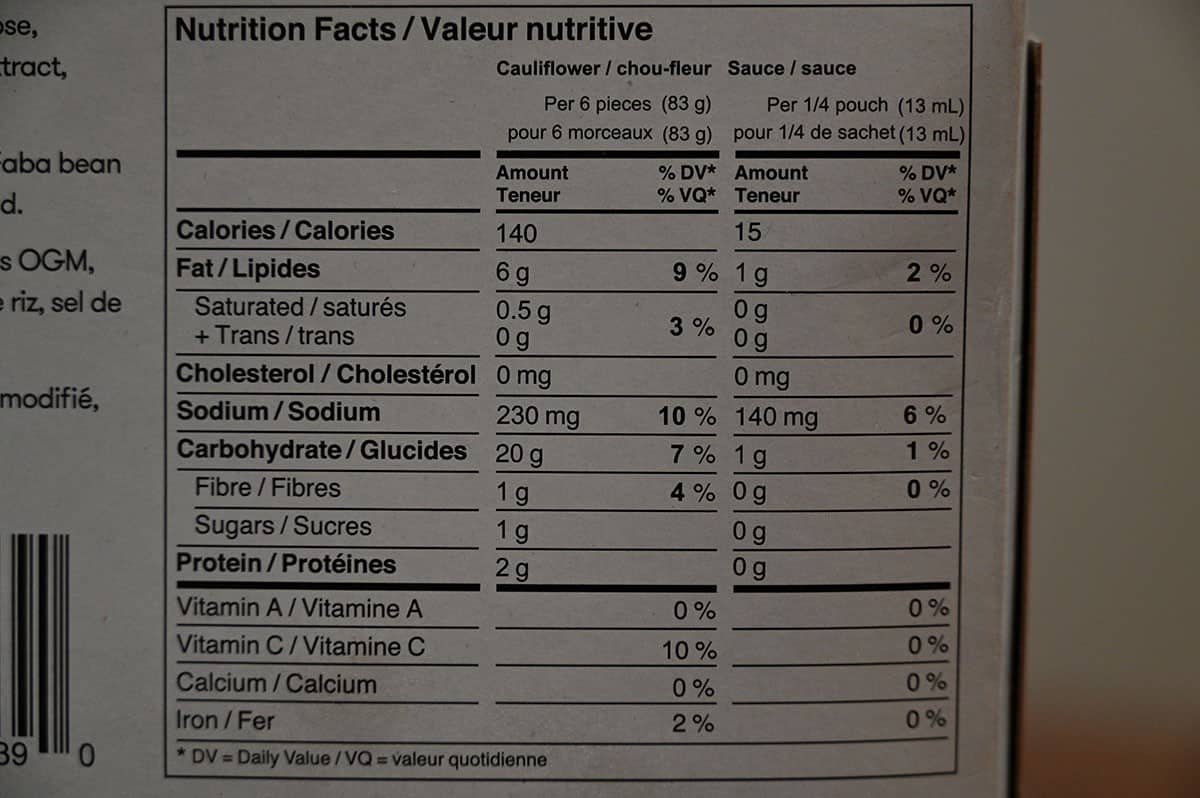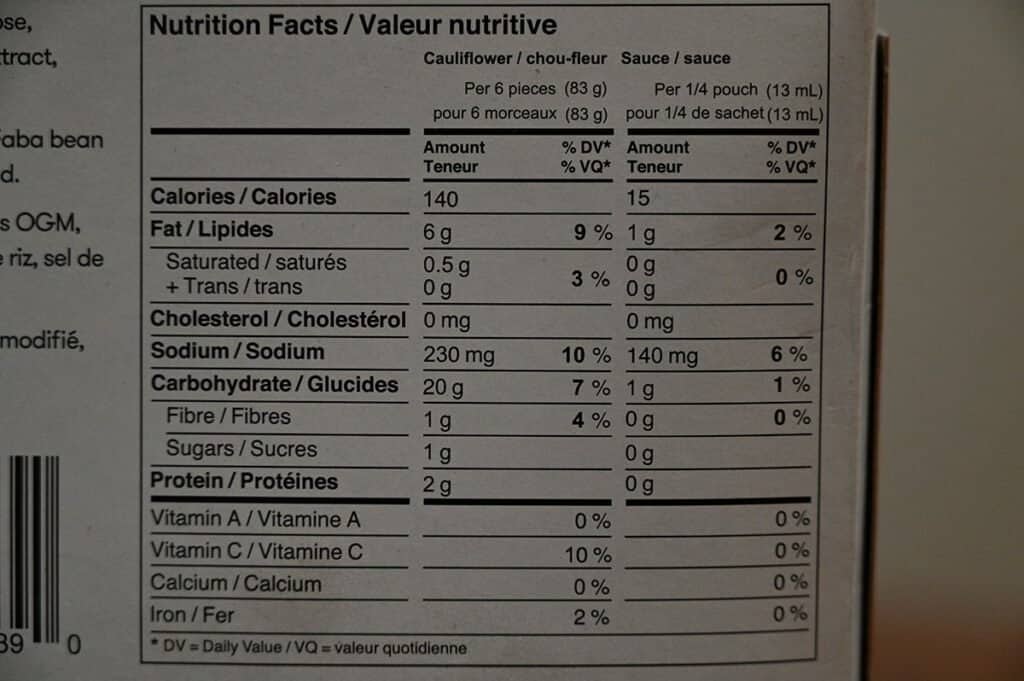 Nutrition
Calories
Six pieces of Costco buffalo cauliflower is 140 calories, six grams of fat, 230 mg of sodium, 20 grams of carbohydrates, one gram of fibre and sugar and two grams of protein.
If you have a quarter of the pouch of sauce it's 15 calories, one gram of fat, 140 mg of sodium, one gram of carbohydrates, and zero grams of fibre, sugar and protein.
The buffalo cauliflower lacks protein and has a decent amount of fat and sodium but if you stick to six pieces it's really not that bad!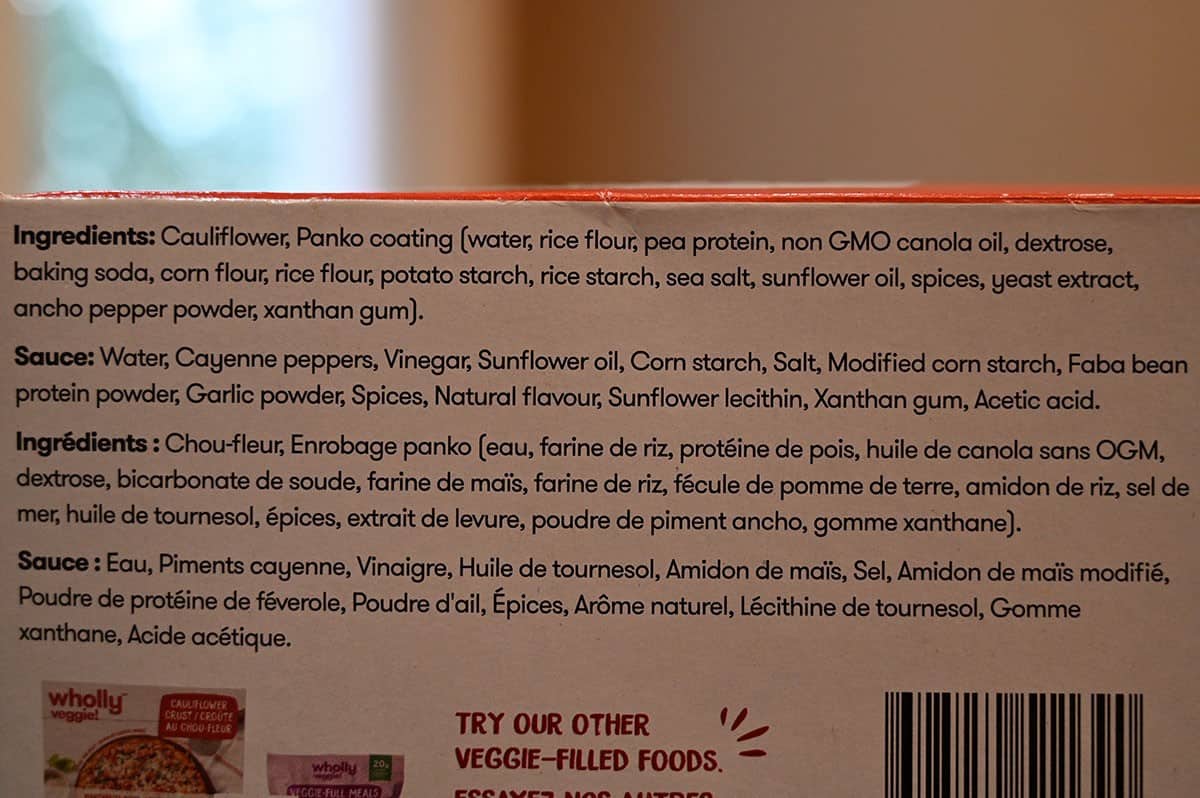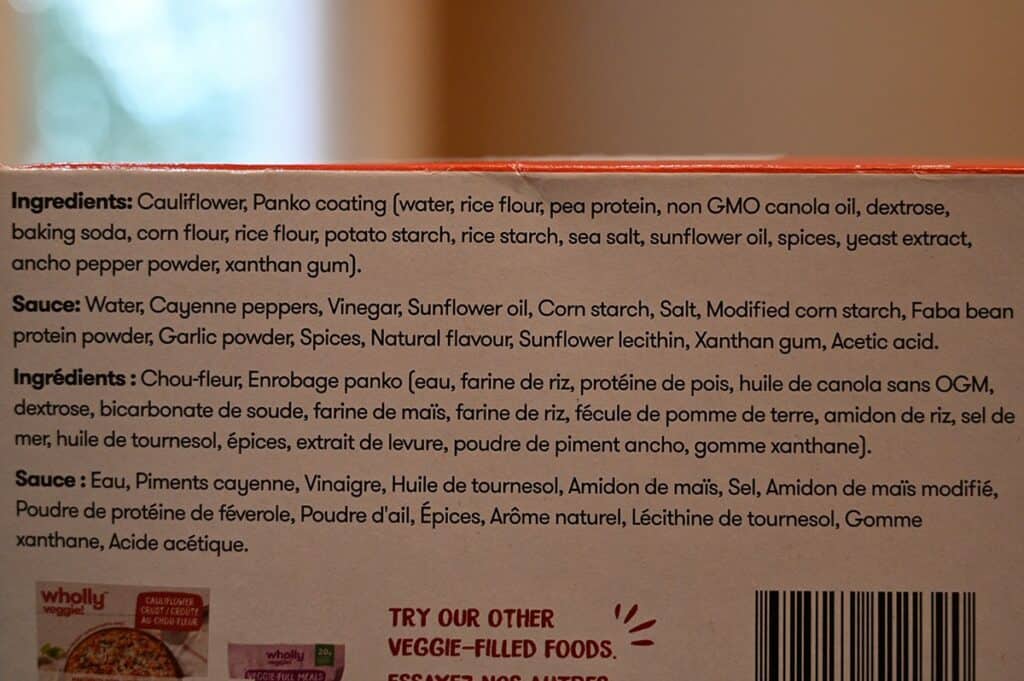 Ingredients
This Costco Wholly Veggie Buffalo Cauliflower is gluten-free, dairy-free, soy-free and GMO! Vegan Costco shoppers can add this product to their shopping list.
Although this is cauliflower, I wouldn't really call it a healthy option or nutritious choice. The canola oil and sunflower oil aren't the healthiest ingredients.
Scoring
Taste: 8.5/10
Cost: 7/10
Convenience: 9.5/10
Nutrition: 4/10
Overall
Give it a try!
I love the taste of this buffalo cauliflower from Costco! It's so easy to heat up and I was shocked how crispy it is after baking it in the oven.
Have you tried this? What did you think of it?
---
Please note that this review was not paid for or sponsored by any third party. This product was purchased by Costcuisine for the purpose of producing this review. The opinions in this review are strictly those of Costcuisine. Costcuisine is not affiliated with Costco or any of its suppliers. In the event that Costcuisine receives compensation for a post from the manufacturer of a product or some other third party, the arrangement will be clearly disclosed (including where the manufacturer of a product provides Costcuisine with a free sample of the product).