I had high hopes for this gluten-free buffalo cauliflower but I found it disappointing!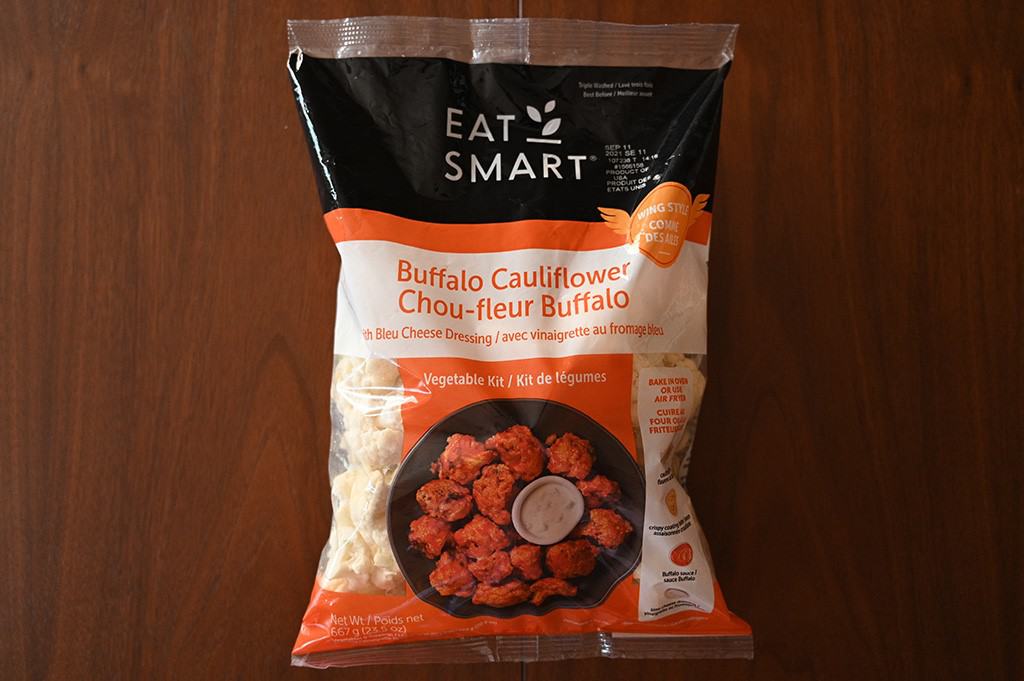 This Eat Smart Buffalo cauliflower is available at Costco now and of course I have to try it and review it! Buffalo cauliflower is great for individuals who want a plant-based replacement for wings or want to add extra veggies into their diet!
If you're looking for other Costco cauliflower food reviews, check out my review for the Costco Molinaro's Cauliflower Pizza Kit, Costco Snackyard Crispy Cauliflower, Costco From the Ground Up Cauliflower Crackers and the Costco Crepini Egg Wraps with Cauliflower.
Have you seen the review I did for Costco Chef Jin's Kitchen Tempura Cauliflower? It's a very similar product.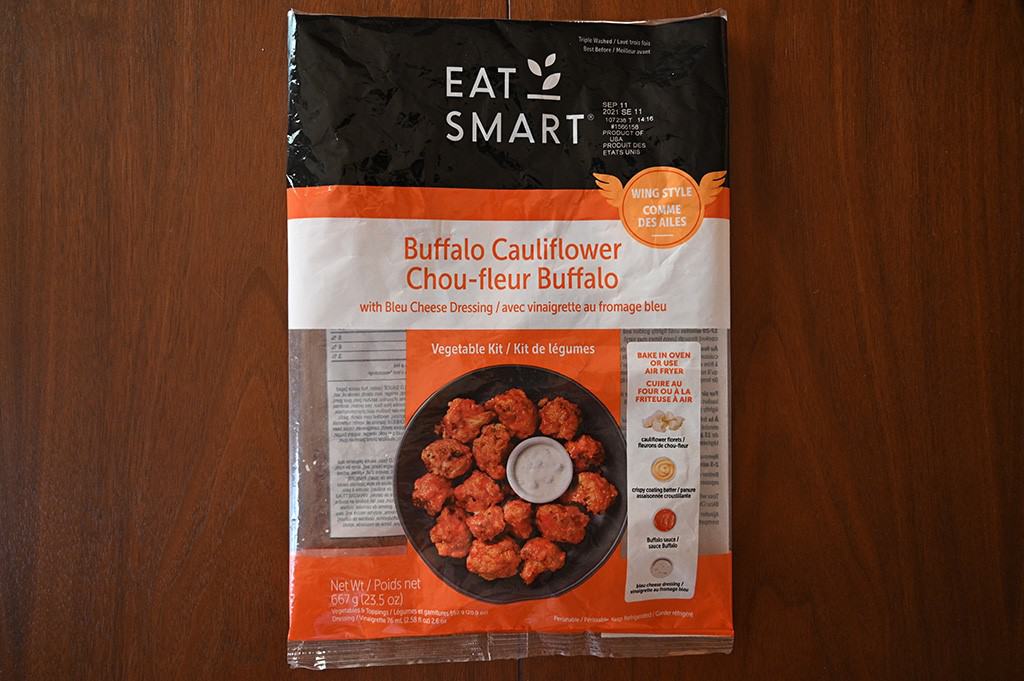 Location in Store
The Eat Smart buffalo cauliflower comes with cauliflower, buffalo sauce, blue cheese dipping sauce and a packet of batter. You can find it in the cold produce room and the item number is 1566158.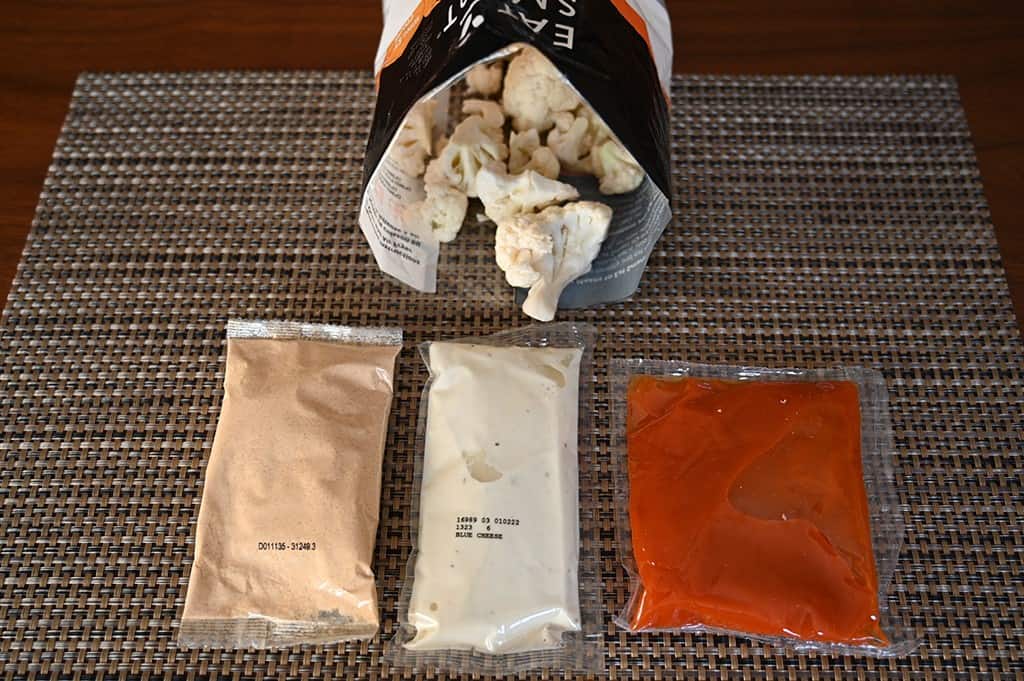 Taste
The size of the cauliflower pieces is very inconsistent, some pieces are very large and then there's lots of very tiny pieces. The very tiny pieces got lost in the batter while the large pieces were a little bit harder to cover completely in batter. Cauliflower is usually pretty crumbly though so that's probably why there's such a variation in sizes.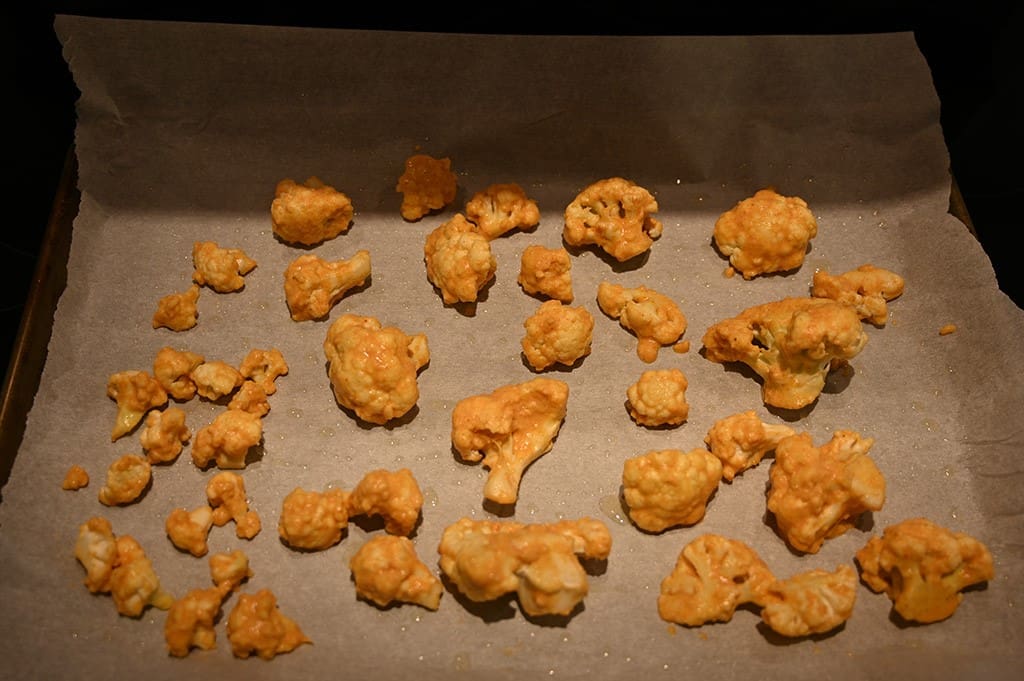 The oven method didn't get the cauliflower very crispy at all. Even the small pieces were soft and soggy after coating them in buffalo sauce. The batter added a very slight amount of additional crunch.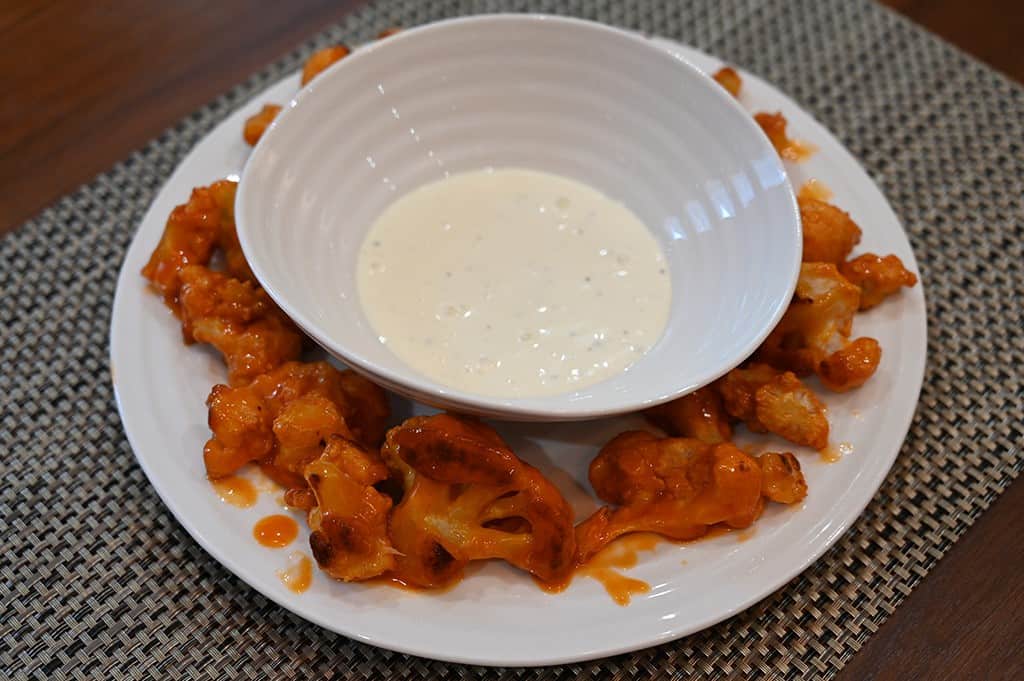 The amount of buffalo sauce and blue cheese sauce that comes with this is very generous! Way more than you need to coat and dip the cauliflower.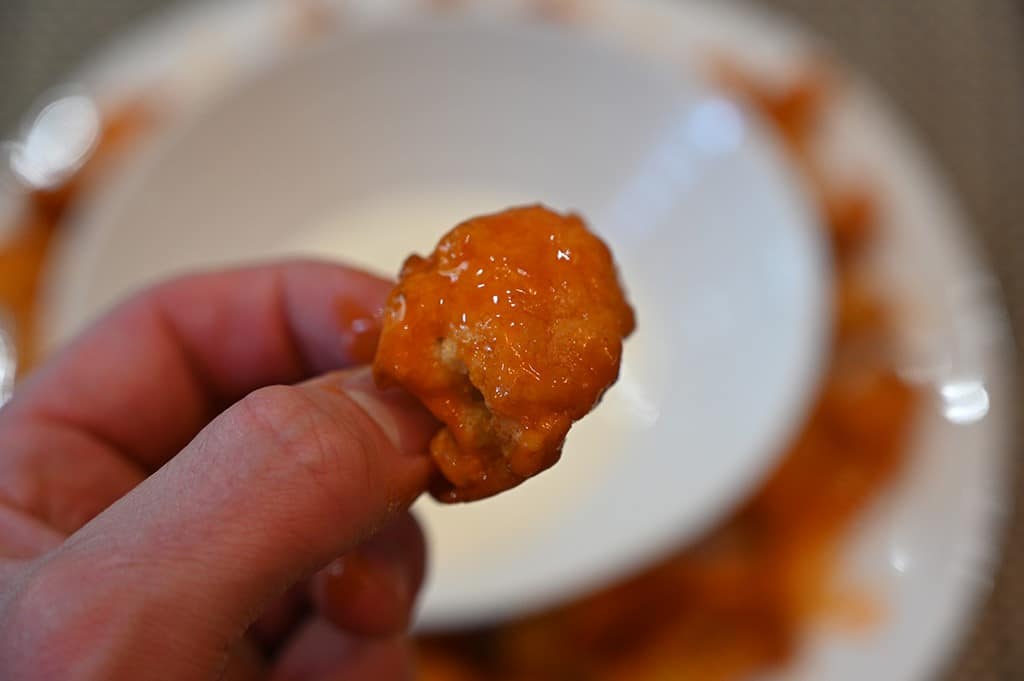 The buffalo sauce is probably the best part, though it's not great. It tastes like a typical hot wing sauce and is pretty spicy. Probably too hot for people who don't like spicy food. The flavor is mostly dominated by the buffalo sauce (at least without the blue cheese dip), but you do taste some cauliflower through it occasionally. 
The blue cheese dip isn't too strong and does have a nice cooling effect on the hot buffalo sauce; as someone who really doesn't like blue cheese, it was edible, but I didn't want another bite of it.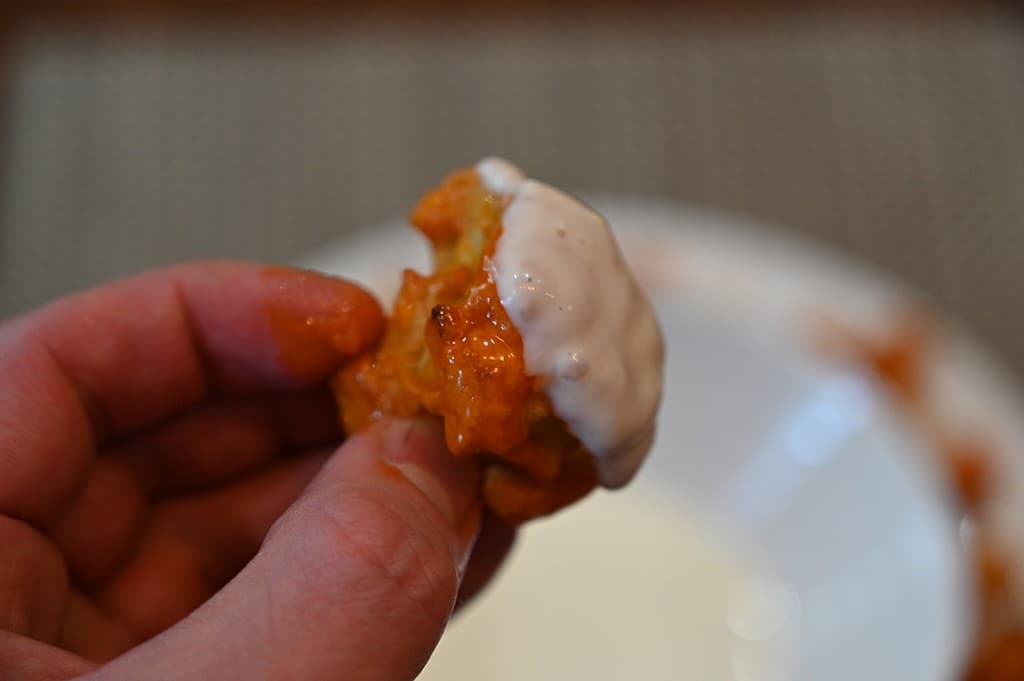 Overall, this is nothing like restaurant versions of this that I've had, though that could be mostly because it was baked in the oven. Maybe it would be a lot better if it were cooked in an air fryer.
Cost
I paid only $5.99 Canadian for 667 gram bag of cauliflower, batter mix, sauce and dip! This price is reasonable in my opinion.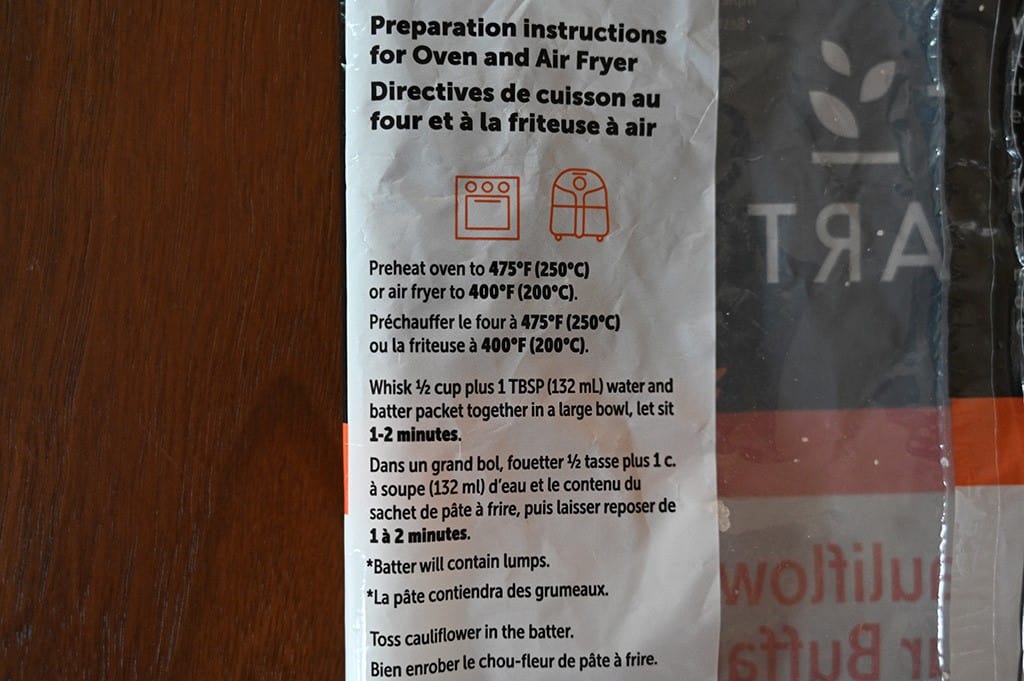 Convenience
You can either bake this in the oven or use your air-fryer to cook the cauliflower. If you use the oven method you need to preheat the oven to 475 degrees fahrenheit. If you're using your air fryer you preheat it to 400 degrees fahrenheit.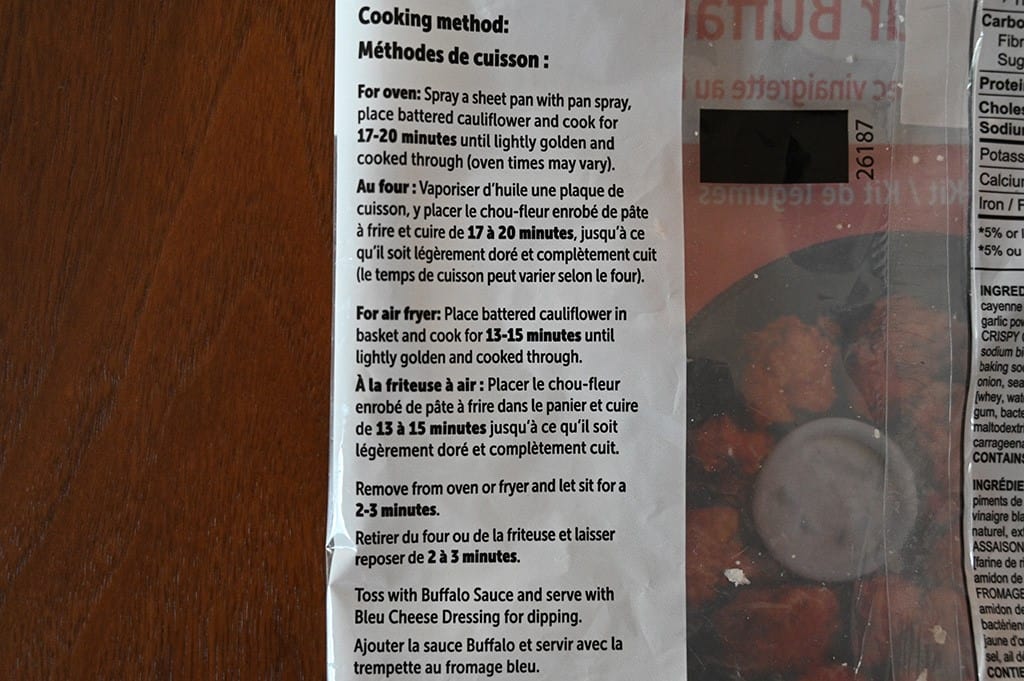 It does take a little effort to make the batter and coat each piece of cauliflower. I chose to dip each piece by hand one by one but you could also just dump the whole bag of cauliflower in your batter and stir it around.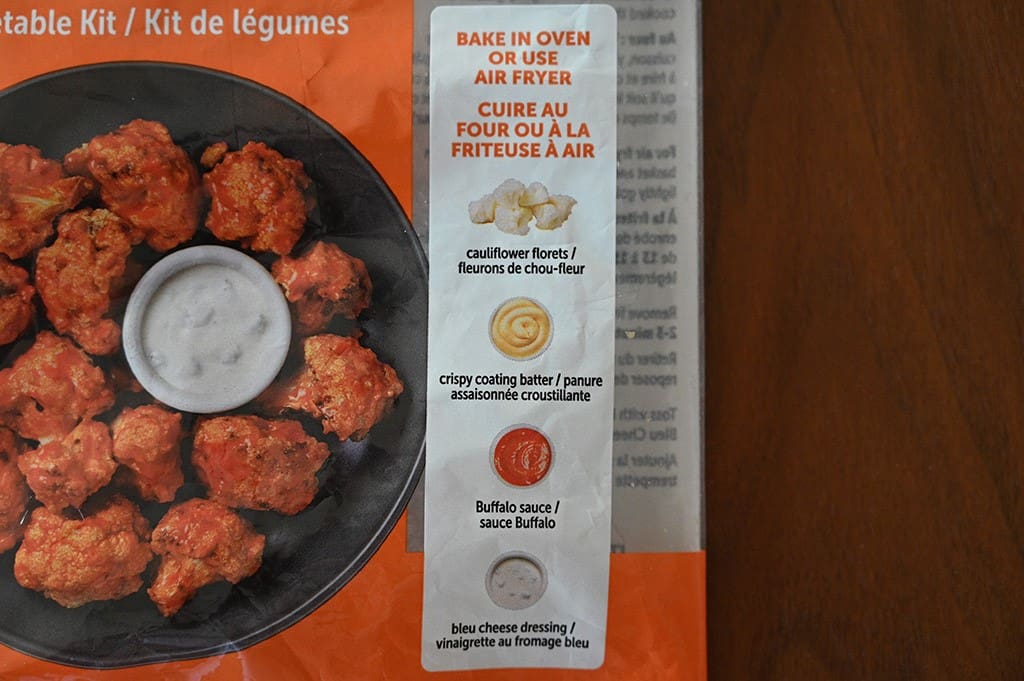 The best before date is about a week from the date we purchased the cauliflower, it's fresh cauliflower so needs to be kept refrigerated and not frozen.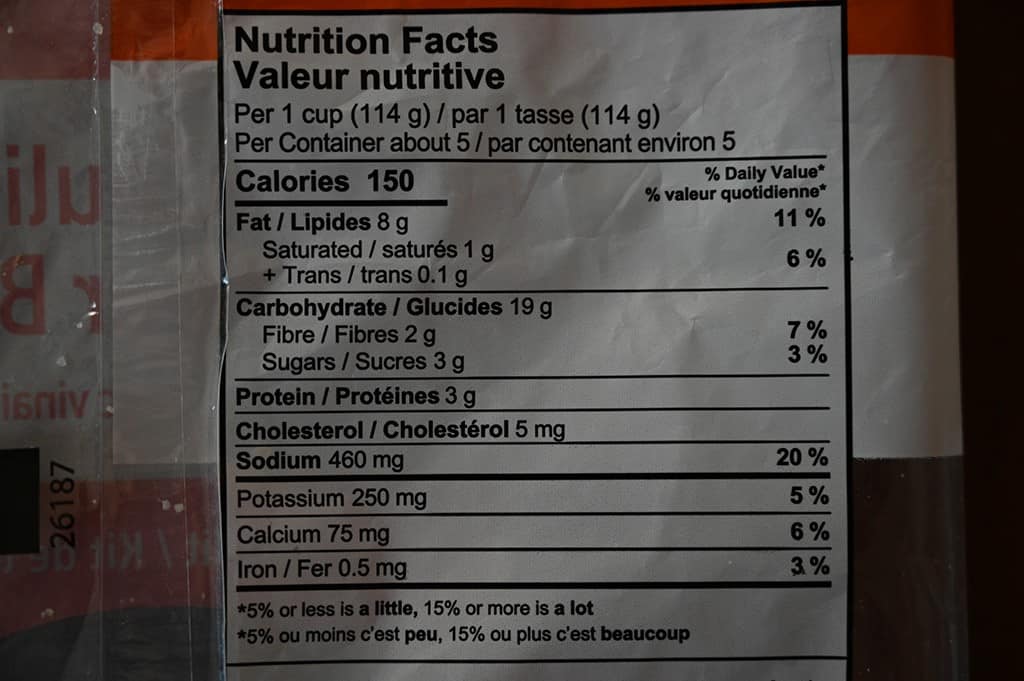 Nutrition
Calories
One cup prepared is 150 calories, eight grams of fat, 19 grams of carbohydrates, two grams of fibre, three grams of sugar, three grams of protein and 460 mg of sodium. These nutrition facts can fluctuate depending on how much dip and sauce you use.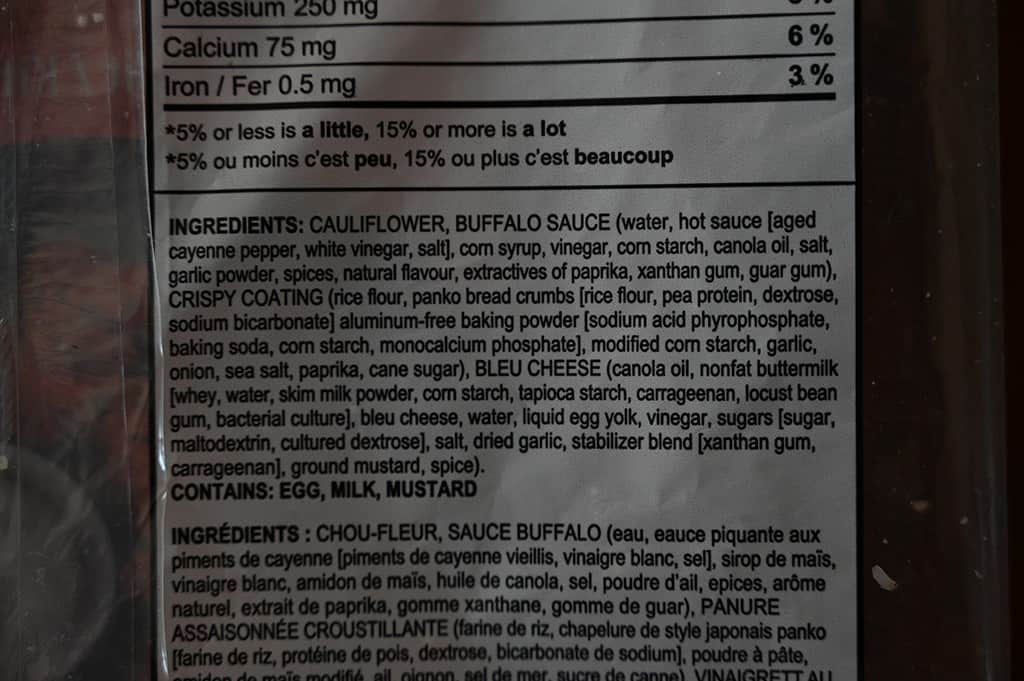 Ingredients
A really long list of ingredients that aren't the healthiest! I do not see any wheat listed though so it's safe to say this is gluten-free however it's not dairy free and also contains egg so it isn't vegan.
Scoring
Taste: 4/10
Cost: 8/10
Convenience: 5/10
Nutrition: 5/10
Overall
Walk on by!
This turned out too soggy and not at all crispy, I didn't love the blue cheese dressing and the buffalo sauce was a bit hot for my liking.
Have you tried this? What did you think?
---
Please note that this review was not paid for or sponsored by any third party. This product was purchased by Costcuisine for the purpose of producing this review. The opinions in this review are strictly those of Costcuisine. Costcuisine is not affiliated with Costco or any of its suppliers. In the event that Costcuisine receives compensation for a post from the manufacturer of a product or some other third party, the arrangement will be clearly disclosed (including where the manufacturer of a product provides Costcuisine with a free sample of the product).