Costco has these paleo and keto-friendly, low-carb, gluten-free and low-cal egg wraps!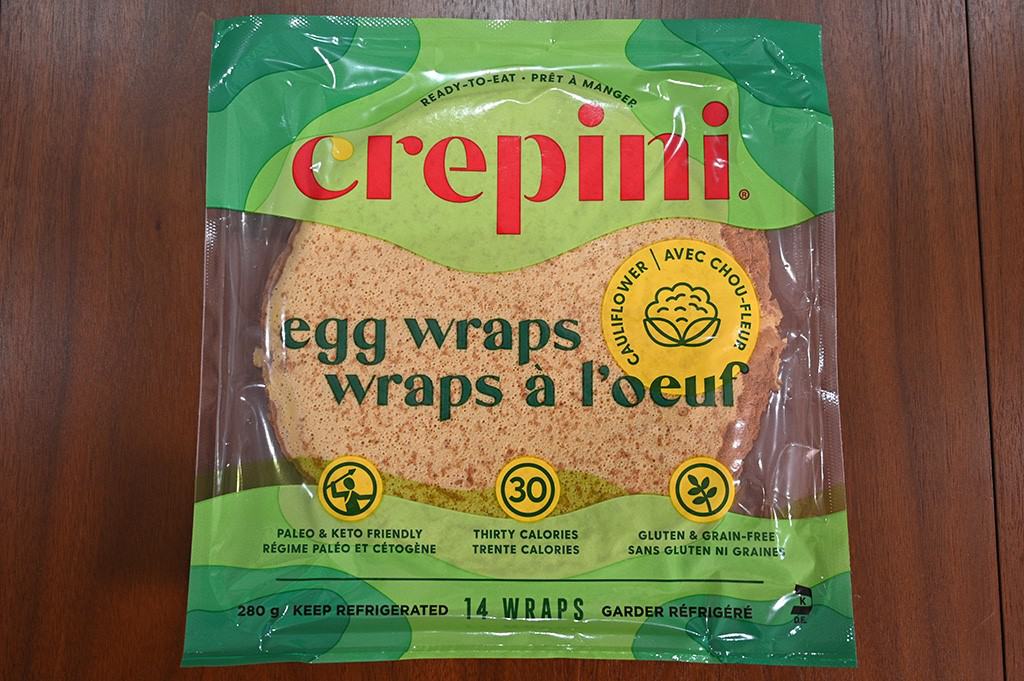 The Crepini Egg Wraps from Costco are something I've seen a lot of people who are on keto, paleo or low-carb diet posting about so when I saw them at my local Costco I decided to pick them up to try and see what all the hype is about!
I've already reviewed the Costco Crepini Egg Thins Crepes which are super similar.
If you're looking for other Costco low-carb or keto food products check out my reviews for the Carbonaut Low-Carb Keto Bread, Caesar's Kitchen Chicken Florentine with Riced Cauliflower, Costco Molinaro's Cauliflower Pizza Crust, Dujardin Organic Cauliflower Rice, Asiago & Pepper Jack Whisps Cheese Crisps, innofoods Keto Crackers and for something sweet the NoSugar Company Keto Bombs!
I found the egg wraps in the refrigerated deli section by the cheese and meats at my Costco. The item number is 5052004.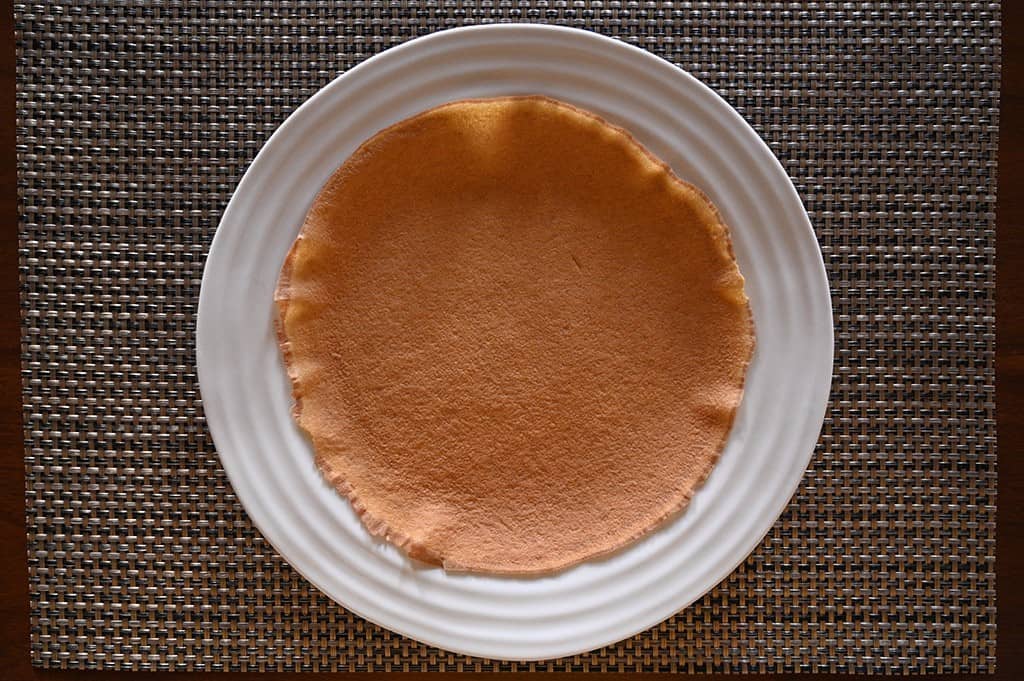 Taste
There's not a ton of flavor in the egg wraps but the flavor that's there tastes like eggs in a thin crepe/wrap form. The Crepini Egg Wraps from Costco are thin, light and have a spongey texture.
You can taste just a tiny hint of cauliflower and they're a bit a salty. The lack of flavor makes these very versatile. You could choose to make a savory wrap or a sweet wrap depending on your preference.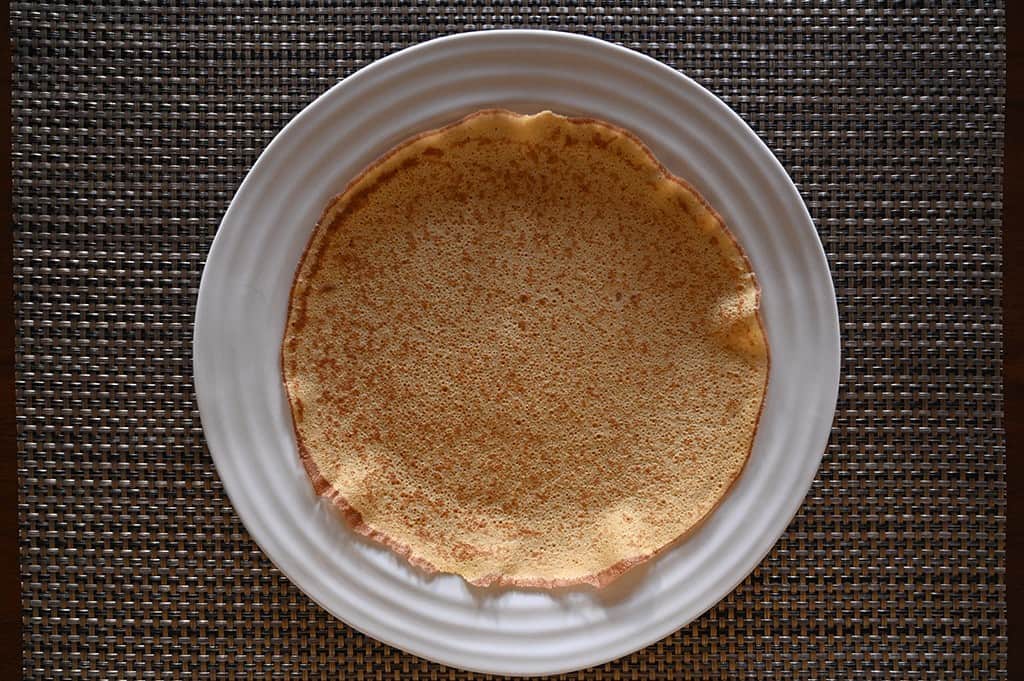 I can't really say these taste great or they taste bad, they don't taste like much and are so thin you barely taste anything when you add other toppings and ingredients to your wrap. Almost like eating air!
For a savory wrap you could do tuna, cold cuts, chicken or vegetables. For sweet I bet some peanut butter and honey would be awesome, you could do a fruit filled wrap or roll it up like in the picture below and put some syrup on it. Of course adding a bunch of syrup is going to kind of erase the whole low-carb thing.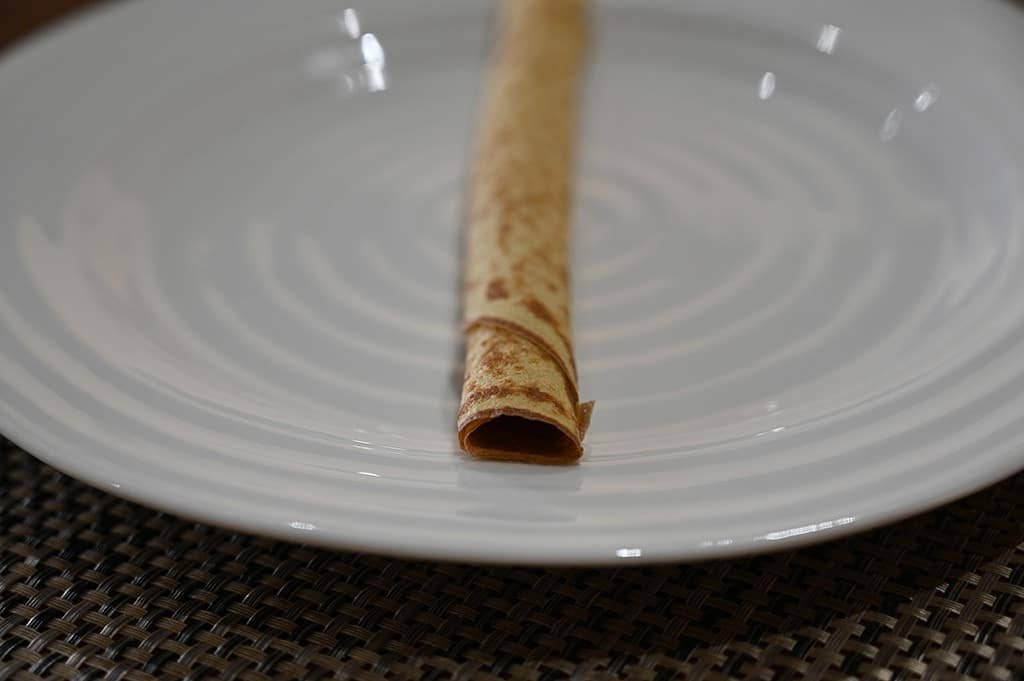 Cost
I paid $11.49 Canadian for the 14 wraps.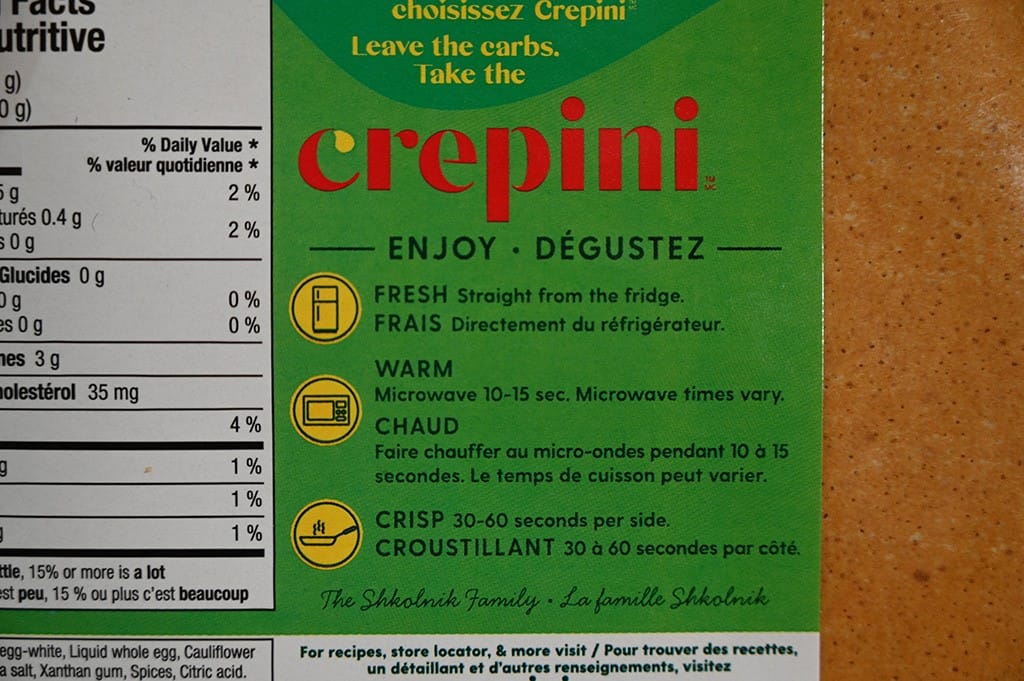 Convenience
These are great wraps from Costco for people following a keto or paleo diet, they're low calorie and also gluten and grain free. They make an okay low-calorie vessel for whatever you want to wrap or put in them.
The wraps need to be kept refrigerated and the best before date is about three weeks from the date I purchased the wraps. The package also reseals after opening.
I found that Crepini Egg Wraps are a little too thin to handle heavy ingredients so I used more than one wrap to make a sturdier wrap base for my chicken and vegetables.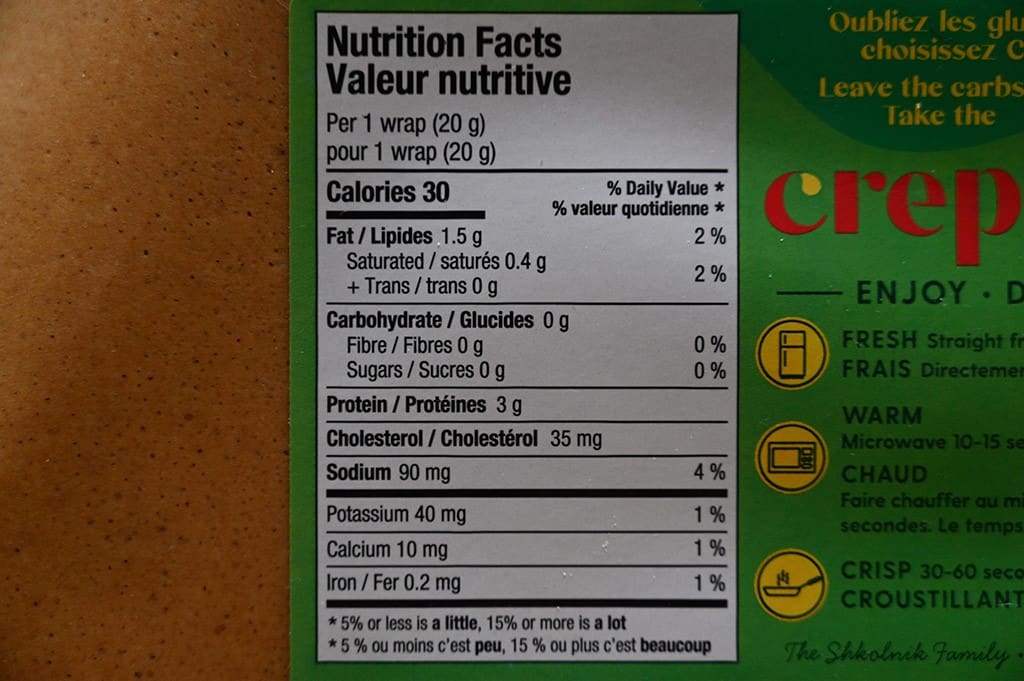 Nutrition
If you're looking for a Costco product that is paleo, keto-friendly, low-calorie, low-carb and gluten as well as grain free. These check all of those things.
One wrap is 30 calories, 1.5 grams of fat, zero grams of carbohydrates, fibre or sugar, three grams of protein and 90 mg of sodium.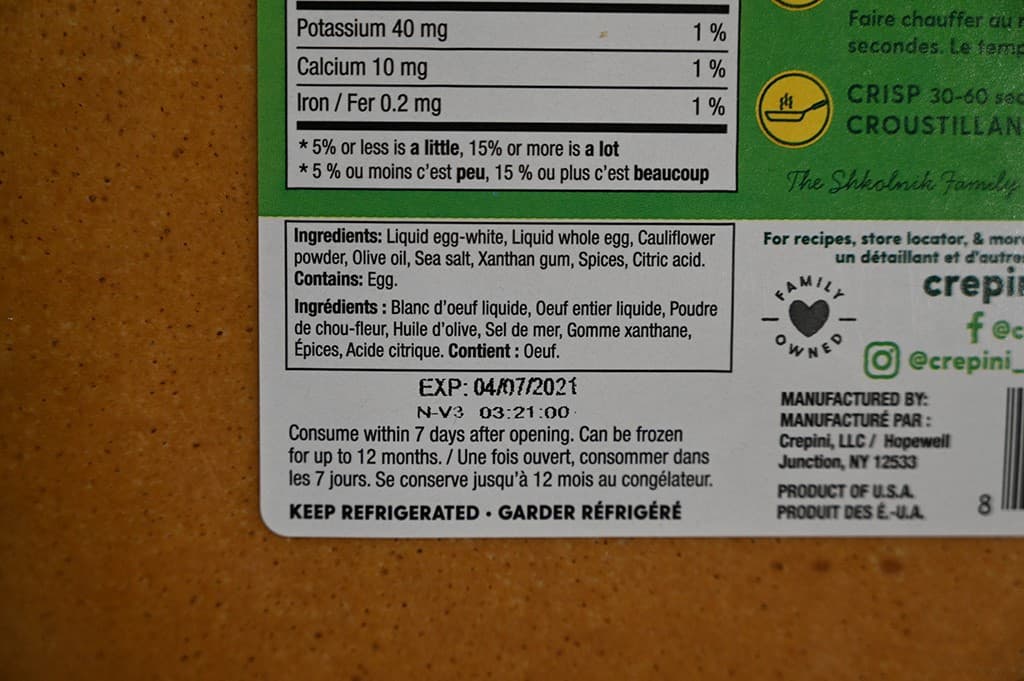 The ingredients list is short and sweet with eggs and cauliflower being the first three ingredients!
Scoring
Taste: 7/10
Cost: 6/10
Convenience: 10/10
Nutrition: 10/10
Overall
Give it a try!
If you're looking for Costco paleo, keto-friendly, low-calorie or gluten-free foods to enjoy, this is one of them!
Have you tried these egg wraps? What did you think of them?
---
Please note that this review was not paid for or sponsored by any third party. This product was purchased by Costcuisine for the purpose of producing this review. The opinions in this review are strictly those of Costcuisine. Costcuisine is not affiliated with Costco or any of its suppliers. In the event that Costcuisine receives compensation for a post from the manufacturer of a product or some other third party, the arrangement will be clearly disclosed (including where the manufacturer of a product provides Costcuisine with a free sample of the product).