Cheese crisps are a gluten-free, keto-friendly, low-carb snack from Costco for all the cheese lovers!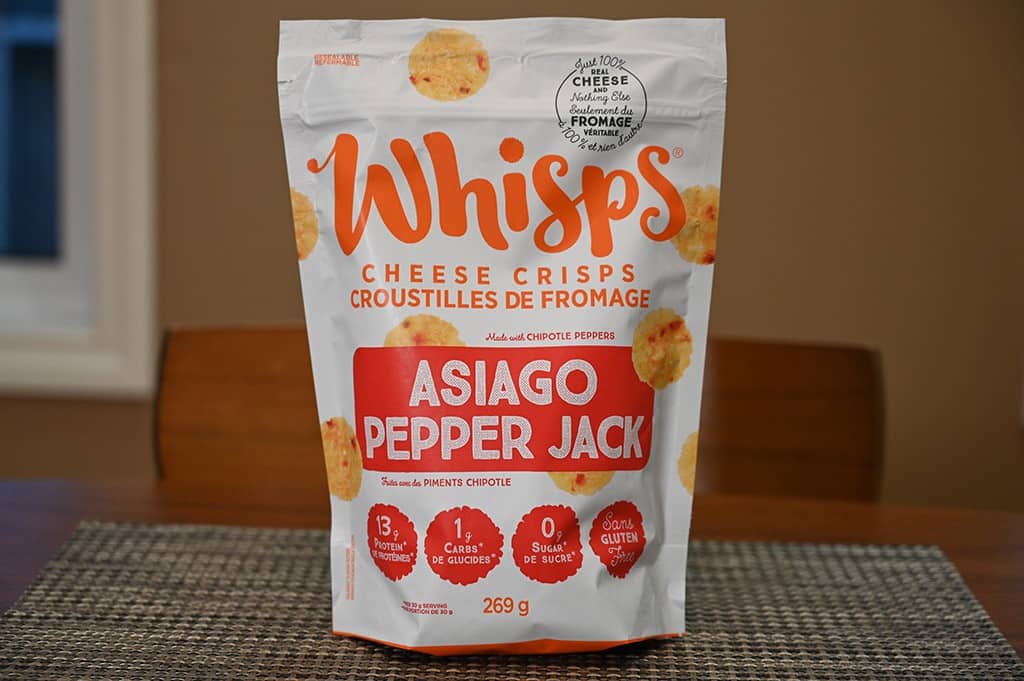 Perhaps you're looking for a low-carb, keto-friendly, sugar-free and gluten-free snack? These Whisps Asiago Pepper Jack Cheese Crisps are an option! I picked these up to review simply because I love cheese and the packaging enticed me to buy these but I don't mind that they're low-carb!
If you like cheese like me and want to see some other cheesy Costco product reviews you can see my review for the Costco Kirkland Signature Manchego Cheese, Costco Folios Cheese Wraps, Costco La Terra Fina Queso Dip with Cheddar, Costco Kirkland Signature Cheese Flight and the Costco Cello Whisps Parmesan Cheese Crisps.
The Costoc Whisps Asiago Pepper Jack Cheese Crisps can be found in the aisle with salad toppings, jarred olives and crackers. The item number is 5026055.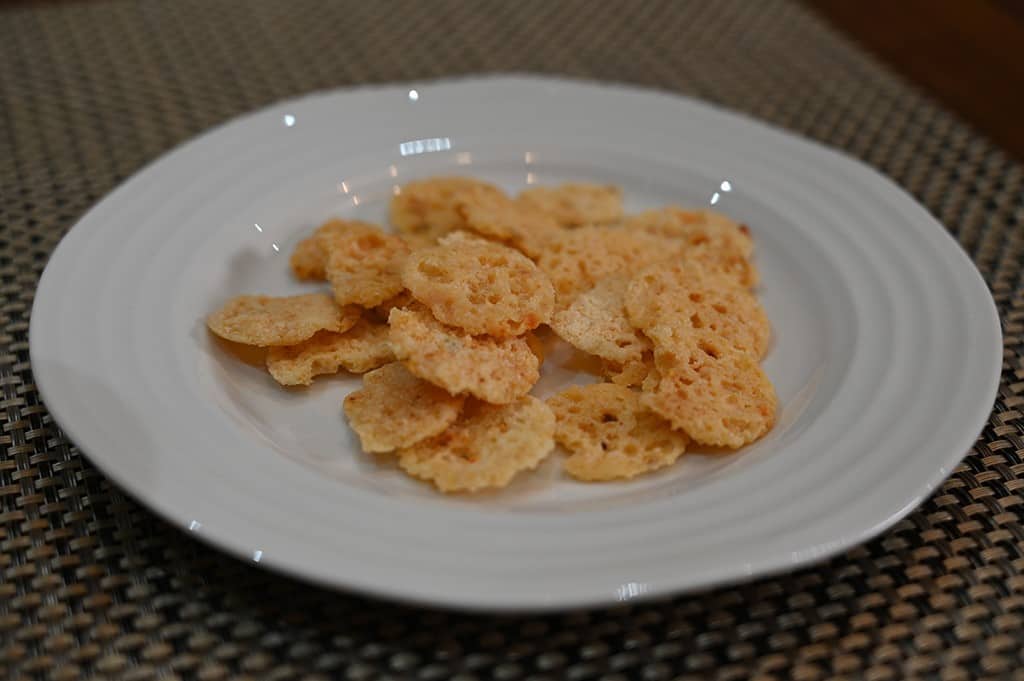 Taste
What are cheese crisps? A good way to describe these is to compare them to the cheese that oozes out of the sides of a grilled cheese sandwich while cooking it and the cheese that oozed out turns nice and crispy. Definitely my favorite part of a grilled cheese is the burnt cheese on the sides. This is exactly what cheese crisps taste like, instead of a potato chip they're a cheese chip made of 100% cheese.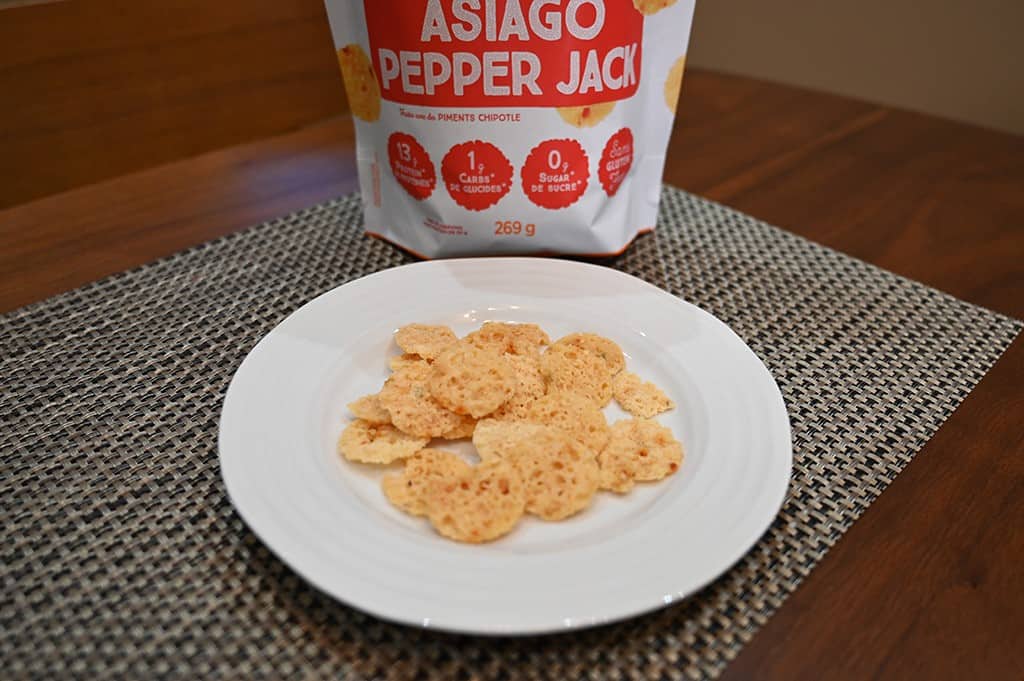 The whisps are extremely salty, crispy, crunchy and very flavorful. These definitely have some spice to them, the smoky chipotle pepper jack brings the heat and the asiago brings the creamy cheesy flavor. I do find the pepper jack does overpower the asiago and these are quite hot for my wimpy tastes buds.
I can't handle too much heat so only ate a few of these and felt satisfied. I would prefer just plain asiago or cheddar whisps but I can appreciate individuals who like heat/spice would definitely enjoy these. They're filling and I found them vergining on almost too salty. My cheese craving was completely satisfied after having only a few crisps.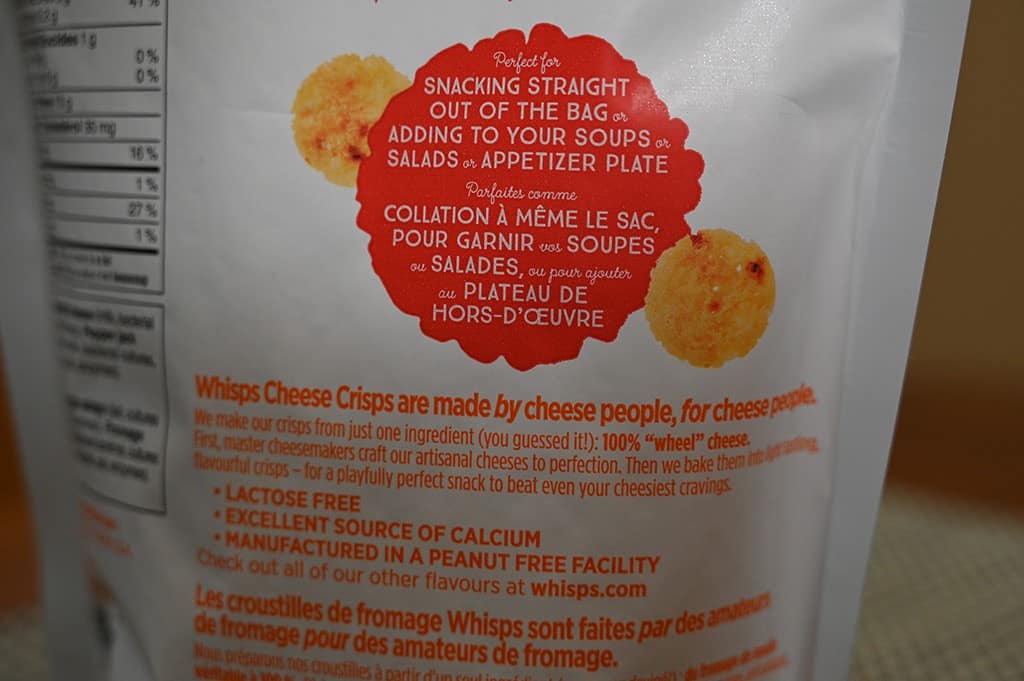 Cost
For the 269 gram bag of Whisps I paid $12.69 Canadian. When considering the price remember that these are 100% cheese.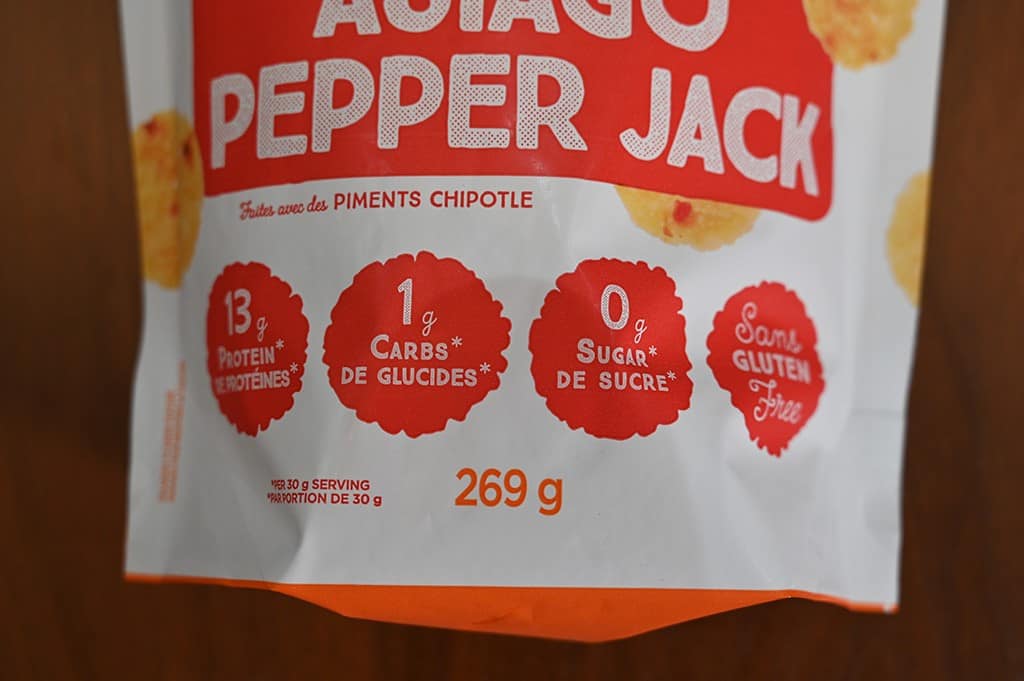 Convenience
The bag is resealable which I appreciate! The best before date on the bag is about 10 months from the date we purchased the Costco cheese crips. You can snack on the Costco cheese crisps alone, or sprinkle them on a salad, add them to your sandwich for some extra crunch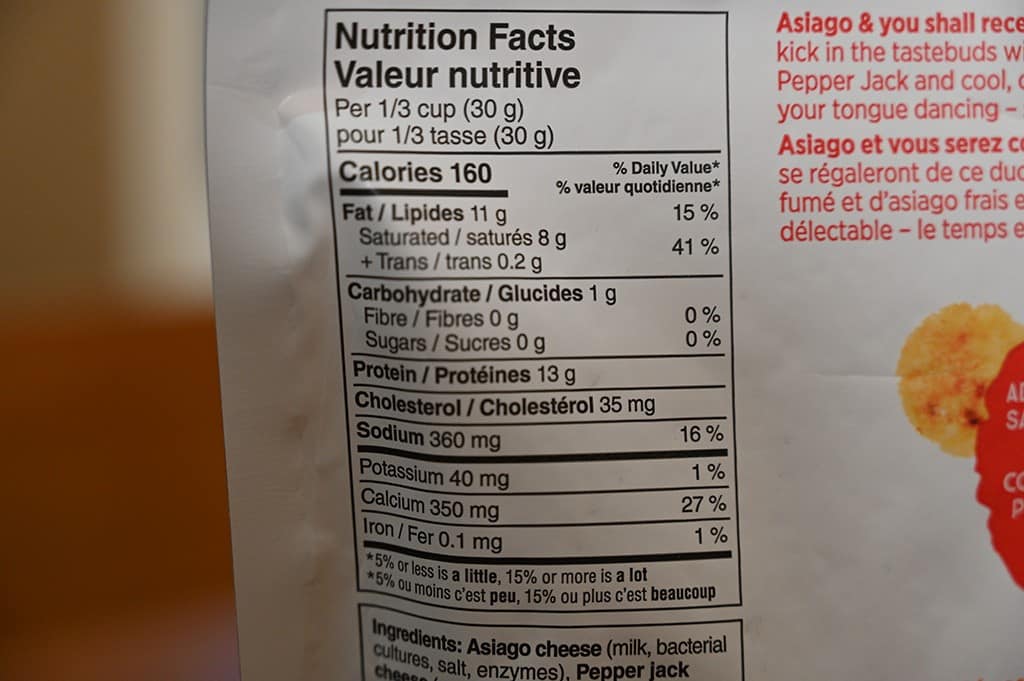 Nutrition
1/3 of a cup or 30 grams of crisps is 160 calories, 11 grams of fat, one gram of carbohydrates, zero grams of fibre and sugar, 13 grams of protein and 360 mg of sodium. The ingredients list is wonderfully short and sweet, just cheese! There's a good amount of protein in one serving but it's easy to over-indulge in cheese so if you're watching your fat and calories you might want to measure a portion out.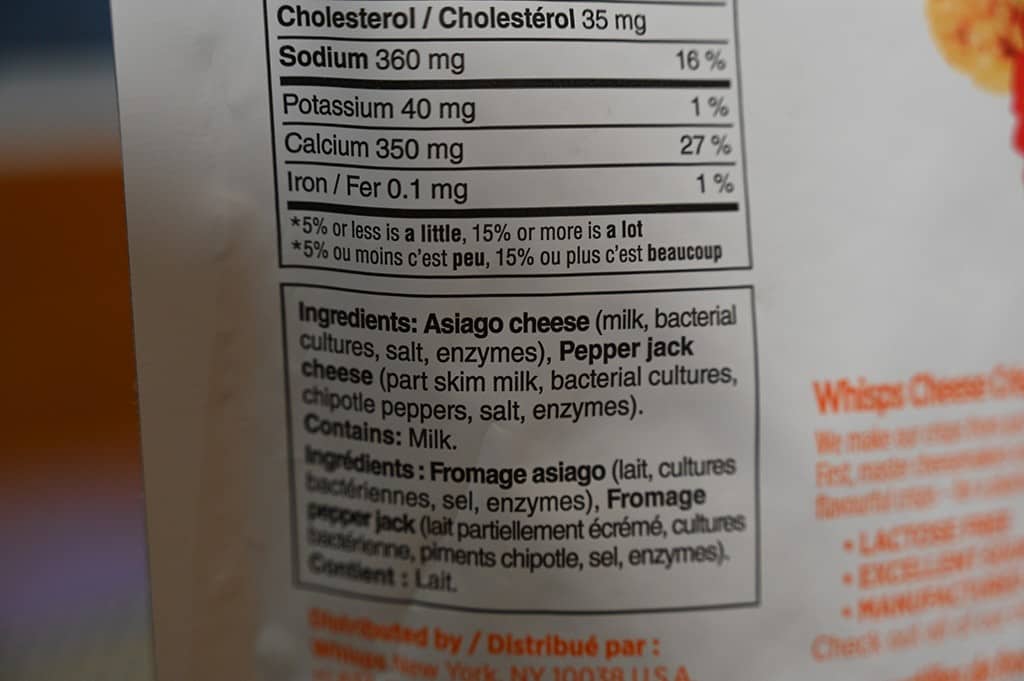 I love the concept of cheese crisps and if I like spicy cheese I would like these more. They're a little too hot for me and I also find them pretty salty but still enjoyable!
Scoring
Taste: 7.5/10
Cost: 7/10
Convenience: 10/10
Nutrition: 8/10
Overall
Give it a try!
If you're following a low-carb, sugar-free, gluten-free diet these are a definite snack option. If you don't like any spice/heat I would skip these but if you do like hot cheese, try these!
Have you tried these cheese crisps or other similar ones before? What do you think of them?
---
Please note that this review was not paid for or sponsored by any third party. This product was purchased by Costcuisine for the purpose of producing this review. The opinions in this review are strictly those of Costcuisine. Costcuisine is not affiliated with Costco or any of its suppliers. In the event that Costcuisine receives compensation for a post from the manufacturer of a product or some other third party, the arrangement will be clearly disclosed (including where the manufacturer of a product provides Costcuisine with a free sample of the product).