Gluten-free and keto-friendly crackers from Costco!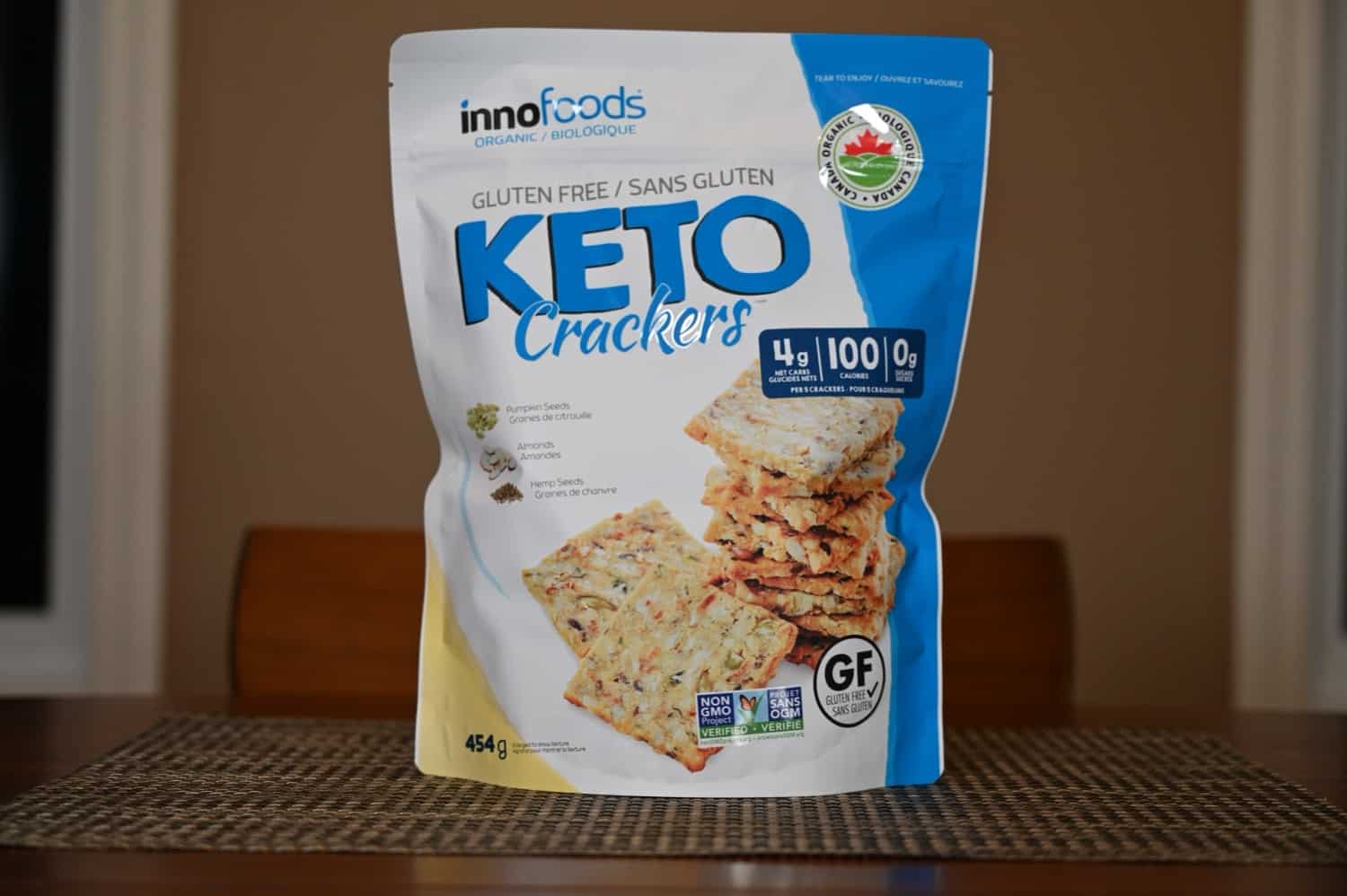 Another Costco keto find I'm reviewing today! I've reviewed a few popular keto products available at Costco, these include the NoSugar Company Keto Bombs, Rao's Homemade Marinara Sauce and Folios Cheesewraps. Today I'm reviewing the Costco innofoods Keto Crackers.
Location in Store
The innofoods Keto Crackers can be found in the section by the other crackers at Costco. The item number is 1475642.
Taste
These remind me of the innofoods Trailbite Snackers from Costco that I reviewed about a year ago, they're pretty similar in appearance but they don't have any dried fruit in them and are less sweet! These have pumpkin seeds, almonds, hemp seeds, coconut and sunflower seeds! All of which is organic! These are full of a lot of healthy fats which makes them suitable as a keto product!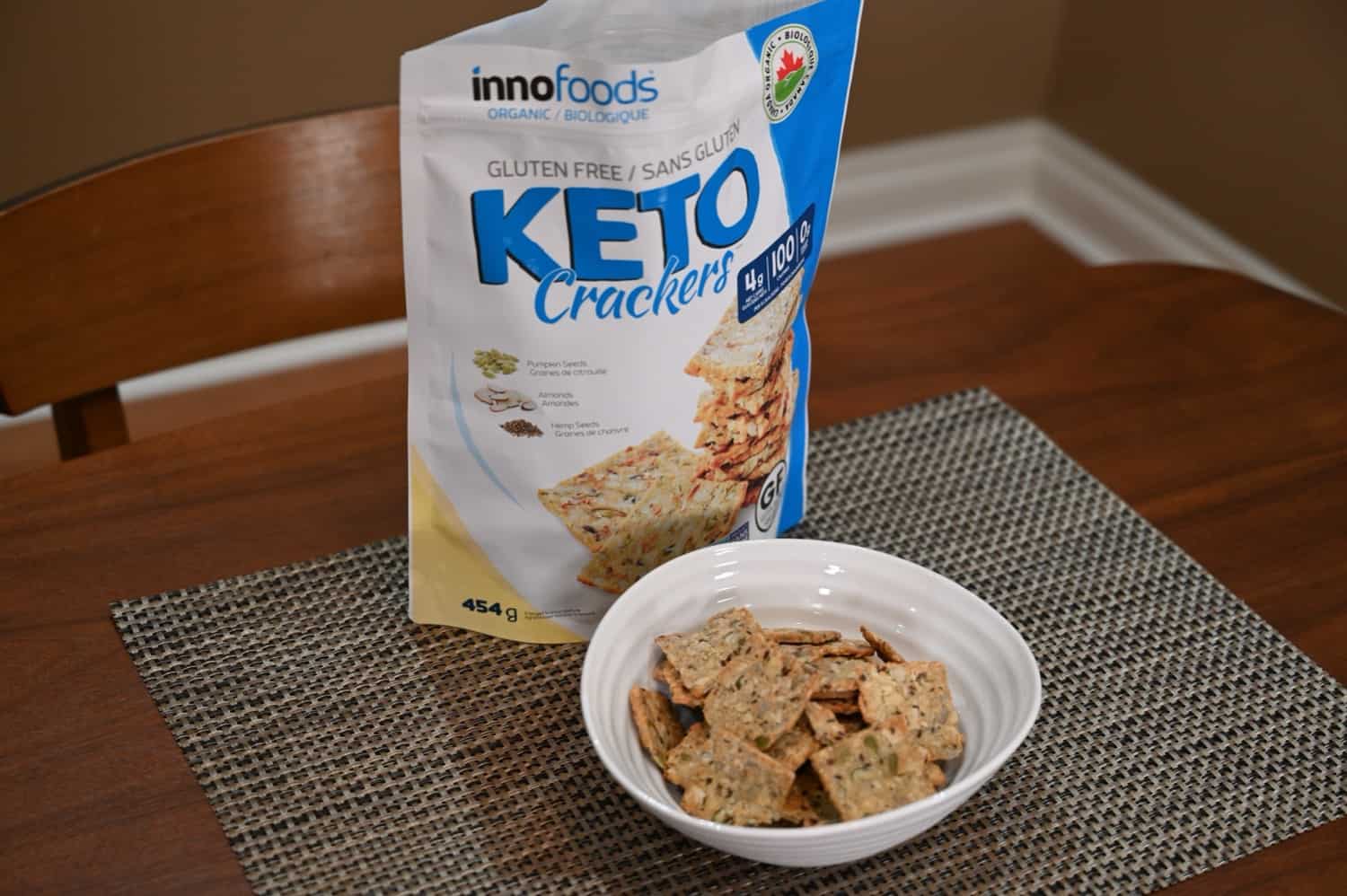 These aren't the most amazing crackers I've had. I'd much rather have the Simple Mills Almond Flour Crackers from Costco, but for a keto cracker, these are actually okay tasting. They're salty and at first you just taste a hearty coconut cracker with seeds and nuts. They're super crunchy and the seeds and nuts add just a tiny bit of extra flavor and texture. They have nutritional yeast in them, so the longer you chew the crackers the more you taste the unique savory almost slightly cheese-like flavor.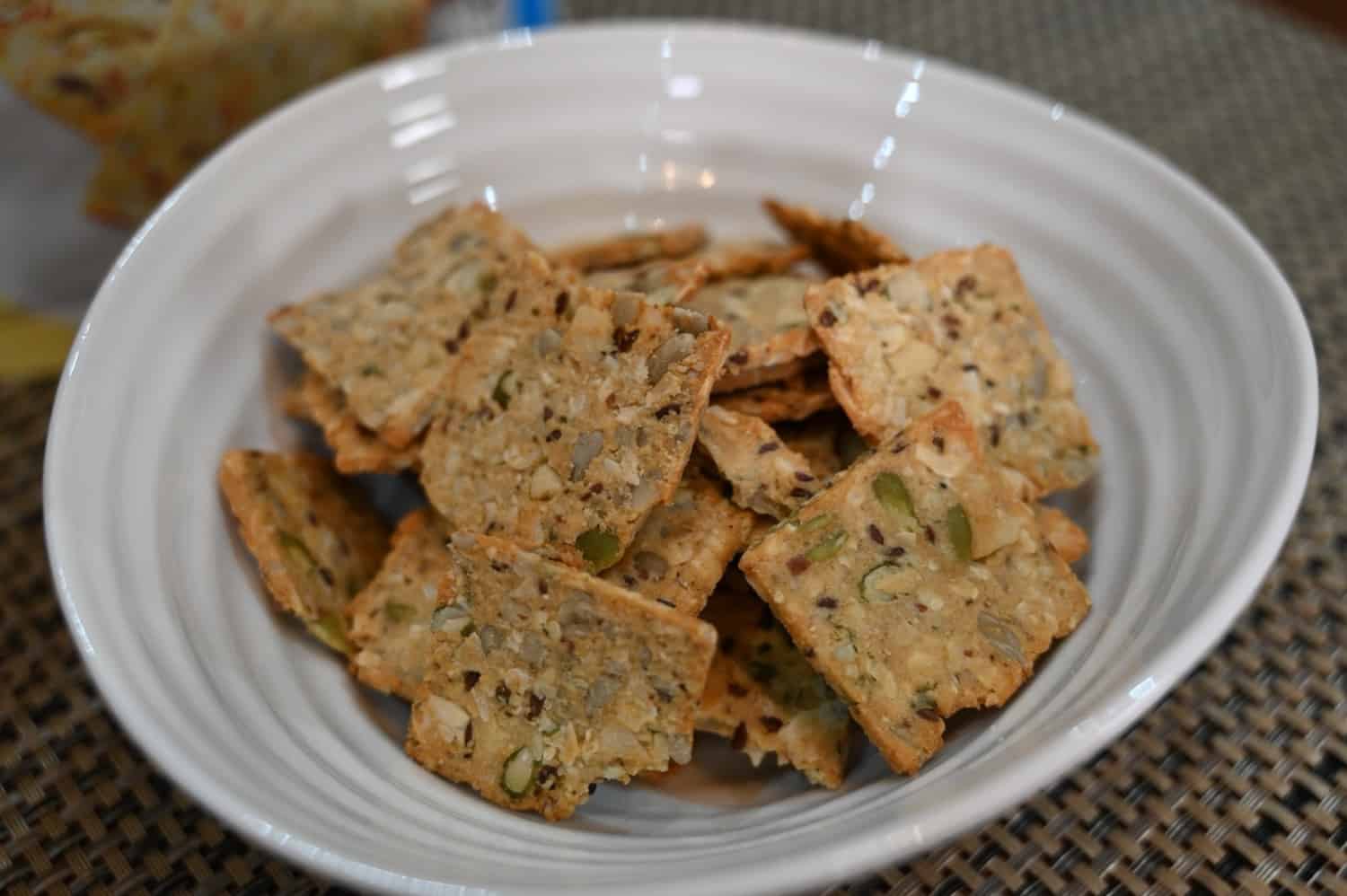 If you're following a strict keto diet, these crackers probably taste pretty amazing. I don't love them but I'm also not following a keto diet!
Cost
I paid $9.99 Canadian (regular price) for the 454-gram bag, which isn't bad at all!
These crackers are really filling so you only need a few to satisfy your hunger, a big bag of organic keto crackers for $9.99 Canadian is pretty reasonable.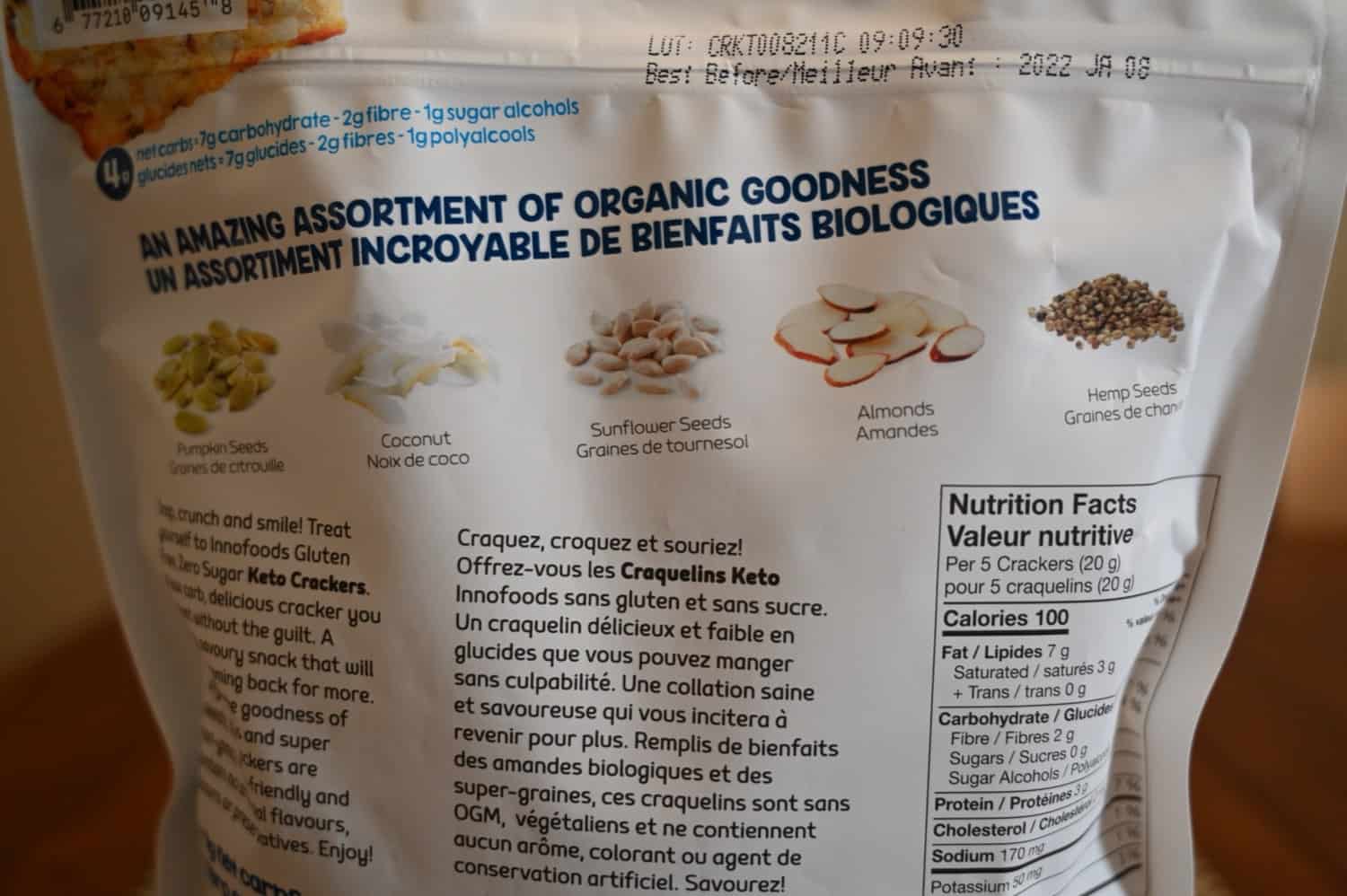 Convenience
The keto crackers are perfect for a quick snack or appetizer. They go well with salsa, guacamole and cheese! The best before date on the bag is about a year from the date I purchased the crackers.
The bag is resealable which I totally appreciate because it keeps the keto crackers fresh longer, the bag also recommends you keep these in a cool, dry place.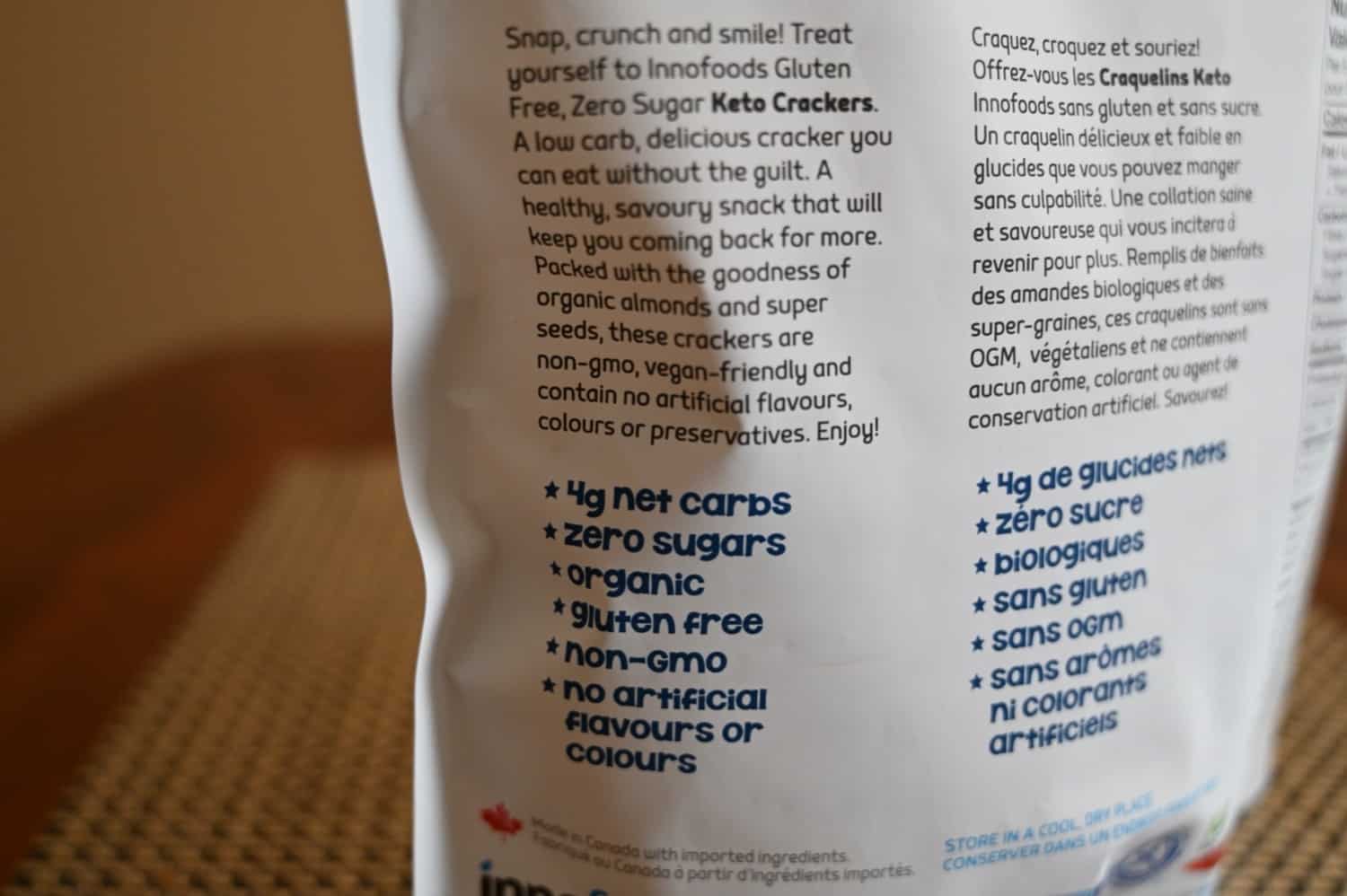 Nutrition
These crackers contain four grams of net carbs per serving. There are zero sugars in the crackers, and they're organic, gluten-free, non-GMO and have no artificial flavors or preservatives! The bag does state that the crackers "may contain milk".
Five crackers contains 100 calories, seven grams of fat, seven grams of carbohydrates, two grams of fibre, zero grams of sugar, three grams of protein and 170 milligrams of sodium.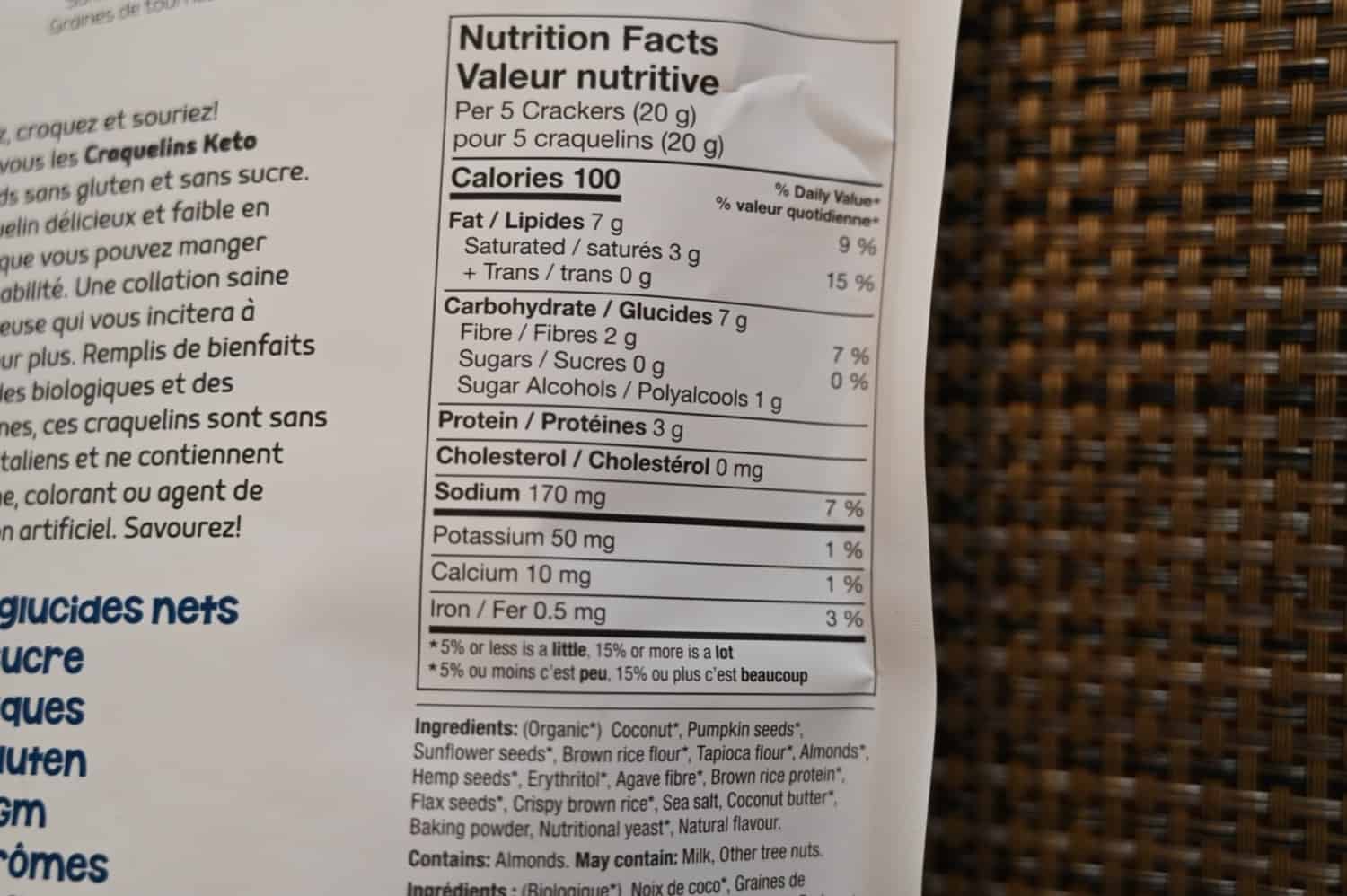 Scoring
Taste: 7/10
Cost: 7/10
Convenience: 10/10
Nutrition: 8.5/10
Overall
Give it a try!
If you're following a keto diet, I would consider checking these out. The taste is decent, and they're not completely overpriced as some keto products are. I would definitely recommend that keto diet followers give these a try!
---
Which Costco keto products are your favorite?
Please note that this review was not paid for or sponsored by any third party. This product was purchased by Costcuisine for the purpose of producing this review. The opinions in this review are strictly those of Costcuisine. Costcuisine is not affiliated with Costco or any of its suppliers. In the event that Costcuisine receives compensation for a post from the manufacturer of a product or some other third party, the arrangement will be clearly disclosed (including where the manufacturer of a product provides Costcuisine with a free sample of the product).