Super easy, delicious and healthy!
Please note that this review/recipe was not paid for or sponsored by any third party. The opinions in this review are strictly my own. I am not affiliated with Costco or any of its suppliers. I am just a fan of the company. I write these honest reviews to help my fellow shoppers.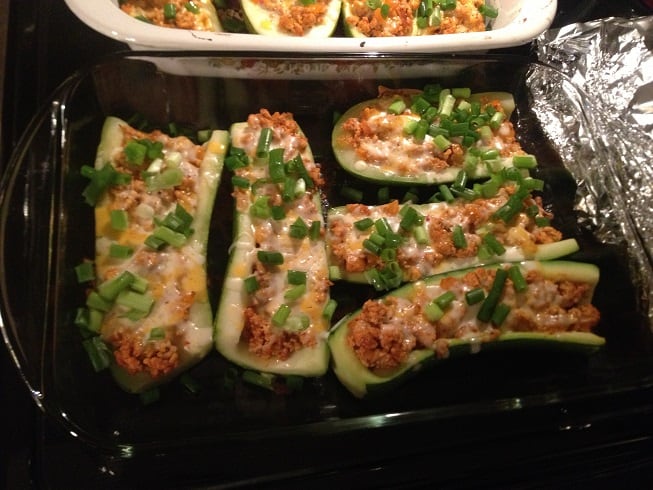 Ground turkey is on sale at my local Costco this week and I posted my review on Pace Medium Chunky Salsa so I was inspired to make a healthy dinner using the ground turkey and salsa.
Zucchini boats are super easy to make and are extremely versatile. You can use sausage, chicken, ground beef, ground chicken, ground turkey, steak, pork, pretty much any meat and vegetables to fill the zucchini boats. They're delicious and are a healthier dinner option. I love tacos and fajitas so I wanted to make Mexican style zucchini boats.
To make a zucchini boat basically you cut a zucchini in half length-wise, use a spoon or melon baller to remove enough of the middle flesh of the zucchini to give you room to put the meat mixture in. Leaving about ¼ to ½ inch of shell thickness. I don't like my zucchini boats super soft but they do need to soften a little so I recommend putting the zucchini halves in a pot of boiling water for about 45 seconds to a minute. This is after you've cut them and removed some of the middle. Also I like to save the zucchini I removed and put it back in with the ground turkey mixture, you don't need to but I like to avoid waste.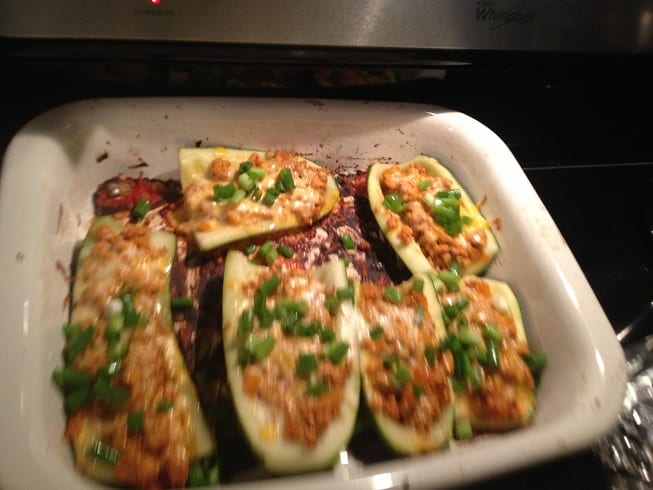 Ingredients:
4 small to medium zucchinis cut in half lengthwise
1 package Costco Kirkland Signature Ground Turkey
3 Tsp chili powder
2 Tsp cumin
1 Tsp garlic powder
1 Tsp paprika
¼ cup water
1 small yellow onion chopped
1 green pepper diced
¼ cup Costco Pace Chunky Medium Salsa
½ cup Costco Kirkland Signature Tex Mex Shredded Cheese
2 green onions chopped for topping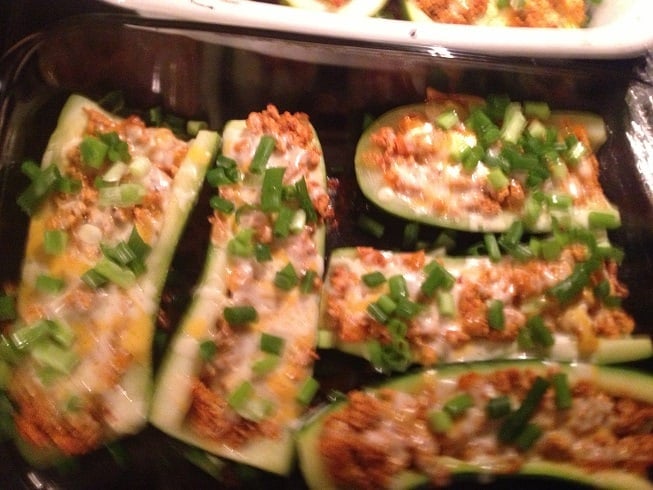 Directions:
Preheat oven to 400 degrees Fahrenheit and bring a large pot of water to boil.
Halve zucchinis, remove middle of zucchini with a spoon to create room for ground turkey mix, save extra zucchini, boil zucchini halves for about 1 minute each in a pot of boiling water.
Brown ground turkey, remove any excess grease. Once mostly browned season with garlic powder, paprika, chili powder and cumin and add ¼ cup of water, stir. Add onions, green pepper and saved zucchini and cook until onions are fragrant and green pepper has softened, stirring often, about 7 minutes.
Lay zucchini boats in a 9×13 inch pan with the cut side facing up, fill each zucchini boat with turkey mixture, press turkey mixture into the boats using a fork or spoon, spread desired amount of salsa on top of zucchini boat using a small spoon, sprinkle Kirkland Signature Tex Mex cheese on top of the salsa on the zucchini boats.
Cover pan with foil, bake in oven for about 30 minutes, you can then remove the foil and broil for about 1 minute to make the cheese nice and golden and crispy.
Remove from oven, sprinkle with chopped green onion. Serve with sour cream, guacamole, cauliflower rice and black beans.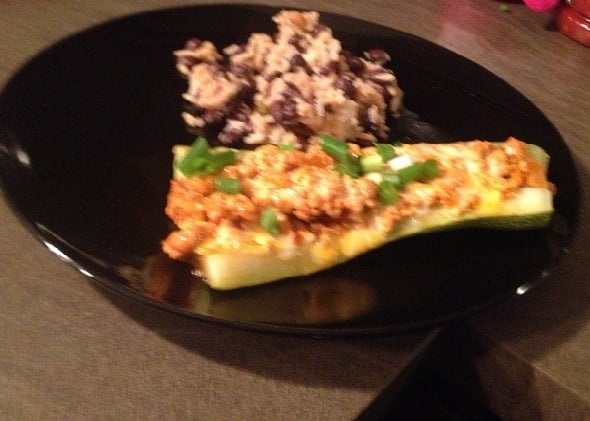 Any questions? Let me know!