Heat & serve Belgian crepes from Costco make an easy, no-mess breakfast or brunch!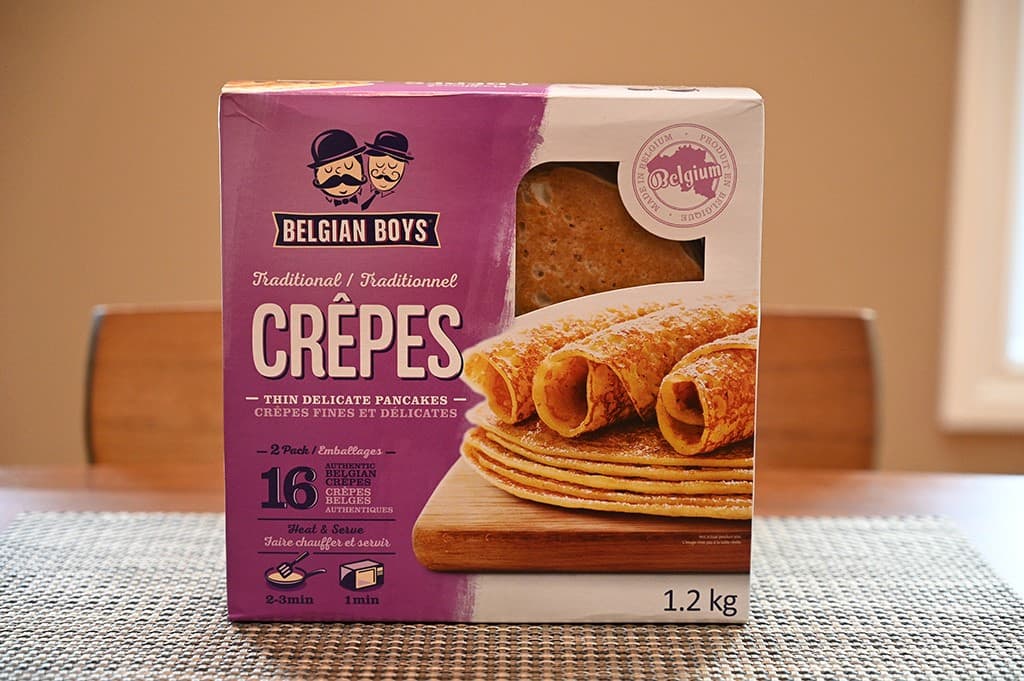 Today I'm reviewing the Belgian Boys Traditional Crepes from Costco. I've seen these for a few months at my local Costco and have been curious to try them so I picked up a box to review. Crepes are something my mom would make as special treat on the weekends and hers were always paper thin and delicious.
I've previously reviewed another kind of crepe from Costco, the Le Marie Mini Crepes. My personal go-to Costco crepe/pancake type item is the Kodiak Cakes Mix and I always keep a bottle of the Kirkland Signature Organic Maple Syrup in the house.
These crepes can be found in the refrigerated section near the refrigerated appetizers and fresh pasta. The item number is 13355679.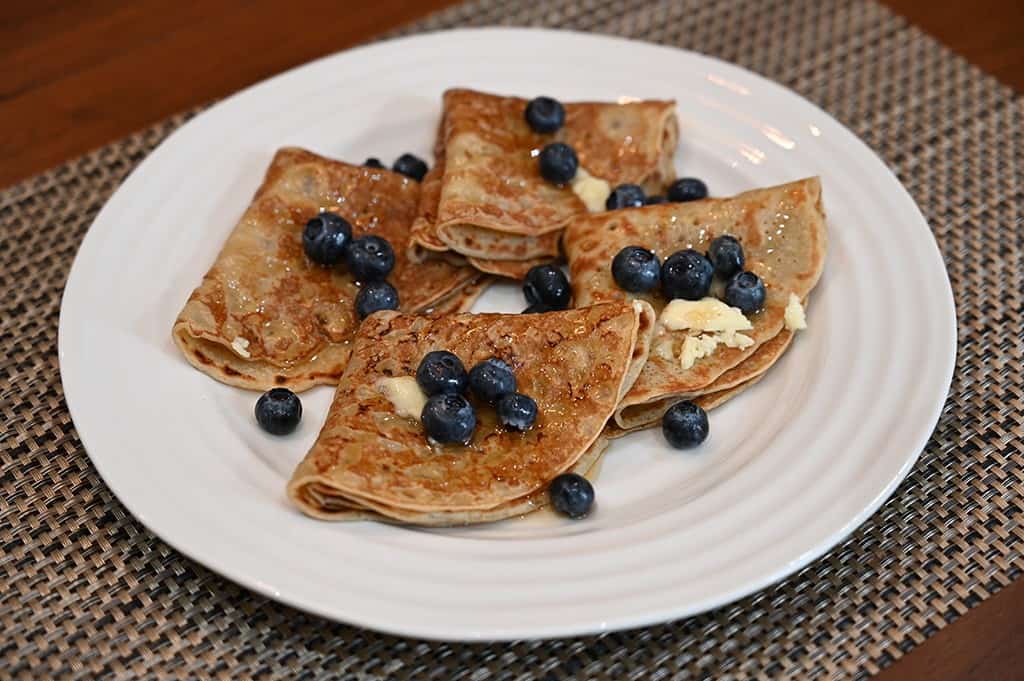 Taste
These crepes aren't as thin as my mom's fresh homemade crepes but they're thinner than a pancake with a similar flavor to a pancake. They're not as light and delicate like other crepes I've had and are quite chewy, chewier than a pancake and more dense than a pancake. The crepes also have a bit of a spongey texture.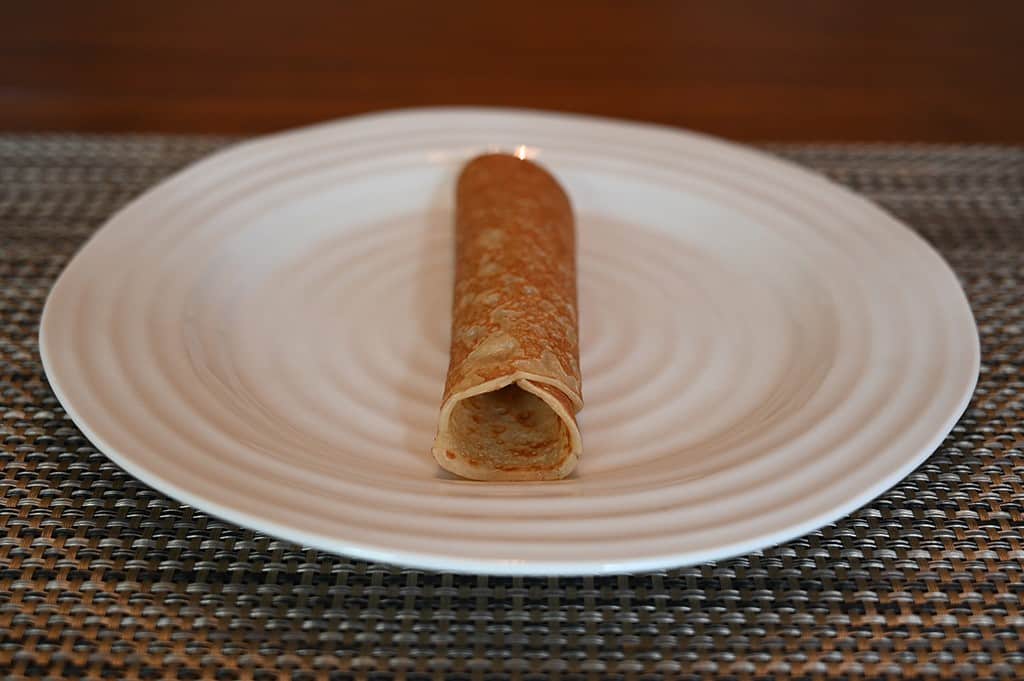 The Costco Beligan Boys Traditional Crepes have a hint of sweetness but not a ton of flavor. Personally, I'd rather have a pancake but these are way more convenient than making pancakes or crepes from scratch or a mix.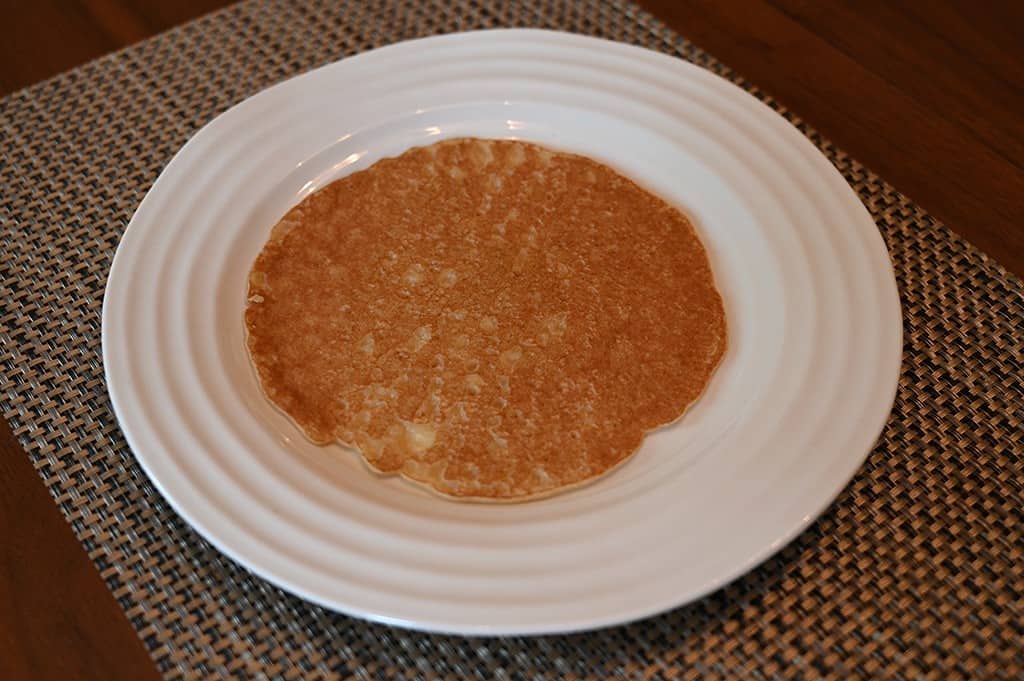 Cost
I paid $9.69 Canadian for the box of crepes that includes two packages of crepes each with eight crepes per package. You get a total of 16 crepes in the box.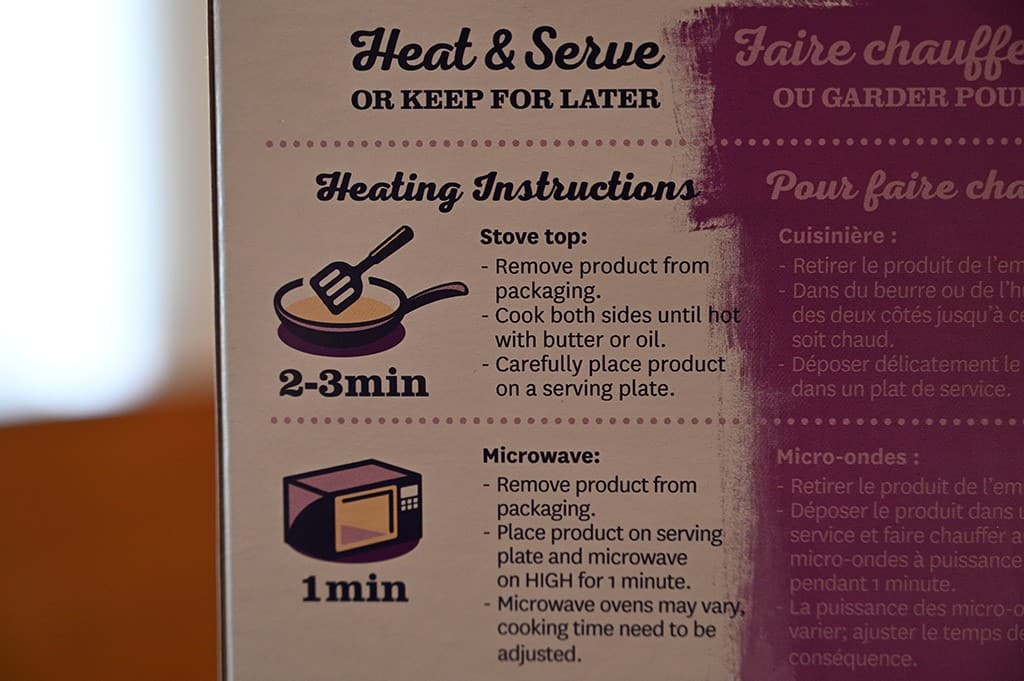 Convenience
The best before date on the crepes is about a month from the date I purchased the crepes. You can choose to enjoy your crepes either with sweet toppings or savory toppings. They do need something additional added though because if you try them just plain they're pretty flavorless. Even a bit of a butter and maple syrup does the trick.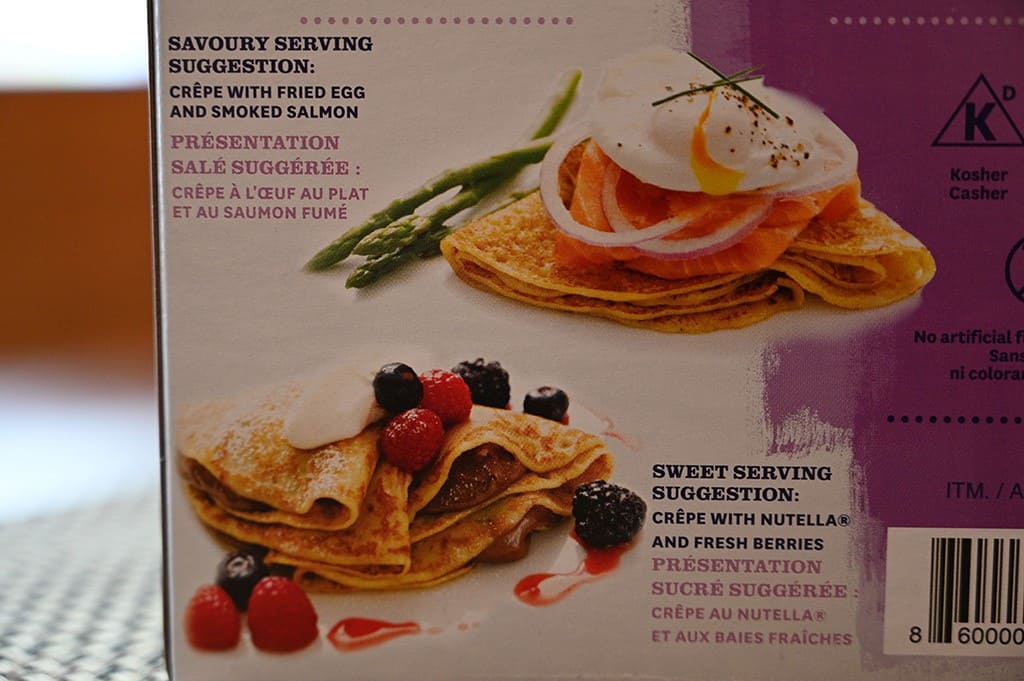 Pre-packed crepes like this would be perfect for camping or for hosting a brunch. They're also great if you want a bit of a fancier breakfast in the morning but don't have the time to make it. I think kids would love these too (especially with syrup).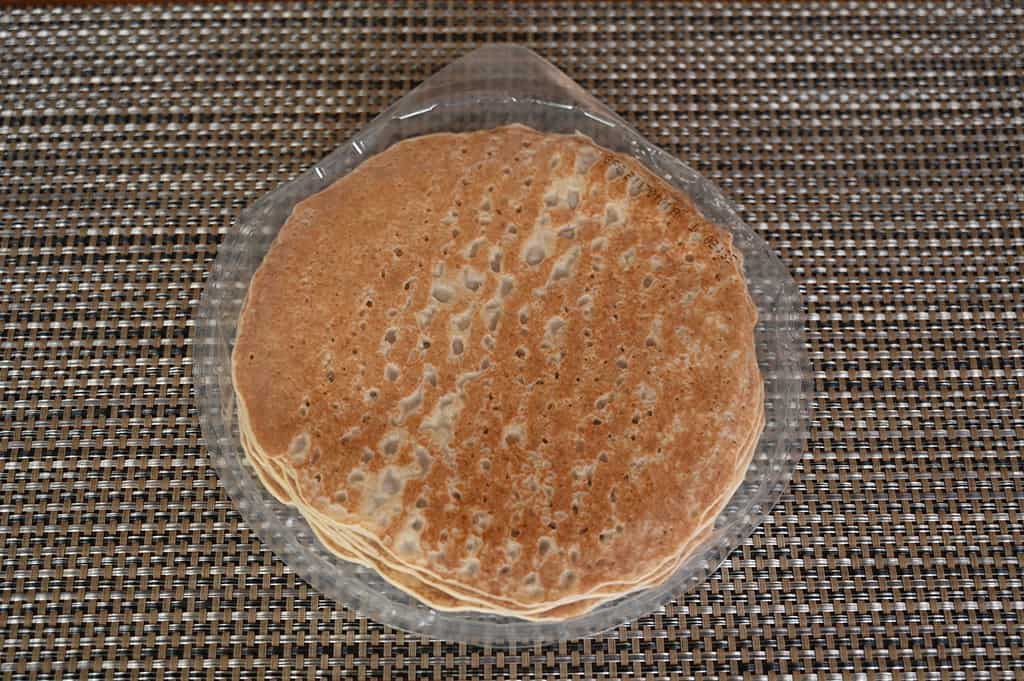 You need to keep the crepes refrigerated and once you open a package of eight crepes you can't reseal it so I popped my leftover crepes into a plastic bag. These also freeze well but when frozen the crepes do stick together so it's hard to remove just one crepe without defrosting the whole package. You can either microwave or cook the crepes in a pan on the stove to serve them.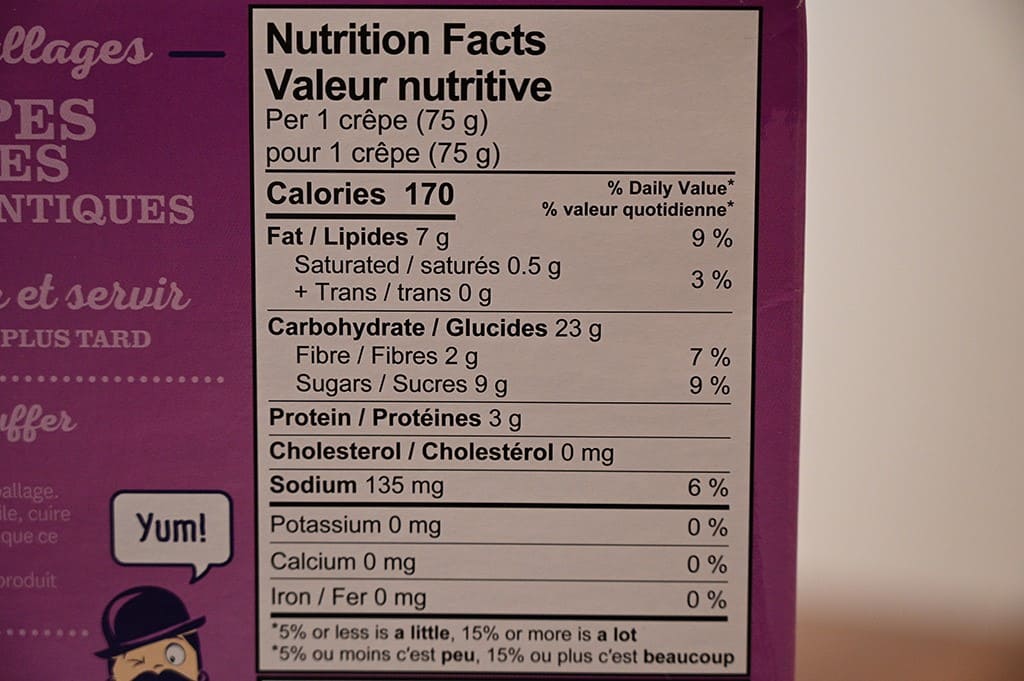 Nutrition
One crepe is 170 calories, seven grams of fat, nine grams of sugar, three grams of protein, two grams of fibre, 23 grams of carbohydrates and 135 mg of sodium. If you eat three or four crepes you're looking at 600 to 800 calories (that doesn't include all the butter and syrup you put on them to make them taste better).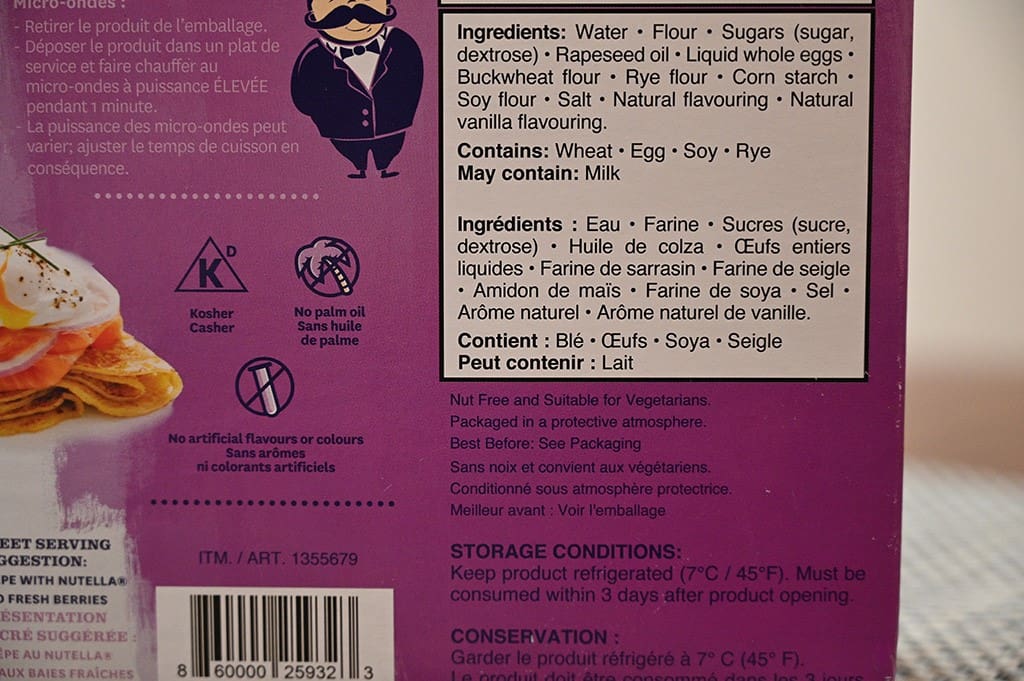 The crepes contain, wheat, egg, soy and rye. The ingredients list isn't extremely long but I question why they have to use soy flour? If you're wondering what rapeseed oil is, it's another name for canola oil.
Scoring
Taste: 7/10
Cost: 8/10
Convenience: 9.5/10 (would love if the bag resealed)
Nutrition: 2/10
Overall
Give it a try!
These aren't exactly as tasty as homemade but they are really convenient! If you're a crepe fan but don't have the time or want to make the effort to make them, check these out!
Have you tried these before? What did you think?
---
Please note that this review was not paid for or sponsored by any third party. This product was purchased by Costcuisine for the purpose of producing this review. The opinions in this review are strictly those of Costcuisine. Costcuisine is not affiliated with Costco or any of its suppliers. In the event that Costcuisine receives compensation for a post from the manufacturer of a product or some other third party, the arrangement will be clearly disclosed (including where the manufacturer of a product provides Costcuisine with a free sample of the product).