My favorite maple syrup to buy at Costco
Please note that this review was not paid for or sponsored by any third party. I purchased this product with my own money and the opinions in this review are strictly my own. I am not affiliated with Costco or any of its suppliers. I am just a fan of the company. I write these reviews to help my fellow shoppers.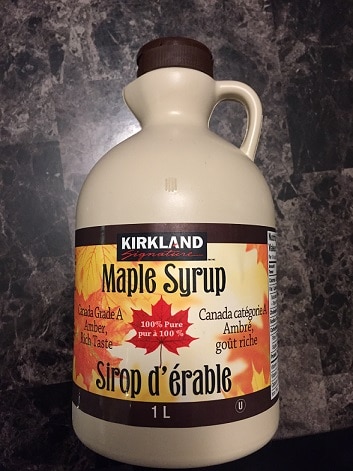 Who has seen the movie "Elf"? I absolutely love how he puts maple syrup on everything, including his spaghetti. Are you a maple syrup fan? I use maple syrup on my pancakes, waffles and even in a chicken recipe I make. Maple syrup and pancake syrup are different, maple syrup is the sap from the maple tree while pancake syrup is basically processed corn syrup/high fructose corn syrup with colouring and other added preservatives. If you like more natural food products, go for maple syrup on your next stack of waffles.
The maple syrup from Costco by Kirkland Signature is really quite delicious. Taste wise, It has a slight hint of molasses and a vanilla-y/caramel-y flavour. It is not overly woody tasting but it definitely tastes like genuine maple syrup. It is super smooth with bold flavour and I do not find it to be overly sweet or artificial tasting at all. Basically this tastes pretty much the same to me as the high quality, glass bottle maple syrup you would buy at a specialty Canadian gift shop.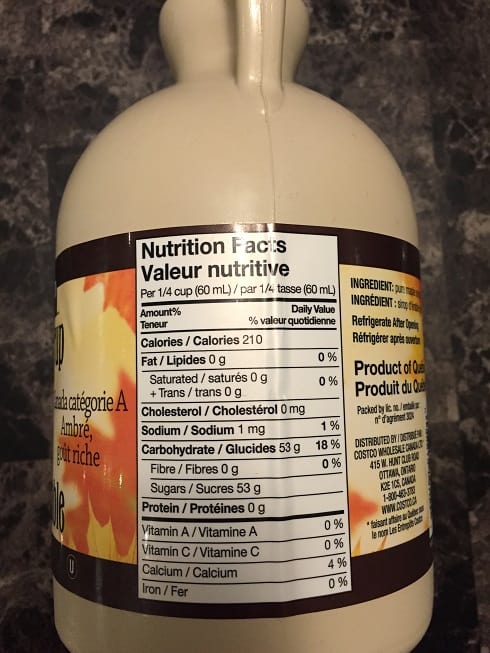 Nutritionally, maple syrup is not a health food. Although it does have more nutrients than plain white sugar and pancake syrup, maple syrup is not "good for you". It's easy to use ¼ cup of maple syrup on your pancakes/waffles and that would be 210 calories and 53 grams of sugar.
I think this is probably one of the cheapest, higher quality maple syrups you can find. I paid $13.99 for this 1 L bottle of maple syrup and it will last my husband and I probably a year in the fridge once opened. Pancake syrup is definitely significantly cheaper but is also highly processed. I think a lot of people may think "I'll never use that much maple syrup" when they see this at Costco but if you end up buying small amounts throughout the year for pure maple syrup at the local grocery store you'll mostly likely end up paying more.
Although it's such a large bottle it is convenient for a couple or family because maple syrup keeps well in the fridge after opening for about 6 months to a year. It doesn't last forever unfortunately. I feel like this product may not be the most convenient for a single person who lives alone and has pancakes once in a blue moon. The bottle has a nice little spout that makes it easy to pour. You can use maple syrup in so many ways. To glaze vegetables, make salad dressings, sweeten yogurt or put on your oatmeal. I also use this maple syrup as a marinade for a delicious chicken breast recipe I make.
I enjoyed the taste of this maple syrup and feel like it is very reasonably priced. Although the size is intimidating there are many uses for maple syrup and it lasts in the fridge once opened. Individuals who have diabetes or are watching their sugar intake should consume this product in moderation. I won't be running out of maple syrup anytime soon but would repurchase this when I am out.
Nutrition: 1/10
Cost: 9/10
Taste: 10/10 (I can't think of any reason I did not like the taste)
Convenience: 6/10 (may be too much for a single person)
What do you like to put maple syrup on? Any interesting maple syrup recipes?