Are you a fan of maple syrup? I use maple syrup on my pancakes, waffles and even in a chicken recipe I make. The Costco Kirkland Signature Maple Syrup is my favorite to buy and I explain why here!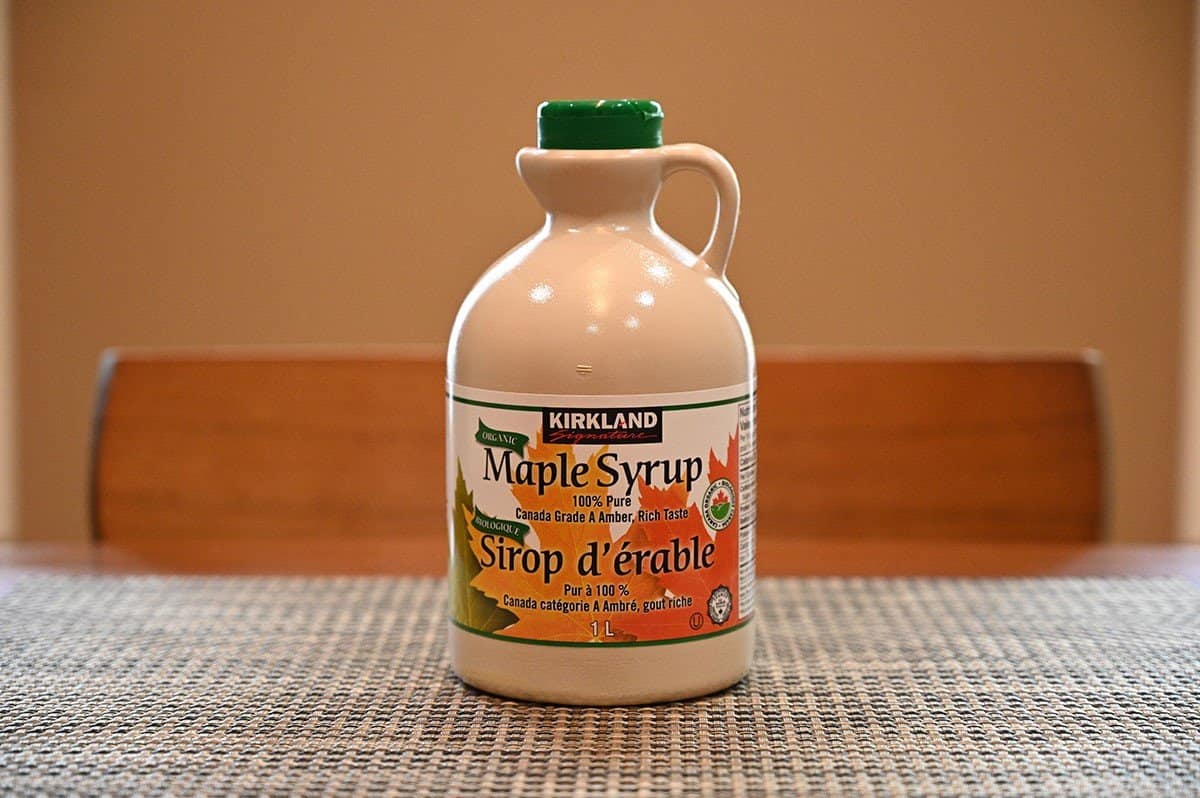 Today I'm reviewing the Costco Kirkland Signature Organic Maple Syrup. Did you know Maple syrup and pancake syrup are different? Maple syrup is the sap derived from the maple tree while pancake syrup is processed corn syrup/high fructose corn syrup with coloring and other added preservatives. If you like more natural food products like me go for maple syrup on your next stack of waffles.
Oher breakfast products I've reviewed from Costco are the Costco Krusteaz Buttermilk Pancake Mix, Costco Belgian Boys Traditional Crepes, Costco Spudlers Breakfast Hash, Costco Smokey River Meat Company Turkey Breakfast Sausage and the Costco Kodiak Cakes Flapjacks and Waffle Mix.
Location in Store
You can find the Costco maple syrup in the aisle with the pancake mix, jams and nut butters.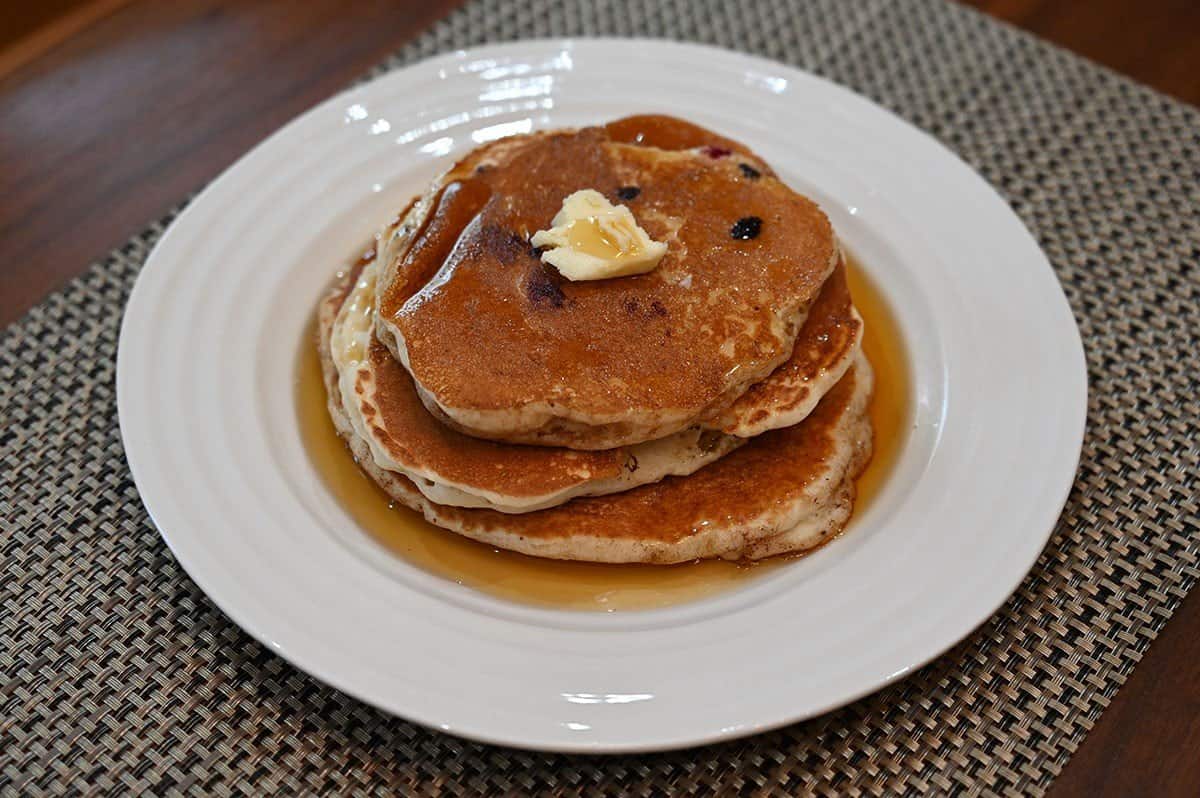 Taste
The maple syrup from Costco by Kirkland Signature is quite delicious! It has a slight hint of molasses flavor and hints of vanilla and caramel. The syrup is not overly woody tasting and tastes like genuine pure maple syrup. It's super smooth with a bold maple flavor..
This Costco maple syrup tastes pretty much the same to me as the high quality, glass bottle maple syrup you would buy at a specialty Canadian gift shop.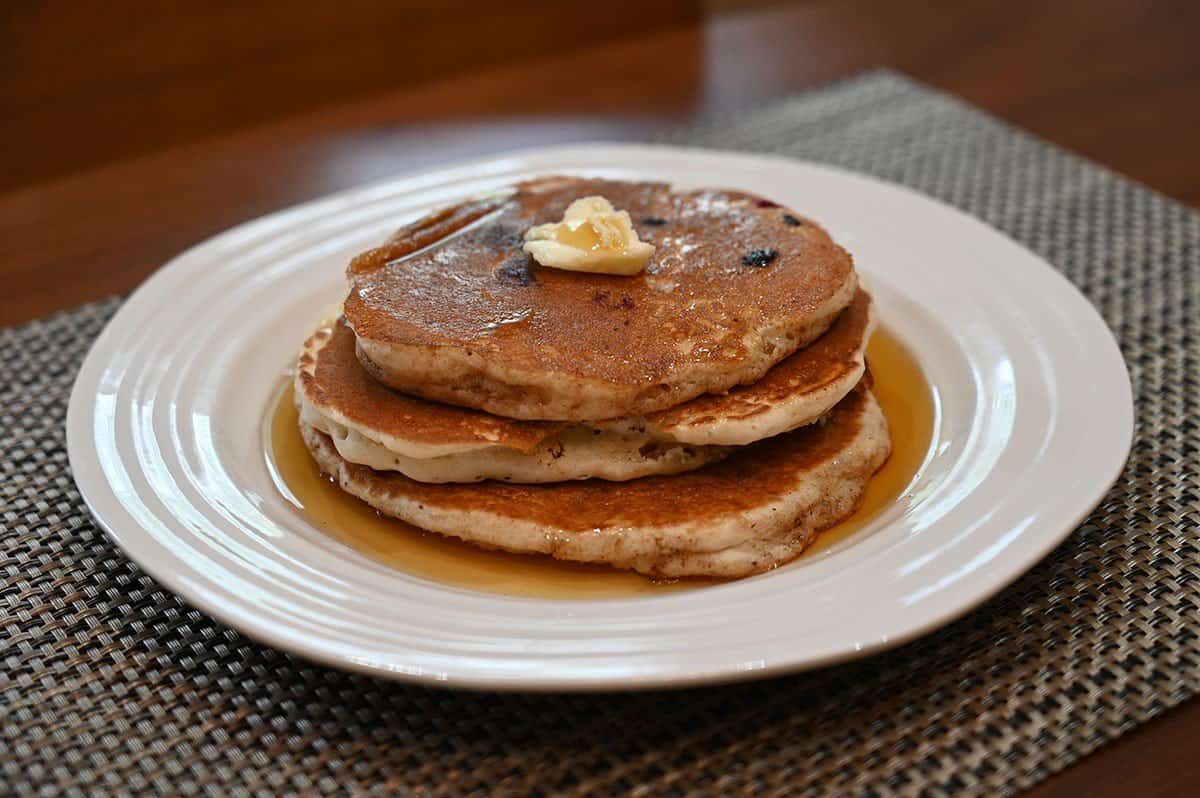 Cost
I think this is probably one of the cheapest, higher quality maple syrups you can find. I paid $15.99 for this one liter bottle of maple syrup and it will last my husband and I probably a year in the fridge. Pancake syrup is definitely significantly cheaper but is also highly processed.
Convenience
The best before date is well over two years from the date we purchased the maple syrup. After you open your bottle make sure to store it in the fridge.
Although it's such a large bottle it is convenient for a couple or family because maple syrup keeps well in the fridge after opening for about 6 months to a year. It doesn't last forever unfortunately.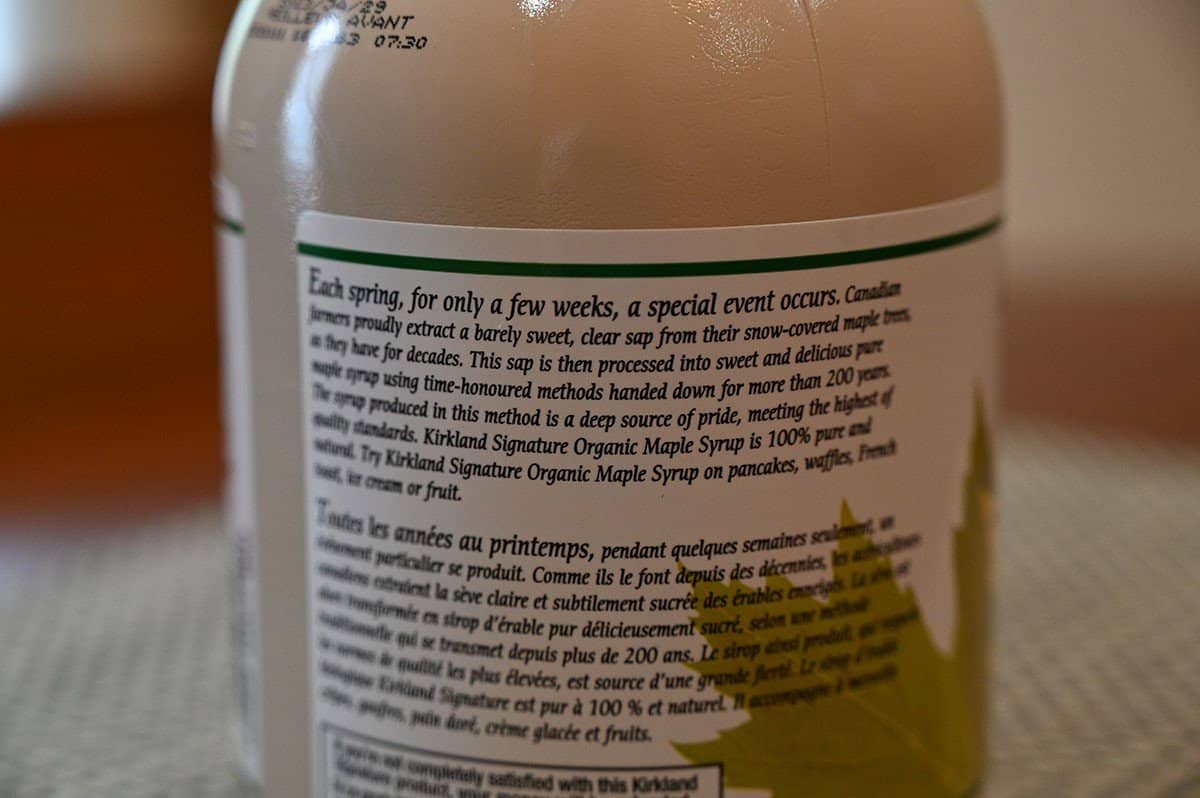 This product may not be most convenient for a single person who lives alone and has pancakes once in a blue moon. The bottle has a nice little spout that makes it easy to pour.
You can use maple syrup in so many ways. To glaze vegetables, make salad dressings, sweeten yogurt or put on your oatmeal. I also use this maple syrup as a marinade for a delicious chicken breast recipe I make.
Nutrition
Calories
1/4 cup of syrup is 220 calories, zero grams of fat, 55 grams of carbohydrates, 48 grams of sugar, zero grams of protein and 10 mg of sodium. That's a lot of carbs and sugar! If you're like me you probably consume more than 1/4 cup on your waffles.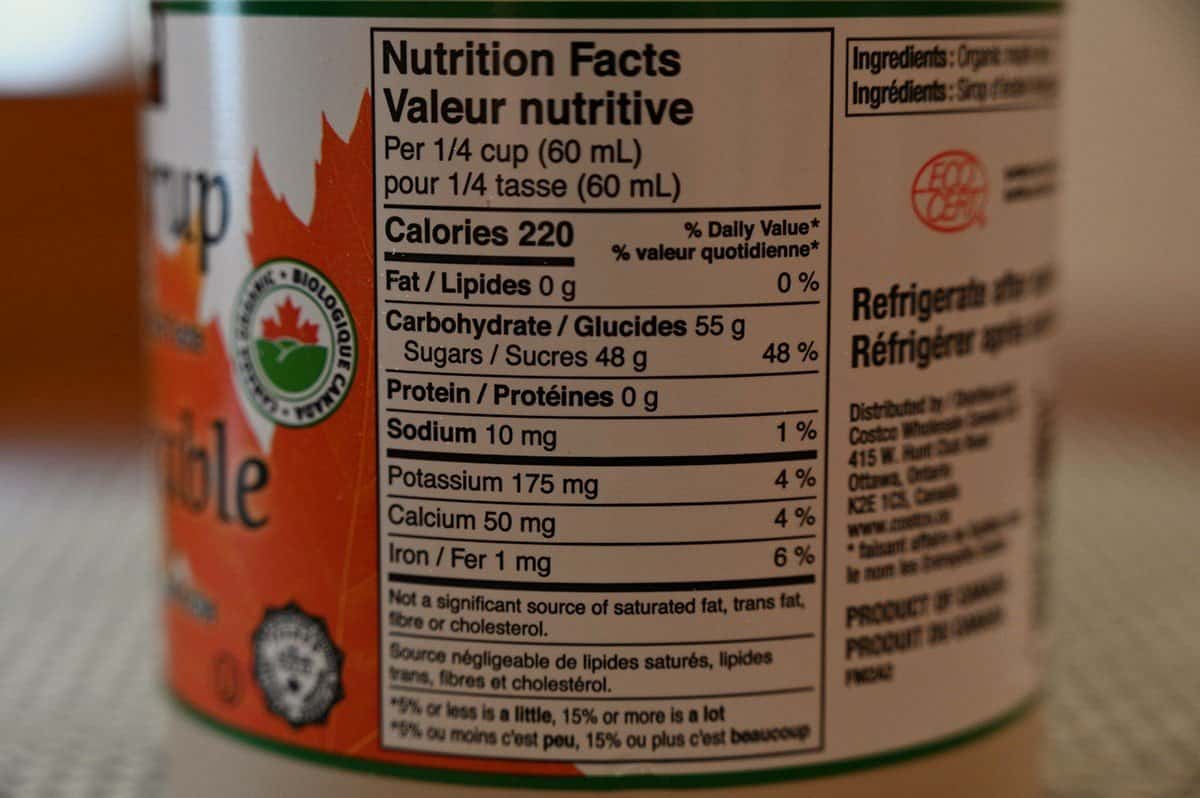 Ingredients
There's only one ingredient listed! Organic maple syrup1 Nutritionally, maple syrup is not a health food. Although it does have more nutrients than plain white sugar and pancake syrup.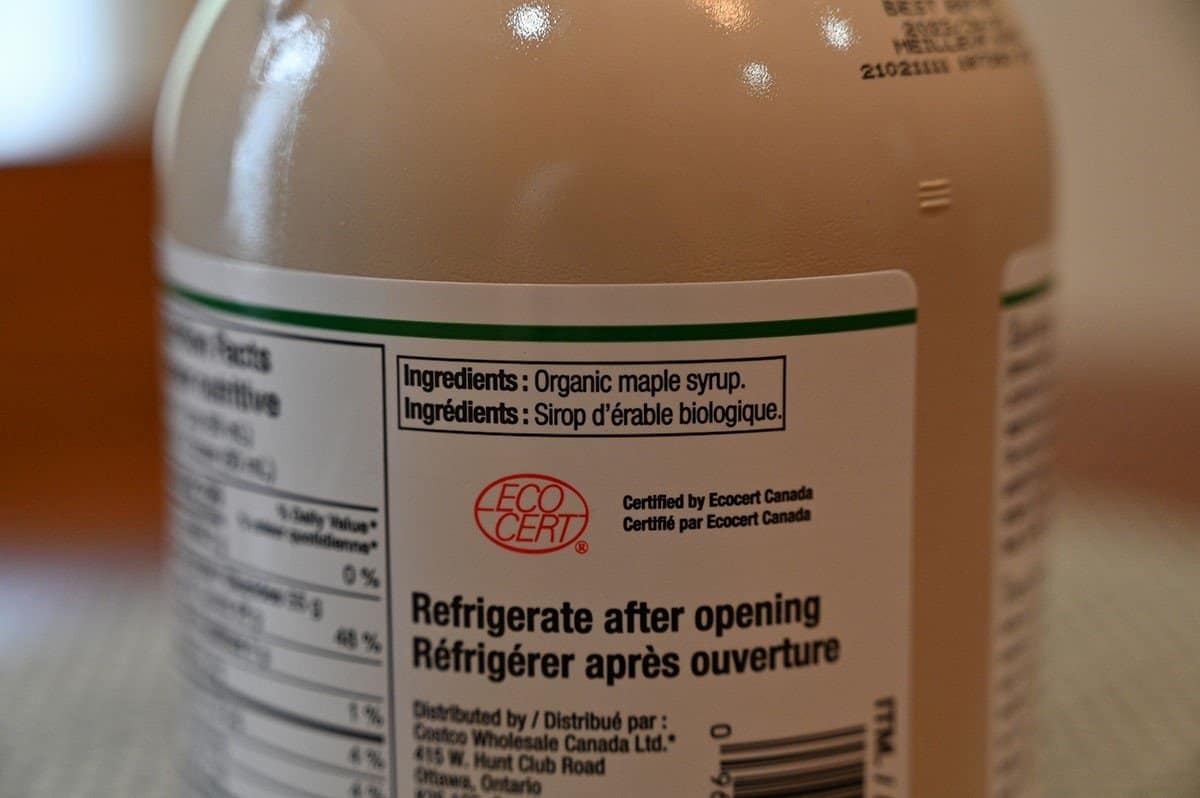 Scoring
Taste: 10/10
Cost: 9/10
Convenience: 10/10
Nutrition: 1/10 (Better than white sugar or pancake syrup).
Overall
Must buy!
I enjoy the taste of this maple syrup and feel like it is a very reasonable price. Although the size is intimidating there are many uses for maple syrup and it lasts in the fridge once open. Individuals who have diabetes or are watching their sugar intake should consume this in moderation. I don't think I'll be be running out of maple syrup anytime soon but will repurchase this when I am out.
What's your favorite way to use maple syrup?
---
Please note that this review was not paid for or sponsored by any third party. This product was purchased by Costcuisine for the purpose of producing this review. The opinions in this review are strictly those of Costcuisine. Costcuisine is not affiliated with Costco or any of its suppliers. In the event that Costcuisine receives compensation for a post from the manufacturer of a product or some other third party, the arrangement will be clearly disclosed (including where the manufacturer of a product provides Costcuisine with a free sample of the product).