This Costco bought breakfast hash is quick, convenient and would be great for camping!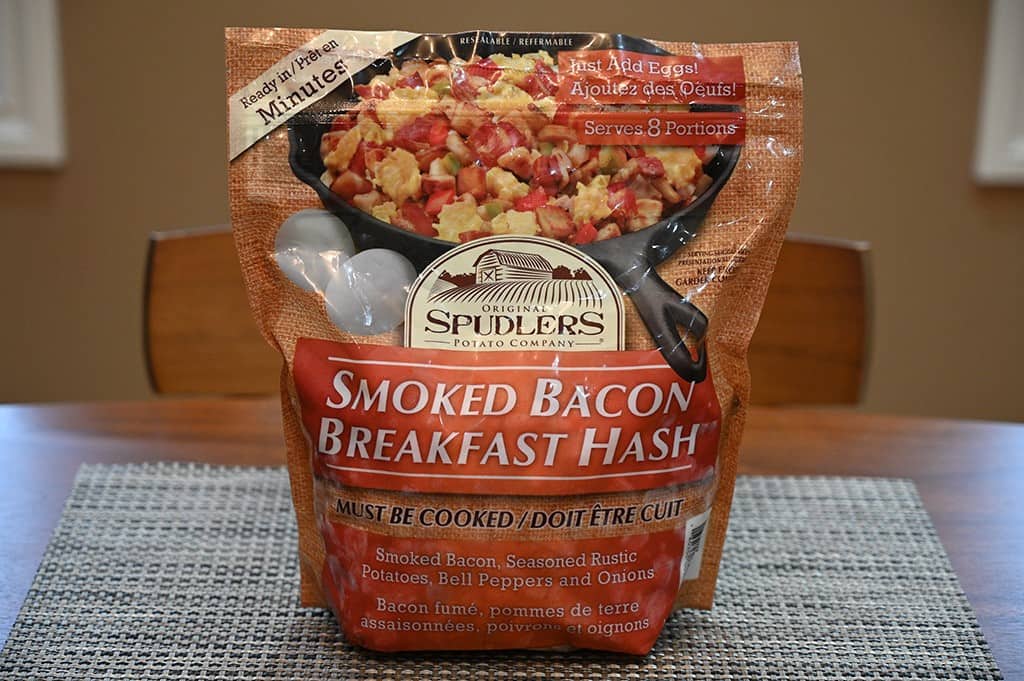 This Costco Spudlers Potato Company Smoked Bacon Breakfast Hash has been at my local Costco for a long time and I've never tried it! I decided to pick it up during my last Costco trip. I think this is definitely something that you could add to your Costco camping trip food list!
Other breakfast items I've reviewed from Costco are the Smokey River Meat Company Turkey Breakfast Sausage, Nature's Path Creamy Coconut Superfood Instant Oatmeal, Veggies Made Great Spinach Egg White Frittatas. LeMarie Patissier Mini Crepes, Lilydale Turkey Bacon and the Golden Grill Hasbrown Potatoes.
The Spudlers Breakfast Hash can be found in the freezer section and the item number is 261112.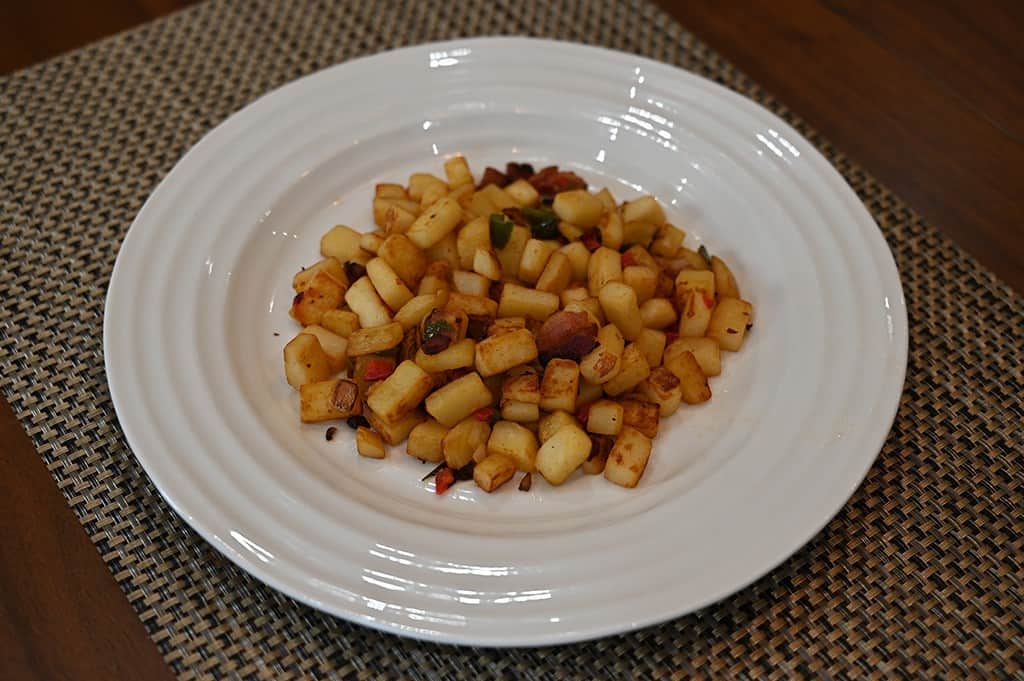 Taste
This tastes exactly like you'd expect it to. It's mainly potatoes with a few peppers, onions and small pieces of bacon. The onion flavor is pretty strong and you also taste a bit of smokiness from the bacon and added smoke flavor.
The potatoes cooked up nicely in the pan and became golden brown but weren't super crispy. This might be a good item for the air fryer!
I used avocado oil in my pan to cook the hash and it turned out fine. Despite the packaging saying 1/8th has a lot of sodium I found the hash was lacking seasoning and opted to add extra salt to my portion, otherwise it was a little bland tasting.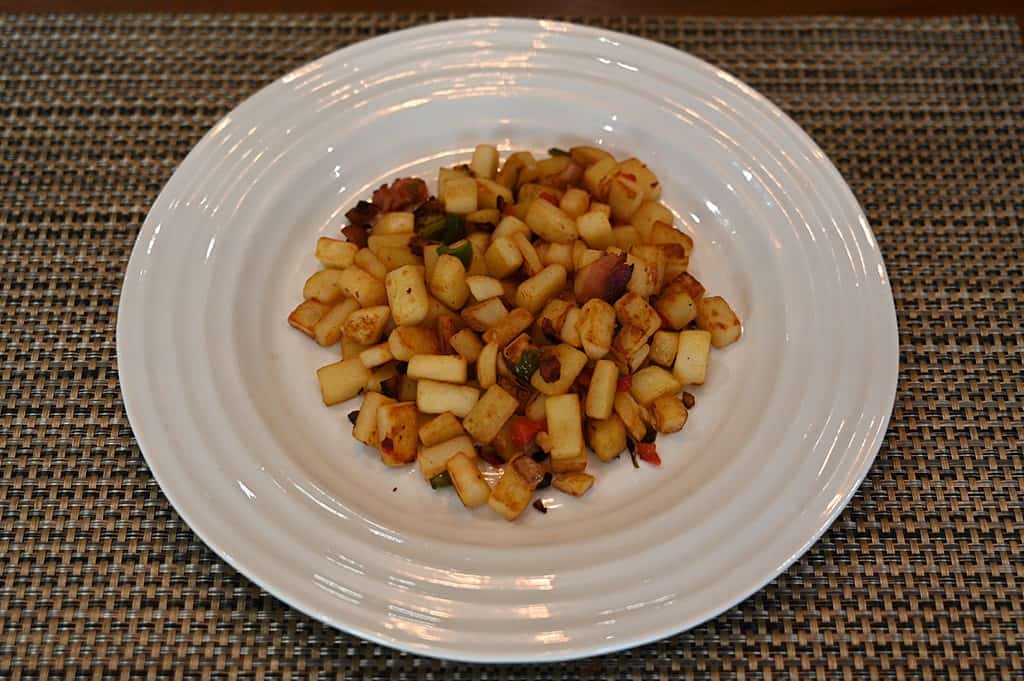 I think if you added extra seasoning and eggs with cheese the hash would be a lot more flavorful. There's also not a ton of bacon, peppers or onions so I would add more peppers and bacon, possibly some leftover Kirkland Spiral Ham to my hash.
This wasn't mind-blowing but it was tasty enough. I could see it being a popular item for camping trips or weekend brunch!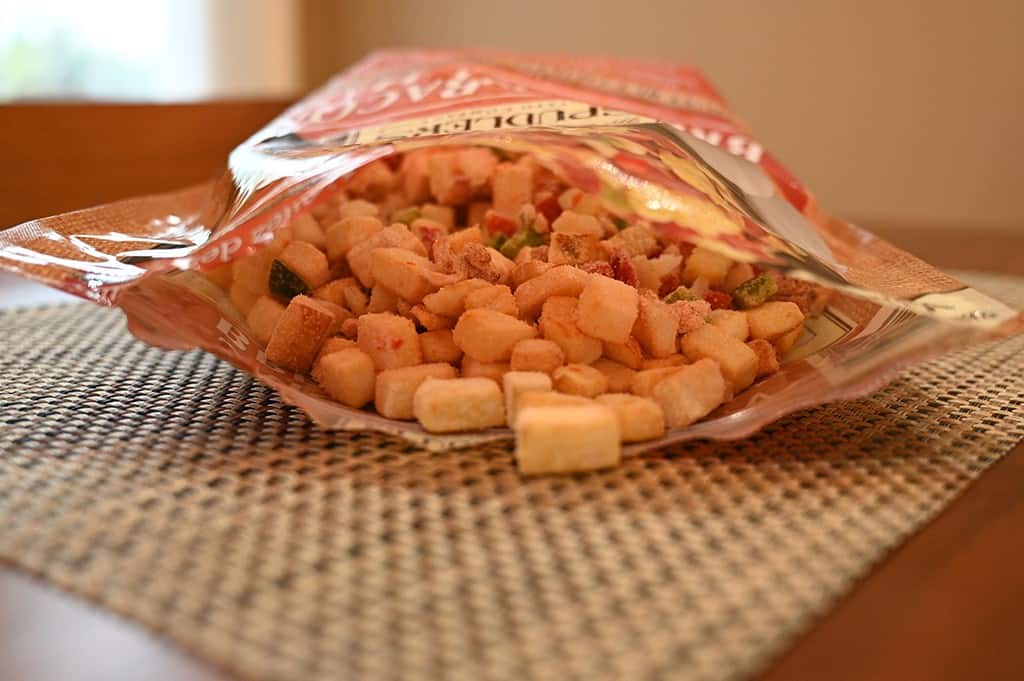 Cost
I paid $7.99 Canadian for the 1.2 kg bag of breakfast hash on sale, regular price is $10.99 Canadian.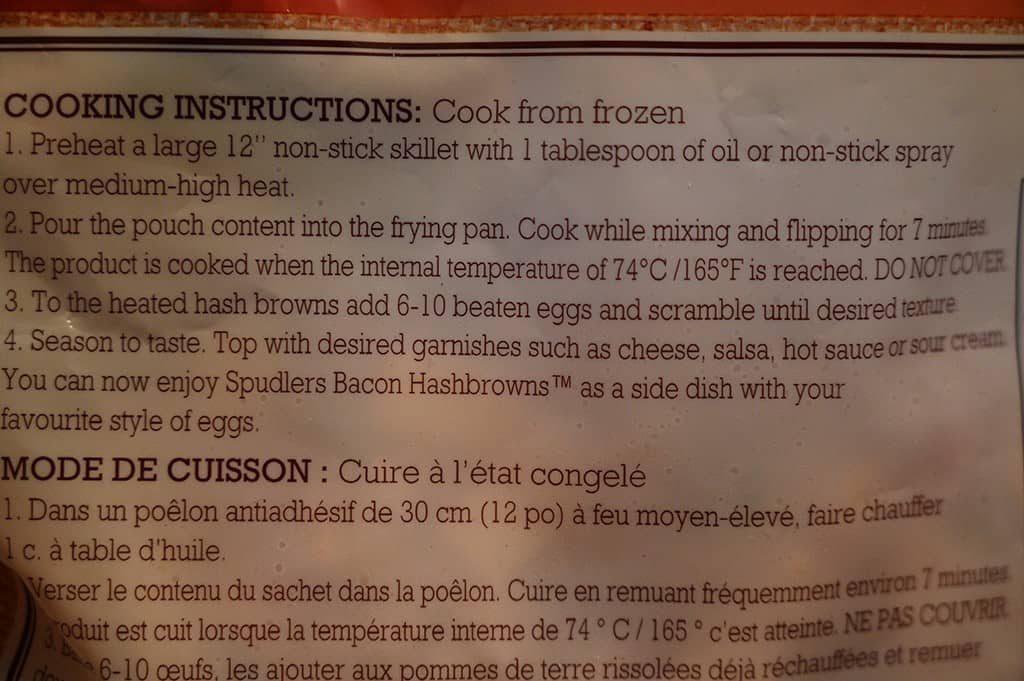 Convenience
This Costco breakfast hash is so easy to fry up! I just added some Chosen Foods Avocado Oil (from Costco) to my pan and let it cook. This needs to be kept frozen and the best before date is about 11 months from the date I purchased it.
You can be creative with this and add eggs, extra vegetables, ham, breakfast sausage or even cheese!
Breakfast hash is awesome for camping trips or trips to the lake! It's also great for a nice big weekend brunch!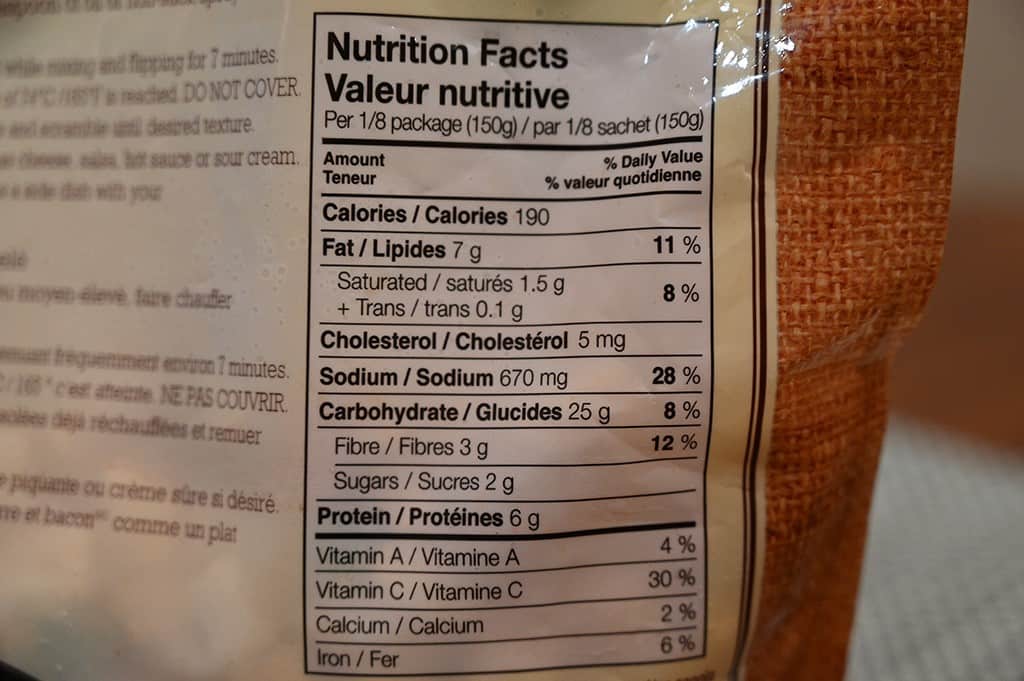 Nutrition
1/8th of the package is 190 calories, seven grams of fat, 670 mg of sodium, 25 grams of carbohydrates, three grams of fibre, two grams of sugar and six grams of protein.
The ingredients list is pretty much what you'd expect to see in a frozen breakfast hash. Definitely not the healthiest item you can have for breakfast. I don't see any gluten in the ingredients list though!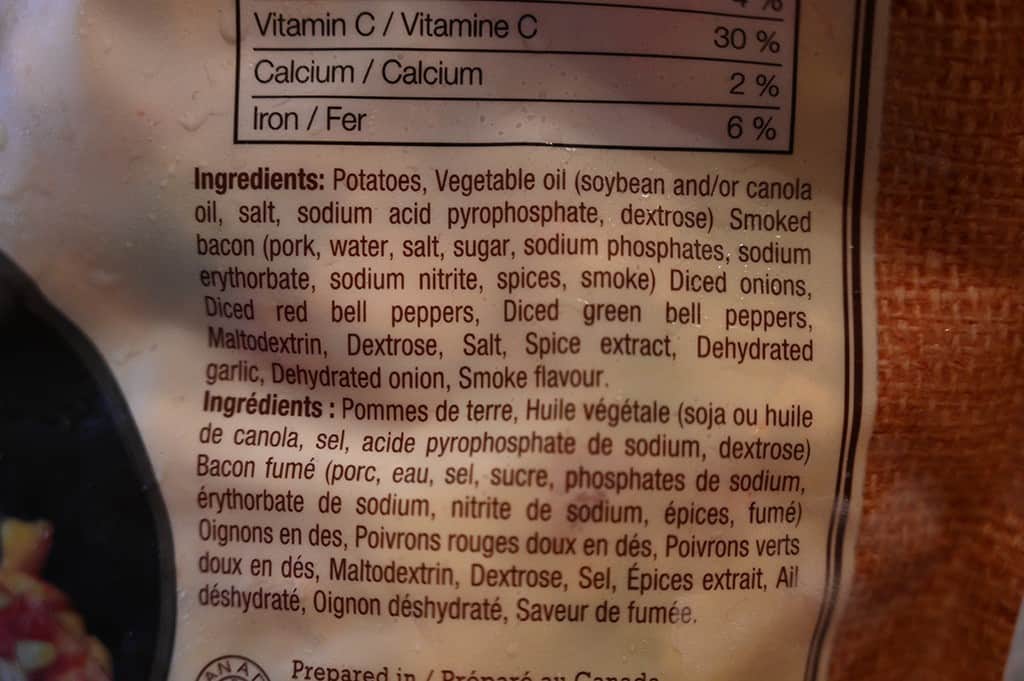 I wasn't totally crazy for this, I felt it needed more seasoning and salt but it already has a lot of sodium listed on the nutritional information!
Scoring
Taste: 6.5/10
Cost: 8/10
Convenience: 9/10
Nutrition: 4/10
Overall
Give it a try!
If you're looking for a breakfast item for your summer camping trip or weekend breakfast, you could try this! I suggest being creative with adding ingredients to add boost the flavor.
Have you tried this? What did you think?
---
Please note that this review was not paid for or sponsored by any third party. This product was purchased by Costcuisine for the purpose of producing this review. The opinions in this review are strictly those of Costcuisine. Costcuisine is not affiliated with Costco or any of its suppliers. In the event that Costcuisine receives compensation for a post from the manufacturer of a product or some other third party, the arrangement will be clearly disclosed (including where the manufacturer of a product provides Costcuisine with a free sample of the product).