Costco carries this healthy 100% pure avocado oil for baking, dressings, cooking and marinades!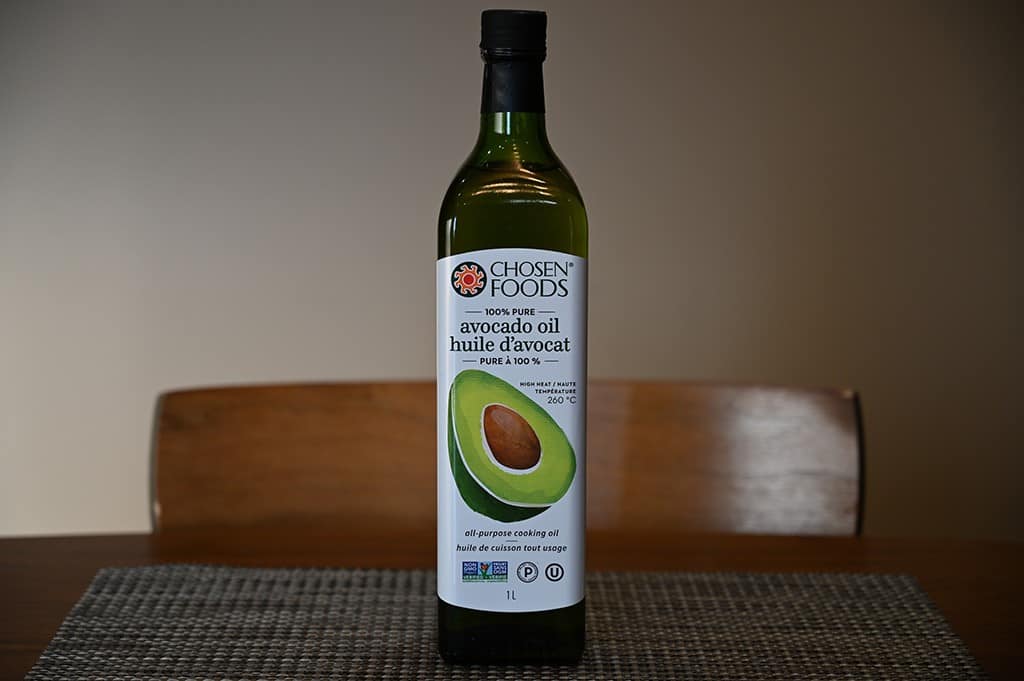 I use a ton of oil in our house, I'm always roasting something in the oven like sweet potato, brussels sprouts and brocolli. My go-to oil is Extra Virgin Olive Oil but I decided to mix things up and buy this Costco Chosen Foods 100% Pure Avocado Oil last time I was at Costco.
We eat a ton of fresh avocados so I jump at the chance to try any products from Costco that have avocado in them like the Chosen Foods Avocado Mayo, the GoodFoods Tomatillo Avocado Salsa and theWholly Guacamole Organic Minis. Our favorite extra virgin olive oil from Costco is currently the Terra Delyssa but I previously have used the Kirkland Signature Extra Virgin Olive Oil.
The Costco Chosen Foods Avocado Oil can be found in the section by all the other oils and sauces (not refrigerated). The item number is 729324.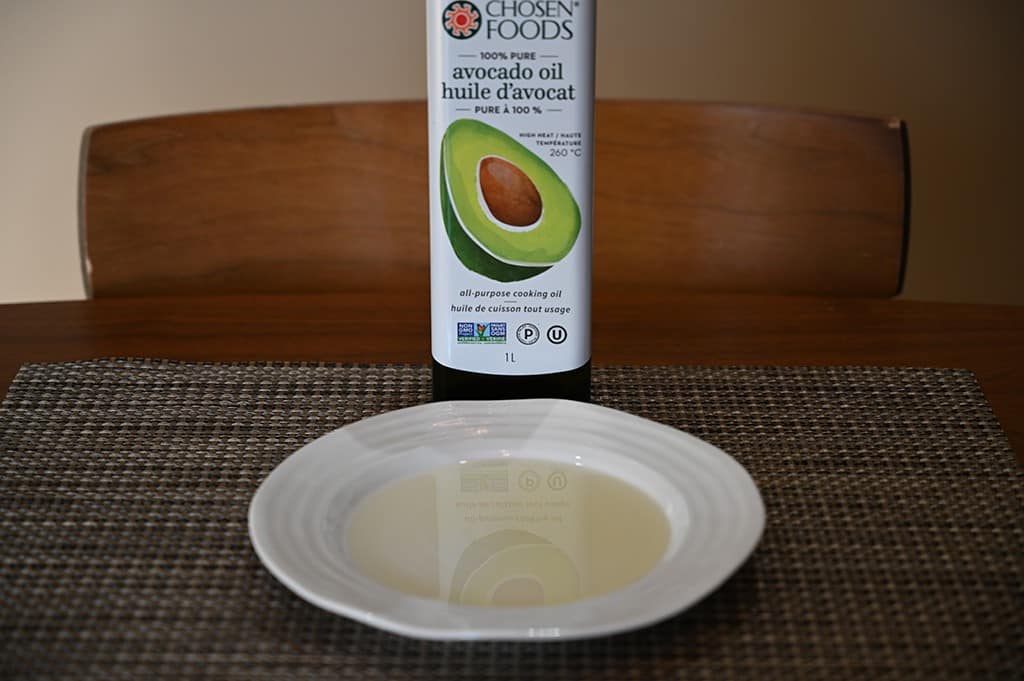 Taste
What does avocado oil taste like? Well, it has a "barely there" slightly grassy and earthy flavor on it's own. After I add it to anything or use it to cook I find it lends very little to no flavor to whatever I've used it in.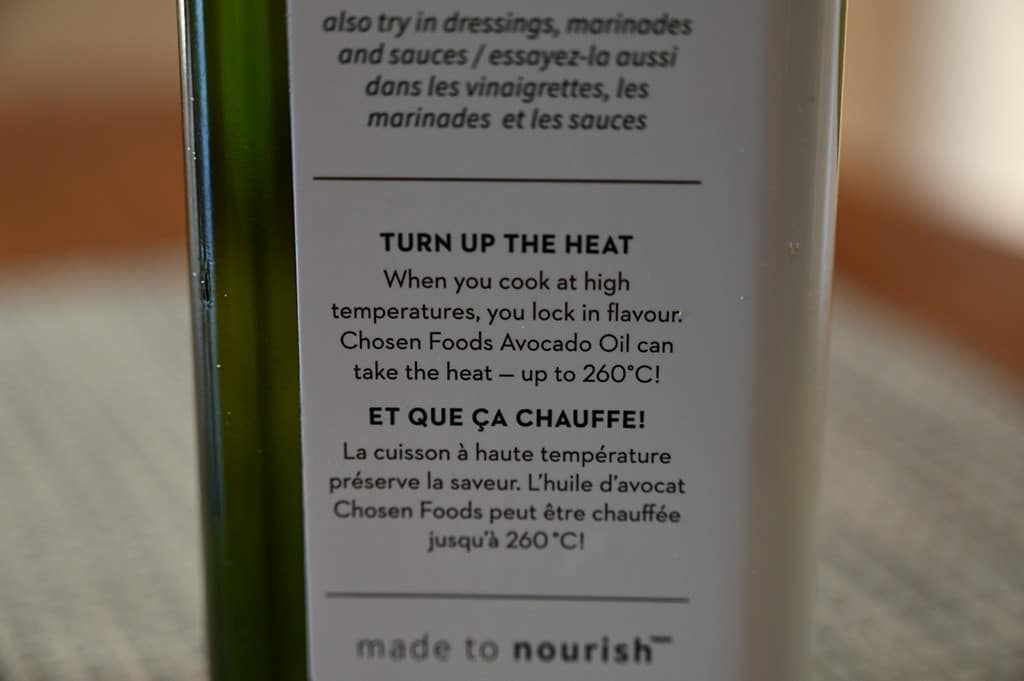 This is a very neutral oil so you can use it in a variey of ways. I find the flavor is much more neutral than olive oil. That's why avocado oil is a great oil to use when you're not looking for any flavor to be added.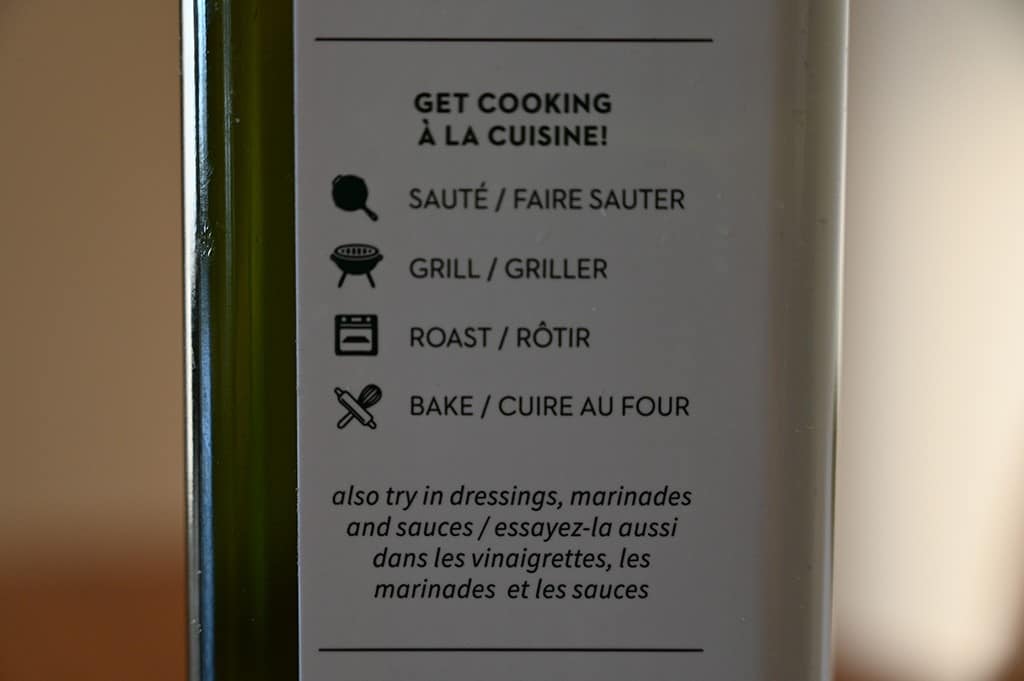 Cost
I paid $15.99 Canadian for the 1 liter bottle of avocado oil.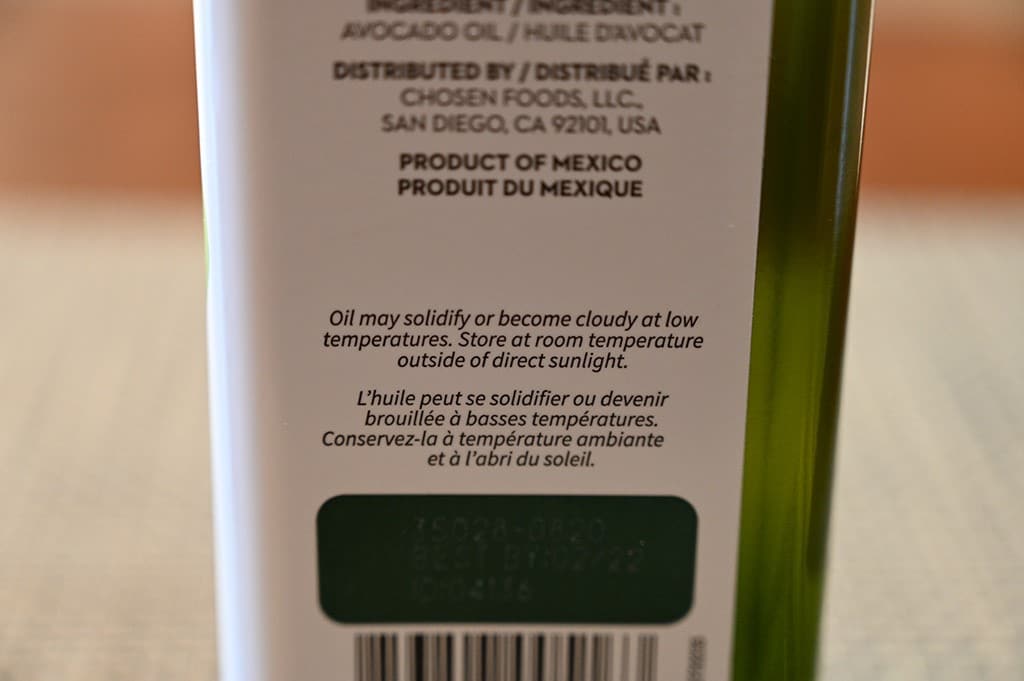 Convenience
Why is avocado oil so convenient? Because it has an incredibly high smoke point! You can use it in a piping hot pan to sear your favorite steak. The smoke point for avocado oil is 500 degrees farenheit or 260 degrees celsius. To compare, extra virgin olive oil has a smoke point of about 400 degrees farenheit.
The Chosen Foods Avocado Oil from Costco comes in a convenient glass bottle. On the bottle it recommends keeping the oil at room temperature away from direct sunlight. The best before date is about a year and a half from the date I purchased the Costco avocado oil.
Avocado oil can be used to sear meat, make a stir-fry, cook chicken or seafood and it's great for roasting potatoes. Another popular use is that it can be used to make homemade nut butter without adding much additional flavor.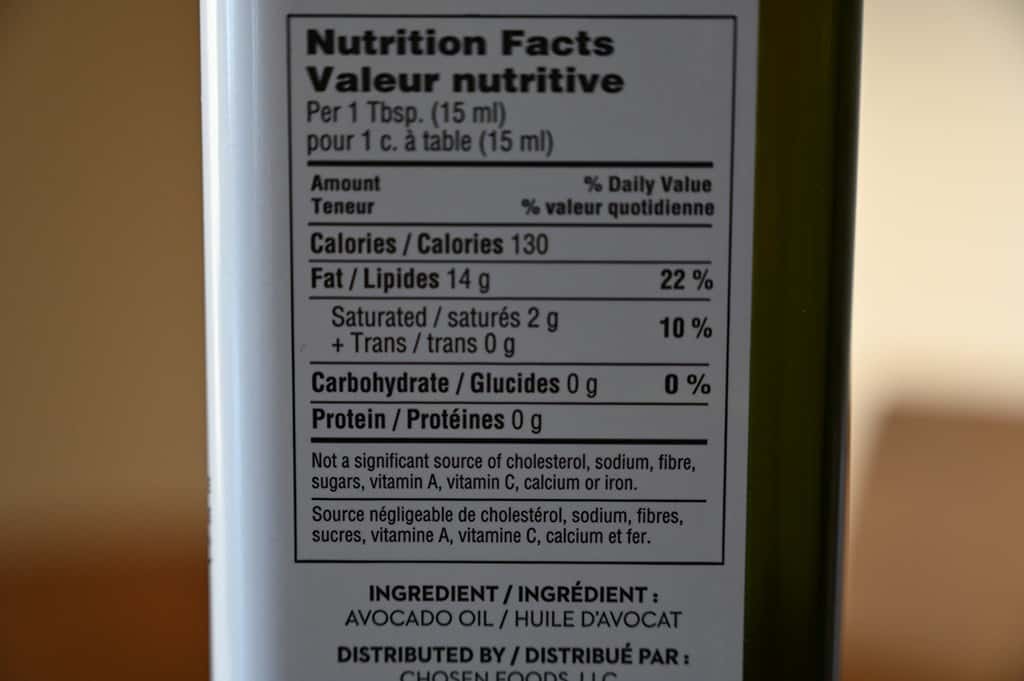 Nutrition
What are the health benefits of avocado oil? Avocado oil is full of a healthy fat called oleic acid, some studies point to it reducing cholesterol levels and improving heart health, it also can improve eye and skin health and reduce symptoms from arthritis due to it's anti-inflammatory properties!
There are a lot oils that are known to be unhealthy due to the belief they are inflammatory foods but avocado oil is not one of the oils known to cause inflammation and is actually believed to be anti-inflammatory. You'll allso notice that a lot of skin and hair-care products actually have avocado oil listed as an ingredient!
One tablespoon of the Costco avocado oil is 130 calories, 14 grams of fat and zero grams of protein and carbohydrates. The only ingredient listed is avocado oil.
Scoring
Taste: 10/10 (neutral taste so can't complain)
Cost: 7/10
Convenience: 10/10
Nutrition: 10/10
Overall
Must buy!
If you're looking for an oil with a high smoke point and nutritional benefits similar to extra virgin olive oil I recommend the Costco Chosen Foods Avocado Oil.
Have you tried this? What did you think?
---
Please note that this review was not paid for or sponsored by any third party. This product was purchased by Costcuisine for the purpose of producing this review. The opinions in this review are strictly those of Costcuisine. Costcuisine is not affiliated with Costco or any of its suppliers. In the event that Costcuisine receives compensation for a post from the manufacturer of a product or some other third party, the arrangement will be clearly disclosed (including where the manufacturer of a product provides Costcuisine with a free sample of the product).