Delightful little snowball cookies!
Please note that this review was not paid for or sponsored by any third party. I purchased this product with my own money and the opinions in this review are strictly my own. I am not affiliated with Costco or any of its suppliers. I am just a fan of the company. I write these reviews to help my fellow shoppers. If you like my blog and want to show your appreciation, please follow me on Instagram or Facebook, or tell your friends to check out my blog!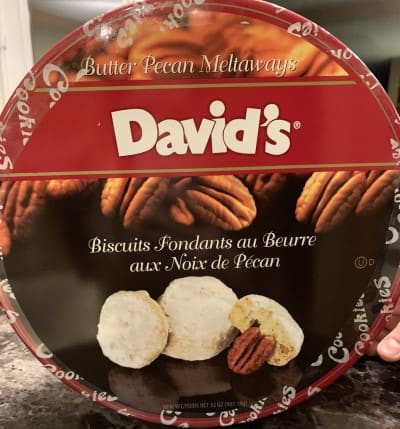 I cheated on my Christmas baking. I usually make a homemade version of these cookies every year with my mom. This year, I bought the Costco David's version. Have you ever had cookies like this? There are million different names floating around for them. I call them pecan snowballs. My Mom and Grandma call them "melting moments". David's calls them "Pecan Meltaways". Whatever they're called, one thing is for sure – this type of cookie is delicious, and they deserve a spot on your Christmas cookie platter.
Taste
You can't really tell what these cookies are like just by looking at the box. Basically they're round, buttery, crumbly, slightly soft biscuits with pecan pieces mixed into the dough. The outside of each cookie is coated in powdered sugar. In my opinion, they taste like a hybrid between a butter cookie and shortbread cookie; they melt in your mouth like shortbread does, but they're also crispy/crumbly like a butter biscuit. The pieces of pecan aren't huge and there isn't a ton of it, but that's probably a good thing as if there were too many nuts, they might overpower the biscuit. These cookies aren't super sweet, but I have to warn you, they are addictive! It's easy to eat more than two. These cookies aren't as soft as the homemade version I make; they definitely have more of a crumble to them. I generally prefer my cookies soft, but I really enjoyed these and look forward to eating more throughout the season.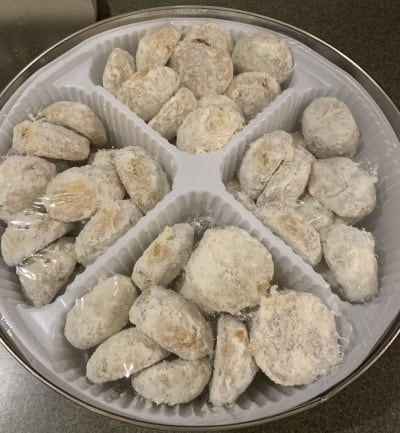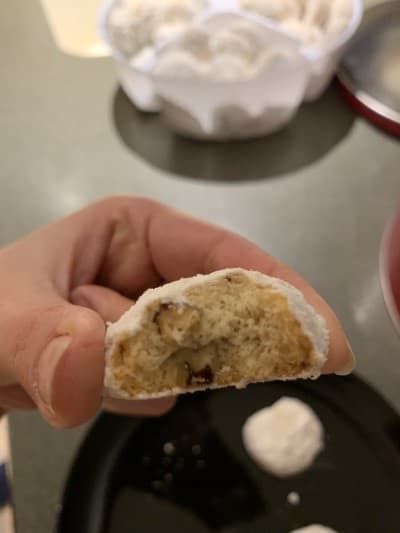 Cost
I paid $12.99 Canadian for the cookies (regular price). For that price, you get about 60 cookies and a pretty nice tin. I always appreciate packaging like this, because I always reuse the tin for other things and it's almost like getting a little something extra on top of the product itself. Pecans definitely aren't a cheap nut, so I took that into consideration as well. I find the price of the overall package to be about right.
Convenience
The Costco David's Pecan Meltaways come in a plastic four-section tray that's wrapped in plastic inside the tin. I wish the sections were wrapped separately, because when you take the plastic off it exposes all of the cookies (and there are a lot of them!). I decided to bag each section of cookies separately and freeze some so that they would stay fresh. The cookies are protected in the tin, so that adds to the convenience because it protects them from crumbling (and I think they would crumble easily if they were in a soft-sided package). Making these cookies from scratch isn't that much work, but you're definitely saving time by buying these and they're quite comparable to the homemade version in terms of taste. In case you're wondering, yes, you can freeze these cookies and they taste just fine.
Nutrition
One cookie contains 70 calories, five grams of fat and two grams of protein. For a cookie, that's not bad at all. Compared to other cookies, these ones are relatively low in sugar, so if you're really watching your sugar intake, they might be a reasonable option. I actually don't understand how they have such little sugar, but they do. On the negative side, these cookies do contain preservatives, though that's to be expected considering they have a 90-day shelf life.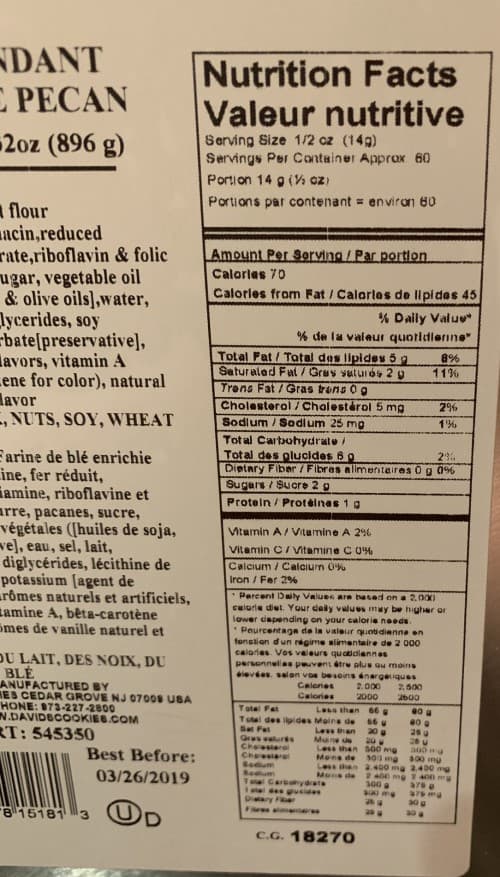 I gave my parents some of these and they absolutely loved them! They wanted more. These cookies are delicious and festive-looking. If you tend to like super sweet, rich cookies with chocolate, you may find these cookies are lacking something. A lot of people (who aren't allergic to nuts) really enjoy these cookies due to their sweet, nutty simplicity. They make a perfect accompaniment to coffee or tea.
Taste: 8.5/10
Cost: 7.5/10
Convenience: 9/10
Nutrition: 5/10 (points scored for the low sugar)
What would you call these cookies? What's your favorite thing to bake around the holiday season?