If a beautiful tin full of tasty cookies is on your Christmas shopping list, you may be interested in the Costco Kirkland Signature European Cookies with Belgian Chocolate. With 15 different kinds of cookies in the tin, there should be one that will please almost anyone. Find out what I think of each flavor of cookie below!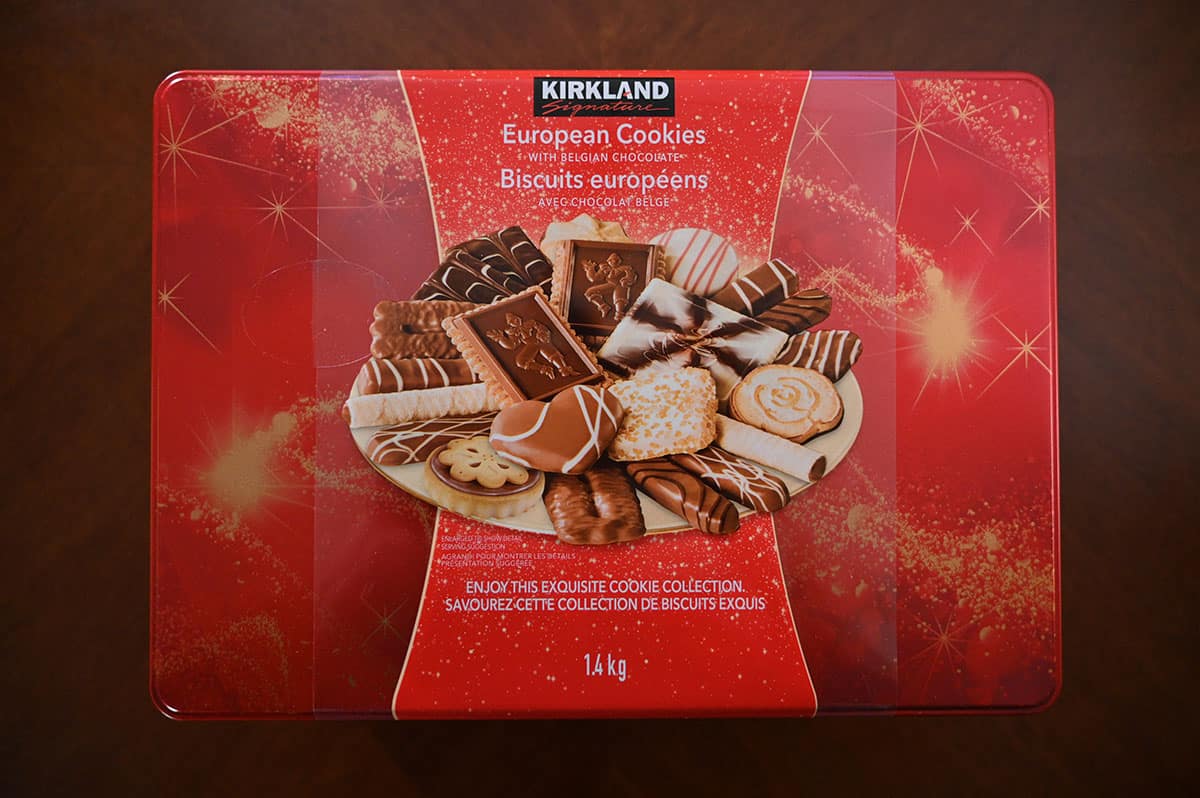 Christmas is fast approaching and Costco has pretty much all of its Christmas products out! Today I'm reviewing the Costco Kirkland Signature European Cookies, I absolutely love the tin they come in and will use it for storing Christmas ornaments so that was a selling point for me!
Other cookies from Costco suitable for Christmas are David's Butter Pecan Meltaways, Kelsen Danish Butter Cookies, Kirkland Signature Crepes, Kirkland Signature Walkers Shortbread, Kirkland Signature Raspberry Crumble Cookies, Kirkland Signature Ginger Cookies and the Kirkland Signature Gingerbread Decorating Kit.
Location in Store
These European cookies are in the Christmas seasonal aisle at Costco and the item number is 131166.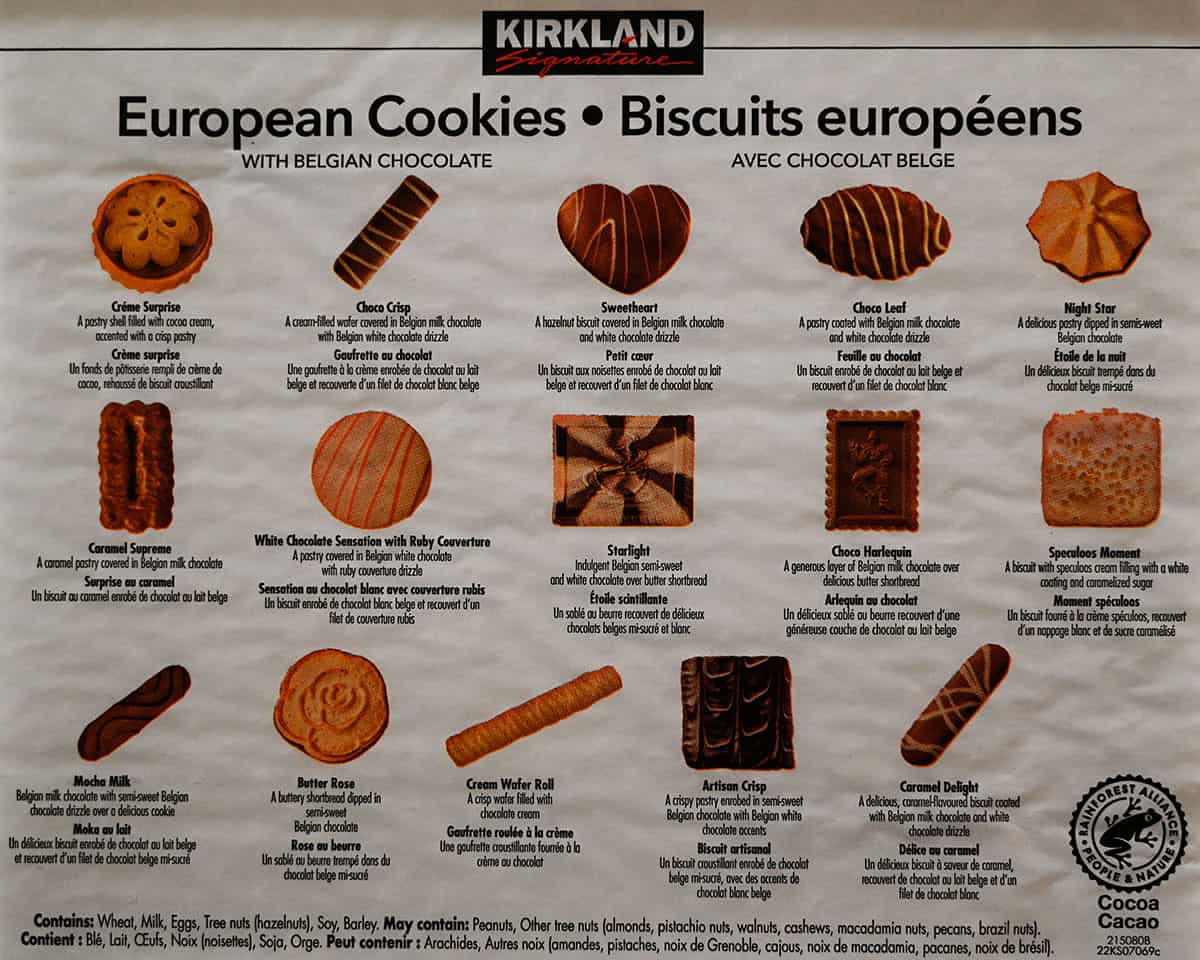 Taste
I've tried every cookie to give you a brief description of what each one tastes like!
Creme Surprise – It's a crunchy cookie on the outside with a soft filling inside. The flavors are quite mild, but it's tasty.
Choco Crisp – This one is somewhat similar to a Kit Kat chocolate bar. It has a tasty chocolate coating with crisp chocolate wafers inside.
Sweetheart – I couldn't taste much, if any hazelnut, but it's a tasty chocolate-covered cookie. The cookie in the middle is crisp, but not super crunchy.
Choco Leaf – This one is similar to the Choco Crisp, but with more chocolate and less wafer/pastry. The pastry inside kind of melts in your mouth.
Night Star – The pastry is quite dry and crumbly. It doesn't have a lot of flavor. I mostly noticed the taste of the layer of chocolate on the bottom. I didn't love the top pastry part.
Caramel Supreme – This one is pretty crunchy. You can definitely taste the caramel flavor of the pastry inside, and it goes well with the milk chocolate.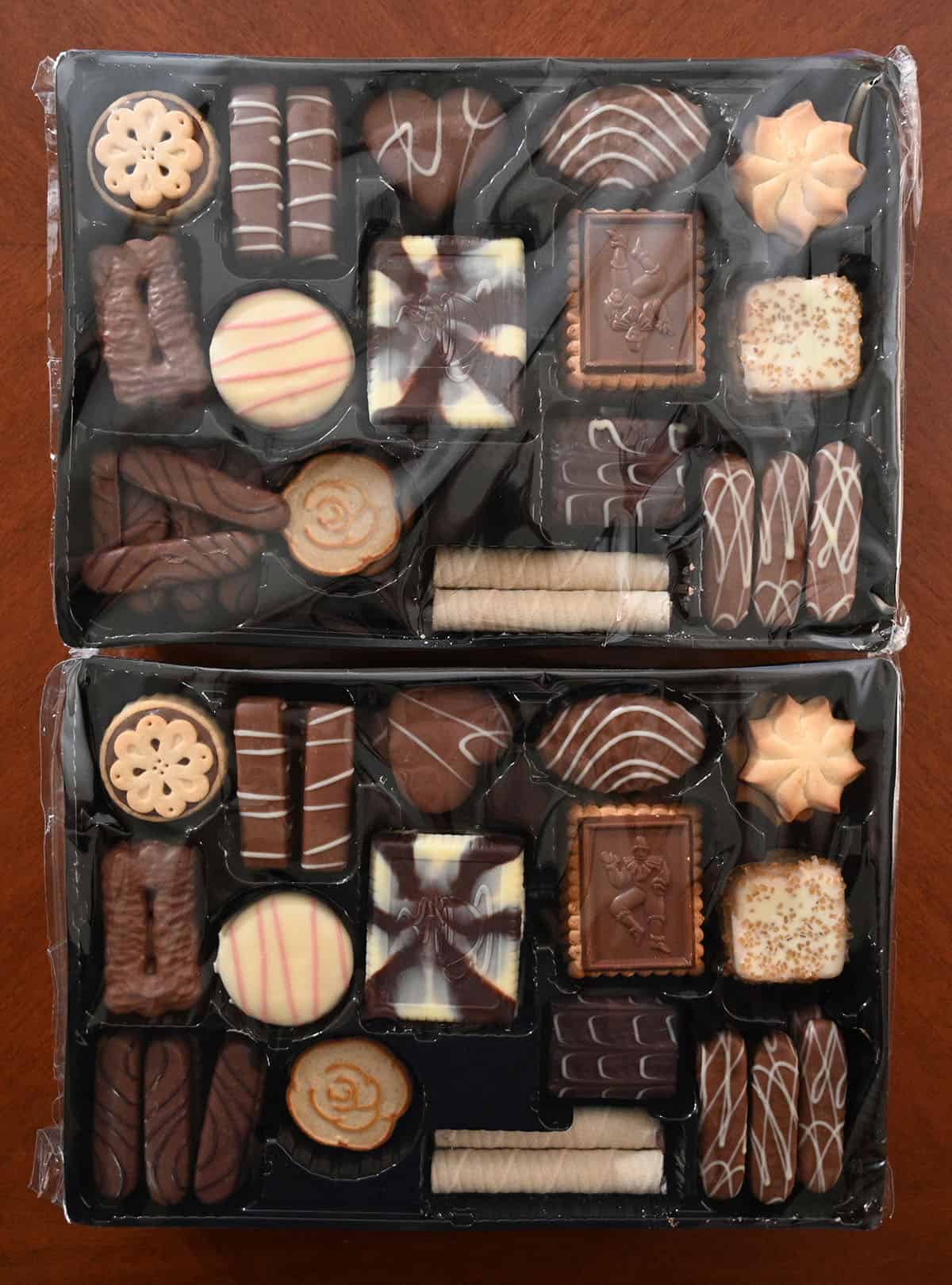 White Chocolate Sensation with Ruby Couverture – This one is sweet with a mild tanginess. It's very different than most of the other cookies. The pastry inside tasted a bit like shortbread to me, and I enjoyed the white chocolate coating and tanginess of the drizzle.
Starlight – You can't see it easily, but there's a very crunchy cookie on the bottom of this one. It's a shortbread cookie, but reminded me a bit of a graham cracker. The chocolate mixture on top is tasty and goes well with the cookie.
Choco Harlequin – I think the cookie on the bottom of this one is the same as the Starlight cookie. It's similar to the Starlight one, with a higher cookie-to-chocolate ratio and a different chocolate mix.
Speculoos Moment – This one has lots of crunch from the caramelized sugar. The speculoos flavor is really nice and makes this cookie stand out from the rest.
Mocha Milk – Very similar to the Choco Crisp, but with a mild coffee flavor.
Butter Rose – The top cookie layer is very thin and crisp and has a mild buttery flavor. The chocolate on the bottom kind of overpowers it.
Cream Wafer Roll – This one was less delicate than I expected. The outer layer is crisp, and the filling inside is fairly solid. You mostly notice the flavor of the chocolate filling.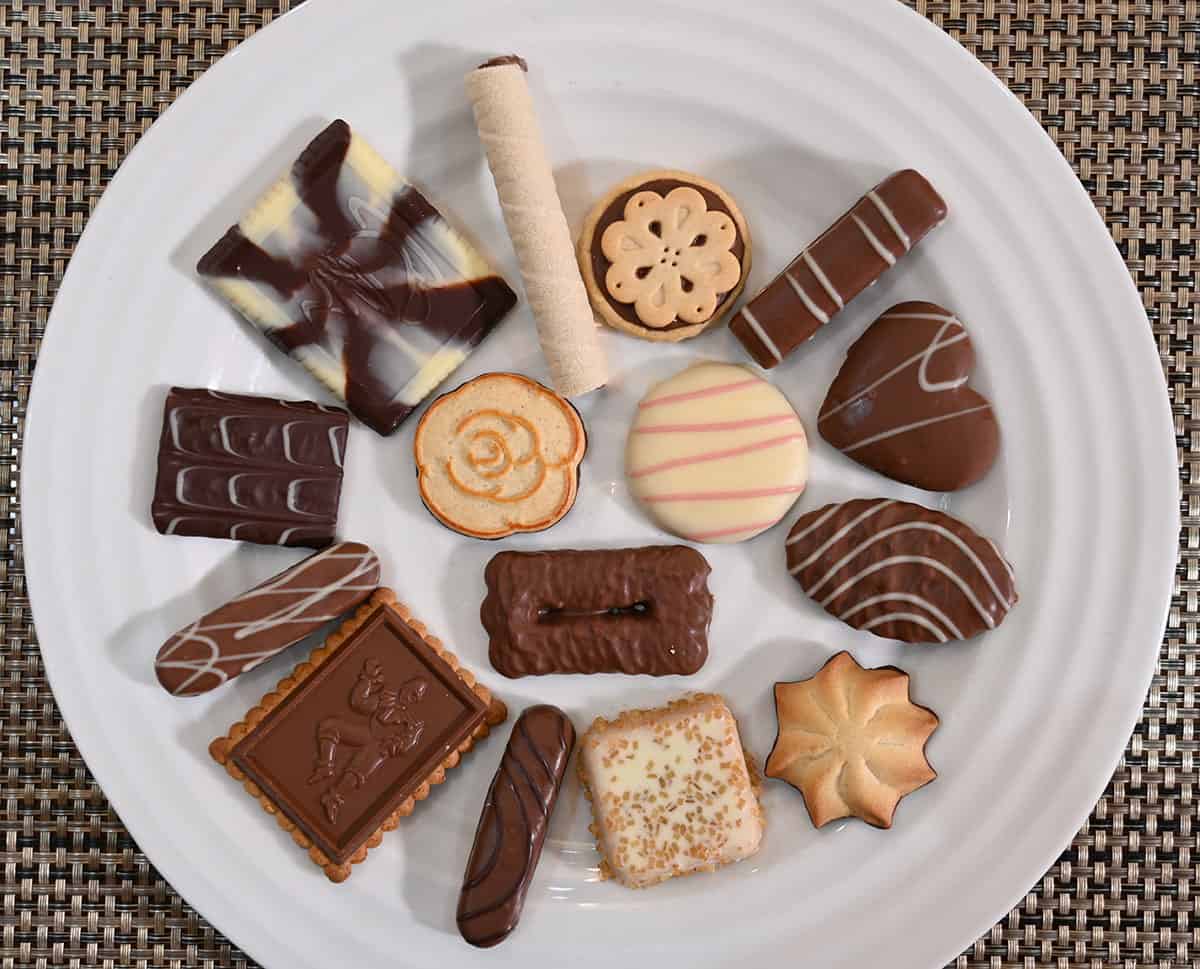 Artisan Crisp – The chocolate coating is thin and the inner layer is very crisp. It has a nice chocolate flavor.
Caramel Delight – Very similar to the Choco Crisp and Mocha Milk, but with a nice caramel flavor coming from the biscuit inside.
These cookies are plain and tasty and they are simply high-quality tasting chocolate-covered shortbread, pastry or biscuit-type cookies. I personally am not the biggest shortbread or biscuit fan, I prefer more homemade-style cookies but I still enjoyed the taste of these.
Cost
I purchased the 1.4 kg tin of cookies for $18.99 Canadian. They're not exactly cheap, but you're probably paying extra for the tin and the high-quality chocolate.
Convenience
These Costco cookies make a wonderful addition to any Christmas dessert tray. They'd also be great for morning coffee or tea and make a fabulous gift. Inside the tin, there are two separate large packages of cookies that are individually wrapped.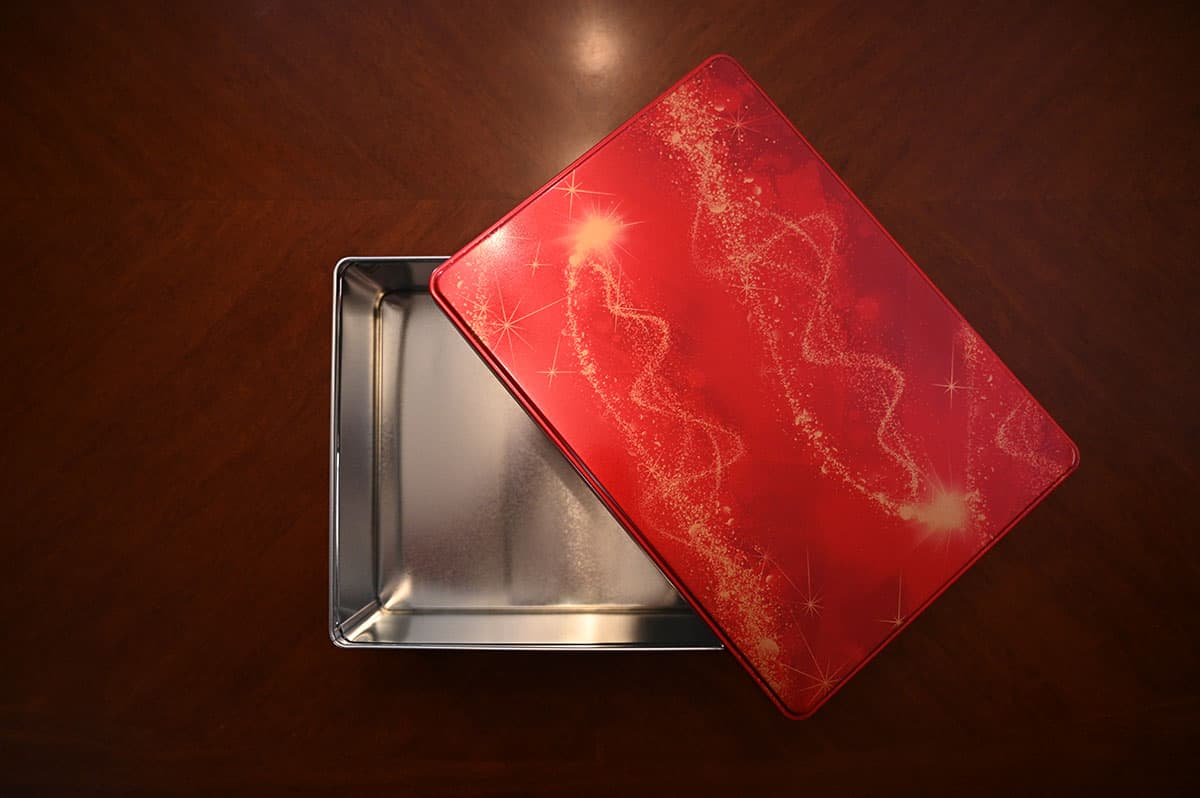 Unfortunately, the wrapping surrounding the cookies is not resealable so my husband and I end up packaging the leftover cookies in a plastic ziplock bag. I will definitely reuse the tin in the future, it's a nice sturdy attractive-looking tin!
The best-before date listed on the cookies is seven months from when we purchased them and they're a product from Germany.
Nutrition
Calories
Four cookies is 160 calories, eight grams of fat, 20 grams of carbohydrates, one gram of fibre, 13 grams of sugar, two grams of protein and 30 milligrams of sodium. That's actually not a ton of sugar, fat or calories for four cookies!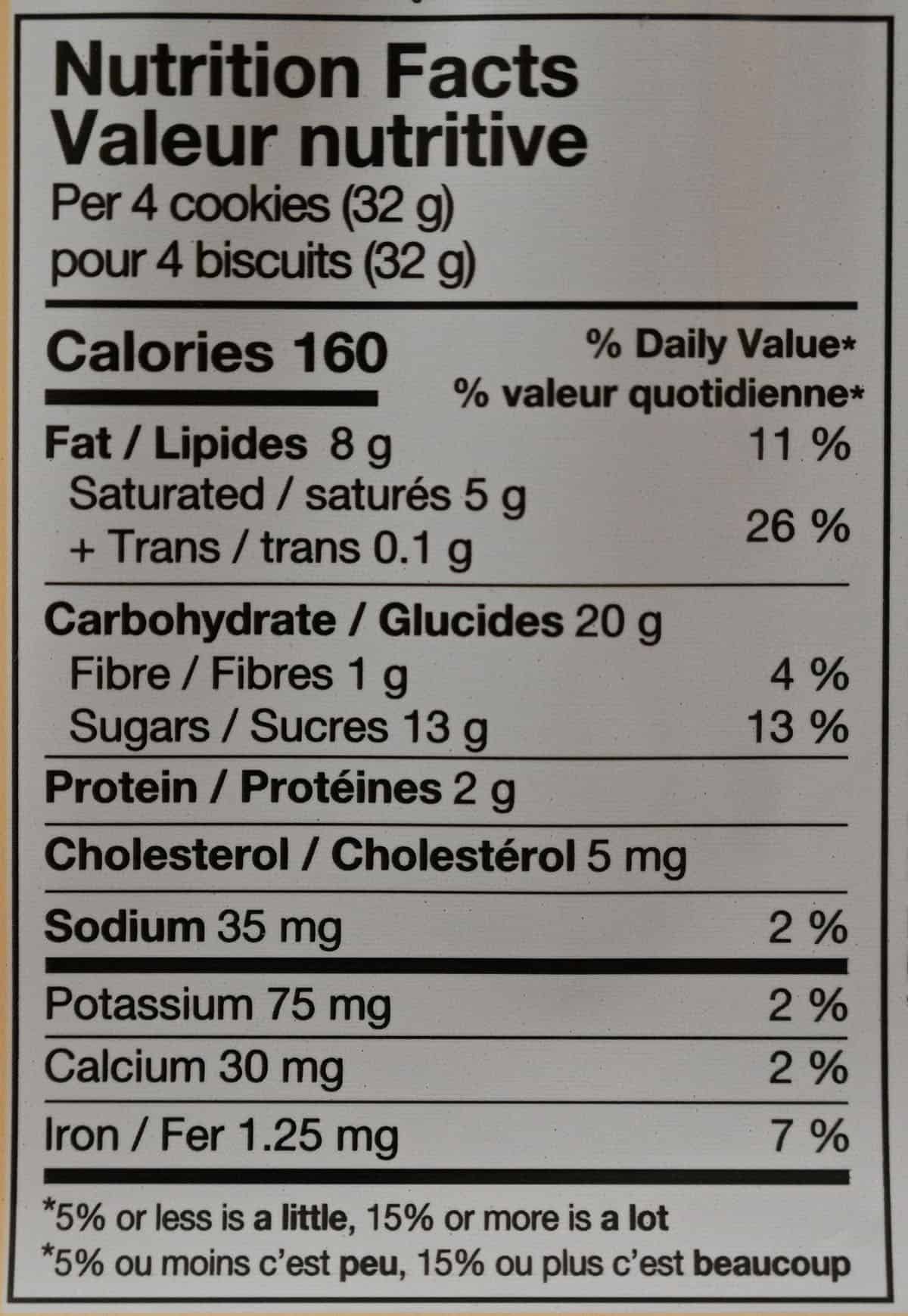 Ingredients
The first ingredient is…sugar! No surprise there. These are not healthy and contain wheat, milk, eggs, tree nuts, soy and barley. They may contain peanuts and other tree nuts like almonds, pistachios, walnuts, cashews, macadamia nuts, pecans and brazil nuts.
I actually had to look up some of the ingredients like sodium acid pyrophosphate and potassium acid tartrate to find out that they're food additives. This is why I prefer to bake my own cookies.

Scoring
Taste: Overall these cookies probably ranged from about a 7/10 to maybe an 8.5/10. I'd give the box as a whole a 7.5 or an 8/10
Cost: 7.5/10
Convenience: 10/10
Nutrition: 0/10
Overall
Give it a try!
If you like shortbread and Belgian chocolate and prefer biscuit-like cookies over soft-baked ones, you'll probably enjoy these.
Have you tried these cookies? What do you think of them?
---
Please note that this review was not paid for or sponsored by any third party. This product was purchased by Costcuisine for the purpose of producing this review. The opinions in this review are strictly those of Costcuisine. Costcuisine is not affiliated with Costco or any of its suppliers. In the event that Costcuisine receives compensation for a post from the manufacturer of a product or some other third party, the arrangement will be clearly disclosed (including where the manufacturer of a product provides Costcuisine with a free.