I think Santa might like these!
Please note that this review was not paid for or sponsored by any third party. I purchased this product with my own money and the opinions in this review are strictly my own. I am not affiliated with Costco or any of its suppliers. I am just a fan of the company. I write these reviews to help my fellow shoppers.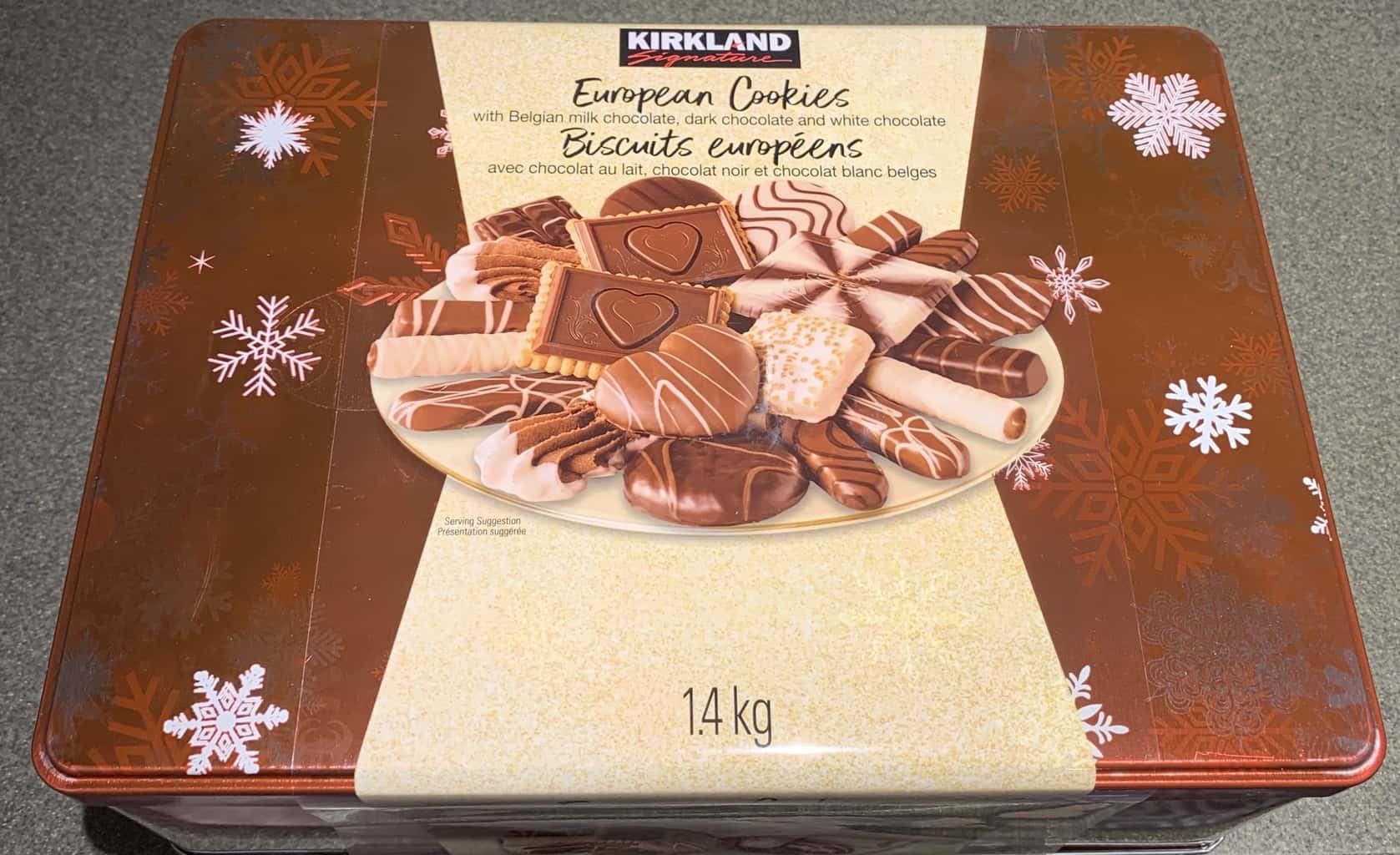 Get ready for a ton of seasonal Costco reviews. Christmas is fast approaching and Costco has pretty much all of their Christmas products out! Last weekend I went to Costco with Sean and he went around the store picking out all the different items he thought would be good to review. Today I'm reviewing the Costco Kirkland Signature European Cookies!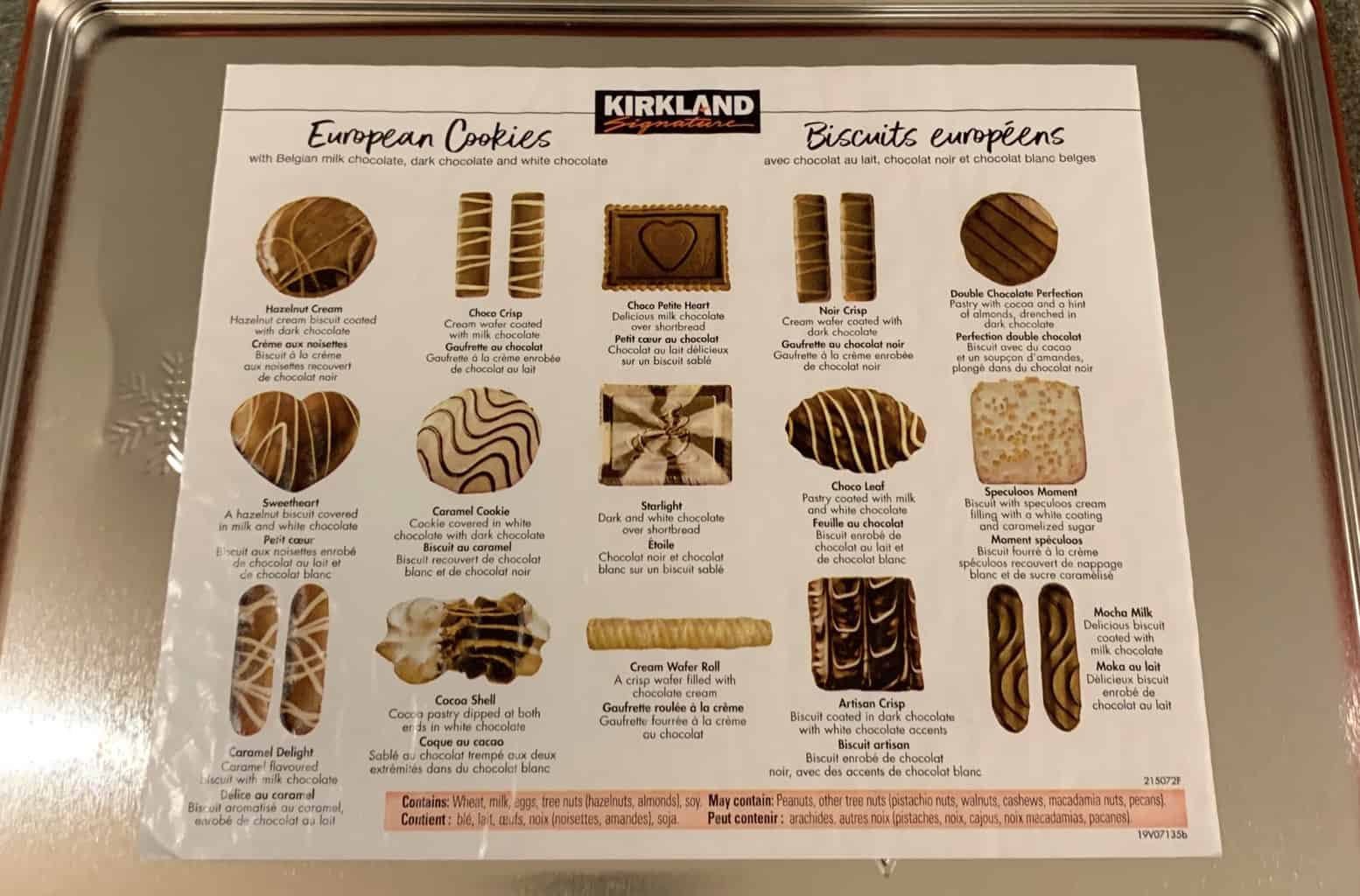 Taste
The Costco Kirkland Signature European Cookies have Belgian milk chocolate, dark chocolate and white chocolate and the first thing I'll say about the cookies is that the chocolate on these actually tastes really high quality. There's 12 kinds of cookies in the tin! Yes, 12!
The kinds are hazelnut cream, sweetheart, caramel delight, cocoa shell, caramel cookie, choco crisp, choco petite heart, starlight, cream wafer roll, choco leaf, artisan crisp, noir crisp, chocolate chocolate perfection, speculoos moment and mocha milk.
My favorite is definitely the speculoos moment which is a biscuit cookie filled with speculoos cookie butter and is dipped in white chocolate with caramelized sugar on top. The choco crisp, noir crisp, cream wafer roll and caramel delight are light and crunchy wafer cookies that taste more like a Kit Kat than a cookie but I really enjoy them.
These cookies are plain and tasty, there's not a lot of complexity to the cookies or extra bells and whistles and they are simply high-quality tasting chocolate covered shortbread, pastry or biscuit type cookies. They're not too sweet and also aren't very heavy so you can eat two and not feel guilty! I personally am not the biggest shortbread or biscuit fan, I prefer more homemade-style cookies but I still enjoyed the taste of these.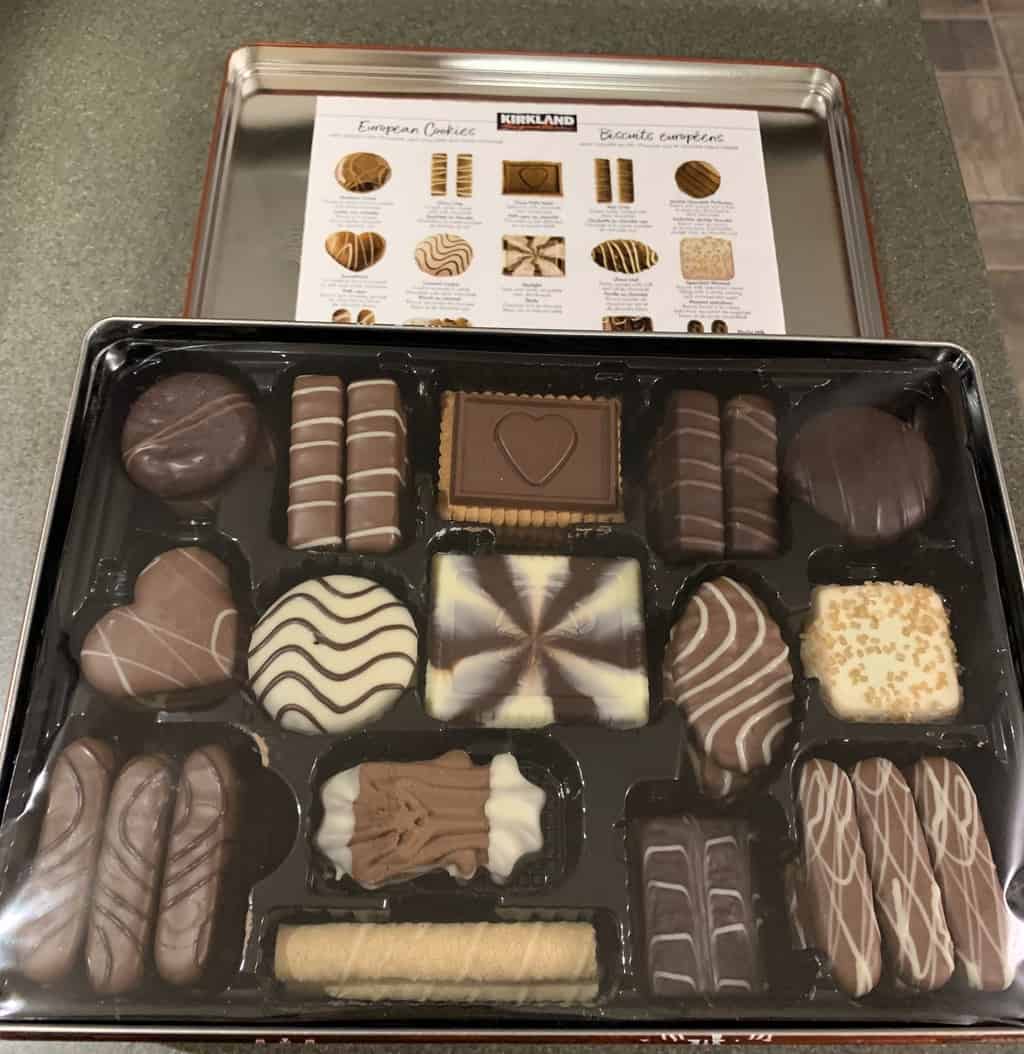 Cost
I purchased the 1.4 kg tin of cookies for $17.99 Canadian, regular price. Not cheap at all, but you're probably paying extra for the tin and the high-quality chocolate.
Convenience
These would make a wonderful addition to any Christmas dessert tray. They'd also be great for morning coffee or tea and would make a fabulous gift. Inside the tin, there are two separate large packages of cookies that are individually wrapped.
Unfortunately, the wrapping surrounding the cookies is not resealable so my husband and I ended up packaging the leftover cookies in a plastic ziplock bag. I will definitely reuse the tin in the future, it's a nice sturdy attractive looking tin!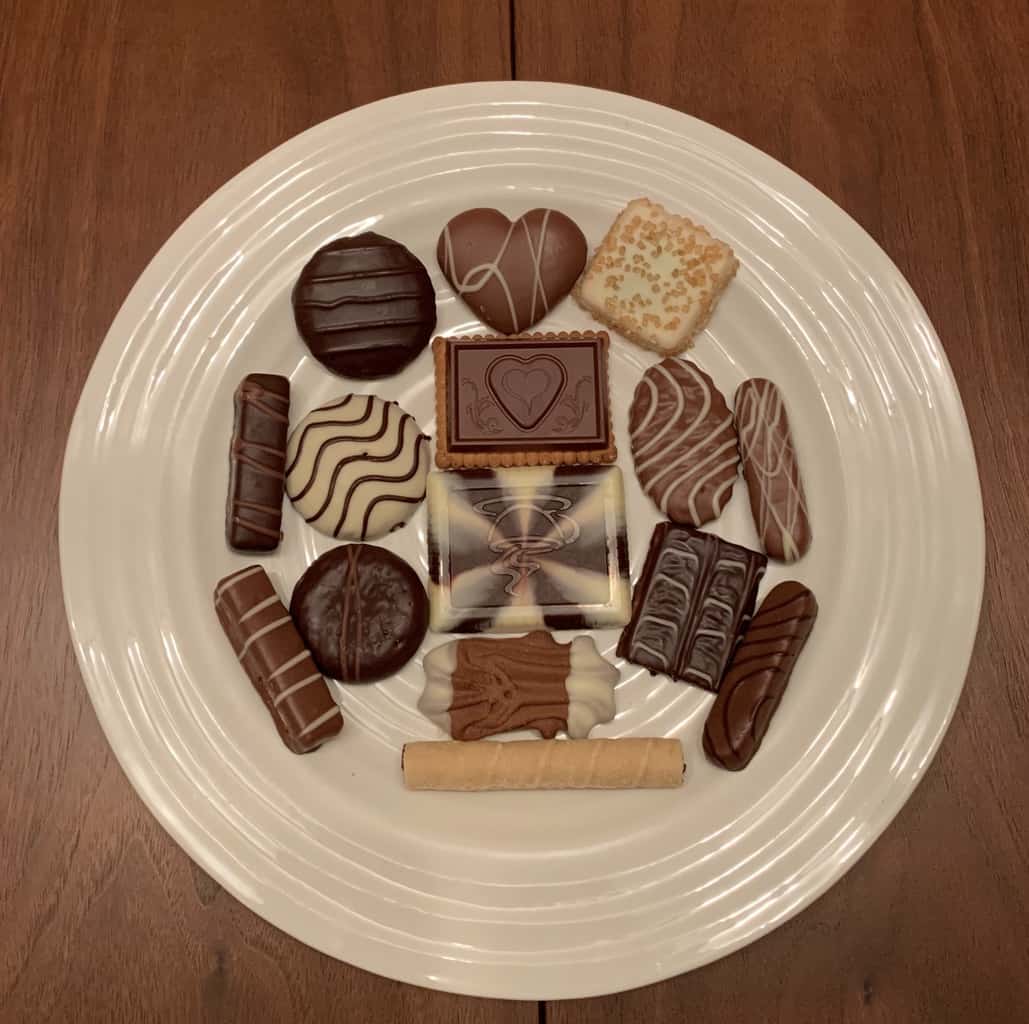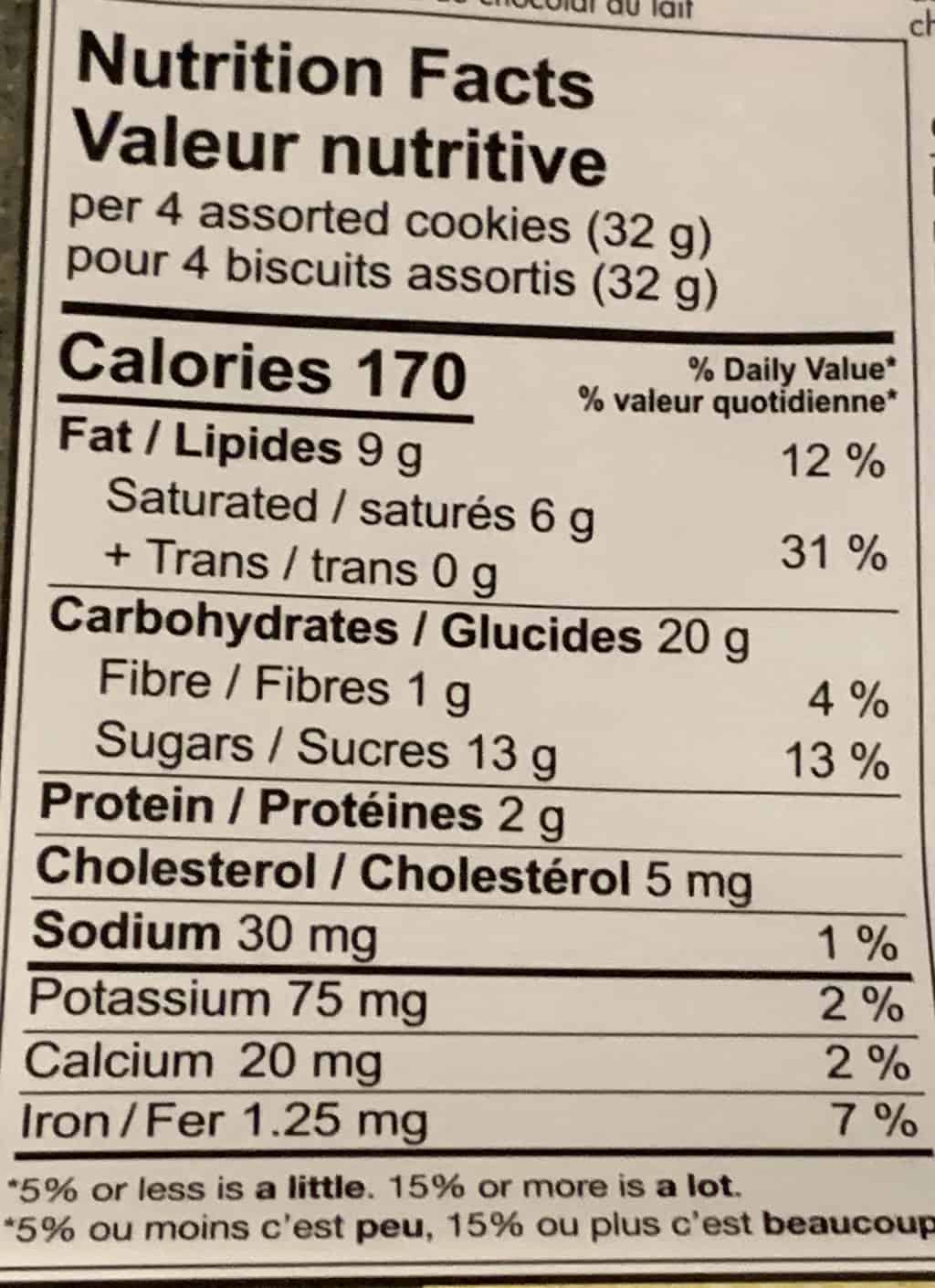 Nutrition
Four cookies is 170 calories, 9 grams of fat, 13 grams of sugar, one gram of fibre, 20 grams of carbohydrates, two grams of protein and 30 mg of sodium. That's not a ton of sugar, fat or calories for four cookies!
They are a little on the small side though so to be honest I could definitely eat four, no problem. The Costco Kirkland Signature European Cookies obviously aren't healthy but a biscuit with a coffee won't completely ruin your diet.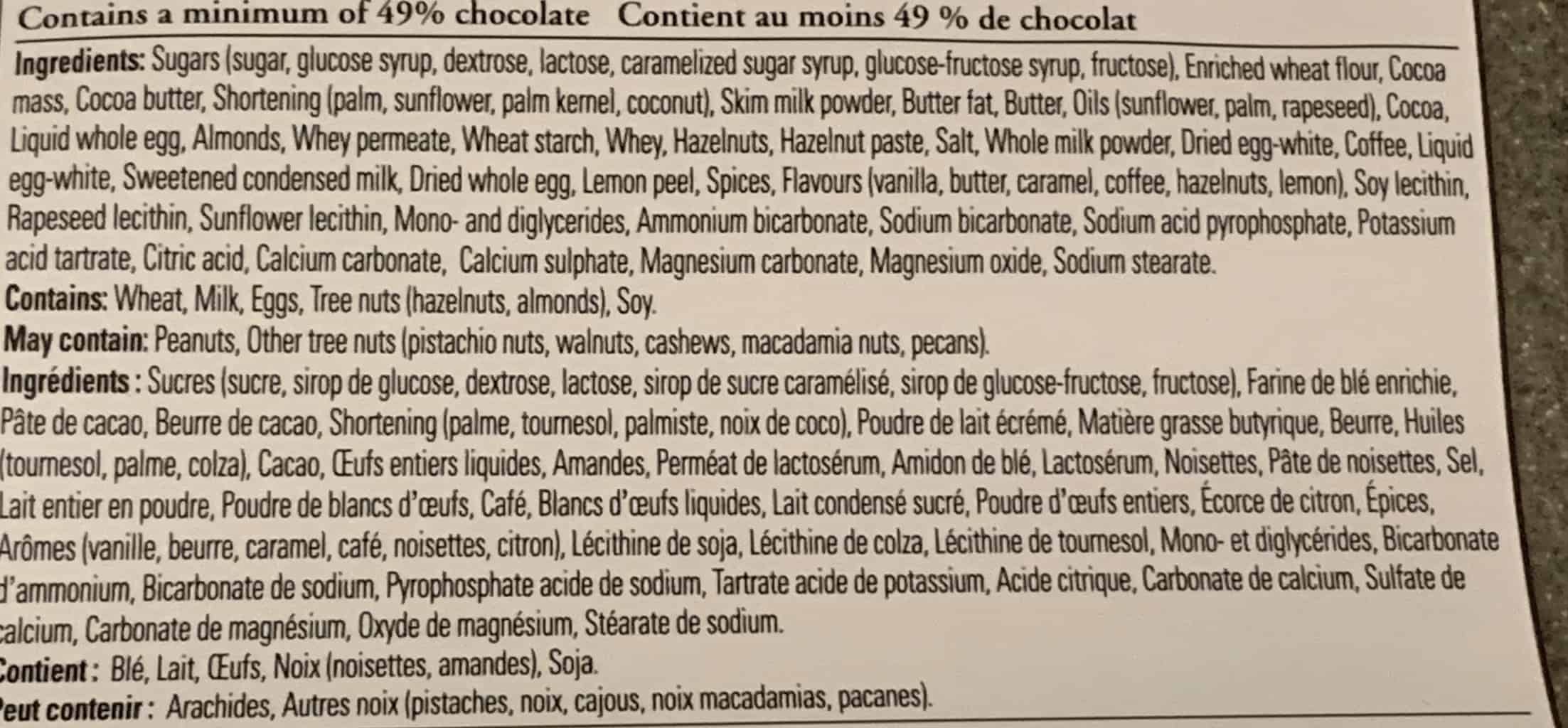 The Costco Kirkland Signature European Cookies would make a perfect offering for Santa this holiday season!
Taste: 7.5/10
Cost: 5.5/10
Nutrition: 2/10
Convenience: 9/10 (wish there was a better way to keep the cookies fresh after opening)
What's your favorite kind of cookies to buy from Costco? Have you had these? What did you think?