Are you looking for a fun indoor activity during the holiday season? The Costco Kirkland Signature Gingerbread Decorating Kits allow you to decorate your own gingerbread person with everything needed in one convenient box. Is this gingerbread decorating kit from Costco as tasty as it is fun?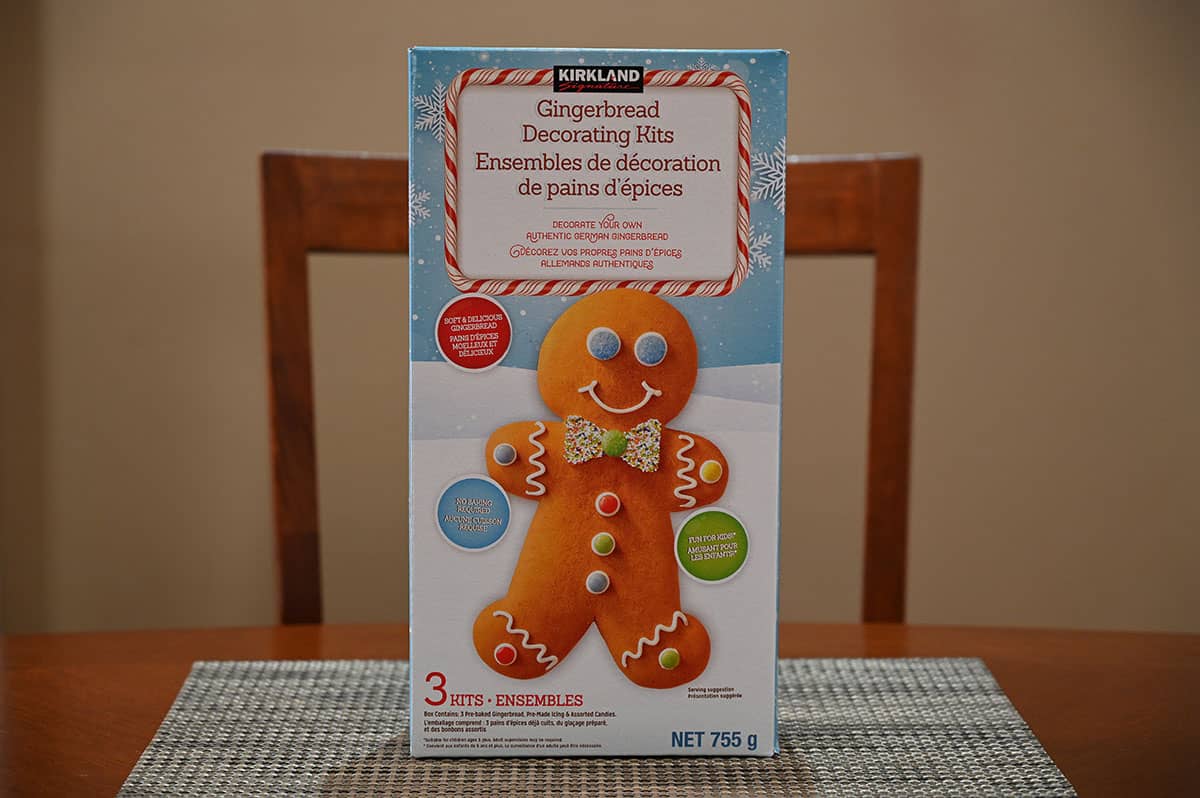 This is the first year I've seen the Costco Kirkland Signature Gingerbread Decorating Kits at my local Costco! As soon as I saw them I picked up a box to review! My husband Sean is the one who decorated the gingerbread in the photos below.
Similar seasonal products from Costco are the Create A Treat Gingerbread House Kit, Shasha Gingerbread Cookies, Kit Kat Cabin & Hut Building Kit, Kirkland Signature Ginger Cookies and the Bakery Street Ginger & Spice and Everything Nice Cookies.
Location in Store
The gingerbread decorating kits can be found in the Christmas seasonal aisle at Costco, the item number is 1202525.
Taste
The first thing I noticed is that these gingerbread people are giant! They're about 11 inches tall. I ate one of my gingerbread people fresh out of the pack to see how they taste. In short, these gingerbread people aren't for eating!
The cookies are light and somewhat soft, but fairly dry. They're almost like a hard, flexible sponge. They're very sweet and the gingerbread flavor isn't very good.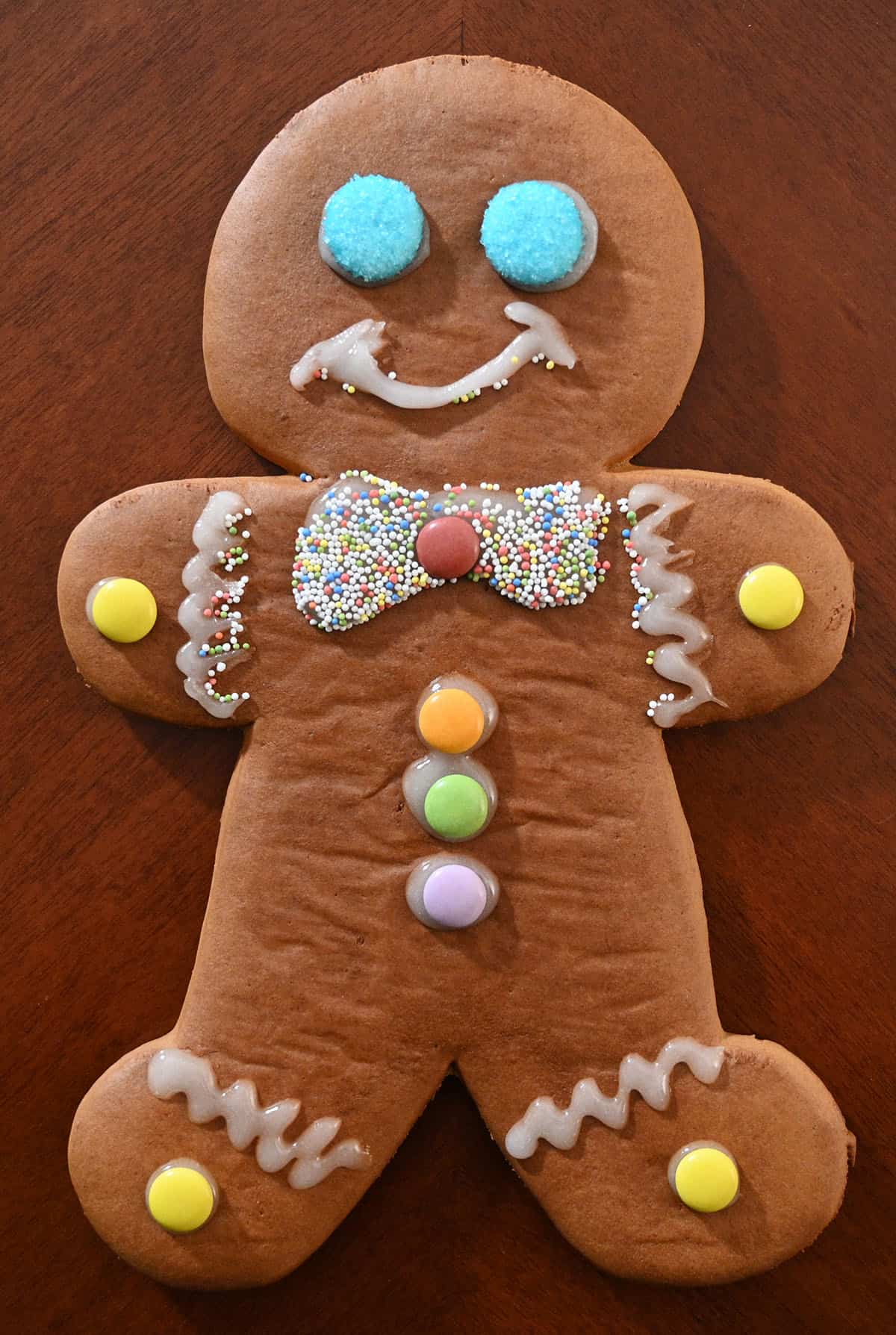 The larger crystal-looking discs are very hard and pure sugar with no real flavor. The chocolate button candies look a lot like Smarties, but they're not! They're bit smaller and definitely not as tasty. They're crunchier and have more candy shell/less chocolate.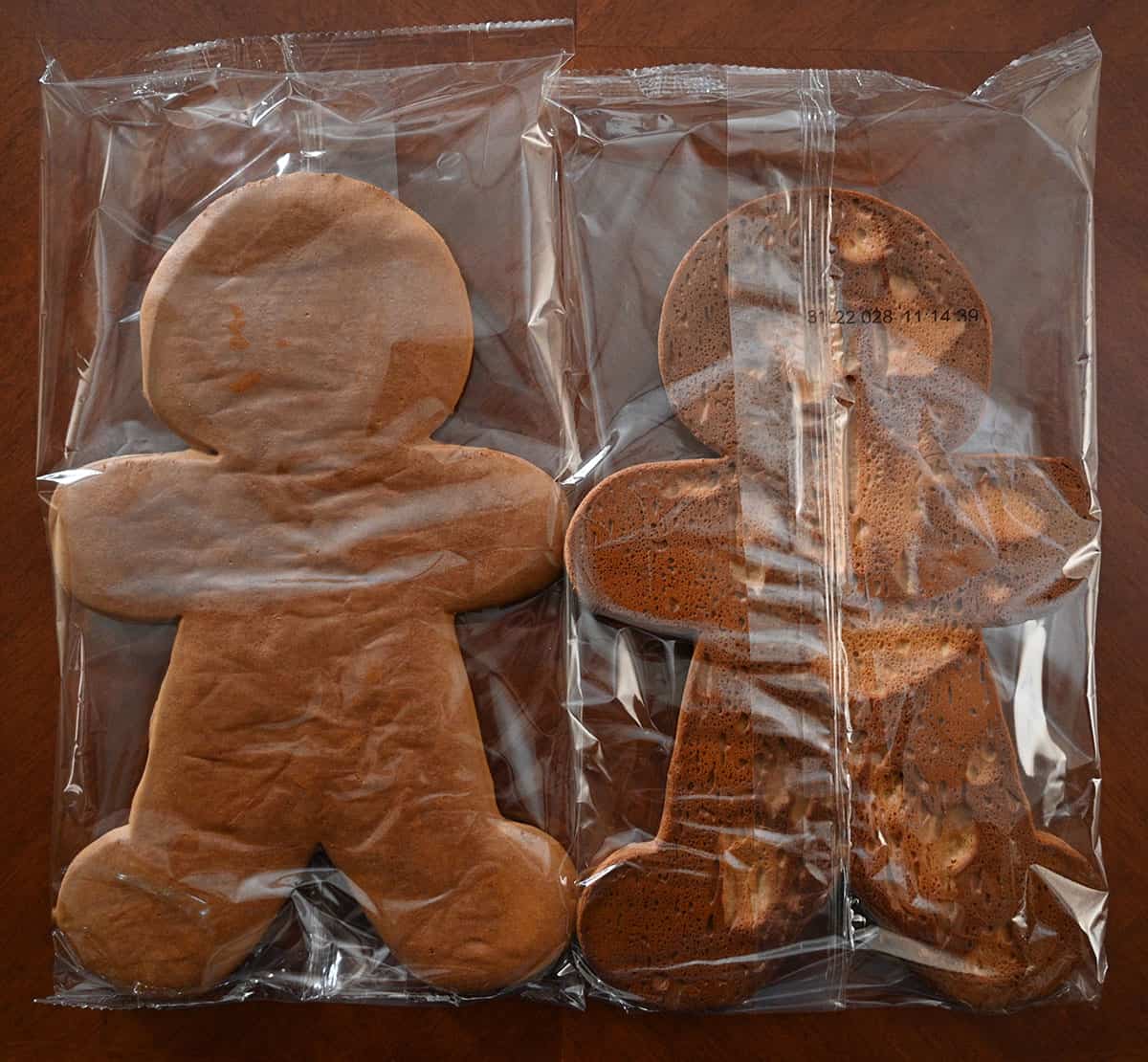 The sprinkles are what you'd expect and there are plenty of them. I used a small portion of one bag on my gingerbread man. The icing is super sweet but otherwise flavorless.
Cost
The kit costs $14.99 Canadian which I don't think is too much! The size of the gingerbread people does not disappoint.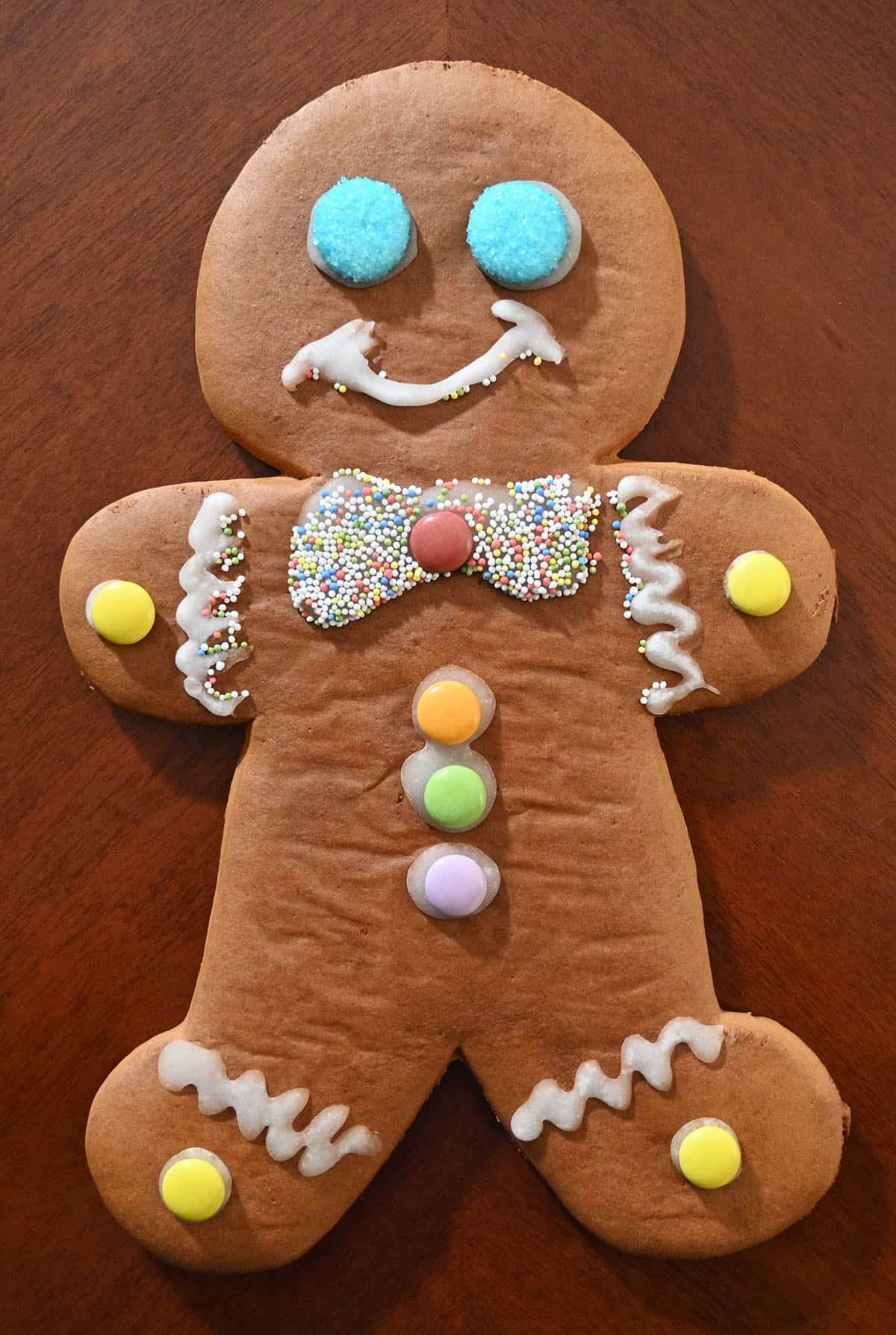 Convenience
The best-before date listed on the decorating kit is about seven months from date it was purchased. The kit comes with everything you see in the photo below. Three gingerbread people, three bags of icing, three bags of sprinkles and more than enough candy or buttons and eyes.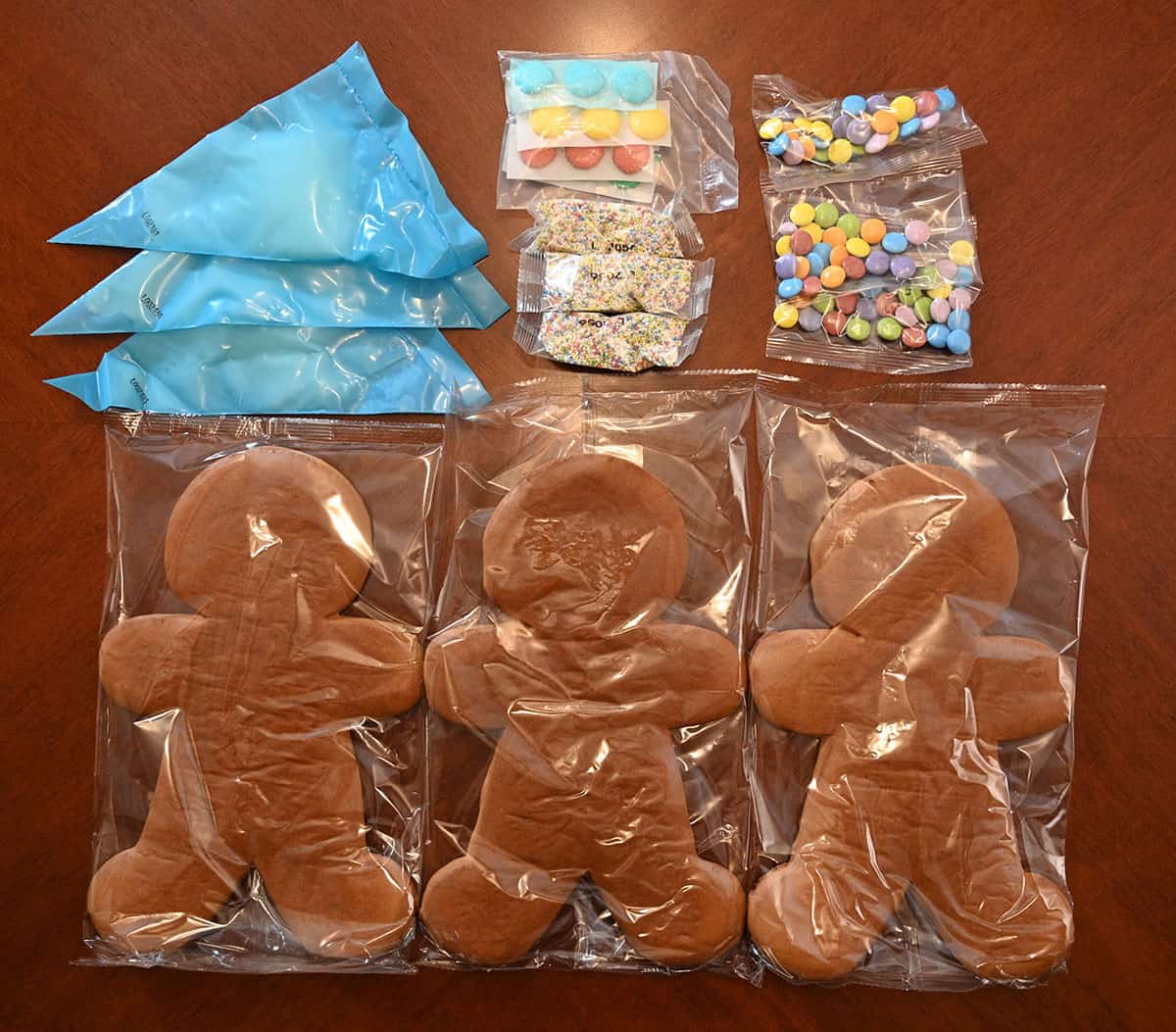 There's a good amount of icing on each bag. I had a fair bit left over after finishing my gingerbread man. I would recommend cutting the bag closer to the tip than what the instructions say to give yourself better control when applying the icing.
The bags do work well for piping it on. I followed the instructions for preparing the bag by warming and kneading it. The icing goes on clear. It got a little bit whiter after drying overnight, but it doesn't look as white as I would have liked.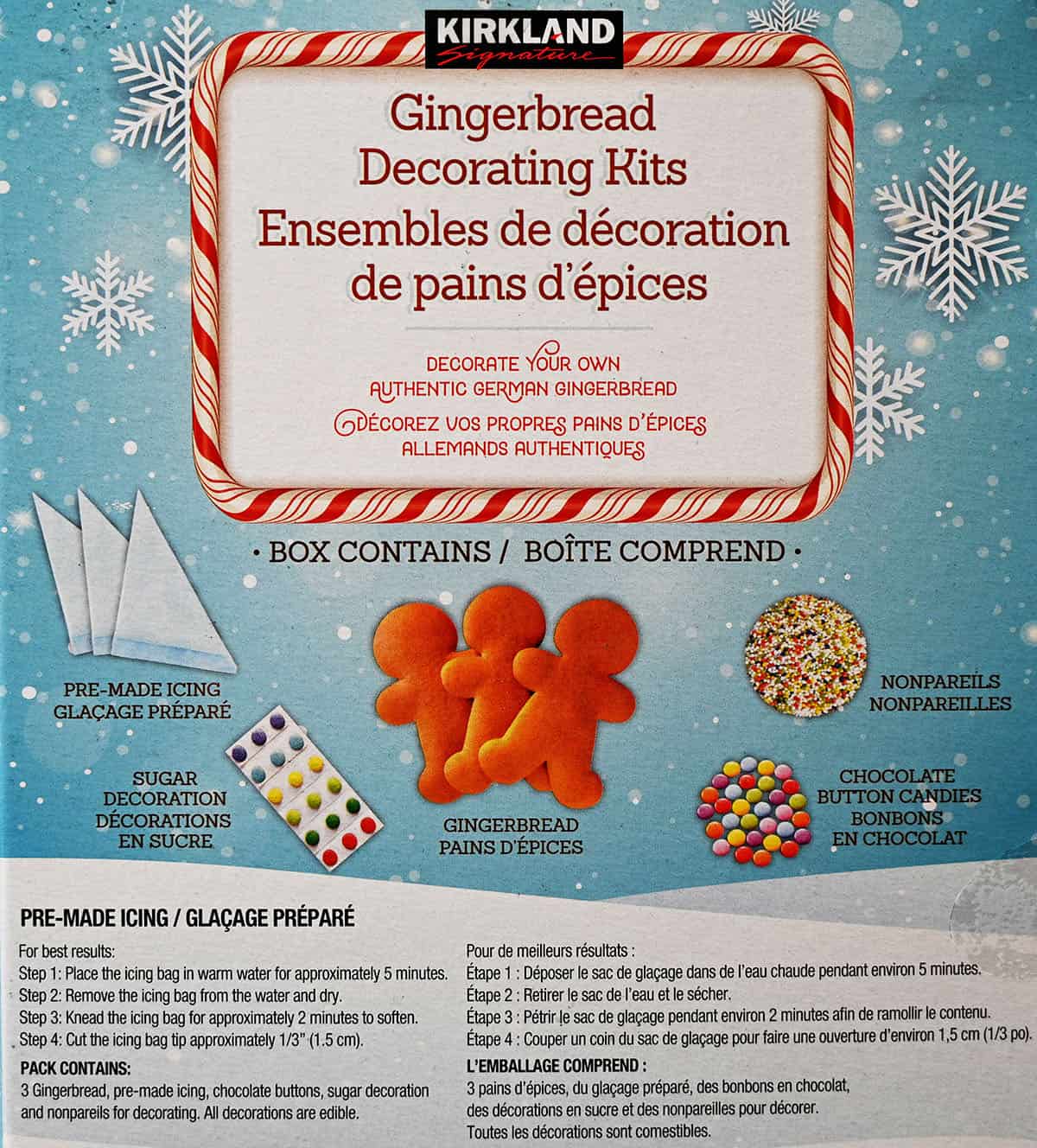 Nutrition
Calories
1/8th of a decorated gingerbread contains 120 calories, half a gram of fat, 26 grams of carbohydrates, one gram of fibre, 17 grams of sugar, two grams of protein and three milligrams of sodium.
Considering that one gingerbread is massive this doesn't seem too bad to me. I also find the gingerbread pretty inedible so I don't really see a lot of people having more than a taste of their completed ginger person!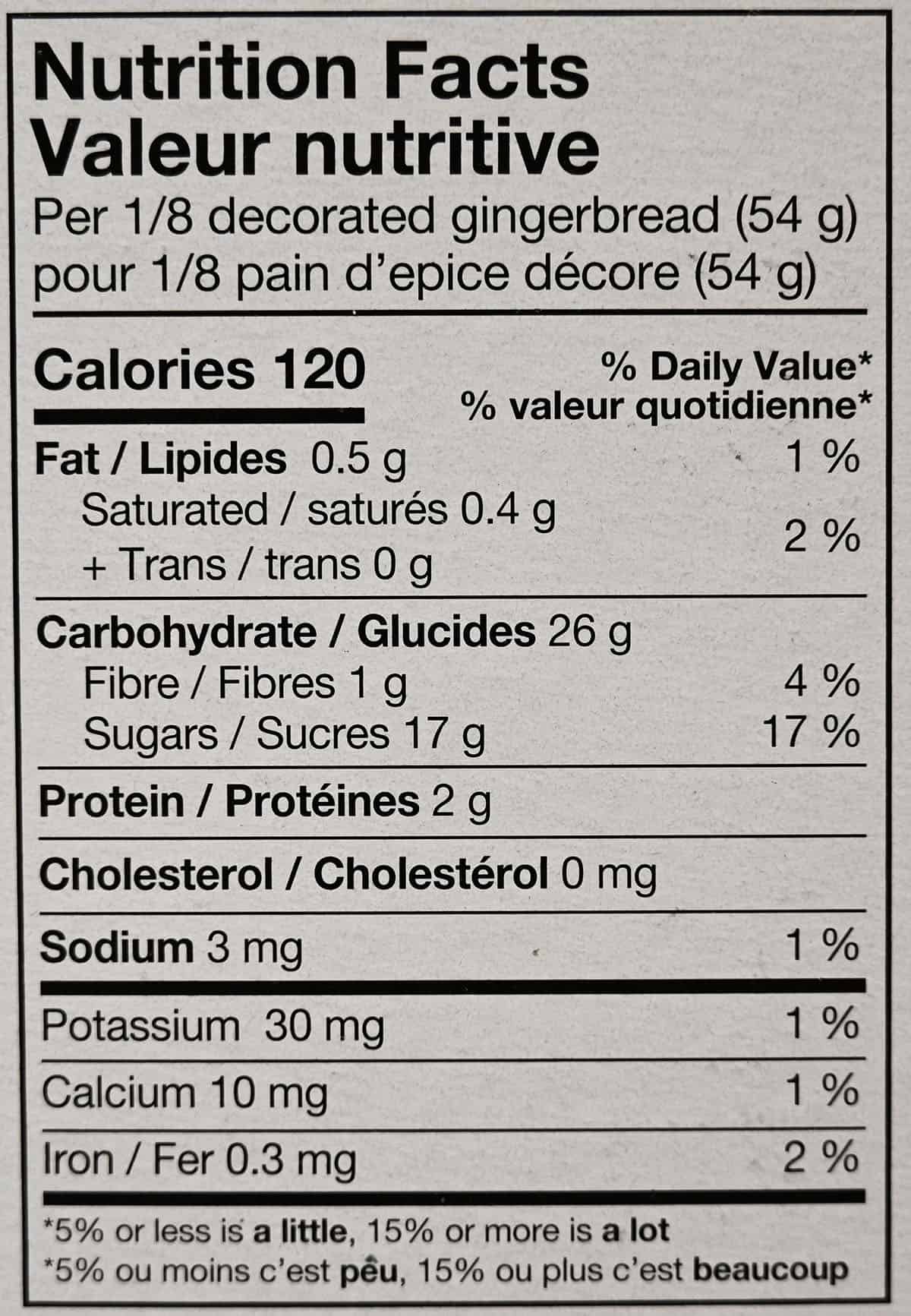 Ingredients
The ingredients list isn't nearly as bad as I expected it to be! The gingerbread itself has pretty simple ingredients without a ton of additives or chemicals! The candy is mainly just sugar and some natural dyes. None of these ingredients are really healthy or nutritious.
The Costco Kirkland Gingerbread Decorating Kits contain wheat, milk, rye and soy and may contain peanuts, tree nuts and egg.


Scoring
Taste: 0/10
Cost: 8/10
Convenience: 10/10
Nutrition: 0/10
Overall
Walk on by for eating or give it a try for a fun activity.
If you're looking for gingerbread to actually eat and enjoy I would pass on this. If you're interested in a fun activity to do with the kids over the holidays I would recommend this!
Would you buy this? Why or why not?
---
Please note that this review was not paid for or sponsored by any third party. This product was purchased by Costcuisine for the purpose of producing this review. The opinions in this review are strictly those of Costcuisine. Costcuisine is not affiliated with Costco or any of its suppliers. In the event that Costcuisine receives compensation for a post from the manufacturer of a product or some other third party, the arrangement will be clearly disclosed (including where the manufacturer of a product provides Costcuisine with a free sample of the product).