There are a few kinds of cookies that make me think of Christmas and one of them is ginger cookies. If you're a fan of ginger cookies but aren't in the mood to bake your own Costco carries the Bakery Street Ginger & Spice and Everything Nice Cookies which are baked from scratch with real butter and ginger! How do these compare to the Kirkland Signature Ginger Cookies everyone loves?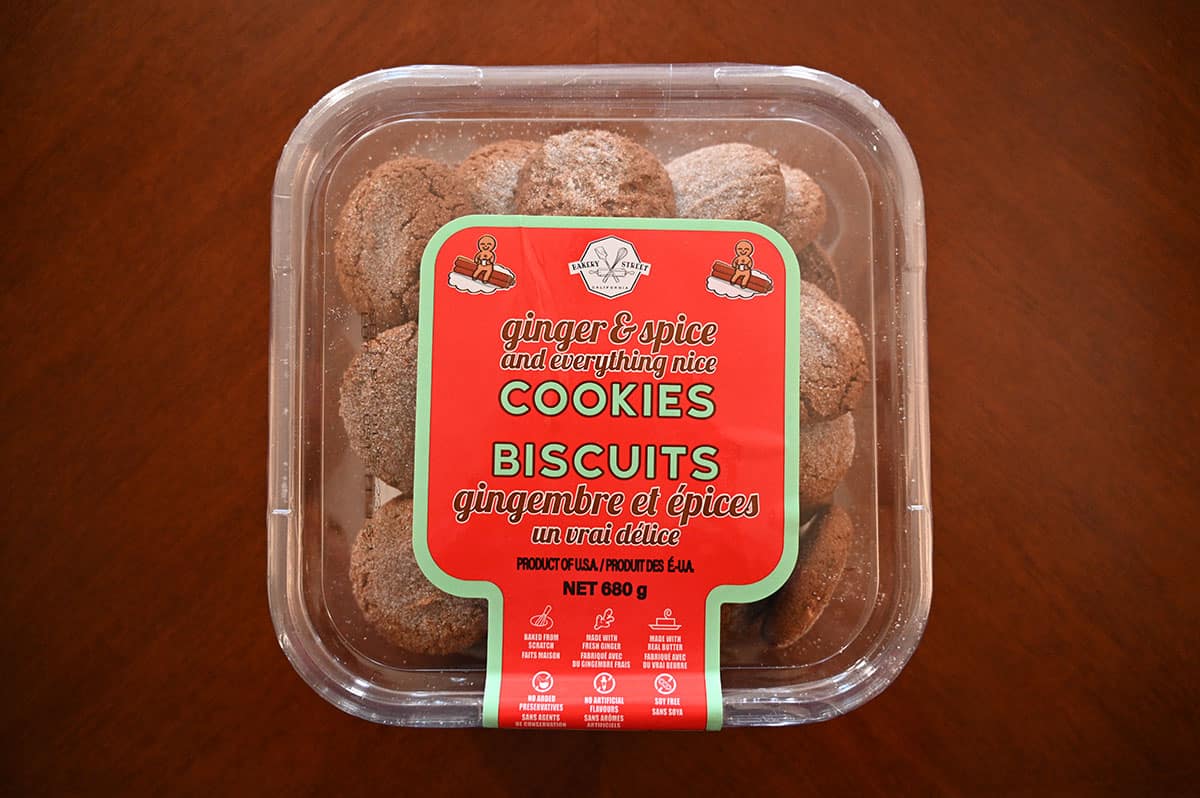 I love ginger cookies! Especially homemade or the ones from the famous Duchess Bake Shop! I don't make my own from scratch so when I saw these Bakery Street Ginger & Spice and Everything Nice cookies at Costco I wanted to try them. The packaging is very festive so I feel like that also attracted me to these cookies!
Other cookies I love and recommend from Costco are the Kirkland Signature Ginger Cookies, Kirkland Signature Raspberry Crumble Cookies, Kirkland Signature Chocolate Lover's Cookie Pack, Lotus Biscoff Cookies, Kirkland Signature Shortbread Cookies and the Kirkland Signature Mini Chocolate Chip Cookies.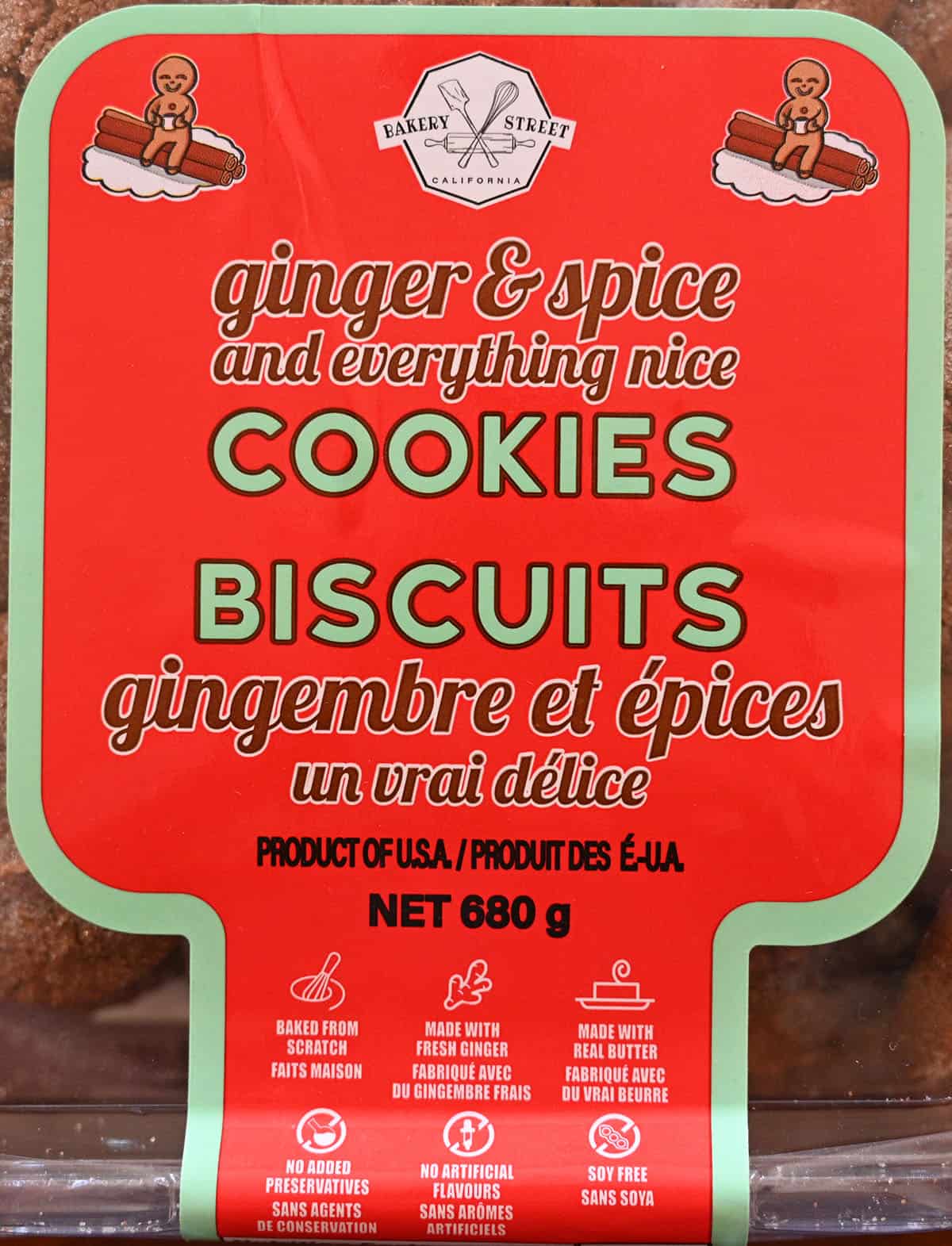 Location in Store
These ginger cookies are in the bakery section. The item number is 1684941.
Taste
I kind of like these cookies, they're not my favorite and I think there are better store-bought ginger cookies but I don't mind them. The texture of the cookies is pretty soft with a bit of a crisp exterior but no chewiness. I find them a rather dry tasting cookie and they're also somewhat crumbly but I did wait a while before eating them after I brought them home.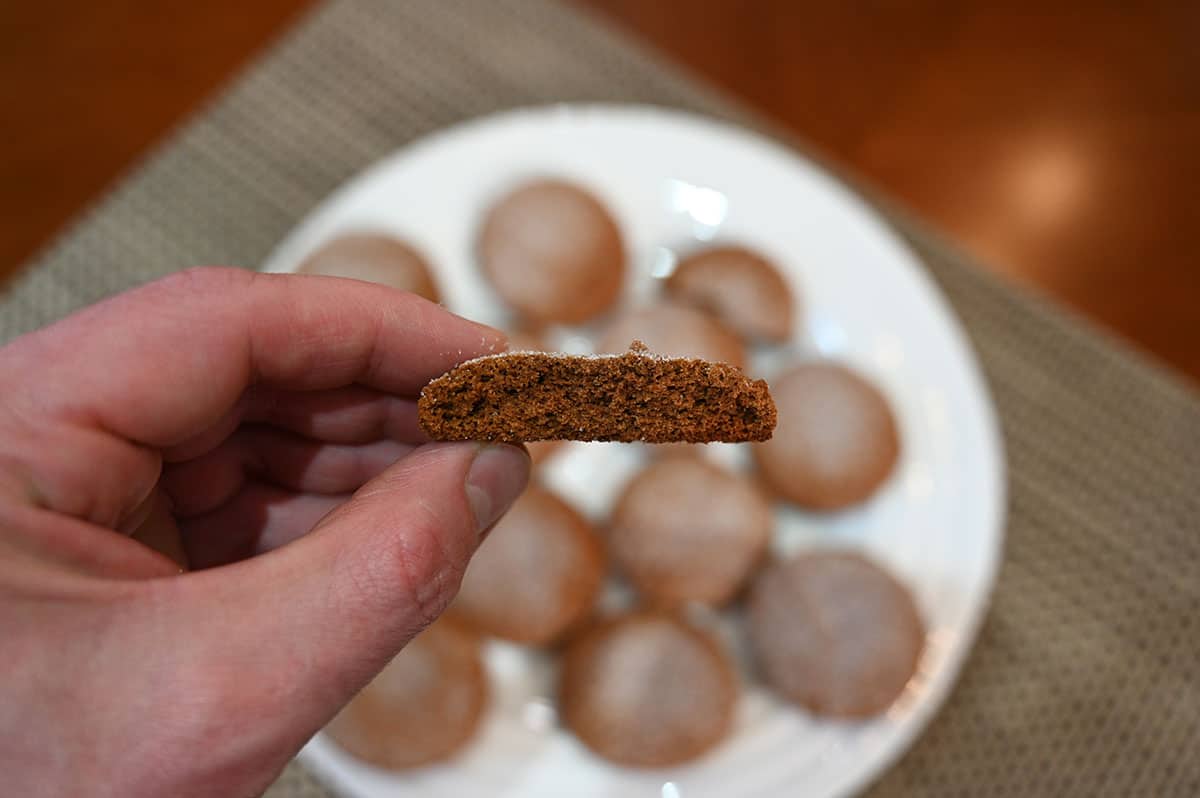 The cookies are sweet but not too sweet, although they're called "Ginger & Spice and Everything Nice Cookies" I find the ginger flavor pretty mild compared to other ginger cookies. I don't really taste much spice and overall the flavor seems a bit bland to me. I can definitely tell they're a ginger cookie right off the bat, I just think I prefer a really strong ginger flavor.
There's a bit of sugar coating on the top of the cookies which I enjoy but I definitely prefer the Kirkland Signature Ginger Cookies over these.
Cost
The 680-gram container of cookies costs $9.99 Canadian which isn't bad for a decent-sized plastic container full of cookies made with real butter and ginger!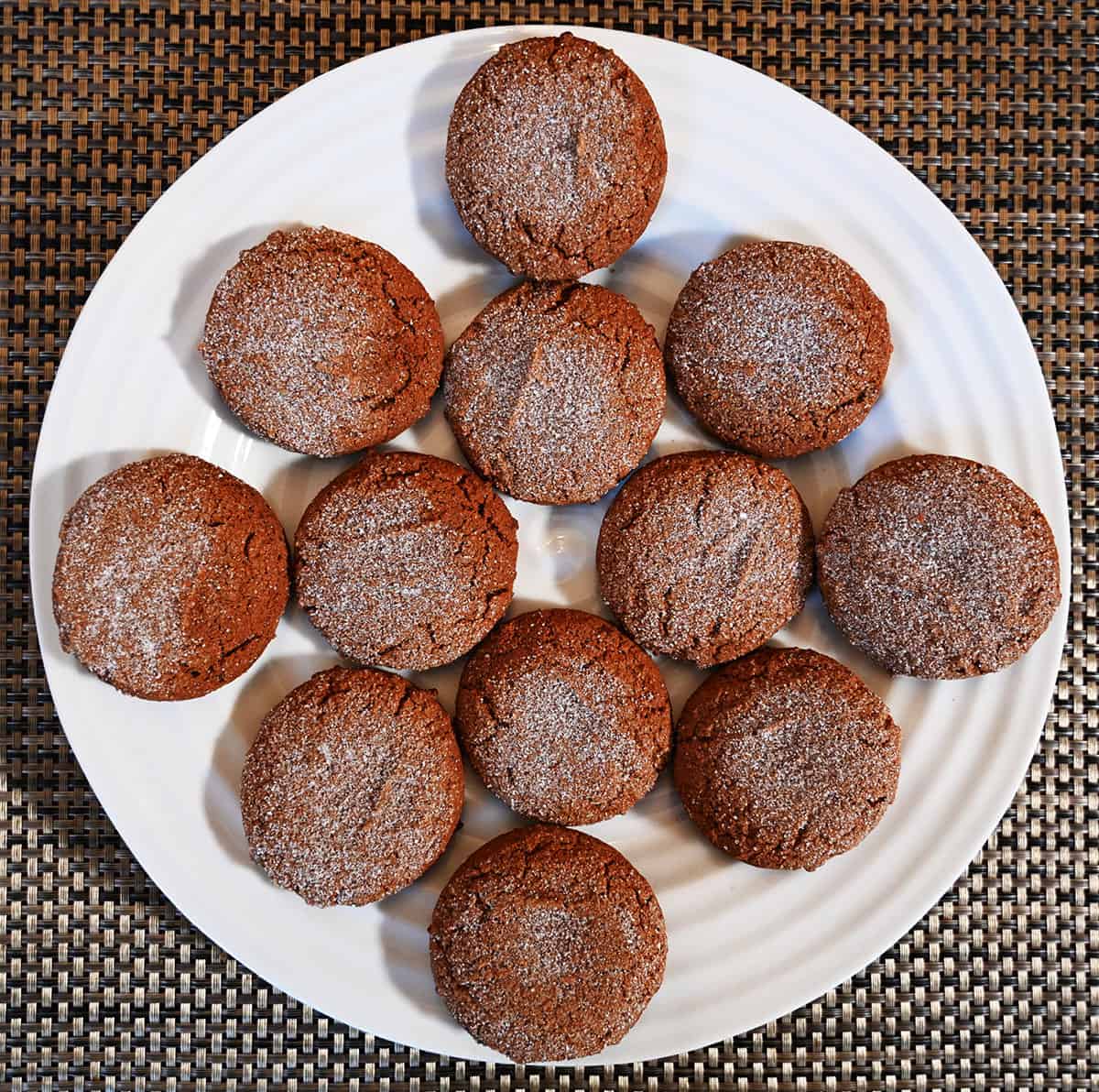 Convenience
The cookies come in a plastic resealable container and the best-before date is surprisingly almost three months from when the cookies were purchased. I found them kind of dry and stale tasting after only a few days so I can't imagine keeping them on the counter for over two months!
The plastic container is easy to pop in the freezer so if you're not going to eat the cookies right away, I recommend freezing them. I always think it's a good idea to have cookies like this around the holiday season for when guests stop by or you need to leave Santa something!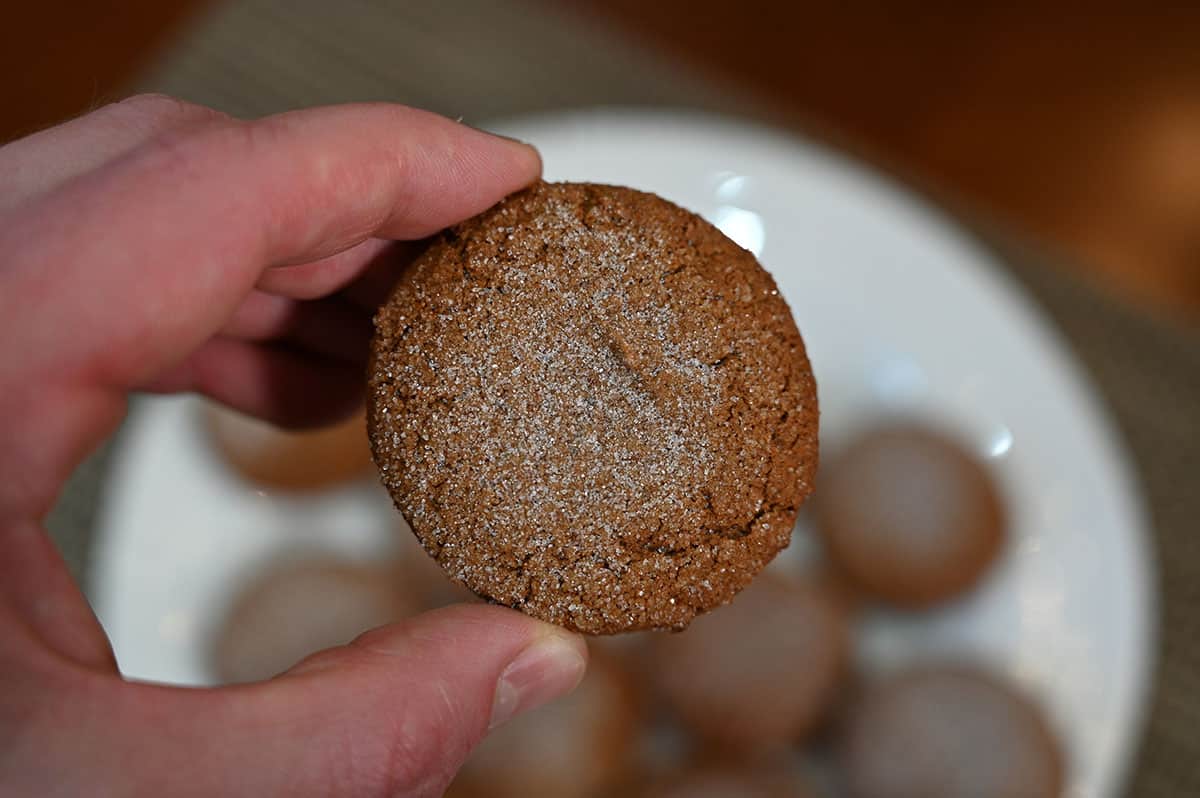 Nutrition
Calories
One cookie is 80 calories, two and a half grams of fat, 13 grams of carbohydrates, one gram of fibre, seven grams of sugar, one gram of protein and 60 milligrams of sodium. That's not too bad for one cookie but they're not very big, only three or four bites per cookie. I wish they were about 50 calories per cookie.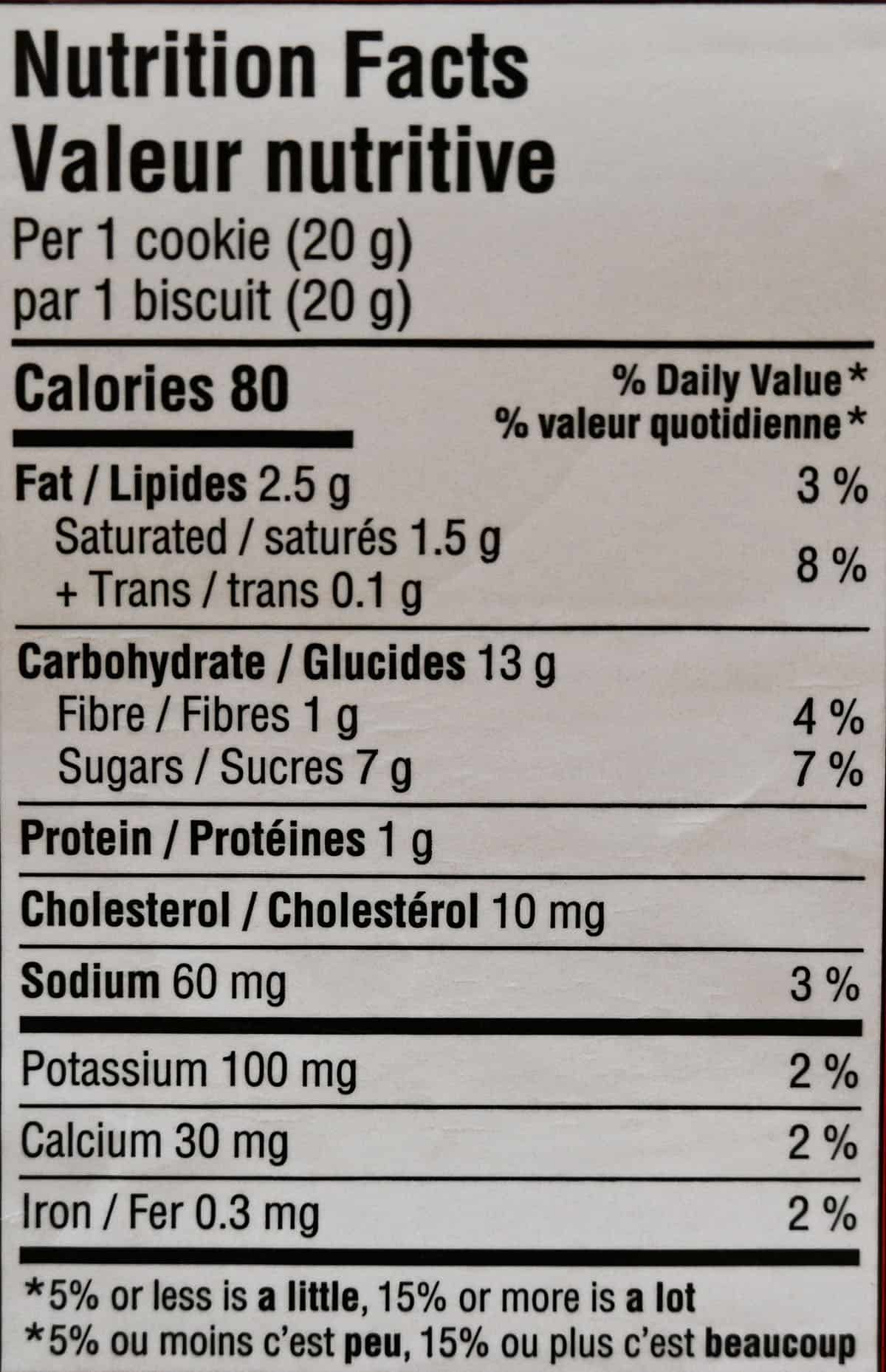 Ingredients
I love that there's real butter and ginger in the cookies! They're also soy-free and have no added preservatives or artificial flavors. All of the ingredients listed are ones I would use at home if I were baking ginger cookies from scratch.
I really appreciate that these have simple ingredients and I know what each ingredient is. The cookies contain wheat, eggs and milk. They may contain soy, tree nuts and peanuts.

Scoring
Taste: 6.5/10
Cost: 8/10
Convenience: 10/10
Nutrition: 2/10 (Points scored for the simple ingredients list!)
Overall
Walk on by towards the Kirkland Signature Ginger Cookies!
I don't mind these cookies, I actually gave some to my parents and they really liked them. My husband enjoyed them too. I just prefer the Costco Kirkland Signature Ginger Cookies and would rather spend my money on them.
Have you tried these ginger cookies? What do you think of them?
Please note that this review was not paid for or sponsored by any third party. This product was purchased by Costcuisine for the purpose of producing this review. The opinions in this review are strictly those of Costcuisine. Costcuisine is not affiliated with Costco or any of its suppliers. In the event that Costcuisine receives compensation for a post from the manufacturer of a product or some other third party, the arrangement will be clearly disclosed (including where the manufacturer of a product provides Costcuisine with a free sample of the product).