It's that time of year! Ginger cookies are available.
Please note that this review was not paid for or sponsored by any third party. I purchased this product with my own money and the opinions in this review are strictly my own. I am not affiliated with Costco or any of its suppliers. I am just a fan of the company. I write these reviews to help my fellow shoppers.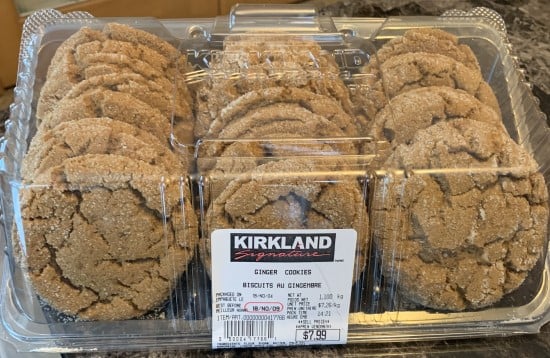 Two years ago I bought these cookies for my husband Sean and I. Last year I wanted to buy more but they didn't have them! All Costco was carrying last year were mini ginger snap cookies in a round tub (which I bought, and they were good, but not good like these). Let me be honest, this review may be slightly bias due to the fact ginger cookies are one of my favorite kinds of cookie. like them so much it means I've eaten a lot of them so therefore I feel like I have a pretty solid idea on what makes a ginger cookie delicious.
The Costco Kirkland Signature Ginger Cookies come in the standard plastic Costco cookie container. This container was purchased for $7.99 Canadian and you get 24 cookies in total. I know a lot of people look at the cookies and think "who on earth needs that many cookies", these are priced so reasonably it's hard to justify not buying these if you're a cookie fan.
To make ginger cookies from scratch it can be time and labor intensive. It can be also be hard for some to achieve a really delicious tasting ginger cookie. Can anyone else relate to getting their Grandma's famous ginger cookie recipe and not being able to replicate it? These cookies freeze perfectly. I freeze the cookies for months in a large ziplock and have no problems when I bring one out to defrost it when I feel like having one. So for those wondering why they need 24 cookies, just freeze some!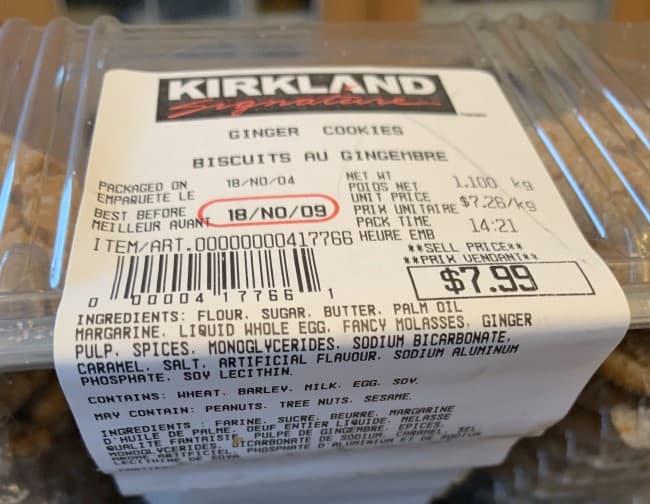 I wish Costco posted the nutritional information on their bakery items. I can tell these aren't the healthiest and are full of sugar, fat and calories but food is food and there is a time and place for ALL food. Especially cookies. Have a cookie, it's the holiday season! Just try not to eat 8.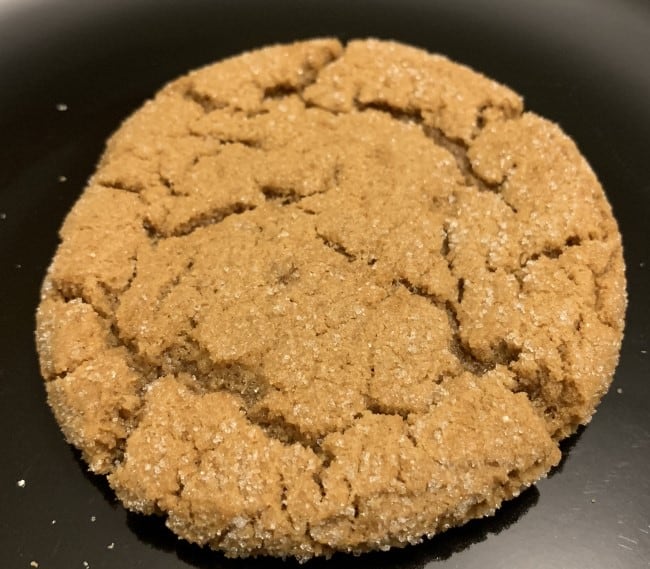 These. Are. Delicious. They're so delicious! They're chewy and soft and gingery. I feel like they actually warm up my soul haha. They taste similar to ginger cookies you can buy from a stand alone mall cookie shop that charges $2.00 or more per cookie. The cookies are lightly coated in granulated sugar which is something I enjoy and I feel is important when it comes to ginger cookies. The outside of the cookie is slightly crisp and chewy with a softer center. They're sweet cookies but I did not find them overly sweet and the ginger flavor is definitely present. There's just the right amount of ginger and spices to give these a little bit of warmth without being too spicy. I love these cookies and look forward to having them out of my freezer when I want over the holiday season.
In summary, I love these cookies, my parents loved them and so does my husband. I'm so happy they're back and I can see myself pulling one of these out of my freezer often to have with a hot cup or tea or even better. hot chocolate! I'm craving one right now actually as I post this.
Taste: 10/10
Cost: 10/10
Convenience: 10/10
Nutrition: 1/10 (1 point for how happy these make me)
If you are from Western Canada please visit the Costco West Blog to find out what's on sale at Costco this week!