We always have ginger cookies in our house around the holidays. Sometimes I bake my own, but I've also bought quite a few packages of Costco's Kirkland Signature Ginger Cookies over the past few holiday seasons. I first reviewed them years ago, and I think this is my third time updating the post! Unfortunately the price has gone up a lot since I started the blog (just like the price of pretty much everything else!). I've noticed some small changes to the ingredients list too. Are these cookies still worth buying?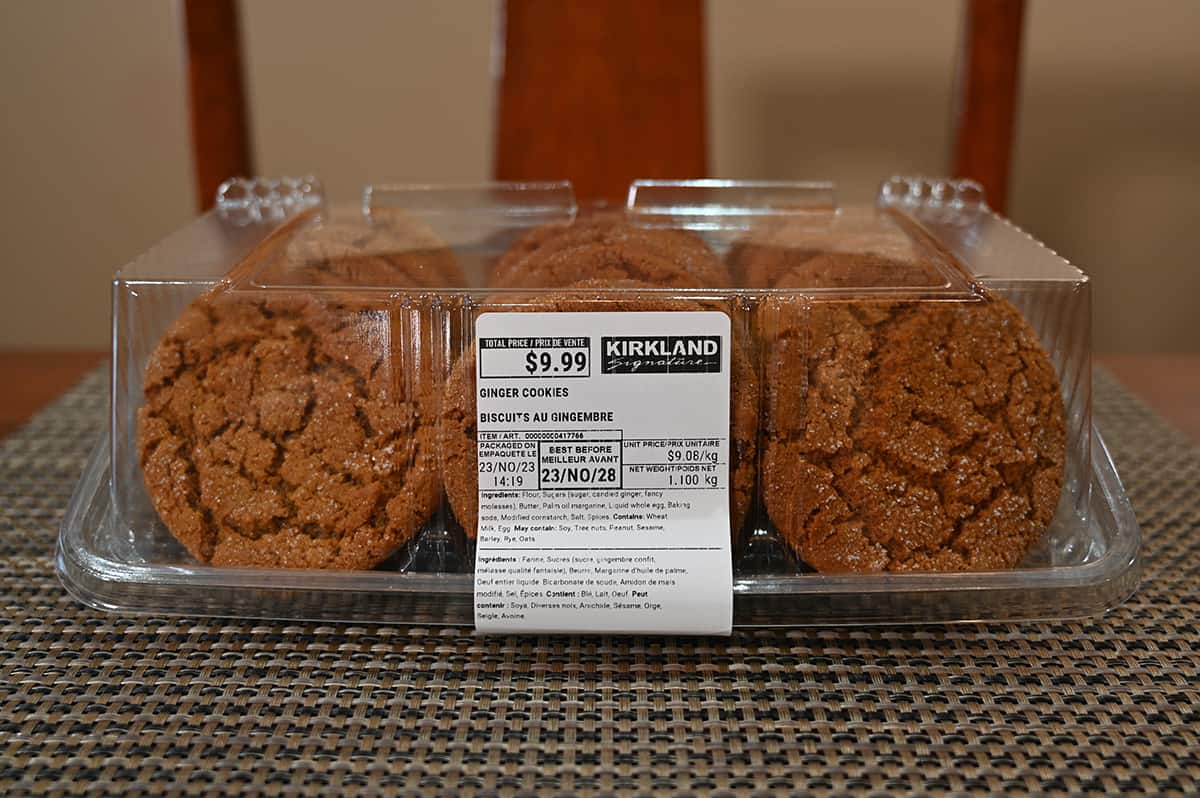 Other festive delights from the Costco bakery are the Kirkland Signature Yule Log, Kirkland Signature Nanaimo Bars, Kirkland Signature Cranberry Walnut Bread, Kirkland Signature Cranberry Almond Bark, Kirkland Signature Pumpkin Spice Loaf, Kirkland Signature Pumpkin Pie, Kirkland Signature Raspberry Crumble Cookies, Kirkland Signature Peppermint Candy Bark and the Kirkland Signature Christmas Fruit Cake.
Location in Store
You can find the Costco Kirkland Signature Ginger cookies in the bakery department near the other cookies. The item number is 417766.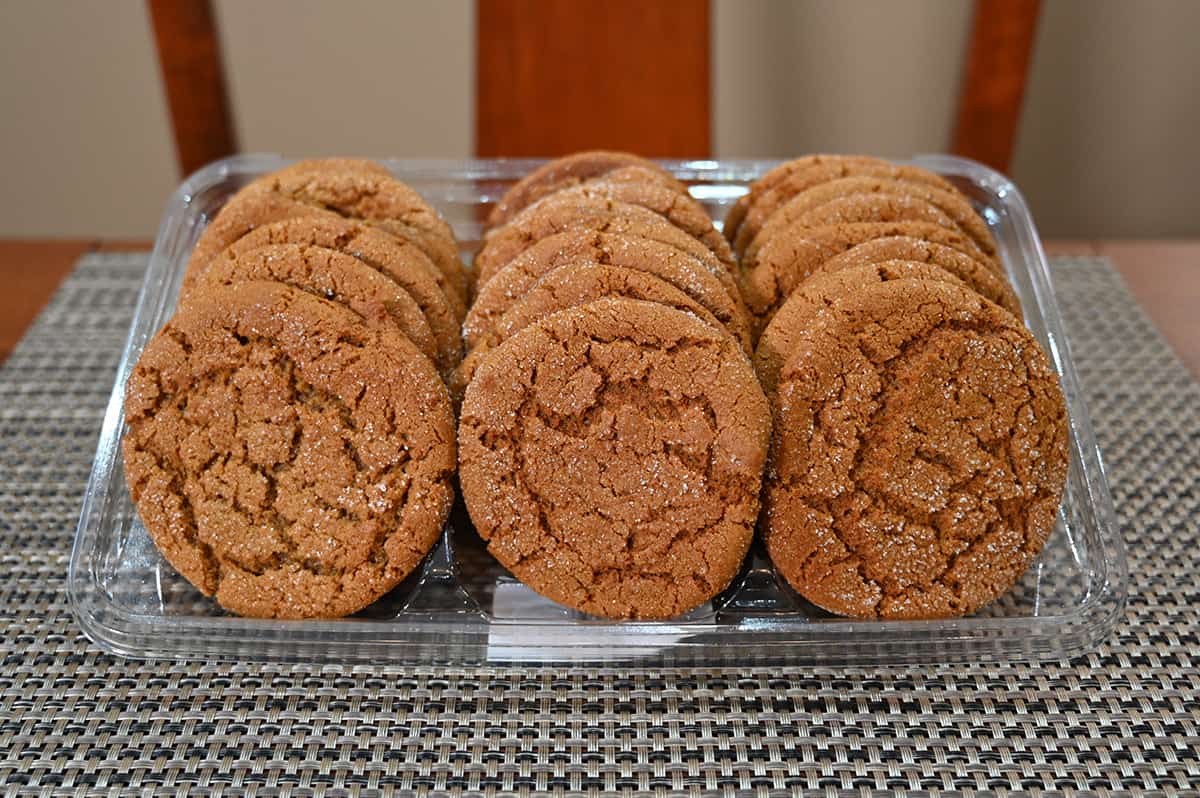 Taste
I think the Costco ginger cookies are pretty tasty. I do find they're a little on the sweet side and don't have as much molasses and ginger flavor as I like. They're still excellent for a grocery store-bought ginger cookie.
The texture is chewy and soft, the cookies are lightly coated in granulated sugar which adds to the sweetness. The edges of the cookie are slightly crisp and chewy with a softer center.
They're pretty sweet cookies but I do not find them overly sweet and the ginger flavor is noticeable. There's just the right amount of ginger and spices to give these a little bit of warmth without being too spicy.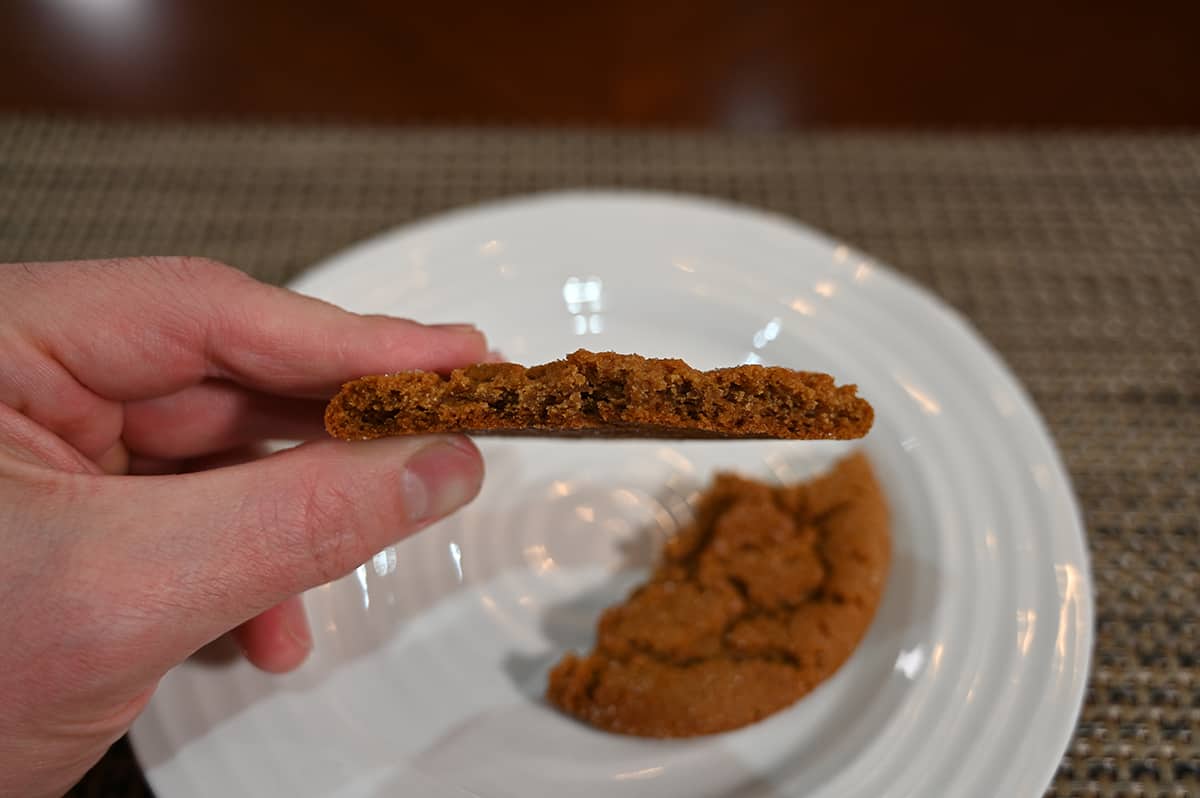 Cost
The ginger cookies used to cost $7.99 Canadian for 24 cookies but have gone up in price. They now cost $9.99 Canadian. This is still cheaper than stand-alone bakery ginger cookies as well as it's probably cheaper than baking them from scratch.
If you can't eat 24 cookies yourself, share some with friends or family.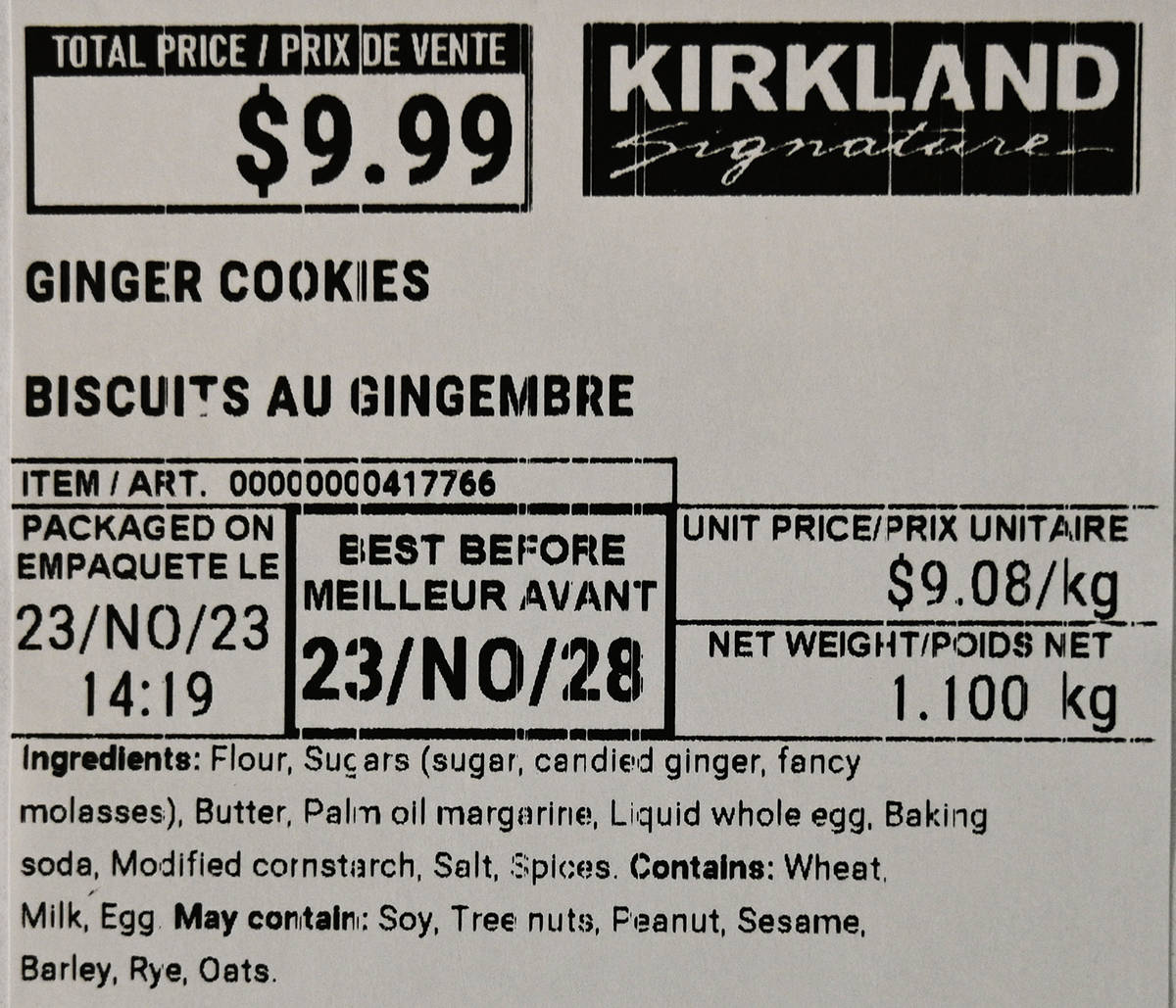 Convenience
The cookies freeze well, you can either freeze them in the plastic container they come in or put them in a Ziploc bag. Making ginger cookies from scratch can be time and labor-intensive.
It can also be hard for some to achieve a delicious-tasting ginger cookie.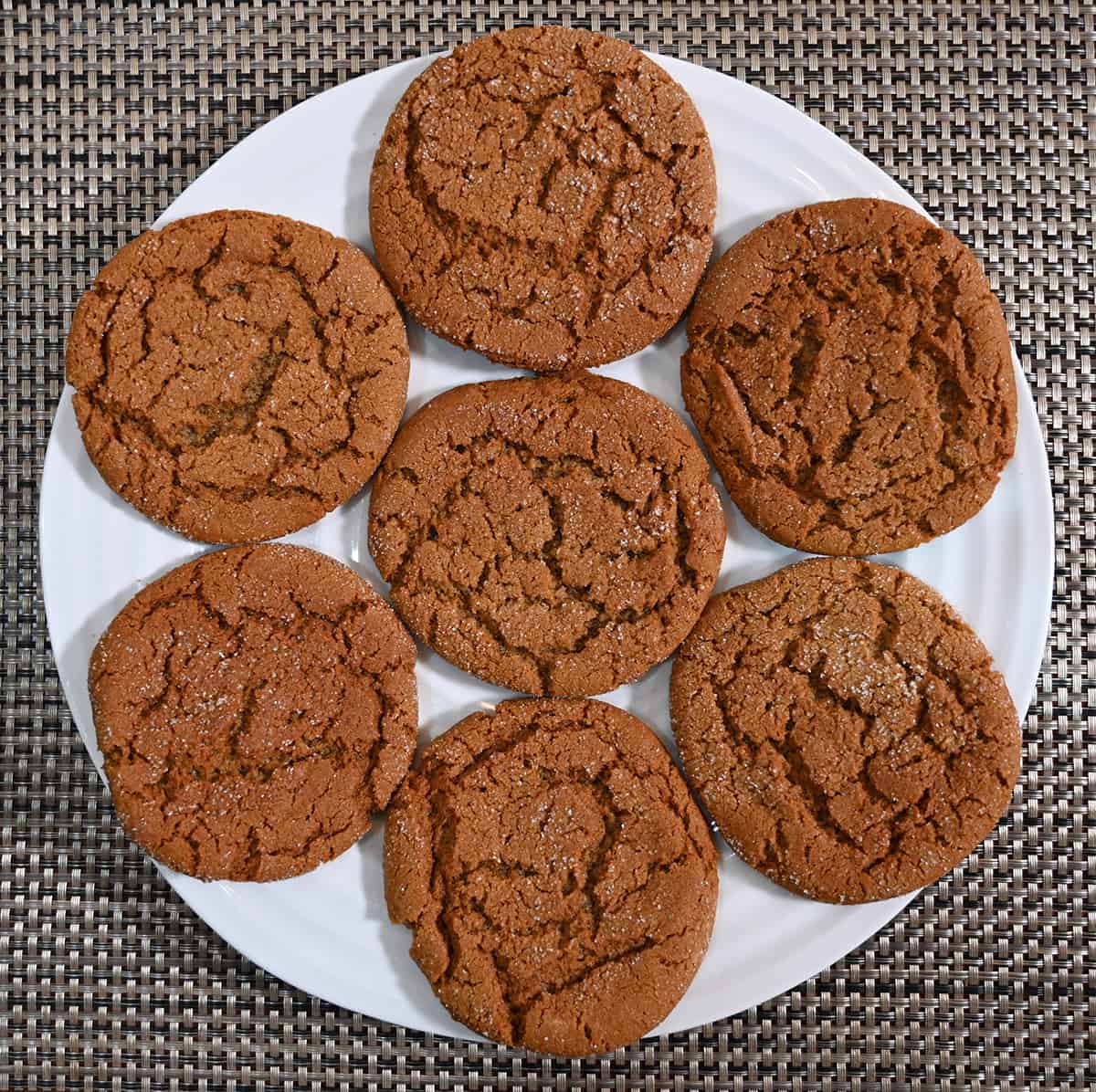 The best-before date is five days from the date the cookies were packed on. I love dipping these in a glass of cold milk. I think they'd also be pretty popular at a holiday potluck or party.
Nutrition
Calories
One cookie contains 220 calories, seven grams of fat, 170 mg of sodium, 36 grams of carbohydrates, one gram of fibre, 20 grams of sugar and two grams of protein.
The cookies are a decent size so 220 calories and seven grams of fat doesn't seem unreasonable to me.
Ingredients
The ingredients list has changed from when I first reviewed these in 2018. There is no longer artificial flavor, sodium aluminum phosphate, soy lecithin, monoglycerides or caramel listed on the ingredients.
It seems like Costco is trying to get into more natural ingredients with these cookies. The cookies contain wheat, milk and egg and may contain soy, tree nuts, peanuts, sesame, barley, rye and oats.


Scoring
Taste: 8/10
Cost: 8/10
Convenience: 10/10
Nutrition: 0/10
Overall
Give it a try!
I like these cookies and look forward to having them every year. I usually share my 24 cookies with my parents.
What do you think of the Costco Kirkland Signature Ginger Cookies?
---
Please note that this review was not paid for or sponsored by any third party. This product was purchased by Costcuisine for the purpose of producing this review. The opinions in this review are strictly those of Costcuisine. Costcuisine is not affiliated with Costco or any of its suppliers. In the event that Costcuisine receives compensation for a post from the manufacturer of a product or some other third party, the arrangement will be clearly disclosed (including where the manufacturer of a product provides Costcuisine with a free sample of the product).