Now that we're past Remembrance Day in Canada and we're quickly approaching Thanksgiving in the U.S., we're officially in holiday treat season! One classic holiday treat is candy bark, and Costco has you covered with two different kinds – the Kirkland Signature Peppermint Candy Bark and this Kirkland Signature Cranberry Almond Bark. If you dislike candy canes, this might be the chocolate bark treat for you!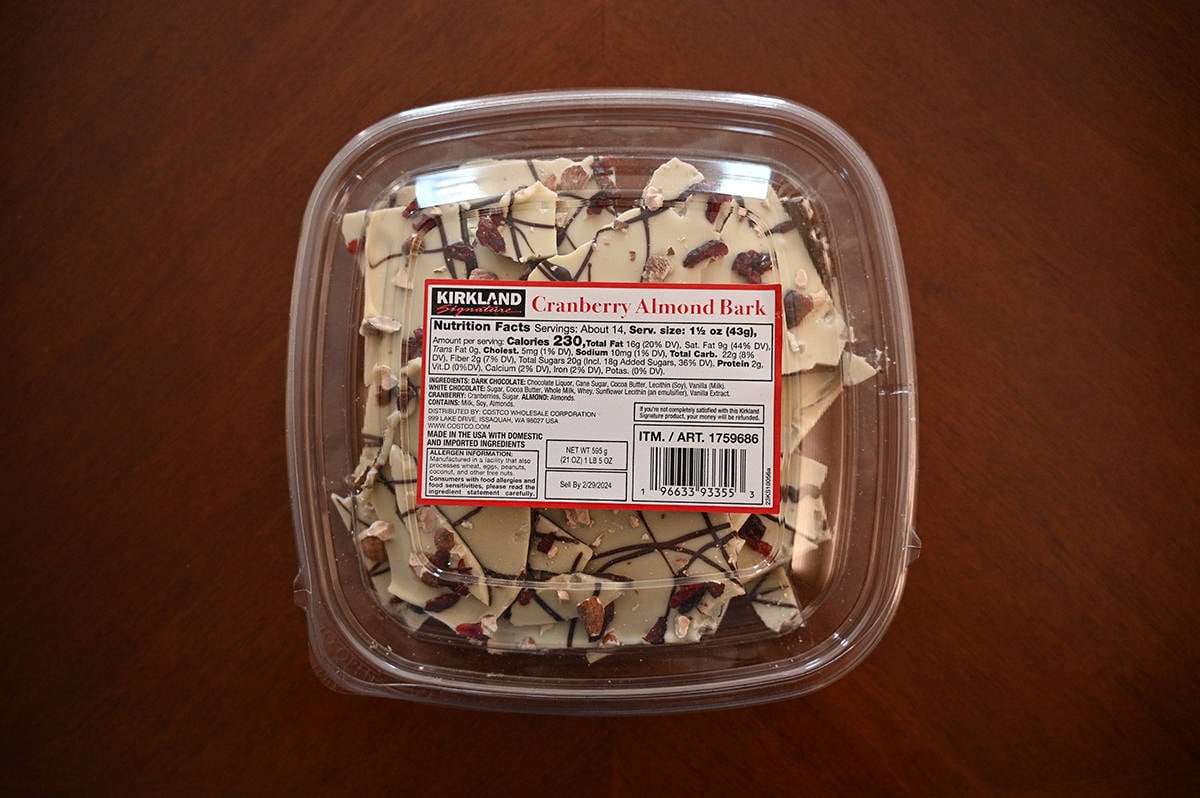 Other festive foods from Costco are the Kirkland Signature Cranberry Walnut Bread, Kirkland Signature Nanaimo Bars, Kirkland Signature Ginger Cookies, Kirkland Signature Spiral Sliced Ham, Kirkland Signature Turkey Breast, Kirkland Signature Pumpkin Pie, Kirkland Signature Christmas Fruit Cake and the Kirkland Signature Pumpkin Spice Loaf.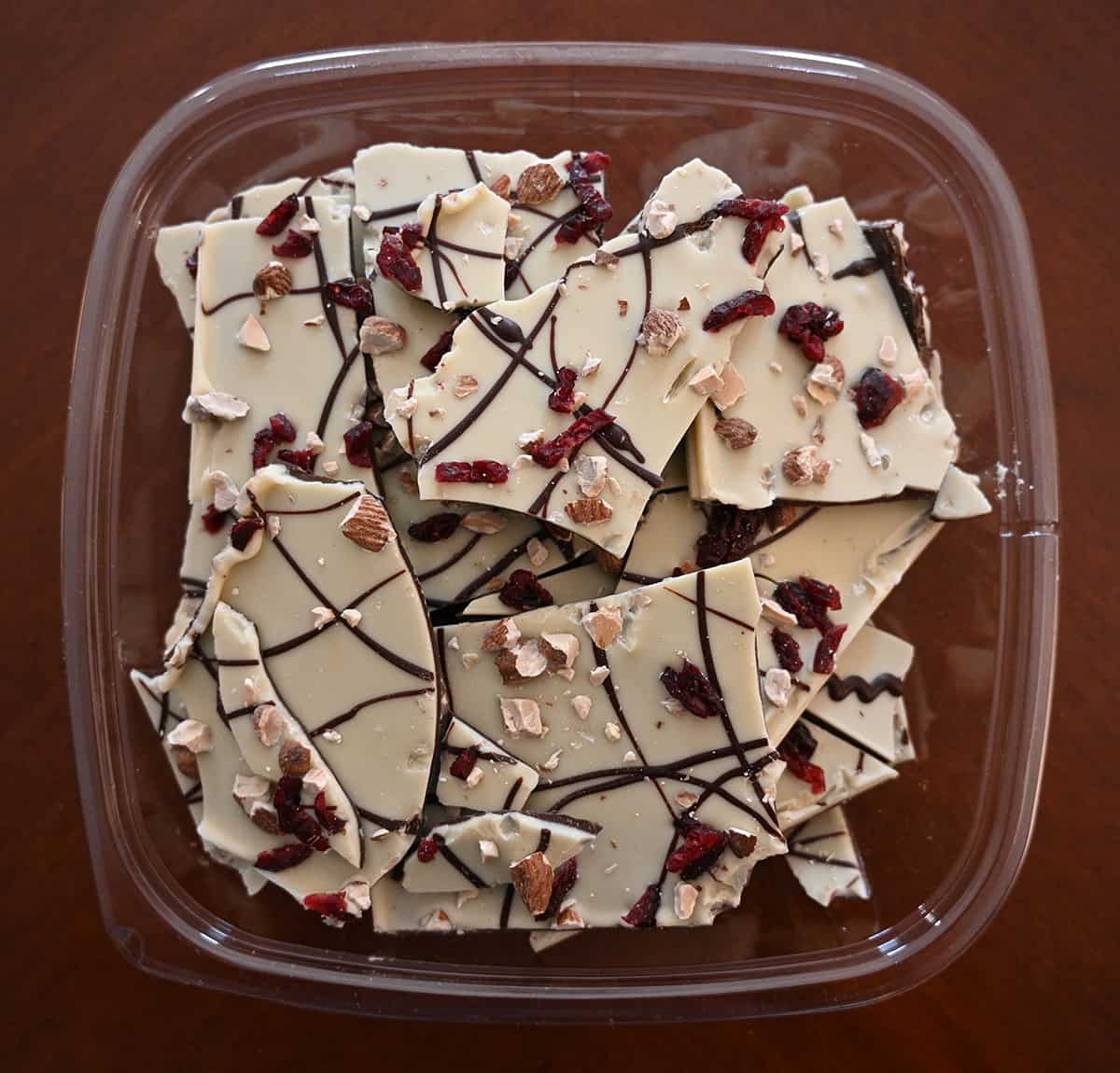 Location in Store
This is located in the bakery section at Costco. I bought it from the Kalispell, Montana Costco and the item number is 1759686. Costco Canada also has a candy bark available during the Christmas season.
Taste
This bark offers a nice combination of flavors and textures the white and milk chocolate are both tasty. The chocolate seems to be fairly good quality. The white chocolate balances out the milk chocolate so the chocolate flavor in total is on the mild side but still nice.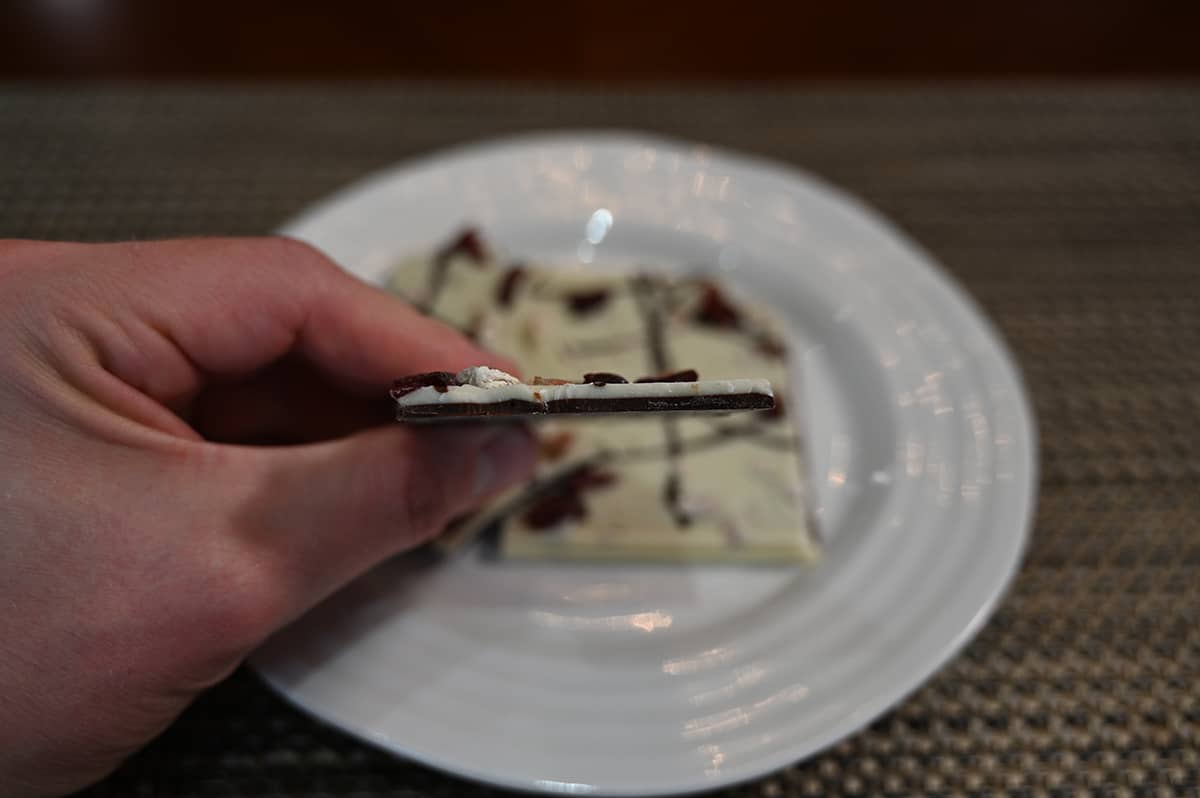 The almonds add plenty of crunch while the cranberries add some chewiness and sweetness. The flavor of the almonds stands out a bit more than the flavor of the cranberries, the cranberry flavor is a little less noticeable than I thought it might be.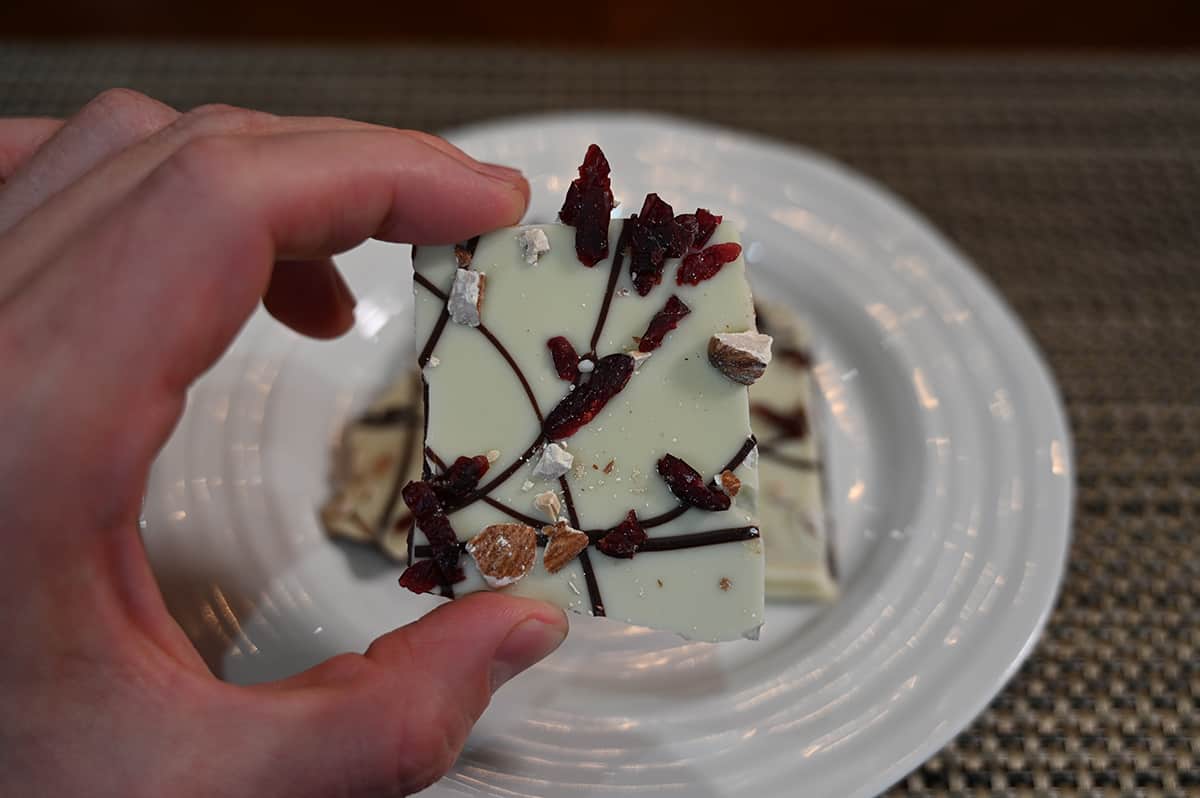 You notice the cranberries but the tart and slightly sweet flavor you get from cranberries isn't as strong as I thought it would be. It's pretty addictive and hard to stop eating once you start!
Cost
The container costs $9.99 USD at Costco which isn't super expensive for such a large container of bark with cranberries and almonds! There's too much bark for just my husband and I so I'm sharing with family and friends.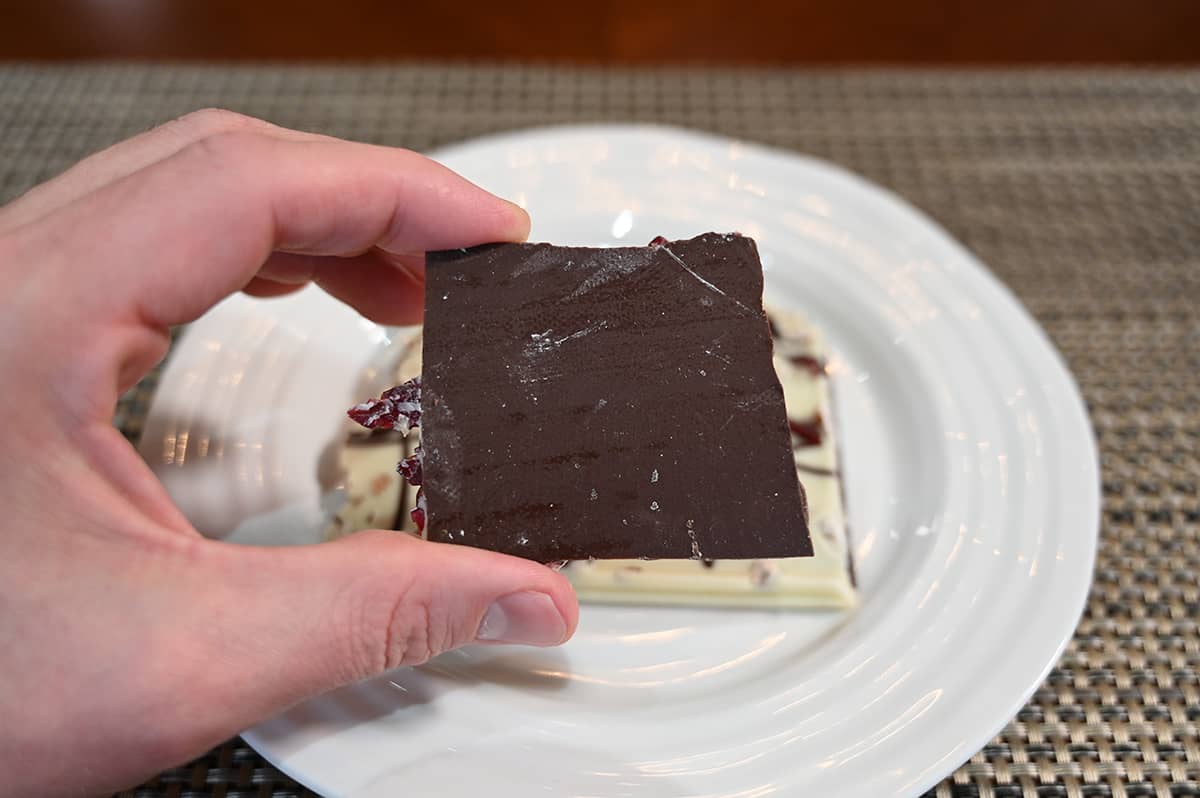 Convenience
The bark comes in a plastic resealable container and the best-before-date is four months from when I purchased it. I don't think it will last four months from when I've opened it! The bark is made in the USA with domestic and imported ingredients.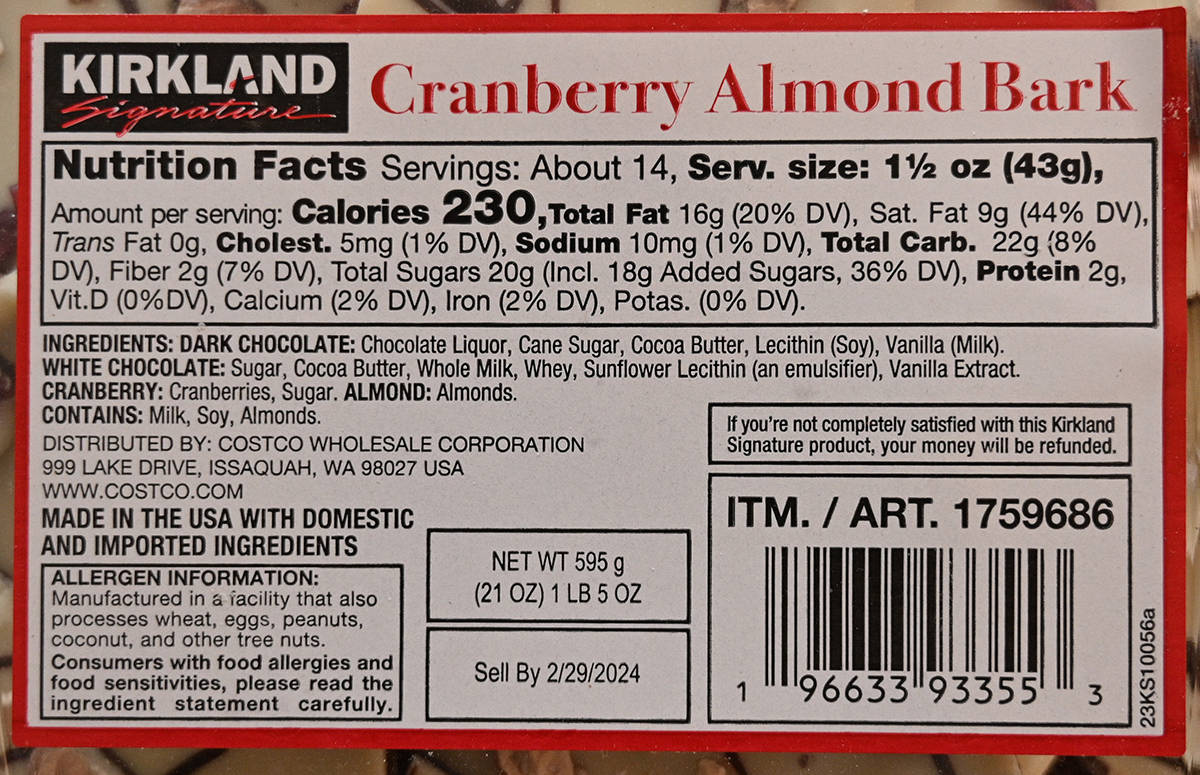 Due to the sheer size of the container, I think this would be perfect to bring to work to share with coworkers or bring to a holiday party. If you have a big family a container may not last that long but we're still working on ours almost a month later!
If you have leftover bark you're not eating you could use it in holiday baking.
Nutrition
Calories
I didn't think this would be low in calories! A 43-gram serving contains 230 calories, 16 grams of fat, 10 milligrams of sodium, 22 grams of carbohydrates, 20 grams of sugar and two grams of protein.
The sugar is high as I expected as well as the calories and fat.

Ingredients
The ingredients list is pretty much what I thought it would be. The bark contains milk, soy and almonds! It may contain traces of peanuts, eggs, wheat, coconut and other tree nuts.
The main difference between high-quality and cheap chocolate is the quality of the ingredients and how it's processed. Most chocolate has the same short ingredients list but you can't really tell how it's made from the outside.

Scoring
Taste: 8/10
Cost: 8/10
Convenience: 10/10
Nutrition: 0/10
Overall
Give it a try!
I offered this to family and friends and they all really enjoyed it, I suggest picking up a container this holiday season and letting me know what you think of it!
Let me know what you think of the Costco Kirkland Signature Cranberry Almond Bark if you've tried it!
---
Please note that this review was not paid for or sponsored by any third party. This product was purchased by Costcuisine for the purpose of producing this review. The opinions in this review are strictly those of Costcuisine. Costcuisine is not affiliated with Costco or any of its suppliers. In the event that Costcuisine receives compensation for a post from the manufacturer of a product or some other third party, the arrangement will be clearly disclosed (including where the manufacturer of a product provides Costcuisine with a free sample of the product).