I think of pumpkin spice season as September to December, but I'd say the peak is October and November (basically the time between Canadian and U.S. Thanksgivings), so we're right in the thick of it now. I spotted this Kirkland Signature Pumpkin Spice Loaf at Costco down in Montana last weekend and figured I'd give it a try even though I'm not crazy about pumpkin-based desserts. Is it good enough for anyone to enjoy, or do you need to be a pumpkin spice lover to appreciate it?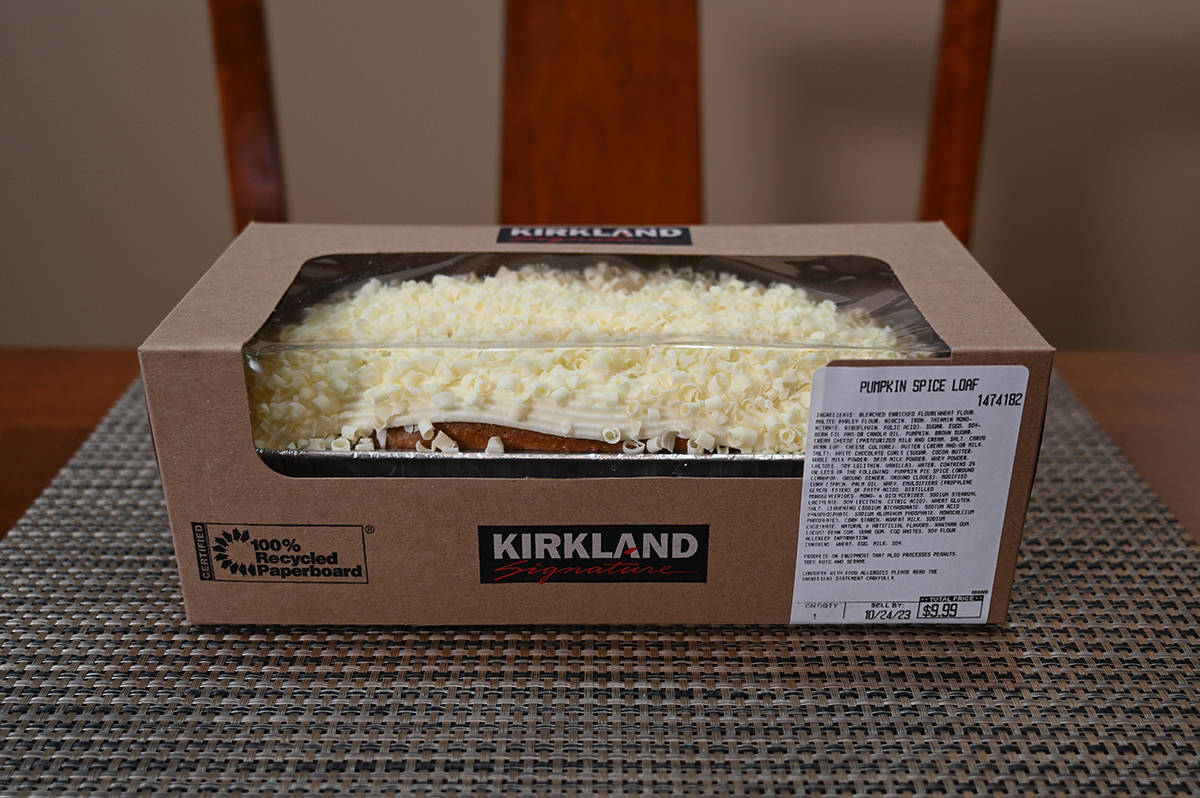 Other items from the Costco bakery I love are the Kirkland Signature Pumpkin Pie, Kirkland Signature Banana Pecan Loaf, Kirkland Signature Maple Pecan Coffee Cake, Kirkland Signature Gooey Cinnamon Rolls, Kirkland Signature Tuxedo Cake, Kirkland Signature Oatmeal White Chocolate Cranberry Cookies, Kirkland Signature Cranberry Orange Bisconie, Kirkland Signature Ciabatta Buns and the Kirkland Signature Cheese Buns.
Location in Store
I bought this at the Kalispell, Montana Costco and the item number is 1471482. It's located in the bakery section.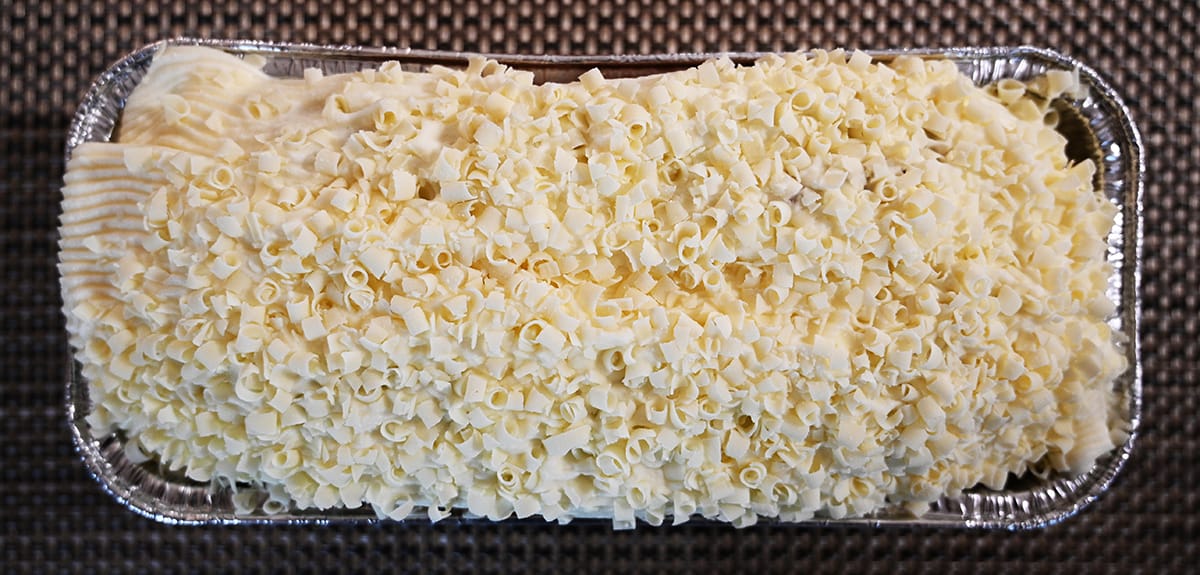 Taste
The loaf itself is tasty and pretty much what you'd expect. It's moist and dense with a nice balance of sweetness and pumpkin spice flavor. I really like the pumpkin spice flavor in the loaf. I think it's the cloves that do it for me. The loaf could maybe be a bit more moist, but I didn't eat mine until the day after I bought it, so I think it would've been perfect if it were fresh.
The icing and white chocolate curls on top are also pretty good, though a bit on the sweet side. The icing appears to use real cream cheese, which is a nice surprise for a non-refrigerated dessert. You can taste the cream cheese in the icing, but I would've liked more cream cheese flavor.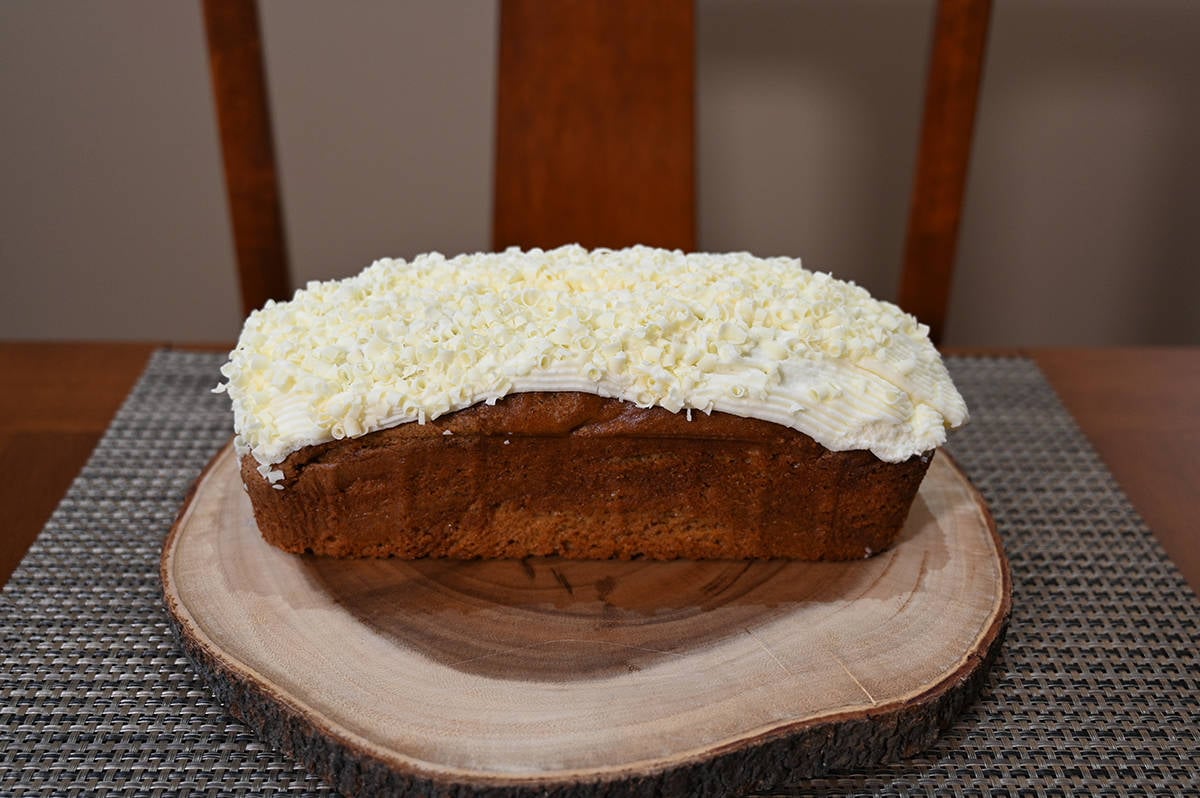 Most of the sweetness comes from the white chocolate, but the icing seems to be fairly sweet on its own. When I took bites of the icing and white chocolate with the loaf, I found the topping overpowered the great pumpkin spice flavor a bit.
I'll admit that I'm not always the biggest fan of pumpkin-based treats, but I really enjoyed this loaf. It if were topped with an icing that's less sweet with more cream cheese, it would be even better. I think I'd also enjoy it more without the topping because the pumpkin spice was the highlight for me.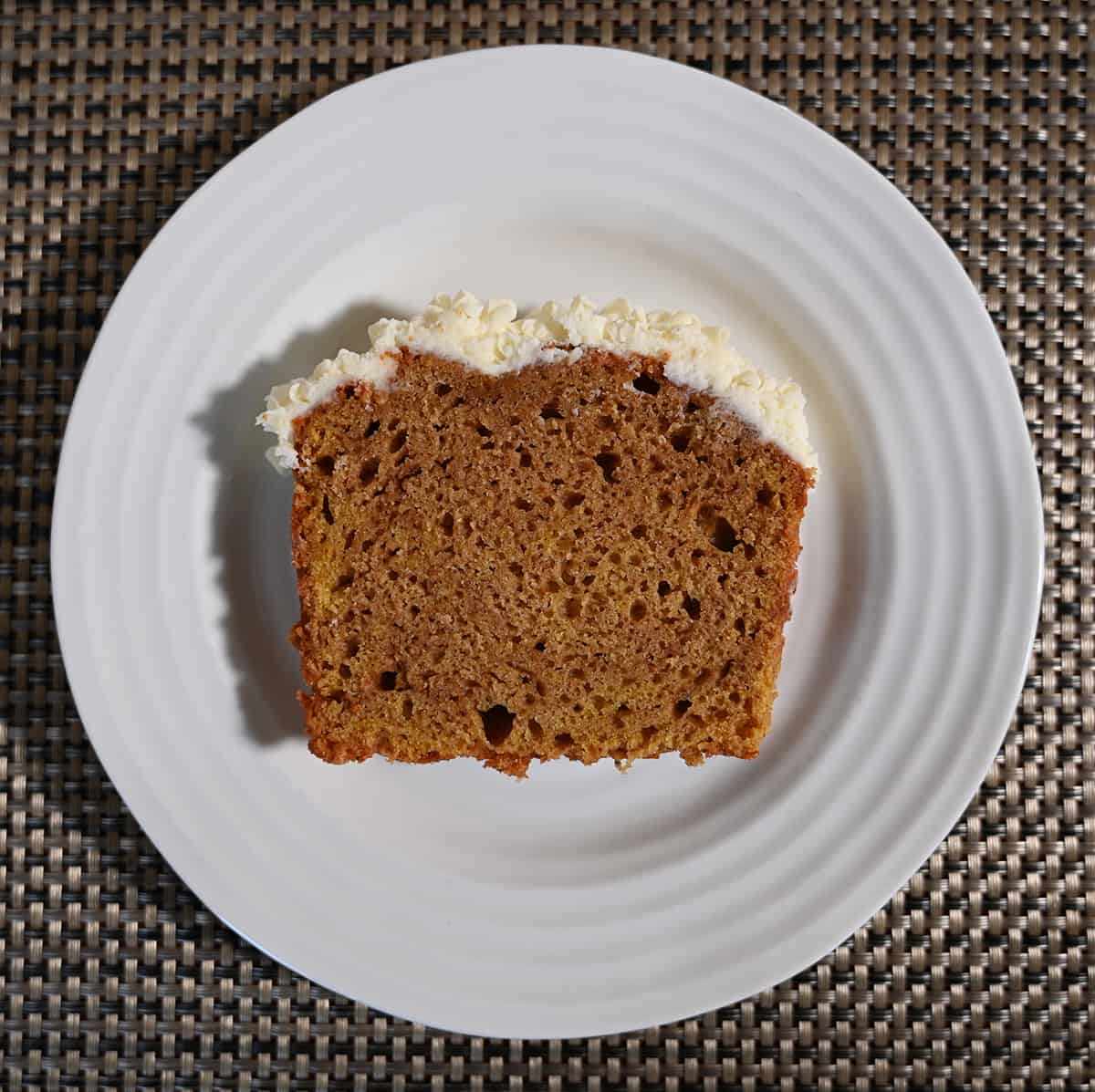 Cost
The loaf costs $9.99 USD which isn't bad for such a large loaf. That's similar to the price of the Kirkland Signature Lemon Poppyseed Loaf and the Kirkland Signature Apple Fritter Loaf.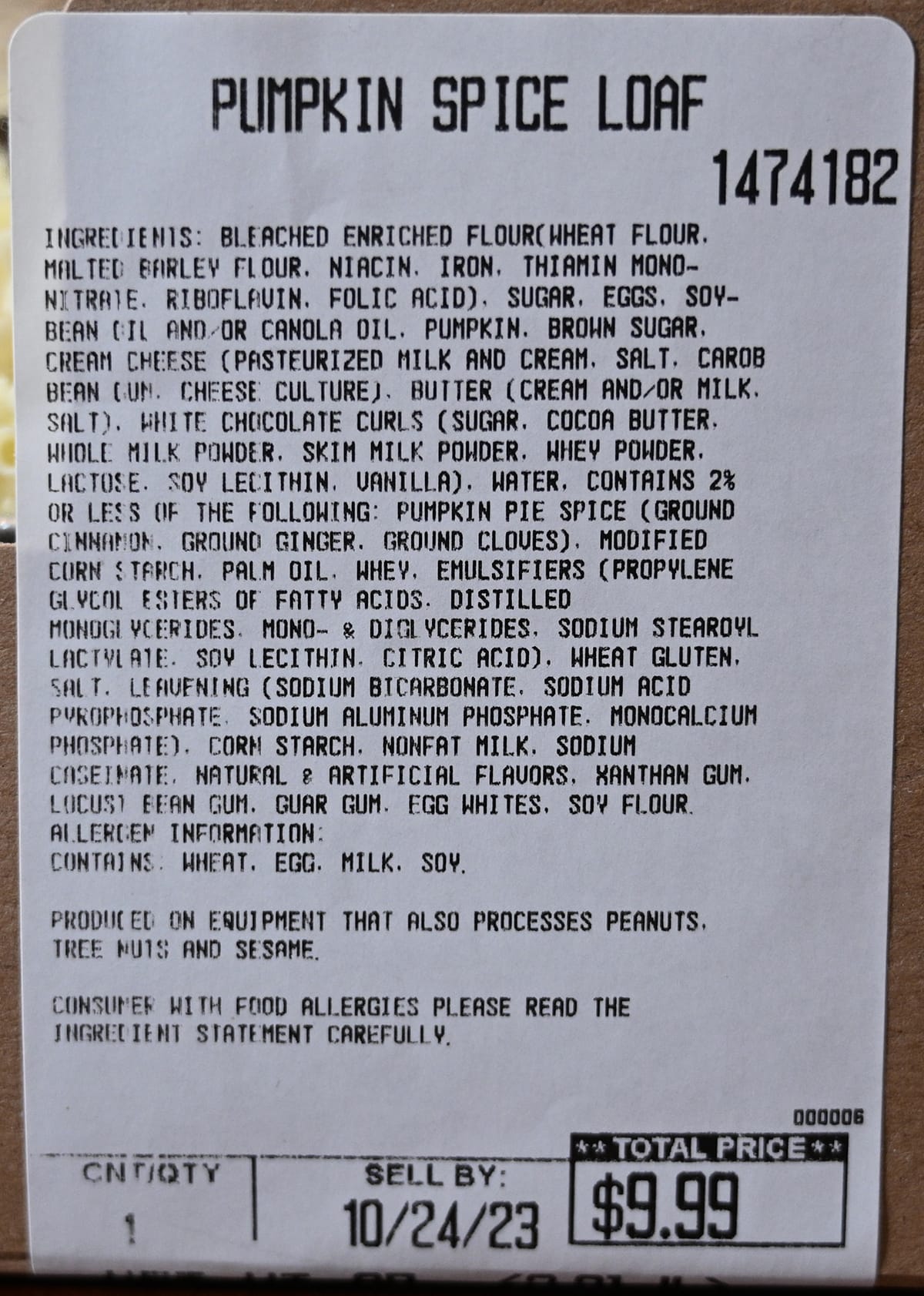 Convenience
The Pumpkin Spice Loaf comes in a cardboard box and has an expiry date that's four days from when I bought it. It's easy to slice and freeze if you're not going to eat it by the sell-by date.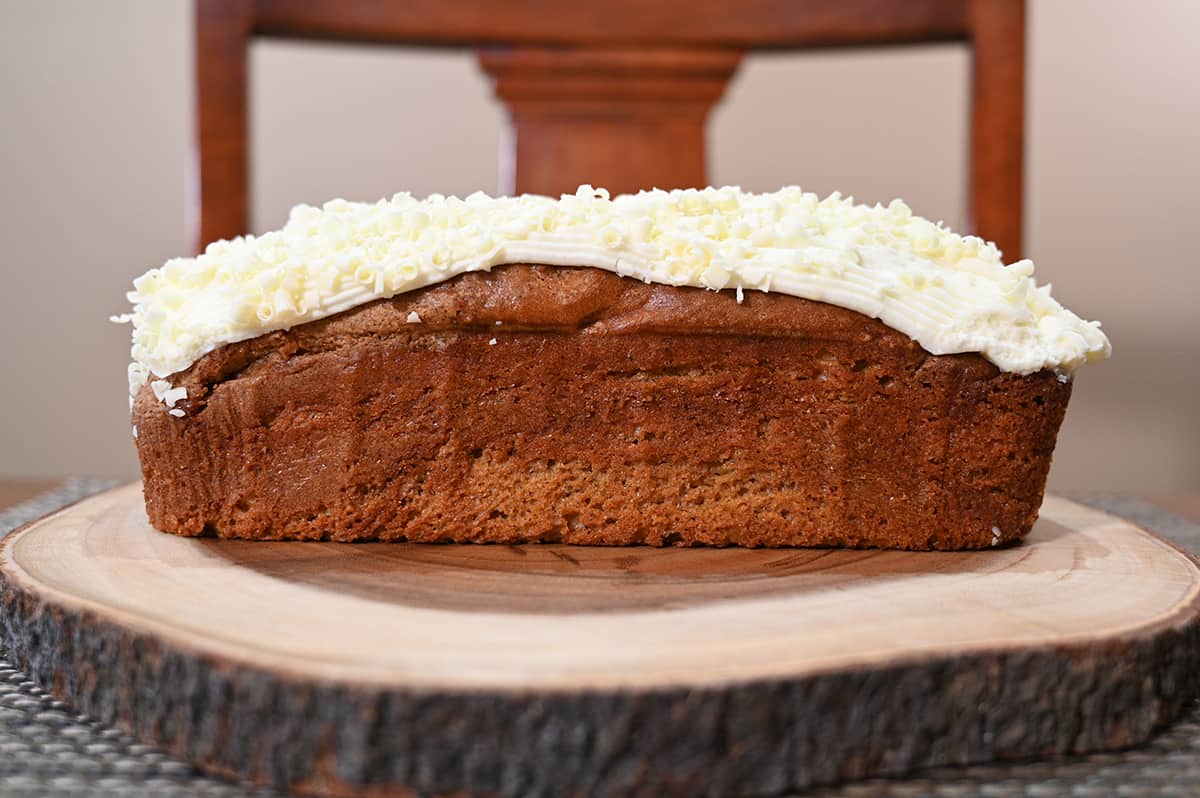 This is perfect for breakfast, a snack or dessert. I think a lot of pumpkin lovers will appreciate this product from Costco.
Nutrition
Calories
1/10th of the loaf (105 grams) contains 420 calories, 21 grams of fat, 330 milligrams of sodium, 54 grams of carbs, one gram of fiber, 35 grams of sugar and five grams of protein.
Just as I expected it's not low in calories, fat, carbs or sugar! Also I think a lot of people will eat a serving that's larger than 1/10th of the loaf.
Ingredients
I'll start with the positives. I like that the loaf has real cream cheese, pumpkin and butter as ingredients. The ingredients I dislike seeing are soybean oil, palm oil, palm oil, artificial flavors and soy flour.
I know a loaf like this isn't going to be super nutritious but I wish stores would try to cut back on the unnecessary ingredients and keep ingredients lists for bakery items a little closer to homemade.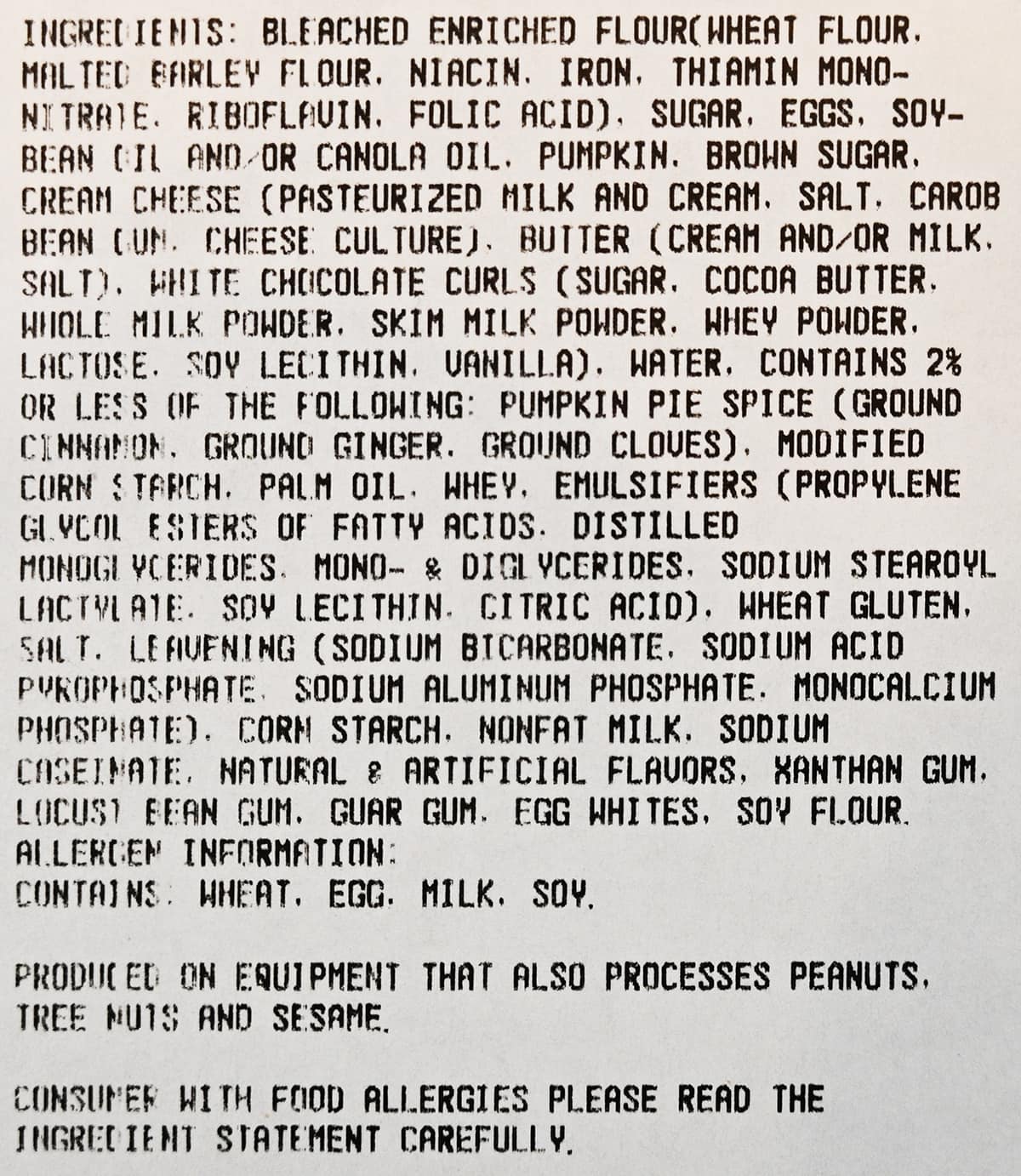 Scoring
Taste: 7.5 (8.5 for the loaf itself, more like a 6 for the icing)
Cost: 7.5/10
Convenience: 10/10
Nutrition: 0/10
Overall
Give it a try!
I think people who love anything pumpkin will enjoy this. It's not the best Costco bakery item I've tried but it's pretty good and definitely reminds me of fall!
Have you tried the Kirkland Signature Pumpkin Spice Loaf? What did you think of it? Leave a comment below!
---
Please note that this review was not paid for or sponsored by any third party. This product was purchased by Costcuisine for the purpose of producing this review. The opinions in this review are strictly those of Costcuisine. Costcuisine is not affiliated with Costco or any of its suppliers. In the event that Costcuisine receives compensation for a post from the manufacturer of a product or some other third party, the arrangement will be clearly disclosed (including where the manufacturer of a product provides Costcuisine with a free sample of the product).