I've said before that I think Costco makes the best grocery store cookies. They may not be as good as homemade cookies or cookies from a high-end bakery, but they're generally super tasty and the price is great for the quality and quantity. In the past year or so, my local Costco has rolled out several new kinds of cookies. These Kirkland Signature Oatmeal Cranberry White Chocolate Cookies are their latest creation. Do they live up to the Costco bakery's reputation for making awesome cookies?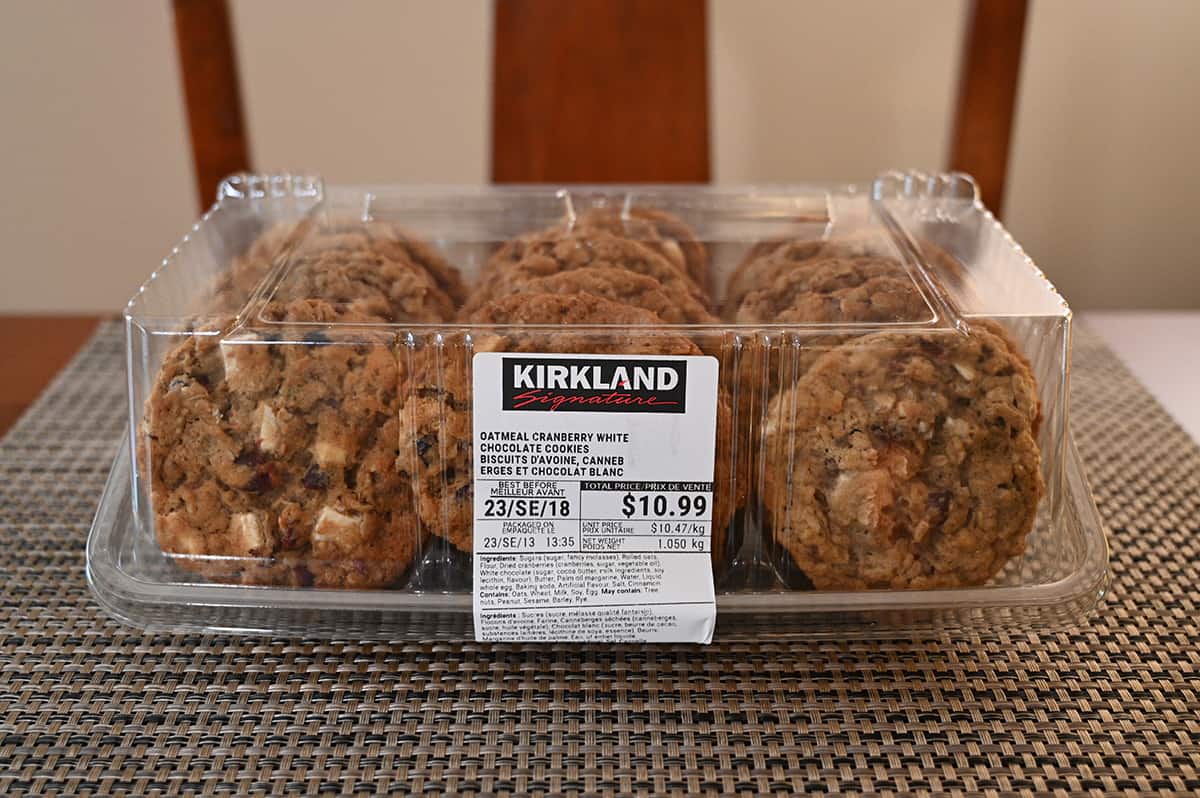 Some other Kirkland Signature cookies from the bakery department at Costco are the Kirkland Signature S'more Cookies, Kirkland Signature Toffee Chocolate Chip Cookies, Kirkland Signature Raspberry Crumble Cookies, Kirkland Signature Ginger Cookies, the Kirkland Signature Chocolate Lover's Cookie Pack, Kirkland Signature Mini Chocolate Chip Cookies and the Kirkland Signature Confetti Cookies.
Taste
These cookies are delicious. The texture of the cookies is what I really like, they are soft and chewy with crisp edges. The actual cookie dough itself is very sweet and despite being a self-proclaimed sugar fiend I could do with a bit less sugar but I still enjoy these.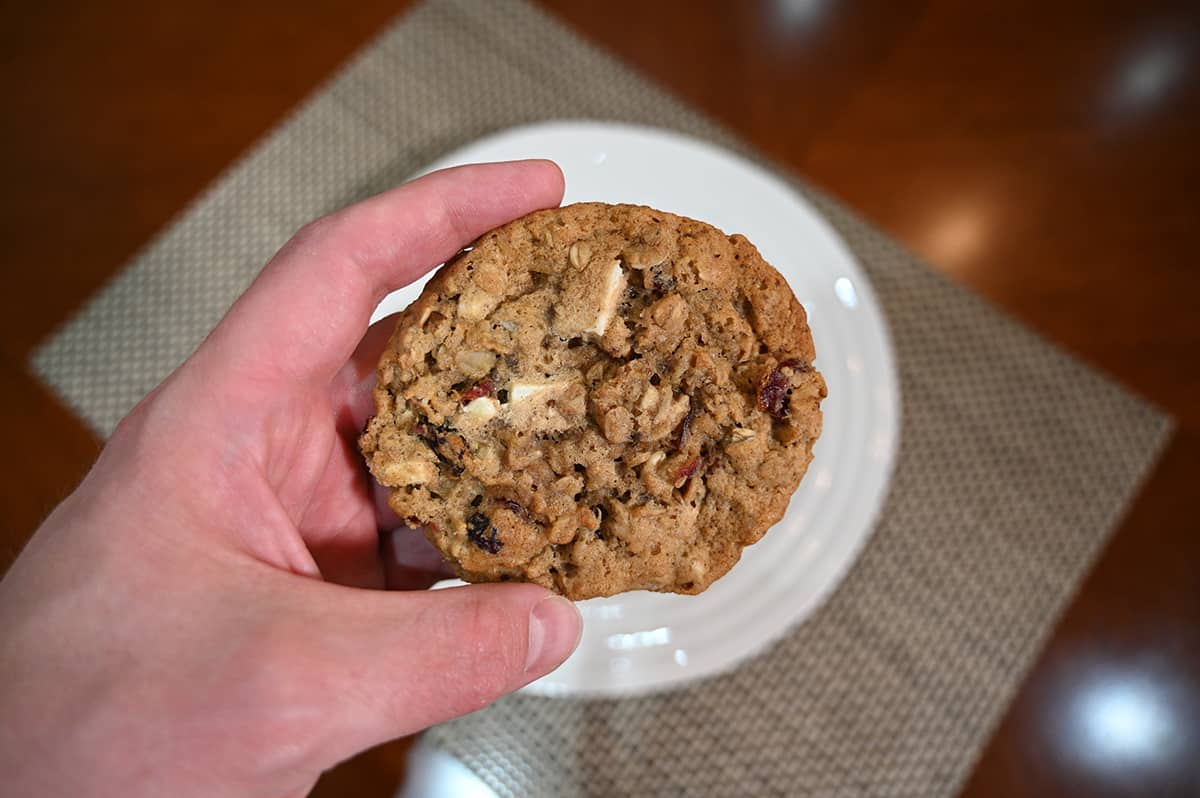 The cranberries are moist and not tough and chewy which I appreciate, some dried cranberries can be rock hard but not these. The white chocolate pieces are okay, it's not the greatest white chocolate I've had and tastes a bit low-quality but is still tasty.
There's the slightest hint of cinnamon in the cookies which I think works really well and compliments the rolled oats!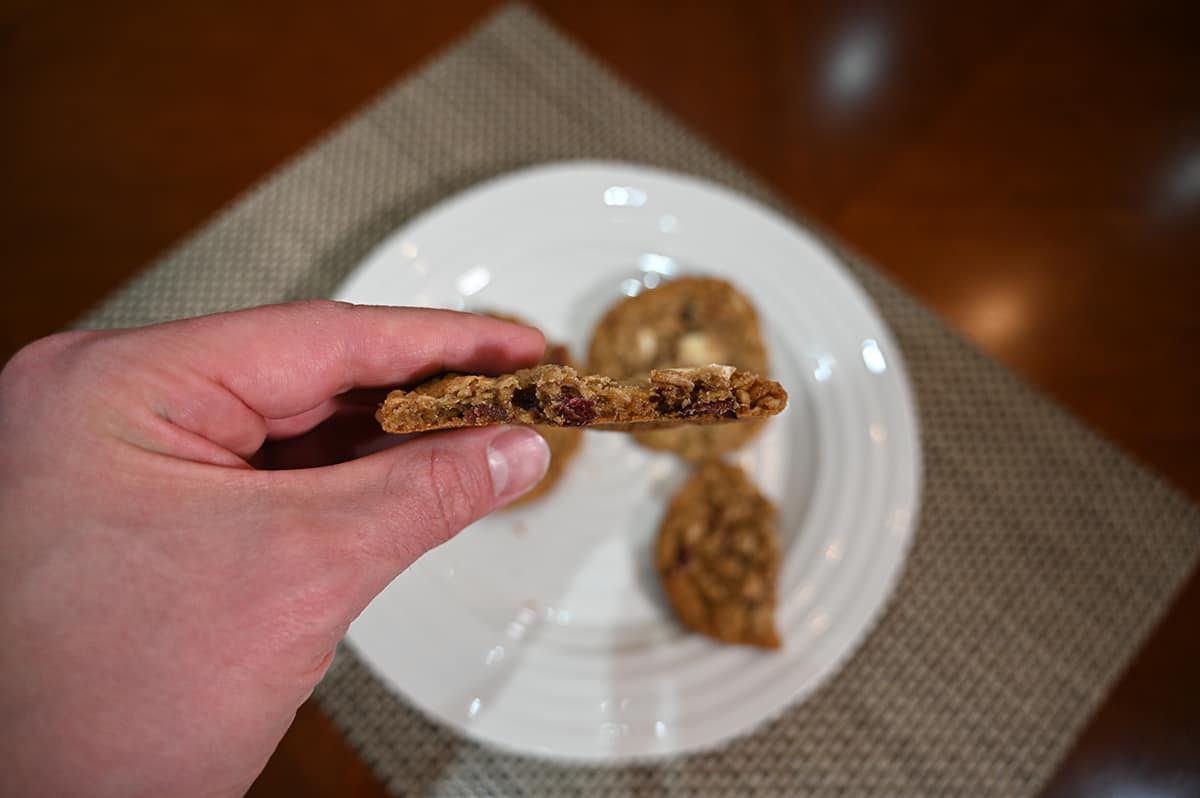 Cost
There are 24 cookies in the container, three sections of eight cookies and the cost is $10.99 Canadian. Sadly like all other groceries, the cost of the Costco cookies has gone up. In 2021 a pack of 24 bakery cookies cost $7.99 Canadian.
They're still cheaper than going to a stand-alone bakery to buy 24 cookies and they're probably cheaper than buying all the ingredients yourself to make them.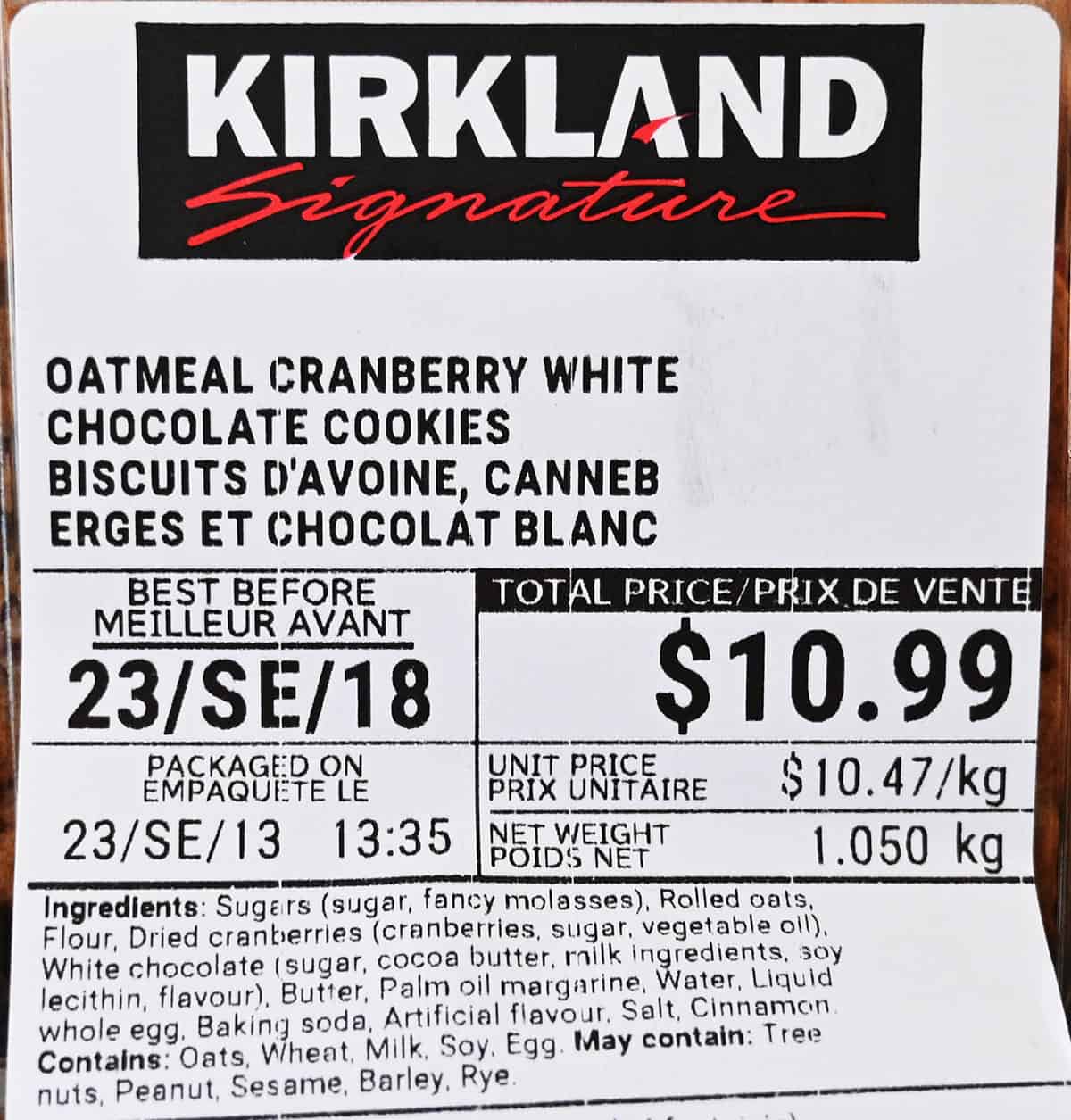 Convenience
The cookies have a best-before-date that's five days from the day they were packaged on. I always freeze my Costco bakery cookies and the cookies always taste great after thawing them.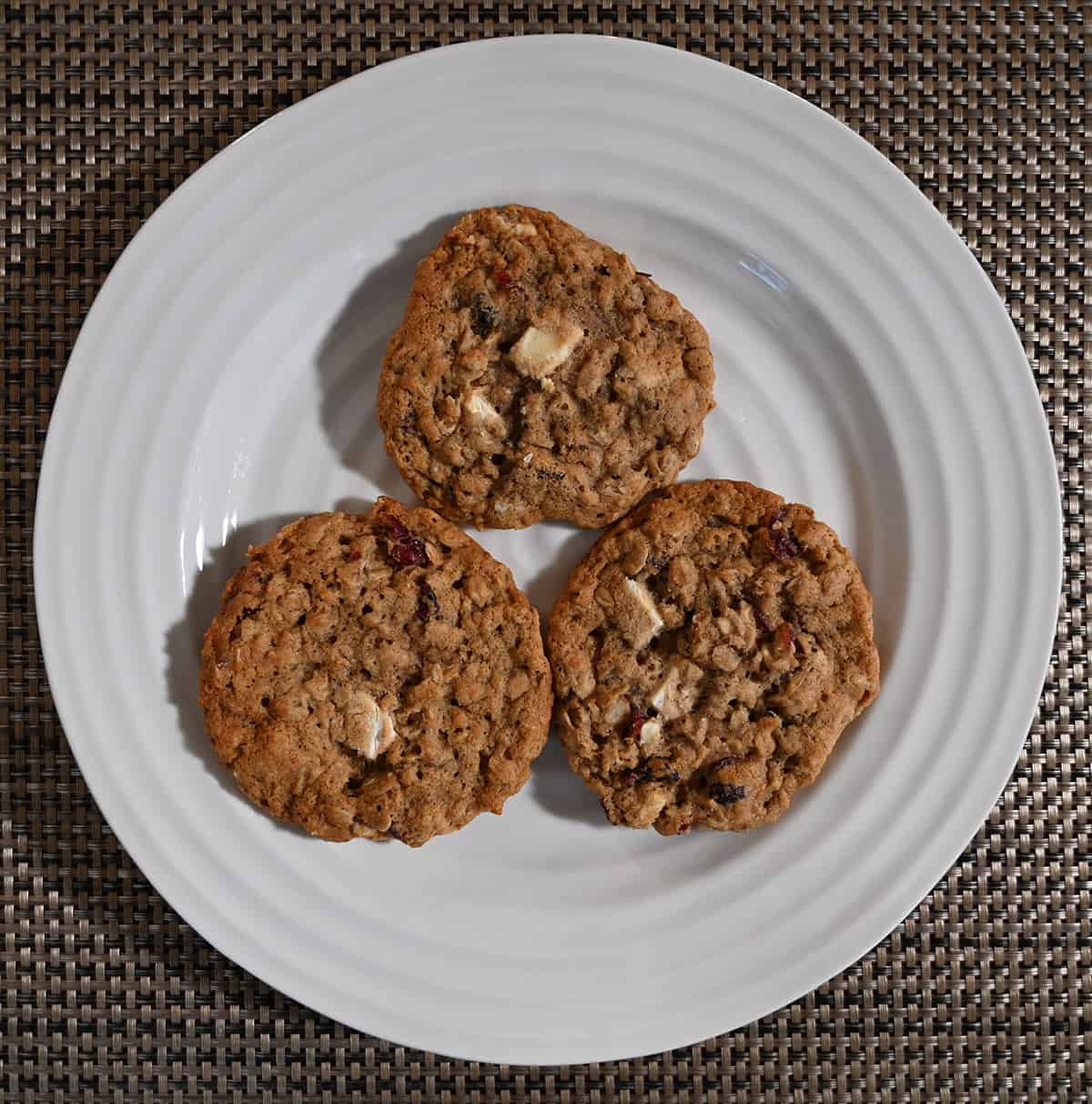 Both of our parents liked these cookies and Sean and I thought they were good too, my 15-month-old daughter even enjoyed a bite! They're probably one of favorite kind of cookies the bakery department at Costco has brought out.
Nutrition
Calories
One cookie contains 200 calories, seven grams of fat, 32 grams of carbohydrates, two grams of fibre, 19 grams of sugar, three grams of protein and 150 milligrams of sodium.
I don't expect a cookie like this to be low in calories, fat, sugar or carbs so I'm not at all surprised by the nutrition facts. It's really easy to eat more than one cookie though and eat quite a few calories in one sitting!
Ingredients
The two ingredients I dislike in the cookies are palm oil margarine and artificial flavor. Both of these are things that wouldn't be in my homemade cookies. The rest of the ingredients are very typical for a cookie!

The cookies contain oats, wheat, milk, soy and egg. They may contain tree nuts, peanuts, sesame, barley and rye.
Scoring
Taste: 9/10
Cost: 8/10
Convenience: 10/10
Nutrition: 0/10
Overall
Give them a try!
I like everything about these cookies except for how sweet they are. I fear I may just be getting "older" and my sweet tooth might be dwindling a bit. I still enjoyed the cookies and so did everyone I know who tried them!
RECALL NOTICE – Unfortunately, I received voicemail and email messages from Costco that the Kirkland Signature Oatmeal Cranberry White Chocolate Cookies (with best-before dates between September 3, 2023 and September 23, 2023) had been recalled due to possible contamination with pieces of wood before I could post this review. Our family had already eaten the cookies and they seemed fine as far as we could tell. The cookies themselves are good, so hopefully this was an isolated incident and they'll be back in the store!
If you've tried these cookies, what did you think of them? Leave a comment below!
---
Please note that this review was not paid for or sponsored by any third party. This product was purchased by Costcuisine for the purpose of producing this review. The opinions in this review are strictly those of Costcuisine. Costcuisine is not affiliated with Costco or any of its suppliers. In the event that Costcuisine receives compensation for a post from the manufacturer of a product or some other third party, the arrangement will be clearly disclosed (including where the manufacturer of a product provides Costcuisine with a free sample of the product).