Cookies are a staple in our house. We always have a supply of them in the freezer, and whenever Costco comes out with a new kind of cookie, you can be sure we're going to try it! It doesn't hurt that Costco makes great cookies. The Kirkland Signature Raspberry Crumble Cookies and the Kirkland Signature Chocolate Lover's Cookie Pack are longtime favorites, and the new Kirkland Signature Orange Pecan Cookies are great too. These new Kirkland Signature Toffee Chocolate Chip Cookies look totally irresistible. Could they be the best Costco cookie yet?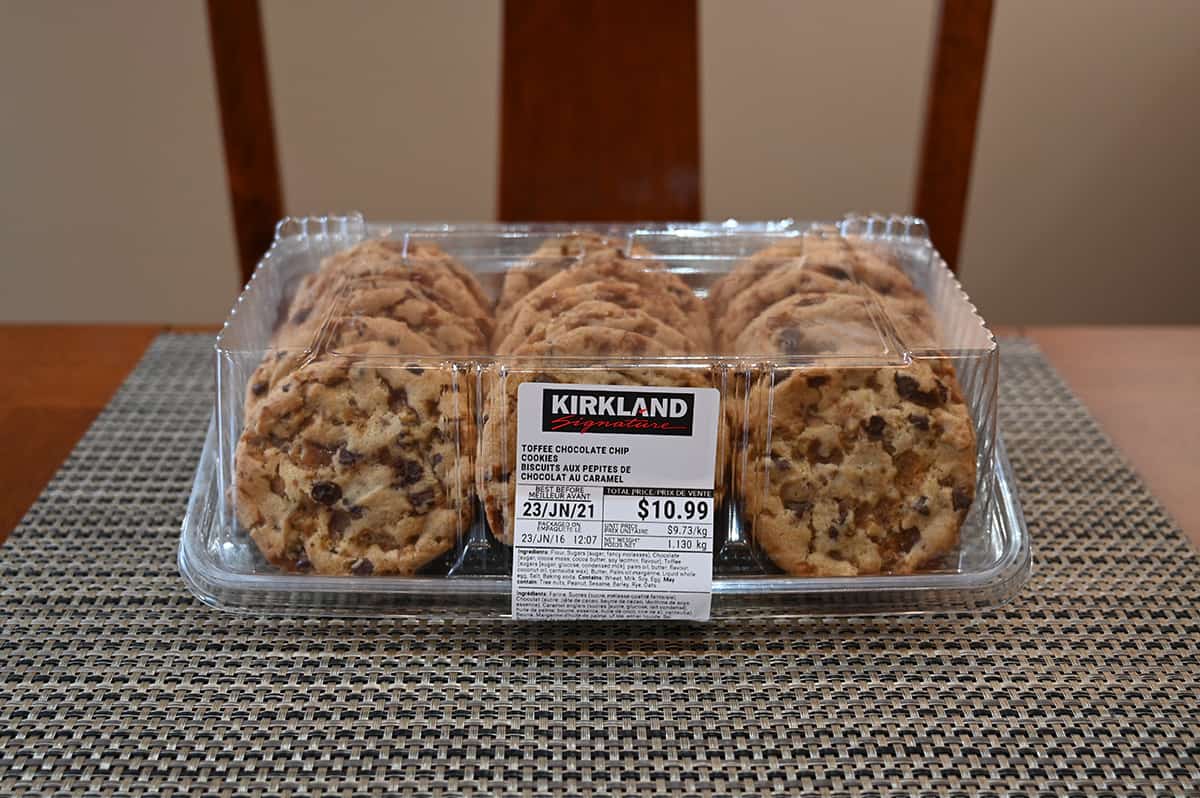 Some other cookies from Costco that I like are the Kirkland Signature Ginger Cookies, Kirkland Signature Mini Chocolate Chip Cookies, Lotus Biscoff Cookies and the Desserts on Us Laceys Macadamia Milk Chocolate Cookies.
Location in Store
You can find the toffee chocolate chip cookies in the bakery department, the item number is 1738535.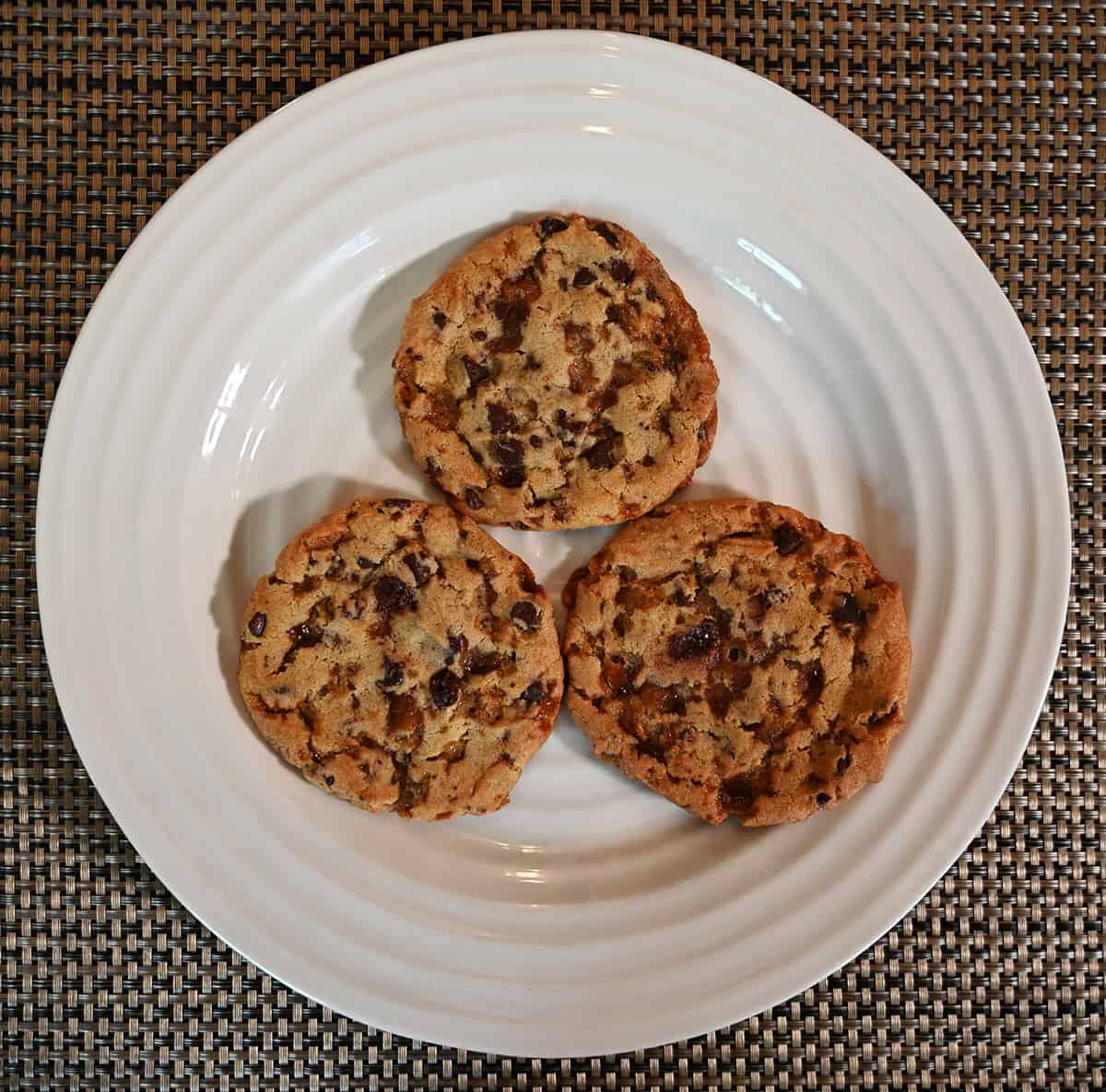 Taste
My first thought is that these cookies are very similar to the regular Kirkland Signature Chocolate Chip cookies! That's not a bad thing, but I expect the toffee to stand out a bit more
The main difference compared to the basic chocolate chip cookies is the texture and chewiness of these cookies. The toffee makes them a bit more crisp on the outside and then chewier as you're eating them. The toffee also adds a bit of extra sweetness. You notice a bit of toffee flavor in some bites, but it's mostly overpowered by the rest of the cookie.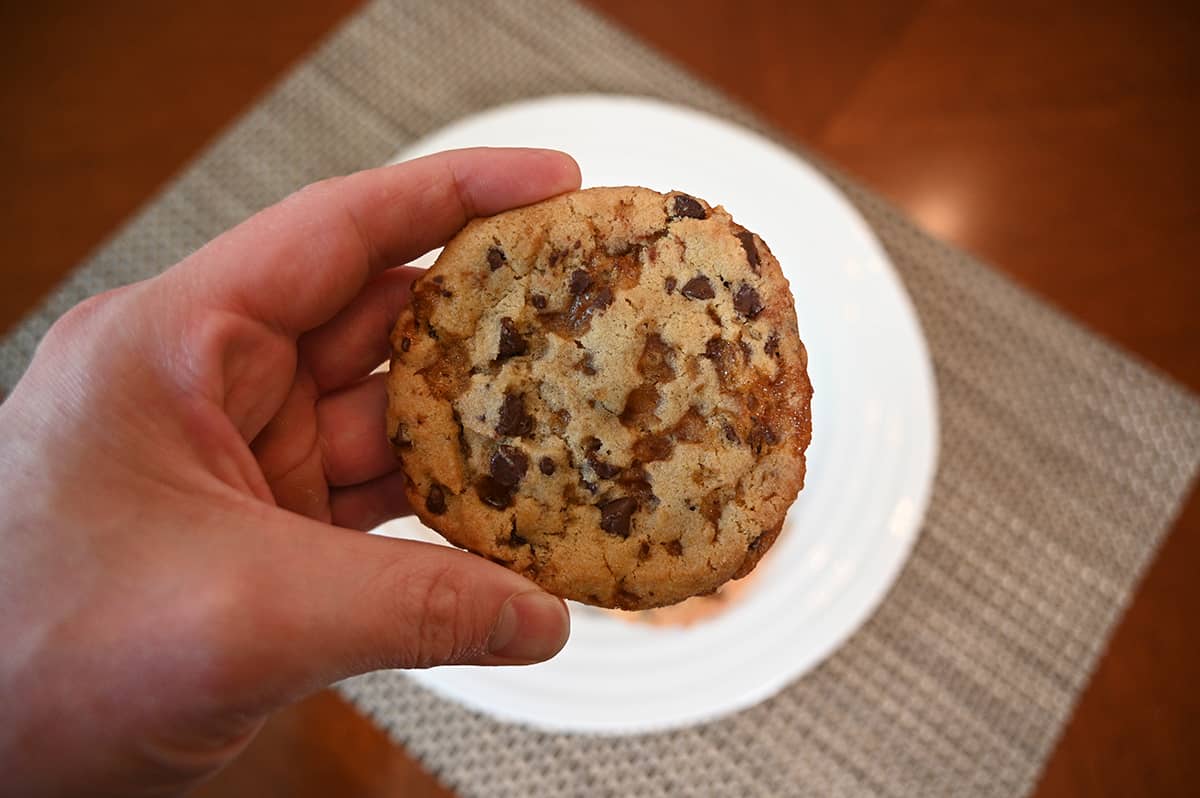 If I had to choose, I think I'd take these cookies over the basic chocolate chip ones. I enjoy the extra chewiness and sweetness as well as the toffee flavor. I just wish the toffee stood out a little bit more!
Cost
The package contains 24 cookies and costs $10.99 Canadian at Costco which I think is reasonable for the amount of cookies you get.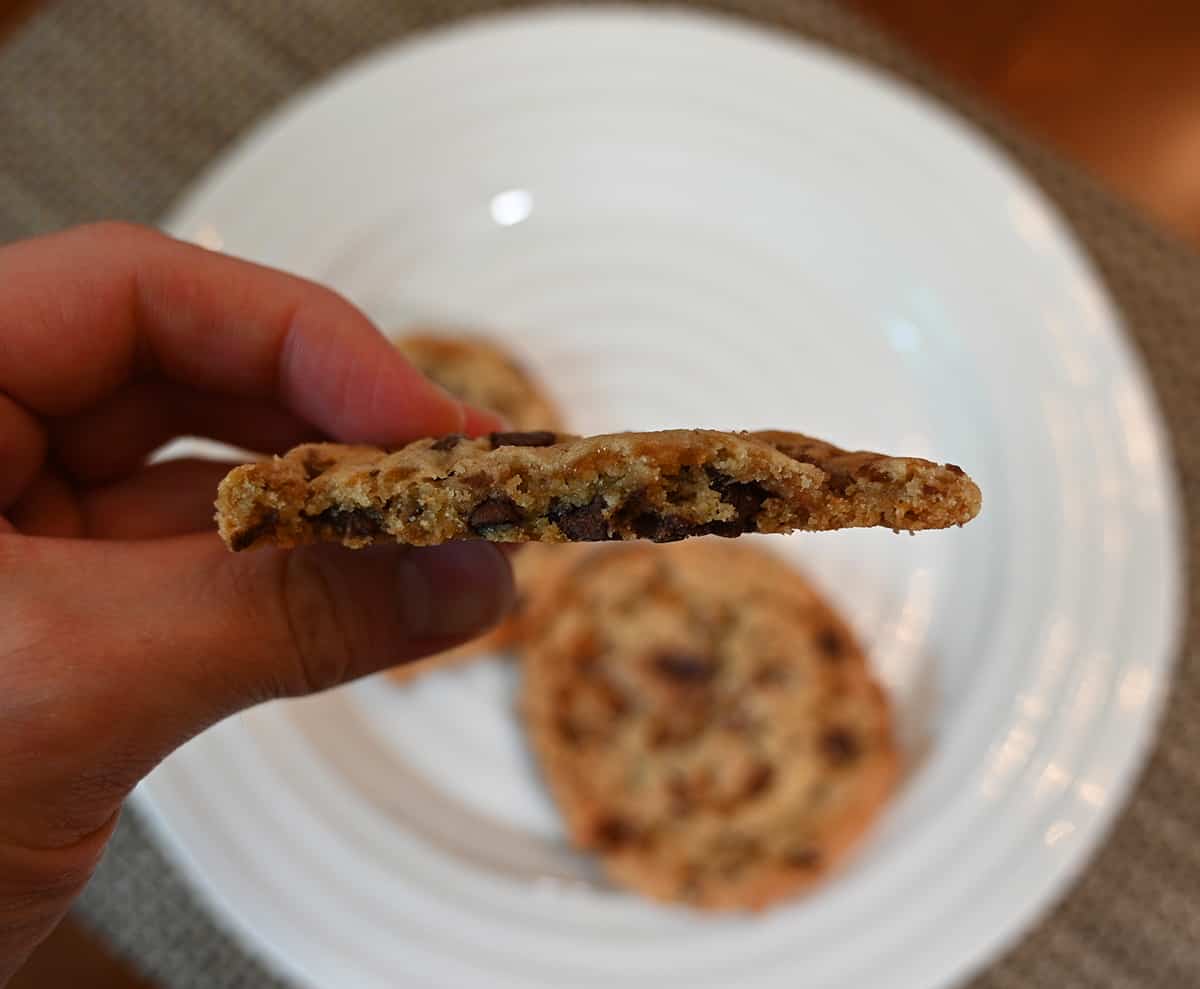 Convenience
The best-before date on the cookies is five days from the date they were packaged. The cookies can be frozen without any issue. Since there are only two of us who eat cookies in the house we end up freezing a lot.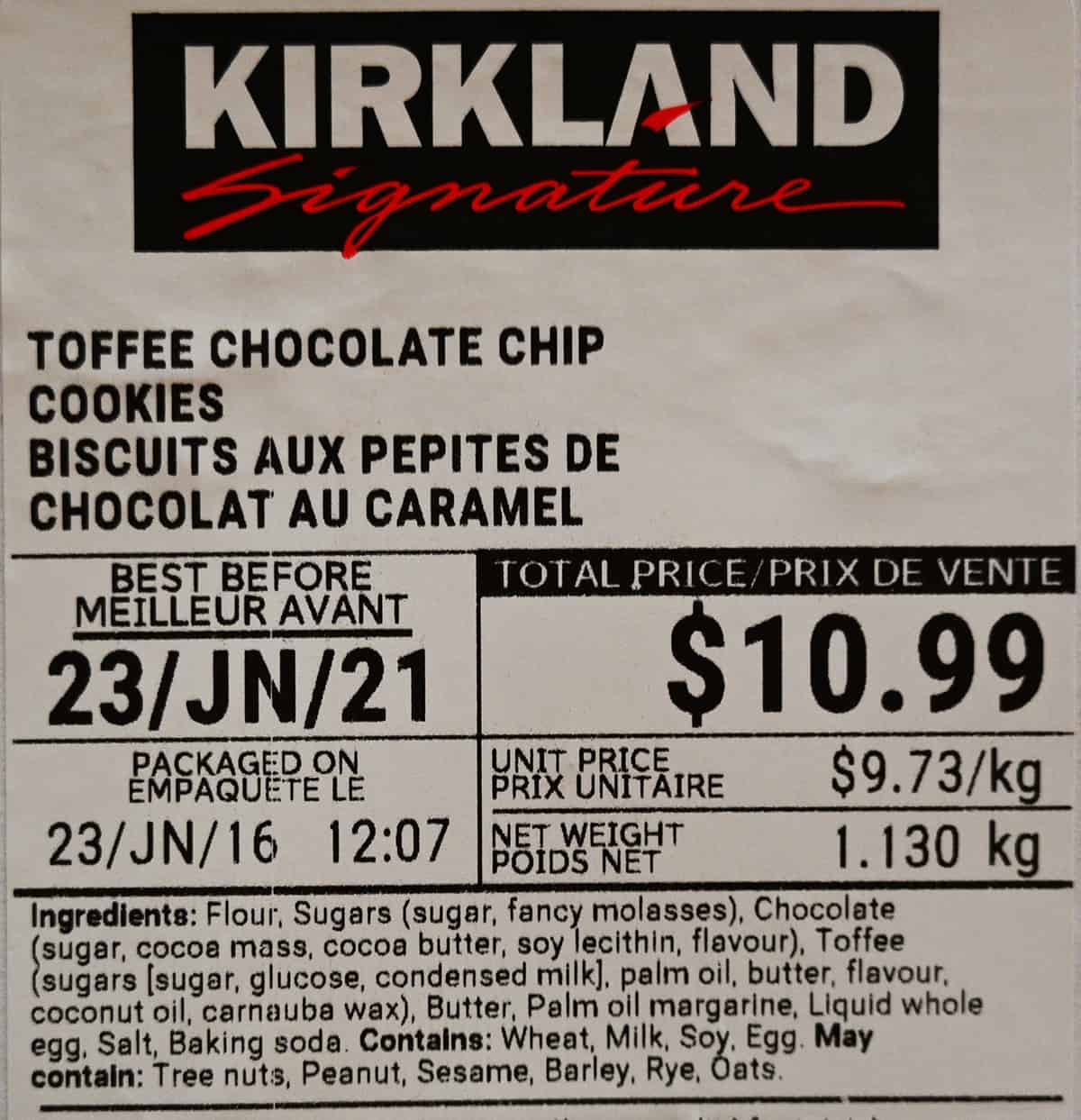 I think these are perfect for camping, a summer barbecue, a road trip or just to have around the house to enjoy. Both adults and kids will enjoy these.
Nutrition
Calories
One cookie contains 220 calories, nine grams of fat, 32 grams of carbohydrates, one gram of fibre, 19 grams of sugar, three grams of protein and 160 milligrams of sodium. The calories, fat and sugar all sound about right for a mid to large-sized cookie like this.
Ingredients
There isn't a single healthy ingredient in these but that's no surprise. When you bake from home you generally use simple ingredients and avoid things like palm oil, "flavour" and palm oil margarine. The cookies contain wheat, milk, soy and egg and may contain tree nuts, peanuts, sesame, barley, rye and oats.

Scoring
Taste: 8.5/10
Cost: 8/10
Convenience: 10/10
Nutrition: 0/10
Overall
Must buy!
If you like chocolate chips and toffee these cookies are super tasty and the price is right!
Have you tried these? What did you think?
---
Please note that this review was not paid for or sponsored by any third party. This product was purchased by Costcuisine for the purpose of producing this review. The opinions in this review are strictly those of Costcuisine. Costcuisine is not affiliated with Costco or any of its suppliers. In the event that Costcuisine rec