Super decadent macadamia, milk chocolate and toffee biscuits!
Please note that this review was not paid for or sponsored by any third party. I purchased this product with my own money and the opinions in this review are strictly my own. I am not affiliated with Costco or any of its suppliers. I am just a fan of the company. I write these reviews to help my fellow shoppers.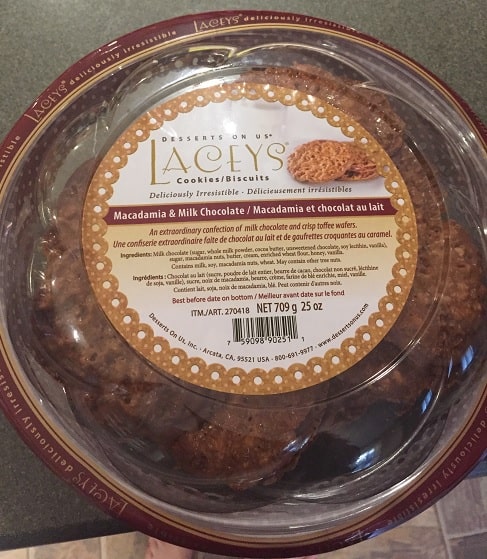 So according to Costco, Halloween and Christmas is happening tomorrow. I say this because when I went last weekend they have massive snowmen, glittery rein deer, light up Halloween pumpkins, bows, wrapping paper and a lot of the seasonal treats are starting to pop up.
Have you seen these Laceys cookies by Desserts on Us before? They're usually located in the aisle with the cereal and granola near the front of the store. I have been wanting to try these for a while because they have macadamia nut, milk chocolate and toffee. Macadamia nut and milk chocolate are amazing together by the way.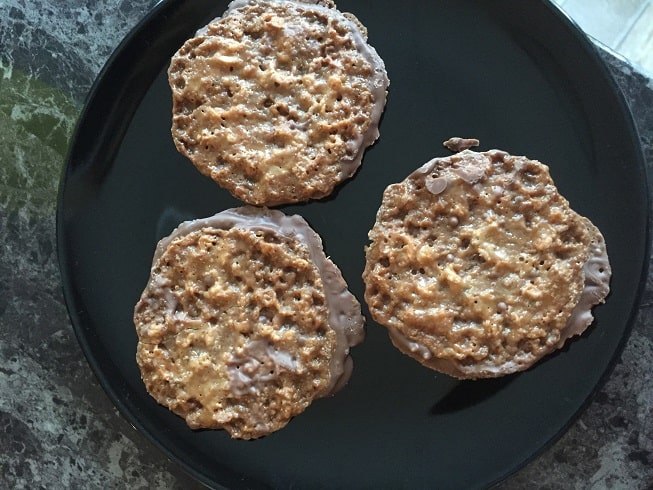 These taste SUPER decadent and VERY sweet. I have never quite had a cookie like this before. The milk chocolate is very good and the toffee cookie is crisp and not too thick. I can't decide whether these are more like a chocolate or a cookie. To give you an idea, it's a crisp, buttery, toffee wafer cookie, coated in smooth milk chocolate. These are nice and chewy and if you like toffee and milk chocolate, I pretty much guarantee your eyes will go huge after your first bite of this cookie. Picture a Skor bar but a million times better, higher quality and made into more of a crisp, chewy toffee wafer cookie. I definitely tasted the toffee and milk chocolate but these did not taste strongly of macadamia nut (it's also one of the last ingredients). Big chunks of macadamia nuts on the outside would make these extra good and possibly balance out the very sweet tasting toffee. If you don't have much of a sweet tooth at all you may not like these. If you have a sweet tooth (like me) you'll love these but probably feel content after one or two. They're very indulgent so you only need about one cookie to feel satisfied. These would go excellent with a nice cup of tea or coffee, yum yum yum.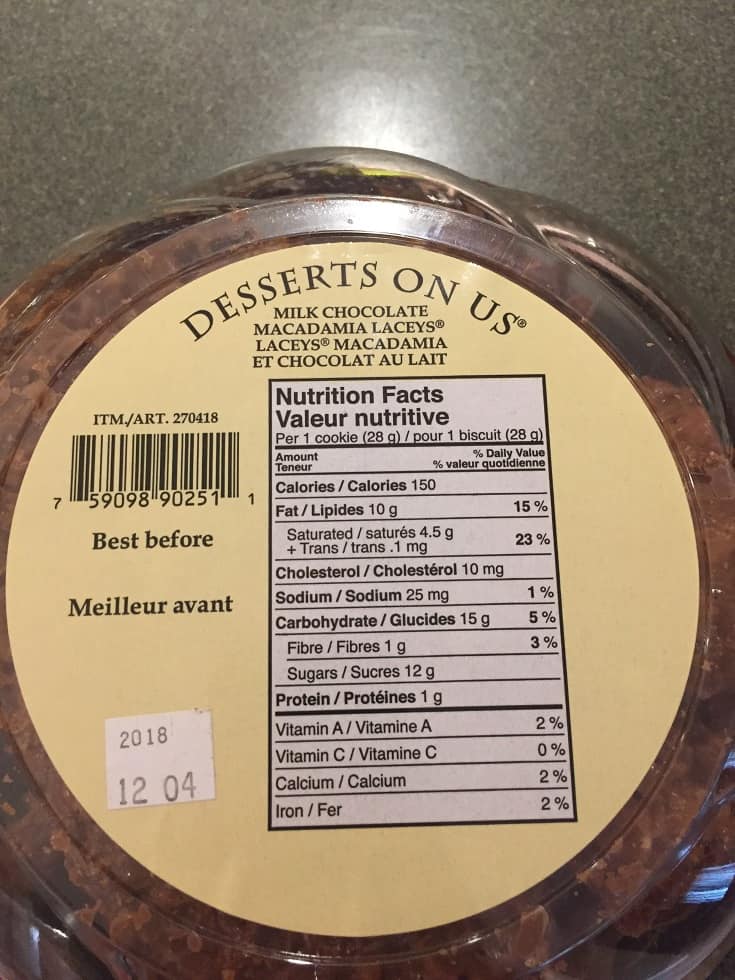 It's a good thing you only need one cookie to feel satisfied because 1 cookie is 150 calories, 10 grams of fat and 12 grams of sugar. Not healthy. Nope. However! If you have one treat a day and enjoy one of these cookies with your afternoon tea, I say you're living life and enjoying the finer things in life.
Cost wise, these are a little on the expensive side at $12.99. However it's a pretty substantially sized plastic container. Does a small container of anything exist at Costco? I would say there is at least about 20-25 cookies in the container. They're not artificial, cheap tasting cookies either. These are the kind of cookies that you would put out for guests who came over for coffee or at Christmas. They actually look and taste fancy so I could these being a hit if brought to work or at a Christmas gathering.
The cookies are conveniently packaged in a big tub with a lid which ensures they stay fresh. You can easily take a cookie and put the lid back on. The best before date is about 4 months after purchasing which is pretty good! Also it smells AMAZING when you open the lid of these cookies.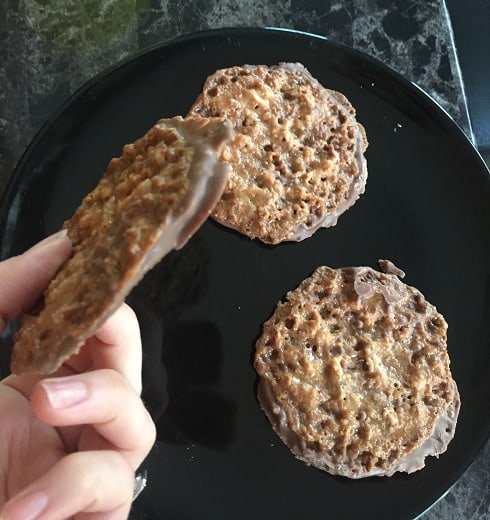 In summary, first of all these are not healthy. However they're a delicious, chocolatey, crispy toffee, cookie and chocolate bar hybrid. They're very conveniently packaged but slightly on the expensive side for cookies. Not only do these look very delicate and fancy, they taste high quality too. I would definitely recommend these as a treat for yourself or to serve at Christmas or for guests who are coming over for coffee.
Nutrition: 1/10 (chocolate is a stress reliever so they get 1 point)
Taste: 8.5/10
Cost: 7/10 (reasonable for the quality, definitely more expensive than other cookies)
Convenience: 10/10
Are you a toffee fan? What's your favorite cookie from Costco?